Smartcart - The Retail Revolution
I samarbete med Nordea
When did you last waste your time standing in an endless cashier queue? Its time to let you choose, whether to queue or not to queue.
Detta innehåll är också tillgängligt i
finska
Vår berättelse
Vår berättelse
Campaign news
9.4.2019 Smartcart has signed today a multimillion license deal with global TOP2 outdoor advertising giant. Read the full press release here.
25.3.2019 Smartcart Ltd signs a Letter of Intent with the TOP- 5 Italian retailer. Read the press release here.
The most un-sexy industry on the entire planet
When global retail tech manufacturer, Systec GmbH acquired a minority stake in Smartcart Ltd (2615424-3) in 2018, Systec first introduced themselves as representatives of the most un-sexy business in the entire world, the shopping cart industry. And they were absolutely right. The shopping cart has remained a plain transport box on wheels since being first introduced by Sylvain Goldman on June 4 th , 1937 at Humprey Dumprey supermarket chain in Oklahoma. Now, more than 80 years later, all of this is about to change. This is the story about how.
In early 2014 a mobile phone dropped on the floor in a grocery store in Helsinki, Finland and was smashed beyond use. That also destroyed the shopping list sent to the device in a very traditional way, by SMS. That was the moment when Petteri Heiman, who had just sold his previous business in Telecoms, became aware of the possibility of having the shopping list and many other daily shopping related issues handled by shopping cart, a Smartcart. Together with current CTO Tobias Hannus and Ph.D. in Digital Marketing, Joonas Rokka, they started developing the concept of bringing the well-known benefits from online stores as part of everyday shopping in brick n' mortar.
Smartcart was summoned to solve simple problems encountered by every consumer in everyday shopping, by bringing the digital user experience conveniently present through the shopping cart. It doesn't matter whether you are in Scandinavia, Europe or the US, we all visit the grocery shops from one to three times per week and face the same annoying issues, almost every time
More than 70% of consumer purchases are decided in the store
Although it has been fact for decades that 70% of purchase decisions have been done in the actual store (source: POPAI), still the CPG:s (Consumer Packed Goods) use their marketing budgets almost totally to market their product in different medias, outside the store (source). It certainly isn't the lack of ambition to affect the shopping behaviour which has caused this (miss-)alignment. The simple reason is that traditionally there have been hardly any marketing means possible to purchase by the CPG:s. On average CPG companies use 24% of their budget for marketing and this is more than three-times the amount used by a company on average.
Smartcart brings the possibility for CPG:s to target the shopper with their media on an individual channel which is in the line of sight for the shopper, the whole shopping round.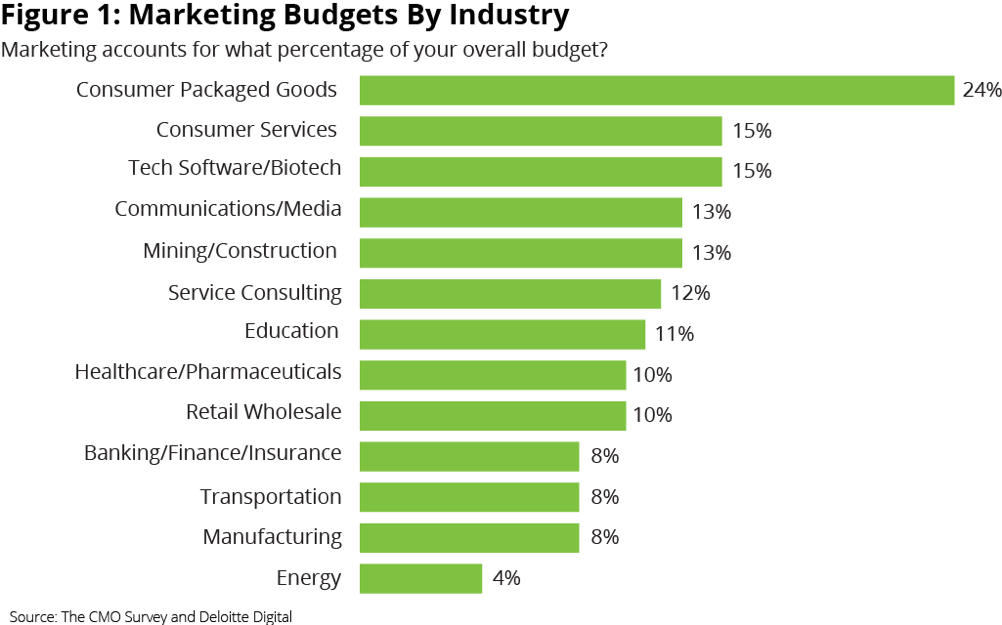 Vision
Imagine going to the grocery store where everything could be easily found and collected. You would receive suggestions and recipes based upon your known preferences, diets and shopping history. The products would be scanned and counted for when picked up. By the time you are finished, everything would already be packed, and you would be ready for getting home. But, did you forget to pay at the cashier? No, you didn't. Instead you were able to skip the cashier queues by paying the shopping's you already counted for in the Smartcart.
Amazon has introduced the possibilities of future personnel less stores and they have done it in such a media hype that hardly no one can have missed it. When the industry average on cashier personnel salary costs is considered to be between 30-35% of total salaries (estimation based upon Smartcarts discussions with several retailers in Europe a.g. Tim Schröder LIDL who said they have 35% of their store personnel salary costs consisting from cashier salaries), the idea of significant lowering of a major cost like this, is to be considered quite attracting. At Smartcart we believe in the trend, but instead of creating a solution with astronomical technical cost, we are doing this at a fraction of the cost. In this way the digital shopping carts will be available (and affordable) for every supermarket, not only fancy concept stores that aim for publicity.
Smartcart is the global leader in digital shopping carts and services, with the purpose of reinventing the physical shopping experience for not only the consumer, but also retailers and CPG:s. Our quest is to deliver and evolve easy-to-use services to the shopper in an easily accessed way.
Why to invest in Smartcart and the industry?
Competition for technology was a major driver in the surge of mergers and acquisitions in 2018. Four out of 10 acquisitions of technology companies have come from companies in other industries, PricewaterhouseCoopers' deals team said in their mid-year review 2018. (source)
The consumer and retail industry has made the most purchases of tech companies, accounting for 32 percent of cross-sector deals involving tech, the report said.
Share of tech acquisitions by non-tech firms, 2018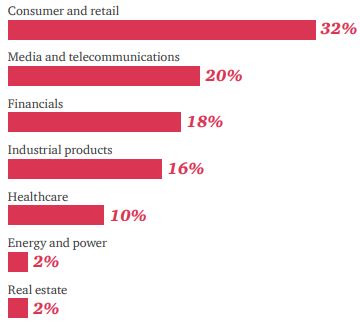 (Source: PwC)
Smartcart is a potential acquisition target based upon recent market activities:
 According to the PWC survey, retail was the frontrunner of tech acquisitions, with a 32% share
e.g. Nordstrom bought both BeavyUp and MessageYes in March 2018
e.g. Gannet acquired WordStream in June 2018 for $150M
Smartcart's business is highly scalable with the business growth of +77% in 2018. The company estimates the business to grow on average 120% per year between 2018 and 2021. By being the global leader in this segment of retail digitalization, the company is also strategically well positioned. The revenue streams are expected to move towards high-margin products like media sales, analytics and cashier-solutions in the future.
16% Conversion Rate
In 2018 Smartcart performed a large consumer survey where the main question was to find out how product adds in Smartcart affected the consumer purchase. The survey included more than 1000 people answering and more than a dozen different product brands (source: Kuulas Helsinki 2018). The results where astonishing and they stated an average buying conversion of 16%. This is almost double what a company called Google does...(source)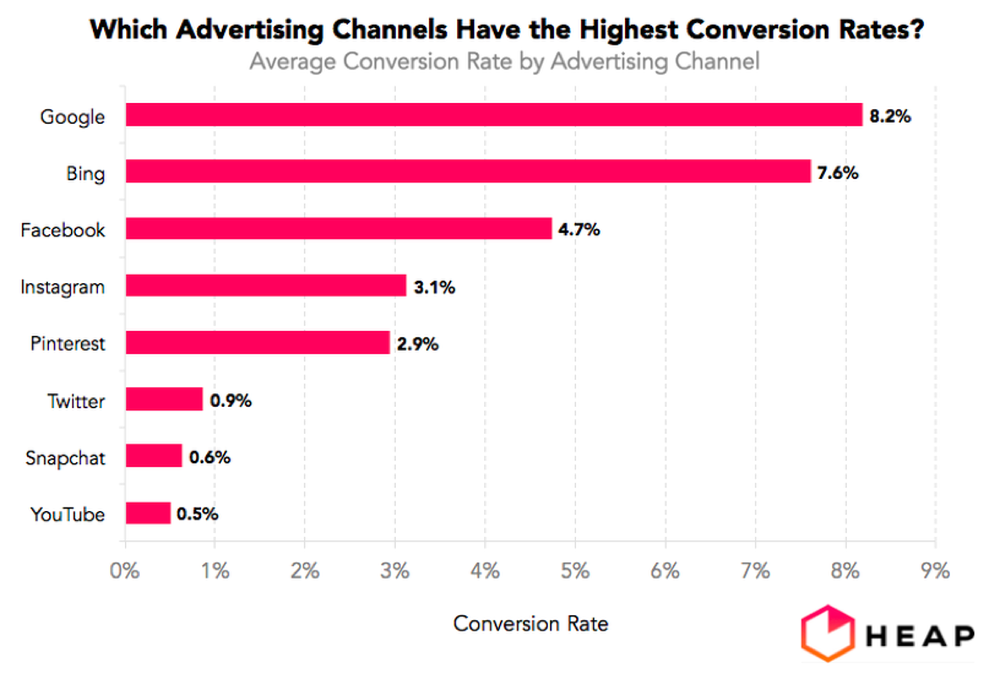 To be fair, we don't expect to reach the valuation of Google in the near future. But we do believe that our current field of business is highly undeveloped and possesses an enormous upside.
Vår affärs- och marknadssituation
Vår affärs- och marknadssituation
Business Today
Our rollout was done in February 2017 and by the end of 2018 Smartcarts could be found in more than 100 supermarkets in Finland and in one store in Asunción, the capital of Paraguay. With close to 2000 active digital shopping carts, Smartcart is (to our knowledge) by far the largest actor in the niche world-wide. Smartcart almost doubled its revenue in 2018 reaching €1,5M. 
Competitive solutions or partially competitive solutions in the same field do exist, but they are to our knowledge still on a one or two store pilot phase, without having been able to rollout the product in a way Smartcart did already in early 2017. It is very clear that the industry is gathering growing attention and new solutions will continue to emerge.
The Smartcart solution targets three interest groups who all are present in a supermarket:
 The Shopper – being the key-player who everybody wants to please.
The Retailer – wanting to maximize shopper loyalty, visiting frequency and average purchase.
 The CPG – interested in increasing visibility, sales and winning market share. The revenue today consists from the two latter.
Below is a picture describing the different phases of the actual shopping round:
Use of personal mobile phone to do shopping lists at home
 Possibility to Log-in to receive personalized content
Navigation, special offers, recipes and other useful features
Scan the product barcodes to get specific info (prices etc.)
Transfer the shopping info to the cashier system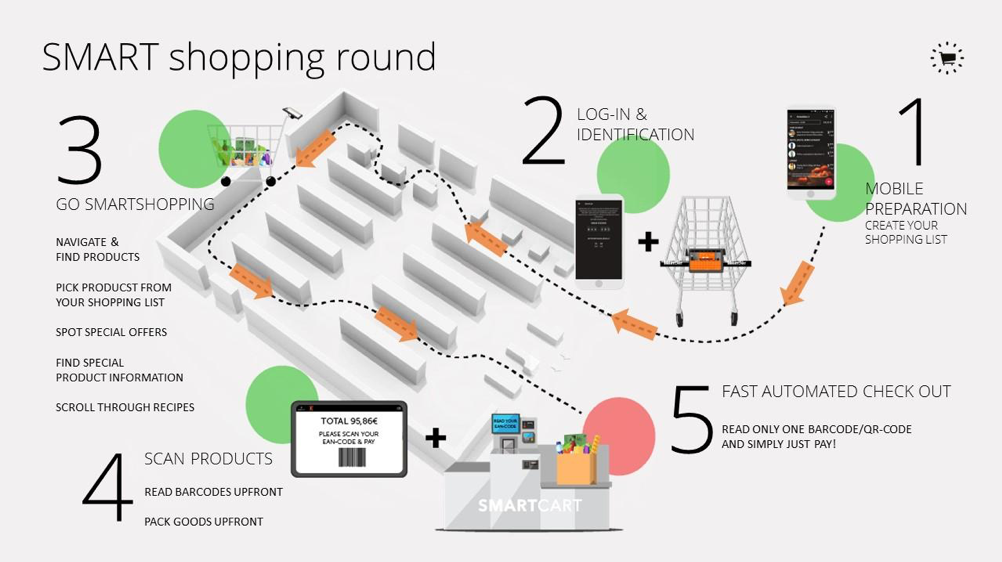 When creating a clear picture about Smartcart and its opportunities, it is good to remember that although the company has managed to prove the concept and show credible traction, we have only yet scratched the surface of all those possibilities that exists in the renewal of brick n' mortar shopping.
Current revenue sources
The majority of the revenue today comes from renting the system to shops. Below you can see an example of a 20-cart deal and its revenue & cost structure. The sales margin in this solution is close to 60 % and we expect the margin to further increase by economies of scale in production and delivery. Secondary revenue streams are growing fast and e.g. media sales is growing by over 100 % yearly. The example below shows how net-impressions are sold as a quota upfront in FMCG marketing, meaning the media sales. (typically outdoor advertising sector measures contacts as only potential viewers e.g. gross contacts while Smartcart is able to specify every impression to a viewer) (Fast Moving Consumer Goods means consumer goods that are sold quickly and at a relatively low cost).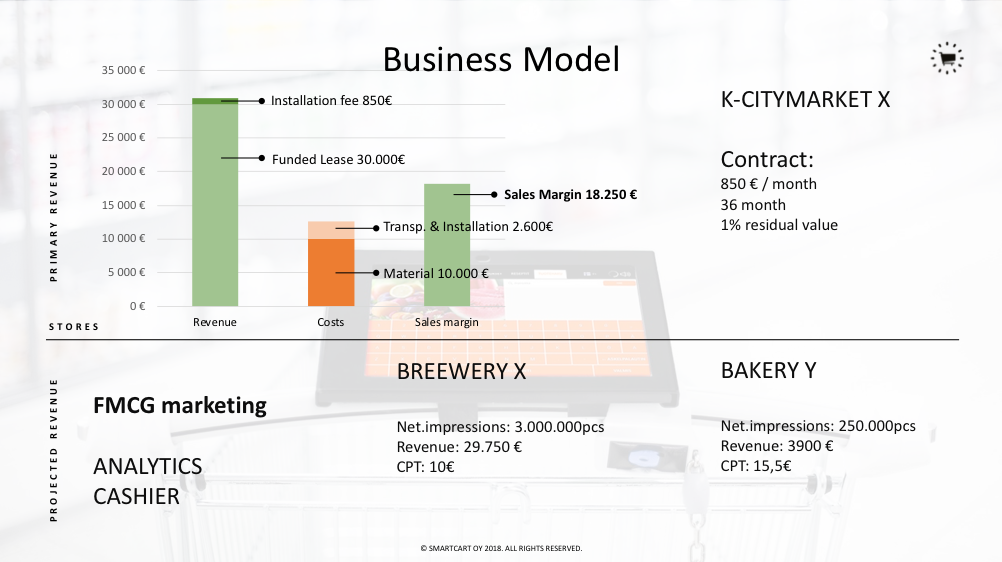 Business Tomorrow
Supermarkets all over the world need to re-build their cost structure in order to compete with constantly growing online-sales. Although FMCG (Fast Moving Consumer Goods that means consumer goods that are sold quickly and at a relatively low cost) online-sales are growing four times faster than offline-sales and is expected to reach 400 billion USD in 2022, it still remains a fraction of the global FMCG which was close to 4.000 billion USD in 2017. (source1, source2)
In order to be competitive, the supermarkets need to both re-adjust their cost structure (lower cashier costs) and come up with new revenue sources as well as increasing current revenue sources. We expect the instore media sales to be gaining a larger role in the next few years and to be backed up by increasing revenue from customer data analysis and cashier-solutions. It is highly likely that we will witness some combinations of online- and offline-sales and we believe that Smartcart can serve as a perfect platform for online-sales to appear on the supermarket floor.
Summary of Benefits
Shopper:
Navigation - Proper indoor-navigation and wayfinding
 Product information – Complete product information and nutrition values
Special offers – Spot special offers and save money
Recipes – Thousands of delicious recipes
Shopping list – Transfer your existing shopping list to the cart for collection
Time saving - Avoid queues by using payment features in the cart
Easiness - Avoid packing after cashier by packing when scanned in cart
Individual experience - Personalized user interface and media content
Languages – English, Finnish, Swedish, Spanish and Russian available
Retailer:
Customer Loyalty - Increased shopper satisfaction
More Sales - Increased Average shopping amount
Statistics - Detailed shopper behaviour data and statistics
Impulse - Increased sales by creating just-on-time marketing impulses
Fluency - More sales through eliminating cashier bottlenecks when rush-hours
Cost Savings - Significantly lower personnel costs when cashier function done by shopper
Feedback – Instant customer feedback channel
CPG (brands):
More Sales -Increased sales and visibility (A shopper buys on average every fourth product they see in a store)
Statistics - All views and exact reports what they exactly pay for
Analytics - In-store behaviour data and analytics
Surveys - Real-time customer surveys
Feedback - Customer feedback
Patents and Freedom-to-Operate
Smartcart has performed a Freedom-to-Operate analysis in 2016. FTO means determining whether a particular action, such as testing or commercialising a product, can be done without infringing valid intellectual property rights of others.This FTO-analysis did not find any threats, but it has to be recognized that the FTO only took into consideration the documents available at the time.
The company also possesses valid patents on its unique shopping cart charging system. WO 2017/207421 A1 SYSTEM FOR ELECTRICAL CHARGING OF SHOPPING CARTS EQUIPPED WITH ELECTRICAL DEVICES was issued first as an EU patent (European Patent Organisation has 38 contracting states) and then widened with a PCT enlargement (The International Patent System has 152 contracting states), both granted in December 2018.
In 2018 the Global Media Sales totalled for 552 billion USD (source) 
In-store media sales is expected to be one of the major revenue sources of Smartcart in the next years. We expect the growth to increase even further once we will be able to further target ads by shopping history and loyalty data. Media sales will provide a sales margin close to 70% since there basically are no other production costs, than sales salaries and commissions.
Retail Analytics market is growing rapidly from 3,8 billion USD in 2017 and estimated to make the 10 billion marker in 2023 (source)
It's not only the huge amount of marketing related to the CPG:s that catches the eye, but also the growing need of a better consumer understanding in order to predict and push the consumer into wanted direction. Smartcart provides a unique platform to interact, collect behaviour data and do queries to the shopper when shopping. If this would be online-shopping, we would all considered this quite obvious and pretty easy to do as well, but in brick n' mortar, this just hasn't been possible, until now. This data collection is performed already now, and it basically comes without any production cost and therefore the sales margin is expected to be over 90%.
Cashier Salaries account for roughly 1/3 of total supermarket salaries (source: Tim Schröder, LIDL)
In the next few years Smartcart expects to be part of the new payment possibilities and to renew the traditional cashier thinking, to a more cost effective and queue less one. This will both improve the competitiveness as well as remove one of the most annoying parts of physical shopping, the waiting.
Vårt team
Vårt team
Smartcart Head-office is located in Ruoholahti Helsinki and the production facilities are located in Koivuhaka, Vantaa. Our headcount reached 20 in end of 2018 and is expected to grow by 50% until end of 2019.
In this is section are listed the key members of the Smartcart-team. This section is divided into three parts; first are introduced the management team members, second the members of the board and last are the advisors of the company.
The Board of Smartcart is a combination of experienced international sales developers who have decades of experience in leading big Tech Companies, marketing and brand building expertise, as well as Internal and External Financials. Supported by a highly successful advisory board of exceptional pioneers in their own respective fields, Smartcart is surrounded by an exceptional pool of talent and track record. Each of the advisors is also a shareholder of the company.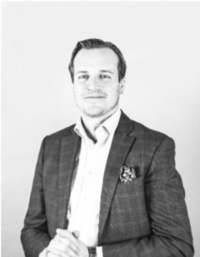 Petteri Heiman
CEO
M.Sc. (Business) and Founder Petteri Heiman is a campaigner and entrepreneur by nature. "Something is only impossible, until it´s not". Petteri has acted as CEO since start of the company. His background and core competence is in Telecoms and Sales. Previously he has successfully performed two exits in the Telecom sector.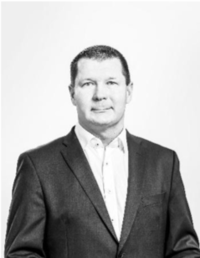 Marko Tikkanen
COO
B.Sc. (Business) Marko Tikkanen is the logical enigma. A winning oriented team player who possesses 20 years of experience from leading teams from 3 to 300 persons in the property management sector as well as airports. The experienced leader has as a unique ability to always keep calm and stay positive. Marko previously worked as COO at Autokliniikka Companies.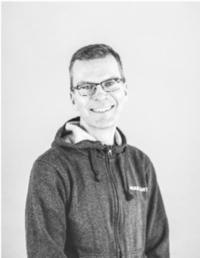 Tobias Hannus
CTO
M.Sc. (Computer Science) Tobias Hannus is the other co-founder of the company and has built and supervised the SW-development since the very first POC done in 2014. The successful development and evolving of the software with a growing team of developers has all been made possible by Tobias dedication to creating something totally new and scalable. Tobias previously worked at Aspicore.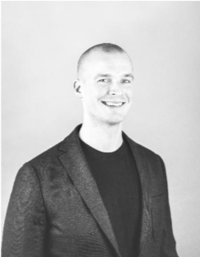 Mikael Hirn
Head of R&D
Mikael Hirn is the MacGyver of mechanics. Planning and execution to production is a walk in the park for Mikael. In charge of creating the unique charging system for shopping carts that got patented in the end of 2018.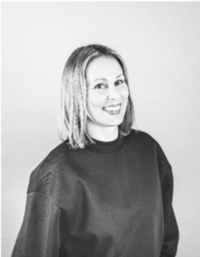 Mia Lönn
Head of Marketing
B.A. (Arts) Mia Lönn is in charge of our marketing and communication and has been a key person in developing our Company's brand and visual identity. She is retail professional and a true marketing factory that can handle it all. Mia is purposive in everything she does - next she plans to climb over 6800m mountain peak, you do the math. Before Smartcart Mia worked as a fashion designer at Kesko.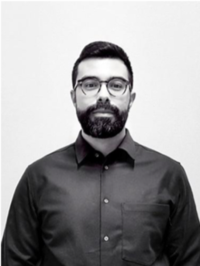 Francesco Villanova
Head of International Sales
BBA (international Business) Francesco Villanova is the Sicilian. The newest member of the team is a master in conceptual sales and always up for a debate on who to improve traditional working methods. He just doesn't accept NO for an answer. Francesco previously worked as Managing Director for Parkman Italy and Spain.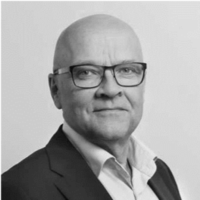 Jorma Wiitakorpi
Chairman of the Board
Jorma Wiitakorpi is a Board Professional and the former CEO of the biggest national defence contractor, Patria plc. Jorma has 40 years of experience in negotiating a large scale of international deals all over the world.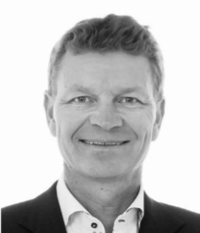 Mats Wolontis
Board Member
Mats Wolontis is a former Managing Director at Nokia UK and currently acts as a Board Professional. Development of international sales and building different kinds of teams is the speciality of Mats.
Jani Holmi
Board Member
Jani Holmi is KHT-auditor who also acts as CEO of Aaltonen & Co.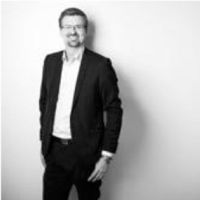 Vesa Havukainen
Board Member
Vesa Havukainen is an experienced CFO who is a Partner at Greenstep Ltd consulting various companies as interim CFO. Before this Vesa was in charge of Finance and M&A at Ovenia Group ltd.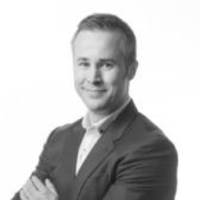 Jarno Kukila
Board Member
Jarno Kukila was the man behind EuroFC, that had the ambitious goal of becoming the new UFC of Europe. As a guru in marketing and branding, Jarno brings a much-appreciated skillset to the mix.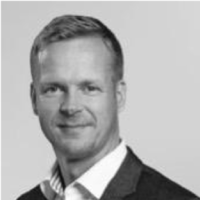 Jarkko Veijalainen
Advisor & Shareholder
Jarkko Veijalainen is the Chairman of The Board and biggest shareholder for 3 Step IT that is a massive success story in IT Asset Management. His on-going quest for achieving growth continues and the turnover of 3 Step IT exceeded 600M€ in 2017.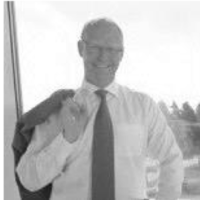 Marko Sjöman
Advisor & Shareholder
Marko Sjöman owns the majority of 3 Step IT together with Jarkko Veijalainen and is responsible for the most part of the innovative financial products created by the company.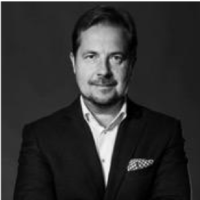 Jukka-Pekka Vuori
Advisor & Shareholder
Jukka-Pekka Vuori is the former Chairman of the Finnish Skiing Federation and currently acts the commercial director of Grano. As one of the most respected brand builders in the country, Jukka-Pekka possesses a superb knowledge of marketing.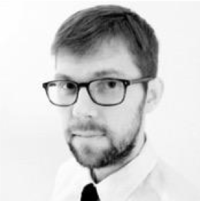 Joonas Rokka
Advisor & Shareholder
Ph.D. in Marketing Joonas Rokka is the youngest Finn ever to become a professor in France, as only 30 years old. Joonas is a world leading scientist in video graphic research and digital media, located at one of France leading Universities, EmLyon Business School.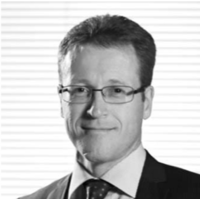 Harri Pärssinen
Advisor & Shareholder
Harri Pärssinen is the former Chairman of the Board at Ernst & Young who now acts as a professional investor.
Risker
Risker
Onoterade tillväxtföretag är investeringar med hög risk. Risker som finns i onoterade företag är t.ex. risken att förlora hela din investering, brist på likviditet på aktien, oregelbudna eller sällsynta utdelningar (vinstutdelning) och utspädning av din insats. Läs denna denna riskvarning noggrant innan du gör en investering.
Vi rekommenderar att du tar reda på investeringsmålet som du är intresserad i, diversifierar genom att investera i flera investeringsmål, och balanserar din portfölj genom att likvida investeringar. Vi rekommenderar även att du studerar noggrant riskbeskrivningarna som finns i målföretagens riskavdelningar, som du hittar i investeringsmaterialet.
Bifogat till investeringsmaterialet hittar du en kreditupplysning som kan vara relevant för att göra ett investeringsbeslut.
Overall
All businesses and markets include risks, so does this. Customer behaviour in moving from offline towards online could be considered a risk, but we instead belive that to be a strength when forcing offline retailers to make their processes more effective in order to remain competitive.
People
Hardly ever does it remain easy to attract new talents for a scaleup, nor to hold on to the best talent. The core people of the company are behind the most vital innovations and processes.
Financials
The company is not yet profitable and might have future needs for financing. Typical lead times in the sector are up 6-12 months and achieving profitability in new markets may take longer than expected.
Patents and IPR
Although the company has successfully performed Freedom-to-Operate in 2016 and been granted patents, it is always possible that somebody could threaten Smartcart in this field somewhere in the world. Earliest patents related to intelligent shopping trolleys date back to mid 80s and have been followed by numerous solutions in US, Israel and Poland. Smartcart is only a company and domain name and is not intended for global use as a trademark due to its generic nature. Existing trademarks (like Smartcart in Poland) could pose a threat for using similar logos and products and there is always a risk that this could cause some disputes.
Legal
No legal proceedings against the company currently exists. The risk of this however is always present when expanding into new territories. Regulation changes especially in the field of payment technology is to be kept in mind as a possible threat in the future. If faulty products would be delivered, this could result in claims and compensations.
Competition
The in-store market and digital shopping carts will certainly gain added attraction in the future and we expect to be followed by companies trying to copy our solution. Smartcart will continue to strengthen its position and further developing the current solution as well as addons in order to stay ahead of competition. While there is always the risk of the position being weakened, it also provides a significant opportunity of exit, to an industrial buyer.
Partner
Unexpected issues can rise with current and/or new partners as Smartcart rapidly expands and this can result in extra costs or fees.