KomeroFood – Responsible and healthy food
I samarbete med Nordea
We want to offer the best way to prepare a delicious and healthy meal at home! KomeroFood brings joy and experiences to everyday life in an environmentally-friendly way. By investing in KomeroFood, you will be investing in the future of food.
Detta innehåll är också tillgängligt i
finska
Vår berättelse
Vår berättelse
It is challenging to keep up a healthy and balanced diet in the midst of busy weekdays. Komero meals are designed to solve this challenge. Preparing a Komero meal feels even relaxing – just like in the cooking programmes. All you need to do is to pour the pre-measured ingredients on the table and start an enjoyable cooking session.
KomeroFood Oy (FI26767656) was established to solve the common problem that is familiar to all families: "What should we eat today?". Pekka Nuutinen, the founder of KomeroFood, finally got frustrated with this age-old question while doing his grocery shopping. Pekka consulted his friend and contacted top chef Henri Alén, whom he had never met. Then, Pekka gathered a team and KomeroFood was born.
Since KomeroFood was founded, it has already brought joy and relief to the everyday lives of tens of thousands of people! KomeroFood offers meal bags that are available in grocery stores for consumers (Komero bags). A Komero bag contains Henri Alén's recipe and all the ingredients for a meal for two or three people. Cooking a Komero bag meal is so easy that even a child can prepare a delicious meal for the entire family. The bags contain just the right amount of ingredients, which means that no food waste is produced.
According to the company the team is strong, products superior and growth potential significant. Approximately 50% of the current turnover comes from K-food stores (one of the largest Finnish grocery store chains) and 50% from S Group's stores (one of the largest Finnish grocery store chains). The number of stores selling Komero bags expanded to over hundred stores in 2018. We have optimised our logistics to fulfil the needs of the growing number of stores selling our products. For example, any K-food store can order our Komero bags directly from Kesko (their normal Finnish retailing conglomerate). Therefore, we can fully concentre on sales, marketing and business development.
By investing in KomeroFood, you will be investing in the future of food!
There are several megatrends that will strongly shape the food industry over the next ten years. In a recent study The European Commission has also identified a need for change towards a more sustainable food system. In addition, we have identified some megatrends and motives which have relevance for KomeroFood's operations: 
Megatrends:
The importance of leisure time is increasing
People are increasingly interested in their own wellbeing
Environmental wellbeing is considered important
The underlying motives that the company believes will have an impact on the sales of Komero bags:
Ease (time-saving, no need to ponder what to buy from the grocery store)
Self-image (am I eating correctly, is my child eating correctly?)
Experiences (I managed to do this by myself, better taste, doing together)
Climate change is one of the greatest challenges of our time. Our eating habits have a significant impact on climate change. With regard to the greenhouse gas emissions, food contributes almost as much as transport or housing. By gradually shifting to a diet that contains plenty of vegetables and minimising food waste, we can all take action to prevent further climate change. KomeroFood offers everyone an easy and delicious means to create a more positive future.
At the same time, people spend less and less time with their families. Many children hope that their families would spend more time together. A shared pleasant cooking session with the children creates a memorable moment in the midst of everyday life. This is how children will also learn to cook and find the joy of cooking. One day, when you arrive home from work, you might find a home-cooked meal prepared by your enthusiastic child waiting for you. 
WHY IS KOMEROFOOD AN EXCELLENT INVESTEE COMPANY?
KomeroFood's mission is to offer the best means to prepare delicious, healthy and environmentally-friendly food at home.
In our opinion KomeroFood has tremendous growth potential. In 2018, the turnover grew on average 13% per month from August to December. Our aim is to increase our turnover for 2019 up to EUR 700,000. Our annual growth objective for the following years is approximately 60–200%. More information on the turnover growth rate is provided in section "Valuation".
The food industry is undergoing a major change. This creates opportunities for new brands to grow extremely fast. The company believes that KomeroFood has great potential to be one of the most interesting brands in the food industry and this is further speeded up by Henri Alén acting as a public face for the company.
The Komero team has strong expertise and competence both in scaling the business as well as executing exit strategies.
Company owners include, for example, top chef Henri Alén, Mika Sutinen who increased the turnover of Musti ja Mirri Oy (a Finnish pet supply store chain) up to EUR 200 million as well as TukkuHeino Oy (wholesaler and importer of daily consumer goods) who possesses strong food supply knowledge, led by Petri Heino.
The comapny estimates that in 2022 the company will generate a strong profit, which will enable dividend payment to shareholders. We also believe that our company will then be an attractive acquisition target for large food industry operators. More information on the exit strategy is provided in section "Valuation".
In our opinion KomeroFood is not just a remarkably good business case, but also an excellent way to have a positive impact on climate change and wellbeing of people.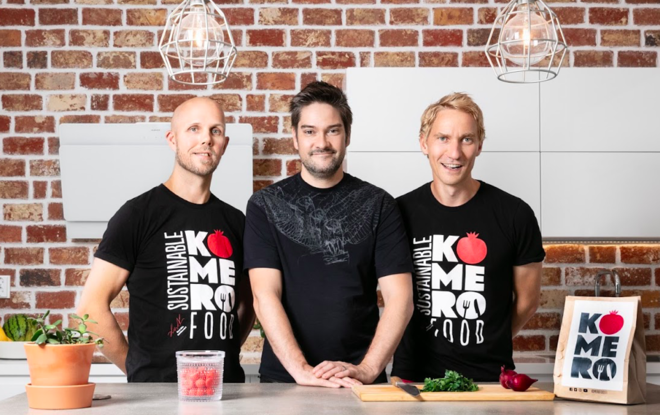 Vår affärs- och marknadssituation
Vår affärs- och marknadssituation
Komero – the right product at the right time!
Komero bags were developed to meet the need of making everyday cooking easier. It takes too much time to go to a grocery store and to ponder what to eat. What is unique about KomeroFood's products:
Meals are planned by top chef Henri Alén
The bag contains all ingredients for the meal
The bag contains the correct amount of ingredients, so there will be no food waste
Therefore, even a child can prepare a delicious meal for the entire family. According to our knowledge, there are no equivalent competing products at least on the Finnish markets.
There are some meal kit services tackling this same problem on the markets. Meal kit operators in Finland include, for example, Sannan Ruokakassi, Ruokaboksi and Anton&Anton. Through these services, you can order recipes and ingredients delivered to your door. You can prepare dinners for a couple of days from the ingredients. One crucial weakness of these services compared to Komero meals is their fairly high price. For example, three meals for two in the Sannan Ruokakassi service cost EUR 50, while the same number of Komero meals cost a maximum of EUR 30. The price of the meal kit service includes home delivery, but other everyday products still need to be bought from a grocery store. The deliveries of meal kit services do not include all the ingredients required for the meal and for example, rice, flour and spices are not included in the delivery of Sannan Ruokakassi service, according to their website. When all the ingredients needed together with the recipe are included in a single Komero bag, it becomes significantly easier for children and the elderly to prepare a meal. There is no need to buy any ingredients separately or to search for the ingredients and measure them precisely.
For example, Kesko and S Group can offer the best elements of meal kit services to consumers by selling Komero bags in their online store services. Customers can select the desired Komero bags in the online store while ordering other daily groceries. This means that all daily groceries and Komero bags will be home delivered. Ordering Komero bags has already been available through Kauppahalli24 for more than a year. Furthermore, we have piloted our products with one Citymarket (a Finnish supermarket) and one S Group's S-market that belongs to the Foodie online food ordering service. Both of these stores offer a possibility to have Komero bags collected and home delivered with other groceries. This can be scaled to all Kesko and S Group online stores.
The main sales channel for the KomeroFood products is the traditional grocery stores, since according to the Finnish Grocery Trade Association's annual publication more than 99% of groceries in Finland are bought from physical stores instead of online stores. In 2017, food retail amounted to EUR 14 billion in Finland. The share of e-commerce was approximately EUR 40 million.
Komero bags are competing with ready meals and individual ingredients in the grocery stores. KomeroFood distinguishes itself from other operators in the food trade with the following characteristics of the Komero products:
They taste better than ready meals
They have better ingredient transparency than ready meals
They are easier to prepare than meals that are prepared from a traditional recipe, which makes KomeroFood's products popular among children as well. Their clear recipe and pre-measured ingredients make it easier for a child to learn cooking.
They are an environmentally-friendly alternative, since no food waste will be produced.
Komero meal target groups
Everyday cooking should be ready quickly. Saving time and effort motivates people. Informed consumers request healthy and ecological food. Demand for vegetarian and vegan food is increasing rapidly. For some people, the transition to a more plant-based diet is too demanding due to lack of skills to make tasty vegetarian food. We can help these people to create a healthier diet for themselves by offering an easy way to reduce meat consumption and learn to make tasty vegetarian food. KomeroFood's most potential target groups are:
Informed, often older couples who have money. These couples have cooked the same meals for years,and do not want to eat ready meals unless it is absolutely necessary.
Families with educated parents. They often have money and a strong awareness of health and environmental impacts of food.
Families which encourage children to cook. Komero bags are designed to acquaint children with cooking.
Young couples and singles. Komero bags are an excellent way to minimise food waste that is often produced by large food packages. 
Elderly people are a growing target group. With Komero bags it is easy to prepare a healthy and versatile meal at home.
Business model
One Komero bag costs approximately EUR 7–10 to the consumer. Komero meals are an affordable solution to consumers, because there is no need to buy over-sized packages or special spices. One Komero bag contains the ingredients and recipe for a meal for two or three and it takes approximately 15 minutes to prepare the meal. The product portfolio currently includes eight different products: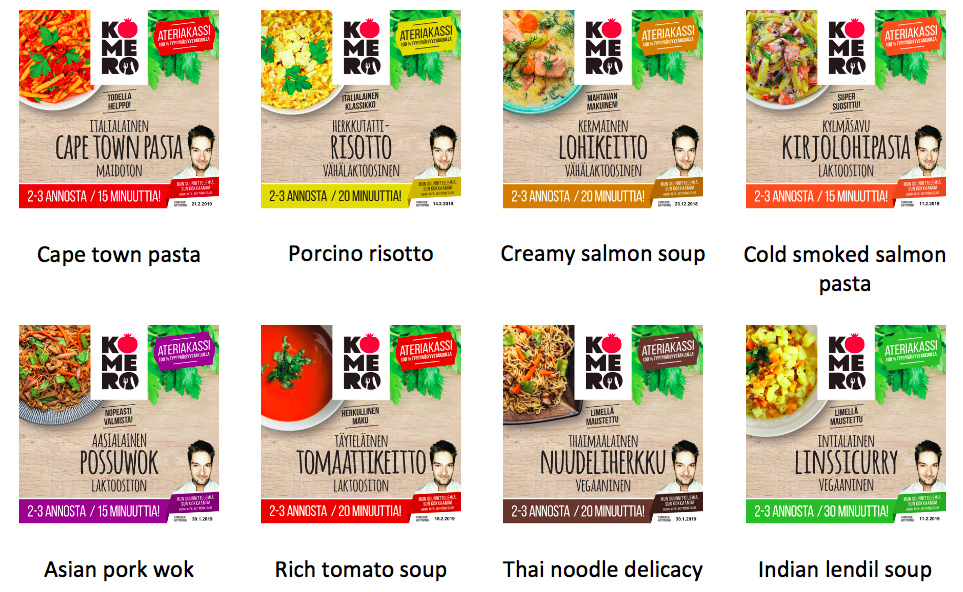 KomeroFood's largest sales channels at the moment are K-food stores and S Group's stores. The selection and prices vary according to the store. Any K-food store in Finland can order KomeroFood's products to be included in their assortment by using their normal ordering system. The shelf life of the products is approximately 10–20 days.
Products are delivered to the logistics centres of the grocery store chains, from where they are transported to the grocery stores. The sales margin including production and logistics costs is approximately 10–40% depending on the product. We estimate that the sales margin will increase, since our volumes continue to grow and we are therefore able to buy larger raw material batches. The business model of KomeroFood is easily scalable, since Komero bags are primarily sold in the stores of large grocery store chains. The strongest growth can be achieved by expanding the store network and store-specific sales volume simultaneously.
Production
Komero bags are produced at KomeroFood's own production facilities and packed by hand. It takes approximately 30–45 seconds to make one bag. At the moment, this is a flexible and the most efficient way to produce bags. When the volumes grow, the production can be automatised. We have preliminary plans and competence in our team for the automatisation. 
We strive to buy our ingredients directly from the producers. We are currently buying ingredients from, for example, Matti Tamsi Oy from Teuva, Kalavapriikki Oy from Kuopio and Kaslink from Kouvola. The inventories of finished goods are kept to a minimum. In an ideal situation, the ingredients that have arrived in the morning will be transported as Komero bags to the logistics centres of the grocery store chains during the same day.
We prioritise the most ecological overall solutions in our operations. The main package of Komero will be completely plastic-free in the spring of 2019. Furthermore, most of the packaging of raw materials will be plastic-free or biodegradable during 2019. Therefore, the Komero products are an ecological alternative also in terms of packaging materials.
Vårt team
Vårt team
KomeroFood's team is a magnificent combination of enthusiasm, experience and excellence. Top chef Henri Alén creates unique visibility and attractiveness for the company with his expertise. Mika Sutinen, who was appointed the Businessman and Marketing Director of the Year 2017 (a recognition granted by the Markkinointi&Mainonta magazine), is the best person to enhance the growth of KomeroFood and help it to become the most interesting food industry brand in Finland. Furthermore, Petri Heino, who runs the more than hundred-year-old family business, brings strong food industry expertise to the Board of Directors of KomeroFood.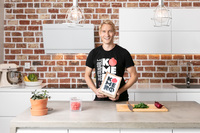 Pekka Nuutinen
CO-Founder & CEO
Pekka Nuutinen is the CEO, founding member and Board member of KomeroFood. Pekka makes things happen. He has strong project management skills, ability to network and direct the focus of the team on the relevant issues. Pekka believes that one experiment equals to hundred plans.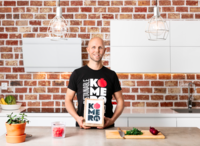 Harri Viitamäki
Co-Founder & CPO/CDO
Harri Viitamäki is the Chief Poduct Officer/Chief Development Officer and founding member of KomeroFood. He has a strong software business background, since he has worked in software start-ups for 15 years. Harri is especially interested in the health and environmental impacts of food. Harri Viitamäki and Pekka Nuutinen have been the management team of the company since the beginning. Harri Viitamäki is also one of the main shareholders of Ecomond Oy.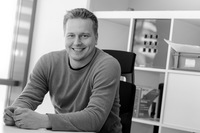 Jussi Räisä
Co-Founder & Chairman of the Board
Jussi Räisä is the Chairman of the Board of Directors and founding member of KomeroFood. He actively assists the management and is closely involved in the business development. Jussi Räisä is also the founding member of Savroc Oy.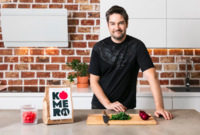 Henri Alén
Co-Founder & Top Chef
Henri Alén is one of the best chefs in Finland. He is responsible for ensuring that all Komero meals are super delicious and easy to prepare! Henri finds it very important to be able to use his expertise to help people to eat better. Henri Alén is the founding member of KomeroFood.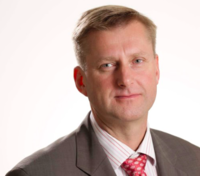 Petri Heino
Board member & Partner
Petri Heino is an active Board of Directors member of KomeroFood. He runs the more than hundred-year-old Heino family business. Petri's substantial experience in the food industry is extremely valuable to KomeroFood. TukkuHeino Oy is a shareholder of the company.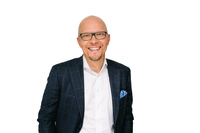 Mika Sutinen
Advisor & Partner
Mika Sutinen has increased Musti ja Mirri's operations by tenfold up to a EUR 200 million business. He was appointed the Businessman and Marketing Director of the Year 2017, a recognition granted by the Markkinointi&Mainonta magazine. Mika is one of the best person to enhance the growth of KomeroFood. Mika Sutinen is a shareholder of the company.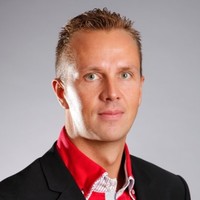 Tuomo Rissanen
Advisor & Partner
Tuomo Rissanen is the founding member of Ropo Capital (formerly Trust Kapital Group). Tuomo is very experienced in starting and growing a successful business and executing substantial exit strategies. Tuomo is a shareholder of KomeroFood through his company TT Partners.
Risker
Risker
Onoterade tillväxtföretag är investeringar med hög risk. Risker som finns i onoterade företag är t.ex. risken att förlora hela din investering, brist på likviditet på aktien, oregelbudna eller sällsynta utdelningar (vinstutdelning) och utspädning av din insats. Läs denna denna riskvarning noggrant innan du gör en investering.
Vi rekommenderar att du tar reda på investeringsmålet som du är intresserad i, diversifierar genom att investera i flera investeringsmål, och balanserar din portfölj genom att likvida investeringar. Vi rekommenderar även att du studerar noggrant riskbeskrivningarna som finns i målföretagens riskavdelningar, som du hittar i investeringsmaterialet.
Bifogat till investeringsmaterialet hittar du en kreditupplysning som kan vara relevant för att göra ett investeringsbeslut.
Market risks
KomeroFood's business is based on changing markets. People demand new and more effective ways to buy and prepare food at home. However, it is challenging to forecast the speed of the change accurately. Therefore, there is a risk that the forecasts presented here will not be realised as planned and/or the pursued exit strategies or dividend payment plans will not be materialised. For this reason, KomeroFood's management follows the market changes and the speed of the changes closely and reacts quickly to them in order for the business to grow as strongly as possible. The company management may be forced to revise the business plan presented here in case the market risk is realised.
Competition risks
In rapidly evolving markets, there is always a risk that someone will develop a better product or service package which will quickly take over the markets. We believe that KomeroFood's experienced and diversified team will be able to respond successfully to these challenges, if necessary. The company has not registered a trademark although a registration process has been started. It is possible that the trademark cannot be registered.
Financing risks
Companies in strong growth phase also face financing risks. It is possible that the company does not make profit in planned timeframe. Therefore, additional financing may have to be sought for and it is not necessarily granted or is granted only on terms that are unfavourable from owners' perspective. The company's strong and experienced team can also help reduce this risk.
Quality risks
The quality of its products is of utmost importance to KomeroFood. However, when dealing with groceries, there are always quality risks involved. We aim at minimising any quality deviations by having stringent quality control and satisfaction guarantee measures in place. These risks are considerably reduced by the fact that almost all ingredients in Komero meals are cooked when preparing a meal. In addition, a majority of ingredients is packed before being delivered to KomeroFood.
Personnel risks
There is always a risk that a key person will leave the company or that someone will fall seriously ill which may have a negative impact on the business. We aim at managing this risk with the Shareholders Agreements of the current shareholders and by offering long-term employee benefits, such as a personnel option programme and a motivating and flexible working environment. 
Risks related to cooperation activities
There are extensive cooperation networks related to, for example, the sourcing of raw materials, in the food industry. This means that there is always a risk that a cooperation company will be faced with difficulties and, for example, cannot deliver some raw materials. It is also possible that the quality of the raw materials varies. These risks are managed with stringent quality control and by ensuring that the same raw materials can be sourced from many different suppliers.