Wonderland work-eat-drink
Detta innehåll är också tillgängligt i
finska
Vår berättelse
Vår berättelse
Wonderland work-eat-drink is a new coworking space built completely around creative ways of working. A fancy string of words for working smart, not hard. Wonderland's story started when a bunch of Helsinki-based entrepreneurs in urban culture, media, branding, restaurants and events teamed up with some international partners to reflect on the future of work.
Wonderland is more than an office space, it's a lively community of networking professionals and significant events. A community that helps its members achieve their goals and dreams by encouraging collaboration between people whether it's a case of exchanging services or business advise. Whether you're looking to create culturally significant content, design a new icebreaker, build a graphic look for a new company or innovate a banking concept working from Wonderland will help you get from A to Z.
The first space for 200 or so members is located in Vallila's Konepaja area and will open for members in August 2018. Wonderland is a hybrid of coworking facilities, Alice restaurant and cafe, flex working spaces, lounges and team rooms. We've also got a dozen creative studios, formerly known as meeting rooms. What elevates them to such are their individual interior design and equipment ranging from a movie studio to a meditation room done in collaboration with some of our favorite brands. For example, one of our meeting rooms doubles as a Makia shop and another one hosts a bar by Kyrö Distillery Company. The studios are first and foremost the creative stages for your meetings designed to trigger new ideas and move things along.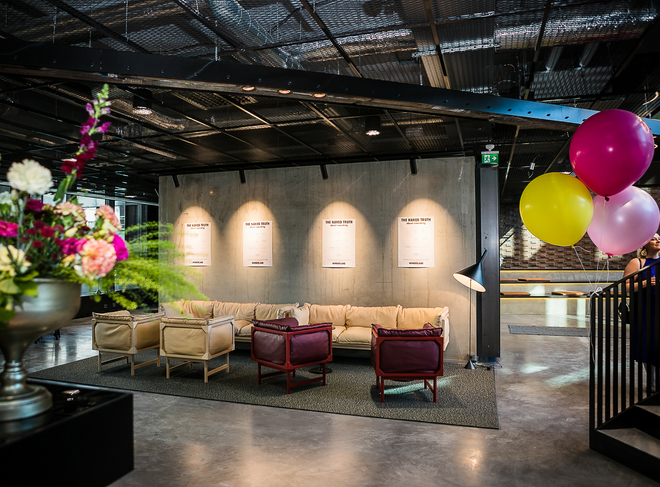 Vår affärs- och marknadssituation
Vår affärs- och marknadssituation
Coworking in a nutshell
Coworking is on the rise around the globe as a beacon for new ways of working. Traditional employer-employee relationships have been diminishing for some time now with the surge of freelancers and other flexible employment methods. These creative workers are paying more and more attention to where they're working from, to the fact that they miss the communal inspiration and problem solving of traditional office spaces as well as reliable services such as IT support.
However it's not just the 2-3 people businesses that are hopping onboard the coworking wagon. Big companies are struggling with the changing demands of tomorrow's workers. Millenials are known to be eager to change jobs and demand better benefits and perks due to their confidence in themselves as workers – a positive course in many people's minds. Companies need to be able to provide their workers with inspirational space and access to a network of like-minded professionals. Offering access to coworking spaces is often seen as a pure business opportunity as well, corporates want to get closer to interesting startups and creative business ideas. In 2016 Microsoft provided their entire sales team in New York and a few other cities in the US access to WeWorks' coworking spaces to offer them more flexibility in their working life (Fortune).
WeWork is the unicorn of the coworking world, a community with over 345 locations in 65 cities around the world (WeWork). WeWork started in 2010 with just two locations and is now a global company with a valuation of $20 billion (Forbes).
The market in Finland has been steadily gathering momentum in the past few years with some coworking spaces opening mainly in central Helsinki. Coworker.com lists 15 Helsinki-based coworking spots on their website, though many of them are smaller venues operated by bigger companies and meant mainly for temporary work (Coworker).The early adapters have found these spaces and soon it is time for the masses. Coworking is still widely considered to be something useful to only freelancers or mainly as renting an office space – Wonderland is here to change that.
We are going to Vallila
Wonderland is located in Vallila's Konepaja area in the vicinity of Helsinki's "Wall Street". When looking for a home for the first space we were drawn to Vallila and Kallio because of their existing creative communities and the shifting attention of both consumers and business when it comes to expanding from the center.
In addition to offering work space Wonderland is also a creative community. Our members get to enjoy the benefits of the network through business advice and co-operation possibilities. Wonderland acts as a creative platform for all of this by arranging events covering subjects such as wellbeing, new work and letting loose. But what most sets Wonderland apart from other coworking venues is the vast number of services directed at companies. In addition to our B2B membership the space is suited for arranging corporate events from simple meetings in our creative studios (aka negotiation rooms) to large events taking over the entire space. Our restaurant Alice is an integral part of Wonderland. Not having the restaurant as a separately functioning unit but as the heart of the space makes is possible to offer seamless services to members and event organizers alike.
Wonderland offers a few different kinds of memberships which entitle you to working space of your choosing and different services in the space. There's free entry to different events including weekly afterworks with complimentary drinks, copying services, kickbike rental and discounts from the restaurant to mention a few.
Memberships
DAY 20€
A seat for a day at the coworking facilities. All our amenities from the restaurant benefits to creative studio rentals at your service for one day. Hassle-free work space to suit your needs.
FLEX 199€ / MO
A flexible membership! Choose your seat daily according to your current vibe and take advantage of all of our member benefits.
FIX 279€ / MO
Your fixed seat. Choose a spot and make it your own! Enjoy the comfort of knowing your preferred seat will always be waiting for you along with our community benefits and services.
BUSINESS 249€ / MO
A company pass that can be used by anyone within the company. Provides a state of the art satellite office for today's mobile workers and a platform for conducting business and nurturing creativity and motivation.
ROOM STARTING 790€ / MO
Need a private space for your team? Then our office rooms within the coworking space are the thing for you! All the upsides of the community merged together with a little privacy for your team. There's only a few rooms, think fast.
Alice
Alice is Wonderland's restaurant and cafe serving our members and outsiders alike. The cuisine is modern Italian with some of the chefs and front of house staff flown in from one of London's trendiest Italian restaurants to show us how things are really done. Good food makes for a good vibe and Alice will be the heart of Wonderland serving breakfast, lunch, dinner and cocktails. Fresh, urban, healthy, ecological and simply damn good. How would you like to own a restaurant?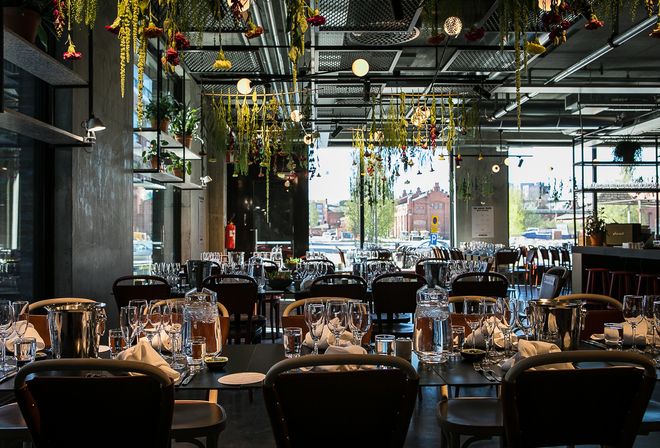 Vårt team
Vårt team
What do you get when a movie producer, brand guru, event marketing pioneer, restaraunteur, international business consultant and a bunch of pioneers of urban city culture start thinking about the future of work?
Risker
Risker
Onoterade tillväxtföretag är investeringar med hög risk. Risker som finns i onoterade företag är t.ex. risken att förlora hela din investering, brist på likviditet på aktien, oregelbudna eller sällsynta utdelningar (vinstutdelning) och utspädning av din insats. Läs denna denna riskvarning noggrant innan du gör en investering.
Vi rekommenderar att du tar reda på investeringsmålet som du är intresserad i, diversifierar genom att investera i flera investeringsmål, och balanserar din portfölj genom att likvida investeringar. Vi rekommenderar även att du studerar noggrant riskbeskrivningarna som finns i målföretagens riskavdelningar, som du hittar i investeringsmaterialet.
Bifogat till investeringsmaterialet hittar du en kreditupplysning som kan vara relevant för att göra ett investeringsbeslut.
Coworking is a huge and constantly growing trend around the world. A big part of Wonderland's base plan and business strategy relies on the justifiable assumption that the same trend will continue to grow in the Finnish, Scandinavian and European markets as well. Since we're talking about a fairly recent function on our market it's impossible to estimate how it develops for sure. If new ways or working don't grow and evolve along the same curve as in the rest of the world the need for coworking spaces might be smaller than anticipated.
If coworking does continue to grow rapidly in Finland there's reason to expect more competition. The business model can't be licensed and is subject to copying by competitors. The best defense is to build a strong brand that will genuinely offer additional value and a creative network for its members among the first in Finland.
Wonderland's location in Vallila, on the outskirts of city center, is one of its biggest strenghts as well as vulnerabilities. Office spaces in the center have traditionally been wanted because of good connections and the prestige created by a central location. We're counting on the young urban population of the area to create a wonderful base for our creative community. The building has great connections by public transport, bike and car in addition to the growing B2B action around the area.
Coworking is a relatively young and evolving business so we might face some unexpected challenges in the business. It can be challening to forecast the operations due to lack of experience and baselines. The diversity of the activities (coworking, restaurant, negotiation rooms) acts as a stabilizer for the earning model but created additional challenges for administrative work.
Please note that since there are separate investor benefits offered for investors the Finnish Tax Administration might see this as hidden dividend distribution. Thus far this has not been the case with funding rounds on Invesdor that have offered separate investor benefits but it is possible that the Tax Administration's interpretation can change.