Connecting Smart Cities and their Citizens
Future Dialog puts citizens at the core of city development. Already Finland's leading citizen engagement solution, Future Dialog helps cities and citizens share information, collect and analyse feedback, and together make better decisions.
Vår berättelse
Vår berättelse
Updates 
Invesdor interviewed Future Dialog to their blog - read the interview here. 
Future Dialog has made 5 new customers during June, bringing the total to 25. This also includes customers in two new segments – property management and political institutions – where we see significant potential going forward. This naturally also increases our monthly recurring revenue in addition to the set-up fees. See customer interviews from the "Invesdor Forum". 
Future Dialog launched a project built around mobile civic engagement in co-operation with VTT and five Finnish cities, Oulu, Porvoo, Seinäjoki, Järvenpää and Lapinjärvi. We are excited to be developing a framework for citizen engagement with these cities and the leading research institution in Finland.
Future Dialog has started new sales partnerships in Estonia and Australia, in both cases partners with significant experience with engagement and the public sector. We expect these to result in new sales starting the fall.
Future Dialog was selected in the final TOP 3 Nordic and Baltic Startups at the Arctic 15 conference.
Smart cities engage their citizens in a continuous dialogue to design prosperous and livable communities. They must collect feedback from their citizens so they can make decisions about how to develop the city, but getting this feedback is hard. Citizens want to contribute to their city, but doing so is difficult and time consuming.
At Future Dialog we believe citizen engagement should be easy and fun for both cities and citizens. Our solution helps cities collect valuable insight from their citizens with lower cost and fewer resources, putting citizens at the core of city development.
Future Dialog's citizen engagement platform consists of a web-based dashboard and a city-branded mobile app which makes it easy and fun for cities and citizens to engage. The dashboard is used by the city administration to publish information and questionnaires, review feedback and analyse results. The apps are branded for each city, and allow citizens to receive information and give feedback wherever they are.
Already Finland's leading citizen engagement platform
Future Dialog is already Finland's leading citizen engagement platform. We work with 20 cities in including Lahti, Oulu, Porvoo, Tampere, Loviisa and many more. Using our solution, these cities have seen a substantial increase in the level of feedback they receive from their citizens on a range of key issues, with lower costs and less effort.
Having proven the solution in Finland, we are ready to accelerate our growth both at home and internationally. Citizen engagement is a massive trend worldwide. There are tens of thousands of cities and municipalities in Europe alone that face the same challenge as our current customers, and Future Dialog has started expanding internationally.
Given our focus on citizen engagement it is only natural that we make investing in Future Dialog open to everyone. This is why we are launching a funding campaign on Invesdor. Let's build the future of smart cities together!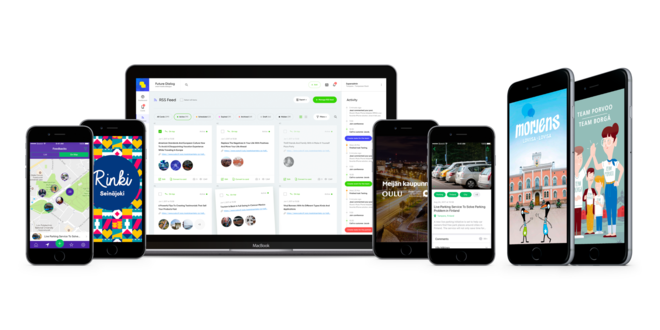 Vår affärs- och marknadssituation
Vår affärs- och marknadssituation
Why citizen engagement
Smart cities engage their citizens in a continuous dialogue to design prosperous and livable communities. Topics discussed can range from healthcare to education, infrastructure projects, city services, budgets and more. Citizen engagement allows cities to crowdsource better ideas from the wider community, generates buy-in for difficult decisions, and develops a greater sense of community. A recent OECD study shows that more inclusive and cohesive communities enjoy stronger economic growth.
Cities use a wide range of channels to communicate and gather feedback, including events, public meetings, the press, city websites, web surveys, social media and other online tools. However most citizen engagement activities remain time and resource consuming, while generating very little actionable feedback from stakeholders who are typically too busy or unclear on how to engage.
We believe it's time to bring citizen engagement into the mobile age. Making engagement easy for the city to manage, readily accessible to all citizens - on their mobiles - and (ideally) fun!
A platform connecting cities and citizens
Future Dialog's citizen engagement platform puts civic engagement literally in the hands of the people, while making it easier and more cost efficient for the cities to engage. The solution consists of a browser-based dashboard and a city branded mobile app, which can be downloaded for free from the App Store and Google Play. The entire platform is delivered as a SaaS solution (software as a service), which means cities only needs a web browser to access and manage their citizen engagement.
The dashboard is used by the city administration to manage the entire engagement process including to publish information and questionnaires, review feedback and analyse results. Ready-made content and survey templates make it easy to create and publish new content to their city app. The platform also provides shared content from other cities facing similar issues, and automated reporting. This reduces the cost and resources needed for engagement while improving the quality of feedback received.
The use of mobile apps for citizen engagement allows the precise targeting of content and questionnaires according to the end user's profile, preferences and location, at the same time as making participation convenient and fun for the user.
Unlike web surveys, citizens and cities can engage on a continuous basis, and citizens can choose when and how much to engage at any given time. The app becomes a central point to access news about city developments and give feedback on key issues of importance to the city. The mobile app also acts as a channel for residents to submit issue reporting and to start local initiatives with other citizens.
Future Dialog's technology allows rapid and efficient deployment and maintenance of a very large number of apps. While the apps are standardised, cities can select from a range of modular features to include in their app and dashboard.
Going forward, Future Dialog's product development is focused on providing further value and ease of use to the customer, including greater automation of content and survey creation, and more flexible reporting and analytics. We are also integrating the platform with cities' open APIs, which will enhance the quantity and quality of data available on the platform, and seamlessly integrate data collected with existing city reporting systems.
The market opportunity
Citizen and stakeholder engagement is a massive trend worldwide. There are tens of thousands of cities and municipalities in Europe alone that face the same challenge as our current customers. Several other customer segments beyond cities have similar engagement needs.
Smart cities
Future Dialog's citizen engagement platform is particularly suited to small and medium sized cities who may otherwise not have the resources to develop or manage proprietary engagement solutions. In Europe alone this represents a market with tens of thousands of potential customers, including cities, municipalities and other local government entities. The global opportunity is naturally much larger. 
In addition to engagement there are opportunities to leverage the data gathered by Future Dialog's platform to support related smart city initiatives. One example is Future Dialog's participation in Lahti's CitiCAP project to develop a system for personal carbon tracking and trading in line with the city's CO2 reduction goals.
Other segments
Beyond cities we have identified - and are already working with - several customer segments with very similar engagement needs, including educational institutions, associations, consumer goods companies, political parties and other large organisations. We expect these non-city segment to represent an attractive and growing part of our business.
Business model
Future Dialog's business model is based on set-up and monthly SaaS fees (software as a service). Current set-up fees range from €2,500 to €10,000 with the average around €7,000. Monthly SaaS fees are €750 per customer on average. The main drivers of the pricing are feature selection, population size and the number of admin users.
We believe our pricing is competitive compared to other solutions, particularly for small and medium-sized cities. Contracts are typically for one year, and extended automatically unless cancelled by the customer.
Future Dialog's Monthly Recurring Revenue (MRR) is currently over €8000 per month, on top of which we generate set-up fees. We expect MRR to grow to €25,000 per month by the end of 2018, and full year revenue (MRR + set-up fees) for the full year 2018 of €364,000.
Competitive environment
Cities have wide range of options when selecting tools for digital engagement. Competing digital solutions include a combination of web-based survey tools, online discussion forums, social media platforms, and in some cases city developed proprietary solutions. In most cases the challenge remains: communication is one directional and the reach is limited.
Unlike other engagement solutions, Future Dialog's citizen engagement platform allows a continuous dialogue between city and citizen. It saves the city administration a considerable amount time and resources, and provides citizens with a far better user experience.
Market traction
Future Dialog is already the leading citizen engagement platform in Finland. Current clients include cities such as Lahti, Porvoo, Loviisa, Oulu, Hollola and Liminka. Overall 20 cities Finland and in the Baltics use our solution.
Most customers are small and medium-sized cities where Future Dialog is a well recognised provider of engagement solutions. Our clients have experienced significant increases in engagement and feedback with key stakeholders on a wide range of issues from public transportation, to education, services and urban development. In many cases the our solution has allowed the city to reach typically silent groups, including younger people, working families and other busy citizens. Some examples include:
Porvoo - Team Porvoo
In November the city of Porvoo (50,000 pop.) launched its Team Porvoo app using Future Dialog's platform. The city has used the platform to engage with citizens a wide range of issues, including on topics from e-learning to public transport, to what to include in major new developments. Since launch they have received nearly 40,000 responses, which has allowed the city to back up its decision making with real-time facts.
Lahti - Porukka
One of Future Dialog's earliest customers, the City of Lahti, has since early 2016 used its Porukka app to continuously engage with its citizens and give them a say on a variety of topics such as budgeting, city brand image, city strategy, sports activities, sidewalk maintenance, the city's CO2 neutrality and energy solutions. The solution has resulted in more than 230,000 responses from citizens - a direct line to citizens' preferences and priorities.
Future Dialog's solution has received recognition as a Public Sector Innovation from the OECD, won Silver at the 2016 Kuntamarkkinat SM, has been selected as a provider for Lahti's CityCAP project, and is a partner with VTT's project for citizen-driven mobile engagement.
Beyond cities
While our focus is on citizen engagement, we also work with educational institutions, associations and other large organisations that have similar engagement needs. We have worked with public associations, research organisations and have already collected our first experiences in the education sector. Tampere3 and the University of Jyväskylä have used our solution for their strategy work with impressive results.
Our strategy
Future Dialog's solution accelerates fact-based dialogues between communities and their stakeholders. Having proven the concept in Finland, we are expanding to new markets to help make citizen engagement a part of everyday life.
Our goal is to become a leading citizen engagement solution for cities in Europe, and then worldwide. We believe that over the next three years, Future Dialog has the potential to serve at least 300 cities as customers in the Nordics, Baltics, Germany and beyond, resulting in a very attractive business case. We also plan to secure a large number of customers from other segments.
Marketing and sales strategy
Our marketing and sales approach is based on a combination of online content marketing, efficient lead nurturing, and direct sales. Our marketing starts with high quality content relevant to our target audience, on topics such as customer cases and engagement best practice where Future Dialog is a credible authority. This is distributed through our website, direct email and social media, and drives website traffic which allows us to identify relevant prospective customers.
Sales are conducted through an active inside sales process (i.e. by social media channels, email, phone, and chat), supported by in person sales where needed. Citizen engagement is a very 'top of mind' subject among city administrators which supports the sales process. We also benefit from strong word-of-mouth recommendations and a general awareness for Future Dialog's solution among potential customers. Typical sales cycles in the city sector vary from a few weeks to three months.
To extend our sales capabilities we work with established partners who have particular segment or regional focus, or where the customer requires additional support. We also attend smart city-related exhibitions and events, and participate in industry initiatives where our knowledge of engagement is of value.
International expansion strategy
In international markets our strategy is similarly based on content marketing and inside sales, however combined with local partners who have strong connections to the public sector and other relevant customer segments. Such partners are typically consultants who work close to the public sector and are familiar with cities' development projects and engagement needs. Besides local content marketing, channel partners are supported with a comprehensive sales tool kit, including demo apps, use case studies, a content libraries to share with customers.
Our first international clients are based in Estonia (see the Järva Vald app) and Norway (see the iKRS app). In Estonia and in Norway we have already initiated content marketing efforts and are in the process of identifying the best potential partners to team up with locally. In Germany we have partnered with digital marketing agency Divia, which has a strong foothold in the public sector.
Other segments and product extensions
Beyond cities, we will continue developing customer segments with similar engagement needs. We will also explore product extensions using Future Dialog's capability to collect data from various audiences and turn it into valuable intelligence for urban development.
Why invest in Future Dialog
Future Dialog has proven its solution in Finland and is ready to accelerate its growth both at home and internationally. There are tens of thousands of cities and municipalities that need our solution and we are ready to expand. Let's build the future of smart cities together!
Finland's leading citizen engagement platform with already 20 cities as customers.
Better engagement outcomes with lower cost and fewer resources
Citizen engagement is a large and growing trend. Tens of thousands of cities and other organisations have the same need.
Revenue of €126,000 in 2017, expected to grow to €364,000 in 2018.
A strong team with relevant experience and domain expertise
Vårt team
Vårt team
The team consists of Erno Launo (CEO), Roman Stelmakh (CTO), Jesper Enegren (Sales), and Henry Nilert (Chairman), among others. Together we have extensive experience from citizen engagement, sales, digital marketing, product and technology development, and successfully growing startups. Our team has all the key competences to build a global success story.
Risker
Risker
Onoterade tillväxtföretag är investeringar med hög risk. Risker som finns i onoterade företag är t.ex. risken att förlora hela din investering, brist på likviditet på aktien, oregelbudna eller sällsynta utdelningar (vinstutdelning) och utspädning av din insats. Läs denna denna riskvarning noggrant innan du gör en investering.
Vi rekommenderar att du tar reda på investeringsmålet som du är intresserad i, diversifierar genom att investera i flera investeringsmål, och balanserar din portfölj genom att likvida investeringar. Vi rekommenderar även att du studerar noggrant riskbeskrivningarna som finns i målföretagens riskavdelningar, som du hittar i investeringsmaterialet.
Bifogat till investeringsmaterialet hittar du en kreditupplysning som kan vara relevant för att göra ett investeringsbeslut.
Competition
Cities and other customer have a wide range of alternatives to choose from to support their engagement activities. While Future Dialog has not faced competition from directly comparable tools, this may change over time and as we enter into new markets. We mitigate this risk by monitoring the market for emerging competitors, maintaining our focus on engagement and further developing the product and service to maximise the value we can offer to customers.
Development speed
The company's financial forecasts for the ongoing and future years were made as realistic as possible, but there's always a risk that these targets cannot be met. Delays in accelerating our sales, in entering new markets, or our planned development schedule could negatively affect the company's ability to reach its targets. We mitigate against this risk by setting what we believe are realistic forecasts, and ensuring that we have sufficient resources with the right competencies to deliver the plan.
Resources
We are a relatively small team, and while this makes us highly effective, the loss of key resources could affect Future Dialog's ability to drive its growth and develop the product as planned. We mitigate this risk by maintaining a good working environment, making sure key resources are properly incentivised, and sharing knowledge about operations and R&D within the team.
Partnerships
Partnerships are an important element in Future Dialog's growth strategy, in particular internationally. Future Dialog has been successful in establishing these partnerships so far, however it is possible that finding partners becomes more difficult than anticipated, or that existing partners become dissatisfied with the cooperation with Future Dialog. We mitigate against this risk by working closely with our partners, and ensuring that we maintain internal competencies that balance our reliance on partners in certain markets.