Vere - Accelerating growth through business design
Vere will revolutionize the development of digital business. Invest in a rapidly growing company with an excellent client base.
Detta innehåll är också tillgängligt i
finska
Vår berättelse
Vår berättelse
Vere - Business design with an emphasis on customer loyalty
Founded in 2015, Vere Oy is Finland's leading business designer whose mission is to create growth for its customers.
Business design is a way of doing business development, which combines strategic skills, design thinking, and technological ability, but also humans in the center of change. Business design is about the modern operating methods required by the present digital age and agility in the development of businesses and organizations. The themes and goals set for our customer projects are crystallized in how concrete actions can create growth through new operating models, services, and competitive advantages.
When Juha Leppänen founded the company in late 2015, he was frustrated with the generally low customer satisfaction of ICT companies and the way the development challenges of businesses in the "digital age" were solved too heavily in terms of technology and expensive projects that often fail.
The more familiar operating model, service design, which is offered by Vincit, Gofore, Reaktor, and others, only provides a piece of the entity. According to an international study*, more than half of all service design projects never result in practical actions. The strategy work that takes place before the typical service design stages and the commercialization that happens after them are crucial for the results, and they are a seamless part of business design. The fast time-to-market of products and services and customer loyalty will be the most critical factors for the success of businesses in the future.
*Design for Service Innovation & Development Final Report
The business model and MRR
Vere's business model is based on productized consulting and the building and adoption of digital services. The productized model is very profitable for Vere and guarantees quality for our customers. A growing part of our revenue is based on Monthly Recurring Revenue (MRR) agreements (application management, outsourcing, sales and marketing automation). Our goal is to produce 50% of our revenue by MRR.
We are now looking for investors to join our growth story. During the first two years, we have invested in developing our services and formed top level customer relationships. Now it's time to hit the accelerator and, for that purpose, we have launched an issue of shares on Invesdor's funding platform.
Our goal is strong growth in three areas
Consultative business based on a productized model
Licensing methods and our own IPR (= Intellectual Property Rights* ) particularly to large companies
Owning the spin-off companies born through our projects and taking them to international markets.
For our owners, this provides an opportunity to also become part of global, scalable service, and product business.
* IPR refers to intellectual property rights regarding trademarks, technology and services.
Our dream and ambition
In 2021, our goal is to be the thought leader of business design. Our dream is to build a business model where we offer our customers Growth as a Service. This is enabled by business design and our superior skills in sales and marketing technologies. For the customer, the GaaS model eliminates the buying threshold and, for Vere, it provides an opportunity to significantly scale business.
References
During our first two years of operation, we have implemented several demanding customer projects, and our customers are very happy with us.
Vere and 3 Step IT combined their forces in a business design project whose goal was to discover and build future business and service models that support sustainable growth.
"Vere has a professional crew and a good attitude regarding getting things done."
Marko Tarkiainen, CEO
3 Step IT Oy

Vere acted as Insta Group's strategic partner through business design.
"Vere's operating model is a new and refreshing way of building strategic actions and committing interest groups to change."
Henry Nieminen, President & CEO
Insta Group

Vere acts as the developer of digital services and the service experience for the Invalidisäätiö.
"It is only through renewal that we will be able to create societal influence and economic growth. Vere plays a key role in making this possible.
Leena Hallamaa, Asiakkuusjohtaja
Invalidisäätiö

Vere helped Nixu improve their customer understanding and develop their customer management.
"Vere has been an excellent partner for developing Nixu's sales and marketing. Working with them is easy and the results are top quality. Highly recommended!"
Valtteri Peltomäki, CCO
Nixu Oyj
We act the way we teach, and we believe that customer loyalty will be the key to the success of a business in the toughening and increasingly internationalizing competition. We produce value for our customers and seek to surprise them positively every day. A satisfied customer will grow into a loyal customer who also forms the basis for our own growth.
The name Vere comes from Latin and describes our philosophy mentioned hereinabove.
Vere [weː.reː] = truly, actually, rightly, truthfully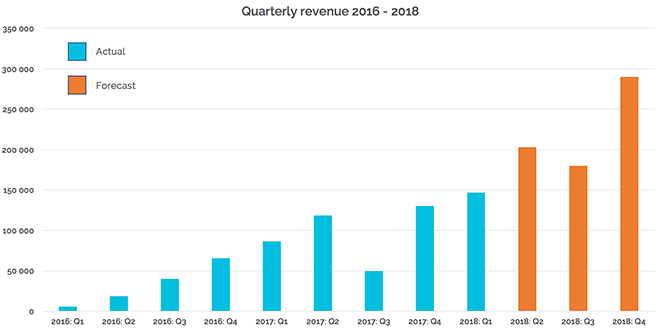 Vår affärs- och marknadssituation
Vår affärs- och marknadssituation
The issue of shares is related to Vere Oy's five-year target plan, of which we are about to launch stage 3.
1st year: Launching of business and key recruitments
2nd year: Development of services and important customer references
3rd-4th year: Significant scaling of business, international growth, and IPR development
5th year: Internationalization, corporate acquisitions, and possible exits.
By investing now, you'll be joining a growth company which we believe has a significant exit and profit potential in the next few years.
The company's operation is based on a Dual business model.
In a Dual business model, a company has two business models that strongly support each other and significantly reduce the company's risks. Consultative business enables cash flow and continuity. These profits allow the development of IPR and the scaling of business. The development of IPR includes the development of Vere's own services and jointly-owned innovations. According to Forbes & HEC Paris, the diversification of business models is a successful way of creating a permanent competitive advantage for a company. This also improves flexibility in the changing market and is part of the company's risk management.
During Q3/17–Q1/18, the company has made important agreements with several large customers from various fields of business. The effect of these agreements on revenue is significant. These customers are in the early stage of the business design process, and the actual projects will begin during 2018. Through these projects, Vere will get income from constant services both from the monthly billing of digital services and "Growth as a Service" type agreements.
Business design and services for customers
Business design refers to a new kind of model of developing business that combines strategic business understanding, design thinking and technological ability. The model seeks to develop business holistically by utilizing innovative methods that combine the best parts of the areas mentioned above. We offer holistic business design and its different areas, which have been described below.
Agile strategy
Our strategy services are based on agile development that seeks to identify and prioritize the most important areas for strategic development. This ensures that actions are directed at the place where they are needed the most. The service utilizes Vere's 3D Method that we have developed that is based on well-prepared and agile workshop-style work.
As the result of our agile strategy service, we discover our customer organization's most important targets for change and create a scheduled, detailed plan of action for them. We engage the customer in identifying their own targets for change and creating a plan of action, which helps us ensure their commitment to the results and the required changes.
Go-to-market
One crucial way of responding to the customers' growing needs is to offer them even better services in digital channels through new digital applications. With the go-to-market service, we create a customer-oriented application by combining business design and value-centric application development. The service is based on collaboration with Luoto Company, which represents the most talented application developers in Finland.
Customer-oriented service development
Our expertise in service development is based on customer-oriented development work. We analyze the end customer's in-depth user needs by having discussions with them and then we use that as the basis for determining the future direction of the services. We analyze feedback and test ideas to ensure that they work like they're supposed to. Finally, we conceptualize the service into a seamless whole that speaks to the end customer.
Sales and marketing services
Our sales and marketing services are based on the utilization of customer-oriented operating practices and tools. We analyze the customer company's current operating practices and revise the operating models to match the end users' needs. Customer-oriented tools are also a crucial part of modern sales and marketing. We provide tools including: HubSpot, Salesforce, SharpSpring, Pipedrive, Musqot, and various Google services. However, we strongly believe that the implementation of technology must never be an intrinsic value. The most important thing is to ensure that technology serves a clear business goal.
Vere Oy is a HubSpot-certified Gold level partner.
Fields of business & customer segments
We have succeeded in the diverse development of our customer base. We have a strategic role in developing the business of large corporations and a confidential line of dialogue with our customers' management groups.
Vere has a total of 40 customers of which no single one produces more than 12% of our revenue. The company sizes vary from freshly founded start-ups to global giants with revenues up to 60 billion euros. Ten of our customers have revenues exceeding 100 million euros. Our main fields of business are ICT, the manufacturing industry, energy, the pharmaceutical industry, health care, and societal organizations.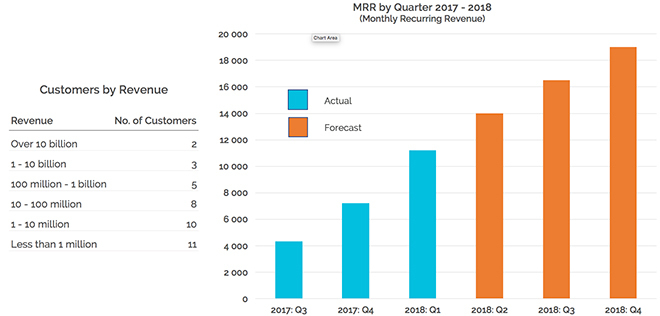 Vårt team
Vårt team
Our team is built around strong expertise in business, technology, design, and sales. We also have in-depth knowledge of how to grow companies for international markets. Our key personnel have worked in corporate management groups, as persons responsible for international business in the industry sector and as technology entrepreneurs. The members of our team speak languages fluently, including English, Spanish, and French. The founding members of Vere who are members of the board have extensive experience in funding, international capital investment and professional work at boards.
Our unique sales and marketing expertise is also utilized by many of our large customers.
Vere currently employs 8 full-time professionals. We work actively with about 20 members of our network, including important technology partners like Luoto Company.
The Vere value network that we have created has about 50 members. We utilize the visionary expertise of our value network in the workshops that we facilitate and in projects where our customers need in-depth knowledge. Our value network has world-class top expertise in areas such as internationalization, machine learning, robotics, FinTech, map technology, and areas of VR/AR.
 
Risker
Risker
Onoterade tillväxtföretag är investeringar med hög risk. Risker som finns i onoterade företag är t.ex. risken att förlora hela din investering, brist på likviditet på aktien, oregelbudna eller sällsynta utdelningar (vinstutdelning) och utspädning av din insats. Läs denna denna riskvarning noggrant innan du gör en investering.
Vi rekommenderar att du tar reda på investeringsmålet som du är intresserad i, diversifierar genom att investera i flera investeringsmål, och balanserar din portfölj genom att likvida investeringar. Vi rekommenderar även att du studerar noggrant riskbeskrivningarna som finns i målföretagens riskavdelningar, som du hittar i investeringsmaterialet.
Bifogat till investeringsmaterialet hittar du en kreditupplysning som kan vara relevant för att göra ett investeringsbeslut.
Market risks
Market situations can change unexpectedly and there is always a risk that the market for business design decreases and that the demand for our services diminishes.  This requires us to be flexible and quick in reacting to identified changes.
Our aim is to minimize this risk through our dual business model. In light of studies, companies that do not rely on a single business model are also more profitable (Source: Forbes & HEC Paris). This enables a better profit potential than has been traditionally seen in service business. On the other hand, the risk of failure is also considerably smaller than for a typical start-up. Cash flow also allows for participation in spin-offs, and the organization constantly learns and networks along with the projects.
The competitive situation
It is possible that our current competitive field changes in a disadvantageous way. Digital agencies and IT companies have expanded their services to service design. Customer orientation and customer understanding have become the key communication points of various strategy, advertising, and communication agencies.
Although there is competition, we believe that many lack a credible combination of business knowledge and understanding of technology as well as the further development of customer experience.
Finland is one of the top countries in the world in the utilization of service design and design thinking methods. We believe that the knowledge we have developed in Finland can also be sold at other markets. Our team has expertise in international business, and we will continue to strengthen it constantly.
The global economy & economic trends
The global economy and economic development in Finland affect the demand of our services. During economic recessions investments are held back, which affect global markets as well as our business in a negative manner.
We aim to handle this risk by building a flexible business model that allows us to focus resources based on demand. We keep fixed expenses in check and actively develop not only our own staff, but also our partner network and value network. This way, personnel resources will not be wasted, and the personnel costs are in balance with demand.
Successful recruitments
A company's success is based on the skills and expertise of its staff. Failed recruitments and lack of interest in open jobs are a problem for expert organizations, which both need to be considered.
Our team has lots of recruitment experience, and we focus on finding a good "match". We are proud of our culture and have several people meet future colleagues before making a recruitment decision. We believe that we will be in a strong position when the potential new employee has had a chance to meet us and find out what we do. We want to keep the team healthy and are ready to react if someone deteriorates the company culture or fails to rise to a professionally adequate level despite training and support.
Permanence and commitment of staff
The permanence and commitment of personnel in expert organizations can be seen as risks in the future. The turnover of key members can lead to a decrease in growth and it can complicate customer relationship management.
Vere made a decision about an emission of shares in October 2017, and key personnel have been committed to the company through ownership. We nurture our company culture and want Vere to be the best possible workplace for its staff also in the future. We choose our colleagues very carefully and do our best to ensure that new people fit into our team. This does not mean uniformity, but an attitude and openness suitable for the culture of a growing company where everyone has a voice, and everyone gets heard.
Solvency
Solvency related risks are part of every starting company. When a company puts effort into growth, solvency can become a challenge momentarily. This naturally influences investment decisions and future development areas.
We see the risks related to solvency as fairly low in our case. The amount of capital tied to the business is small, and with this issue of shares, capital will strengthen considerably. At the moment, our cash situation is good thanks to the liabilities offered by the owners. Most of the liabilities are available to the company without a strict repayment schedule, if necessary. This improves the flexibility of funding and keeps the solvency risk low despite the currently negative equity. Our external loans consist of workstation funding, a 48,000 euro loan from Finnvera and a 10,785 euro loan from Nordea.
Risks related to joint innovations and joint companies
Our aim is to take part in joint innovations and business development with our customers. Our role is to act as a partner and a financer in these development projects. These joint projects always include a certain level of risk, which may result in initial goals not being met. The consequences could be a decrease in growth or profitability.
We will aim to tackle this risk by carefully considering which opportunities to grab. A single development project will not form a significant part of the company's overall business. A typical model is to build a concept to a sufficiently finished level through the investments of the participating companies. If the project is still considered interesting based on the concept/prototype, its development will continue in a separate company. The separate company will have its own funding and staff, so the owner companies are not burdened by this new business.