Sharetribe – Building a better sharing economy
Sharetribe helps entrepreneurs and organizations create their own sharing economy platforms (like Airbnb or Uber) quickly and with a low budget. Our mission is to democratize the sharing economy by making platform technology accessible to everyone.
Please note!
Sharetribe Oy operates with a steward-ownership model. The structure is quite different than what Invesdor's users are used to. Please pay close attention to the issue terms.
The company has four classes of shares. In this issue, non-voting C-shares are offered. The company commits on redeeming the shares within 10 years at 5 x subscription price. More information on the Market Situation and Issue Terms -sections of the pitch, the company's Articles of Association and the Shareholders' Agreement.
Detta innehåll är också tillgängligt i
finska
Vår berättelse
Vår berättelse
Campaign news
See the latest updates on Sharetribe's own updates page. 
How it all started
Sharetribe founders Juho and Antti started building their first peer-to-peer marketplace in the spring of 2008 in an Aalto University research project in Helsinki, Finland. The platform they built still operates in Aalto and allows students to borrow tools from each other, sell their old course books, and help each other in various ways. Juho and Antti got excited about the social and environmental potential of the sharing economy and decided to found Sharetribe in October 2011.
Their first business idea was to offer internal sharing communities to universities, cities and companies, but the business never took off. While working on their business, however, they met lots of other aspiring sharing economy entrepreneurs who all had the same problem: although they had a great business idea, they were lacking the skills or resources to build their own platform. Eventually, Antti and Juho decided to solve this problem.
In November 2014, Sharetribe launched its first product, Sharetribe Go. It's a software solution for building and running marketplace websites. With Go, anyone can create their own peer-to-peer platform in one day and manage it with ease, without technical skills. The business model is similar to that of the blogging and publishing software WordPress: the software is open source, but non-developers can use a Software-as-a-Service solution at Sharetribe.com. Sharetribe charges its customers a monthly fee that starts from $79 and is based on the number of registered users on the platform.
Customers in almost 50 countries
Today, Sharetribe Go has almost 700 paying customers from nearly 50 countries around the world. Almost half a million people have joined Sharetribe Go -powered platforms. Our biggest market is the United States, with a 35% of our customers. 98% of our customers come from outside our home market, Finland. In 2017, our annual revenue passed $1M US dollars.
Some examples of our customers:
Studiotime, the "Airbnb for record studios". Helps artists find studio time. Biggest marketplace for record studios in the world, currently listing 5% of all the world's record studios on its platform.
Beautiers, the "eBay for pre-owned cosmetics". Started by a popular video blogger. Used by thousands of young Spanish women.
Cycle.land, the "Airbnb for bicycles." Started by a non-technical team of Oxford Alumni. Bootstrapped their business to profitability, after which they raised £400k+ through equity crowdfunding.
Other examples include peer-to-peer rental platforms for vintage cars, swimming pools, farming equipment, storage space, baby strollers, surfboards, caravans, power tools, and so on.
Our mission: Democratize the sharing economy
The sharing economy brings about many benefits: the things we own are used more efficiently, we can connect with others in our community, and we get extra income while doing so. Unfortunately, in the recent years, we have also seen problems arise from the sharing economy.
Today, the sharing economy is dominated by a handful of global giants like Airbnb and Uber. They have come up with tremendous innovations, but have also caused detrimental effects on society. People working through these platforms are often put in a precarious position, with no health insurance or social benefits, and are often at the mercy of the platforms who dictate the rules of their work and take a large cut of their income. Most of the platform fees go to the pockets of a small group of wealthy owners instead of flowing back into the local communities. In some cases, these platforms have also acted disrespectfully towards local legislation in order to maximize the speed of expansion and revenue growth. The startup world loves "disruption", but we feel the end result of disruption is not always positive.
We want to create a better sharing economy; one where society gets the benefits of this new economy while distributing the value (i.e. profits) more evenly, placing it back into the local communities. By making marketplace technology accessible for everyone, we offer people a choice: if they are not happy with the rules or policies of a particular platform, they can simply vote with their feet and create their own platform instead.
We are working towards a future with thousands of thriving local sharing economy platforms, owned by small and medium-size businesses, social enterprises, co-operatives, non-profits, and cities.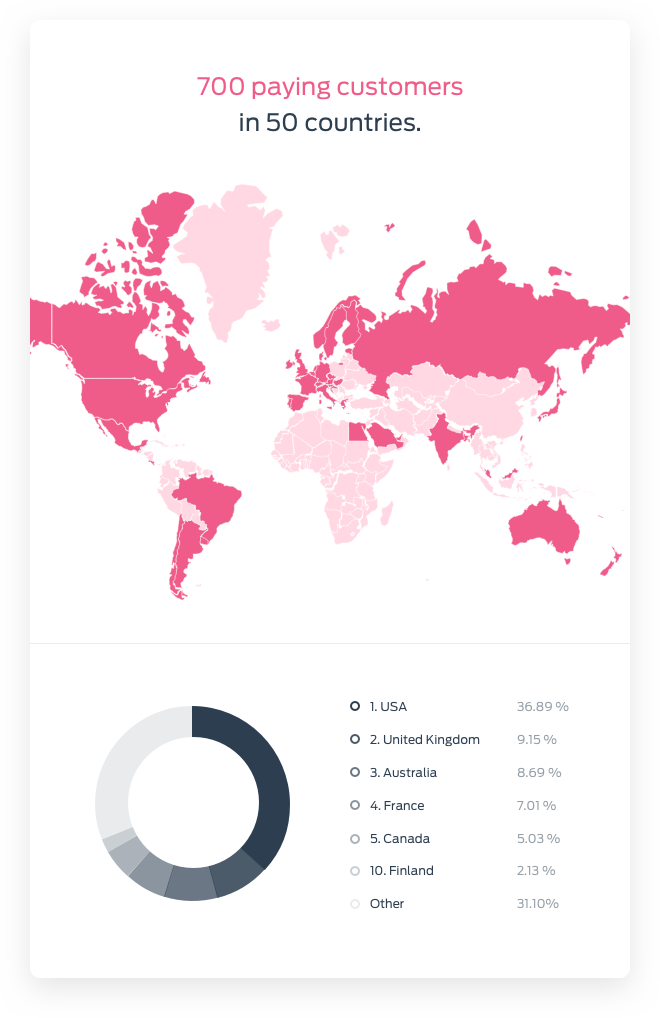 Vår affärs- och marknadssituation
Vår affärs- och marknadssituation
The sharing economy is huge, and it's growing
The sharing economy is a megatrend, sometimes even compared to the industrial revolution. It will impact the lives of everyone. PwC, a major global auditing firm, estimated that last year, the total amount of money going through sharing economy was more than $30 billion in Europe alone, growing 60% from 2016. And this is still the early days. Credit Suisse predicts that by 2025, the total volume will be more than $300 billion globally. During the next 10 years, every organization needs to adapt their strategy to meet the demands of this changing world.
We are sharing economy experts
When Sharetribe Go launched in 2014, there was virtually no competition in such a young market. Since then, several other companies around the world (like Arcadier, Near Me and MyMarketplaceBuilder) have started offering comparable marketplace software solutions.
Thanks to the reputation we've built and lessons we've learned after working in the sharing economy for the past 10 years, Sharetribe is uniquely positioned in the space. Our Marketplace Academy is the most comprehensive online resource for learning how to build successful marketplace businesses, attracting 10 000 unique visitors every month. In March, we published a book, The Lean Marketplace, written by our CEO Juho and marketplace expert Cristóbal Gracia. The book went directly into Amazon's best sellers list in the "Starting a Business" category and was the #1 New Release in the "Product Management" category.
Because of all this work, most entrepreneurs and organizations looking to build a marketplace discover us when they start looking for software solutions. In 2017, we saw almost 22 000 trials being created on Sharetribe Go. This means almost 22 000 people or organizations were considering building their marketplace platform with Sharetribe.
Our next chapter: Introducing Sharetribe Flex
Sharetribe Go is great for people who want to launch their Minimum Viable Platform quickly and with a small budget. However, the overwhelming feedback from our customers is that as their platforms gain traction, they need more flexibility to keep improving and growing. The "zero coding" approach taken by Sharetribe Go—the very thing that makes it so easy and fast to launch your initial marketplace—inevitably limits customers' freedom to change and evolve their platforms. Not being able to freely iterate on the user experience of your marketplace and add features and integrations yourself also means that we mostly haven't been able to help the bigger, more ambitious teams and organizations with their platform concepts.
All this is now changing. At the end of March, we introduced a product that we've been developing for over a year: Sharetribe Flex. By any standard, it's the most advanced sharing economy software solution out there. Thanks to its API-first architecture, it offers the flexibility of a custom-built solution for the price and time-to-market of an off-the-shelf solution like Sharetribe Go.
It's already being used by its first customers. Here's what Mike Williams, founder of Studiotime, says about his recent transition from Sharetribe Go to Sharetribe Flex:
"Sharetribe Go allowed us to get started quickly and bootstrap our business to profitability. Sharetribe Flex allows us to build Studiotime just the way we want, both in web and mobile, for 10% of the time and cost investment compared to building it from scratch."
In 2017, we interviewed 150+ prospective customers that wanted more than we could offer with Sharetribe Go. We didn't reach out to these people—they came to us. Among them were startup teams, co-operatives, SMBs, big brands, big non-profits, and even a small town. Most of them were really excited when we explained the concept of Sharetribe Flex. After announcing the closed preview of Sharetribe Flex, we received more than 1000 early access requests within the first 24 hours. We're confident that Sharetribe Flex will help us scale our annual recurring revenue to €10M in three years and reach profitability in 2020.
Our company exists to fulfill a social mission
While we're planning to build a large and profitable company, our main goal is to fulfill our mission. For us, profits are a means to an end, not an end in itself. They are a means to achieve our social mission of democratizing the sharing economy. Being a profitable company allows us to scale our positive impact.
Particularly in the sharing economy space, we've seen several companies that were started by idealistic founders with noble social missions, but as these companies grew and took in more venture capital, they often ended up sacrificing the original mission in pursuit of faster growth. As we mentioned earlier, this has sometimes resulted in disruption with detrimental effects to society.
We want to be a part of the solution, not a part of the problem. We have thus decided to permanently change our company structure to make sure it will always remain independent and focused on its mission. As a part of this funding round, we're transitioning to a model called steward-ownership. This model allows us to make a binding promise to our employees, investors, partners and customers that Sharetribe is and will always remain an independent and mission-driven company.
Steward-ownership is a proven concept of making companies "self-owned": guaranteeing that control of the company (majority of the voting shares) is held in the hands of stewards who cannot sell them freely, extract dividends, pay themselves excessive salaries or pass them on to their children. Steward-ownership is chosen by companies who want to credibly commit that the value they create is dedicated to a purpose and not maximizing the private wealth of entrepreneurs. The commitment to steward-ownership is legally binding and sends a strong signal to all stakeholders: this company helps to fulfill a purpose and public benefit.
Steward-ownership is a time-tested model, originally adopted by companies like Bosch and Zeiss. Research by professor Steen Thomsen from the Copenhagen Business School shows that companies with comparable ownership structures:
Are more profitable than other companies in the medium term

Live longer – survival probability is 600% higher after 40 years

Are trusted more by their customers

Offer their employees better pay

Have better employee retention
Recently, steward-ownership and similar models have been adopted by several mission-driven companies around the world. At the same time some modern technology companies like the crowdfunding platform Kickstarter have announced that they will never sell or go public. The model was introduced to us by Germany-based impact fund Purpose Ventures, who invests exclusively in steward-owned companies. They recently made an investment in Buffer, a well-known, values-driven social media management company.
With steward-ownership, investors get a fair (but not unlimited) return on their investment. As an investor, you'll get your exit via share buybacks. We're using a model that has been developed for creating reliable returns in impact investing. The model commits the company to use 40% of its annual profits (EBITDA) to buy back investors' shares for a predefined price. The price we're offering the investors during this funding round is five times the original purchase price. Our goal is to make enough profit to buy back all investor shares within 10 years.
If we manage to buy all the shares back within 10 years, it translates to a return that is comparable to an annual interest of 17,5% for the invested capital. If we make enough profit, the payback period can be even shorter, which translates to an even higher average annual return.
Naturally, we cannot guarantee these returns. Our company might go bust, or fail to generate enough profit. An investment in Sharetribe is definitely capital that is at risk. However, we believe the risk is significantly lower than in many other early stage startup investments. We are already generating meaningful revenue, and could be profitable today by cutting down our investments in R&D. Even if Sharetribe grows a lot slower than expected, we would still be able to make our buyback targets.
Purpose Ventures does an extensive due diligence for all the companies they invest in. Since they don't rely on an exit via a company sale or an IPO, they need to be confident that most of the companies they invest in will return the money. The model is quite different from a typical venture capital investment, where one company is expected to return the profits of the entire fund. After going through an intensive process that took several months, Purpose Ventures has decided to invest €200k into Sharetribe as a part of this equity crowdfunding round. Here's what they say:
"Sharetribe is a unique company that is building something the world really needs. They are poised to make a really big social impact and build a great business while doing so. We have enormous trust in the founders and the team and are really excited to back them and support them on their journey."
– Achim Hensen, Purpose Ventures
Why you should invest in Sharetribe
As an investor, you should expect a solid financial return on your investment, and we're committed to providing you with exactly that. However, a financial incentive is not the only reason to invest in Sharetribe. We believe that for-profit companies can be a force of good in society and solve many of the challenges that we face today. That is exactly what we plan on doing.
The sharing economy can be an important part of the solution to two of the most pressing problems our societies are facing today: climate change and income inequality. However, for this to happen, the sharing economy really needs to be done right. By providing everyone access to the technology that powers these platforms, we're creating a sharing economy that truly works for everyone.  
We invite you to join us in this exciting journey. Let's build a better sharing economy together.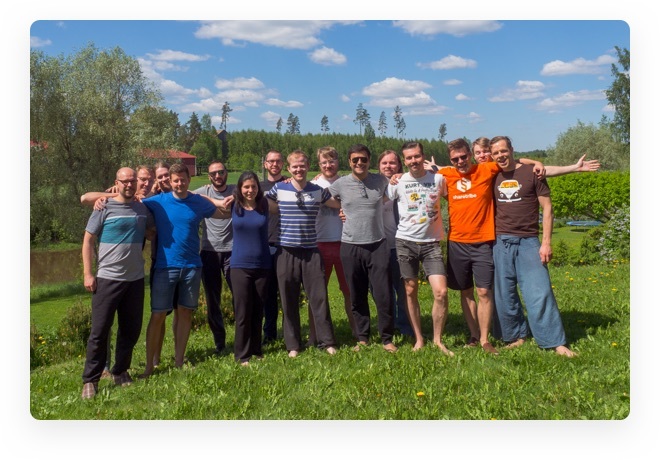 Vårt team
Vårt team
We have an international team of 15 members and five nationalities. We've been lucky to convince extremely skilled and experienced people to join our team in all key areas. We have a non-hierarchical culture that gives each team member a lot of freedom and responsibility, and we have seen that this approach ultimately yields the best results.
Risker
Risker
Onoterade tillväxtföretag är investeringar med hög risk. Risker som finns i onoterade företag är t.ex. risken att förlora hela din investering, brist på likviditet på aktien, oregelbudna eller sällsynta utdelningar (vinstutdelning) och utspädning av din insats. Läs denna denna riskvarning noggrant innan du gör en investering.
Vi rekommenderar att du tar reda på investeringsmålet som du är intresserad i, diversifierar genom att investera i flera investeringsmål, och balanserar din portfölj genom att likvida investeringar. Vi rekommenderar även att du studerar noggrant riskbeskrivningarna som finns i målföretagens riskavdelningar, som du hittar i investeringsmaterialet.
Bifogat till investeringsmaterialet hittar du en kreditupplysning som kan vara relevant för att göra ett investeringsbeslut.
Competition
We are competing in a global market, with customers in nearly 50 countries, on all 6 continents. This also means the competition is global. There are several competitors in the space, and while we have an edge today, we must keep constantly innovating to stay ahead of the curve.
Development speed
The company's financial forecasts for the ongoing and future accounting periods were made to be as realistic as possible (from the company's point of view), but there's always a risk that these targets cannot be met. Delays in our planned development schedule of Sharetribe Flex, for example, may negatively affect the company's ability to reach the targets.
Market growth
While the sharing economy market is growing fast, it's not possible to accurately estimate how big the total market for sharing economy software will be. However, we have lots of data that points to a future where marketplaces will conquer more and more niche markets, and an ever-increasing demand for our solutions shows that the market is clearly there and it's growing.
Resources
For a relatively small team like ours, retaining our key team members is vital. We have managed to achieve great retention by having a mission that inspires people and a culture that gives them lots of freedom and responsibility. At Sharetribe, every current team member also owns voting shares (or options for them) and can have their say in the development of the company. We made our first hire in 2013 and, since then, only two people have chosen to leave the company.
Funding
Our steward-ownership structure limits our future funding opportunities as we're not able to raise traditional VC funding to accelerate our growth. However, we believe that this actually has a positive effect since it forces us to focus on what's most important: building a financially sustainable business and reaching profitability as early as possible. Since the returns we offer to our investors are tied to our profits, this is also a great thing for them. We know of many successful and fast-growing SaaS businesses that have grown organically and profitably after their early funding rounds, and we're aiming to be one of them.
It should be noted that while we believe we won't need to issue additional shares to support our financing, the need for additional issuances in the future cannot be ruled out completely.
The company is also planning to take on an additional loan from Business Finland (formerly known as Tekes) to complement this funding round. It's possible that this loan is not granted, which may affect the execution of the company's plans negatively. However, while a negative decision may slow down execution a bit, we will be able to proceed with our business plan without the loan.
Legal structure
After our transition to the steward-ownership model, our new company structure will be pretty unique. We believe we're the first company in Finland that is moving to this model. Some officials might scratch their heads while reading our articles of association. Nevertheless, many European companies have moved to this model during the past years without any problems. We have been assisted with the creation of our legal documents by one of the most experienced Finnish startup lawyers, Kimmo Reina from Bird & Bird, and we've double-checked that everything goes by the book.
Redemption
While our goal is to redeem all our investors' shares within 10 years (or a lot sooner if our business grows according to our projections), it's always possible that our business grows a lot slower than expected, in which case we would not be able to redeem all our investors' shares during the promised schedule. However, we've prepared multiple different projections for our growth, and according to our calculations, we would be able to make the redemptions on time even in the case of a pessimistic scenario with an average annual growth rate of around 30%.