Tingent - A top tier partner in the gig economy
Tingent is a fast growing consultant broker based in Stockholm, Sweden. Our business focuses on efficient sourcing and delivery of the most hard-to-obtain consultants on the market to the most progressive companies in the industry.
Vår berättelse
Vår berättelse
Tingent was founded by Mattias Blohm and Daniel Laurén in 2015 to meet new demands in the rapidly changing tech industry. Both founders already had extensive experience from the consultant broker industry. Daniel had previously founded the consultant broker firm Madeo, which was later sold to ZeroChaos in 2011, while Mattias had worked for both of these companies and already knew the ins and outs of the industry.
Tingent today consists of a mix of people with backgrounds in tech recruiting, consultancy brokerage, staffing, marketing and business development—a team carefully composed in order to create the best possible foundation for our business to grow.
Our goal from day 1 has been to develop Tingent into a major player in the tech industry. Now, after 3 years, we have proved that our business model works. We work with every type and size of organization, from local startups to global unicorns, and we have one of the largest networks of high-end tech consultants in the marketplace.
We have placed over 260 consultants with our clients.
We reached SEK 113 Mkr in turnover in 2017.
We achieved an annual growth rate of 138% in 2017.
Our ability to source and deliver the most hard-to-obtain consultants in the market makes us unique. This ability has been a keystone factor in our rapid growth in our first three years of operations and for our continuously improving market position.
 
Where we're heading
We have a healthy and prosperous business but we are not satisifed yet. We now aim to grow even faster and to follow our customers to new markets in the years to come.
We have developed our organizational structure to support rapid growth and to take full advantage of the opportunities we see in the market. In the next 3–5 years, our target is to establish Tingent as a leading brand for contingent workforce management with a presence in every major tech hub in Europe.
The funding raised in this round will primarily be used to strengthen our position in the Swedish market, but also to lay an organizational foundation that will support our planned cross-border expansion.
Our plans for the next 24 months also includes a listing. In order for us to go forward with this decision we need to follow our budget according to plan and the listing market needs to stay favourable 
We are doing this as a prerequisite for gaining access to some of the biggest clients in the market, which will help us to grow even more aggressively in the future.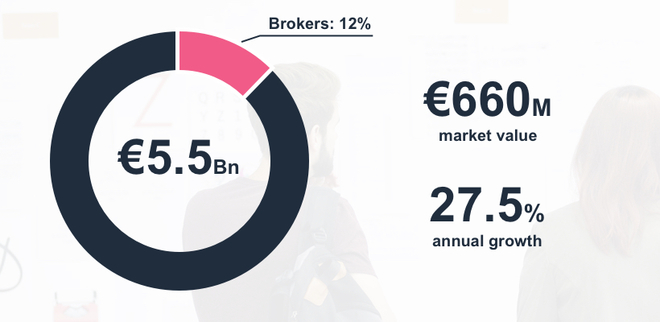 Vår affärs- och marknadssituation
Vår affärs- och marknadssituation
Market size & trends
The IT industry is changing, and the shape of the workforce is changing with it. As organizations respond to the forces of globalization and technology innovation, they need to be agile enough to address rapidly shifting consumer preferences, to compete with more nimble startups and to be able to scale or descale resources depending on demand. In a low-growth environment, they also need to be able to rigorously manage costs.
To keep up with these changes, businesses have dramatically increased their use of contingent workers over the past couple of years. The impact of this trend has now become apparently evident in the marketplace, with 2017 representing the strongest year for the IT consultancy market in the last decade.
The total value of the Swedish IT consulting market in 2017 reached € 5.5 billion, following a year-on-year (YoY) growth of 3.6%. Strong growth has been seen across all market segments, with an emphasis on specialist roles as well as more business-related areas, such as project management and architecture.*
 
* SOURCE: Radar Ecosystem Specialists. "IT-konsultmarknaden 2017 – Konkurrensläge, pris- och löneutveckling." (https://radareco.se/r/2017/it-konsultmarknaden-2017-konkurrenslage-pris-och-loneutveckling/)
 
CONSULTANCY BROKERAGE IS GAINING GROUND
The consulting market is becoming increasingly fragmented, with a constantly growing number of consultancy firms and independent freelancers. This makes it more difficult for companies and organizations to get an overview of the supplier market and to quickly find the desired resources. To address this, brokerage services have become increasingly popular among companies across industries.
The part of the market volume managed through consultant brokers in the IT sector is still relatively small at 12%. However, with an annual growth rate of 27.5%, this segment is significantly outperforming the 3.6% industry average.*
The rise of the gig economy has spurred the growth of consultant brokerage across industries and we expect to see a continued steady or even increased growth in this sector over the forthcoming years as the concept becomes even more established. As an early mover in the market, this presents a major potential for growth for Tingent going forward.
 
* SOURCE: Radar Ecosystem Specialists. "IT-konsultmarknaden 2017 – Konkurrensläge, pris- och löneutveckling." (https://radareco.se/r/2017/it-konsultmarknaden-2017-konkurrenslage-pris-och-loneutveckling/)
 
What we do
The tech industry is constantly evolving and presents new techniques and innovation at a high pace, which leads to a continuous thirst for new expertise and flexibility in the workforce. To establish and maintain a network of consultants that is of sufficient size and quality to satisfy these needs is extremely time consuming and therefore also expensive.
We are experts at sourcing, profiling and handling individual consultants and small niche consultancy firms. With the opportunity to choose from one of Sweden's largest networks of consultants, we can offer the best skills at the right price—when and where the customer needs it.
As consultant brokers, our biggest strength lies in being independent and having no consultants directly on our pay list. This allows us to impartially match assignments with the most appropriate consultant from the whole market. We work with every type and size of organization, from startups to market leaders, and deliver value regardless of the size of the company or the scale of their needs.
Our ability to quickly and accurately source and deliver the most hard-to-obtain consultants in the market makes us unique. This ability has been a keystone factor in our rapid growth in our first three years of operations and for our continuously improving market position.
 
OUR RECIPE FOR SUCCESS
Proactive Sourcing: We have a dedicated team that is constantly focused on growing our network in order to find the best possible consultant for each specific assignment.
Personal Contact: We build long-term relationships with both consultants and customers in order to learn what drives them. This enables us to deliver better quality with a better hit rate to our customers.
Quality Assurance: Our unique positioning between suppliers and clients makes it possible for us to benchmark similar profiles against each other. We focus solely on the best possible match between client and consultant in terms of required skills, pricing, and personal motivation.
Delivery Capacity: Since we are not limited to only employed consultants, we can deliver both faster and more accurate compared to many of our competitors. We continuously expand our network until we find a matching consultant.
Revenue Model
Tingents revenue model is based on a service fee to the consultant's hourly rate. Typically, our margin is 10%, which gives us an average monthly income per consultant of approximately SEK 12 000. With an average contract length of 9 months, this gives us a total contract value of SEK 108 000 per placement.
 
Traction and Growth
Tingent was founded in 2015 and we have accomplished some great things since we started.
We have placed over 260 consultants with our clients.
We have more than doubled our turnover year on year.
We have increased our monthly placement goals every month, which has the effect that we have also increased our turnover on a monthly basis.
 
We have heavily increased our network of consultants and we keep on expanding our network on a weekly basis.
Our biggest clients are also in a phase where they are expanding and growing continuously. We help support them in this phase and we grow together.
One of our success factors is and always will be, our ability to employ the right personnel. We doubled our staff over the last year, but we are still a small team and for us to expand according to our budget, we need to hire more people. In order to do so we need to increase our marketing effort.
So far Tingent has managed to grow to a SEK +100Mkr company without any significant marketing effort. Now, we need to take the next step and continue to strengthen the hype around Tingent, and we believe that now is the right time to make a serious marketing effort. We already have the right people onboard to help us structure this and now we need to increase our budget in order for us to ensure this will be a success.
We expect that we will keep on expanding, but we will start to see the effect of this round next year, 2019.
Tingents main market for our growth is our home market, which is Stockholm, where we aim to gain a lot more market share in the forthcoming years. We have also started to slowly grow abroad with one of our existing clients and we plan to heavily increase this effort.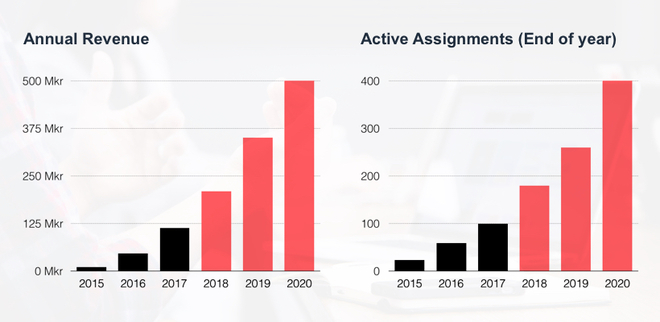 Vårt team
Vårt team
When starting Tingent, we decided to build an operational team and board of directors with a specific set of core competencies, based on our previous experiences in building a successful brokerage firm. This team made it possible for us to expand rapidly from the start.
While we've had a strong team from the start, we have since completed our team with a further mix of people from tech recruiting, consultancy brokerage, and staffing in order to create the best possible foundation for our business to grow.
We introcude Tingent's core team and board members below.
Risker
Risker
Onoterade tillväxtföretag är investeringar med hög risk. Risker som finns i onoterade företag är t.ex. risken att förlora hela din investering, brist på likviditet på aktien, oregelbudna eller sällsynta utdelningar (vinstutdelning) och utspädning av din insats. Läs denna denna riskvarning noggrant innan du gör en investering.
Vi rekommenderar att du tar reda på investeringsmålet som du är intresserad i, diversifierar genom att investera i flera investeringsmål, och balanserar din portfölj genom att likvida investeringar. Vi rekommenderar även att du studerar noggrant riskbeskrivningarna som finns i målföretagens riskavdelningar, som du hittar i investeringsmaterialet.
Bifogat till investeringsmaterialet hittar du en kreditupplysning som kan vara relevant för att göra ett investeringsbeslut.
Loss of key personnel
Losing key personnel is one of the most significant risks for Tingent.
Our key personnel are extremely committed to Tingent and they have also invested significant capital in the company. Losing key personnel would affect Tingents predicted growth negatively in the short term due to the key personnel human capital, but we will be able to manage this in the long term due to the structural capital in the company.
 
Employee turnover / recruitment
Tingent has a small team today and in order to keep growing the way we want we need to be successful in finding new employees and to have low employee turnover. To achieve this, we are very thorough in our recruitment processes and we spend time on onboarding to make sure we give all new employees the right conditions and support they need to succeed at Tingent.
 
Macro trends
The demand for Tingent's services is expected to vary depending on macro economic trends and cycles. That said, Tingent's business model with low fixed costs in proportion to turnover provides flexibility for coping with different economic conditions. A recession would affect Tingent's predicted growth in a negative way, but we have customers in almost all industries and unless something happens that affects all industries in a major way, it should still be possible for Tingent to grow.
 
Competitors
Tingent is in a highly competitive industry. Increased competition could lead to price pressure and a decline in demand for Tingents services. Tingent has grown a lot during the three years we have been in business despite the competitive landscape we operate in through working very close and in a dedicated way with customers, freelancers, and consultancy companies.