Pyynikin Brewing Company - Growth brewery
Pyynikin Brewing Company is Finland's most delicious, innovative and probably most internationally award-winning brewery with strong growth potential, last year reaching over 140% growth and €1.7 M in net sales.
Please note: this offering has been ongoing since 15.6.2016 and is aimed to be finished on Invesdor's platform. To read more about the offering and its terms please go to Information on the terms of the offering section.
Detta innehåll är också tillgängligt i
finska
Vår berättelse
Vår berättelse
Pyynikin käsityöläispanimo Oy - Pyynikin Brewing Company was founded in 2012 when we started to craft beer with love and offer the more tasty option compared to offering by bigger breweries. At the beginning we had a small 400 liter brewhouse, but very quickly we started to grow and have been growing rapidly.
Not everything has went according to the plans. Our brewery had a fire in 2014, which meant that the whole production stopped for a few months and the future operation of the brewery was in question. At the same time, we won the first major international prize in Berlin Global Craft Beer Awards with our beer called Vahvaportteri. Demand was high but momentarily production was zero. Well, we survived from the glitch and our journey continued.
In 2015 we acquired new (for us at least) but used equipment for brewing beer With the equipment we were able to multiply our production compared to earlier. During the same year we launched the first Finnish multipack, Sessio Sixpack, including six different craft beers. This was a huge hit and gave us great visibility within Finland.
In 2016, we purchased more fermentation capacity, learned more about beer brewing and in 2016 we won again a remarkable international prize with our Ruby Jazz Ale, the World's best mild ale beer. From this award winning beer we made our first can product as well and it still sells throughout Finland.
This year, 2017, we won an international prize again. This time we won the World's best seasonal lager beer with our Mosaic-lager in London World Beer Awards. Now available all over Finland.
We have received numerous other international and national awards with multiple other products as well. Many things have been done correctly. We have been the forerunner in the Finnish craft beer market, all the time inventing new items, been active with our shareholders and continuously looking for ways for internationalization. This is what we have done and our journey will continue.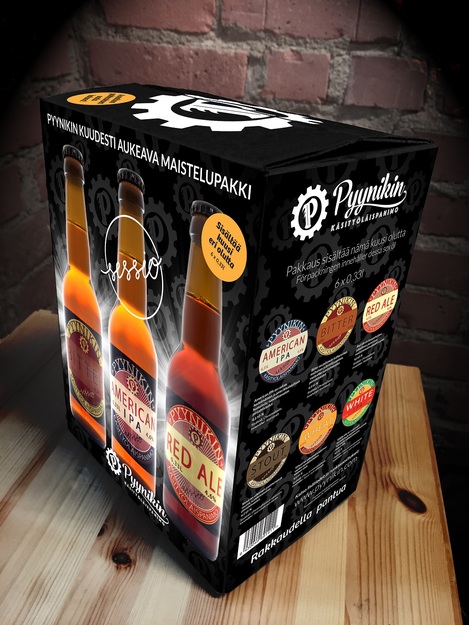 Vår affärs- och marknadssituation
Vår affärs- och marknadssituation
We started small but have been growing bigger and bigger all the time. We have constantly developed new products, have been not only following trends but also created them. Our first big hit was Sessio Sixpack, a very popular product for Christmas 2015, which reached the lips of finns very effectively. Our innovation has not come to an end, as an example a small statement against Finland's alcohol policy we created a beautiful package called Iso Nelonen - Big4Sun. Watch the video at Youtube.
Our product range lives and is constantly evolving, we are always looking for new opportunities, following world trends and always trying to be in the forefront with new great products. We cannot do everything alone, we are active in various forms of cooperation.
Competition is already fierce in the industry, we have been involved in the business for several years and we are among the ten largest Finnish breweries. We have reached our goals with main distributors to provide our beers nationally. We are not going to slow down but rather increase the speed and develop our business to achieve better cost-effectiveness, create better quality products and in overall be more often at the lips of our customers. At the same time we are going to make this a profitable business. We have more than 2,000 people as our shareholders which is a lot in Finland. We take care of them and we want you to be part of our story.
Our growth has been tremendous, in the Kauppalehti magazine's (finnish business magazine) article about Finnish growth businesses we were the fastest-growing brewery in the year 2016 and number 42 among all businesses with a growth rate of over 140% reaching net sales of €1.7 million. On the other hand, 2015 was over 200% higher than 2014 turnover. Great development. We have been seeking growth aggressively which has affected our financial results, and with existing equipment the growth limits have now been reached. With new investments the desired profitability point will be reached and will provide the basis for future growth.
With our products and the way of working we focus on being the choice for consumers to return to our products from one purchase to another. We also ensure that with suitable products we will also be of interest within beer hobbyists globally. We brew with love, big time!
As said our products have received quite a few significant recognitions.
The biggest win has been the "World's Best Seasonal Lager" awarded in august with our new Mosaic lager beer in London, World Beer Awards. Previous internationally significant award was in 2016, "World's Best Mild Dark Ale" won with Ruby Jazz Ale at the same competition.
We have also began strategically important cooperation with Restamax to start a brewery restaurant in the center of Tampere city. At the same time, we will be expanding to distribue and work in cooperation in all of the finnish restaurant chain. The brewery restaurant has been estimated to open at the beginning of winter.  Read about it here (article in Finnish).
We do not want to be just a small brewery amongst others. We want to be the best and the biggest!
Vårt team
Vårt team
Our team is not made from a single tree. One thing is common for us and that is that we are passionate about beer and the business it relates to. As a result of constant development ideas and sometimes sparkling opinions, the brewery grows and develops continuously.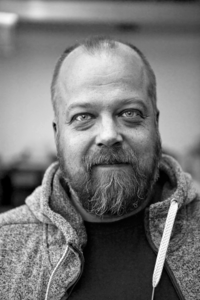 Tuomas Pere
Head brewer
Father of four, brewery's head brewer and founder. He is the man behind the top quality recipes from which our beers have received the biggest Finnish international success. He is also responsible for continuous product development and brand creation.
Tuomas is one of the most visible influencer in the Finnish beer business, also selected as the most positive person from Tampere in 2017. His target is to develop both beer culture and business.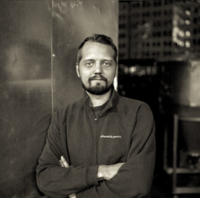 Rauno Pere
Operations Manager
Rauno is sitting on top of our bank account and takes care of all administrative tasks, agreement negotiations and many other daily tasks. He has been with the brewery since the beginning and knows the brewery and the business better than his own pockets.
As an educational background he has business studies from Haaga-Helia, he follows investment world very actively and through this he can bring a touchpoint into our daily activities also from investor point of view.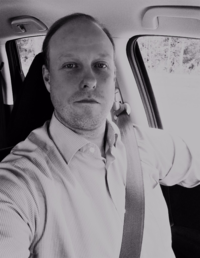 Juha Leppänen
Sales Director
Juha is sales maker who wants to build customer focused working environment where every person working for Pyynikin can be proud of the company and its products.
He has graduated from Satakunta Polytechnic and has earlier successfully worked for Suomen Kaukokiito and Kesko.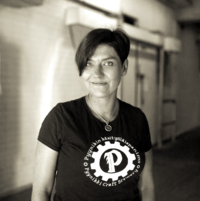 Jenni Pere
Secretary, Health and safety representative
Jenni has a background in social services and health care bringing a very human touch to the brewery. She keeps the boys under control and takes care of employee rights as well. Jenni has worked at the brewery from the beginning, mainly focusing on very effective sales work.
Jenni is familiar with the whole production process from the malts into consumers. Jenni wants to hold on good people and offer consumers new experiences also through beers.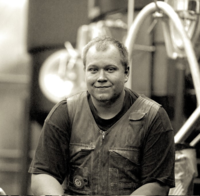 Waltteri Pere
Production Manager
Waltteri is a 22 year old man from Tampere, who has basically grown at the brewery. Almost all of his work career he has represented Pyynikin Brewing Company. Waltteri started to enter beer brewing during year 2015 and been here ever since.
At the beginning his main responsibility was beer brewing and related tasks. His skills have been noticed and currently he is working as a Production Manager. His responsibilities include everything from raw materials into brewing the product. He brews with love!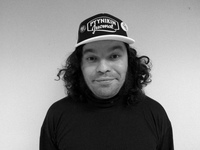 Mario Beltran
Brand Ambassador and International Sales Manager
Mario is working as a Brand Ambassador and International Sales Manager for Pyynikin Brewing Company. Mario has taken Pyynikin to be available in many countries around the world, Norway, Japan and USA for example. 
He is originally from Tijuana, Baja California, México. His experience includes working in the Commercial area for HP for the US, and in the Commercial area for Oracle and as Marketing Manager for Latin America in Shimano.
His respect to cultures and energy to live are so huge that it gives energy to others. He is a proud father of one.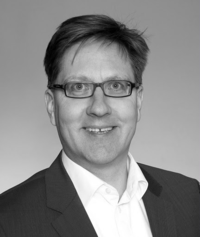 Timo Saarela
Chairman of the Board
Timo is a Master of Science combining both business and technology. He has had beer as a hobby for quite a while already. One key issue is to constantly follow the markets, trends etc. His daily work has been and still is in ICT business.
Strategic thinking, breathing trends and continuous improvements are close to his heart. These issues he is driving at the brewery as well.
https://www.linkedin.com/in/timosaarela/
Risker
Risker
Onoterade tillväxtföretag är investeringar med hög risk. Risker som finns i onoterade företag är t.ex. risken att förlora hela din investering, brist på likviditet på aktien, oregelbudna eller sällsynta utdelningar (vinstutdelning) och utspädning av din insats. Läs denna denna riskvarning noggrant innan du gör en investering.
Vi rekommenderar att du tar reda på investeringsmålet som du är intresserad i, diversifierar genom att investera i flera investeringsmål, och balanserar din portfölj genom att likvida investeringar. Vi rekommenderar även att du studerar noggrant riskbeskrivningarna som finns i målföretagens riskavdelningar, som du hittar i investeringsmaterialet.
Bifogat till investeringsmaterialet hittar du en kreditupplysning som kan vara relevant för att göra ett investeringsbeslut.
The business area is under competition and any future changes in the national Alcohol Act will be have its effects in the future. We have multiple plans for the future, what we are going to implement is, of course, dependent on the content and timing of future legislation.
As a whole, the competitive landscape is challenging and new competitors emerge regularly. However, we have succeeded in cooperating with the larger distributors and we do everything to ensure that cooperation is even further improved.
There are also risks in possible loss or illness of key people, significant mistakes in the prodution that would result in loss of customer base, interruption of work due to hardware failure or other cause, loss of market position, for example due to negative publicity or other reasons. Risks that we cannot anticipate may also materialise.