Neonto - Industrial Revolution in Software Design
Before Henry Ford, cars were artisanal products. Today, cars are built by robots and designed in CAD. Neonto does the same for software applications. We take software from artisan craft to a controlled process. It's the Industrial Revolution 4.0.
Detta innehåll är också tillgängligt i
finska
Vår berättelse
Vår berättelse
Neonto was founded in 2013 to solve an enormously expensive problem in software development.
The Neonto team has worked in both mobile apps and web since the turn of the century. In all those projects, it was clear that there is a lot of wasted hand-crafted labor during an app's development process. A particular pain point was the "hand-off" between designers and developers: communicating design intent using static prototypes and "style guides" is extremely limited and unable to pre-empt actual problems the software team will face as soon as the app is tested by real users. This leads to excessive iterations of programming and design work.
Once an app is complete, a project team team faces another problem: reusability. The traditional approach is to use software libraries and frameworks. This approach has many intrinsic limits (runtime overhead, dependency management etc.), and most importantly, it does nothing to help designer-developer communication. To make software truly reusable, designers should be able to design using the work done for a previous app.
Neonto has created a unique set of tools that solves these problems. We've spent years developing and working with pilot customers to build a world-class native software package that can adapt to any platform.
Our two most powerful assets are:
a) A unique visual design tool for modeling software apps. The tool supports advanced navigation, responsive mobile UIs, rich media and dynamic data. The tool can be extended limitlessly and the interfaces are provided to UI designers' favorite tools (e.g. Sketch).
b) The Design Compiler. This is a completely different approach to multi-platform technology. We are "framework-less", instead we add support for new platforms by adapting visual modeling and code generation tools to each platform's native approach.
The power of the Design Compiler was demonstrated when the Neonto team added support for Samsung's Tizen smartwatch platform to the Native Studio product. (This work was supported by Samsung and targeted Tizen's C language based API.)
Neonto's latest product is React Studio (https://reactstudio.com), which launched in March 2017. This product shows how Neonto's product portfolio can smoothly adapt to catching a "rising wave" in software technology. ReactJS is a web app technology created by Facebook. Interest in React is growing extremely fast, and it's one of the most popular technologies currently being researched for web app development.
By creating React Studio, we are in a unique position to benefit from React's growth and also the more general megatrend towards dynamic web apps (rather than passive web sites). Creating mobile-friendly web apps is still difficult, and even experienced teams struggle with all the new tools and requirements. Many web app development projects are derailed because teams are still learning and inventing best practices as they go along.
Neonto's approach offers a much more controlled approach: designs are guaranteed to be translated into working code, and new code can be encapsulated in a way that allows the full application to be managed from the visual model. The advantages of this workflow only grow larger as the team gains more experience with it.
React Studio attracted over 1100 beta users from its beta launch in November 2016 (+ over 3000 contacts to the Beta waiting list). Our previous Native Studio product has over 3500 users in 120 countries. We previously had a free edition of Native Studio, which has been discontinued in February 2017 to focus on converting users to the paid Native Studio package.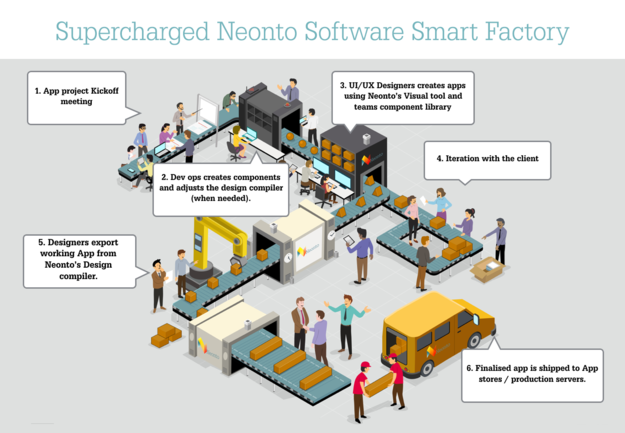 Vår affärs- och marknadssituation
Vår affärs- och marknadssituation
Going forward, we now have 3 products for designers and developers: React Studio for web apps, Native Studio for native mobile apps, and Enterprise Digitalization Accelerator Suite for large companies which face challenges in their digital transformation. Additionally we have Neonto Cloud Store for our community to sell their own Neonto add-ons.
The Business Model
Neonto uses monthly subscription business model to offer the products to our customers:
Native Mobile Suite $199/seat per month (includes 14 days trial),
React Studio Monthly fee $39.90/seat per month, and
Enterprise Digitalization Accelerator Suite  $399 / 1 seats per month with setup fee $50k
Add-On Services:
Neonto Cloud Add-On services $25/month
Code Butler consultation (quoted offer)
Enterprise Digitalization Accelerator Suite Consulting (quoted offer)
Piloting and Customer Validation
During our product development phase we offered various free and differently segmented paid editions of the current Native Studio for pilot and customer validation purposes.
Breakdown of our current customer and userbase:
Neonto products are been used
120+ countries
3600+ users
700+ B2B Customers with 1 Seat (Free or Paid)
50+ B2B Customers more than 2 Seats (Paid)
Customer base has grown 60% month-on-month since July 2016.

Our B2B customers are mostly from 4 major segments:
Design Agencies (Brand, Digital, Innovation, Campaigns) 
Mobile and Web Development Companies
Sector specific companies in Health, Finance, and Education segments
Indie Developers and Designers

User base split between discontinued products and new products:
Personal Edition (Free) users: 1900+ [This edition is now discontinued]
Native Studio (Trials and Paid editions) users: 600+ 
React Studio Beta users: 1100+ (including 150 preorders)

Value Propositions
The heart of Neonto products is our Application Design Compiler, which is an evolutionary step beyond current technology libraries and frameworks.
On a quick glance at Native Mobile Suite and React Studio, those look like "just another GUI builders"... but it's the level of metaprogramming capabilities in our products, which makes it so much more.
Neonto products are not code generators and declarative UI design tools but the products combines features of both of those approaches into a single metaprogramming tool — an "application that writes applications" as guided by designers/developers inputs.
There are two significant practical benefits to this approach. The first is encapsulation safety. This could be compared to type safety. In a programming language with static types, the compiler can catch many kinds of errors before the developer even run the program. The design compiler does something similar, but for entire code fragments, not just individual variables.
The other benefit is framework independence. There are many frameworks out there that promise some kind of platform independence ("write once in language X, run anywhere!")... But the Application Design Compiler approach takes it one level higher. You can actually retarget your app design to a different programming language and framework, just like you can compile a C++ program for a different CPU and operating system.
On the process level, the design compiler enables a new kind of software development workflow that we are calling Design-Accelerated Development.
Native Studio
A new way of developing cross-platform native mobile and Satellite apps for iOS, Android and Tizen from single product.
Businesses can reduce the cross-platform app development costs and time-to-market by 50% (estimated average)
Create working native mobile app prototypes without any coding.
Generated code is 100% native and customizable
React Studio
A new way of developing modern web apps: cutting-edge techniques of SPA [single-page app] + Facebook React JavaScript UI library are brought to everyone's reach
Businesses can reduce web app development costs and time-to-market by 50-80% (estimated average)
Create high quality React apps fast from visual designs
Easy onboarding to React hype
Generated code is ready to be shipped or customized by JavaScript developer.
Enterprise Digitalization Accelerator Suite
A new way of building your app competency
No platform lock-in
Tool is suited to business needs (integration, training, white label)
Businesses can reduce the cross-platform app development costs and time-to-market by 70% (estimated average)
Total Addressable Markets
Native Studio & Enterprise Digitalization Accelerator Suite
Mobile Application market trends and key figures:
We estimate that 2017-2018 we can sell Neonto Native Studio and Neonto Enterprise Digital Suite to 0.025% of estimated RMAD and MADP markets.
React Studio
ReactJS market trends and key figures:
 We estimate that 2017-2018 we can sell Neonto React Studio to 3% of estimated ReactJS Early Adopters, est. 1500 developers/designers.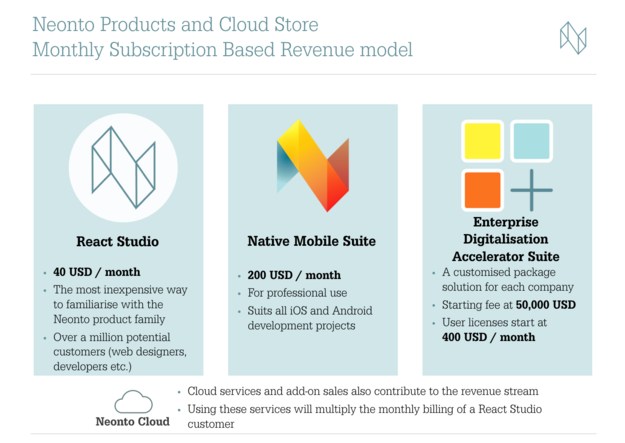 Vårt team
Vårt team
Together we have more than 40 years of experience in mobile development, and 100 years of experience in software development. We've seen things you wouldn't believe -- at both large companies and startups! We know what the challenges are globally, and we're confident in the unique value proposition of our approach.
Risker
Risker
Onoterade tillväxtföretag är investeringar med hög risk. Risker som finns i onoterade företag är t.ex. risken att förlora hela din investering, brist på likviditet på aktien, oregelbudna eller sällsynta utdelningar (vinstutdelning) och utspädning av din insats. Läs denna denna riskvarning noggrant innan du gör en investering.
Vi rekommenderar att du tar reda på investeringsmålet som du är intresserad i, diversifierar genom att investera i flera investeringsmål, och balanserar din portfölj genom att likvida investeringar. Vi rekommenderar även att du studerar noggrant riskbeskrivningarna som finns i målföretagens riskavdelningar, som du hittar i investeringsmaterialet.
Bifogat till investeringsmaterialet hittar du en kreditupplysning som kan vara relevant för att göra ett investeringsbeslut.
SWOT Analysis
Strengths
Unique Product Portfolio
All products ready to enter global markets
Pricing (based on low COGS) compared to older cross-platform runtimes or Frameworks
Ahead of the next big technology waves
Weaknesses
Inbound Marketing, i.e. Google search
Financial constraints
Media presence in its infancy
Limited resources
Global userbase, but no effective global partner network yet
Speed to deliver
Opportunities
Several big global trends expanding markets for Neonto products
To gain "low-code/no-code" and Rapid Mobile Application Development (RMAD) -markets
To gain ReactJS tooling market share
Existing global mobile and web markets still growing massively
Optimal timing for the next big technology waves, i.e. IoT, 5G, Digitalisation
Threats
Timing - too early if the markets moving slower than anticipated
Unsuccessful funding round will force Neonto to grow too slow
Relatively small team can get impacted if not able to hire more resources or existing resources exit the company.
Ability to find competent resources for the ramp up after the funding round
Limiting Factors and Obstacles
Revenue - Current revenue streams from Product portfolio and earlier Angel funding do not support sustainable growth for break even 2017.
Resources - Current resources are overloaded with supporting activities and not been able to ramp up Sales in a scale needed.
Relevance - Neonto or Neonto's products do not yet have enough online visibility and relevance to support needed Sales growth