ShowHau Center – Quality training center for dog owners
Two share issues are combined in the progress bar of the round: this public share issue and a directed issue to Media For Equity ky, which is used to collect 200,000 euros as media visibility. Same terms apply to both issues, except for terms related to subscription period and payment terms. Read more in the pitch under the headline Information on Issue Terms.
Detta innehåll är också tillgängligt i
finska
Vår berättelse
Vår berättelse
ShowHau Center focuses on the wellbeing of dogs and dog owners. ShowHau Center is a multifunctional venue, where all important activities concerning dog training and care can be found under the same roof. ShowHau Center offers a broad variety of services and activities – social get-togethers for both dog owners and dogs, dog wellbeing services, healthy feeding options and dog hotel facilities.
The first ShowHau Center opened in Vantaa in April 2016. At this time the size of the dog-related industry was estimated to be over EUR 1 billion and growing.
The development of ShowHau Center has been heavily influenced by dog industry experts. ShowHau Center offers a service package, that also includes entertaining elements for dog owners. Customers get involved in the Center's activities from a love of dog sports and there is genuine fun included in training and exercising the dogs. Business-wise the Center has multiple feet to stand on.
Our vision is to build a chain of ShowHau Centres in Finland, providing multifunctional services and products for dogs and experiences for dog owners with their beloved pet. The next step in this vision is to strengthen the services provided in the Helsinki metropolitan area by establishing a ShowHau Center in Espoo, starting operations in the fall of 2017. During the years 2018-2019 further centres will be built in large cities such as Turku, Tampere and Oulu. In the third phase, 4-5 more centres will be established in the growth centres in Finland.
ShowHau Center employees include industry experts with long term commitment and expertise in the dog industry. With the help of our talented and professional employees, ShowHau Center has developed to be a unique concept in Finland.
There is a visible gap in the pet industry between veterinary services and pet suppliers – there is a clear lack of quality training facilities and services for dogs, social get-togethers, healthy feeding options and hotel services for dogs. On the exercising and training sector there were no providers of quality services before ShowHau Center. The dog training professionals have offered only a narrow variety of services and the facilities have been rather poor until now. It is commonly known among the dog owners that the provided training halls are often dark and cold to use while toilet facilities are close to primitive. Dog owners are known to drop out of training because of poor facilities. Still, dog owners are committed and ready to exercise with their dogs, which is proven by dog agility becoming an official sport recently.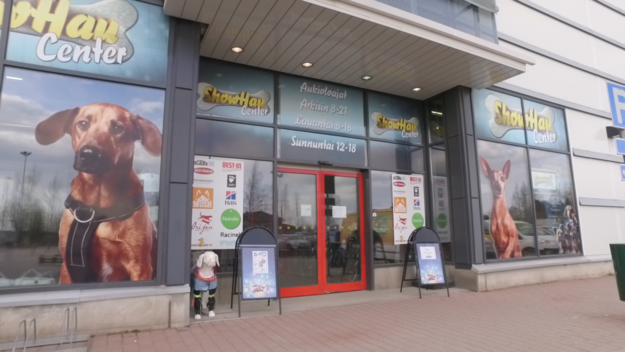 Vår affärs- och marknadssituation
Vår affärs- och marknadssituation
Despite a long recession period in Finland, the dog-related industry keeps on growing. The size of the pet sector in Finland is over EUR 1 billion (source). Success stories include the Evidensia-chain that provides veterinary services (annual turnover 50 million euros) and international Musti&Mirri pet supply store chain (annual turnover 80 million in Finland). Tekes (The Finnish Funding Agency for Technology and Innovation) has estimated that the pet industry will continue its growth, become more profitable and show continuous potential for further development.
The number of registered dogs went over the threshold of 800,000 in Finland during 2016. In 4 years, the number has increased with 150,000 dogs. (Statistics Finland 11/16.) Added with un-registered dogs, the real number of dogs in Finland is close to a million. Most of the dogs are family pets. However, a recent study by the Finnish Kennel Club (2016) stated that 63% of men and 55% of women considered themselves to be active in exercising with their dog.
Finnish Kennel Club has recognized some growing trends in the dog sector that include independent training activities, commercialization of dog hobbies and businesses replacing in part the work done by volunteers. In addition, the dog health and therapy business is growing and will in the future be provided in majority by independent professionals. (Finnish Kennel Club 2014)
The family dog has a growing importance as a family member. There is a growing demand for different activities that families can engage in with their dog. There is also a growing interest in dog wellbeing and a demand for purchasing services and products such as food and supplies for dogs. Different activities related to the family dog are stated to bring good quality of life for the owners.
There has been wide variation in the activity halls and venues provided for dogs, most of them run by small enterprises and associations. Most of the professional dog trainers are self-employed. Consumers are forced to seek services and supplies from multiple different providers. The industry has had little to no synergies thus far. Additionally, a high demand for better quality in training locations exists among dog owners.
ShowHau Center – target groups
Our target groups are:
       1.  Regular dog owners
Our biggest target group is regular dog owners, those who have a dog as their family member. This group does not have fixed consumption habits concerning their services or supplies.
They have interest in all dog related topics and activities
They do not have other common hobby with their dog than taking the dog for a daily walk
They normally buy food for their dog from grocery stores.
Regular dog owners want to have an easy-to-access to training activities, without a commitment for multiple years. Training should be easy and fun.
2.    Active trainers/breeders
Active trainers know what they want from their services and supplies. They seek the best solutions and products for their dogs. They normally buy their supplies from special pet stores.
Within this group there is 6,000-7,000 dog breeders. The breeders give specific guidelines for their puppy owners on what to buy and how to train etc. The breeders have significant power in the decisions the owners make.
Active trainers gather to different kind of events to gain more know-how, have active exercising possibilities and they are also ready to spend money on their dogs' well-being.
Among this group there are active participants to dog shows and dog trails. In Finland, there are more than 200 000 dog show entries annually and about 160 000 participations to trails. (Finnish Kennel Club 2017)
3. Business partners
B2B clients, co-operational partners. Partners using advertising possibilities of the ShowHau Centres. Corporate and association clients.
Co-operational partners have a chance to have a lot of visibility in ShowHau Center's media channels; in social media, advertising screens at Centers and sponsoring events. They reach the right people with small effort.
Using ShowHau Center's excellent congress and meeting services, our business clients can organize meetings, dog club events etc. The meeting services are a fast growing sector in the ShowHau Center.
Our Services
ShowHau Center employes itself in several different business sectors:
Training and exercising with dogs
Meeting and congress services
Restaurant services
Health and well-being services
Outlet-supplies ja webstore
Hotel services for dogs
Media
Training and exercising with dogs is the most important sector in ShowHau Center business. There is a broad variety from basic training to competitive training courses. There is a possibility to try different sports without the long term commitment. Artificial grass gives the perfect base for training. The indoor training area is 600 square meters (in Vantaa). In any weather there are always quality training circumstances. In addition, special lectures and special training opportunities are brought to clients.
During prime-time hours, between 5-9 pm, there are different possibilities to train in the three training areas at the Center while the Café is open for meetings and lectures. During prime-time hours there are often more than 200 people using the ShowHau Center services. During off-prime hours we offer a possibility to book the training area for the dog owners' individual training with or without a ShowHau provided dog trainer.
Meeting and congress services and Café bring quality services for shows and dog club meetings. Big events are organized often during weekends when ShowHau Center is easily turned into a quality dog show venue. During weekdays, there are a lot of meetings and birthday parties for dogs. Organizing events is easy with our own Café. There is room for 50 people with their dogs in the facilities. Food services can be provided for up to 300 people.
Health and wellbeing services provide dog behaviour evaluation, nutrition and physiotherapy services, even with acupuncture options. To make your dog's day perfect, there are quality services such as massage and washing dogs. Significant investments have been made to the development of health and wellbeing services. With gathered feedback, new services will be developed further.
Day care and hotel services for dogs is a growing business area. During the dog owner's travels or long work days, the dog is taken care of by professionals. Health and wellbeing services are easily combined to the care time at ShowHau Center. The Center is situated in a great location in Vantaa close to the Helsinki International Airport, which makes the use of the services easy for customers who travel.
Outlet dog supply store and webstore. We have focused on developing our outlet store. We have worked in co-operation with our partners to provide healthy and ethically manufactured clean food for dogs. Major domestic dog food producers have a strong role in providing especially frozen food options, but also treats and dry foods. We are continuously looking for new brands to support our service package.
A brand new service is home delivery for frozen dog food with ShowHau Center cars. This is organized by our webstore, which delivers monthly supply of dog food directly to the customer's home. There is a possibility to broaden the home delivery product portfolio to also include treats and dog supplies. This would have a positive effect on the ShowHau Center turnover.
Media and marketing services. Marketing opportunities form an important part of the ShowHau Center business. ShowHau key personnel have strong expertise in how to create business in media and marketing. The media and marketing services are integrated in to the venue, events and attractions. Entertainment is a part of the ShowHau experience, of which the best parts can be seen in a ShowHau TV program on a major Finnish commercial channel. ShowHau Center and its partners have visibility in every ShowHau TV show. In-house media includes screens, different kinds of visibility options, employees' clothing, roll-ups, floor stickers etc.
ShowHau Center is active in social media, daily posts are made on Facebook and Instagram, both still and active images are produced to our own digital channels and events are streamed to our YouTube channel. Our email campaigns can reach up to 10 000 customers.
Our own social media channel Kuono.fi has 800 000 visitors annually. The channel includes ShowHau produced news broadcasting. The target group for Kuono.fi are regular dog owners who benefit from the content produced which in turn generates interest to the ShowHau Center services. The strongest part of Kuono.fi is the community of 17 000 Facebook fans, which is an active group of dog owners.
ShowHau arranges annual roadshows and a dog show tour, both of which will be important marketing channels for the new ShowHau Centers.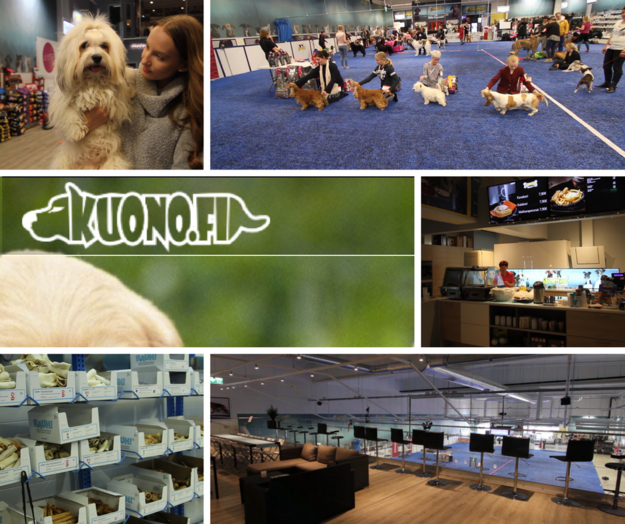 Vårt team
Vårt team
ShowHau Center operations are run by a team of dog industry professionals and experts. In addition to dog industry know how, the team has strong business expertise in media, communications, business strategies and property management, building and financing. The team has years of experience in building business strategies, developing operations, sales and marketing, building social media connections. 
Risker
Risker
Onoterade tillväxtföretag är investeringar med hög risk. Risker som finns i onoterade företag är t.ex. risken att förlora hela din investering, brist på likviditet på aktien, oregelbudna eller sällsynta utdelningar (vinstutdelning) och utspädning av din insats. Läs denna denna riskvarning noggrant innan du gör en investering.
Vi rekommenderar att du tar reda på investeringsmålet som du är intresserad i, diversifierar genom att investera i flera investeringsmål, och balanserar din portfölj genom att likvida investeringar. Vi rekommenderar även att du studerar noggrant riskbeskrivningarna som finns i målföretagens riskavdelningar, som du hittar i investeringsmaterialet.
Bifogat till investeringsmaterialet hittar du en kreditupplysning som kan vara relevant för att göra ett investeringsbeslut.
The risks of ShowHau Center Oy are categorised as follows: operational, financial and funding risks.
It is worth highlighting the operational risks related to renovating new Centers. The risks can manifest themselves in possible delays in timelines and increases in budget. Especially delays with respect to finding suitable rental locations and building permits should be highlighted. Due to profound real estate and construction expertise in our team, these risks are managed with special attention and focus.
Additionally, key financial risks arise if the estimated growth in the number of customers is not reached. A smaller customer base would yield directly to lower revenue levels.
In order to start its operations and make the necessary initial investments, ShowHau Center Oy has taken a loan, which it needs to pay back according to the payment schedule. ShowHau Center Oy is planning to make further investments into its new Center during spring-summer 2017. These investments will be made from the proceeds collected in the current Invesdor funding round.