We have already succeeded in Finland. Now we can proudly state that we are the first company in the world that has succeeded in creating a practical tool that facilitates lighting design for the world's most popular architecture software suite.
Detta innehåll är också tillgängligt i
finska
Vår berättelse
Vår berättelse
Winled was founded in 2009 to make a profit. In this decade of idealism, saying that aloud feels almost criminal, but that's the way it was. 
Around the time Winled was set up, the European Union had just declared that energy requirements for light fittings will be tightened each year up until 2020. In practice, this meant that after the transition period, LED lighting would be the only remaining alternative. What we saw here was a niche market.
The beginning was not exactly easy for the company. The fact that we were almost penniless did not help either, LEDs were generally poor at the time, and both founders knew very little about electrical matters. What we did understand, however, was that we must be able to help our customers do well in order for us to do well ourselves. The ideology that sprung from there is still a factor in our operations today. Our internationalisation - that is on the verge of starting out - relies exclusively on this idea.
The boldly different model of thought, as well as our knowledgeable and committed staff, have led us to where we are right now. We are one of the fastest growing small enterprises in Finland. Through natural selection, our staff comprises individuals who genuinely take responsibility for their own actions.
With our growing business, we have made huge investments in product development for over two years. Thus we can proudly state that we have - as the first company in the world - managed to create a usable tool for architects for information modelling -based lighting design. We are talking about a plugin built for the world's most popular architecture software suite, Autodesk Revit. For the first time, our tool incorporates practical light fittings into information modelling -based architectural design - and it's all done very cleverly.
The application that we have developed is called Lights and it is available in Autodesk's own AppStore for millions of architects to download, already as we speak. The application is completely finished and it was published simultaneously with the announcement of this share issue. So, the internationalisation of Winled Ltd is not taking place physically but rather via completely digital channels. Most of the capital raised with the share issue will, therefore, be directed towards getting all architects working with Revit to use our application, all over the world.

Vår affärs- och marknadssituation
Vår affärs- och marknadssituation
In the very early days of Winled, we had discussions regarding the sales of our lighting fixtures with several electrical supplies wholesalers. Electrical wholesalers have a strong market position in lighting fixture distribution, and that is why talking with them seemed like a logical choice at first. However, the contractual demands from the wholesalers were too heavy for a fresh company such as ours and consequently we decided to set up our own distribution channels. We have travelled a long and fine road since those days: today, about 600 Finnish electrical installation companies use Winled lighting fixtures on a regular basis. It is fair to say we have done a great job with creating customer relationships and we welcome each new client with open arms.
We specialise in producing services for our customers, including a lighting fixture design service, an online ordering system, 24-hour customer service, and many others to raise the sales of our products. With our offering we become true partners for our customers, and we do our utmost to help our clientele achieve their sharpest competitive edge. Now we have reached a point where the cash flow from lighting fixture sales is steady and on the fast track for growth. The average purchase amount is about 800€ with more than 200 of our customers placing orders at least once a month. Thus we have laid an extremely solid foundation for our business - something that is quite unique in our market situation.
As our share issue is being launched in the final quarter of 2016, we have arrived at a situation where:
1. We have reached a strong market position in Finland and our business is growing rapidly. In the current accounting period we are growing at a rate of about 32%, and we expect similar growth in terms of our core business for several years to come.
2. The market share for LED fixtures is rising dramatically and comprises 36 % of the total market (US$30.5 bn) in 2016. (source)
3. Architectural design based on information modelling is also growing exponentially. We are talking about the form of architecture that is currently taught to all new architects, in all educational institutions for architecture, around the world. Today the designing process of all public construction projects in the EU are aimed more and more towards information modelling -based design (source). This offers us an immense opportunity right now.
4. The dizzying technological development and the unlimited transfer of information enable a single popular application to add to a company's market value in almost astronomic proportions. There are good examples of this right here in Finland, as we well know. At the time of writing this text, Nintendo's share price had just rocketed by 12 billion dollars in one week - all thanks to one free Pokémon GO application.
Our application, published in conjunction with the announcement of our share issue, is similarly free. But it is directed at users who design some of the most highly-valued investments in the world; our target group is architects. We are talking about an application that - for the first time ever - enables using light fittings effectively in information modelling -based architectures. Never before have architects been able to design lighting for the world's largest constructions this easily and effortlessly. We have managed to tackle a huge number of technical challenges that no other lighting fixture manufacturer has been able to solve to this day. This makes the architects' lives considerably easier than ever before. 
In a nutshell: using Winled fixtures is the only effortless means of designing lighting with the Autodesk Revit software for any building in the world today. The fixtures in our selection are made readily available to architects by using our LIGHTS application that any architect can download from Autodesk's own application store. All this leads us to believe that, in the current market situation, this is an investment that can prove extremely profitable in the future. 
For us, crowdfunding has evolved into a natural option also for growing the number of our company's owners. This will drastically facilitate the possibility of us going public in First North at a later stage.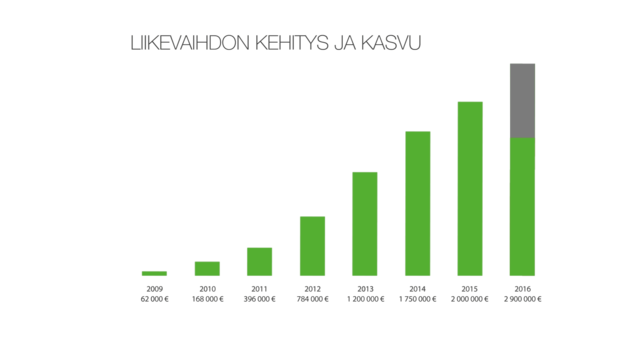 Vårt team
Vårt team
DREAM TEAM OF THE 21ST CENTURY
Surely the best word to describe our team is proficient. Simply put, we are exceptionally good at what we do. On the educational side we have anything from engineers to Masters of Economic Sciences. As far as experience goes, we know about sales, communications, design, 3D modelling... - yet the biggest unifying factor here is commitment. Each one of us is totally committed to making Winled the next international success story. Our exceptional level of commitment is also evident in the fact that every person with more than six months of work history at Winled is also a shareholder in the company, that is, one of the owners. The responsibilities are delegated clearly, and everyone has a distinct role with an eye on what the future will bring.
So, we have gathered an actual dream team for doing business in the 21st century. Our technology unit has developed, being the first on the market, a product that has been longed for for years. We have our own in-house communications unit that can instantly reach out to a target audience of hundreds of thousands of architects. Our strategic management team's knowledge and skills are known all over Finland. We possess all the required know-how to make Winled the most widely-used lighting brand by architects in 2020.
Risker
Risker
Onoterade tillväxtföretag är investeringar med hög risk. Risker som finns i onoterade företag är t.ex. risken att förlora hela din investering, brist på likviditet på aktien, oregelbudna eller sällsynta utdelningar (vinstutdelning) och utspädning av din insats. Läs denna denna riskvarning noggrant innan du gör en investering.
Vi rekommenderar att du tar reda på investeringsmålet som du är intresserad i, diversifierar genom att investera i flera investeringsmål, och balanserar din portfölj genom att likvida investeringar. Vi rekommenderar även att du studerar noggrant riskbeskrivningarna som finns i målföretagens riskavdelningar, som du hittar i investeringsmaterialet.
Bifogat till investeringsmaterialet hittar du en kreditupplysning som kan vara relevant för att göra ett investeringsbeslut.
The greatest risks for our business are currently outside our influence. Should issues relating to economic policy escalate it would also have a major impact on new construction production and consequently on our projected cash flow. Also if certain global political risks are realised, it may cause problems for both our distribution and our supply chain.
The risk related to yield expectations naturally lies with our success in achieving high utilisation rates among architects for our LIGHTS application. In case architects will not adopt the service within the projected schedule, the investment repayment period will become significantly longer. In this scenario, however, all investors will remain owners in an extremely self-sufficient, Finnish growth company that does profitable business.
One potential risk lies also in unexpected changes to the competitive situation. There is also the possibility of the emergence of a competing piece of software to compete with Lights.
A noteworthy fact in terms of minimising risk is the way we have built our revenue generation model. Our whole cash flow comes from the repeat orders of approximately 600 customers. Our largest single customer comprises less than 0.5 % of our turnover. Personnel risk has also been minimised with the service model we have produced and with our shareholders' agreement.