Described as the most exciting Finnish fashion brand, Marita Huurinainen is known for WILD, the only ethical wild fur and leather concept, and WAVE, a patented wooden design shoe. The brand is rapidly growing sales around Europe, the U.S., and Asia.
Vår berättelse
Vår berättelse
Marita Huurinainen is a fashion and lifestyle brand offering ready-to-wear clothing, shoes, and accessories. The brand aims to inspire people to go beyond the ordinary. This is expressed by the designs, patterns and materials. Marita Huurinainen is best known for pioneering the only ethical wild fur and leather concept WILD and its patented wooden design shoe concept WAVE. 
In 2013, Marita Huurinainen met with Andreas Jank and introduced the WILD and WAVE concepts to him. At that time Marita was employed as a designer by other fashion companies and Andreas was an investment banker in London. Immediately convinced that these unique concepts held great business potential Andreas resigned from his job, moved to Finland and invested his money to start the business. Since then, the promising product concepts have expanded into a successful brand and an international business that is expanding rapidly around the world.
"The most exciting designer in present-day Finnish fashion" - Kauppalehti
Why invest in Marita Huurinainen
Only fashion brand offering wild ethical fur and leather in the world
Award winning and patented iconic shoe concept
Fashion is a massive global market where new products and brands can quickly become global successes

Business launched successfully with fast-growing revenues, 1H2016 revenues up 125% from 1H2015

Clients across Europe, the U.S., and Asia and wide international distribution network including former Marimekko sales agents

Key products protected against imitators through exclusive rights, patents, or production know-how
Extra benefits for shareholders include 25% discount on purchases from Marita Huurinainen boutique and online shop and a free Marita Huurinainen wool hat
Unique products
WILD - Ethical fur and leather
The ethical WILD fur and leather concept addresses a current fashion dilemma. Fur is a very popular fashion product associated with style and luxury. At the same time, fur is highly controversial because of the problems and ethical issues associated with fur farming and the treatment of animals.
Marita Huurinainen offers a unique solution to this problem. Instead of farmed fur, the brand only uses ethically hunted wild fur of animals that have lived in their natural environment. In Finland, controlling animal populations by hunting large number of animals is vital to maintaining a balanced eco-system. Typically, hunters discard such fur skins as waste. Now, Marita Huurinainen buys these furs from the hunters to further use this natural resources.
For leather, Marita Huurinainen only uses leather from Finnish elks and reindeers that have lived either fully wild or semi-wild in the Finnish nature.
Thus consumers enjoy Marita Huurinainen WILD fur and leather products with a good conscience, knowing that no animal has suffered, or has been killed to become a fashion item. Real wild fur is a natural and organic product. Unlike fake fur, which is synthetic and non-degradable, real fur is a long-lasting ecological material. 
"A truly ethical fur collection" - ELLE Magazine
"WILD allows you to enjoy fur with a good conscience" - Vogue Magazine
WAVE - Wooden concept design shoes
WAVE is an iconic new wooden shoe concept. It received the Ornamo Design Award as the best Finnish design object in 2009. The shoe is not only beautiful to look at, but also incredibly comfortable to wear. It is made of Finnish birch wood and it is available in various colour options. The design is internationally protected and the company has developed a complex production technology that is difficult to imitate.
"A Finnish design icon in the making!" - Scan Magazine
"These beauties give me good waves, I want them in all colours" - Anne Kukkohovi (Finnish TV presenter)
Clothing
To complete the brand identity and product offering, new "mainstream" products were developed to supplement the "highlight" concepts of WILD and WAVE. An example of a successful mainstream product is the summer dress collection, which was introduced in 2015 in the Marita Huurinainen boutique. The collection sold out immediately. Retailers also requested dresses for their stores, which resulted in the launch of a full Marita Huurinainen clothing line. Today the clothing line includes dresses, tops, jackets, knitwear, and other similar products. 
"Today I'm wearing both a Marita Huurinainen dress AND the leather jacket. I'm so happy. I feel so good in this outfit", - Riitta, a loyal customer and shareholder in Marita Huurinainen
Based on the two highlight collections WILD and WAVE, it is easy for Marita Huurinainen to stand out from the competition to quickly gain attention. Paired with the more mainstream clothing line, the company has a strong product mix to generate revenues and to quickly build an internationally successful fashion brand with Finnish roots.
Large and attractive market
The international fashion luxury market amounts to EUR 300 billion and is expected to continue its solid growth at a high profitability. Fur products constitute EUR 40 billion. The luxury fashion market is very fragmented with many large international brands but no dominant market player which makes it possible for many new brands to rapidly grow in only a few years (e.g., The Kooples, Tory Burch, Acne). 
Although the fashion market is large and fragmented, certain market opportunities remain untapped: 
Sustainable fashion is on the rise, as consumers are increasingly choosing products that have been produced in an ethical, environmentally-friendly, and sustainable manner. As in many Western European countries consumers are critical about farmed fur there is potential to successfully estabish WILD as an alternative.
Several Swedish and Danish fashion brands have succeeded internationally, while there is a lack of successful brands from Finland - a country with a very positive international image (cool, rich in design, beautiful, interesting and positively different). A Finnish fashion brand can successfully establish itself by benefiting from the popularity of Scandinavian fashion while differentiating itself with a Finnish twist. 
Also, while several other product categories have clear champions (e.g., Jimmy Choo in shoes and Louis Vuitton in handbags), there is no internationally recognized brand with a strong fur collection, let alone one that offers ethical fur.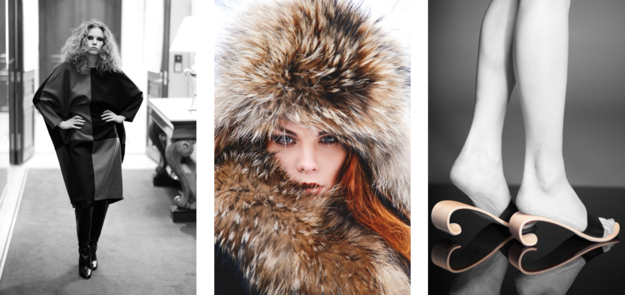 Vår affärs- och marknadssituation
Vår affärs- och marknadssituation
Successful proof of concept and strong growth
The business launched in 2013 by selling WILD and WAVE to other retailers in Finland and abroad. Demand was very strong, and in autumn 2014 Marita Huurinainen opened it is own shop in the top shopping district in Helsinki. Today the products are sold in more than 15 countries. The most important markets for Marita Huurinainen are Finland, the U.S., Japan, and Germany. The brand's clients include several large department stores (e.g., Stockmann, Isetan, Barney's, and Lotte) as well as high-profile independent boutiques (in e.g., New York, Los Angeles, London, Frankfurt, Stockholm, Hong Kong and Tokyo).
Marita Huurinainen has already reached strong brand recognition in Finland due to extensive press coverage and visibility from its own store. International brand awareness is constantly growing and Marita Huurinainen has often featured in leading international fashion magazines.
Most importantly, Marita Huurinainen's WILD fur collection has successfully won over many customers who otherwise would not have considered wearing fur. This proves that the wild fur concept is working and that Marita Huurinainen is creating its own market for ethical fur.
"I always wanted to have a mink fur coat, but I felt sorry for the animals. And then I heard about your concept. I decided to immediately contact you and to order a WILD mink fur coat." - Minttu Räikkönen (fitness coach and wife of Formula 1 champion Kimi Räikkönen) 
Powerful distribution 
In the past six months, the company has quickly expanded its distribution channels around the world. Agents have been recruited for Japan and China, and in Western Europe agents were signed for Germany, Benelux, Scandinavia, UK and Poland. All agents have many years of experience in selling fashion products and several were formerly agents for the biggest Finnish fashion brand Marimekko. Separately, a part-time sales manager was recruited with a strong network of clients across Europe and particularly in Russia. In Finland and the  U.S., where the company has concentrated its sales efforts in the past year, a good network of clients (c. ten stores each) has been established. 
The distribution power of the sales network is best shown by two examples. In Japan, the Marita Huurinainen sales agent managed to place the Marita Huurinainen summer collection with two of the leading department store chains. In Germany, where the sales activity of the  spring/summer 2017 collection  has started at the end of July 2016 over ten new clients have already been acquired.
This season the dynamic team sales agents and own sales staff represents the brand at trade shows in Paris, Copenhagen, Shanghai, Moscow and Düsseldorf to sell the Marita Huurinainen spring/summer 2017 collection. 
"The fashion brand Marita Huurinainen has grown at a very strong pace in two years." - Optio Magazine
Protection against imitators
With its signature products WILD and WAVE, Marita Huurinainen has two extremely strong product concepts that are protected against competitors.
WILD
One of the key success factors for wild fur is securement and protection of supply. As wild fur is a limited resource, the company has built up its own direct sourcing capabilities. A large number of hunters have already been signed up as direct suppliers. There is no significant other player in the wild fur sourcing market in Finland, and the company plans to further strengthen its dominant sourcing position.
The concept of WILD ethical furs is protected from imitators:
Unique access to hunters for fur sourcing through exclusive cooperation with hunters association
Exclusive right to use Wild Finnish Fur certification of origin label
Marita Huurinainen recognised a pioneering in using wild fur
WAVE
WAVE shoes were initially declared to be impossible to produce. After years of rigorous testing Marita Huurinainen has together with sub-contractors developed a proprietary production method and is planning to completely in-source the production.
WAVE shoes are protected from imitators::
International design patent
Proprietary know-how of the complex production process 
Brand recognition as designer of shoe
Commitment to growth 
As a fashion start-up Marita Huurinainen operates in the established fashion business environment, while functioning as a fast-growing and dynamic start-up company. The company is strongly committed to high growth, and it has a strategy of inviting external investors in order to collect funds that will help accelerate the growth of the business.
The growth plan of the company includes three key elements.
Grow sales through other retailers. The company is building a powerful distribution network for over ten countries. In the next years, these markets will be penetrated further, and the number of clients will be increased. To reach this, the sales and marketing budgets will be increased and investments will be made in sales activies, marketing and PR.
Increase sales from our own store. Marita Huurinainen plans to open a larger store in Helsinki. As the product offering and brand recognition increase, a larger store can capture significant revenues. 
Start meaningful online sales activities. So far online sales have not been a focus for the company. With increased brand recognition around the world and meaningful marketing and PR, online sales will be a focus area in the next year. Also, new products that are easier to sell online (e.g., handbags and accessories) will be added to the product offering.
To support the growth, the company will dedicate significant funds to make the brand more known. So far marketing activities have concentrated on Finland and are now increasing in intensity. This year alone Marita Huurinainen will have a fashion show during Helsinki Design Week, participate in the Gloria Fashion Show, and the Optio Gaala. In July, the company already participated in the Helsinki Fashion Week. It is planned to start meaningful marketing activities also outside Finland.
The strong determination for growth was also acknowledged when Marita Huurinainen was selected by the Finnish Innovation Fund (TEKES) to join its programme for Young Innovative Companies, which provides growth subsidies for promising Finnish growth companies. This achievement is particularly noteworthy, as it is very rare for fashion companies to be selected to this programme that usually supports technology, internet, or gaming start-ups.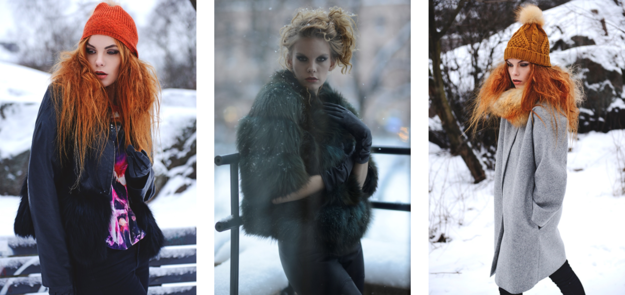 Vårt team
Vårt team
The Marita Huurinainen team consists of six full time employees. In addition, the company is supported by a number of part-time experts. Furthermore, a network of external sales agents is strengthening the distribution power.
The company board is comprised of experienced business professionals with a wide range of consulting, management, international retail and start-up experience. The external company board members are: Petru Huurinainen (Chairman), Marina Vahtola, and Niclas Ahlström.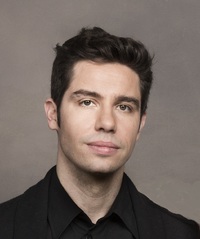 Andreas Jank
Co-founder and CEO, full-time
When introduced to the Marita Huurinainen collections, Andreas was so impressed and convinced about their business potential he left his position as a Vice President in investment banking at Citigroup in London to move to Finland and start the company together with Marita. Andreas is responsible for strategy, finance, sales, and the general management of the company.
https://www.linkedin.com/in/andreas-jank-8779204?trk=hp-identity-photo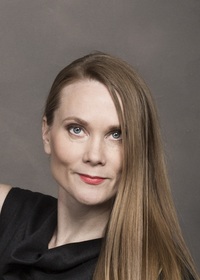 Marita Huurinainen
Co-founder and Designer, full-time
Marita Huurinainen is the person behind the brand. She has developed the WILD and WAVE concepts. Before launching her own brand, Marita held various designer positions in Finnish fashion companies, such as Marimekko. Marita has won various international prizes for her fashion designs, such as the Ornamo Design Award. Marita is the head designer and creative director of the company.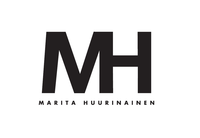 Sini Inberg
Sales and Marketing Manager, full-time
Responsible for marketing activities and Finnish sales. Joined the company in 2016. Previously at Stockmann and Tamro.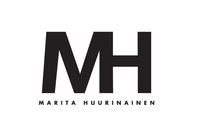 Sirkku Vuorinen-Simula
Production Manager, full-time
Responsible for production management. Joined the company in 2014. Previously at Nanso.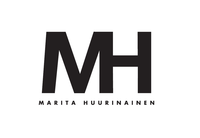 Emma Virtanen
Store Manager & Admin, full-time
Responsible for the Marita Huurinainen store in Helsinki and general administrative tasks. Joined the company in 2014.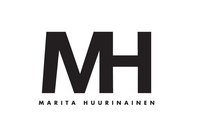 Tanja Tammisalo
General operations, full-time
Responsible of various operative tasks. Joined the company in 2016.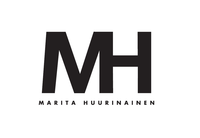 Maria Hyttinen
Sales Manager, part-time
Responsible for sales. Previously CEO of another Finnish fur brand. Joined the company in 2016.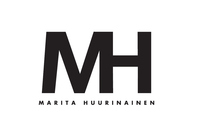 Angela Hertault
Brand Manager, part-time
Responsible for brand identity and development. Previously sales and marketing director at various UK fashion brands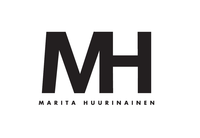 Nina Simberg
Press Manager, part-time
Responsible for press communications
Risker
Risker
Onoterade tillväxtföretag är investeringar med hög risk. Risker som finns i onoterade företag är t.ex. risken att förlora hela din investering, brist på likviditet på aktien, oregelbudna eller sällsynta utdelningar (vinstutdelning) och utspädning av din insats. Läs denna denna riskvarning noggrant innan du gör en investering.
Vi rekommenderar att du tar reda på investeringsmålet som du är intresserad i, diversifierar genom att investera i flera investeringsmål, och balanserar din portfölj genom att likvida investeringar. Vi rekommenderar även att du studerar noggrant riskbeskrivningarna som finns i målföretagens riskavdelningar, som du hittar i investeringsmaterialet.
Bifogat till investeringsmaterialet hittar du en kreditupplysning som kan vara relevant för att göra ett investeringsbeslut.
Marita Huurinainen operates in the luxury fashion segment and customers' purchasing habits are impacted by macro-economic trends. In the case of an economic downturn, such as in Finland at the moment, sales of luxury products tend to suffer more than the sale of other products. On the other hand, with economic growth, the sales of luxury products tend to outperform the overall economic development. The fact that Marita Huurinainen is already operating in various regions around the world minimizes the macro-economic risks. Additionally, Marita Huurinainen already has experience with challenging macro-economic situations as the current strong growth rates have been achieved during an economic downturn.  
Wild fur is, by definition, a limited resource. However, with around 500.000 fur-bearing animals hunted in Finland every year, there is a sufficiently large supply available. Due to its strong connections in the Finnish hunting community and the lack of any other professional wild fur sourcing organisation, Marita Huurinainen is best placed to secure the sourcing for the majority of wild fur. In the future, the sourcing know-how can be extended to other countries.