CLANED - Invest in International Growth
CLANED applies artificial intelligence and theories of education psychology revealing what factors impact individual learning. It personalizes learning to each individual optimizing study motivation and improving learning results.
Detta innehåll är också tillgängligt i
finska
Vår berättelse
Vår berättelse
The vast majority of education providers from schools to universities, corporations and online course providers still offer one standardized way to learn although it is widely acknowledged that individuals learn differently. Each year millions of students find out that the one size fits all approach does not suit them. They struggle, they delay and too often they fail. The problem is huge on individual level especially when the students never understood why they struggled and failed letting their sense of failure direct and limit their future choices.
Popular Internet services such as Facebook, Google, Twitter and PInterst are all based on highly individual and relevant service experience. Education technology has not reached the level of other industries in digitalization and has not been able to offer personalized learning that matches the needs of individual students.
Seasoned serial entrepreneurs Vesa Perala, Micke Paqvalen and Antti Pasila started the operative business of Claned Group Ltd. in 2013. They saw huge value in understanding what impacts the learning of different individuals and decided to start developing CLANED in June 2013 in order to provide best, personalized learning to everyone everywhere. The founders also understood that the massive education industry is on the verge of disruption and the last industry that experienced this kind of pressure was traditional media, when seemingly overnight, technology companies on the winning side of the disruption turned into billion-dollar businesses.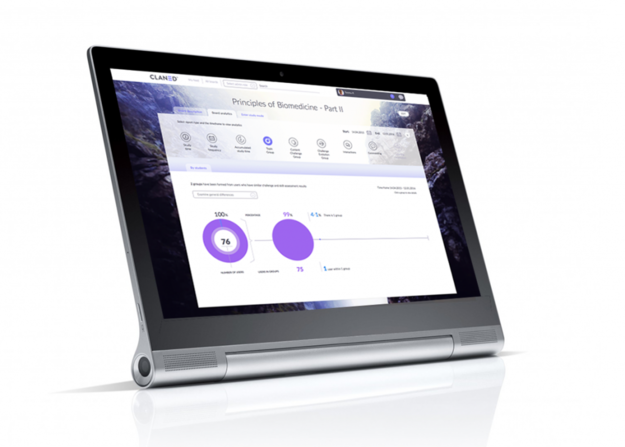 Vår affärs- och marknadssituation
Vår affärs- och marknadssituation
CLANED Solution
Education is moving to digital at an increasing pace. However, the digital tools offered to the students are not designed to optimize their learning experience nor results. Traditional digital learning tools such as Learning Management Systems are designed by organizations to other organizations and lack social media like functionalities and learning analytics. There is no engagement nor interaction between the users and tools and they mainly serve as digital learning content storages. No-one likes nor uses these systems more than they have to.
CLANED is designed for students. It is a social and digital learning environment that creates a personal learning space for each student. Within that space they read, write, watch videos, highlight, make notes, chat, plan, collaborate with others, raise questions etc. - everything students already do on daily basis. CLANED is compatible with every data terminal equipment.
Our innovation is an unique combination of artificial intelligence and theories of education psychology. CLANED learns to understand how different students learn and what factors impact individual learning processes and study performance. Based on this comprehensive insight, CLANED recommends students learning materials, study buddies and mentors that best match their individual needs dynamically and in real time. The product concept is based on years of academic research and has been developed in collaboration with leading educational institutions.
Personalized learning has been a key educational trend at least for the last decade but the industry has failed to deliver solutions that offer personalized education materials as well as actual social interaction with peers and teachers. CLANED solves the core problem preventing personalized education by knowing which factors impact the learning of different individuals. CLANED can build and recommend students personalized learning paths that help them to optimize their study motivation and reach better and better learning results. According to several academic studies, social interactions trigger learning. Therefore, the social learning aspects have a key role in CLANED.
Market
The global education market is huge and estimated to be 3 300 billion euros. The market is growing 7% annually. The education technology market is worth over 100 billion euros and predicted to grow by more than 20% per annum during the next years. The growth is strongest in emerging markets such as India (55%), China (52%), Malaysia (40%) and Brazil (26%) as examples.
Product Development
The development of CLANED began in June 2013 after we had raised app. 1,5 million euros from Finnish business angels in April 2013. In addition to the raised capital, we received a soft loan of 670 000 euros from TEKES (Finnish Government owned financial institution). We raised app. 1,3 million euros using a convertible note and received a grant of 552 500 euros from Eurostars program of European Union in 2015. The post-money valuation of the convertible note round as of December 31st, 2015 was 12,33 million euros. The convertible notes were converted into class A common shares of the company. We submitted our application to TEKES NIY program on May 26th 2016. The NIY program provides a total of 1,25 million euros of which 500,000 euros is a grant and the rest a soft loan. Funds are directed to companies that show strong international growth and growth potential.
The first web version of CLANED was ready for sales in the end of 2015 but intensive focus and investment in research and development continues and will not stop in the future.
Business Models
According to our go to market strategy, we focused on building a strong international reference customer base during the first half of 2016. We carefully screened and selected customers, which would provide us credibility as a supplier and scaling up opportunities later on. As CLANED is strongly positioned as a Finnish education technology company, we realized it is vital to build an exceptionally strong reference base with different customer segments in Finland. Finnish education brand opens up any customer or partner door globally.
The organizational customers are schools, municipalities, universities and different sized commercial corporations. These customers pay a subscription fee per student. The annual fee is currently 20€ but will rise to 50€ for corporate customers in second half of 2016. The fee is invoiced 12 months in advance.
When CLANED native mobile applications (iOS and Android) and Market Place are launched in summer 2016, CLANED starts charging a 30% commission from all education material purchases. CLANED Market Place enables any content provider including teachers and students to sell and buy self generated learning materials such as lecture notes. We continue to introduce new chargeable services for the consumers later in 2016.
Business traction
We started sales to organizational customer in late 2015 and have exceeded the targets for the first 6 months as we have closed deals in excess of 1 million euros in over 10 countries. Our customer and partner references include e.g. the following ones: 
Microsoft, United Nations, Lenovo, Telefonica, Banco Santander, Michigan State University, Tieto, 3StepIT, TeliaSonera, Edita, Oulu Business School, University of Eastern Finland, Fioca, Imperial College, Royal College of Art, University of Helsinki, Aalto University, Odilo, Keuda, Tallin University of Technology, i3L, IPMI Business School, Vertice Learning, Fedegari SpA, Skedco Inc., Lion's Club, EduTrigger, EduTech, Icare Finland, Optomed and several other companies and education institutions. Some reference cases are described in more details below:
United Nations is building a global innovation community on CLANED platform. Solution will be used by employees from all over 50 UN agencies world wide. The other project partner is Google Creativity Labs. UN chose CLANED because of the social collaboration capabilities and unique learning analytics of the system. Project will be delivered in July 2016.
Fioca Ltd. is private education and publishing company owned by The Finnish Nurses Association. Fioca is offering vocational training courses to nurses using CLANED as their platform. The aim is to have nurses carrying their personal learning portfolio with them in their pockets (in smart phones) at all times. The first course about acute pain handling reaches 8,000 nurses in Finnish capital region.
Oulu Business School (OBS) started using CLANED in January 2016. The first course on CLANED had app. 300 students and focused on providing students tools for social collaboration and knowledge creation. The targets were exceeded by far and commercial co-operation with OBS continued immediately. According to one of the students, "studying on CLANED environment was more social and effective than the traditional lectures".
Telefonica has chosen CLANED as their education partner and the first project will be kicked off in June 2016 in Spain. The course will be done in co-operation with Ferran Adrian, who is known as the chef and owner of the world's best restaurant elBulli. We will expand the co-operation with Telefonica to Latin America later in 2016.
CLANED is creating professional training for 200 Finnish schools and 4,000 teachers together with Microsoft and Edita. At a later stage, the solutions will reach app. 80% of all Finnish schools and teachers. All training takes place on CLANED platform and the entire concept will be exported to international market together with Microsoft and Edita.
Our sales funnel includes over 100 active cases both in Finland and internationally.
User feedback
The user feedback has been fantastic. According to our market survey (app. 200 students):
87% of the users will recommend CLANED to their peers
71% will continue using CLANED
0% dropped out from the courses that used CLANED
Users like the social collaboration features that add them clear value in daily studies. At Oulu Business School, the amount of social collaboration increased over 500% compared to everything else they had tried before. The students sent e.g. over 5 000 chat messages on CLANED during the first week of the course.
According to a Director of Microsoft Worldwide Education, "CLANED is the best ting that happened to learning. Ever".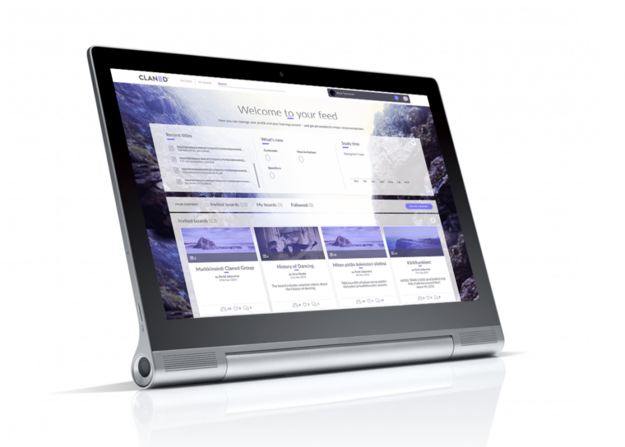 Vårt team
Vårt team
Each member of CLANED core team has over 20 years of professional experience in their disciplines. The team has worked three years together.
Our shared vision is to improve learning by enabling personalized learning for everyone even outside of formal education systems. We see the huge busines potential of CLANED but believe that it is best achieved by providing our users and customers exceptional added value that truly matters in their real lives.
Risker
Risker
Onoterade tillväxtföretag är investeringar med hög risk. Risker som finns i onoterade företag är t.ex. risken att förlora hela din investering, brist på likviditet på aktien, oregelbudna eller sällsynta utdelningar (vinstutdelning) och utspädning av din insats. Läs denna denna riskvarning noggrant innan du gör en investering.
Vi rekommenderar att du tar reda på investeringsmålet som du är intresserad i, diversifierar genom att investera i flera investeringsmål, och balanserar din portfölj genom att likvida investeringar. Vi rekommenderar även att du studerar noggrant riskbeskrivningarna som finns i målföretagens riskavdelningar, som du hittar i investeringsmaterialet.
Bifogat till investeringsmaterialet hittar du en kreditupplysning som kan vara relevant för att göra ett investeringsbeslut.
Education technology market will grow significanty over the upcoming years. This is ensured by the global trend of education moving to digital. Individuals, organizations and countries have understood the significant role of education e.g. in future GDP growth. We see that the current market environment and its future development is very favourable to CLANED.
The commercial operations of CLANED have started very well. Despite the deals worth over 1 million euros, CLANED needs new capital in order to be able to grow internationally as planned. We have raised app. 4 million euros so far, which is a lot for a Finnish start-up but not enough internationally. We believe firmly in our product and capability of growing the company but there is always a risk of an USA-based start-up raising 100 million in venture capital, dveloping a competing product and winning us with their speed and muscles. Therefore, part of the overall risks of CLANED is our capability to raise more capital and grow to a market leader position as fast as possible.
CLANED has been able to decrease the technology related risks significantly in 2013-2015. There is still a certain technological risk in future product development but it does not anymore endanger the existence of the company like during the early days. Key product developer risk is higher than the general technology risk as it is very hard to find skilled mathematicians who can code The key employee risk is managed by involving all key persons by the means of employee stock options.
There are numerous companies operating in the education technology industry and thousands of different digital learning solutions. There are no direct competitors i.e. companies, which have a similar solution but there are multiple in-direct competitors whose product can still eliminate opportunities with customers from us. The closest competitors are the following US-based companies: Knewton, DeClara and Desire2Learn. In addition, Blackboard and Moodle are among the popular traditional Learning Management Systems.