DeLight Innovation - Invest in Greentech
DeLight Packaging provides environmentally friendly and recyclable packaging that have the possibility to replace plastic and aluminium trays in the food industry. Our largest customers include HKScan, Pouttu and L'Uomu Nokka.
Detta innehåll är också tillgängligt i
finska
Vår berättelse
Vår berättelse
DeLight packaging solution is a versatile packaging innovation. Mainly manufactured from renewable wood fiber, the DeLight trays are fit to replace other packaging solutions made from non-renewable materials. We have the potential to grow our business internationally thanks to our environmentally friendly packaging solution. DeLight Packaging Oy has 11 worldwide patents that cover the DeLight products and technology. The development of the DeLight solution was started as an innovation project by the large Finnish pulp and paper manufacturer Stora Enso and it's based on previous material development. In November 2013, a shareholders group acquired DeLight Solution business unit from Stora Enso, forming a new company called DeLight Packaging Oy. DeLight is essentially a start-up business, which has significant expansion opportunities. Our next step is full scale global commercialization to the foodstuff packaging market.
Packaging solution for the next generation
DeLight package is a new type of hybrid package, where wood fiber is enhanced with polymers. The packaging is oven-proof, microwaveable and can be frozen. The packaging is fit for products packed in a protective atmosphere and it also protects the contents from light. The sliding lids and window solutions increase the practicality of the product. The DeLight product range consists of various sized and shaped trays. Customization of the packaging is also possible. The packaging is suitable for MAP (Modified Atmosphere Packaging) and has excellent food preservation properties. The secret is in the strengthened rim, which ensures that even the most challenging forms hold together and are effectively sealed.
DeLight trays offer our customers the possibility to differentiate themselves from the competitors as the surface of the packaging is printable. The consumer decision making process is fast and the packaging of a product needs to stand out. DeLight trays combine individual style, efficiency and ease. The large printing area makes it possible to use the packaging as a media for branding and product launches. DeLight trays offer an endless amount of packaging solutions for different product categories. Intelligent functionality and inspiring printing possibilities ensure the demand of the products.
Great looks combined with clear conscience
The innovative DeLight products are an answer to two rising consumer megatrends: growth in the ready-made meal sector and increasing environmental awareness. Take-away food is undergoing major changes because consumers are demanding healthier options packed in environmentally friendly material.
The DeLight products can be recycled and recovered in package recycling schemes. DeLight products are made mainly from renewable raw materials. The studies have shown that the carbon footprint of Delight products are lower compared to many competing packaging materials such as plastic and aluminium. We are constantly working to reduce the carbon dioxide (CO2) emissions along our value chain.
Our strategy is to continuously develop the product's quality to meet the demands of both households and professional sectors. DeLight Packaging aims to be a flexible partner with whom quality and sustainability are the most important values in daily operations.
We invite you on the journey alongside us and offer you to become an owner of this success story!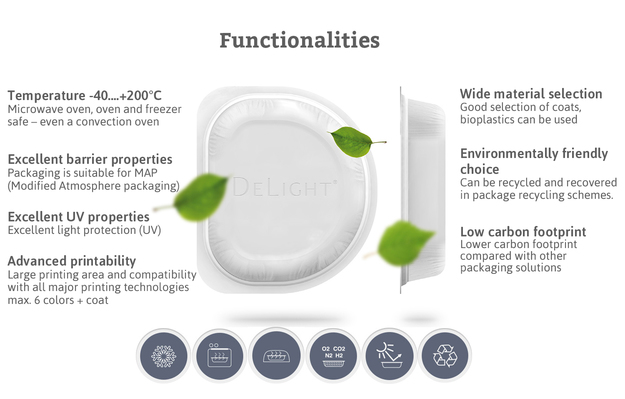 Vår affärs- och marknadssituation
Vår affärs- och marknadssituation
INCORPORATION & RESOURCES
DeLight Packaging Oy was established in Q4 of 2013 by four business partners. The company is located in Imatra, Finland. The DeLight trays have already before gained 10 million € in investments for the development of the trays into the products they are now. The company has worked with some of the world's largest food companies selling the unique DeLight trays. In the factory there are seven production lines today. To manufacture the DeLight products requires high competence and many years of experience, which our committed staff has. The investment money spent originally on machinery during the product development process is approximately 6 million euro. The existing production machinery is fully automised and no additional investments have to be done to the machinery in the near future.
Significant growth opportunities come from our own manufacturing as well as from licensing our moulds and production technology to others. At the moment DeLight Packaging Oy operates in the factory facilities of Suomen Kerta Oy in Imatra. The production was moved from Stora Enso's facilities in Lahti in the beginning of the year. Suomen Kerta is one of the major owners in DeLight Packaging. The company has the full support of Suomen Kerta's employees and facilities to develop its operations. Suomen Kerta's turnover is over 20 million Euros. Suomen Kerta has tree production facilities: in Imatra, manufacturing paper products, in Kotka, manufacturing table top items (acquisition from United Paper Mills UPM in 1995) and in Riihimäki, manufacturing candles under the well-known Finnish brand Havi (acquisition from Duni in 2004).
PATENTS & APPLICATIONS
Licensing the DeLight concept provides the company significant possibilities. First license of the DeLight technology was sold in 2015 to Pact Ltd Australia and negotiations are ongoing in Japan as well as in South East Asian and Latin American markets. Patents and patent applications of the DeLight product, process innovation and concept provide competitive edge over the competitors.
DeLight Packaging has protected its production technology with two patent families. A method for forming a package and a package (FI122768) describes how DeLight trays are manufactured by forming flat board blanks into 3D shape and how the plastic rim is injected into the 3D shape. The patent application was originally filed in Finland in 2007 and is extended into 18 countries (AT, AU, BE, BR, DE, DK, ES, FR, IE, IT, JP, GB, NL, NO, PL, RU, SE, US). The patent is pending in Brazil and granted in the other countries. The patent for the package, method for forming the package and for the moulding tool (SE1150153-3) describes how a tray with upright rim (traditional DeLight trays has horizontal flange) is manufactured. The patent application is originally filed in Sweden in 2011 and is extended into 5 countries (AU, BR, CA, RU, US) as well as the European Patent Office. The patent is granted in Russia and USA and pending in other countries and in the EPO.
SALES
DeLight Packaging Oy has global distribution channels for the new packaging concept. Our sales have been divided to direct sales to Finland and the region of North Europe. To the rest of the world we distribute through our local partners. For the overseas markets we use license contracts in order to have efficient distribution for the local customers.
NORTH EUROPE
We sell and market the new packaging concept ourselves in the Northern Europe region. We have connections to all major ready meal and food industry companies in Scandinavia and North Europe. Our largest customer in the region includes HKScan which uses the package for its own brands and for private label products. The package is used for both chicken and meat products. We have also smaller local producers which are using the package such as L'uomunokka, Kruunuherkku and Pouttu. We have also provided DeLight trays to Atria Finland and Atria Scandinavia. Currently we have negotiations with other major food industry companies in the Scandinavian area. Suomen Kerta Oy is our distributor in the Finnish market for the meal service segment. The customer base in the meal service segment includes for example S-Group and Kesko corporation.
One new and major potential market is the public food care market where the municipalities are making new investments to new production units. At the same time the units will be changing the supply chain by getting rid of the metallic trays and taking disposable trays to the logistics chain in order to have more efficient and cost-effective distribution. The DeLight concept is an excellent alternative for the plastic disposables and it can offer all the needed requirements to the new production units. In Finland DeLight Packaging is already preliminary chosen to one middle sized town's new production site, and the concept has raised a big interest among the public sector.
WORLDWIDE DISTRIBUTION
Delight Packaging has in all major ready meal markets a local distributor which sells, markets and supplies the products to the local customers. We have global connections to all continents, Europe and Australia being the largest current markets.
In Europe, we have 4 signed distributors in the most important markets and several other distributors in smaller regions. These distributors will market the concept independently as agreed and organize the distribution. Currently our largest customers include Jumbo (NL) and Ladisa (IT).
For markets outside Europe, the company uses license agreements to market the concept. One of the largest direct customer overseas is General Mills (AUS).
MARKET TRENDS
The DeLight concept is an answer to two rising consumer megatrends: environmental awareness and growth in the single households.
Delight reduces carbon footprint from beginning to end as it is manufactured mainly from renewable raw materials. High amount of bioenergy is used in the production of DeLight trays and the products fit in the existing recycling systems. Most of the food companies are looking to substitute aluminium trays in their production. In addition, legislation increasingly supports the use of renewable materials. 
Take-away food is undergoing major changes as consumers are looking for healthier foods packed in environmentally friendly materials. Role of packaging is more important than ever as 70% of consumer decisions are made at point-of-sale, where packaging is the most important media. DeLight offers endless opportunities in consumer goods packaging. Increasing number of single housholds has for its part fastened the growth of the ready-made meal segment as convenience has become one of the prevailing consumer trends. Most potential end-user segment is ready-made meal trays where the volumes grow rapidly.
COMPETITION
Main competition for DeLight trays come from aluminium and plastic materials. In the global market DeLight competes with the traditional packaging solutions, which are less expensive. Although DeLight has a higher price, it offers a choice for consumers that are more conscious and looking for a recyclable solutions. Potential markets are especially those with a high income population. The main market for DeLight is in the premium food industry and for customers that value the food packaging to be oven safe.
DeLight is a fiber-based product which is an alternative to competing materials in terms of sustainability. Compared to traditional packaging materials, such as aluminium and CPET, DeLight has up to 65% smaller carbon footprint. DeLight won a Plastic Act of the Year -award by the Finnish Plastic Association in 2010 and was nominated as a finalist for the Pro Carton/ ECMA Awards in 2012.
Significant market potential exists in several end-use segments.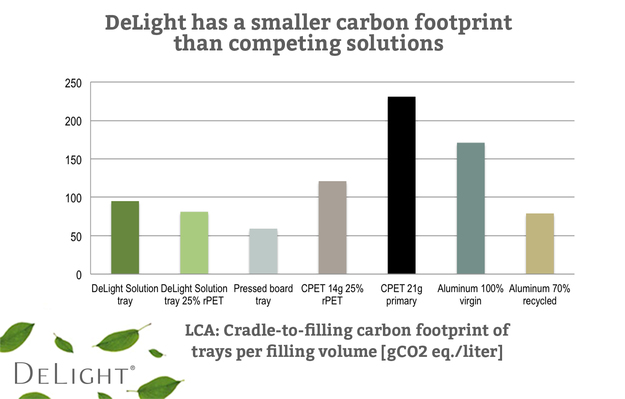 Vårt team
Vårt team
We are a versatile team with a shared goal: to introduce new environmental product innovation to the food industry. DeLight Packaging's core team is formed by a compact group of six, which combines experience in manufacturing, packaging, and marketing and selling. DeLight Packaging team has a strong culture of entrepreneurship from the Finnish mid-sized industrial company Suomen Kerta.
Our team consists of the following people:
Risker
Risker
Onoterade tillväxtföretag är investeringar med hög risk. Risker som finns i onoterade företag är t.ex. risken att förlora hela din investering, brist på likviditet på aktien, oregelbudna eller sällsynta utdelningar (vinstutdelning) och utspädning av din insats. Läs denna denna riskvarning noggrant innan du gör en investering.
Vi rekommenderar att du tar reda på investeringsmålet som du är intresserad i, diversifierar genom att investera i flera investeringsmål, och balanserar din portfölj genom att likvida investeringar. Vi rekommenderar även att du studerar noggrant riskbeskrivningarna som finns i målföretagens riskavdelningar, som du hittar i investeringsmaterialet.
Bifogat till investeringsmaterialet hittar du en kreditupplysning som kan vara relevant för att göra ett investeringsbeslut.
RISKS ASSOCIATED WITH THE TECHNOLOGY
It is always possible, that potential competitors develop a competing fiber based-packaging solution. Stora Enso Oyj has however already invested over 10 million Euros in developing the DeLight Packaging- concept. Because of the resource consuming product development, it would be challenging for a competitor to bring another fiber based packaging solution to the market. Some competitors have tried to develop fiber based MAP trays, but haven't yet succeeded.
RISKS ASSOCIATED WITH THE CONSUMER BEHAVIOUR
DeLight products are more expensive compared to competing plastic and aluminium options. To make environmentally friendly choices companies have to use more resources. Will the pressure from the market increase towards renewable materials? In what time do the consumers reach a culmination point and start to demand environmentally friendly and recyclable options.
Companies have pressures to decrease their carbon footprint. In addition, there is increasing legislation against the use of non-renewable materials.
RISKS ASSOCIATED WITH THE GENERAL ECONOMIC SITUATION
The prevalent economical situation of the world, especially in Europe is a critical risk factor. Sudden changes in the economical conditions of Europe could impact the business. UK is one of DeLight Packaging's main target markets in Europe. Brexit might have an effect on DeLight's possibilities to work and launch the concept further in the UK. Even if the UK would exit the European Union, it would likely still remain in the European Economical Area.
In addition, a continuation of the recession in Finland or its progression into a depression can slow the growth. DeLight trays are more expensive compared to competing aluminium and plastic materials as the raw material is mainly cartonboard. During a recession, customers are generally looking for less expensive products and services.
RISKS ASSOCIATED WITH FINANCING
If fundraising is not successful, DeLight will need to find alternative methods or other options to support its current growth rate.
Rising interest rates may have an adverse impact on company operations
The availability of capital to finance growth
Possible covenants added to the company's credit agreements at a later time
Uncertainty in the financial market and stricter bank regulations may have an adverse impact on company financing
IN CONCLUSION
By investing in an environmentally friendly technology, the investor also invests in an environmentally friendlier future. When the trend of environmental friendliness turns to real acts and demands from the consumers for the food industry is a risk, which DeLight faces when commercializing the wood fiber packages. In general investing to DeLight Packaging is no different than investing to commercialization of a new technology.
In accordance with its vision, DeLight Packaging Oy aims to become a significant company in the packaging industry. DeLights' potential markets are promising, so its value could see a considerable increase. Yet increase of the market value is not certain and it depends on the company's ability to succeed in its future business efforts. The estimated turnover for this year is around EUR 1.3 million and it's estimated to grow rapidly in near future.