Juno. Share sportsbook facts, fun and follows
Juno will bring the sharing economy to sportsbook betting, something the community has told us they want.
Vår berättelse
Vår berättelse
Spring 2011. The Juno Founders meet as usual for the Cheltenham Festival, one of the biggest horse race meetings on the planet. This year the competition was even more special - Jon's horse Junior won its race by 24 lengths. Celebrating with the huge crowd Jon and Phil were snowed under with requests for tips on SMS, emails and phone. 
Who to bet on? How much? What odds? Friends, family and work colleagues, men and women, all over the UK and beyond. Something different had started, and the Juno team realised there is a need for shared sportsbook betting, online, in a safe and fun community where people trust each other.
Gambling has had a bad rap in modern media and politics. For too long, betting, enjoyed by billions of people, remains opaque, expensive and shabby. Online casinos and lotteries offer better access than ever but the same one-sided bet: solitary gaming. The ancient sociable aspect of gambling, from Roman times to the old-fashioned corner bookies shop, hasn't survived the digital age.
Juno will recapture this. Juno members will share tips quickly; share fair and transparent odds (prices). In this way the Juno community will ensure that ordinary people play against luck in a community that can support and share their experiences and outcomes in a fun, safe and modern way.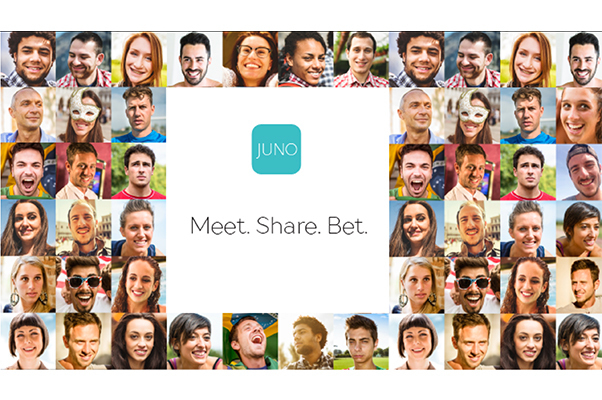 Vår affärs- och marknadssituation
Vår affärs- och marknadssituation
Intended Impact
Juno has identified an opportunity to combine:
Online sports book betting;
Social media use and sharing; and
Tips, recommendations and following.
Juno will be a simple-to-use app for smartphones, Android and iPhone, based on a simple roadmap. It will connect Bettors and Tipsters with each other. On the outside of the app will be the Bookies, who will be present in Juno to supply transparent prices and results.
Juno will be the go-to experience for sharing sportsbook tips and knowledge. It will be a fun, safe social community of like-minded people. Juno will look after ordinary people who have an interest in learning about sportsbook betting. Our members will share social news and updates with each other and enjoy transparent prices and odds. 
A Social Community
Networks are made by people, not software or marketing budgets. So Juno will:
Put Bettors at the centre of a new social experience, where knowledge and interests are shared;
Reclaim sports book betting for all of us away from the traditional control and influence of Bookies;
Provide Bettors with interesting, useful tips and information that are published by other ordinary people (Tipsters);
Encourage the co-creation of transparent information, communication and support for Bettors;
Widen choice and competition for Bettors with open and transparent prices and results together in one place;
Enable an 'auto-follow' function of Tipsters for Bettors, based on configurable preferences and options;
Support the strong desire of twenty-somethings to share and trade information, facts and outcomes amongst themselves;
Potentially reward honest and open Tipsters who create the best and most exciting news and facts for other members; and
Support and grow an international community of like-minded people in local languages and currencies.
Juno's research has given us real insight into the community of Bettors, Tipsters and Bookies. We believe that they want to change their sportsbook adventures. They want to have more fun, relevant and up-to-date and fun. The top three community issues are:
1. Sharing tips and information and affiliate money
For major sports events such as the Grand National, Cheltenham Gold Cup and the FA Cup the first hurdle for many novice Bettors is placing the bet. Twenty-somethings don't visit Bookmakers' shops. The rest of us don't like the glare and chaos of the Bookie's websites. If we are persuaded to get online the next hurdle selecting what to bet on. Football is perhaps easy enough to understand. But accumulators, odds, each-way bets, non-runners: the expert language of horse racing is off-putting and complex for all but the seasoned gambler.
Juno's aim is simple. We will provide an exciting sports betting adventure and community in an easy-to-use interface, on mobile. Juno will be a simple, fun, safe and social place for users to share in a friendly family of Bettors and Tipsters. Our qualitative research tells us that this kind of marketplace, not too serious and yet a fully functioning part of social media will be very attractive to ordinary people and experts alike. For Tipsters and Bookies, Juno will provide a transparent and attractive new channel to share sportsbook experiences in a fun and friendly way. In our community, members can share the affiliate fees paid out by bookmakers. It's technical in nature but this is a revolutionary design that opens out the traditional win-only approach of the betting industry in a new way to benefit everyone.
2. Sportsbook communities are social networks too!
People make communities. Juno puts ordinary Bettors and Tipsters back into the heart of sportsbook betting. Juno will be an  easy-to-use and advanced features to enable Bettors to stay in control of how much and when they bet; whether they bet on a self-serve basis or choose a Tipster to auto-follow, and how they bet within their own guidelines and limits. All of Juno's user-centric functions will be simple to operate. Self-service changes to a Bettor's profile, account and betting activity is instantaneous and transparent.
Communities thrive on shared information, fun, adventures, socialising and communication. Juno is built from the ground up as a fun and safe place to talk and share sportsbook information, odds, outcomes and gossip for all Juno's members, whether rookie or expert, Bettor or Bookie. The Juno app has 'push' SMS and text messages, like Twitter. On Juno, when a Tipster has shared their selections and when one of those selections has been successful, then Juno members can continue to stay informed and back another winner. The Juno app will share two-way with Twitter, Facebook, Instagram and Pinterest. We also take seriously our obligations for data privacy, online safety, bank security and age-appropriate controls on access and use.
3. Rewarding members
A Juno Tipster is anybody who uses the Juno app, whether a hard-working professional, lucky amateur, freelance Bettor or professional gambler.
Juno's Tipster's are profiled, verified and are required by Juno to have an honest and up-to-date public profile in order for others to follow and share in good faith their bets, successes – and failures. Each Juno user has the option, when they join the Tipster programme, to become a Tipster or just remain an ordinary Bettor. Every Tipster profile will share the real name, biography and photograph of the owner for the community to check and follow transparently.
Juno tipsters will be paid a commission on all winning tips when they reach (and maintain) 20 auto-followers.
Substantial Accomplishments to Date
We have sourced and partnered with a development company that has a proven track record in delivering top-quality apps. We have incentivised them with a shareholding in Juno. The development team is made up of software engineers, designers, UX professionals with experience of social media apps and sportsbook people. Our system design has already been specified.
Progress has continued at a fast pace:
Detailed technical requirements written for development of the app
Website launched in December 2015 – www.betjuno.com
Foundation social media presence created through Twitter, Facebook and Linkedin, with approx. 2,000 followers to date
Major event sporting information shared through our blogs to generate brand awareness
Bookmaker affiliation links secured with 8 major UK Bookmakers
Pre-launch press release via SBC news
Juno was founded in May 2014 as a new start-up company registered at Companies House, the UK Government agency for public business records. The company's official name is Juno Internet Limited and our company registration number is 09046738. We are registered for Value Added Tax (VAT) in the UK.
Monetisation Strategy
Please refer to the attached appendix where we have shown the Juno Revenue flow model.
Juno intends to earn revenue from Bookmakers' affiliate fees. We will share this with the Juno community. Bookies' fees are rewards paid to introducers of Bettors to Bookmakers. In our case, Juno is the introducer. This revenue, bundled into the Bookies' odds, pays for Juno's costs, the development of – and changes to - our app technology, marketing costs, the support of the community of Bettors, Tipsters and Bookies. This creates a profit margin to give back to the shareholders and owners of Juno itself in the form of a discretionary dividend. Investors (via Invesdor) who are also Bettors or Tipsters can enjoy the fun and adventure of using Juno as well as receiving a share of the revenue of the company itself in dividends if we make a profit.
Juno does not intend to use the sale of advertising, subscriptions, licence fees or other contingent revenue to build our business. We believe that our community members, Bettors Tipsters and Bookies, will recommend us to each other and that the Bookies themselves, in their isolated channels, will reach out to Juno and the social network community that we represent.
Juno's strategy is to exploit the shift away from the Bookies shop and into online communities like Juno.
Market Analysis Characteristics
Of the UK's 3.7m regular online gamblers, 2.66m regularly participate in sports book betting. It is estimated that 55% of customers are brand loyal, only using a single Bookmaker. This leaves 1.46m sportsbook bettors who are prone to changing their bet provider. These 'churners' are the primary target market for Juno in the UK.
We also believe that the remaining 1.2m brand-loyal customers remain so because of the ease of bet placement and inertia, which is evidenced in the market dominance of the 4 main online Bookmakers. The top four Bookies account for 43.5% share of the UK market. They've invested significantly in technology and usability in the last five years to gain and retain online market share, whilst also driving gambling to the mobile platform. Other Bookmakers, for example Coral, Ladbrokes etc., who have not invested are now playing catch up on market share.
It is Juno's ability to provide Tipster services and match the Bettors' interest in keen sportsbook prices from a wide range of Bookmakers in a single place that is appealing in the market. Our research has told us this. The Juno app, which is a social network, will be launched in an environment of trust. We see this combination of trust and services as the main opportunity to gain significant new traction within a mature market.
The UK market is not only mature it is growing. With CAGR of 32% recorded between 2008 and 2012 there is evidence that the UK is currently exceeding this growth figure. Juno's conservative prediction is for c. 1m new customer signups into the industry by end of 2019 (note: this figure excludes infrequent & ad hoc gamblers). We believe Juno is well placed to support and attract this new market alongside the established betting industry.
Marketing Strategy
We intend to target the UK's 2.8m users who already currently follow the UK's 5 biggest Bookmakers and Tipster sites on social media. We will do this by buying their email address from opt-in programmes and communicating with them directly. We will also target other markets such as the social media followers of UK premiership football (120m) in a secondary marketing phase.
We will complement this activity with direct social media marketing and conventional pre-launch advertising, for example online pay-per-click advertising, press and out-of-home media marketing and PR.
Our medium term strategy and intention is to secure an equity shareholding in the Juno business from a major or established distributor, such as a newspaper or media channel with a bias for horseracing or football. We have identified a shortlist of potential partners in this area and we consider the strategy a good fit for both Juno and our potential distribution partner.
Competitor Strategy
William Hill have been a very successful player in the online gambling market and have led the way with the introduction of tip advisor and also their highly successful integration to the Racing Post (a leading sportsbook newspaper) application. 
With over 500,000 user profiles created, 6,000 tips a day and 2m tips to date in a relatively short space of time, this interaction by William Hill is a key way of attracting and retaining clients. However this is through just one Bookmaker and the evidence points to the fact that the majority of Tipsters will also use other social media such as Twitter to post their tips.
Juno will be a community, a social network of Bettors and Tipsters in which Bookies are not the dominant species. In Juno, Bettors will feel part of their own peer-to-peer relationships and will not be hassled by shrill, glitzy Bookie's ads and offers (unless they wish to be).
International Ambitions
Although Juno will launch in the UK, one of Europe's busiest and biggest sports betting markets, we are intending to provide our service to Bettors, Tipsters and Bookies internationally. That's the nature of the Internet and aligns well with our customer base. For example, our ambition is for Juno to enable a Bettor in Germany to follow a Tipster in Finland for ice hockey games and for the bets to be placed with a Bookmaker in Malta.
Creating a business logic or rules-hub within the Juno database to match and check bets from Bettors, Tipsters and Bookies in different territories according to the specific legal, financial and taxation rules in force at the time of the bet will be an asset for Juno to leverage on a white-label basis to others. The 'Rules Hub' will be a module of the app built by Juno with a programmatic interface to enable others, for example professionals, bookies seeking expansion and sports investors, to call the service quickly and rely on its up-to-date information about the legal and taxation profile of proposed bets as a subscription service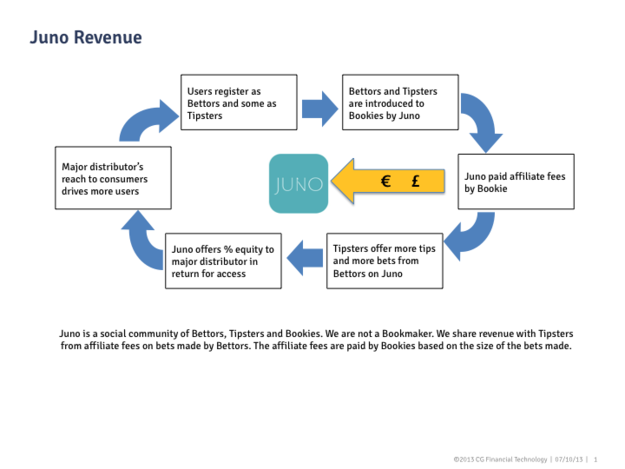 Vårt team
Vårt team
Our team is capable with experience of both success and failure in entrepreneurial start-ups. We are from a mix of backgrounds covering business management, technology strategy, financial control, risk mitigation, software engineering and programming, online security, website design, graphics, and marketing.
Check out the profiles of our key people below to get an idea of who you will be investing with. We are only people, not magicians, but we love Juno and we think that ordinary Bettors and Tipsters, like us, will love it too. 
Risker
Risker
Onoterade tillväxtföretag är investeringar med hög risk. Risker som finns i onoterade företag är t.ex. risken att förlora hela din investering, brist på likviditet på aktien, oregelbudna eller sällsynta utdelningar (vinstutdelning) och utspädning av din insats. Läs denna denna riskvarning noggrant innan du gör en investering.
Vi rekommenderar att du tar reda på investeringsmålet som du är intresserad i, diversifierar genom att investera i flera investeringsmål, och balanserar din portfölj genom att likvida investeringar. Vi rekommenderar även att du studerar noggrant riskbeskrivningarna som finns i målföretagens riskavdelningar, som du hittar i investeringsmaterialet.
Bifogat till investeringsmaterialet hittar du en kreditupplysning som kan vara relevant för att göra ett investeringsbeslut.
This is capital at risk. The Juno app will be built but may never succeed, for an infinite number of reasons. No-one should invest in Juno unless they are able to lose their capital.
Despite this, Juno's strategy has been to de-risk investment as far as possible. We have done this in a number of ways:
1. Technology: We have sourced and partnered with a development company that has a proven track record in delivering top-quality apps. We have incentivised them with a shareholding in Juno. The development team is made up of software engineers, designers, UX professionals with experience of social media apps and sportsbook people.
2. Long-tail Revenue Streams: The nature of most affiliate deals with the sportsbook operators (Bookies, in Juno language) means that once a Bettor is registered as being introduced to the Bookie through Juno they remain affiliated to Juno for the duration that they hold an account with the sportsbook provider. This means that revenues continue to be paid to Juno by Bookies. In addition if the Bettor then also signs onto other services offered by the Bookie (casino etc.) then these also attract affiliate fees to Juno. We see this as a significant de-risking as if usage rates do not rise to the projected levels revenues still remain payable for the life time of the Bettor.
3. Tax relief: UK investors benefit from the income tax reliefs that the SEIS and EIS schemes currently provide as Juno has received pre-approval for both tax reliefs from HMRC. Please note: we are not responsible for any changes that the UK government may make to these schemes. 
4. Competitors: Juno is aware of only one other company operating in this area. However their offering is significantly different to Juno and offers only limited functionality by comparison.