ICON Real estate funds offer tangible returns. In recent years, ICON's real estate investment funds have been some of the most profitable in Finland. We are now issuing bonds to expedite our growth.
Detta innehåll är också tillgängligt i
finska
Vår berättelse
Vår berättelse
ICON Kiinteistörahastot Oy is a fund management firm specialised in real estate development. ICON Kiinteistörahastot (Finnish for "real estate investment funds") was born when real estate developer Rami Virtanen and investing expert Markus Havulehto collaborated in 2009. Rami had made profitable real estate investing already from mid 90s and Markus, although young, had funded and built multiple apartment buildings.
The duo knew that fast urbanisation in the capital region grew the need for convenient real estates. ICON's first fund was founded in 2010 and investments were largely raised from friends and acquaintances. The duo knew that they were on the right track but despite this the actual demand for real estate development funds surprised them.
Quickly the amount of investors exceeded one hundred, and the amount of development projects grew to double digits. ICON's management has invested in their fund their own capital released from other projects. The next funds were founded in 2013, 2014 and 2015.
ICON's organisation was strengthened substantially in 2014, when member of the board and co-founder of Vacon Oyj Jari Koskinen was chosen as the Chairman of the Board and became a substantial shareholder in ICON.
From the beginning, our mission has been to be Finland's most profitable real estate fund. In addition we constantly strive to build enjoyable properties that are architecturally beautiful, ecologically effective, and cost-effective. It's crucial that the properties are such that people actually enjoy their time spent there.
At the moment ICON Kiinteistörahastot Oy is one of Finland's most profitable real estate investment funds in recent years. The combined value of our real estate projects is at the moment over 100 million euros. Most of our projects are in Finland but our funds also have projects located in Estonia.
Our funds have gathered over 130 investors and in addition to private investors we have institutions, universities and treasuries involved. Our offices are located in Vaasa and Helsinki.
Our target is to manage over 300 million euros worth of real estate assets by the year 2018 and to generate our investors an average of approximately 10 % profit per annum.
We are planning on listing to the Nasdaq First North by 2020, when our target is to manage over 500 million euros worth of real estate assets.
Real estate funds are categorized as alternative funds and are regulated in accordance with the AIFMD in the EU (AIFMD = Alternative Investment Fund Managers Directive). Operations are monitored in Finland by the Financial Supervisory Authority (FIN-FSA, Finanssivalvonta).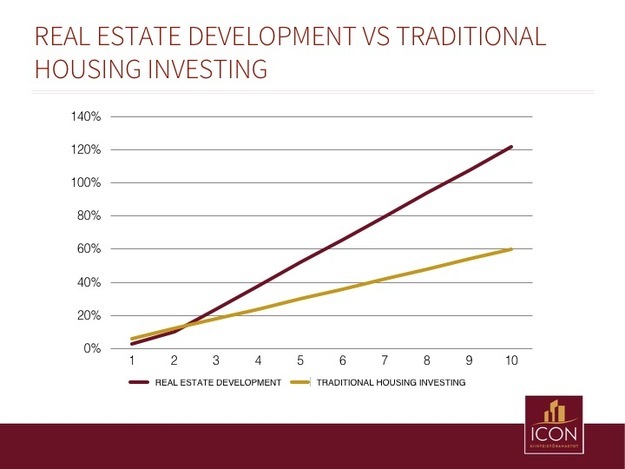 Vår affärs- och marknadssituation
Vår affärs- och marknadssituation
Real estate investing in a nutshell
The fundamental idea behind real estate investing is familiar to many. One of the most common ways of becoming a real estate investor is to buy an apartment and rent it forward. This is a so called cash flow target, which makes money for the owner monthly in the form of rental payments. Another very common method is to buy an apartment that will be renovated. By repairing and renovating the apartment, the owner creates added value to her/his investment. It's also possible to buy an empty plot and build a property there and sell the whole package for a profit. This is the idea behind real estate investing in a nutshell.
Real estate investing is a popular form of investment because it combines both monthly cash flow and a possible increase in value. This secures both the good and sure profit.
When investing in a single real estate the investment process always starts from buying the property and rental income is received when the apartment is rented. The profit that the owner is left with is influenced by the acquisition price of the property, possible financing costs, the change in the property's value, the amount of rent received, maintenance charges and possible repair and upkeep charges. Real estate investment has to be supervised and maintained constantly. Among other things rental supervision, maintenance ledger, upcoming renovations and the condominium's board's supervision belong to the real estate owner's activities. Controlling these sectors requires experience and time from the owner.
Real estate funds take care of these duties related to real estate owners on behalf of the investors. Additionally the funds invest in multiple real estates, which is how the investors' money is diversified between multiple real estates instead of a single one.
Market situation in Finland
The ongoing trend of urbanisation gets people to move from the countryside to growth centres especially in the capital region. Due to urbanisation the demand for apartments grows in growth centres and if there are not enough sellable apartments on the market prices go up. At the same time the prices of apartments in negative net migration municipalities and cities go down in return.
At the moment the migration is focused on the capital region which leads to strong urbanisation in the Uusimaa region and naturally increases the need for apartments. The research broadcasted on the news of the Finnish Broadcasting Company says that solely Helsinki, Espoo and Vantaa face about 15,000 migrants each year. At the same time around 7,500 apartments are built each year in the capital region, which is about 2,000 apartments too few. In Helsinki, the migration situation is illustrated by the fact that a bus load of people in need of apartments move to Helsinki every day.
There are too few apartments being built. Also the size of the current apartments is not in line with the demand. Half of the people moving to Uusimaa and people living in Helsinki at the moment are one person households when only 37 % of Helsinki's residential real estates are below 49 square meters and 11 % are below 30 square meters. Read more from the Finnish Broadcasting Company news (in Finnish).
There are now 1.4 million people living in the Finnish capital region, and according to estimates, the number will be over 2 million by 2050.
We believe that in the next years the solutions needed in the real estate market will crystallize in three main themes:
More small apartments to growth centres

The apartment production and market demand of today do not meet and for that reason we believe small apartments to be the most important real estate development project in the coming years.

Additional services and shared spaces along with apartment buildings

A model popularised among office buildings where a company rents only the square meters they need and takes additional space and services when they need. This is also coming to apartment buildings.
When the apartment prices by square meter are high, you want to optimise your own apartment's space just right and additional space (e.g. warehouse) and services (sauna, spa, and gym) can be rented upon demand.

Energy efficiency of apartments increasingly more important

Energy costs are the biggest expense a property has. Rents have not gone up in 2 years, so the investors are increasingly more interested in cutting energy costs.
In addition to urbanisation, overall real estate prices are affected by the general employment level, purchasing power, availability of loans and the general interest rate level. Real estate investments are also affected by the volume and price of new property development.
The market situation of real estate investing
There are several companies offering real estate investing services in Finland, and real estate funds are specialised in certain property types. Real estate funds can be crudely divided into the following categories:
Business premise investing
Residential apartment investing
Healthcare real estate investing
Real estate development
Sponda and Fennia manage the biggest Finnish funds that invest in business premises.
The biggest players in apartment investing are Orava Asuntorahasto and Ålandsbanken, that both have funds that invest in Finnish rental apartments.
eQ and Titanium Rahastoyhtiö manage the biggest funds that invest in healthcare real estate.
ICON specialises in real estate development, and notable direct competitors in this segment do not exist.
ICON's strategy
ICON's investment strategy is based on two principal points: real estate development and growth centres.
In accordance with our investment strategy most of our projects are real estate development projects and the rest are cash flow projects. We focus on development projects because the prices of real estates have not risen since 2011. For that reason you need to increase the value of the real estates by refining and developing them actively.
As investment targets, we choose real estates where we change the usage function and renovate to prime condition. In addition, our targets include real estate that we wholly disassemble and then build new ones, as well as plots where we build new real estates. ICON creates added value to the project by developing them. This way the funds' increase in value relies not only on the possible increase in market values, but added value is actively created by property development.
We invest especially in the capital region and in growth centres because these areas have a secured demand for apartments. Our target projects are in the capital region and in growth centres such as Tampere, Jyväskylä and Vaasa. The availability of services in growth centres attract new residents to the cities, which creates need for new and quality real estates.
One of our funds has invested in Tallinn and in the future we will thoughtfully grow the number of properties in Tallinn. The Global Property Guide says that Estonian apartment prices increased by 9 % from April to May 2015 when compared to the previous year. Only Hong Kong and Ireland have had higher growth rates. Read more about the Global Property Guide's study.
The next ICON funds will also invest in other Nordic metropolises.
ICON's business model
ICON Kiinteistörahastot Oy's revenue consists of management fees and success fees.
From the current funds the parent company receives 276,000 € in management fees per annum, which is 1.2 % of the total worth of the funds. Success fees are realised to the parent company when the real estate projects are sold with a profit.
A more detailed financial forecast and cash flow calculation for the years 2015–2018 is available on the table at the bottom of the pitch and in the document ICON Cash Flow 2015–2018.
ICON's Funds
At the moment ICON manages three alternative funds that are ICON Real I, ICON Real Estate Fund II and ICON Real Estate Fund III - Suuerpelto. The first and the second funds have paid to their investors an average of 6 % profit per annum whereas the third fund has just been established. Below is a more detailed description of the funds:
ICON Real I Ky
Icon Real I Ky real estate investment fund was founded in 2010. The funds have been invested mainly to apartment real estates across Finland. The projects are crowned by a 3,000 square meter building permit in Lauttasaari, Helsinki. The investors of the fund are mainly Finnish private citizens and companies. From the year 2010 onwards ICON Real I Ky's profit has been 26.45 % in total. The whole profit is paid to the investors yearly. The whole capital was 5 million euros at the end of the year 2012. The investment period for the fund is 10 years. This fund's subscription period has ended.
Get to know the fund in more detail at the ICON website.
ICON Real Estate Fund II Ky
Icon Real Estate Fund II real estate investment fund was founded in 2013. This is a real estate development fund where 80 % of the target projects are development projects and the rest 20 % are cash flow projects. In the development projects the buildings and plots are refined, which increases the value of the investment when as the traditional cash flow projects give continuous income in the form of rental payments. The target size of the fund is 30 million euros and the aim is to double the investors' capital in eight years. The subscription period for the fund ends at the end of 2015 and the minimum investment is 100,000 euros. The investment period of the fund is 10 years.
Get to know the fund in more detail at the ICON website.
ICON Real Estate Fund III - Suurpelto Ky
Unlike our other funds, ICON Real Estate Fund III – Suurpelto consists of just one project that is 100 % a development project. The fund is focused on Espoo's Suurpelto central block development project. The central block has a building permit for about 20,000 square meters of floor area. The finished project will have a business space, four apartment buildings and a parking garage. The selling price price of the project will climb to over 70 million euros after finishing. The project is set to be finished in 2018.
ICON Real Estate Fund III – Suurpelto will own about two       thirds of the project. The rest will be owned by ICON Real Estate Fund II. ICON Real Estate Fund III – Suurpelto is meant for institutions and other professional investors. The minimum investment is 250,000 euros and the investment time frame is about four years. The fund will raise altogether about 12 million euros of capital. The operating period of the fund ends, when the development project is finished.
In 2016 we will bring to the market a new product and a new operating model that make real estate development and the ICON real estate funds within reach to a new, much wider target audience. We believe that this will boost our growth significantly.
Principles and ways of operating
Our values are being investor-oriented, honest, open, and results-oriented. Piece by piece ICON with its investors will change the market's idea of apartments and business premises. Real estate fund investing can be productive, even though the risk is moderate. While offering investors the best possible returns, we are also making Finland a better place to live.
It's important for us that projects belonging to real estate investing are managed efficiently. We are utilising a project management method known in industrial manufacturing, where all participants of the project are brought to the same table to agree upon the practicalities of how the project is carried out. This way everyone knows the common goals and the project goes smoothly. At the same time we avoid possible misunderstandings later.
Energy efficiency is close to our heart and in the future it will be emphasised even more. We believe that the properties of tomorrow are fully self-sufficient. In these real estates the surplus energy of electric cars is charged to be used by the real estate same as the waste will be burned for energy. The residents could with their own choices have an effect on their carbon footprint.
A good example of this is our fund III – Suurpelto project in Espoo. The Suurpelto area's city concept strives to attain ecologically sustainable solutions that adds energy efficiency in both construction and the society overall.
Below is an overall picture of our real estate development process. A more detailed description of the process and of ICON's partners at different steps in the process, is given in the attachment "ICON kiinteistökehitysprosessi.pdf" (in Finnish, please message us on the Investor forum for an English translation).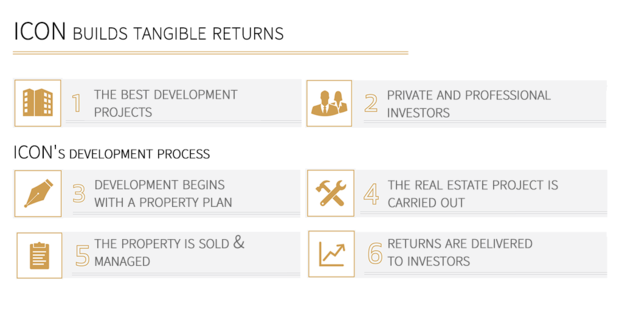 Vårt team
Vårt team
ICON's core team is formed by a compact group of four, which combines robust and versatile experience real estate development, real estate investment and growth company marketing and selling.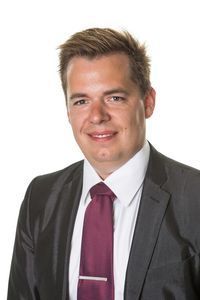 Markus Havulehto
CEO (APV-1 investment service degree, entrepreneur's vocational examination, ITS property manager degree)
Havulehto is responsible for ICON's management and fundraising. He has worked in investing since 2004. He has prior experience as an investment broker and real estate agent. The past seven years he has worked as a real estate investor. Havulehto has also completed an APV-1 investment service degree, an entrepreneur's vocational examination and an ITS property manager degree.
https://fi.linkedin.com/pub/markus-havulehto/28/173/4a4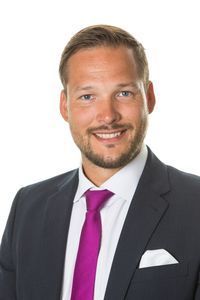 Teemu Nuutinen
Sales and Marketing manager (BBA, Specialist qualification in management)
Nuutinen is ICON's Sales and Marketing manager. He has worked in several growth companies being responsible of growth strategies, sales and the building of a successful team. He has strong experience in training companies all the way from startups to stock exchange listed company management. He has worked as an investor in many industries knowing the mindscape of the investors and how to best help those who make investment decisions to succeed.
https://fi.linkedin.com/pub/teemu-nuutinen/42/a08/1a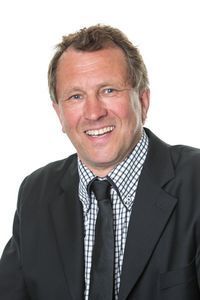 Jari Koskinen
Chairman of the Board (Doctor of Science (Economics), MBA)
Koskinen acts as ICON Kiinteistörahasto's Chairman of the Board. Koskinen is one of Vacon Oyj's co-founders and has worked as a production manager and sat in the executive board of Vacon for 18 years. Additionally he has worked as Vacon China's CEO and sat in Vacon Italy and USA's boards and on Vacon Oyj Group's board. Koskinen has a doctorate in economic sciences specializing in dynamic business models. Koskinen brings the efficient procedures of industrial manufacturing and strategy work to ICON's operations.
Risker
Risker
Onoterade tillväxtföretag är investeringar med hög risk. Risker som finns i onoterade företag är t.ex. risken att förlora hela din investering, brist på likviditet på aktien, oregelbudna eller sällsynta utdelningar (vinstutdelning) och utspädning av din insats. Läs denna denna riskvarning noggrant innan du gör en investering.
Vi rekommenderar att du tar reda på investeringsmålet som du är intresserad i, diversifierar genom att investera i flera investeringsmål, och balanserar din portfölj genom att likvida investeringar. Vi rekommenderar även att du studerar noggrant riskbeskrivningarna som finns i målföretagens riskavdelningar, som du hittar i investeringsmaterialet.
Bifogat till investeringsmaterialet hittar du en kreditupplysning som kan vara relevant för att göra ett investeringsbeslut.
General real estate investing and development risks
The key sources of risk in real estate investing are location of the property, employment situation, purchasing power, availability of loans, and the general interest rate level. And if the markets were to plummet? If the prices of real estate tumbled by 10 %, ICON would remain profitable. If the real estate market collapsed by 20 %, an ICON investor would mathematically break even. If the market crashed by 50 %, which would be more than during the 90's depression, an ICON investor would lose approximately 25 to 50 % of their invested capital. However, in such a situation, the funds would likely keep all real estate and apartments rented. Real estate development would be done and the fund liquidated only when the markets became more favourable.
The interest risk of the ICON funds is moderate. This is due to properties owned by ICON being nearly self-supporting even before their development is started. An interest risk exists during the actual development or construction, although the duration of the risk period is very short due to development being done fairly quickly, leading to the market being unlikely to change in the mean time.
Construction also involves risks that are beneficial to acknowledge. One of these is the zoning risk. ICON makes sure to find out what kind of building is permitted on any land property by the zoning. If the purpose is to build something not permitted by the zoning plan, ICON finds out whether changes to the zoning plan are required or if an exception permit is sufficient.
Contractor risk refers to a situation in which a contractor would go bankrupt. In so-called RS projects, it is the responsibility of the bank and the insurance company to finish the project together with the contractor. This means that the project is likely to be profitable, but a slight monetary loss is also possible. In other situations ICON must find a new contractor for the project, which would delay the completion of the project and thus undermine the returns of the project.
Builder risk, on the other hand, refers to a situation in which ICON would go bankrupt. However, this is highly unlikely as ICON's equity ratio is always at a good level prior to the development or building of a property. The bank requires the real estate to be debtless or nearly debtless before it will grant a so-called RS loan. The property is almost always an RS property, meaning that the bank and insurance company will guarantee that the building gets finished. If ICON were to go bankrupt, the bankruptcy trustee would sell the properties and divide the assets between debtors and investors of the fund. The first ones to be paid back are those with deposits (e.g. the bank). If ICON were to have tax debts, the taxman would be among the first to be paid back.
The state of Finland is currently planning expense cuts targeted at the job markets which will affect the cost structure of ICON's projects, but currently it seems that the effect would be positive. For instance, building the Suurpelto project will require approximately 125 man-years of labour. Marginal or non-existent salary increases would significantly affect building expenses.
Risks related to loan payback
We see no major risks related to ICON paying back the loan. Nonetheless, the following risks do exist:
A total crash of the real estate market. If the Finnish real estate market were to experience a complete collapse in the coming years (~45 %), ICON's real estate projects may be put on hold for a time to wait for the market to recover. In such a situation, the parent company would receive no success fees, which might endanger the payback of the loan and its interest.
Key personnel risks. If something were to happen to key personnel, the company's solvency could in theory be compromised. ICON is currently recruiting new personnel in order to somewhat minimise personnel risks.
Legislative changes. Significant legislative changes in the coming years might affect the company's solvency, but currently no such new legislation is in sight.
Deepening of the financial crisis. If the European financial crisis were to deepen dramatically (e.g. due to the situations in Spain and Italy) and access to debt capital would disappear, the situation might affect ICON's solvency as projects would no longer be financed by foreign banks. However, we believe that also in such situations ICON would have the possibility to raise capital from the free market.