We will start shooting Iron Sky 2 next month with a 17 million euro production budget. To help our cash-flow we are issuing Iron Sky War Bond, a loan instrument for two years.
By investing in this Bond you agree to the terms and conditions specified in the Bond Agreement (attached below).
Vår berättelse
Vår berättelse
Director Timo Vuorensola made history in 2005 with his first film Star Wreck: In the Pirkinning. It was the first feature film made for the internet, breaking all distribution conventions and becoming a huge Internet hit with more than 10 million viewers.
Producer Tero Kaukomaa has been one of the most internationally-focused film producers in Finland and has produced / co-produced over 20 feature films such as Dancer in the Dark by Lars von Trier, Everlasting Moments by Jan Troell and the Finnish-Chinese co-production Jade Warrior by AJ Annila.
Timo and Tero joined forces in 2007 for the production of Iron Sky, bringing together their experience in crowdsourcing and international film production. Iron Sky was produced with the audience, funding 10% of the budget trough crowdfunding and engaged a large audience through crowdsourcing and online marketing.
History of the Iron Sky Universe
In 2012 Iron Sky was released in theaters in more than 60 countries world-wide. Since then it has been released on home video and VOD globally and seen by more than 10 million people with approximately 10% of them paying to see it on the big screen. After the succesful release Iron Sky Universe was established in 2014 to focus and build a franchise around Iron Sky, to produce more films, TV series, games and handle licensing for the IP. Iron Sky Universe's first equity offer through this same platform - Invesdor - was successfully competed in May 2014. It raised some 270.000 € in capital for Iron Sky Universe from 500 shareholders located in more than 30 countries all over the world.
Since then we have been developing the franchise, with our main goal being the funding and pre-production of the theatrical sequel to the first film, Iron Sky The Coming Race. In addition we have been exploring licensing deals, completed ones including prop replicas and an upcoming "sidequel" novel Renate's Story, to be published in Germany by Klett-Cotta. Online we have created a crowdsourcing platform to help engage our fanbase in the production. We also experimented in social TV with the Finnish broadcaster YLE, creating a three hour interactive special over the tv premiere the Director's Cut of Iron Sky.
Along with the pre-production of Iron Sky 2 we have started to build the film's marketing campaign, with heavy emphasis on social media and online video. In August 2015, we have 29 million views on videos about Iron Sky 2 - with additional 40 million views on previous videos.
Not to mention that we have the sequel ready to start production! Iron Sky The Coming Race has a 17 million euro production budget, the largest budget in history of Finnish film. The production was born international and is a co-production between Iron Sky Universe from Finland, 27 Films Production from Germany and Potemkino from Belgium.
The War Bonds
The funding for the movie provided by national film boards and others (see the list in financing / cash flow plan) is typically released to the production company on certain key dates, such as the first day of shooting or delivery of the film. Pending the release of these funds a production company needs to provide the necessary cash-flow. This is usually covered by different kinds of loan arrangements. That is why we are issuing Iron Sky War Bonds.
The Iron Sky War Bond is a two-year loan offered trough Invesdor, with an annual interest of 4%-8% paid twice a year, until the loan is repaid after 2 years. We reserve the right to pay back the loan early at any time after 6 months, in which case we would compensate for the missed annual interest with a one-time payment. See the attached agreement for details.
We hope to pay annual interest of 4 %, but are ready to pay even 8 % if we need to. It all depends what level of interest (between 4 and 8) people are ready to offer.
In Addition you get 3 fan perks:
1. Your name in the film's end credits in "The War Bond Holders" section. The more Bonds you buy, the more space you have in this section.
2. Possibility for a set visit in Belgium. One person per 1000e in bonds. Travel & lodging not included.
3. Access (if you don't have already) to Iron Sky Sneak Peak allowing you to get behind the scenes during the production period.
Vår affärs- och marknadssituation
Vår affärs- och marknadssituation
Film business is in transition. The old school is trying to hang on to the old rules, and the new school is trying to embrace the needs of the audience. There is a major shift happening in the market, with traditional home video sales going down and online distribution taking its place with a different business model. However, even in the middle of this change Theatrical distribution is going strong.
 
With Iron Sky our strategy is clear: To build the coolest scifi franchise ever, and to do that together with our audience. We offer a great end result to everybody plus an unforgettable trip to those who want to join the production.
 
The Iron Sky franchise is based on the well known conspiracy theory that there are Nazis on the dark side of the moon, as told in the first film. The sequel is now expanding the world and goes back 65 million years to give an explanation from where, among others, Adolf Hitler is coming from. To expand the story even further we have a multiseasonal TV series currently in development. The series takes place during the 60s and the 70s when the cold war was on the brink of turning hot and the Americans and the Russians were racing to the Moon - unaware the Nazis had been hiding there since the end of WWII.
 
Important part of our strategy is to maximize the availability of the film once it's released. Since movie piracy is not going away, we want to do our best to compete with it by offering a better experience. We also put special emphasis on building the experience of Iron Sky event cinema. We will build excitement towards the release and make it more special than just a night out at the cinema. This also means we are working hard for a simultaneous global release.
At the moment we have distribution deals covering half of the world and they are all planning on releasing the film in September 2017. We will announce the names once the long-form are signed. The other half of the world we can close later but the rules for the rest are already defined with these early deals. That also means we are in a very lucky position where distributors allow us to sell directly to our audience. World-wide. By doing that, we can fully utilize the marketing potential in the next two years and to leverage our community to create word-of-mouth close to the release.
Iron Sky – the original movie – created a good base for us to build further. It has been seen by 10 million people, from which 1 million saw it in cinemas. This has expanded through piracy, home video, VOD, Netflix, TV screenings etc. to an audience of millions, if not tens of millions. Just to compare; When we released the first teaser trailer back in 2008, and got 100.000 views the first day in YouTube we could not have been happier. Now, the teasers and promos of the sequel are doing 10 times bigger numbers and we have altogether about 70 million views on YouTube.
The business plan with Iron Sky The Coming Race includes the following medium term (1-3 years) targets:
To see how far we can go with the crowdfunding, where we sell our film directly to our audience. This is approved by the distributors and we can use the funds for the production and after certain sales amounts the revenues will be shared with the distributors.
To see how wide a theatrical release we can build for this film. We are in talks with some big players on the market, which means that as long as we deliver a good film - and we will - they have the muscle to do a big release.
To see how much we can increase the fan following and then utilize that for any future chapters in the franchise. Our online visibility is approximately 10 times bigger now than with the first film. We believe it's only the beginning.
The internet has made the world smaller and audiences larger.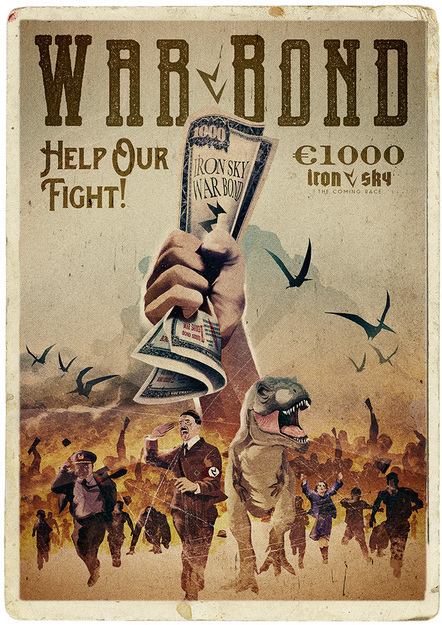 Vårt team
Vårt team
Our team is responsible for some of the most ambitious crowdsourced film projects in history.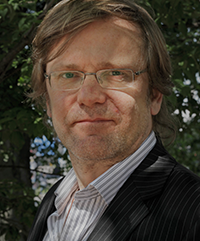 Tero Kaukomaa
Founder. Producer. Head of Business.
Studied business and marketing in the Helsinki School of Economics, from which he graduated in 1987. Marketing and commercials drove him into the world of cinema and in 1997 Tero Kaukomaa established Blind Spot Pictures. He has produced or co-produced more than 20 feature films including Dancer in the Dark, Everlasting Moments, Sauna, Beyond and Iron Sky. Kaukomaa produced and distributed his films in various countries all over the world. Producing is all about making your content available and making the audience aware of it!
https://www.linkedin.com/in/terokaukomaa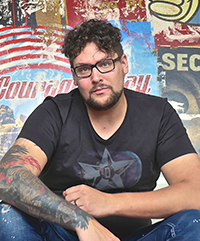 Timo Vuorensola
Founder. Director. Head of Content.
Directed his first feature, Star Wreck: In the Pirkinning, and released it online in 2005. After that, he began pursuing a directorial career, working for the next 6 years on his theatrical debut film Iron Sky. Alongside the production of both films, Timo created a lot of the marketing and focused on creating a collaborative - crowdsourced - work environment for both films. Having been interested in both marketing and film making, Timo is pushing the boundaries of both to find creative, fresh and interesting outcomes.
https://www.linkedin.com/in/leonblank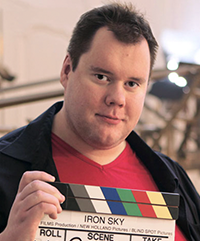 Jarmo Puskala
Community manager.
Jarmo has nearly a decade of experience in building online communities as well as social media and online marketing. His other passion is filmmaking and he has co-written and been intimately involved in the production of two feature films, Star Wreck and Iron Sky. Jarmo also has a lot of experience speaking about online communities in filmmaking at seminars, schools and corporate events.
https://www.linkedin.com/in/jarmopuskala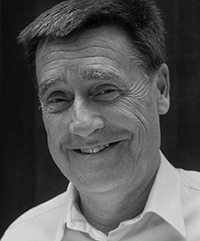 Martin Sandelin
Member of the Board
Started his professional life as a journalist, ended up having an excutive career with Nokia between 1983 and 2012; Vice President, Communications – Vice President, Investor Relations – Senior Vice President, Corporate Marketing – Vice President, CSR & Community Involvement – Vice President, Ethics Officer. Currently Martin is finishing his book on the history of the infrastructre business of Nokia.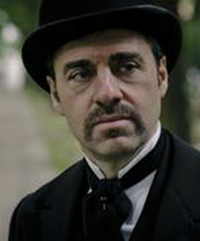 Josef Brandmeier
Financing Consultant
Josef Brandmaier has been involved in organizing structured finance for a range of international projects including The Three Musketeers, Ironclad, Cabin in the Woods, The Downfall, I Love You Philip Morris, and Eagle Eye. In addition to his film banking work, Josef represents a group of business angels who make investments in film and TV projects. He currently works as Managing Director of UniFinance Media GmbH.
http://www.imdb.com/name/nm3766192/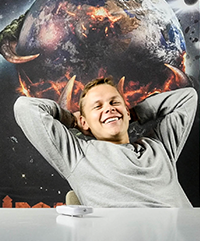 Pekka Ollula
Communication Officer
Pekka has a Bachelor's degree in Culture and Arts from the Tampere University of Applied Sciences. He has been working on Iron Sky for the better part of a decade. During the first round he developed and created different marketing tools for Iron Sky such as our YouTube show Iron Sky Signal, which he now hosts, and established collaborations with various partners & sponsors. In addition Pekka has worked as sales manager for Scandinavia's biggest hiphop festival Blockfest and is the co-founder of art gallery Rupla Helsinki.
http://www.linkedin.com/in/pekkaollula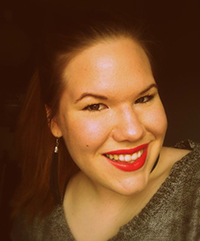 Anniina Leppänen
Production coordinator. Producer's assistant.
Anniina has a Bachelor degree in Arts and Cultural Management. Her professional background includes theatre and event producing but huge film enthusiasm drove her into film industry. Anniina has been part of the Iron Sky team since fall 2013. In Iron Sky Universe Anniina takes care with financial and administration duties and coordinates and organises all sorts of productional tasks in the company.
https://fi.linkedin.com/in/anniinaleppanen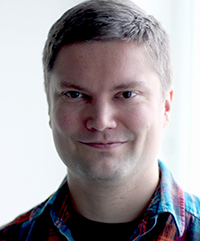 Otto Vihanto
Business Developer
Otto Vihanto graduated from the University of Tampere with a Master's degree in Economics and Business Administration in 2006. Otto joined Iron Sky Universe as Business Developer in July 2014. Since then he has been involved in a wide range of tasks and responsibilities within the company, ranging from business analytics and crowdfunding to marketing and web development projects. Before Iron Sky Universe, Otto spent 8 years working at a major European bank, his previous role being Customer Insight Analyst.
Risker
Risker
Onoterade tillväxtföretag är investeringar med hög risk. Risker som finns i onoterade företag är t.ex. risken att förlora hela din investering, brist på likviditet på aktien, oregelbudna eller sällsynta utdelningar (vinstutdelning) och utspädning av din insats. Läs denna denna riskvarning noggrant innan du gör en investering.
Vi rekommenderar att du tar reda på investeringsmålet som du är intresserad i, diversifierar genom att investera i flera investeringsmål, och balanserar din portfölj genom att likvida investeringar. Vi rekommenderar även att du studerar noggrant riskbeskrivningarna som finns i målföretagens riskavdelningar, som du hittar i investeringsmaterialet.
Bifogat till investeringsmaterialet hittar du en kreditupplysning som kan vara relevant för att göra ett investeringsbeslut.
There are a number of risks involved in all film making which may affect Iron Sky Universe's ability to meet the obligations of these bonds. Such risks include, but are not limited to, production cost overruns caused by weather, technical issues and labor action. We have taken every reasonable precaution to minimise such risks by e.g. shooting all scenes in one studio facility, thus eliminating risks relating to weather, transportation etc. We will have a Completion Bond, issued by a completion bond company. The completion bond company will monitor every stage of the production and react immediately if necessary. While we believe, based on the experience from the first Iron Sky movie, that Iron Sky the Coming Race will be well received by audiences around the world there is no guarantee for this and revenue may therefore not meet expectations.
Company specific risks:
Based on the historical performance of the company, Asiakastieto.fi (which is a risk management information provider) has given a "B" (passable) credit rating to Iron Sky Universe Oy.  You can find further information in the Rating Alfa document attached below.
Please note that the bonds are not tradable within the first 6 months from the issuing date. 
Please review during your own due diligence process the "Sources of funding" document for a deeper overview of the cash flow situation of the company. Please note that an improved cash flow calculation will be uploaded tomorrow 17/09/2015. Note that there is in 1,2MEUR investment which is expected to be received in October 2015. The investment document has not been signed yet.
Note to Finacials chart below: 
Due to accounting rules most of our cash flows are not show in the Financials chart (2014 is based on our official income statement, 2015-2018 are estimated) . The reason is that income and expenses in multi-year projects are booked on the balance sheet and they are shown on the income statement when the film is completed.