Wainu: Protection from moisture and mold
The possibilities created by IoT and digitalization are a hot topic today. Wainu monitoring system and its cloud based service and own wireless technology help to prevent damage from moisture and mold. They also improve construction quality.
Detta innehåll är också tillgängligt i
finska
Vår berättelse
Vår berättelse
We came up with the idea of Wainu because of our need to monitor the conditions of the base floor of an old building when the snow was melting in the spring and during the rains in the fall time. A problem with ventilation, uncertainty and the real estate owner's fear of damage from moisture or mold clarified the idea, resulting in solution and innovation for various segments and measuring needs. Wainu provides a different, wireless, modern and easy way to measure conditions in in different environments.
The founders of the company have strong expertise in sensor technology, product development, productizing and building concepts. With this experience, it was easy to start to develop the concept and technology.

Vår affärs- och marknadssituation
Vår affärs- och marknadssituation
Wainu resolves a problem
Public and private real estate owners worry about the damage from moisture and mold caused by the low quality of construction, sudden rupture and hidden leaks. There's no data for monitoring structures during the building period or after the building is finished. The real estate owner has no resources for sensory inspections and monitoring. There's expensive equipment for random punctual measurement in the market, but constant monitoring is the only way to get real time and accumulated information. Only real time monitoring provides information on changes in the conditions and their impact on the risk of moisture damage, as well as gives alarms for problem situations.
Wainu monitoring system measures temperature and humidity. The wireless sensors measure the conditions and transmit the data to the cloud. The data is refined and the measuring results, the alarms and reports are brought to the user through a web based user interface.
The market
REAL ESTATE OWNER
Every real estate owner should have the chance to know the condition of his building and be able to require quality and transparency in construction. Wainu gives an impartial measuring result, which eliminates doubts between the customer and the provider. Different seasons put a burden on the real estate, and new challenges arise as climate changes.
HOUSE OWNER
Wainu enables inspecting the conditions of the roof and base floor structures. The system may be installed after the building is finished or when an older house is sold or renovated. The system gives information on how the ventilating spaces function and remain risk-free for moisture damage during different seasons, such as during the rainy fall and in the spring time when the snow is melting.
PARTNERS OF WAINU
Professionals use Wainu as a tool in their own projects or for growing their own business. Maintenence and renovation companies may offer their customers own measuring and monitoring services based on Wainu, for their own new construction or renovation projects.
Competitors
The competing technologies are combinations of commercial and own technologies. The competitors lack own design, which affects the outlook of the products and the user interfaces. The competitors are more focused on inspecting the quality during construction, not in the mass market. The competitors in Finland are RF SensIT, Senvir and Sensire.
Competitive advantage of Wainu
Wainu is a Finnish innovation, with defined concept and complete service design. It's inexpensive and easy to install in any real estate of any shape or size. The system is wireless and anyone can start using it. The same system can be used in various segments and for different measuring needs.
Business model
Own technology and cloud service give possibilities to offer the system to different customer segments. The same technology is offered to each segment and the differences are created by the services and the characteristics of the user interface. The number of sensor varies according to the size and measuring needs of the real estate, and the data refining is done with different user interfaces for different customers. Sales of hardware and user interface are completed with licence fees for partners.
In Finland this field lacks a business model where the company provides its customers with its own technology as well as related services. When the alarm of Wainu sets off the customer is not left alone. Instead, he gets instructions for taking the required measures.
Through product development Wainu will be completed with new sensors related to healthy buildings. In future, the same Wainu system may be completed with a leak alarm and measuring carbon dioxide, VOC and pressure. Product development will bring new patents.
Economic perspectives
As a startup company, we have the right momentum. New competitors have arisen, which is a sign of potential market. This subject is often on media and the real estate owners and industry are getting conscious about preventing problems. The Finnish Ministry of the Environment is searching for solutions to monitor the quality of construction and it's just a question of time when it becomes mandatory in all construction. In future, Wainu in a building will be like a fire alarm today. As a startup we are changing a conservative thinking in construction and creating new models, with the aid of digitalization.
Intended use of collected capital
So far, the sales of the Wainu system has been focusing in public sector; the offices managing the real estate assets of cities, municipalities and churches. However, due to lack of resources our sales efforts have been limited. While the public sector was chosen to be the initial target segment, we have been studying other potential markets and made a preliminary market segment and partner selection. After successful financing round the market study will be completed and the sales will be organized and allocated to selected segments in cooperation with chosen, segment specific partners.
Test sales and market research will first focus in the following segments:
Private houses
Cities and municipalities
Churches
Real estate developers
Contractors
Building structure designers
Building industry
Partners (companies offering services in relation to building health)
High value real estate owners
Others
Wainu system consist of service and hardware. The service model and pricing will be defined according to each segment's requirements and needs. The hardware remains unchanged to all segments. The sales will be organized utilizing our own resources and segment specific partners. The selected partners will also act as distributors in the future.
Patent
Application for Finnish patent was submitted April 26th 2013. Based on positive interim decision of Finnish Patent and Registration Office the application was submitted to international PCT process including all PCT member states. 
Frequently asked questions
How do you measure mold?
Wainu does not measure mold, it measures moisture and temperature. Wainu prevents mold growth in the space where the sensors are installed. The sensors set off the alarm in the user interface when the conditions are favorable for mold spores to start forming. On the basis of information, risk space's ventilation can be improved and the necessary structural changes can then be made before the mold is growing.
There are already device on the market measuring other quantities. How is Wainu different?
There is for example the Finnish device called Thingsee, which measures temperature, humidity, location, air pressure and light. For monitoring the conditions of a real estate there must be various sensors, from 5 to 400 depending on the real estate. The sensors already on the market do not enable a good measurement coverage, due to the high unit price of the sensors.
Wainu has been on the market during two years already, but the turnover is low. Why?
The presales of Wainu started two years ago when the product development was still going on. The engineers tried to sell the system meanwhile they were developing the product without achieving their objective, but with some minor sales to the public and private customers. Now that the product is finished there will be new efforts for sales and marketing, with a new concept and message as well as new customer segments. During the past two years we have learned how and to where sell Wainu.

Vårt team
Vårt team
Two engineers, an inventor, a marketing magician, a business angel and a great salesman. The engineers and the inventor sum up 30 years of experience in product development and investigation in sensor technology. The marketing magician and the business angel have strong marketing and entrepreneurial experience in B2C and B2B. The salesman counts with 15 years of experience in sales around the world, management and business development. In addition, the members of the Board of Directors are business professionals.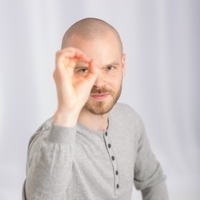 Kimmo Hartikainen
CEO
One of the founders, a lifestyle entrepreneur, an innovator and a master at creating concepts. Thomas analysis describes Kimmo as a precise, organized and trustworthy person who tends to complete his chores. Kimmo has strong expertise in sensor technology and web technology. He has also been the CEO of a digital agency and knows online marketing as well as user interfaces.
https://www.linkedin.com/pub/kimmo-hartikainen/54/320/a9b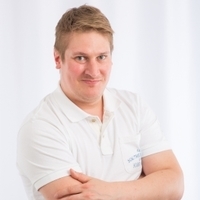 Teemu Partanen
CDO
One of the founders, a versatile doer. Almost 10 years of experience in the field of technology, in project management, international sales, sales suppport, product development and productization. Strong professional skills and experience combined with capacity to understand and control the entire business scenery.
https://fi.linkedin.com/pub/teemu-partanen/86/662/874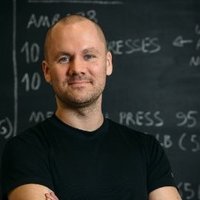 Marko Valkonen
Business Developer
Minor stakeholder and advisor. 13 years of experience in the management and as an entrepreneur in the field of technology. Strong expertise in digital media and in the fields of audiovisual, program and technology development. A multitalented and goal oriented person with sales spirit whose hobbies seem to end up in the trade register. An example of this is the new CrossFit Lahti Ltd.
https://fi.linkedin.com/in/markovalkonen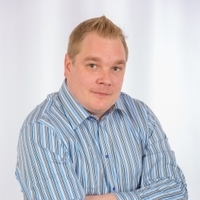 Tero Pynnönen
Product Development
Product developer, designer and inventor. More than 10 years of experience in programming, program design and user interface architecture, as well as electronic design, design of embedded systems and product development. Previous experience in Fourplan ICT Solutions (application architect), Environics Ltd (system specialist) and Lappeenranta University of Technology (technical specialist). Years of experience in international projects.
Risker
Risker
Onoterade tillväxtföretag är investeringar med hög risk. Risker som finns i onoterade företag är t.ex. risken att förlora hela din investering, brist på likviditet på aktien, oregelbudna eller sällsynta utdelningar (vinstutdelning) och utspädning av din insats. Läs denna denna riskvarning noggrant innan du gör en investering.
Vi rekommenderar att du tar reda på investeringsmålet som du är intresserad i, diversifierar genom att investera i flera investeringsmål, och balanserar din portfölj genom att likvida investeringar. Vi rekommenderar även att du studerar noggrant riskbeskrivningarna som finns i målföretagens riskavdelningar, som du hittar i investeringsmaterialet.
Bifogat till investeringsmaterialet hittar du en kreditupplysning som kan vara relevant för att göra ett investeringsbeslut.
Business risks
New product – According to preliminary sales and surveys conducted during trade exhibitions there is a definite market for the product. However, since we are introducing a novelty product the lead to sales process can initially prove to take longer than anticipated. Marketing and sales will surely require plenty of resources. We also may be ahead of our time, since the market is only starting to realize the requirement for such a product. Even though the quality control of building processes and materials is increasingly demanding, the industry we are targeting is quite conservative. 
Acknowledging the benefits of the product – The sales of the product is comparable to the sales of insurance policies; customer buys assurance of security for property or health. Therefore, the sales challenge of Wainu system is similar to sales of insurance policy; it will be difficult if the customer does not see true and valid value or need for the product.
Combining sales to consumers and businesses – The hardware configuration sold to B2C and B2B segments is identical. However, user interface and service design can differ substantially according to market segment. The company must be organized in a manner that enables it to create and realize segment specific strategies and tactics in sales and marketing 
Competition – Internet of Things and digitalization will step up the competition. Cloud based collection, combination, analysis and dissemination of data is turning into standard practice in various applications.
Delivery reliability – Delays in component deliveries and sufficiency in production capacity must be taken into account when planning production and delivery reliability. Global or local accidents or incidents in different scales can cause problems in component deliveries. Manufacturing of some components may be terminated which will cause additional R&D work to be done. The market demand may exceed the production capacity in short term.
Key personnel – In a small start-up company everyone is a key person. Loosing anyone will have an effect in operating the company.
Debt- Company debt may cause difficulties in business activities. Debt list and amounts on attached file.
Notes of payment error - The company has three notes of payment error, which may cause difficulties in business activities. Notes are listed on attached file.
Technology risks
Wireless- The Wainu system has been installed to small houses and mid-size multi-storey buildings. The validity of technology has not been tested in large buildings, such as ice halls. If the wireless technology used in Wainu system proves to be inadequate for large buildings, extra R&D work needs to be done. 
Outdating technology – Technology is advancing in increasing speeds. Keeping up with the pace requires constant product development and market analysis. The sensors will become smaller, more efficient and more accurate. New wireless technologies will emerge.