Invesdor - The Crowdfunding Service from the North
Invesdor is a leading equity-based crowdfunding platform in Northern Europe. We are an investment matching service between unlisted growth companies and investors from around the world.
Detta innehåll är också tillgängligt i
finska
Vår berättelse
Vår berättelse
It is late 2011. The Finnish start up environment is blooming, new exciting ventures come to life and hordes of entrepreneurs are ready to conquer the markets. Meanwhile, on the other side of the Atlantic Ocean, emerging ventures talking about the power of the crowd in supporting projects are rising. The crowdfunding wave is starting and entrepreneurs and artists are already surfing it to collect capital from donors and backers. Equity, however, is still restricted in the United States, but not in most European countries.
Back in Helsinki, in 2012, a group of Finnish professionals with backgrounds in investment banking, finance, law, marketing and sales seizes the opportunity and joins the few pioneers in the equity crowdfunding industry. Invesdor is born.
Invesdor entered the market challenging the entrepreneurial finance environment by providing a new innovative way to raise capital and invest. Invesdor has conquered its home market in Finland with more than 2.000.000 Euro raised in 15 successful cases (1).
The company has developed strong partnerships with existing financial institutions (such as wealth management companies Taaleritehdas and Alexandria, law firm Fondia, and investment bank Summa Capital), created the first secondary market for equity crowdfunding (in cooperation with Privanet), and successfully executed the first live crowdfunding event in the world.
We stand today on the edge of a revolution in finance that is redesigning international flows of capital. We are launching our funding round to support international expansion and to introduce debt crowdfunding services.
The story has just begun.
(1) Note: Three of the successful offerings are Invesdor's own rounds. In total Invesdor has raised 233,700 euros via its own platform.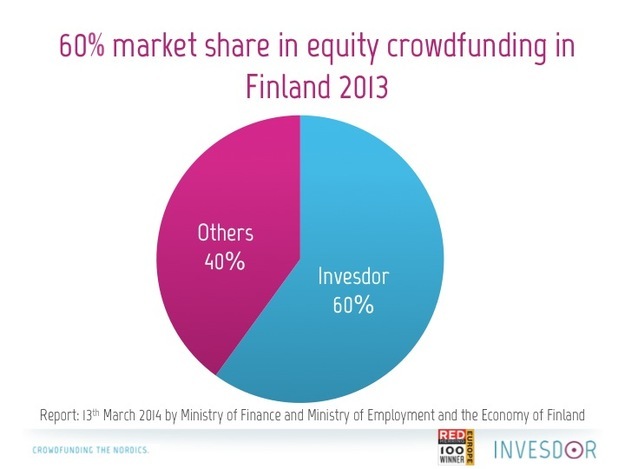 Vår affärs- och marknadssituation
Vår affärs- och marknadssituation
Invesdor is a leading equity-based crowdfunding platform in Northern Europe. We are an investment matching service between unlisted growth companies and investors, allowing the former to access capital, contacts and knowledge and the latter to diversify their investment portfolios to new asset classes. 
The company is actively contributing to the history of equity crowdfunding in Europe and worldwide. Since the beginning of its activities, Invesdor has been working on the cutting edge of the industry introducing successful global innovations to the market:
The first secondary market for crowdfunded equities in cooperation with Privanet
The first real cooperation with established traditional finance institutions (two wealth management companies and an investment bank in Finland)
The first live crowdfunding event (PitchHelsinki)
Invesdor was selected as the only crowdfunding platform in the RedHerring Top 100 Europe ranking in 2014
We are now raising funds for international expansion and launching new services. We continue to make the history of crowdfunding by supporting entrepreneurial growth across Europe. 
We are creating a bridge between traditional angel-, stock-, bond- and mutual fund investors and growth company financing and revolutionizing the way ventures access capital.
Our superior partners and the experience of our team in banking and investment related activities represent an important asset for the development of our service. With our strong team we keep on building more meaningful products and services for European entrepreneurs.
The industry
The crowdfunding industry helps entrepreneurs access capital and leverage on their shareholders for marketing and visibility purposes. 
The market has been growing rapidly in the recent years reaching more than 5 billion USD in 2013 with a growth rate of 90% from 2,7 billion USD previous year. Moreover, the worldwide crowdfunding market is expected to reach 300 billion USD in 2025, which represents a cumulative yearly growth rate of more than 40%. 
The industry is generally divided into four main segments:
Donation crowdfunding
Reward crowdfunding
Debt crowdfunding
Equity crowdfunding
While the first two focus mostly on arts and projects the latter two entail a higher level of complexity. Equity and debt crowdfunding, in fact, refer mainly to existing companies financing themselves by issuing new shares or debt instruments.
Given the background of the team and the strong partnerships established with the financial organisations, Invesdor focuses on equity, and in the near future, debt crowdfunding. 
Equity crowdfunding is the smallest but fastest growing segment of the market. With a cumulative yearly growth rate of 194% between 2012 and 2014 it is expected to reach one billion USD by the end of this year. The upcoming growth is justified by the imminent change of legislation in the U.S. market and the positive feedbacks from European markets. The European Union and the individual State regulators have been following the market closely and are working towards a harmonized framework to facilitate the growth of the industry.
In Finland, Invesdor promotes contacts with the regulators and strongly supports initiatives in favour of the safe markets. The Finnish Ministry of Finance in cooperation with Ministry of Employment and the Economy published earlier this year a report defining the equity crowdfunding market size as two million EUR, where Invesdor represents more than 60 per cent market share.
Operations
Equity crowdfunding:
We currently offer our service to unlisted growth companies from Finland, Sweden, Denmark and Estonia, which are looking for capital, visibility and product validation. Investors can come from anywhere around the world as long as they comply with their local jurisdiction before investing. Investments in growth companies are always associated with high risks but also with high potential returns.
We have successfully validated our business model in Finland since may 2012 with a growing amount of companies and investors wanting to work with us. 
We have received 300 business applications on our platform so far
57 companies cleared for funding
15 successful cases 
2.000.000 EUR invested or committed for Nordic growth companies
International reach and networks growing rapidly
The successful cases come from various industries, from B2B to B2C, from IT, to fashion and retail with the smallest one having raised 20.000 EUR and the largest 288.000 EUR. In average our clients have:
Raised 100.000 EUR 
Received on board 50 investors per company
Established a median Pre-money valuation of 1.150.000 EUR
Offered between 10% and 19% of equity to their new investors
Our earnings logic in equity crowdfunding is an upfront listing fee of 500 euros as well as a success fee of 6% + VAT of the amount raised.
Ownersportal: 
Not satisfied with the available service offering for unlisted limited companies, we decided to create a new share registry service. Ownersportal.net is a cloud-based tool for limited liability companies to update and maintain their share registries and for investors to access information of their holdings. 
It can be scaled internationally and will be used as a back-office tool in our secondary market. The company operating Ownersportal.net is 50% owned by Invesdor Oy.
Secondary market:
In January 2014 Invesdor, in cooperation with Privanet, launched the first secondary market for crowdfunding in the world. The first companies will start trading in June 2014.
At Invesdor we understand that although some growth companies provide "dream" exit opportunities as multi-million dollars M&As or IPOs, many ventures become well functioning and profitable business but do not provide a clear exit via a trade sale to their investors.
For this reason we teamed up with Privanet to provide exit opportunities to small and large investors who are striving for a market with higher liquidity. The result of such innovation will be a more fluid environment, where higher number of exits will create a higher number of investments. Key is that money circulation can be increased.
Debt crowdfunding:
This service represents an evolution of a finance focused service like Invesdor. We want to give our customer companies the possibility to raise not only equity capital, but also debt to better meet their financial needs.
Our team is already working on the development of the service to assure a more fluid capital flow to the market. 
Based on our discussions with the authorities, we have been indicated that Invesdor does not need a licence from the Financial Authority to operate. Although, it is possible that the stand of the authorities may always change. 
The expansion plan
Invesdor plans to expand its operative presence to other Nordic countries in 2014 and later on selectively to other European countries in a second phase. We want to establish professional and good quality partnerships locally in order to deliver superior quality to entrepreneurs as well as to investors in the countries which we are entering.
In 2013 Invesdor focused its energy on the Finnish market to validate the business model and to establish key activities and partnerships. These effors led us to reach more than 60 per cent market share in Finland. 
During 2014, we are planning to expand to other Nordic countries by leveraging our networks and existing contacts.
During 2015, we plan to start expansion to Continental Europe. However, this is subject to a major new financing round later.
Leveraging networks: 
As in many finance related activities, equity and debt crowdfunding require the presence of local highly qualified partners able to create the network of entrepreneurs and investors needed for the platform. We are currently in touch with potential local partners in order to execute our expansion plan.
Moreover, Invesdor  has signed a Memorandum of Understanding with a major European equity crowdfunding platform. The MoU has been approved by the boards of both companies but it is not certain it will lead to a final collaboration agreement.
Nordic Crowdfunding Alliance:
Invesdor is a founding member of Nordic Crowdfunding Alliance, which was established between Northern European crowdfunding platforms that aim to promote cross-selling, entrepreneurship and crowdfunding in the region. The Alliance is promoted and financed by Nordic Innovation and Nordic Council and includes plaforms from Finland (Invesdor and Mesenaatti), Denmark (Booomerang), Norway (Fond) and Iceland (Karolina Fund). Invesdor is the only equity-based crowdfunding member of the alliance and is proud to promote the crowdinvesting culture in the rest of the region. Total financing for the Nordic Crowdfunding Alliance is 8 million NOK (980,000 euros) for a period of three years.
This initiative has a high strategic value for Invesdor since it allows us to increase our presence and visibility in other Nordic countries and to create synergies with local, high quality, rewards-based platforms.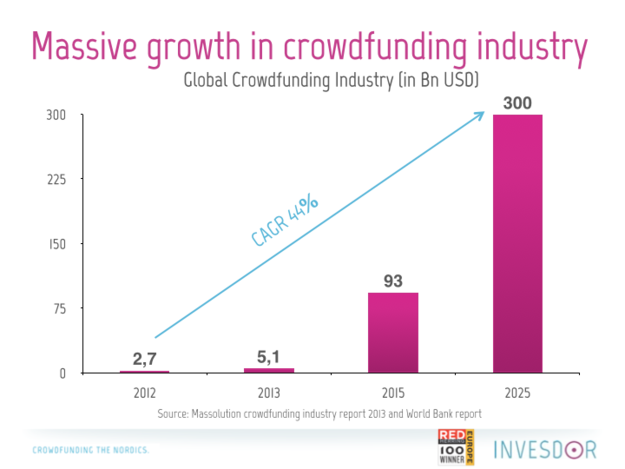 Vårt team
Vårt team
Invesdor founding team has great experience from banking, finance, law, IT development and sales. Strong orientation towards finance sector is an important asset of the company as crowdfunding is all about making the existing models more efficient.
The great team below is also supported by our excellent networks and advisers as well as our equity partners (Taaleritehdas, Alexandria, and Summa Capital) and of course our first class operational team.