Uncovering the Big Potential of E-Waste Recycling
Time to turn the tide of e-wasting! Opportunity to take part in the clean up, by recycling of e-devices and collection and crushing scrap mobile phones into valuable reusable material such as
Vår berättelse
Vår berättelse
E-waste is laden with toxic heavy metals such as lead, mercury and cadmium that can leach into water, soils and the atmosphere, posing significant environmental and human health risks, especially in developing countries.  But e-waste also contains precious metals and gold that can be extracted.
WE WANT TO TURN THE TIDE - AND MAKE BUSINESS!  Too much electronical scrap has been shipped to developing countries.  Now is the time to make real efforts cleaning up and use true recycling, utilizing the best available technology (BAT) to extract the precious metals for more than 90% re-use. GA90 RECYCLING Oy registered in February 2013 will DO IT!
With our long African experience and extensive knowledge we have been able to agree with executive council decision makers to set-up a nationwide network for collection, recycling and reuse of e-waste, starting with scrap mobile phones in Ghana.
The first pilot test in Accra with 20 collection sites was perfomed 2013 which proved that the collection process is working.  Now we are enhancing the collection rate and extending the geophraphical reach in Ghana through nationwide marketing and educational efforts.  GA90 RECYCLING IS DOING IT NOW!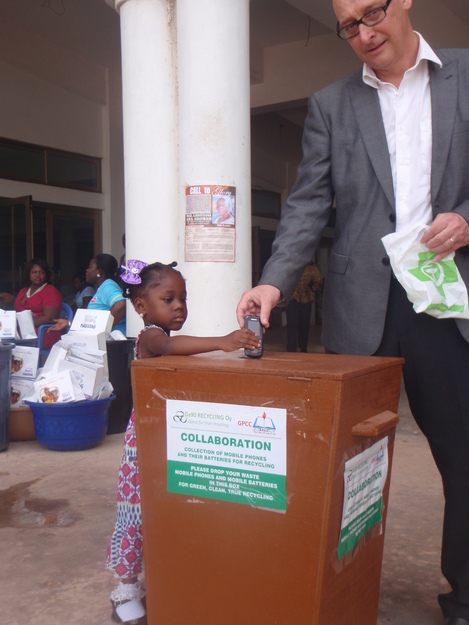 Vår affärs- och marknadssituation
Vår affärs- och marknadssituation
OUR CORE BUSINESS
The core business is collection of scrap mobile phones and e-wastes from African countries, in cooperation with local partners and delivering to our customers in Europe for recycling and over 90% material re-use.  The valuable material, including gold, copper, cobolt, zink is then extracted by our customers and re-used in production processes. 
OUR CUSTOMERS
Our customers are professional European e-waste handling companies, with whom we have agreements signed (Akkuser Oy, Dated Technologies Ltd).  E-waste material will be delivered and sold by GA90 Recycling Oy to these companies, who will recycle over 90% of the material.
THE GROWING MARKET
Why Africa, why Ghana? The groving numbers of active mobile phone subscribers have already reached penetration rates of 50-100% which means mobile phones (users) from 10 M to above 100 M per country.  Ghana has a mobile phone penetration rate of over 100%.  There are approximately 40 M scrap mobiles waiting to be collected only in Ghana!  The question is, where do all these millions of mobile phones and batteries go after end of life cycle? The answer is "nowhere"!  GA90 Recycling comes in to provide both the logistics and technology lacking in these African countries, to professionally collect and recycle the target e-wastes.
The servicable market in Ghana is estimated to 80% which gives a bulk business potential of more than 15 MEUR. A mobile phone replacement rate of once per every second year gives an additional yearly mobile scrap collection potential of 5-10 MEUR.  The revenue for GA90 will be based on the agrement with our partners existing nationwide collection sites and delivery to our customers.  The sales is controlled by GA90 Recycling Oy.
The GA90 operations will later extend to Western African countries and other African regions.  Planning is ongoing for Nigeria and Eastern Africa.  Other e-waste material will later be handled in cooperation with renowned European partners, which will add revenue accordingly.http://finnpartnership.fi/www/fi/news/index.php?we_objectID=3730
OUR PARTNERS
Our primary cooperation partners in Ghana are the Ghana Pentecostal and Charismatic Council (GPCC) and the Muslim Community (MC) in Ghana .  These church organisations,  have extensive nationwide as well as international networks.
We have exellent working relationships with governmental and influencial local organizational networks, such as the Environmental Protection Agency (EPA) in Ghana.

A cooperation with the Raw Materials Group RMG AB, for Operation of an E-waste Training & Collection Center, in Accra, Ghana has been established.  The establishment of the Center is supported by the Nordic Climate Facility (NCF).
THE EARLY ACCOMPLISHMENT
The first pilot project is done in Accra, Ghana with 20 sites already operational for collection of e-waste material for recycling and reuse.  The marketing, education, collection and transportation will be extended in Ghana during 2014 and later into other African regions.
There are no competitors in Ghana that have a nationwide partner and logistics network for systematic collection and recycling of scrap mobile phones, as the one GA90 already have set up - only ad-hoc collection by small entrepreneurs and dispatch to mostly asian dealers.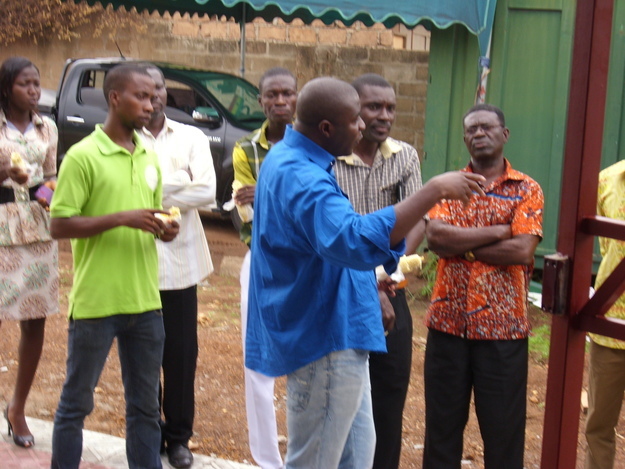 Vårt team
Vårt team
The team has extensive experience in international business development, specifically in African countries. GA90 core competence is the ability to accurately analyze, establish and manage the most efficient business in each target country. Ingenious negotiation skills to bring together both high and low level nationals to work toward our project.

Jan-Henrik Janér,  Chairman, Co-founder
M.Sc Helsinki University.
International Business Management since 1984.
Project and Sales in 15 African Countries since 1997.
Leadership and Management Coaching.
Over 10 Years of Entrepreneurship, Own Consulting Company.

Daniel Mefful, CEO, Co-founder
MBA  Int. Bus. Dev. and strategic mgmt.
Consultant for JHJ ProConsult.
Ghanaian
Local knowledge and business culture.
Influential Local networks.
LinkedIn profile: Daniel Mefful
In our team we also count our partners, GPCC and GA90 Recycling Ghana headed by Mr. Prince Odoom.