PV-Invest Green Bond (2020-2030)
The PV Invest Green Bond stands for sustainable and profitable investments in photovoltaics and small hydropower plants. So far, more than 4 million euro of the current PV-Invest Green Bond 2020 have already been subscribed.
An offer of the securities of PV-Invest GmbH is made exclusively as part of a public offer in the Republic of Austria, the Federal Republic of Germany, the Grand Duchy of Luxembourg and the Republic of Finland. An offer of whatever kind to persons who have their headquarters, place of residence or habitual abode outside of the aforementioned jurisdictions will not be made. By accessing the offer information, investors confirm that they have their registered office, place of residence or habitual abode in either the Republic of Austria, the Federal Republic of Germany, the Grand Duchy of Luxembourg and the Republic of Finland.
--
Since the securities are to be included in trading on the Vienna MTF operated by Wiener Börse, the disclosure of your securities account data is required for the subscription of the securities. We would like to point out that Invesdor does not open securities deposit accounts for investors.
--
This document is neither a prospectus nor an offer of securities or an invitation to make an offer, nor a personal recommendation for securities of PV-Invest GmbH (the "Company"). An offer of PV-Invest GmbH securities will be made exclusively on the basis of an offer from the Luxembourg Financial Market Authority (Commission de Surveillance du Secteur Financier - "CSSF") on October 21. 2020 approved and notified to the Federal Financial Supervisory Authority ("BaFin"), the Austrian Financial Market Authority ("FMA") and the Finnish Finanssivalvonta. The approved / notified securities prospectus was published by PV-Invest GmbH in accordance with legal requirements on the company's website at www.pv-invest.com and is at PV-Invest GmbH, Lakeside B07, A-9020 Klagenfurt am Wörthersee, Austria available free of charge. The information on this website is for advertising purposes only and investors should base any investment decision solely on the approved and published prospectus. In making investment decisions, investors must rely solely on their own assessment of the company and the securities issued by the company, including the benefits and risks associated with investing in the securities. Every decision to invest in securities of the company carries risks up to and including the total loss of the investment.
Vår berättelse
Vår berättelse
Please contact [email protected] if you have any questions or call
for questions about the bond, Dr. Reinhard Hönig, +43 676 4108754,
for questions about the investment process, Viola Ghavidel, +43 676 3423069
GREEN FINANCE ENABLES SUSTAINABLE CLIMATE PROTECTION
"TOMORROW IS THE RESULT OF OUR ACTIONS TODAY. IF WE DO NOT DO EVERYTHING POSSIBLE TO PROTECT THE CLIMATE TODAY, WE SHOULD NOT BE SURPRISED TOMORROW THAT IT IS TOO LATE.

Between climate conferences and Fridays for Future, the situation around our climate remains serious. The growing hunger for energy and the frequency of increasingly severe climate catastrophes make rapid action a duty of our generation. The path to a sustainable future requires an urgent and global rethink. A change in energy production is needed. Renewable energies such as photovoltaics and hydropower are the cornerstones of a sustainable future. They use the inexhaustible power of nature and represent an attractive alternative to conventional power generation. We, PV-Invest, have set ourselves the task of exploiting this enormous potential of renewable energies. Together with private and institutional investors, we construct high-yield photovoltaic and small hydroelectric power plants and thus create sustainable value added. Our many years of international experience in the financing and operation of power plants in various countries goes hand in hand with excellent knowledge of the industry, market and technology and is also a key success factor for all of our company's projects. This experience gives you as an investor the greatest possible security. PV-Invest examines its projects carefully and intensively. We prefer to invest in regions with stable markets and high solar radiation. We pursue a clearly defined strategy of diversification and risk reduction. Take the next steps of a success story with us. With Green Investments you combine your personal investment with your active contribution against the rapidly progressing climate change. We all have the opportunity to decide how we want to shape the future for ourselves and future generations. It is time - to act together instead of just discussing! "
MAG. GÜNTER GRABNER and MAG. GERHARD RABENSTEINER, managing directors of PV-Invest GmbH
The success story of PV-Invest begins in 2009 with the project start of the first own photovoltaic power plants in Italy. Shortly afterwards, the step towards Slovenia was taken. These two markets are still among the core areas of PV-Invest today. In the following years, power plants were built in Bulgaria and France. At the same time, the Austrian division was created under the brand name "Unser Kraftwerk" (Our Power Plant), which is currently the third largest market in the portfolio. In 2015, the northernmost power plant site in PV-Invest's portfolio to date, located between Nuremberg and Munich, went into operation. PV-Invest has been regularly issuing corporate bonds since 2016 and is constantly expanding its portfolio on this basis. In recent years, the company has successfully entered the markets of Macedonia, Hungary, Bosnia and Herzegovina and Greece. Every new power plant is subjected to extensive technical and economic testing. The principle is quality before quantity. Every portfolio expansion and market entry thus contribute to further diversification and ensures a balanced mix of existing properties.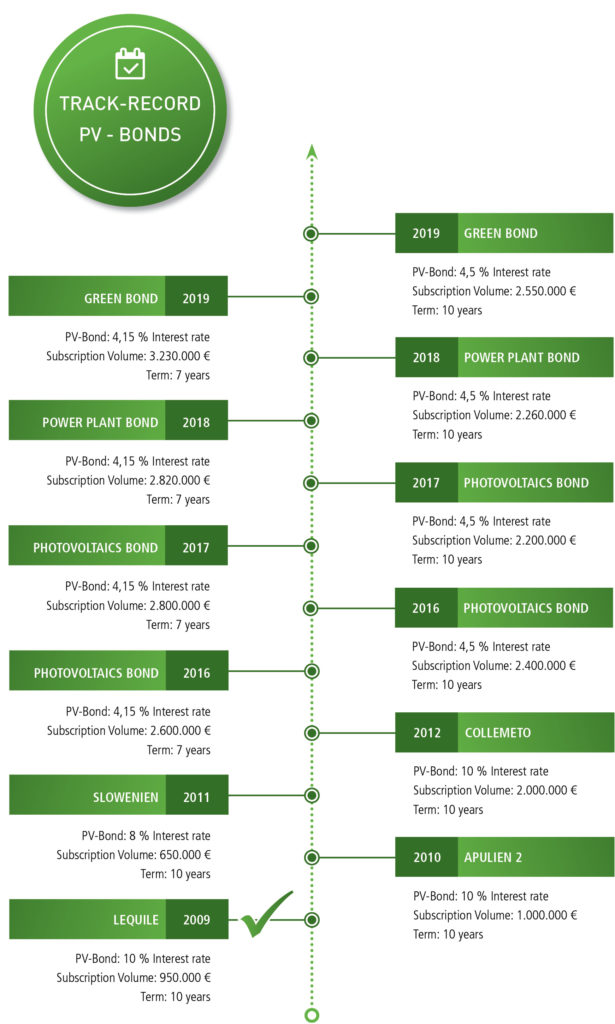 Vår affärs- och marknadssituation
Vår affärs- och marknadssituation
PV-Invest GmbH is the parent company of a group of companies which now generates electricity revenues from its photovoltaic and small hydroelectric power plants in ten European countries. The steadily growing portfolio now comprises 81 photovoltaic and five small hydroelectric power plants with a total capacity of 52.3 MW. Of these, 1.8 MW are currently under construction. In addition, there are a large number of new projects in the existing markets that are currently being developed. Under the brand name "Our Power Plant", the Group has already been active in Austria since 2013. This year, the sister company has now officially become part of the PV-Invest Group.