The MealPlanner- Personalized Nutrition Technology
At The MealPlanner, we believe that nutrition is medicine. To be able to live healthier lives, we need to include proper nutrition as an integral part of medical treatment, but most importantly as the core element of disease prevention.
Tarinamme
Tarinamme
Diet related diseases - a major problem in the 21th century
The MealPlanner is a team of passionate nutritionists, medical experts and culinary chefs believing that many of our 21st century diseases are caused by malnutrition. In the course of the last few decades our lifestyle has changed, but the food we consume and the way we eat it has also changed dramatically. Due to those changes, every 5th person in the western world suffers from diabetes or pre-diabetes. Every 10th person has high blood pressure, and almost every 3rd person suffers from some kind of food allergies or intolerances. 
These same health issues are now also shifting to the developing countries. We are exporting them to India, Southern Asia and Africa along with our ways of living. The highest rate of diabetes now comes from those countries. If we don't change our way of dieting, in 2030 every 3rd child will have diabetes, and many children will not survive their parents. 
In addition to its' global scope, malnutrition is also a very complex problem. There are many methods of dieting aimed at feeling better, becoming healthier or losing weight, but no single method to solve all problems. In fact, a large majority of diet attempts fail to reach their target.
At The MealPlanner, we want to solve these problems with the help of technology and the science of nutrition, behavior and body metabolism.
Our story
Our founder Sophie Michelin was born in a family with 4 generations of women living together in Budapest. Cooking was a daily activity by the grandmother and great-grandmother. For them, Sunday lunches together with the family were a normal thing. Cooking a clarified meat soup for 3-5 hours for lunch was an easy, weekly thing. They hardly took any medication, as the women in the family knew what to eat, and generally they were hardly ill or overweight. 
After traveling and living in different countries and moving to Finland, Sophie realized that what is absolutely normal in Central & Eastern Europe or the South, isn't at all that common in countries like the US, the UK or the Nordics, i.e. the countries from where most of the diet related problems come. She was also shocked to find out that many sicknesses, such as a simple flu or depression was usually treated with expensive medication with sometimes unclear efficiency. Perhaps this could be avoided with proper nutrition? This was the core reason why she wanted to start The MealPlanner, to help people know how to cook healthy food for themselves, their children and their families.
The MealPlanner is born.
Sophie started to build a team around that philosophy. First with diet experts and product owners, then an in-house well-designed IT & product development team. And finally a sales & marketing team with a long term objective to make changes globally.
The team quickly realized that to make changes it's not enough to create consumer health-apps to make people follow healthy and preventive diets. This would take a lot of time and large investments in marketing, and the result would still be uncertain. Instead, the disruption should be done top-down, starting from the corporate and regulatory level. Since then,
The MealPlanner is actively present at many health events to speak about and promote the importance of merging Healthcare and FoodTech, and integrating food into medicine. For example, they were selected to participate on the European HealthTech Investment Forum in Helsinki, as well as the Future of Healthcare in London.
Healthcare reform
In Asia, the doctor traditionally gets paid when the patient is healthy. The healthcare system is designed to emphasize illness prevention. It is in the best interest of the doctor to have healthy patients. In contrast, in the Western world people start to pay their doctors only after getting sick. Visit after visit, with lab tests adding to the bill. The financial interest of the healthcare system is to keep the patient sick.
Developed countries such as Finland are now in the process of rethinking their whole healthcare system. One of the most significant changes is to reform occupational healthcare and private clinics offerings. Instead of paying for a visit when the employee is ill, companies pay a monthly fee for each employee (for example Heltti works like this). This way, the clinic prefers remote treatment, and will focus more on preventive measures. The change will come from the regulative level, turning the whole private healthcare sector upside down . Competition will increase, and the winners will be those healthcare providers who digitize quicker and create more prevention and remote based services. Prevention is equal to a healthy lifestyle, i.e. nutrition + physical & mental balance. Without proper nutrition there is no prevention. And at this moment there are really few technology companies who are capable of offering their solution for private healthcare providers. The MealPlanner is one of those few.

Liiketoiminta- & markkinatilanteemme
Liiketoiminta- & markkinatilanteemme
Our market is big and growing fast
Our market combines preventive healthcare, diet consultation, mHealth and FoodTech.
The mHealth app market size alone was valued at USD 4.19 billion in 2016. Mobile applications are anticipated to improve treatment outcomes and lifestyle while minimizing the incidence of chronic diseases.* The market is expected to reach USD 112 Bn by 2025.
The estimated number of nutritionists & diet experts globally is 180 000. In addition to that, we have an interesting secondary target group of B2B fitness & lifestyle coaches, which is 4 times larger. The average number of end clients of this group is 30-50. This means that our nutritionist platform FoodToDo as a B2B2C product has over 6M potential users.
Private healthcare providers & health insurers. According to EU studies, the developed countries spend an average of 9% of their GDP (8% in public, 1% in private sector) on healthcare. Out of this figure, the private sector is spending about 10-12% on research and development, with Finland, Sweden & the Netherlands as the leading countries.
The food industry is still behind in personalization due to the lack of transparency. Food services, restaurants and online deliveries offer a huge market potential to convert to promotion & technology sales revenue.
Platform as a Service solution for nutrition MedTech
Personalized nutrition and platform solutions are the key to prevention to stop the lifestyle-related disorders. At the MealPlanner, we create digitized nutrition solutions for corporates, private and public healthcare, occupational healthcare & diet professionals to make nutrition personalized, easy to understand and hassle free.
In the last 2 years we have worked to develop the core technologies of the company and we have made powerful partnerships with the diet expert community in the UK. As a first country, in Finland we have built partnerships with major players (such as: Heltti, Terveystalo, OP) in the occupational healthcare and private clinic sector to change the healthcare approach, integrating nutrition as a part of the whole. We launched our first product FoodToDo, a platform between diet experts and their clients, allowing us to create a significant support base from the nutrition society. As a next step, we are going to market with our technology solutions towards private healthcare providers.
Crossing the chasm - our disruptive market approach
At The MealPlanner, we want to reach as many consumers as possible with our technologies and platforms in order to achieve our mission.
Most of the companies in our target field are early adopters, fitness & wellness lovers or people with weight or obesity problems. We don't believe that the epidemic of overweight, diabetes or high blood pressure can be solved bottom up. This is because the people who have dieting issues are generally not focusing on their health enough, and act mostly when it is too late.
The solution has to be integrated invisibly into their daily life. Long-term changes can only be achieved top down.  It has to be integrated step by step into the healthcare system. That is why at The MealPlanner we focus on the healthcare industry and targeted health issues.
Products
FoodToDo, our nutritionist platform as an ambassador
Our first product, FoodToDo, is a B2B2C platform between diet experts and their clients. We digitize the work of the nutritionists, giving them a solution to manage their clients easier. It allows us to have a significant crowd of ambassadors to support our beliefs and push towards the private healthcare sector. The product has been launched end of February 2018. Our first client is ZestLife UK, 80 nutritionists and 400 patients started to use the product and we are adjusting it before staring our sales campaign in the UK on the 1st of May with 12.000 nutritionists.
MIRA Health
MIRA Health-My Insulin Resistance App is primary for women to pre-assess their symptoms to determine insulin resistance and treat it with other great tools of The MealPlanner. Women are in the highest risk to develop further conditions due to insulin resistance. Diabetes, gestational diabetes, PCOS, and infertility are the severe conditions of an untreated Insulin resistance. The project recieved 60k EUR grant from the EU Permides fund in order to develop the pre-assesment tool. A contract has been signed with National Netherlands Sparklab incubation program to finalize the product and launch it with the support of the National Netherlands Insurance. We also have in the pipeline a similar solution for anemia and pre-matured birth prevention.
Occupational Healthcare product for prevention and productivity
Based on the same technology and in cooperation with occupational healthcare providers in Finland, we develop our solution to be used in companies to improve employees' nutrition.
Business Model
Platform solution
To be able to achieve long term, permanent dietary changes, the consumer needs a one stop shop solution. A solution which understands the user's physiological needs, translates it to food choices and at the same time offers tasty food hassle free. Diet and nutrition experts, food services & users are all part of our platform.
Our platform solution works both as a direct consumer application, and with our private healthcare providers as an integrated solution into their healthcare offering.
API Licensing
Our technologies can easily be integrated into existing health & wellness applications to offer additional value both to the end user and the provider of the apps.
Native Marketing & Promotions
Through our platform healthcare providers and diet experts can offer their services to consumers. Food companies can promote evidence based healthy food, thus improving both the health of the consumers and the business of the companies.
Future Growth
With 44,5% CARG in the industry and with the transformation of the healthcare systems the growth potential of our business is expected to be extraordinary.
FoodToDo – Platform
During the first half of 2018 our go-to-market will focus primarily on the UK and Finland. Our first product FoodToDo will be launched in the UK among the nutrition society, targeting more than 12 000 nutritionists with home practice. This market allows us to fine-tune the product for future growth. We already have pre-established connections for further English speaking countries: Australia, New Zealand & South Africa. Those markets are expected to be launched right after product adjustments in Q2-3 / 2018.
We are preparing a US launch at the end of Q3 / 2018, creating a scaling plan and series A funding specifically for the US market. We are working with the Horizon 2020 funding program to localize in the EU. Localization in the EU requires language and food culture adoption. We are aiming to do that with the SME funding of Horizon 2020.
Private Healthcare
We started to develop our private healthcare offering in Finland and expect to have the final solution ready during Q2 / 2018. We already have requests to launch the solution in newly built hospitals in Denmark and the Nordic region. We are building partnerships for commercialization in each country to grow fast in the private healthcare sector.
API sales
The ultimate goal of the MealPlanner is to become the leading technology company offering API solutions for other mobile health technology companies, as well as offering smart data to corporates to create new products and services in preventive healthcare and non-communicable disease treatment. Our own products, such as FoodToDo and MIRA Health will become separated entities under the MealPlanner, licensing their technologies.
Why invest in the MealPlanner:
There are hundreds of Wellness & Diet Apps, and all of them work with more or less the same model: Get your freemium and we convert you somehow to premium. Or start the trial, pay a subscription afterwards and in 6, 10 or 12 weeks you will lose weight. Usually these companies burn millions on marketing and are financed by capital injection. In fact, they only convert 3-8% of their freemium users. The MealPlanner uses an inverse funnel: We make B2B companies invest into prevention, because it saves money for them and make the end user healthier over the long term.
We believe we are able to produce the most successful approach for eliminating diet related diseases.
We are in talks with several larger technology companies and VC's who have expressed interst in our technologies and the possibility of participating in our coming A-round. 
The team of 26 people works together as one cell with 8 different nationalities from diet experts to technical PMs & growth hackers to become one of the leading companies globally.
The market is growing 44,5% annually and is estimated to be 90 billion EUR in 2025.*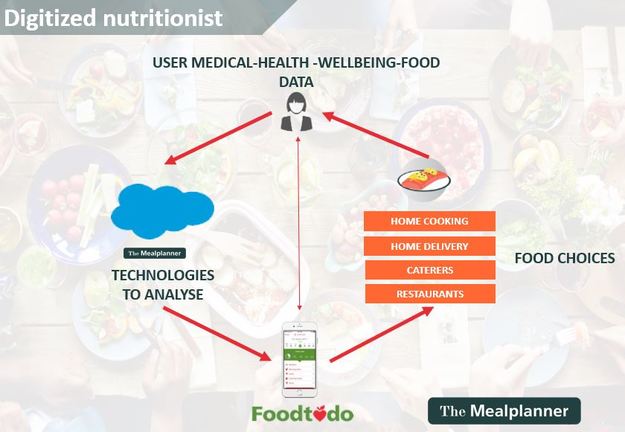 Tiimimme
Tiimimme
The strength of our company is the structure of our team. We combine technology, science and business expertise. Our operational headquarters is in Budapest allowing us to hire smart, enthusiastic talent with a reasonable budget. We currently have 26 full time people of 8 nationalities in 3 different cities. Our team is split into 4 major departments:
Dietetic Health Intelligence: dietitians, nutritionists, and chefs working together designing the intelligence and the evidence base of our solutions. The team is very international allowing us to manage localization easier to different countries. Our CSO is Finnish, our dietitians/nutritionists are from Hungary, the UK & New Zealand.
The in-house tech team includes technical PMs as well as developers (backend-frontend & cross platform apps), a big data engineer, a data protection officer and a cloud architect.
Our product development team has UX-UI designers & site builders and our product owners.
Our business team is the fastest growing team at the moment and again with many nationalities emphasizing multi-cultural collaboration. The team includes experienced software sales persons as well as growth-hackers & marketers.
The team has successfully worked together for the past year creating all the processes and focusing on the common vision, to make nutrition a part of medicine. A well-designed bonus program ensures the motivation of our co-workers.
We created an advisory board as well. The members are so far:
Mikael Fogelholm –  Professor of nutrition – University of Helsinki
Joseph Mocanu – life science & digital technology expert
Timo Teimonen – expert, business angel – formal Head of Nokia Ventures
Patrick Halford – Business mentor & expert on AR-VR technologies
Hannu Rintala –legal advisor
BE ONE OF OUR INVESTORS AND BE PART OF THE MEALPLANNER FAMILY.
Riskit
Riskit
Listaamattomat kasvuyritykset ovat korkean riskin sijoituskohteita. Näihin sijoittamiseen liittyviä riskejä ovat muun muassa sijoituksen menettäminen, heikko likviditeetti, epäsäännölliset tai harvinaiset osingot sekä omistusosuuden diluutio. Tutustuthan tähän riskivaroitukseen ennen kuin sijoitat korkean riskin sijoituskohteisiin.
On suositeltavaa, että perehdyt aina sijoituskohteisiin huolellisesti, jaat riskiäsi hajauttamalla sijoituksiasi useisiin eri riskiluokan sijoituskohteisiin ja tasapainotat sijoitussalkkuasi myös korkeamman likviditeetin sijoituksilla. Kiinnitä huomiota myös kohdeyrityskohtaisiin riskeihin.
Pitchin liitteenä on luottotietoraportti, jolla voi olla merkitystä sijoituspäätökseen.
The risks are reviewed on a quarterly basis by the Board. The Management board conducts quick assessments of risk management on a monthly basis to be able to act in an agile way.
Competition
Our sales & marketing team is following up the competition on a monthly basis and adjusting SWOT analyses quarterly. Our first product FoodToDo has 3 significant competitors, but as the market is far from being saturated, the competition doesn't make a significant impact.
Resources
As a technology company with in-house developers, the increase in salaries for tech experts can have a direct effect on our operational budget. In addition, there is a risk of losing our high value co-workers. Most of our tech team members has been worked together earlier, so they stick together, but this is also the risk if they move, they might move together. We are keeping them motivated with a great working environment, flexible work time, independency and bonus program.
Also hiring new developers is a challenge, so our solution is taking young talents without any developer background and we are training them from day one. We just had the first trainee turned to a full valued App developer.
Product
Our first consumer product is just out on the market. We are now getting feedback and adjusting the application to the user expectations. Product adoption could take more time than expected, thus creating delays to our revenue development. This is one of the reasons for raising money, to secure our cashflow even with delays on sales.
Technology
Security is the main technological concern. We have recently hired a security engineer to review our system and prepare for the GDPR expectations. Our technology and our APIs are well documented; our architecture and infrastructure however need to be better documented.
Partnerships
Our long-term success depends on our partnerships. Cooperation agreements with private clinics and healthcare providers take time to establish. We have accounted for this process already in our forecasts.