Renthia - The future of renting properties
Renthia is a digital platform connecting homeowners with tenants by automating 90% of long-term renting. After four years and a growth of 570%, the PropTech company is set to engage with the massive global rental market.
Our story
Our story
Renthia is a PropTech platform, founded in 2015 allowing homeowners to escape struggle and cost-consumption when renting out properties by offering a complete one-stop solution for long-term renting. Thanks to 90% of our processes being automated as well as the great value provided, Renthia is today one of the leading renting platforms in Sweden and ready to penetrate the massive global rental market.
A new world of mobility and human relocation is setting new, never-before-seen demands on the rental housing markets globally. 66 million expatriates are leaving their homes yearly and up to 85% of them plan on staying abroad for more than six months. During this period, a sublease of their domestic home is the favored option. In Sweden alone, a market which is considered to be one of the most advanced rental markets in Europe, around 200,000 second-hand contracts are signed yearly.

In the next few years, the expatriate relocation number is estimated to reach 87 million which together with mass-production of residential properties in urban areas globally, opens up a huge market for Renthia. With the rental market growing and homeowners incapable of renting out their homes without a struggle, there is bound to be a solution. The time-consumption and money spent, not the least to find tenants just be left with non-paid rents and damaged properties as well as legal disputes enabled the birth of Renthia.
Back in 2015, Co-founders Marcus Björke and Stefano Scardia encountered the struggle of renting out a home, yearly experienced by millions. As expatriates moving abroad, they left their domestic homes to dust, simply because there was no company leading the way to rent and manage it for them. As a result, Renthia was founded.
What started as a retail service for homeowners and tenants therefore soon came to develop into the same business but with more quantity all while preserving the same technologies. Today, amongst Renthia's customers we also find multi-homeowners, or Property Developers, who have similar, yet different challenges as private homeowners. Imagine having hundreds of rental properties, thousands of tenants to manage and even more support and service matters to deal with.
By March 2019, Renthia has had over 35 000 sqm managed, SEK 50,000,000 in rental transactions, 30 different customer nationalities, 120,000 nights booked and on average 13 months customer retention.
What is the secret behind the success? We believe that the success comes from the heartfelt rental market situation enabling the company to focus on the value provided and service shared with private homeowners. While getting to know the real struggles and appreciations of these homeowners, Renthia has used this knowledge as a foundation of what today also seemingly adds value to Property Developers' residential operations.
Vision: Renthia's vision is to be the biggest digital rental partner by creating a frictionless renting experience.
Why invest in Renthia?
Traction, growth, market potential and timing. In Renthia, you will invest in the future of long-term renting. With a self-built platform optimized to meet the demanding requirements of customers and is most importantly scalable in all aspects.
The company has grown massively since 2015 and with the new strategy of directly signing agreements with Property Developers (multi-homeowners), we are leaping uncountable steps with one single agreement. The global rental market is massive and growing with no intentions of slowing down. There are market shares to be exploited, millions of potential customers and Renthia has the strategy to reach them. Since the first year, Renthia has grown with 570% and going forward, the goal is to have minimum growth of 100% each year.
The turnover of 15 top countries in the rental market in Europe alone is estimated at Eur 25,7 billion with UK, Germany, and France at the top representing close to 65% of the turnover. This has been recognized and is also one of the main reasons why PropTech is a blooming and hot topic amongst investors in the UK. PropTech (property technology) is the use of various technologies to transform the property market in different ways. In PropTech, digital innovation is used to address the needs of the property industry.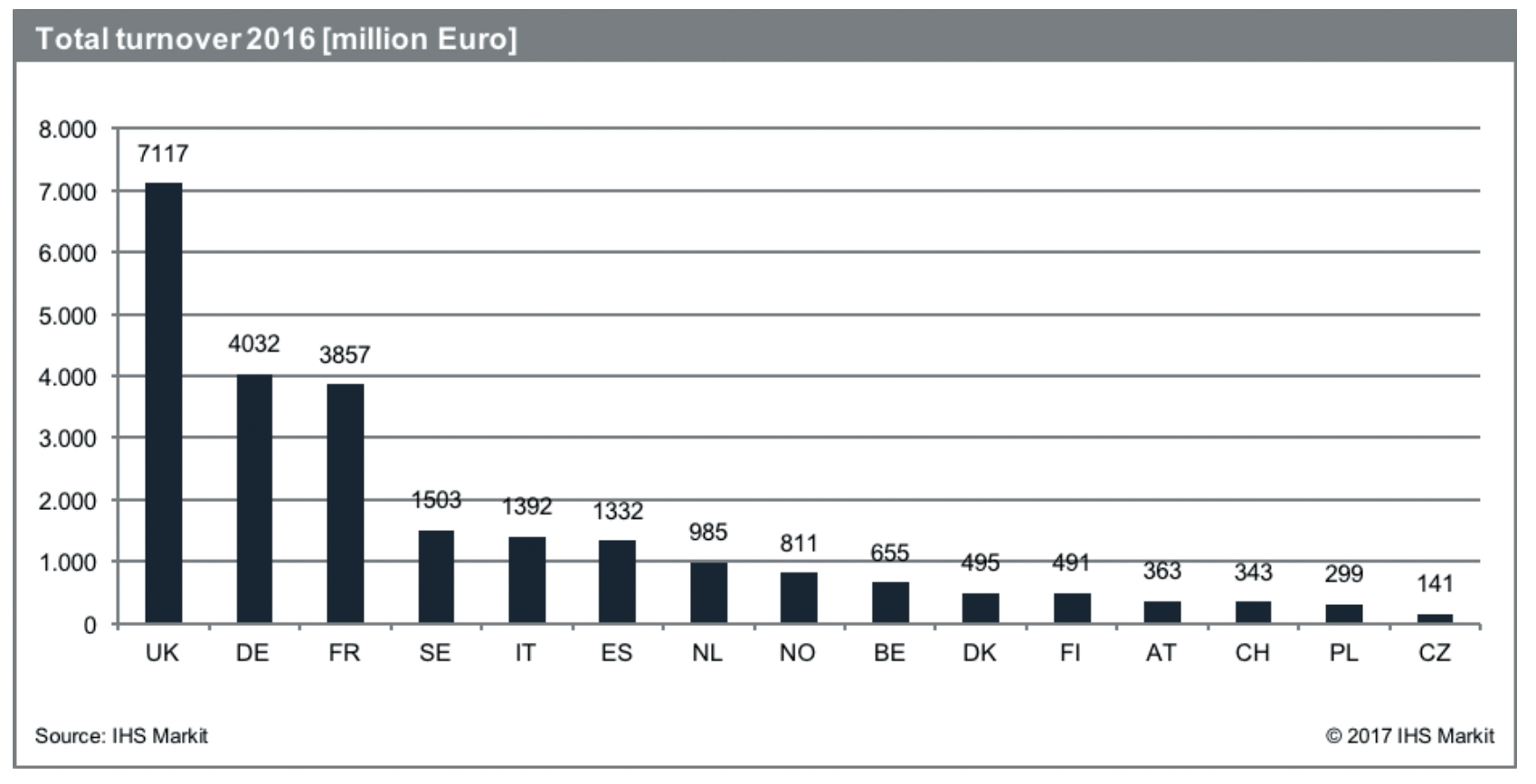 Renthia has already an establishment in Sweden and has upcoming operations with leading Property Developers in the foreign European markets of Estonia, Latvia, and Norway. With a clear Go-To-Market strategy, it takes Renthia approximately 10 days to start operating and finding tenants for these Property Developers residential rentals.
Our business & market situation
Our business & market situation
Renthia Business
Renthia has built a profitable and scalable business model that has grown its revenues by 570% in 4 years. Renthia offers a completely digital renting solution for homeowners and tenants and is purely operating with residential long-term rentals. With a self-owned and self-developed IT-system with over 15,000 IT hours spent, Renthia's service is 90% automated and completely digital making the renting process frictionless. 
Homeowners can simply book a personal meeting with a Gig-Agent and that's it! The personal meeting means that the Gig-Agent does a site visit to the property to create a complete listing by taking pictures and recording a video, while also creating inventory and inspection lists.
*A Gig-Agent is an On-demand part-time worker, hired and educated by Renthia to take on assignments on behalf of Renthia. The Gig-Agent has different assignments such as personal meetings, end-inspections, and key deliveries.  
With Renthia everything is managed and overviewed from one single place and with one single contact. At the same time enabling homeowners to escape agency fees and unnecessary time-consumption. This is what we call value!
Renthia's services are all provided and managed from the website and are pivoted towards the two different stakeholders, which are Homeowners (private homeowners and Property Developers) and Tenants. Both stakeholders are given clear dashboards with a summary of all transactions, payments, income, contracts and other important information.
Business model
Rental transaction fee: Renthia charges 10% from each rent every month during the entire renting contract. On each rent desired by the homeowner, Renthia adds a 10% fee which is kept by Renthia as a service fee. The average monthly margin is SEK 1,400 and the average customer retention is 13 months. Renthia's business model allows the company to offer the entire solution free of charge to homeowners all whilst allowing homeowners to cut free of agency commission fees and time-consuming manual transactions.
Renthia has a Customer Acquisition Cost of SEK 2,400, Lifetime Value of SEK 18,200 which leaves us with the CLTV/CAC ratio of 7,5 meaning Renthia is actually missing out on potential business since the ideal CLTV/CAC ratio is set at 3. As our rent income is generated over time, liquidity issues occur which means that with funding, we can reach the rest of our potential business.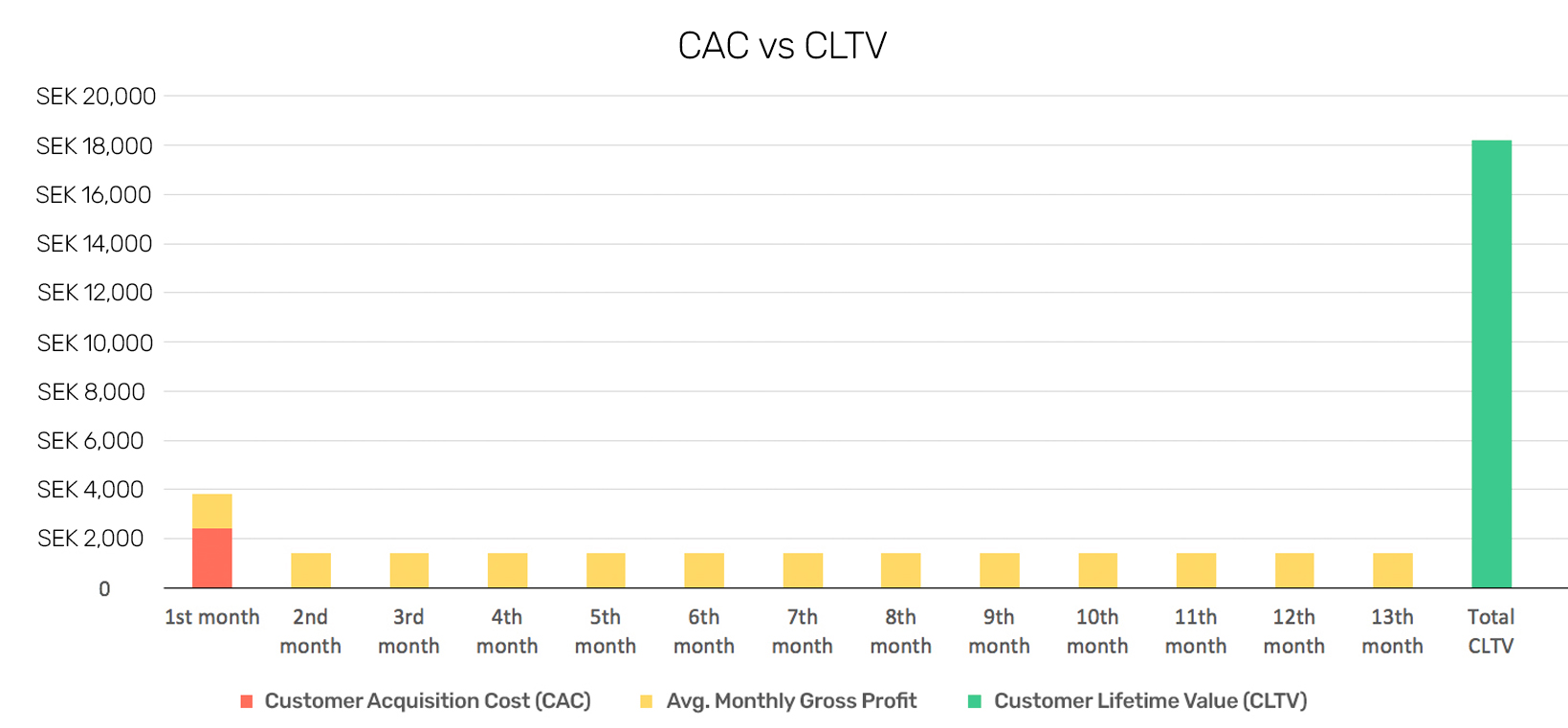 Service incomes: Renthia has further sources of income in which we see a bright future. With an increase of in-home services, such as cleaning, maintenance, handymen, plumbers, electricians, and gardeners. Renthia is getting commission-based income for service matters thanks to partnerships with leading service players on the market. In case of any service related matters, Renthia forwards the clients to its partners at a discounted service price, and Renthia gets a commission for the lead. 
Renthia service offerings
- What we offer tenants
Tenants in need of rental accommodation can visit the website to browse, and apply for any rental property available. No queues, no hidden fees. Once a tenant applies, Renthia verifies them by performing the following controls:
Reference control
Profile control
Credit control
Once approved by Renthia and homeowner, the tenant can simply sign a digital contract straight from their inbox.
- What we offer homeowners
Homeowners in need of subletting a home are offered an easy and safe renting process. Many homeowners are unaware of the renting laws, some don't have time and others cannot manage all questions and inquires due to residency abroad. As a service partner, Renthia allows any homeowner to simply sign up, book a personal meeting with a Renthia Gig-Agent and be done with it. This minimal homeowner engagement is possible thanks to our automated processes. On the meeting, the Gig-Agent creates the property ad, including photos, video, and gathering all necessary information.
Renthia starts advertising internally and externally on partner property portals. Upon received applications, the homeowner gets notified and can simply sign a digital contract straight from their inbox.
Property Developers tend to have either difficulty selling or simply have residential properties for rent. Renting fifty, hundreds or thousands of properties means equal or more tenants, hundreds of service questions and thousands of support tickets. We offer Property Developers a chance to escape agency fees and time-consumption by using Renthia. The Renthia platforms allow Property Developers to easily sign up and be done with it. The rest is done digitally from Renthia's platform. Instead of hundreds or more contacts to manage, they have one, Renthia, so that they can focus on what matters, Key Product Indicators, all assembled and presented in their Dashboard login at Renthia's website.
Market & Competition
With market shares to be exploited and 66 million expats globally to reach already today, the company is expecting to take-off to newer heights. The mentality of consumers is changing and there is an increase in mobility which makes renting a better option than buying. These patterns are seen and similar across the globe. In Europe, there has been a steady increase in renting as tenure status over the last 10 years. In the European Union renting represents 30,7% of the tenure status, while the remaining 69,3% is covered by homeownership.
The increasing trend for renting in Europe is correlated to the growing European population, mobility increase amongst expats as well as increasing construction of residential properties. The clear correlation between the penetration rates for construction and the rental market turnover is also a clear indication and important metrics for Renthia when entering new markets in Europe. As part of our marketing strategy, we have established and developed healthy partnerships with the top expat forums and property portals allowing us to engage and reach the above-mentioned expat audience.
The Real Estate market offers plenty of companies within the field of renting, yet there are no clear competitors as digitalized, and as automated as Renthia for an end-to-end renting solution. On the Swedish market, we find Qasa AB, operating solely with private homeowners and tenants on the second-hand market in Sweden. The company was earlier this year acquired by Schibsted Media Group, a global leader of online marketplaces and technology ventures with over 200 million users in over 20 different marketplaces around the world. This acquisition is estimated to have cost Schibsted around SEK 100,000,000 as they are looking to enhance their expansion operations using the platform of Qasa. What gives Renthia an advantage is the new strategy of approaching property developers, with an in-detail developed platform already open for use worldwide with no GEO restrictions. This enables a fast penetration of foreign markets.
As a result, Renthia has finalized agreements with leading players within the industry of Property Development in Estonia and Latvia as well as in the finalization phase with leading players in Norway. With these signed, as well as upcoming agreements, Renthia will surpass the exponential growth as these agreements alone mean around 700 new listings from Q3 2019.
In May Renthia's PropTech solution was recognized as the company participated in the Built World Innovation Contest 2019. Amongst 2,600 tech companies, Renthia was chosen by an impressive jury to join the top 50 creative technology startups within Real Estate. Renthia is the only Scandinavian company represented in this stage. In June, Renthia was also selected as one of the top 20 PropTech startups to attend yet another pitch conference. This time in Tokyo on September 20th. This gives a strong indication of the company's potential.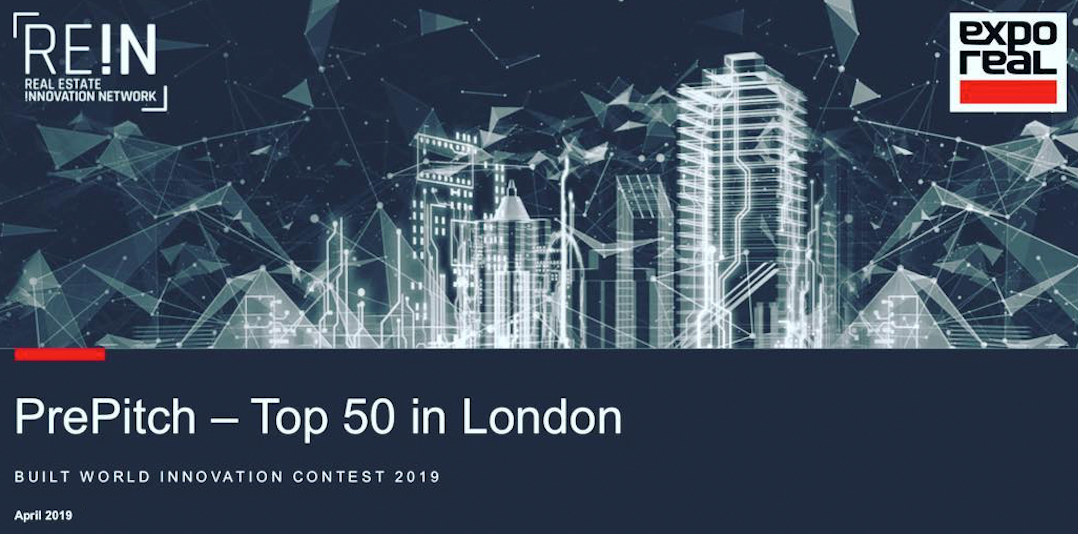 Renthia is the ultimate solution for Multi-homeowners and Property Developers' residential operations. Thanks to mass-construction of residential buildings as well as the ongoing and further to be boosted option of renting, Property Developers need a solution for their renting operations. Until today the option has been land-based rental agencies and/or hired full-time staff paid only to advertise on traditional marketplaces. Renthia has identified these costs, time-consumption, and challenges and optimized to offer one of a kind value to Property Developers as well.
This new marketing strategy of Renthia was identified a while back and is expected to take the company to faster and more immense growth.
Our team
Our team
Renthia's team consists of a well-balanced combination of ambition, motivation, and expertise. The company was Co-founded by Stefano Scardia and Marcus Björke, the latter of which is also the CEO of the company. Marcus has managed to take the company from idea to a value providing platform together with Head of Marketing Karzan Azizi and Head of Development Andrew Sembatya. Apart from these core team members, Renthia also consists of flexible Gig-Agents who work on the field On-demand to cover various assignments. Supporting the development and growth of the company are our business angels and board members who have excellent investment portfolios and lots of business experience.
Risks
Risks
Unlisted growth companies are high-risk investments. Making a high-risk investment involves risks, for example the risk of losing your investment, lack of liquidity, irregular or rare dividends and dilution of your stake. Please study this risk warning before making a high-risk investment.
It is recommended that you familiarize yourself with the investment target of your choice, reduce risks by investing in several investment targets and balance your investment portfolio with more liquid investments. We also advise you to pay attention to the Target Company specific risk descriptions, which you will find included in the pitch materials.
Attached to the pitch there is a creditworthiness report that may be relevant for the investment decision
Market risks
Renthia's business is based on the movement of people and the development of housing infrastructure. The demand is increasing and trends are shifting. Although the demand for housing is estimated to stay high, trends such as co-living and other tenure options are factors to keep in mind. 
Competition risks
PropTech is growing and this has fast been recognized by investors in the UK, Germany, and France. In growing and evolving markets such as the rental market, there is always a risk that someone develops a similar platform or service, quickly attacking new markets. With the uniqueness in our technologies and strategies, we believe we can overcome these competitor challenges.
Political/Legal risks
Rental market regulation is always a risk since political decisions can heavily impact any industry or market. Although there have not been vast changes in regulations for long-term renting, short-term/holiday rental platform Airbnb suffered a set back in their operations in Spain due to restrictions in requiring a city-approved license from homeowners before listing on Airbnb.com. Renthia's business is however not dependent on one single market which is a good way of allocating and reducing the risk.
Liquidity risks
Renthia generates its substantial income over a period of 13 months on average. The rental transaction fee of 10% is paid monthly by the tenants, meaning CAC is invested in acquiring the customers. However, the ROI is incoming over 13 months. Although the funds requested are sufficient, non-liquidity issues can never be guaranteed.
Partner operations risks
Since partnerships are a big part of Renthia's growth strategy, the dependency of partner operations working aligned with our vision is important. Were partners of Renthia to change their business model and/or terminate the agreement with Renthia, the risks are that Renthia's operation might be affected negatively depending on the purpose of the partnership. However, due to high quality and validated long-term agreements, we are comfortable in solving any upcoming partnership terminations all whilst constantly looking for new valuable long-term partnerships.
Personnel risks
There is always the risk of key competencies or employees leaving the company and this is difficult to predict. However, Renthia is managing the risk by offering key competencies and employees are granted warranty options.