Weecos.com – the pioneer of sustainable lifestyle
In collaboration with Nordea
Weecos is an online sustainable marketplace and ready to scale globally with the vastest range of sustainable products in the Nordic countries. Over 260 independent brands and a committed Weecos tribe. Be a game changer with us!
This content is also available in
Finnish
Our story
Our story
Our consumption habits are insane. That's a fact we, life-long friends Anna and Hanna, started to ponder seriously in 2011. Fast fashion had taken over in the late 90's and changed attitudes radically – everything became almost worthless. Where had all the almost everlasting clothes gone? Who and in that conditions had these summer sandals been made? And to whose pockets my money from this dress really goes? We noticed that many of our close friends and relatives were pondering precisely the same.
There was a clear need for products that respect people and the planet. At the same time, bold, responsible brands were founded all the time in Finland and around the world. These brands, however, were very hard to find or far beyond reach. Although we tried, we couldn't find a service were these responsible brands would have been gathered together. This inspired us to develop a solution – a digital centre of sustainable lifestyle, Weecos.
From the very first steps of Weecos, we have had two goals. First, we want that the quality products of the sustainable brands are easy to find by those customers who want to purchase products and services reliably and according to their values. Second, we want to change people's attitudes towards a more conscious way to consume and a sustainable lifestyle. We must take care of our planet and keep it viable.
Our vision and mission
Weecos is the first marketplace in Finland and other Nordic countries focusing just on sustainable design and independent brands. The content of Weecos as well as the wide range of sustainable clothing, wellness and interior design products, are remarkably unique. There are even globally very few marketplaces that work with the same business concept.
Our vision is that within five years, Weecos is the digital home of the global Weecos tribe who want to be game changers and are looking for an inspirational, sustainable lifestyle. We believe in the power of community, reliability and transparency in everything we do.
Our mission is
to be the counterforce for disposable shopping culture.
unite sustainable designers and brands with conscious minds and encourage people to make purchase decisions easily according to their values.
to affect society and the environment positively, not exploit the planet.
create a more sustainable future together with inspirational design brands.
Our core values are
sustainability
power to the community
transparency
reliability
adventurous minds
Weecos is the pioneer of sustainable marketplaces
The first version of Weecos was launched in 2013. Back then marketplaces were not commonly known in Finland and in addition to the great operators, such as Amazon, there were only a few other marketplaces. We often heard that we were madly brave as we were developing technically such a challenging platform. We have strongly trusted in our vision, no matter what, and within five years Weecos has become the biggest and only marketplace in the Nordic countries that focuses only on sustainable, value-based design products. The main product categories are women's clothing and accessories, children's clothing, interior design and wellness products.
As an online marketplace, our business model works very differently compared to a traditional webstore as there is no storage in Weecos. Each brand maintains their own Weecos-shop and the customer can buy several products from various brands at the same time. After placing the order, the payment is automatically divided between the different brands and the brands send the orders to the customers from their storages themselves.
The next remarkable steps are taken in early 2019 as we launch the new Weecos.com. In the new version of Weecos, we offer our customers, among the first ones in the world, the possibility to filter products according to their values. We also start to produce more content for our customers and combine a digital marketplace and a digital journal. Weecos is changing from a platform to an inspirational lifestyle experience.
Now, we are looking for funding for global growth and the development of a platform, which encourages and gives inspiration to a sustainable lifestyle.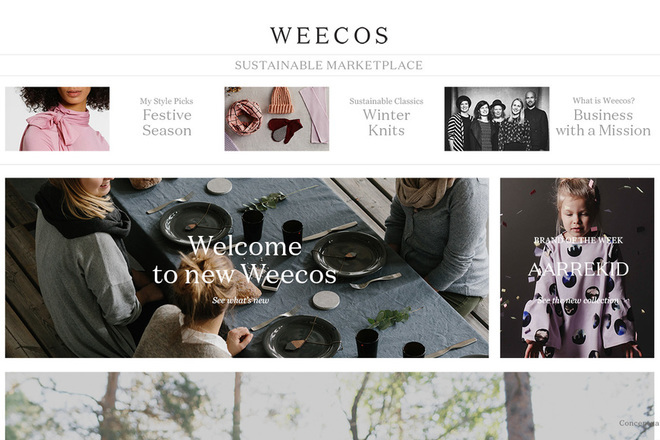 Our business & market situation
Our business & market situation
The unique and sustainably focused concept reflects the megatrends of consumerism
The content and product portfolio of Weecos are completely unique. Weecos is the first marketplace in Finland focusing only on sustainably produced products, and there are very few marketplaces even globally that work with the same business concept and base their product portfolio on the sustainability values. The reason for this is that it is technically extremely challenging to create a multi-store platform. It can be said that as a platform Weecos is tailor-made and developing a platform with such detail requires solid financial support as the business model is often commission based. Capital is needed in order to go through the challenging years before the critical mass of customers and a wide selection of products is achieved.
We are looking for sustainable and commercial brands to join the Weecos tribe. These brands have quality designs, inspirational stories to tell and also meet our sustainability criteria. Weecos is a solution to both megatrends that guide consuming nowadays. The megatrends are:
Consumers have become more conscious and are interested in the origins of the products they purchase. With their purchases they want to reflect their identity and values of sustainability.
Each brand in Weecos has passed our sustainability auditing, which is developed with experts. The sustainability of the brand and the products are evaluated by the points of views of economic, social and environmental sustainability. The brand opens and justifies, for instance, its material choices and the places of production. It is crucial to notice that sustainability is not a matter of black and white and the brand can be sustainable in many different ways. When evaluating a brand's sustainability, the whole life cycle of the product, from raw material and designing to sales and consumption, must be taken into consideration.
In Weecos sustainability is not, however, limited only to products. We want to support carefully made purchases and be involved in influencing society. The small and medium-sized brands in Weecos are able to develop new operating models, such as reducing textile waste by pre-sales. The brands are also able to solve societal challenges, such as the circular and sharing economy. Sharing knowledge on materials and the price structure, for example, promotes transparency and helps customers to consider their own consumption habits.
The business model of Weecos is globally easy to scale
Weecos has unlimited possibilities to scale globally due to its business model. As the platform divides the orders and the payment automatically for the brands, no capital for keeping up the storage is needed. The revenue model is simple: Weecos takes a 20 % commission of each purchase, and the rest of the revenue is automatically transferred to the brand or brands.
At the moment, there are no other flat fees for the brand than the commission. Weecos is, however, developing other revenue models and tools that enhance the customer experience and generate more sales via Weecos. With these revenue models, we can provide such services for the brands that they are able to develop their business and increase their visibility and sales.
In addition to Finland, products are sold especially to Sweden, Great Britain and the USA for the time being. We have just started our international sales and the possibilities to expand and grow sales are unlimited. At the moment, pilot companies from Sweden, Poland, Great Britain, Germany, Estonia, Lithuania, Denmark and Belgium have joined Weecos. In 2017, the total sales via Weecos were over 2 million euros, and the revenue was over 400 000 euros.
Remarkable international partners are developing the business with us
Weecos has partnered with Venture Capital, a major international corporation, and with Custos Group, a notable media baron who owns newspapers and magazines, for instance, in several countries. Custos invests in young companies who want to shake and change their own market with digital services. With the help of Custos, Weecos has access to their valuable ecosystem, which includes expertise in the creation and implementation of our Go to Market -strategy.
Our first phase is to go to the Swedish market. Visibility is built together in the Swedish market via Metro magazine and Metro Mode website, both owned by Custos Group. The agreement for the first phase is valid until the end of 2021. A similar entering to the UK and USA markets are planned but from these we do not yet have an agreement with Custos Group. The current agreement includes a minimum of 1 000 000 euros worth of media coverage and marketing in Sweden. For this, Custos takes 40 % of Weecos's sales commission on the Swedish market. This means circa 8 % of the total sales in Sweden. Custos Group has a 20 % ownership of Weecos.
The first actions in the Swedish market have been taken in November 2018 when Weecos opened a store to Happy Food Store (Ruohonjuuri), which is located in the city center of Stockholm. The collaboration between Happy Food Store and Weecos not only tests the functionality of the concept and product portfolio, but also the visibility in the new market area.
Between 2019–2021, our aim is to open the market areas of Sweden, the rest of northern Europe and USA. Scaling happens together with Custos Group's versatile, vast network and media. Also, skillful country managers and local customer service for people and the brands are needed in each country. The country managers are responsible for building and maintaining the country's brand selection, marketing and networks. Multilingual personnel to customer service ensure that the service level of Weecos is first-class and local. In addition to this, Weecos House -stores are built in the most important cities to enable the physical presence and interaction with our customers.
The group of conscious consumers is estimated to grow globally remarkably
In the global market, there is a clear, urgent need for Weecos and sustainable brands. The rapid growth of the market, digitalization of shopping and the megatrends, which include conscious consumption and shopping according to sustainable values, strengthen our vision strongly that there's a demand for Weecos abroad. As the pioneer of sustainable marketplaces, Weecos has the possibility to be, in five years, the digital game changer and conquer the leading position in being the center of inspirational lifestyle and sustainable marketplaces.
The behavior of consumers has changed in the past few years, and it will keep changing over the next few years radically. Sustainability, transparent actions and ethics in the long supply chains are the key elements influencing the buying decisions today. A quarter of the consumers in Spain and Germany state that the product's environmental impact is the main reason to buy natural and organic items. Similarly states a fifth of the consumers of in Italy and France. Two out of five of the British women, aged between 16 and 24, reveal that they want to support more environmentally friendly material in clothing. (Mintel Research, Europe Consumer Trends 2018.)
Nevertheless, it is not enough to just talk about sustainability. In this era, when news and information spread as quick as lightning, it is crucial not to greenwash people or break the promises given. Via social media people also doubt and question the actions of companies eagerly, and many customers are expecting companies to provide information more proactively. (Mintel Research, Europe Consumer Trends 2018.)
Researches also reveal that people are fed up browsing the enormous selection of products in gigantic platforms, such as Amazon and eBay. Instead, customers are looking for more personalized products and services that match their values. The meaning of the price tag has also decreased significantly. In 2017, the purpose of the price as a buying decision in USA had decreased actually 12,8 % compared to the previous year. This reinforces that people are looking for more meaningful content and products. Despite this research, however, price still remains the most significant factor affecting the buying decision. (KIBO Consumer Trends Report 2018.)
The current size of the market can be evaluated through the so-called LOHAS-group, meaning Lifestyles of Health and Sustainability. Worldwide, approximately 100 million people are counted into this group of conscious consumers. This means that 18 to 29 % of the consumers in the USA, EU and Japan belong to the LOHAS-group. In 2014, the size of the market was valued over 546 billion US dollars. In the USA this means 355 billion dollars. The growth of this market segment is also significant and increasing all the time in Asia as well. (Source)
The committed Weecos-tribe is ready to change the world
Weecos is not only a marketplace but also a tribe sharing the same values. The glue sticking us, the tribe, together is the will to create a world where people and the planet are respected. Weecos offers the platform for trade and for changing consuming habits. We all want to leave a better world behind us.
At the moment, there are over 260 brands, over 21 000 Facebook followers and over 11 000 Instagram followers in the Weecos-tribe. Also, 11 000 people order our newsletter. According to our customer survey, customers return to Weecos again and again for two reasons. First, we have a completely unique selection of brands at the same place. Second, the values of sustainability resemble the values of our customers. We have succeeded in uniting sustainable designer brands with conscious minds in Finland, and now we want to unite them globally.
Weecos is visited approximately 100 000 times a month, and around 1000 to 3000 purchases are monthly made. In 2017, the total sales via Weecos were over 2 million euros, and Weecos was visited by over 500 000 unique visitors. Our selection has grown to from six pilot brands to over 260 brands and almost 7000 products.
Competitors
Weecos leads the field in marketplaces in the Nordic countries and no corresponding product portfolio, even internationally, can be found from other platforms. Our platforms clear competitive advantage, compared to traditional webstores, is the one-of-a-kind and international product portfolio. The competitors can be found from global and slightly similar platforms.
Etsy – Shop for anything from creative people everywhere
When considering the product portfolio, customer base and how Weecos works, the closest competitor is Etsy. The American platform was founded in 2005, and it first concentrated only on vintage products. Nowadays, there is also a selection of handicrafts and mass-produced products. Etsy is the global market leader specializing in handicrafts and completely unique pieces.
ASOS Marketplace – Hot New Brands, Labels and Vintage Boutiques
The British ASOS marketplace is a platform for 800 independent brands, and the platform runs alongside the webstore of ASOS. The selection also concentrates on vintage products and marketplace emphasizes interesting, independent brands but does not stand on sustainability in any way. No information on ASOS Marketplace's sales volume cannot be found.
Tictail – Shop and discover emerging brands around the world
Tictail was founded in Sweden in 2012 and focuses on independent, new brands. At first, Tictail developed an easy-to-use webstore model, but during the past years, its business model has changed closer to the idea of a marketplace. Tictail has opened its technical interface for the third parties, and its strength is the versatility of applications, which enhance trade. In 2016, Tictail opened a store in New York. The product selection in Tictail is not focused on sustainability in any way.
Avocadostore – Eco Fashion & Green Lifestyle
Avocadostore is a German marketplace for sustainable and ecological products. The product portfolio is similar to Weecos. However, Avocadostore operates only in the market of Germany and does not create content intensively. In Avocadostore, it is possible to filter the products based on your values.
Our team
Our team
We have a skilled team of five members who are experienced in the fields of design, service design, marketing, communications and sustainable business. We share the belief that the world can be changed in terms of a profitable and responsible business. We believe in the power of community and doing things together. Therefore, we have successfully united brands, customers and non-governmental partnerships as a tight network around us. This committed ecosystem shares the same values as we do.
Our internationally experienced board of directors directs our strategy and operations towards an international breakthrough. The Finnish and highly experienced software company Druid is responsible for our technical development and has devotedly worked with us since the early years of Weecos. The award-winning and future-orientated Agency Leroy has designed the new look of Weecos, which is launched at the beginning of 2019. Agency Leroy takes care that the look and user experience in Weecos are top quality internationally.
Risks
Risks
Unlisted growth companies are high-risk investments. Making a high-risk investment involves risks, for example the risk of losing your investment, lack of liquidity, irregular or rare dividends and dilution of your stake. Please study this risk warning before making a high-risk investment.
It is recommended that you familiarize yourself with the investment target of your choice, reduce risks by investing in several investment targets and balance your investment portfolio with more liquid investments. We also advise you to pay attention to the Target Company specific risk descriptions, which you will find included in the pitch materials.
Attached to the pitch there is a creditworthiness report that may be relevant for the investment decision
Risks considering the marketplace concept
There are not even globally marketplaces that work with the same concept as Weecos. Therefore, the concept's functionality has not been proven internationally. There is a risk, in a concept such as sustainable marketplace Weecos, that a competitor would establish an online marketplace with the exact same concept and the competitive situation affects negatively to our financial result. The existing operators would have, nevertheless, a major work to be done in creating the credibility as a responsible operator. For many brands, it has been extremely crucial that the values of the marketplace operator and the whole product portfolio match the brand's values, otherwise they may not be necessarily interested in joining the marketplace.
Weecos has successfully been able to create a stable position in its market segment in Finland, and this brings us a huge competitive advantage. We are going for this lead position also internationally. Another competitive advantage is that Weecos's platform is tailor-made, and the development of a similar marketplace requires major investments, which many do not have.
Risks considering the business model
There are certain risks in the commission-based business model of Weecos. At the moment, we are dependent on the monthly sales, and there is only sporadically other billing that brings revenue for Weecos. Such billing can be in case of a fair or an event of education organized by Weecos. We are improving the earnings logic to be more billing-based. This improvement gives us the opportunity to decrease the commission of well-selling brands and to offer the brands such additional tools that help them boost their sales. This change also reduces the risks considering Weecos's business model, and we are also able to draw more brands and customers to shop via Weecos.
Risks considering reputation
Weecos is a value-based marketplace and business. Therefore, the quality and the origins of the products sold in Weecos affect our reputation. All brands maintain their own Weecos-shop, and this involves the risk of supervising the products, their origins and sustainability as our promise is to ensure our selection's sustainability. There is also a risk that the brands create content, which does not match the values of Weecos. This risk can be minimized with contracts and agreeing, for instance, that Weecos has the authority to remove such content that does not match our values. Also, poor customer service and bad publicity can have a negative impact on Weecos's reputation and profit. This risk is minimized as Weecos focuses especially on excellent, smoothly going customer experiences.
Risks considering the staff
Risks considering the staff are possible, but we estimate this risk relatively small one as the key persons and the staff of Weecos is well-qualified and very committed to Weecos, We also have a long-term and reliable partner responsible for the technical development of Weecos, and this reduces dependence on individual persons.
Risks considering security
There is always a risk considering security in e-commerce businesses. The Weecos-platform is secured with https-protocol and our long-term technical partner Druid supervises that all possible vulnerabilities are fixed immediately. Weecos also follows the EU's General Data Protection Regulation (GDPR).
Risks considering funding
The funding risks of a company are primarily related to the availability of funding and sufficient liquidity. Weecos need new rounds of funding to ensure the international scaling and opening new market areas. The business has become profitable during the fiscal year of 2017 and for now, the funding needed has been organized well.
Risks considering the international legislation
There is a risk considering the international legislation of e-commerce businesses. These risks are actively reduced with contracts and the careful, well-planned choosing of the right market areas. Weecos operates as the legal intermediary between the brand and customer and therefore, the risk of international trade related to the vendor is minimized for Weecos.
Risks considering the financial estimates
The predictions and plans considering the future are uncertain. There might a negative impact on the company's profit if the goals cannot be reached. This naturally affects the capital gain of investments and the ability to pay dividends. The business model relying only on commissions and sales is a risk as it is one-sided, and this risk is reduced by creating other revenue generation models alongside the commission.