InsightsAtlas-Making Tomorrow's Analytics AI Available Today
At the vanguard of the market, InsightsAtlas unleashes the benefits of an advanced AI already today by combining mass human intelligence with advanced machine algorithms. Invest in our preferred B-shares to support our international growth.
This content is also available in
Finnish
Our story
Our story
Campaign news
InsightsAtlas' biggest institutional lead investor Finnvera/EAKR-Aloitusrahasto Oy has already invested €74,998.40 in this equity offering. All in all they are committted to invest a maximum of 15 % of the total sum of the round.
InsightsAtlas combines mass human intelligence with advanced machine algorithms to solve the most demanding analytics challenges of our time. The solution allows InsightsAtlas to equip clients with the benefits of an advanced AI (Artificial Intelligence) from tomorrow, already today. Currently, the focus is on analyzing the biggest data repository in the world – the Internet and specifically social media – for the greater good of clients. 
Addressing largely untapped market that is projected to grow over 430 % in the next five years, the company is at the forefront of a major shift on the market from traditional tools to more modernized services. With its SaaS product on the market, in 2018 over 90 % of revenues recurring and marketing automation engine ready, the company is now ready to properly boost its international growth. We estimate our revenues to grow more than tenfold in the next three years. 
So far, InsightsAtlas has been focusing on its enterprise and medium-sized B2C clients from various industries ranging from Food and Beverages to Gaming while gradually beginning to internationalize its business. Amongst the clientele are, for instance, some of the biggest advertisers in the Nordics as well as global market leaders within their segment (see the website http://insightsatlas.com for detailed case stories).  As one of the next steps, the company aims to open a self-service online sales channel to enable increased scalability and faster overall growth. 
The Social AI concept was born back in 2016 when the company founders were working closely with their early clients, applying primitive crowdsourcing models to their customer insights processes (a company's Customer Insights Process typically means activities that relate to customer data and customer experiences, feedback and requests about the company's brand, product and services and how these are then being utilized to further improve products and services as well as overall business and customer experience). It quickly became clear that the biggest problem wasn't the lack of data but the lack of reliability in the results that traditional analytics tools based solely on machine algorithms were producing. The situation was extremely bad. Data and analytics were incorrect to such an extent that companies could not trust their insights anymore to effectively use it to their advantage. No machine in the world could understand neither several languages (often written with strong dialects) accurately nor sarcasm/irony – the predominant tone of communication on the Internet – the way a human can. 
With the rapid evolvement of social media during the last few years and the vast amount of data points it potentially provides to businesses, the problem grew even bigger. Pictures and videos started dominating the way of communication online (i.e. just on Facebook, even over 90 % of posts typically contain either a picture or a video). Analyzing only "text" wasn't feasible any longer. Companies were drowning in bad information. Something needed to be done. It was time to declare a war against inaccurate and false data.
InsightsAtlas Social AI automates the use of millions of native in-market human analysts as part of the analytics process integrated with machine algorithms. At the same time, it takes advantage of each action and conclusion made by those analysts and uses the information to teach algorithms to constantly become better. The solution makes it possible to interpret and understand even the most complicated content and its different nuances accurately. For example, besides text, the service analyzes the sentiment from pictures and video clips that consumers have posted online about different products and brands - a task that has proven to be almost impossible or inefficient in many ways for machine algorithms and emerging AIs. InsightsAtlas' SaaS solution transforms raw data originating from social media and other online sources into meaningful, ready-to-use analytics and insights that are mass-tailored for the client organizations' specific needs. The benefits are plentiful and come in the form of increased visibility and ROI (Return on investment) for marketing activities, as well as better strategic control of communication, but most of all clean and accurate data that can be used for multiple value-adding purposes. 
Our mission and vision
Our mission
We aim to be the most preferred and responsible analytics provider in the market for clean and accurate data that can be used for better strategic and tactical decision-making and improvement of future business-critical processes and solutions (like chatbots for instance). 
Above all, we believe that in the modern-day world, every company is entitled to clean and accurate data to fuel their business and decision-making instead of making compromises with quality and relevance.  Clean and accurate data is the value proposition that will completely change industries in the future. 
Our vision
To become the market-leader, first in Europe, and in other markets to follow. 
Why Should You Invest?
1. Fast-growing market (CAGR 28,2%, CAGR=Compound annual growth rate, see the picture of the growth at the end of the presentation in the "About Financials" section)
Enough room and potential on the market
Many new industries (e.g. Pharma) only just beginning to adopt the solutions 
2. Unique service solving crucial customer pain
Amount of images and videos has exploded and demand analysis besides text
InsightsAtlas has the strongest / most innovative / cost-effective tech to do the job with high technological barrier-to-entry
3. Basic fundamentals are in order 
Product is good and working, high gross-margin, satisfied customers
Solid pipeline, low customer acquisition cost in comparison to life-time value, CLTV/CAC >10
Strong team
Marketing Automation and Lead Generation Platform already created
4. Great investment structure for private investors with liquidation preference (1x) + 3 % interest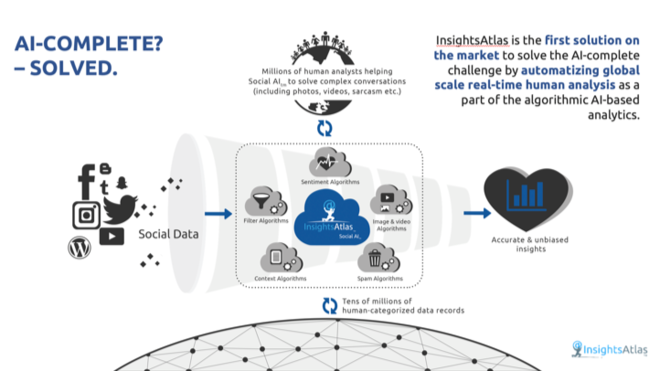 Our business & market situation
Our business & market situation
The world is full of unstructured data waiting to be processed. Megatrends, like exponential growth of Internet users, have paved way for the situation to become lucrative from many perspectives. Combined with market specific challenges, born both out of vast amounts of unstructured data (of which even up to 63-70 % goes unused according to multiple sources), and the fact that even mainstream tools are lacking critical technical capabilities, the market offers exceptional fast-growth opportunities for unique technologies like InsightsAtlas.
The Social Media Analytics part of the market has only recently properly emerged and is now growing very fast. It has been estimated that the global market will grow over five-fold in the next few years from 3,07 Bn USD in 2017 to 16,37 Bn USD in 2023 (CAGR 28,2%). Overall market for InsightsAtlas' solution is even bigger. 
The growth is being driven by increasing spend in analytics everywhere and the fact that many almost untapped industries are only now just beginning to realize and unleash the enormous potential lying within social media data. These industries include, for example, Pharma and Medical, Banking, Financial Services & Insurances and segments like Competitive Intelligence, Risk Management & Fraud Detection. Some of them, like Banking industry, were early adopters of Internet technology but now have been left dramatically behind from the current progress of the market. The fundamental problems are the same for all the industries; how and where to get high-quality data and insights allowing to make smart decisions on matters that are business-critical, how to satisfy the ever-growing need of quality data for future technical solutions like chatbots, and how to address the constantly transforming needs of their customers better – preferably in real time instead of recursively. Old-fashioned market research doesn't answer to today's demand when it comes to consumer behavior understanding.
We believe, InsightsAtlas is the answer. 
Our service portfolio (Software-as-a-Service)
InsightsAtlas offers a complete Service Suite consisting of SaaS solution equipped with advanced insights reporting module for analysis of social data. The current and future use cases for the analytics service include: 
Marketing ROI management  
Marketing ROI management is a service for management and marketing professionals. They use it, for example, to measure marketing ROI (earned vs. paid) and to understand true campaign performance as well as target group behavior from qualitative point of view. Key benefits:
Optimizing Earned Media ROI and Developing key KPIs 
Optimizing qualitative campaign performance
Sophisticated Ad Targeting based on user behavior and preferences
Influencer Marketing 
Influencer Marketing is one of the fastest growing areas of online marketing and also one of the fastest growing business areas for us. With our Influencer Analysis services, companies can easily incorporate modern Influencer Marketing methods as a crucial part of their marketing toolkit. Key benefits:
Finding the right Influencers (from unknown nano- and micro-influencers to well-known celebrities)
Measuring the true performance of Influencer Marketing activities across different platforms
For the first time, properly incentivizing Influencers based on their true productivity
Brand Management 
Understanding the real brand reception and reasons for variations in brand sentiment is vital especially for B2C brands. Things change fast in social media and it is critical to have one's eyes and ears open all the time. This can only be achieved through accurate sentiment analysis where InsightsAtlas is pioneering. Key benefits: 
Accurate and reliable sentiment analysis fueling strategic and tactical decisions
Detailed insight into underlying reasons for variance and development of indexes
Distilled development ideas and relevance analysis
Data Science
Data science is nowadays part of almost any major company's core or main support processes. It can be used to the benefit of understanding customer paths and behavior better. Cleanliness of data is vital for this purpose. Currently, even around 80 % of data scientists' time goes into collection, purification and reprocessing of data. With the help of InsightsAtlas:
Data Science teams get superbly clean and accurate data
The need for internal data purification becomes redundant
Classification of the data becomes more efficient and accurate
Communications & Publicity Management
Public image of a brand is one of the most important indicators to be measured. Keeping track of communication activities' effectiveness is essential. InsightsAtlas helps uncover what kind of communication resonates with their target audience. Key benefits:
Qualitative and quantitative communications analysis
More efficient real-time publicity management through understanding and forecasting the results of taken actions on the go
Risk Management 
Risk management is becoming mainstream, especially so in the turbulent environment of social media. InsightsAtlas helps brands, for example, to:
Discover and protect themselves from brand and industry-related threats 
Detect potentially brand damaging and harmful content as well as bots and scams
Assess the integrity and compliance of their online presence and activities
Competitive Intelligence 
Social Media as an arena is very competitive. Every company should know how their competitors are performing online and what kind of social media activities they are doing. Moreover, tracking the share-of-voice amongst industry peers is now more important than ever. We provide, for instance:
Competitor and substitute product tracking and analysis
Industry peer comparison 
Competitiveness analysis within selected segments
Crisis Management 
Sometimes, things just don't go as planned. With InsightsAtlas crisis management service, companies can stay assured that they have full access to relevant information to manage public crises correctly and quickly. Our services include for example:
Enhanced brand sentiment analytics
Harmful influencer spotting
Timely brand response suggestions
Chatbot data
Chatbots are here to stay. To serve users better, they need to learn how to answer to vast amount of different questions and how to handle multiple service scenarios. To train Chatbot AIs for this, the highest quality possible training data is vital. InsightsAtlas can provide the best data on the market through its unique service concept. Benefits are for example: 
Clean and high-quality training data
Real-world corpus in most of the world's languages for training and building chatbots 
The solution and product features, for example, for Brand Management, Marketing ROI, and  Communications Management are already on the market and used by our clients but we also continue to develop our platform further to cover new use cases. This ensures that the InsightsAtlas platform retains its competitiveness now as well as in the future. 
Competition
 InsightsAtlas competitors consist of other analytics companies that are typically either smaller startups or more established traditional industry players. For instance, IT mammoths, such as IBM or HP, have some kind of social media analytics tool in their service suite, which proves the significance of the market segment. Also traditional media monitoring companies are trying to extend their services to cover social media. Sometimes there's even a partnership potential there. The true competition comes, in our opinion, from innovative startups that are more focused on solving the industry problems at hand. The common nominator, and at the same time the main differentiator, for all of them is that over 95 % of the competition is primarily focused on – in our views - old-fashioned text analysis utilizing only machine algorithms. This approach has severe limitations as has been described in detail earlier. Needless to say, the competitive solution is insufficient for the current market. 
The overall status quo could be described as a high technological barrier-to-entry situation, as setting up a similar solution as InsightsAtlas has, would require a significant amount of time and monetary resources. For instance, accumulating a similar database of accurately classified data as InsightsAtlas already has, would likely cost several millions of euros if it was built from scratch. 
A rough competitor comparison chart can be found at the end of the pitch in the documents. 
Sales and Marketing, Go-to-Market
So far, our focus has been in validating the best possible product-market fit while building an infrastructure to support our international marketing activities at scale. During the past year, we have invested in and built an inbound marketing automation engine that will enable us to significantly ramp up our sales and marketing activities in the following years. This is essential because the modern SaaS business is entirely dependent on the success of the marketing activities crafted around it. 
In the future, we continue to do direct sales to enterprise clients supported by our lead generation and content marketing processes. The lifetime value of these customers has historically been very high compared to the customer acquisition cost (CLTV/CAC-ratio >10). As it is customary for SaaS companies, the Sales Mix usually consists of several components. With the new funding, we aim to open a new online self-service sales channel with more focus on targeting and serving smaller sized companies. This will enable an even more scalable sales model as well as shorter and more cost-effective sales cycles. 
Our biggest challenge so far has been the lack of sales force. We have been operating with very limited sales resources (less than 1,5 FTE sales persons on the average) and our sales results in comparison to that can be seen as satisfactory. Our current overall pipeline is relatively big (more than 12 M€) and waiting to be turned into revenue. As a result of our lead generation marketing activities, we also have now more incoming leads than our sales team can process, which is obviously a very positive -  but at the same time - extremely frustrating challenge. With the new funding, we will begin to invest in the ramping up of proper sales organization and supporting marketing activities. As a result, we expect the revenues also to increase significantly.
The picture below represents the projected potential average quarterly sales based on historical facts after new sales organization is in place and planned recruitments have been finalized*.(*Assumptions: average annual sales quota per sales person = 500k€ (very reasonable, proven history), ramp-up time of a new sales person 3-4 months, success- rate of recruitments 1:3.  New sales channel created by online sales has not been taken into account in these calculations)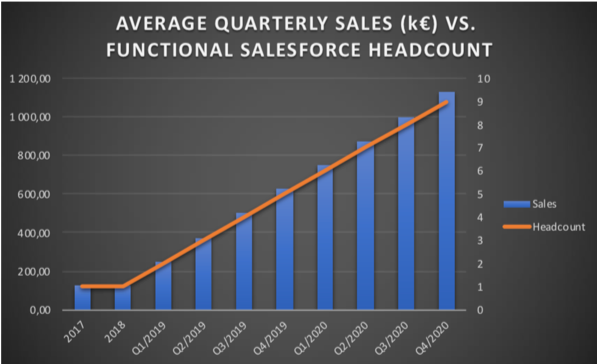 Our team
Our team
InsightsAtlas has an extremely strong, international team with over 15 years of experience consisting of complementing skillsets, fully committed to conquer the market and achieve a leadership position. 
The company has an active Board as well as a Board of Advisors that it utilizes to open doors that would otherwise remain closed. We all share a passion to provide added value to our clients by providing them with accurate and high-quality data. We have all personally witnessed that when it comes to data, it's really the quality that truly matters. 
Our core team has scaled international businesses profitably before and is ready to do it again. 
Risks
Risks
Unlisted growth companies are high-risk investments. Making a high-risk investment involves risks, for example the risk of losing your investment, lack of liquidity, irregular or rare dividends and dilution of your stake. Please study this risk warning before making a high-risk investment.
It is recommended that you familiarize yourself with the investment target of your choice, reduce risks by investing in several investment targets and balance your investment portfolio with more liquid investments. We also advise you to pay attention to the Target Company specific risk descriptions, which you will find included in the pitch materials.
Attached to the pitch there is a creditworthiness report that may be relevant for the investment decision
Human resource risks 
There is always a risk of losing key personnel or someone getting seriously ill and that can have a negative effect on the business. We will try to mitigate this risk by offering long-term employment benefits such as employee stock option program as well as a flexible and motivating working environment. We have also acquired an extensive voluntary health insurance for our employees. 
Financial risks
Financial risks relate mainly to availability of sufficient amount of Net Working Capital that the company needs at each time to be able to develop and grow its business further. 
Market risks
Market risks are basically the same for all industry players and relate to availability of data from legacy providers such as Facebook for instance. Sudden and unpredictable changes in platform data policies and/or other terms or even in political environments can affect, for instance, data availability. We try to manage the risk by staying in close cooperation or partnerships (if feasible) with the data providers. 
There might be unexpected  shifts or developments in the market, for instance, when a totally new, previously unknown technology suddenly emerges and takes over the market. This may lead into customers quickly changing providers. We try to mitigate the risk by constantly developing our service further, staying in close contact with our customers and following closely what happens on the market. 
Operational risks
Lack of skilled sales force can be considered as an operational risk for our business. Recruitment challenges in general (mostly related to skilled workforce availability at times) can have a negative effect on our business. We are implementing a long-term employer image strategy that we try to use in our favor when it comes to attractivity of our company as an employer. 
Sometimes customers may have internal reasons or politics that may lead into changes in service provider requirements and eventually cancelled contracts. Again, we try to mitigate the risk by staying constantly in close contact with our customers and by keeping high customer satisfaction as a key focus area. 
Competition risks 
There is always the possibility that a competing company develops a superior product or service than the company has to offer. They may have more resources at their disposal for product development or their marketing budgets can be significantly bigger, for instance. The customers may also choose to prefer other solutions or services that the company provides, even if it was against the market's development. 
The company will use its best efforts to constantly study and learn the market and customers' preferences to stay on track of future developments as well as try to make sure that it has enough resources at its disposal. This is heavily dependent on the amount of funding the company is able to raise.