FanLeague - Pioneers of social sports betting
We're building a global community around an engaging prediction app which focuses on English football. Our vision is to be the world's leading social sports betting community with 10 million users by 2025.
In this pitch, two share issues are combined: 1) issue of shares of SocialPool Holding Ltd (UK) to crowd investors and 2) issue of shares of Bet13 Holding Ltd (Malta) to existing shareholders of Bet13 Holding.
The reason for the combination is that SocialPool will invest the amount invested by the crowd further to Bet13 Holding, by subscribing the shares issued by Bet13 Holding to SocialPool. SocialPool's sole purpose is to hold shares in Bet13 Holding.
Bet13 Holding is the parent company of the operational company FanLeague Ltd (Malta), with 100 % ownership. Funds invested in SocialPool and Bet13 Holding will be used in the operational company FanLeague.
The target of this Offering is to acquire € 800,000 - 2,499,999 worth of equity in Bet13 Holding. The progress bar of this round indicates this whole target amount. Existing shareholders of Bet13 Holding have committed to investing € 385,357 in Bet13 Holding, and these commitments have been added to the progress bar. The rest of the targeted amount will be collected from the crowd investors participating through Invesdor's service. For the sake of clarity, the crowd investors will become shareholders of SocialPool Holding Ltd.
Please read carefully the Information on Issue Terms -section of the pitch.
Our story
Our story
Football is the largest popular movement on the planet with almost half of the population interested in it and one fifth actively participating. However, there is still no platform or network which has succeeded in making the football experience a truly social one. FanLeague was founded in 2016 with the mission to connect fans globally and provide a social football experience in a league of its own.   
Sports betting products have become increasingly complex and primarily cater for sophisticated players who require the ability to play on more or less any device at any time. FanLeague's strategy is to appeal to the ordinary football fan who will make their weekly predictions based on what they think the outcome will be on the pitch. In doing this they can play against their friends and compete for the weekly prize pot.
FanLeague is pioneering 'social sports betting' where 'social' relates to both the social interaction between our players, as well as to providing a uniquely socially responsible betting product. As the cost of participation is as little as 20p and the game is only played once per week, FanLeague is designed to be a "betting light" activity. Our focus is the social aspect of the game, encouraging our players to demonstrate their football expertise by predicting the outcome of 13 English football matches and challenging and competing with their friends. We set a weekly deposit limit of £125 for all of our players and we don't encourage users to increase their spending. In addition, we donate 10% of the betting turnover to grassroots football-related charities.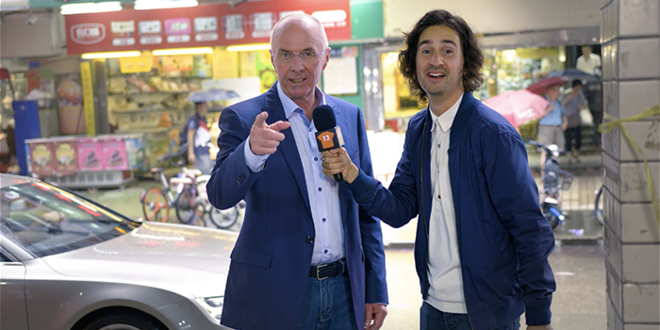 Our business & market situation
Our business & market situation
Market
English football has an enormous and ever increasing global fan base, with rapid growth in Africa, Asia and the US. FanLeague's vision is to build a global community and provide a simple, engaging and fun app for these fans combining the best of sports betting, fantasy football and the social and competitive nature of football generally.
Sports betting is a hugely popular pastime, which we feel has become unnecessarily complex and disconnected from the simplicity of football itself and the "who will win on Saturday?" notion. The UK on-shore and remote betting market is a circa 8bn industry where football dominates. (Source: UK Gambling Commission). In 2016, the global gambling market gross gaming yield was estimated to reach USD495bn by 2019 according to Statista. 
Product
FanLeague's unique proposition is an enhanced football experience where football fans compete for weekly and seasonal cash prizes and compare their scores against friends and the community to find out who is the best football pundit. The app allows players to communicate, share, comment and socialise around something they love.
FanLeague's product is built on three cornerstones:
The game itself
Building a community around the game
Encouraging our players to invite friends and compare results in private leagues and against the FanLeague community as a whole.
At the core of the FanLeague product are 13 weekly predetermined English Premier League and Championship matches. The game is based on a "pool betting" model that is popular in the Scandinavian countries, however, our version has been significantly modernised and improved. Each player predicts a home win, away win or draw for each match. The cost of participating starts at just 20p per week and the wagers form a pool of money that is allocated to the players who correctly predict 10 matches or better in each weekly round. By participating in the game, all players who have played 13 game weeks are also included in the FanLeague Championship, which is a cumulative prize pot paid out to the top 1,000 players with the highest average score at the end of the season.
Technology platform
FanLeague have built and have full ownership of our platform, taking into account scalability and potential partnership structures from the outset. We have a dedicated development team of 13 professionals based in Kiev, Ukraine whom we have been working with since July 2016.
Roll-out strategy
FanLeague's 'go-to-market' strategy is divided into four phases:
Development (Jul '16 – Jul '17) - Completed

We raised seed funding of EUR 4.3mn
Development of the app and tech platform
We obtained UK Gambling Commission and Malta Gaming Authority betting licenses
We set up the corporate structure and organisation in Malta

Proof of Concept (Aug '17 – Dec '17) - Completed

We brought the product to market during a 6-month test phase
We tested the product-market fit and verified the proof of concept
Confirmation of our marketing strategy efficacy
We grew the organisation

Revamp (Jan '18 – Jul '18) – Current phase

Based on the learnings and feedback during the test phase, we are currently completely revamping the app to launch a fresh v2.0 in August
We are raising up to EUR 2.5mn of new equity capital
We are also launching the game in new geographies

Rollout (Aug '18 -) -  Next phase

The relaunch of the new v2.0 app ahead of the 2018/19 season
Raise an additional EUR 5.0mn
Continue the international expansion
Commercial strategy
The beauty of pool betting is that the game operator does not carry any balance sheet risk i.e. the week's turnover provides the prize pot and the company revenue. The financial breakdown of the FanLeague game is as follows:
60% prize money
10% donated to charitable organisations
30% retained by FanLeague
The only balance sheet risk FanLeague carry is the 'Player of the Week' guarantee which is paid in the event there is a solo winner who correctly predicts 13/13.
As the FanLeague community grows we will be monetising the player base via user-tailored advertising and sponsorships.
Furthermore, FanLeague has developed a multi-marketing tracking system where we can offer revenue share structures to strategic partners with access to a geographic or a specific audience that FanLeague does not have. FanLeague's partnership programme targets corporates with access to potential FanLeague customers where FanLeague can offer a revenue share on the customers the partner generates into the FanLeague community. It could, for example, be a traditional affiliate marketing company or a digital content provider in the football space. Our partners will not only get a revenue share on the players they recruit to FanLeague but also on the friends of the players whom they invite, up to five layers above the original player. Fanleague has entered into one such agreement with Swedish company Afribet AB relating to five African countries (Ghana, Tanzania, Kenya, Nigeria and Uganda). In Q3, we will launch the FanLeague product in the Ugandan market via this partnership and their Ugandan operator Poolbet (ltd), and roll-out in the other markets over the coming years. We are also in discussion with other potential partners.
Marketing strategy
FanLeague's marketing strategy is primarily focused on digital media, and in particular influencers on social media. We also apply a referral programme where players are incentivised to recruit their friends. FanLeague has been onboarded by Google, Twitter and Facebook which means our marketing team were given a direct contact within these companies and received education on how to best optimise our marketing efforts. In particular, Facebook is very restrictive with the access given to igaming companies. Our marketing has predominantly been focused on the UK, but we accept Players from a number of jurisdictions where our Malta license is valid.
Group Structure
UK domiciled SocialPool Holding Ltd will invest in shares of the Malta based holding company and operating company group (the "FanLeague Group"). Bet13 Holding Ltd is a pure holding company with no operations or employees, and which sole purpose is to hold shares in FanLeague Ltd and other companies which may be formed to support the operations of the operating company.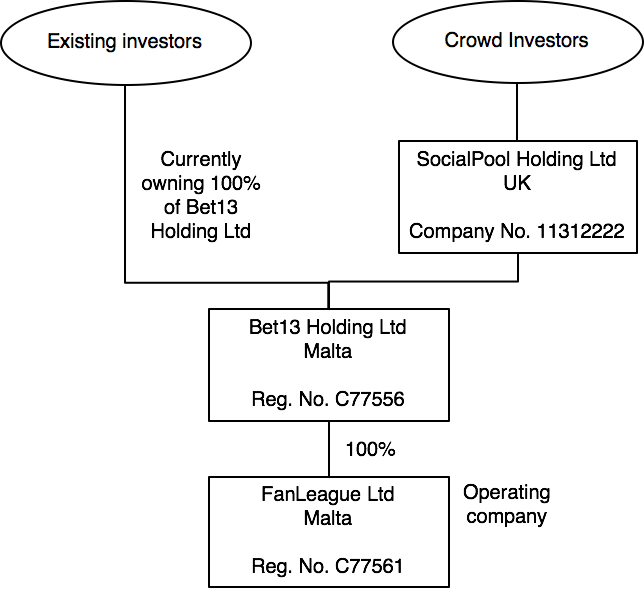 Our team
Our team
FanLeague has a seasoned and motivated team of management professionals with a diverse background from igaming, product development, investment banking and entrepreneurship. All staff are employed by the Group's operating company FanLeague Ltd (no staff or consultants are employed by any other entity). FanLeague is currently employing 11 staff of which 3 are working under consultancy agreements due to their workplace being outside of Malta. In addition, FanLeague is employing a team of currently 13 developers in Ukraine.
Risks
Risks
Unlisted growth companies are high-risk investments. Making a high-risk investment involves risks, for example the risk of losing your investment, lack of liquidity, irregular or rare dividends and dilution of your stake. Please study this risk warning before making a high-risk investment.
It is recommended that you familiarize yourself with the investment target of your choice, reduce risks by investing in several investment targets and balance your investment portfolio with more liquid investments. We also advise you to pay attention to the Target Company specific risk descriptions, which you will find included in the pitch materials.
Attached to the pitch there is a creditworthiness report that may be relevant for the investment decision
Competition
Sports betting and anything related to English football is a very competitive landscape given the size of the audience and potential revenue. FanLeague is a unique concept where we don't view ourselves as a competitor to traditional sports betting companies and other content producers in the social media space, we are a compliment. 
Regulation
The betting industry as a whole is facing regulatory headwinds and increased scrutiny from authorities and society as a whole. Overall, FanLeague welcomes increased regulation in order to keep the industry well behaved and strongly believe we are well positioned given the nature of our game and our strategy for social responsibility. However, increased regulation will come at higher operational costs.
Technology
Fanleague has designed and built our own product and infrastructure compared to most of the industry who markets products delivered by a B2B provider. FanLeague owns all of the IP however, due to the nature of the product it is not possible to protect through patents, so copycats are a risk factor.
Key Personnel
FanLeague thrives on a small professional workforce and has the added benefit of positioning its headquarters within Malta. Whilst being a highly competitive landscape, there is a deep talent pool of high calibre iGaming professionals.
Liquidity
FanLeague is effectively pre-revenue which means we are dependent on external funding to cover our ongoing expenses. The minimum amount targeted in this fundraise will take FanLeague to year-end 2018 with a plan to raise additional capital during the autumn of this year. According to our forecasts and financial models, FanLeague will reach break-even during the first half of 2020 which implies a total funding need of EUR 7.5mn (including this fundraise). Hence, the contemplated investment is in a high-risk enterprise.
Financial forecasts
Any projections relating to the future growth of FanLeague's service are mere calculations based on growth scenarios, hence uncertain, and any document provided for the purpose of this offering does not constitute any form of representation or guarantee that these projections will be realised and/or met.
Risk related to share registration
After this offering of SocialPool's shares, Bet13 Holding will issue shares for SocialPool. The issue of Bet13 Holding will need to be approved by the Malta Gaming Authority and Malta Financial Supervisory Authority. There's a risk that Bet13 Holding doesn't get these approval, in which case the funds are returned to the investors.
Risk related to subscription commitments in Bet13 Holding Ltd.
The subscription commitments have not been paid yet. Even though all investors have committed on making the subscription, there's a risk that the payments are not made in accordance with the commitment. Invesdor only handles the payments related to SocialPool's issue, and enforcing or otherwise handling the payments related to the commitments is done by Bet13 Holding.