Sharpfin - Fintech in growth phase
Sharpfin lives the vision to automate the EUR 80 trillion assets wealth management industry. Invest in one of the most promising B2B Fintech companies with proven business model and growing customer base.
This funding round uses a holding company structure for investors which means that the investors won't hold shares directly in Sharpfin AB. Please read its description from the "Information on the issue terms" section.
Our story
Our story
Imagine you spend 15 years working in the financial industry and during these 15 years hardly ever hears anyone who are impressed or even satisfied with the software that they are using. In an industry which manages the total of the worlds wealth… and makes piles of money out of it. Then you start thinking about other business and companies, such as Apple where the customer satisfaction is huge and you get puzzled and start wondering why? How can this be?
Our own analysis to this problem is basically two:
The finance industry has been doped with too much income during too long time and has never really been forced to become efficient or user friendly.
The banks themselves has driven the IT-development and banks are good at managing wealth. Banks are not good in the handcraft of developing software.
At Sharpfin, we are proud of our focus to deliver a system which automates all the error prone and time consuming work and provides an intuitive interface for user interaction. This focus has been very well received by the market and apart from the customers that are already using our system to their fullest satisfaction, there are many others interested in our solution. We strongly believe that this disruptive way of supporting wealth managers in their daily work will take us to the position of being the number one portfolio management system globally.
Please watch our product introduction video from here.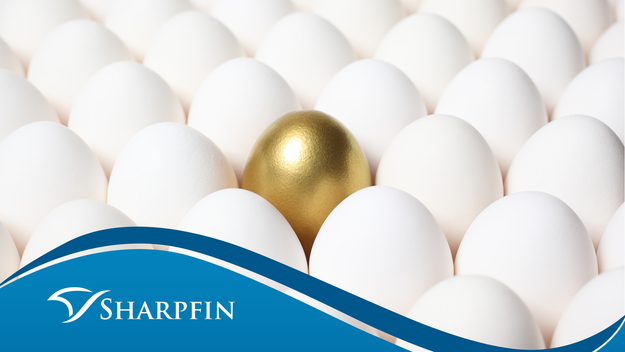 Our business & market situation
Our business & market situation
Sharpfin AB develops and delivers Sharpfin Portfolio Management (SPM), the next generation of wealth management software for banks, financial advisors, asset managers and family offices. We utilize our vast experience in the wealth management software industry to design and build the most efficient portfolio management software on the market today.
Our vision is to create the first administration-free portfolio management system that includes all the elements of the wealth management process. We provide a solution that ensures that our customers:
portfolio management infrastructure is state of the art
receive first-class support
enjoy the benefits of a highly attractive payment model which grows automatically with the size of their managed investments. Having a more traditional license model, based on e.g. number of users, would, for us, be very counter productive since we are in the business for cutting cost, hence head count for our customers.
The latter is also highly beneficial for you as an investor since it provides a predictable growth as we attract more but also larger customers.
We have recently acquired our first customers in a business which is quite conservative and do not let new actors onto the market that easily. This has lowered the risk for you as an investor since it proves that:
We have a relevant customer offering
The business model on which we are building our forecasts is realistic
Our operational efficiency is way above our competition. E.g. in the last customer acquisition, we won the deal against a competitor which has 10 times more personnel than we do.
Competitive Advantages
Sharpfin covers all aspects of the wealth management process and ensures that adjacent processes are optimally integrated in our product workflow. This makes us highly efficient in the cumbersome administrative tasks that plague many parts of today's wealth management process. Measured on the most common of these tasks, we are  50–80% more efficient than our competition, which means radically reducing the money and resources spent by our clients. In addition, the work is performed with more efficiency and higher quality through Sharpfin's extensive automation.
One aspect of our competition's inefficiency is the prevalence of batch processing. Due to high volumes and old IT systems, end-of-day processing is often the only way to produce customer data such as performance figures. By contrast, Sharpfin Portfolio Management System is based on the same technology platform as e.g. Whatsapp and Klarna, hence built for scalability and produces all calculations in real time for volumes that competing systems could only dream of.
Besides being generally more efficient through out the process, we have proprietary functionality that is unique to our system. These functions are:
Our Risk Management compliance framework - Allowing our clients to constantly monitor the risk in their investments for a proactive rather than reactive risk management
Our transactions reconciliation engine - Saving our clients a lot of time when keeping the system up to date with interfacing systems such as trading systems and custody.
Our bookkeeping algorithm - An artificial intelligence algorithm which quickly learns how to book the financial securities transactions on to the general ledger accounts, hence saving a lot of time on processes which used to cost a huge amount of time and money.
Target Market
Today our product offering best targets asset management companies in the Nordic countries. Larger customers are often more demanding when it comes to delivery and sales capacity.  Therefore we currently target customers up to EUR 500 Mio Assets under Management (AuM). As Sharpfin grows and the software's functionality is extended, we will take on other markets and larger wealth managers starting with German-speaking Europe and the Benelux countries.
As our delivery capacity allows us for a broader expansion we will also focus on the Arabic and South African market. They are often better to adopt to new solutions than European legacy banks and investors from our seed round are well networked to the finance industry in these regions.
We particularly target customers who will be affected by coming regulatory changes such as MiFID II. MiFID II stands for Markets in Financial Industries Directive Two and is the most disruptive regulation in the finance area to date. Many of our potential customers currently either use systems that will struggle to become MiFID II compliant or they currently have no system support at all, for example, using Microsoft Excel as their tool for wealth management. The MiFID II directive will become effective on January 3, 2018 according to the current schedule; and many financial institutions will face system changes caused by the regulations for years after that. Our CEO, Markus, has deep insight in this regulation after a consultancy at the Swedish bank, Swedbank and naturally the intelligence has been incorporated into Sharpfin, giving us a huge advantage compared to our competitors. To further support this disruptive regulation we have just shipped our most recent module - Sharpfin Advisory. Watch our explainer video here.
Competition
According to customer feedback we have heard, some of our Swedish competitors have not managed the technology transformation well because outdated technology burdens them with problems of profitability and customer satisfaction. Of the other competitors in the Swedish market, Finland-based FA Solutions has the best technology and the best reputation. They currently are taking market shares, although we won our last customer deal in direct competition with them.
In the global arena we count Simcorp, Charles River Development and Advent Software to our biggest competitors. Simcorp and Advent software, today face valuations of more than EUR 2 billion.
Customers
We have a growing customer base and successfully on boarded our first customers. Many more are interested in our system, but currently we can only grow slowly because of our current delivery capacity. There is no doubt that we will be able to grow quickly on the customer side once we have completed the next investment round and we have turned the funding into valuable development resources.
Consensus Asset Management
Consensus Asset Management is a highly successful portfolio and asset manager. The company currently manages around SEK 3 billion, and it is growing fast. Consensus is listed on AktieTorget. Their major share holder is Hedin Bil, one of Sweden's major car resellers. Consensus currently run our block order management and client reporting applications.
With Sharpfin we have found a vendor with a brilliant  understanding for our needs. Their solution significantly increases quality in our customer
reporting and saves a lot of time for our wealth management and
administration personnel.

- Patrik Soko, CEO Consensus Asset Management
Privat Consult
Privat Consult is an Austrian wealth manager that manages a number of investment funds and discretionary mandates at a total volume of 300 Mio EUR. They target a vast network of wealthy individuals. Privat Consult uses SPM in their risk management to lower their clients' investment risks.
I love the user friendliness of Sharpfin Portfolio Management. With their
flexible compliance rules engine we now have a better view over the risks in our investments, and with a full history of any changes.

- Regional Manager West Austria, Privat Consult Vermögensverwaltung GmbH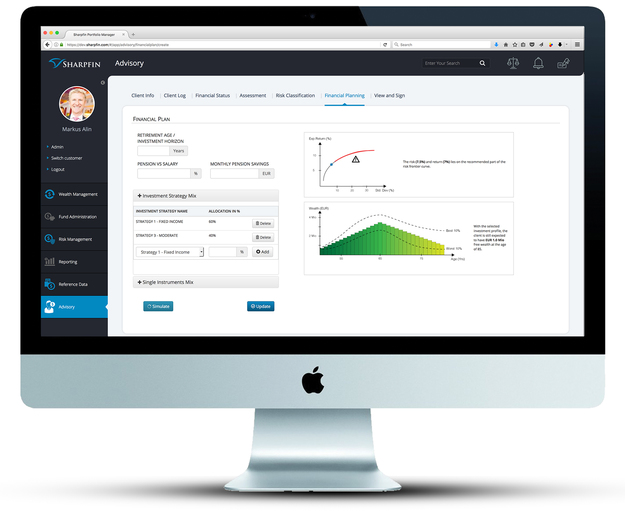 Our team
Our team
Founders
Sharpfin's founders, Billy Svensson and Markus Alin, joined forces in 2013 and dedicated their complementary skills to developing what is now Sharpfin Portfolio Management. They are passionate their mission to change the industry of financial software into something user friendly and efficient.
Board of Directors
We are proud to have recruited two very senior board members, who apart from the two founders, constitute the current board of directors. Upon finalized investment round we will appoint additional board member to create a long term government structure which will help us grow the company.
Heiner Weber
Heiner has a vast network in the Swiss Wealth Management scene and is currently working as an advisor to family offices. Prior to that, Heiner was the Managing Partner of Tell Monaco, a next generation asset manager and investment banking boutique. Heiner has spent the majority of his professional career in the top management of well known Swiss financial institutes and has possessed positions such as:
Head of Geneva Branch of Falcon Private Bank
Managing Director of Lombard Odier, a private bank targeting Ultra High Net Worth Individuals (UHNW) from Geneva
Team Leader of UHNW bankers at UBS Wealth Management
Further more Heiner has worked as a derivatives trader and successful Entrepreneur as the co-founder of the pan-European options market-making firm Servisen Trading AG.
Marcus Ek
Marcus is currently holding the position as Head of Contract Management at Ericsson and has vast experience from sales and contract negotiations in many countries around the globe. Marcus was one of the first external investors in Sharpfin and has a huge network of Banks in Singapore, Turkey, UAE and South Africa.
Advisory Board
Dr Thomas Wolfensberger - CEO of Peach Real Estate in Zürich and former CEO of Swissrisk AG. Thomas is extremely well connected in the Swiss banking scene and banks around Europe. Thomas is a great speaking partner when it comes to entrepreneurship, fintech growth and sales as well as being a door opener to many professionals and financial institutes.
Dr Steven Bates - Founder of QLAB Invest and former director in UBS Wealth Management. Steven has a PhD from Cambridge University and worked with research at Cern Laboratories where he was one of the co-inventor of the Higgs particle detector 15 years prior to the particle itself was found. After Cern, Steven became a trader at Merrill Lynch before joining Swissrisk AG as Head of Products. What Steven doesn't know about financial investments and systems is not worth knowing.
Peter Almberg - CEO of Katalysen & Partners. Peter has vast experience in the trading system industry and a great network of potential stakeholders for Sharpfin. Peter has been coaching us through the crowd funding process and been a valuable speaking partner for quality insurance of our investment material.
John Zerihoun - CEO of Yamba.com - John is our speaking partner when it comes to communication, sales and marketing. He is a serial entrepreneur and knows basically everything when it comes to building companies.
Per Torpare - Head of Wealth Advisory, Erik Penser Bank - Per is an experienced Head of Sales with a huge network in the Nordic Wealth Management scene. Per is our trusted speaking partner in questions regarding customer offering, target market and business development.
Jonaz Kumlander - CEO of Doidea - Jonaz runs a successful inbound consultancy business and is our speaking partner for intelligence around marketing activities and building successful startups.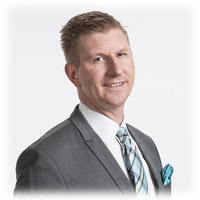 Markus Alin
CEO
Markus has a Master's degree in Computer Science from Sweden's Linköping Institute of Technology and has studied Economics at Switzerland's University of St. Gallen. After completing his thesis, Markus served as IT architect at Credit Suisse Asset Management.  In 2001, Markus joined the startup financial software provider Swissrisk AG. As part of their management team, Markus played a vital role in growing the company from three to 120 employees while acquiring clients such as Dresdner Bank/Commerzbank, Züricher Kantonalbank and UBS. In 2010, Markus became CEO of the Swedish portfolio management system provider, Triental AB, where his leadership contributed to increasing Triental's turnover by more than 400% in three years. It was here that Markus met his future Sharpfin business partner, Billy Svensson.
https://www.linkedin.com/in/markus-alin-5830211/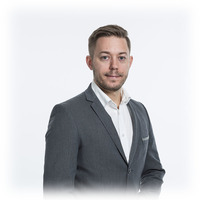 Billy Svensson
CTO
Billy studied at the Royal Institute of Technology in Stockholm but has been a programmer and architect for as long as he can remember. His chosen areas of expertise are data security and financial systems and processes. 
Billy's distinctive record of achievement covers developing and designing intuitive financial reports, designing and implementing real time trading systems, and successful integration projects at banks and insurance companies such as SEB, Nordnet, Swedbank and Folksam. Billy is a successful entrepreneur with over 10 years of experience building successful startups (Sizo, Triental and Sharpfin). He has also functioned as a valuable resource to the Cinnober AB development team.
https://www.linkedin.com/in/billy-svensson-09b101ab/
Risks
Risks
Unlisted growth companies are high-risk investments. Making a high-risk investment involves risks, for example the risk of losing your investment, lack of liquidity, irregular or rare dividends and dilution of your stake. Please study this risk warning before making a high-risk investment.
It is recommended that you familiarize yourself with the investment target of your choice, reduce risks by investing in several investment targets and balance your investment portfolio with more liquid investments. We also advise you to pay attention to the Target Company specific risk descriptions, which you will find included in the pitch materials.
Attached to the pitch there is a creditworthiness report that may be relevant for the investment decision
Business Risks
Since we are targeting a very conservative market we are facing the risk that we might not get selected because we are too small with too little track record. A lot of this risk has already been mitigated though, since we have our first customers onboard who also have a good reputation on the market.
We are also facing the risk that we are presenting our solution to a financial institution which in turn copies the best parts and develops it themselves. This is, however, only a small risk because due to our technical efficiency we are far more cost effective and have a shorter time to market than any financial institutions' own IT. This has been proven, both in integrations to existing customers as well as integration of similar product in previous companies.
Financial Risk
There is always a risk that the customer acquisition goes slower than projected and the company therefore runs out of money. This goes for any investment in any company. Due to our technical efficiency this is however a little risk. We rather grow slow but steady and do not carry any unnecessary cost. Workload peaks are covered with consultancy from our trusted partners in order to quickly be able to cut cost if needed.
SWOT Analysis
Strengths
Efficient, automated Software in manual, inefficient competitive environment
Short time to market for new customer integrations
The whole product portfolio ready to enter global markets
Competitive and proven pricing model
Very relevant customer offering. All the customer we talk to claim to have a need for our solution.
In-house expertise in market regulations, i.e. MiFID II
Weaknesses
Small Social Media Communities
Financial constraints
Media presence in its infancy
Limited delivery capacity
Opportunities
MiFID II – Deployment of the system to actors affected by the regulation but which current system does not cope with their requirements.
Banking Digitalization and Fintech trend – Many financial institutes are replacing their system to automate processes in order to create more lean organisations.
Price pressure in the market – We are more flexible to changes in pricing demands than competitors who have built their whole organisation around a certain pricing structure.
Threats
Many financial institutes who would be suitable for our product might consider us too small initially.
Unsuccessful funding round will force Sharpfin to grow too slow and getting overtaken by competitors
Ability to find competent resources for the ramp up after the funding round