Tellybean - Life-sized video calls on TV
Modern life separates families - Tellybean brings them back together in the living room through life-sized video calls on TV. Award-winning Tellybean is the leading video call service for Smart TVs and set-top boxes in the world.
Our story
Our story
The Problem
Tellybean was founded to solve a personal problem: how to enable a grandmother to see her two grandsons more often. In this specific case grandma was in Australia and the grandkids in Finland, but we realised that a lot of people face the same problem regardless of distance. Skype was too difficult for her to use and it only worked on small screens. Sitting the whole family on the couch with grandma life-sized on TV was the most natural way to video call and the best way of keeping the kids emotionally engaged. But there was no simple way of doing this.
The Solution
We tried different alternatives of how to enable video calls on TV and finally found the winning formula in early 2016. We launched an app which turns a mobile phone into a "wireless webcam" for a video call on the TV. This innovatively solved the main challenges with video calling on TV and helped us win the Best Smart TV App award at TV Connect 2016 in London. Importantly, Sony and Philips were also convinced and entered into partnership with us to launch Tellybean on their Android TV Smart TVs.
Tellybean's service allows users to make video calls on compatible Smart TVs and set-top boxes ("STBs"). In addition to enabling video calls on TV, Tellybean also works on mobiles and computers. Today Tellybean's TV app works on the Android TV platform, with Sony and Philips as main partners. Tellybean has now also developed a second TV app to support the popular platforms of Samsung, LG and Opera TV (which are all Linux-based) and is aiming to launch on these platforms.
The Potential
With two TV apps, for Android and Linux-based TVs, Tellybean estimates that its targetable market grows from 15-20 million devices in 2016 to 500 million by 2019. This allows us to aim for 50 million Tellybean users on TVs and another 250 million on mobiles and computers. This target is supported by both a unique technical solution (patent pending), strong partnerships with global TV vendors and the opportunity to supply an unmet need for a large-screen video call solution.
Skype launched its TV app in 2010 and it quickly became a "must have" feature for all major TV manufacturers. By 2014 there were millions of monthly active users who loved the big screen video call experience. However, after Microsoft acquired Skype and updated most of the service, there was no cost-efficient way to update the installed base of TV apps and the service has since been discontinued. Helen Blackburn, who worked at Skype for 10 years and was responsible for the TV service from start to finish acknowledged Tellybean's huge market potential and will join Tellybean's board as part of this funding round. She brings with her years of experience in video calling on TV and a wide network of contacts.
Strategic priorities
Be available on all major platforms: The TV app for Linux-based TVs and the iOS mobile app make the service complete and allows users to make Tellybean calls on most new TVs, most new mobile devices as well as computers. Tellybean does not need additional apps in the short term and can focus on improving the apps and user experience we already have. After this Tellybean supports the following end points:
TVs and STBs: Android TV (available) and Linux-based TVs (launching soon)
Mobiles: Android (available) and iOS (launching soon)
Computers (available)
Roll-out globally with partners: Tellybean works with partners who want to provide video calling as a feature to increase both sales and brand loyalty of their products, as a result they have been actively marketing this feature to their users. When Tellybean is featured on the TV screen, new users find the service and start using it. This approach provides a very cost-efficient user acquisition and in the near term we will spend very little money on direct marketing. In addition, Tellybean's partners are operating globally which provides us immediate world-wide coverage. Cooperation with Sony covers today North & South America, Europe, India and Japan. Cooperation with Philips TV / TP Vision covers all its major markets Europe, South America Russia and Turkey. In 2017, Tellybean will focus on launching its service with LG and Samsung, as well as deepening and expanding the cooperation with Sony and Philips.
Continuously improve the service to add value: We are always focused on improving the service, making it easier to use and supporting the network effect within the service. In 2017, Tellybean will implement additional features both to increase the value-add of the service and to turn part of this value into revenue by bundling additional features to premium subscriptions.
Support the good traction in India: India currently accounts for 40-50% of all new users (three times more than the US!), even though the Indian Smart TV market is still very small. In addition to Indian Smart TVs being interesting, two huge operators are launching relevant STBs this year. During 2017, Tellybean will be active in India to maximise the benefit of this good momentum.
The early years
In the past Tellybean worked with its own hardware, which is a big advantage now that we are working with the various TV platforms. When Tellybean was founded in 2011, we started buiding our own little box (the "Tellyphone"), initially Linux-based however shortly switched to Android. In 2013 we started finding off-the-shelf boxes from China that could handle processor intensive video calling and we soft-launched our first product in 2014 based on a generic Android box. Related to this, we received some milestone payments from a partner candidate and made some revenue with development subcontracting. After Google launched Android TV in 2014, we were able to move away from hardware and have fully focused on apps that work on partners' hardware. 

Our business & market situation
Our business & market situation
Tellybean targets 500 million TVs by 2019
Tellybean targets internet connected TVs in the living rooms of 1.6 billion TV households globally. Based on BI Intelligence estimates on market growth Tellybean estimates that the number of Smart TVs and STBs, with which Tellybean can be compatible, will grow from 15-20 million devices currently, to 100 million in 2017 and 500 million in 2019. This rapid growth is driven by the increase in the number of TV households, accelerating growth of sales of Smart TVs and STBs and Tellybean aiming to expand to new TV brands.
User acquisition and activation
Tellybean's user acquisition started in September 2016 when cooperation with both Sony India and Philips started, combined with the launch of the video call app for Android mobiles. Since August, cumulative downloads have grown from some 6k to over 40k. Calling activity is increasing steadily with the growing user base. During Nov 2016 - Jan 2017 users made 12k calls with a total duration of 64k minutes. Tellybean's unique selling point is the possibility to make a video call on TV, which is the reason why most users create a Tellybean account. A TV was involved in 60% of the calls, but to our surprise almost a third of all calls were mobile to mobile.
2017 priorities - clear next steps
Targeted launch with LG: In order to grow our user base to the millions, Tellybean is aiming to expand its service from Android TV to Linux-based TV platforms. Tellybean's Linux TV app has been submitted to LG for approval. LG is estimated to more than double Tellybean's targetable market.  
Start cooperation with Samsung: Tellybean's Linux TV app also works on Samsung's new 2017 platform. Tellybean targets similar global cooperation with Samsung as with Sony. Samsung's annual volumes are estimated to be bigger than LG, Sony and Philips combined.
Complete the service: Launching apps which work on the platforms of Samsung, LG and Opera TV (the third major Linux-based TV platform) and launching the iOS mobile app provides multi-platform coverage and will complete the service.
Implement additional features: New features allow Tellybean to make the service more valuable and sticky to its users, while differentiating Tellybean more clearly from other "small screen" video call services. These premium features also allow Tellybean to bundle them to paid-for services that can be offered with a monthly subscription. Examples of such features include video messages (leave a message or record a "Happy Birthday" song for your mother), remote picture sharing (show pictures from your mobile to grandma's TV) and group calls.
Secure long term funding: With the service complete and presence on Linux-based TVs established we target to raise later this year 2-3m€ (as a convertible loan note) in growth funding targeting mainly strategic investors. This, combined with first revenue, will allow us to execute our long term plan, which aims to make Tellybean a standard feature on TVs, similar to Netflix today or to Skype in the past.
Competitive advantage
Tellybean is the only video call service with an app specifically designed for TVs. This is made possible by the innovative way Tellybean uses the camera and microphone of a mobile phone for a video call on TV. Tellybean's unique solution has overcome the audio problems (echo or circulating sound) related to mirroring or casting a video call to the TV. Tellybean's solution has a US patent pending and a PCT-application has been submitted in January 2017. Tellybean's solution allows the service to be offered for free to the end user on a large variety of TVs, whereas Skype-on-TV required either an expensive high-end TV with built-in camera (not sold anymore) or a specific Skype camera which often cost more than 100$. The solution is also very easy for Tellybean's partners to work with as it requires no engineering or integration work.
Revenue model
Today Tellybean's service is free - all apps are free to download and calls are free. Tellybean does not yet generate revenue, but in the future both end users and partners offer good opportunities for generating revenue.
End users - premium features: We will convert free users to paying customers by offering additional features which are available for a monthly premium subscription. Our target is to convert 1-2% of our future user base to premium customers. This will allow us to grow recurring revenue to several millions of euros per month.
Partners - one-time fees & value added services: We will turn user data to valuable partner promotion opportunities. We also aim to charge one-time fees from future partners who would like Tellybean as a feature, just like the market leading brands.
Path to exit
Tellybean targets an exit in 2018-2019. The key value drivers for the exit valuation will be the user base, the partner network/installed base and the technology. We do not see revenue and cash flow being the main driver as we see the following groups of companies being the main exit channels.
Social Media/Messaging: Google, Facebook/Messenger/Whatsapp, Tencent/WeChat, Hike, Rakuten/Viber, Microsoft/Skype, Twitter, etc. are focusing more and more on video and could acquire a brand relevant presence on the TV
Operators: large operators with a global/Asian presence could acquire a highly brand relevant service and use the possibility to strengthen both their position in the living room and get into partnerships with TV manufacturers
Online service providers: Amazon, Alibaba, Rakuten, etc. could acquire a new advertising platform on the TV or just get one more hook into their users
TV related: platform providers such as Opera TV, broadcasters such as Sky, technology providers could acquire a differentiating feature which makes their existing offering more relevant to their customers or OEM and operator partners
Strategic Chinese investors: Chinese companies and investors have been very aggressive in acquiring Western technology companies and China is the largest Smart TV market globally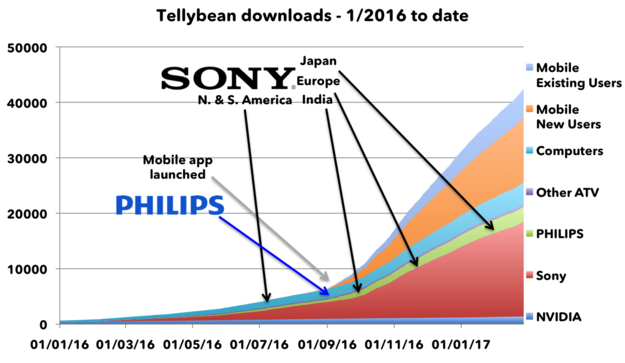 Our team
Our team
Tellybean has a very lean and committed team that has been working with video calling on TV for a long time. The team and the board has a combined experience of video calling on TV of more than 35 years! This surely makes us the undisputed leading experts of video calling on the TV.
The team is very international and the team members have very diverse backgrounds that are complementary to each other. In addition to everybody having a professional interest in making video calling a way for people to communicate with each other, all team members have an equity interest ensuring aligned interests for the team and the investors.
Risks
Risks
Unlisted growth companies are high-risk investments. Making a high-risk investment involves risks, for example the risk of losing your investment, lack of liquidity, irregular or rare dividends and dilution of your stake. Please study this risk warning before making a high-risk investment.
It is recommended that you familiarize yourself with the investment target of your choice, reduce risks by investing in several investment targets and balance your investment portfolio with more liquid investments. We also advise you to pay attention to the Target Company specific risk descriptions, which you will find included in the pitch materials.
Attached to the pitch there is a creditworthiness report that may be relevant for the investment decision
We are an early stage company with a limited operating history.
We began operations in 2011 and are now starting to ramp up. This risk is mitigated by the fact that we have built the service, secured the first major partnerships and our first partners are the leaders of our chosen niche market and represent perfect reference cases.
We are pre-revenue and expect to continue making a loss
We have not yet generated any turnover with our intended earnings model. During 2017 we intend to launch premium services and charge a monthly subscription fee from consumers. We will also work with our partners to figure out ways in which we can provide them value that they can benefit from and earn partner fees. We expect to reach break-even on a monthly level in 2018.
We are dependent on additional capital in the future
To date we have raised some 3.5m€ in equity and R&D loans and will continue to be reliant on external funding in the near future. This funding round will, however, give us the ability to launch with additional partners which gives us the scale that will make it easier to raise additional funding.  
We are a small team and need to retain key employees
Everybody in the team has a central role, but nobody is irreplaceable. This funding round will help provide longer term visibility to the team. Also everybody has an equity interest through shares and/or options.
We need to convert free users to premium users
We have only recently launched the free service with Sony and Philips and premium features will be released during 2017. We know, however, that users have been willing to buy a 75€ webcam to be able to do Tellybean calls. We also know that until recently Samsung promoted Skype as a feature on their TVs despite the ~100$ cost of the camera.
The financial forecasts are subject to a high degree of uncertainty and could change.
The financial estimates presented herein are best estimates made by the management based on limited information and assumptions of future development of key KPIs. Very limited historical data has been available to base the projections on.