CarePacks - Makes it easier to choose healthier!
CarePacks is the perfect choice in terms of choosing a healthier lifestyle when you won't renounce the good things in life, like snacking. CarePacks; making a healthier lifestyle more accessible for all!
Our story
Our story
The CarePacks concept was created based on the challenges the founders saw in the everyday life when they wanted to choose a healthier lifestyle for themselves and their families. As of today you have to be an expert within health and nutrition to choose the healthier products in a jungle of misleading marketing, especially when it comes to snacking products. It was then the idea of putting together pre-composed packages for various purposes and customer groups arose. The founders knew that in order to build a credible brand within the health segment, it was of importance that the packages were professionally validated by a nutrition specialist before they were shipped out to their customers. That's why all the products that are shipped out from CarePacks have been reviewed by CarePacks own nutrition specialist.
The second aspect of choosing healthier is the taste issue; it is commonly known that when you choose healthier you normally make a compromise on the taste experience. CarePacks wanted to change this myth as well; it should be healthier, but still tasty, since you don't want to compromise on the quality of life. That's why the whole CarePacks team engages when it comes to finding new products and approving the taste of these before they are being sent out to their customers.
CarePacks is a lifestyle brand, it's about taking the healthier choice for you and your loved ones. 

"We are genuinely concerned about people eating healthier. Today it's difficult to navigate between all the products in the stores and find the healthier snack varieties for you and your family. That's why we came up with Carepacks, a concept where we makes it easy for people to choose a healthier lifestyle without being any nutrition experts themselves".

Ezinne, Tonje & May-Rita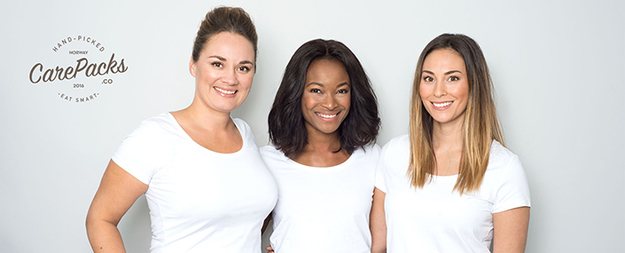 Our business & market situation
Our business & market situation
Our mission
CarePacks mission is to make it easier for people to choose healthier as the people's health condition is a hot topic worldwide today, more and more people suffer from obesity and lifestyle diseases. CarePacks wants to be a contributor that opposes to this negative trend and aims to be a provider of healthier alternatives that does not compromise the experience of taste. We believe that choosing healthier should always be easy and it should not reduce the quality of life. 
Our current product portfolio
The CarePacks monthly subscription-box - For all those who loves a good snack 
One of the largest megatrends we see today are different kinds of subscription boxes delivered on peoples doorsteps, so why shouldn't CarePacks be a part of that? CarePacks offers a monthly subscription-box with a variety of different snack products that are healthier alternatives compared to the products you'll find in the stores. The subscription-box includes a good mix of snacks from both known & unknown brands and of course our own CarePacks brand. All products that are shipped out are approved by CarePacks regarding taste and our own nutrition specialist has validated each product's nutritional content.
The DayPack by Ezinne - For all modern people on the move
The DayPack is a daily bring along package that is perfect for people on the move and the package contains a lot of nutrients helping you get through your day. It is a package that is a perfect snack between meals and gives you the energy to keep your focus and concentration levels up. CarePacks own nutrition specialist approves all the products in the "DayPack by Ezinne".
The MiniPack - The healthier choice for the kids
The MiniPack is the children's alternative to CarePacks and contains a good mix of healthier candy options for the total experience for the kids. It's the perfect choice for the birthday party, the bring along for the trip or any other occasion you want to give the kid(s) a treat, but at the same time wanting to make a healthier stand. The children love it, and the best part in addition to be a healthier alternative, the MiniPack comes with a small surprise as well.
The CorporatePack - Various CarePacks products - customized for the corporate market (B2B)
CarePacks will offer different products targeting the corporate market as this represents a huge opportunity and a substantial market segment. During our short company history we have already received several corporate requests regarding one or more of our products. As a consequence of this demand - CarePacks plan to start marketing and deliver towards the corporate segment ultimo Q1 2017. This will be the perfect product for both the dedicated employees or to the cherished customers.  The CorporatePack – a CarePack loaded with positive energy and great taste!
The combination of our recurring revenue model combined together with our take on the traditional retail distribution gives CarePacks several financial pillars. As we're working towards both B2C and B2B, CarePacks embraces a larger share of the market and targeting different groups of customers, giving a high growth potential and unimagined possibilities further.
The Market situation
At the moment there are no direct competitors within this segment that are offering nearly the same products nor services as CarePacks do today in Norway, this means it's a great opportunity to position ourselves for rapid expansion and organic growth. It also opens a lot of different sales channels to offer and distribute CarePacks' product portfolio. Currently CarePacks offers distribution all over Norway and Denmark and is currently looking for distribution possibilities in Sweden as well. Since the focus and awareness of health is an international issue, CarePacks sees the potential and possibilities regarding expansion towards Europe in general when a steady cash flow in Scandinavia overall is established. This gives us the possibility to build a trustful brand with strong guidance towards health and nutrition, providing consumer education both through infomercials, leaflets, CarePacks' owned media, our main ambassadors and high profiled key influencers.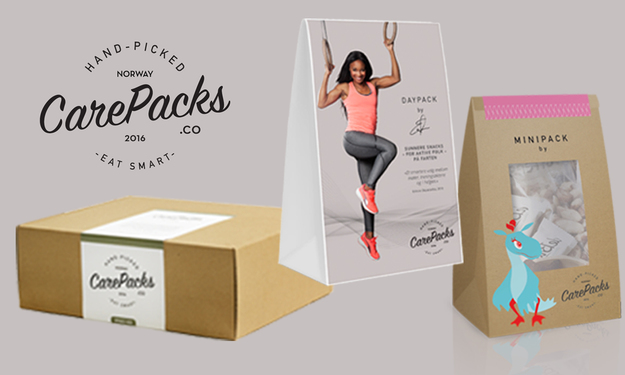 Our team
Our team
CarePacks consist of a group of dedicated people with very different backgrounds, which complements each other and the concept in an optimum manner. The CarePacks team covers a wide range of expertise and most of the team have been involved in several entrepreneurial projects earlier, so they know what it takes to succeed both in the initial- and the expansion phase in such projects.
Risks
Risks
Unlisted growth companies are high-risk investments. Making a high-risk investment involves risks, for example the risk of losing your investment, lack of liquidity, irregular or rare dividends and dilution of your stake. Please study this risk warning before making a high-risk investment.
It is recommended that you familiarize yourself with the investment target of your choice, reduce risks by investing in several investment targets and balance your investment portfolio with more liquid investments. We also advise you to pay attention to the Target Company specific risk descriptions, which you will find included in the pitch materials.
Attached to the pitch there is a creditworthiness report that may be relevant for the investment decision
"CarePacks will always strive to be an adaptive provider in the market with a conservative risk exposure to its shareholders"

Competition: As CarePacks are playing on several large trends within health & lifestyle and offers both healthier snacks and home delivery, there is always an imminent risk that someone tries to create something similar or just copying the concept 1:1. That's why we at CarePacks always monitoring the market for direct competitors and similar concepts at all time. Our goal is to be the best in what we do, despite the competitive situation and the market we're operating in. We also try to secure distribution rights where possible, by doing this we're able to offer something unique to our customers and being able to differentiate us from any competitors. In addition, we're focusing on a strong and professional brand building, as we know that trust is a vital and decisive factor to win and keep customers. CarePacks sees this as a short term and medium level risk, as we know that several of the retailers in the market will probably retail Carepacks products during 2017/18.

Financial: Since some of CarePacks' suppliers are foreign and we aim to export our products, the currency is always a risk factor, but we always try to reduce such risks as far as possible. We're still considering the currency risk as a small and as a calculated risk, taken our current volume per order into consideration. When critical volume is exceeded, currency hedging or other measures will be considered. Our customers' pays upfront before shipment so the capital risk is relatively small and all goods are ensured through our logistical operators and partners. 

Market: Although the launch of CarePacks concept and products has been positive in Norway so far, it's still no guarantee that it will be a success in other countries, as this is a new way to purchase snack in addition to be a separate niche within the snack segment.  The purchasing power, cultural differences and similar factors should also always be taken into account when starting up in a new country and are countable as possible risks.