A new business concept that combines the Moomin brand with a unique family friendly recreational space. Soon the first café will open its doors in Helsinki. We are now looking to fund our expansion to further locations.
This content is also available in
Finnish
Our story
Our story
New Company Ltd was founded in 2015. The company has designed a new business concept that combines the Moomin brand with a family friendly, unique recreational space. Mumin Kaffe is a unique combination of a play environment and a café where families and children come first.
The idea started with a simple need for a place where you can relax and have a cup of coffee with your children. This was the starting point for Sanna Kiiski as she started to have the first ideas for the concept. Sanna had time to develop the idea as her eldest child had gotten seriously ill with cancer, and she spent many sleepless nights on the floor of the children's hospital. She sketched the concept during those months, and decided that if her son survived, she would take her idea of the coffee shop for families and make it a reality.
Sanna introduced the idea to Moomin Characters Oy (that manages the Moomin brand globally). They loved the idea, and now the idea is flying high.
Mumin Kaffe wants to be a place for families but also a Finnish design concept for tourists. It is also a unique concept when it comes to hiring people. Mumin Kaffe will offer jobs for mothers with small children, people over 50 and immigrants.
The coffee shops will also have a small Moomin Shop that offers various Moomin products. Mumin Kaffe will also offer a range of Mumin Kaffe products - for example mugs and t-shirts.
The company's aim is to expand the Mumin Kaffe concept and turn it into a European-wide chain of cafés. The aim is to be one of Scandinavia's most popular family-orientated leisure establishments in five years' time.
Our business & market situation
Our business & market situation
Where we are today?
Currently we are in the process of opening four Mumin Kaffe coffeeshops in Helsinki. The first one opens in Kruununhaka (Liisankatu 21, 00170 Helsinki), the second one in Ullanlinna (Tehtaankatu 12, 00140 Helsinki) and the third one in Töölö (Mechelininkatu 3, 00100). The fourth coffee shop opens on the fifth floor of the Stockmann department store in the center of Helsinki early next year. 
The staff has been recruited for the first shops. We have especially wanted to hire mothers with small children, women over 50, immigrants and people with disabilities. The staff is very excited about the cafés. We have also received positive feedback from future customers and co-operation partners.
What do we plan to do?
Our goal is to expand throughout Europe. The next step is to open a Mumin Kaffe in Stockholm. We are currently looking for franchising entrepreneurs.
According to the planned revenue model, each opened business location will pay a joining fee of EUR 10,000 as a one-off payment, plus 10% of net sales as royalties. Each franchisee invests the cost of the construction. The estimated annual turnover of each café is approximately 1 million euros, which means that they will generate royalties to the company of about EUR 100,000 and joining fee of EUR 10,000.
Market Situation
Mumin Kaffe's core demographic targets are families and tourists. The company targets business locations where large numbers of families spend time, enjoy themselves or wait. Among such places are pedestrian streets, airports, train stations, passenger ferries and ski centers.
Family and children's recreational venues form an extensive market, comprising amusement parks, indoor amusement parks and restaurants' indoor play areas, among others. Children's needs are also taken into consideration in the spatial planning of some cafés.
The need for family-style recreational facilities is linked to the fact that over the last few decades, the amount of time parents spend with their children has grown considerably. To meet this trend, the market has started offering families and children an ever broader spectrum of leisure facilities. The market which has emerged around this phenomenon comprises things like amusement parks, indoor amusement parks and restaurant indoor play areas. In addition, the needs of children have been considered in the spatial planning of some cafés.
Another influential trend is the growing need of families with children to find the services they require in town centers. Traditionally, affluent families settled mostly in the more sparsely populated suburban fringes, but in the 21st century more and more families with children have decided to live in the city. Furthermore, an ever wider demographic is now visiting town centers with children in tow, hoping to find suitable services there.
In addition to local families, city centers are often full of foreign tourists, for whom the globally recognized Moomin brand is a strong incentive to visit a café. A variety of sightseeing opportunities and landmark shops compete for the attention of tourists, who account for a significant share of their business. As well as hotels and centrally located restaurants, there are easily recognizable fast food outlets and cafés, such as McDonald's, Burger King and Starbucks.
Tourists like places where they can relax, while simultaneously experiencing something local. Mumin Kaffe offers an exceptional choice in this respect. At the world's major airports, in particular, there are thousands of families passing through every day, who often do not find an appealing space in which to relax with their children. Mumin Kaffe's offers a solution to this.
The competition
Mumin Kaffe will enter the coffee shop market with a completely new way of looking into families with children as a target group. Mumin Kaffe combines a well-known brand with a family oriented concept. It is well known Scandinavian design plus much more. This gives Mumin Kaffe a unique opportunity to become an easily expandable international business.
Indirect competition comprises all those places where families with children spend time together.
Of these, outdoor and indoor play facilities operate on the same market logic. In recent years, we have seen a particular rise in children's indoor play centres around towns, where children can engage in play while parents wait in the café area.
Free indoor play facilities, for their part, are spaces intended for children to play in, and these can be found in restaurant chains such as Hesburger, McDonald's and Rosso. There are hundreds of these in Finland.
Examples of indirect competition include the following businesses:
Super Park
Hop Lop
Snadi Stadi
Linnanmäki
Särkänniemi
Power Park
Mumin Kaffe distinguishes itself from competition in these fundamental ways:
A strong Moomin brand entices families to come there.
Mumin Kaffe is not an indoor amusement park -> no entry charge, no rides.
Mumin Kaffe stands out from indoor play facilities as children have far broader opportunities to play in Mumin Kaffe.
Mumin Kaffe's atmosphere is unique. It is like a second living room for families with children.
Mumin Kaffes are located in areas which have plenty of footfall, such as on busy pedestrian streets, airports or train stations. In such places there is very little competition for family friendly recreational spaces.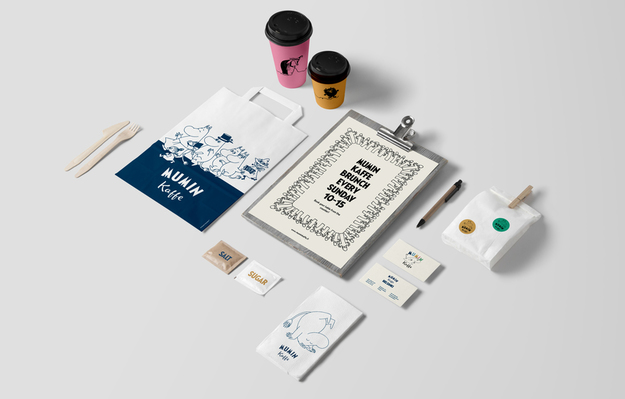 Our team
Risks
Risks
Unlisted growth companies are high-risk investments. Making a high-risk investment involves risks, for example the risk of losing your investment, lack of liquidity, irregular or rare dividends and dilution of your stake. Please study this risk warning before making a high-risk investment.
It is recommended that you familiarize yourself with the investment target of your choice, reduce risks by investing in several investment targets and balance your investment portfolio with more liquid investments. We also advise you to pay attention to the Target Company specific risk descriptions, which you will find included in the pitch materials.
Attached to the pitch there is a creditworthiness report that may be relevant for the investment decision
A similar concept to market - is it possible? We have a licensing agreement in place with Moomin Characters, which ensures that the exact same concept cannot enter the market.
The concept - what if the customers do not like / we don't find any customers? Based on our feedback, especially parents with children are looking for this sort of café. Also this is a Finnish design concept for tourists, and especially Asian tourists will love the concept. We will listen to our customers hopes and we will carry out their wishes as much as possible.
The adequacy of funding - Do we have the money if the sale does not start? We do not think this is a likely risk, we look forward to the opening day with a lot of customers arriving. But if this happens, we are prepared to fund the operations.
What if we are not able to create consumer brand awareness at a sufficient level? Moomins as a brand is very well known. Moomin books have been translated into 43 different languages, and in addition to books and comics, they have been turned into animation series, interactive book apps, plays and even opera. The rise of the of the Moomin world fame was also based on Tove and Lars Jansson's Moomin cartoons, which were published since 1954 in the first Evening News newspaper in London and later in 40 countries to 20 million readers. Therefore, we do not believe that we wouldn't be able to create awareness on the necessary level.
Personnel risks - how to ensure that the company rolls if one of the founders is leaving? The core team consists of individuals with varied backgrounds and knowledge bases. We all have a passion for what we do and we are committed to this project and excited about the cafes and the attention that we have received. We have recruited café managers that are responsible for the core functions of the cafés. All coffee shops serve the same concept, and it is possible to move staff between locations. Also our target is to recruit 1-3 new core team members to strengthen our team.