PhotoSpotLand™ is the platform (Web and Mobile) where people who love travel and photography can share the best locations and events for shooting great photos, including how, when and with whom to shoot.
This content is also available in
Italian
Our story
Our story
Discovering great places where, when, how and with whom to shoot great photos.
Travel and Photography are inextricably linked. As Susan Sontag wrote, "travel becomes a strategy for accumulating photographs." Today's travellers want photographs that allow them to express their own creativity and rise above tourist status.
PhotoSpotLand is a web|mobile platform which will become a one stop shop for passionate travellers and photographers. 
On the business side PhotoSpotLand is a service business for tourist boards and travel operators. We curate a stream of crowd sourced PhotoSpots to attract more visitors, our goal is not the sharing of photos; it is sharing of expertise and inspiration.
PhotoSpotLand has users from 5 continents - PhotoSpots from more than 50 countries. Our patent-pending technology allows access to the platform without a data connection.
PhotoSpotLand helps tourist boards, travel operators, tourists (including blind ones) and locals achieve two distinct goals:
Allow travel destinations to tap into the power of the crowd and promote their offerings from the consumer perspective. Images of a location create a strong desire to visit; our moderated crowd sourced content is authentic and credible.
Increase content value by adding practical (how to get there, nearest hotel, nearest food, accessibility, visitors info etc) and technical information (such as ideal camera settings, lenses , ideal time of day etc.), to the PhotoSpots, making it simple to discover great places where when and how to take photos.
Mario Bucolo, the founder and CEO conceived the idea because he found himself using a lot of unproductive time searching for the best spot to capture the cityscape and architectural images for which he is known. He wanted to create a database of useful information together with locations and images to share with his fellow travellers and amateur and pro-photographers.
Travel and Photography are linked and both are growing markets. Travellers want to take great photos of the places they visit and photographers will visit great destinations to obtain the photos they want - the two activities go hand in hand. The Travel industry uses photos to create a sense of place, to create a desire to visit and know the place better.  
PhotoSpotLand bridges these two needs by providing crowd sourced images and information for travellers and photographers and simultaneously a direct channel for the travel companies, tour operators and tourist boards. When our user discover a PhotoSpot, we enrich information creating a reason-why to visit.
PhotoSpots are created by the users and the Platform then geo-locates these onto a global map, logging data about the technical aspects of the photograph (ideal camera settings, ideal lens, ideal time etc) and interesting points about the location (how to get there, nearest hotel & food, accessibility, visitors info etc). All published photos are watermarked with the users name. The integrity of the database is preserved though accurate moderation.
PhotoSpotLand is the perfect location guide for your travel photography.
We operate inside the Mayor of London TravelTech Lab, invest in our platform (web & mobile) and take the opportunity to become an influencer of travel and photography.
The first and actual goal of the PhotoSpotLand business plan is to sell PhotoMapping campaigns to travel boards. We ran a proof of concept PhotoMapping campaign in London during Q1 2016 and doubled our sign-up rate during that period. Andrew Cooke, Visit London COO, said "the PhotoMap is a great asset to the City of London." 
The PhotoMapping Campaigns will run on a model with an entry fee to cover the initial work, plus a sliding scale depending on the size of the area to be covered. As we scale our users we will introduce new services to the portfolio. The incremental revenues include services provided to key players in travel and photography industries and local activities around each PhotoSpots. 
Accomplishments
Our key date is 15/2/15 when we were admitted to Mayor of London TravelTech Lab - Part of London's Future Tourism Strategy. In the following months we joined Google Launchpad and Facebook Start programs. Our users created hundreds of spots across 50 nations on 5 continents while we launched the 'Discover London as a Londoner' campaign supported by London & Partners (owner of VisitLondon.com) and key sponsors such as Canon, Uber, CityCruise, TriggerTrap, London Helicopter. The Campaign helped us to be selected by 'The Pitch' (Britain™s largest small business competition) as a top 100 UK startup.
On blog.photospotland.com a selection of our media coverage.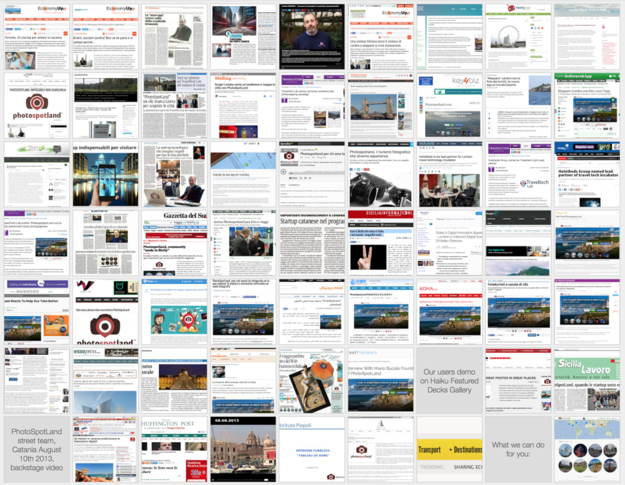 Our business & market situation
Our business & market situation
PhotoSpotLand is a service business targeting tourist boards and travel operators, delivering an endless stream of moderated crowd source PhotoSpots in "right-time". Revealing the beauty of their destinations through the visitors and locals eyes. We add value, we are distinguished from other sources,  we enrich the PhotoSpots with practical and technical information creating a live story and a reason to visit.
Target Market
The SmartPhone Market alone is estimated at more than 4 billion devices by the end of 2016 uploading photographs widely reported by Network Operators as the most popular application, it is clear that the number of potential PhotoSpotters is growing rapidly. More than a billion international trips undertaken in 2015 with 10% of those originating in China. The International Travel Market is estimated at 3.4 Trillion annually and set to double before 2030.
Travel destinations need to find new direct marketing channels to ensure they are not left behind as travel choices become increasingly driven by travel apps and social media. 
There is a demand for more authentic experience, a move away from traditional organised tourism, towards personalised travel experiences, hence the rise in community content apps such as Trip Advisor. This need to break away from the mould in their photography is serviced by PhotoSpotLand. 
The PhotoSpotLand solution addresses two separate markets, platform users and also service clients. 
Essentially the user market includes anyone who has access to a camera or camera enabled device. 
PhotoSpotLand focuses on places rather than faces, so we target people who travel and who want to document where they have been and what they have seen. We have found that we receive submissions from both leisure and business travellers as well as local residents who want to share their PhotoSpot, their perspective. Typically our PhotoSpotters use smartphones and often immediately upload PhotoSpots directly from the device. There is also the opportunity to upload from the website for those users who prefer to use dedicated photographic equipment. 
We promote an inclusive environment and so offer support to all, including Blind Travellers and Photographers.
As well as the active users of the site (PhotoSpotters), we have a large number of users, 'Explorers' who do not post but visit to use the information, as well as views from people without profiles. 
On the client side we have a wide target market - those who will use the PhotoSpots to support their own business objectives. We have a number of different types of business, both in the tourism and photography sectors.
We plan to target in Q4 2016, the Chinese market, around 100 million travellers every year.
Customer Problem
We solve two separate problems - first on the user side we offer a service to share spots and technical information to improve the photographic results and discovering new places.  The Community provides exact locations for great PhotoSpots, support and inspiration.
On the Client side we offer services which will give access to crowd sourced images and information - allowing these companies to join the trend for community content without the need to harvest it themselves.  
The bridge between these two is the function of PhotoSpotLand - using the Crowd to create a story for the destination, a reason to visit and then hooking you straight up with a way to achieve that.
Priority Prospects
Tourist Boards - we offer bespoke services integrating PhotoSpotLand and PhotoSpots to their web sites. 
Well-known brands in the travel industry for commissioned PhotoSpot Campaigns and advertising, we have a proof of concept ongoing with a luxury hotel brand.  
Later we will target a wider range of travel companies, including tour operators, airlines etc. for E-commerce, personalised native advertising and analytics / insight, also in photography industry.
Revenue model
PhotoSpotLand has an evolving business model with services being added as the user base grows. Initially we will concentrate on PhotoMapping Campaigns targeting  particular regions - proof of concept 'Discover London as a Londoner' Campaign which attracted about 20% of total spots created and when launched doubled the acquisition rate.  These will be a paid service for individual Tourist Boards.  
As the user base grows we will add affiliate programs, direct response marketing for Travel companies, analytics and insights.  There is no intention to derive revenue from the user base - rather we create value for the client side.
We adopt 6 main revenue model, each one have a specific target and can be applied at different stage of the company growth, in the attached Investors Deck there is a slide explain different models to adopt at different stages. We deal with key players in the travel and photography industries like Travel Boards, Airlines, Hotels, Tours operator, camera producers, retailers etc.
Photomapping campaign
Targeted or themed end-to-end service (oriented to Tourist Boards, Hotels etc) run by PhotoSpotLand to create several PhotoSpots on a specific topic or destination.
Tourist Boards: Service Contracts + Commissioned PhotoSpot Campaigns
Will address specific needs – Imagine near real time content on live events – creating excitement around destinations.
Travel Tour Operators: Service Contracts
We provide services to travel operators by detecting and highlighting users interested in their destinations.
Location-based (native) Advertising
Allows personalised adverts per user based on location entered or location searched on PhotoSpotLand.
E-Commerce (Travels & Photography players)
Will allow our users to purchase directly related products and services, travel, photography equipment.
Analytics and Users Insights
On significant user numbers, PhotoSpotLand will be able to mine the behaviour data and produce actionable insights for our clients – trending destinations per demographic and travel habits.
Competitors and Success against competitors
PhotoSpotLand does not compete with the major social media sites to catalogue and share Photos, rather we share PhotoSpots to Facebook, Instagram and Twitter so they can also benefit from the additional information. PhotoSpotLand has the major strength of accurate geo-location, there is a major competitor with this functionality, Panoramio.  Panoramio however does not have the other functionality most importantly the moderation that ensures only relevant PhotoSpots are included into the data set.
In terms of Travel Industry Advertising Spend - we compete with traditional forms of media such as billboards, paper catalogues and magazines.  The industry has made a major shift globally towards digital channels and this continues. As spend is reassigned away from traditional advertising mediums extra space is created for disruptive players such as PhotoSpotLand. The other trend in this area that should be mentioned is towards direct response for travel advertising, a natural for PhotoSpotLand which interacts with users mainly via smartphones.
PhotoSpotLand seeks to assist the community to get off the beaten track and improve their photographic results, these both in response to current trends. We will continue to respond early to trends and maintain relevance in our fast changing ecosystem and partner to create strength in our footprint.
PhotoSpotLand has the two unique strengths of accurate geo-location together with moderation to ensure the quality of technical and practical information captured. PhotoSpotLand also uses proprietary technology to allow realtime access to all features without data connection (patent pending).
PhotoSpotLand considers that it has 5 key differentiators with close competitors.
1. The platform is moderated to assure the images in terms of quality and creating the right sense of place
2.  A loyal global user base of both active (PhotoSpotters) and passive users (Explorers) inspired by 'SuperSpotters' influencers
3. Proprietary Technology allows access without data connection and ensure service availability in even remote locations (patent pending)
4. In-depth market knowledge of the travel industry in general and tourist boards pain points in particular. Gained by the founder & CEO over 30 years experience.
5.  Superior functionality, unique to PhotoSpotLand, that combines a lot of technical and location details about all PhotoSpots that guide and inform the community on photography and travel matters.
Flexible Architecture, scalability and ability to rapidly evolve features. We maintain highly developed Quality and Beta testing process to ensure excellent Customer Experience.
We also care a lot about our users rights, every photo in our Database is watermarked copyright with the name of the author. 
Sales & Marketing Strategy
Currently all the users we have gained on PhotoSpotLand have joined through word of mouth. We intend to create ambassadors within the travel blogger community to endorse our service.
In addition the PhotoMapping Campaigns will generate users as demonstrated during the pilot in London.
In terms of clients - we have a lot of contacts in various Tourist Boards and Travel companies - we will lever these relationships to sell our bespoke services and gain ground.  Initially we are focussing on the UK, Italy and other European destinations, and intend to secure a number of contracts here before expanding to other countries and the US.
At the end of the Crowdfunding campaign we will try to close some deals we push through our pipeline, we will hire a dedicated Sales Manager. We plan to expand our sales team to 3 members during the 2017, 6 in 2018 and 10 in 2019.
Patent Pending technology
We own a Patent Pending technology initially invented for our platform but that it's possible to license to other business.
This invention relates generally to how mobile devices communicate with servers and the surrounding world. More particularly, on what happens when mobile devices are offline due to the lack of any packet switched connection, such as 3G/4G, Wi-Fi, Bluetooth etc.
Thanks to our technology we allow any mobile device to interact in a bidirectional way with surrounding world, so - when using in our platform - users can see other Photospotters around, can discover nearby spots etc without data connection, so saving on data roaming when travelling. This does not rely on downloading information before, whilst connected, it's about the device communicating without a data conection. We will implement this technology in our platform in Q1 2017.
Two weeks ago (July 2016) at the Mastercard and British Airways Trip hackathon we demonstrated how to buy a BA ticket and pay with a Mastercard, with a secure transaction from a smartphone that was not connected to Wi-Fi or 2/3/4G data.
Web and Mobile
You can use PhotoSpotLand.com on the web and/or download the iOS App or the Android App, but be patient the Android version is a beta-version. In any case you can use PhotoSpotLand, via Web browser, in any mobile device. Here is a demo of PhotoSpotLand.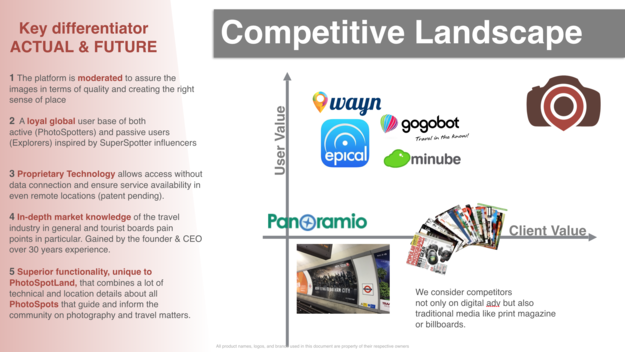 Our team
Our team
The founder and CEO, Mario Bucolo is an award winning professional photographer and a serial entrepreneur over 30 years and has created business in many varied sectors including travel, multimedia, marketing research, health centres, communication agencies and a photography studio. The team is highly motivated to disrupt the travel destination market and have created the initial tool to solve the problem of travellers need to capture the best photos from their trip and to create a compelling case to travel boards and others players in the photography and travel industry who will be able to lever the value of those crowd sourced images through their businesses.
Together the team encompasses all the aspects required to make a success of this business, technical, commercial, marketing with specialist knowledge in Travel and heritage together with the needs of Photographers.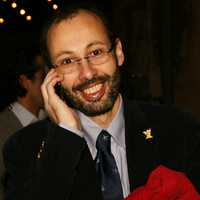 Mario Bucolo
Founder & CEO, London, Full time
Serial Entrepreneur Marketing & Communication expert (30 years in tourism and cultural sector) Awards winning professional photographer
https://www.linkedin.com/in/mariobucolo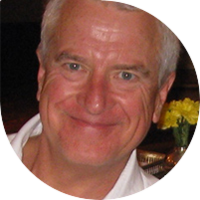 Mark Fabiani
Co-founder & Strategic Communications, advisor, La Jolla, USA, Advisor
Counsel to President Clinton  Deputy Mayor of Los Angeles Advisor to NY Governor Andrew Cuomo and Vice President Al Gore
https://www.linkedin.com/in/mark-fabiani-b720105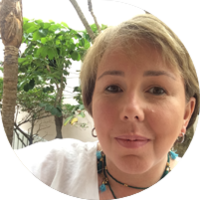 Lucy Goudie
Go to Market advisor, London, Advisor
Experienced building Global Service Business Customer Experience & Service Quality Management Team Building Expert
https://www.linkedin.com/in/lucygoudie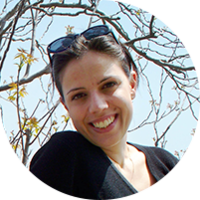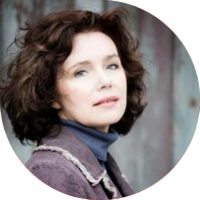 Margaret Krukowska
Marketing Specialist, London, full time
A successful business development/sales professional, with a track record in IT, finance & media markets BA (Honours) in Commerce and Economics, University of Toronto Faculty of Management, Warsaw University
https://www.linkedin.com/in/malgorzatakrukowska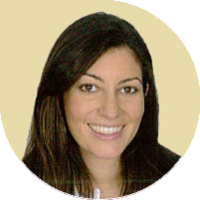 Giovanna Leonori
Partnership Specialist, London, full time
Counsellor (4 years) to the Italian Ministry of Defense, Ministry of Economic Development, Ministry of Heath and Antitrust Authority BA Political Science & International Relations, MA Political Science and Public Sector Administration, MA Competition Law
https://www.linkedin.com/in/giovanna-leonori-036b13a4/it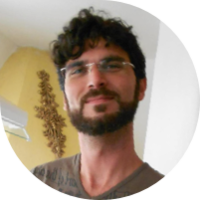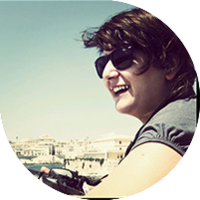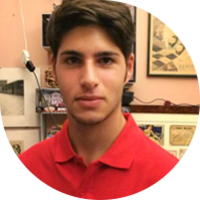 Alberto Ottimo
iOS Developer (tbc), Catania, Italy
BA in Computer Science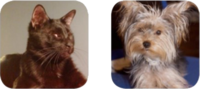 Tino & Kyra
Special guest
Moral Support
Risks
Risks
Unlisted growth companies are high-risk investments. Making a high-risk investment involves risks, for example the risk of losing your investment, lack of liquidity, irregular or rare dividends and dilution of your stake. Please study this risk warning before making a high-risk investment.
It is recommended that you familiarize yourself with the investment target of your choice, reduce risks by investing in several investment targets and balance your investment portfolio with more liquid investments. We also advise you to pay attention to the Target Company specific risk descriptions, which you will find included in the pitch materials.
Attached to the pitch there is a creditworthiness report that may be relevant for the investment decision
We create PhotoSpotLand to fill the gap in other travel and photography platforms. We do things that other don't do or we do them in different way. We work to create value to the company from users, to create a sustainable and scalable business and revenue model with the plan to growth a lot and make happy our shareholders with dividends in 5 years or, if there is the chance, to be acquired from a key player in the travel or photography industry. 
Of course there is a risk that we can't reach to penetrate the market and conquer brand awareness, that we don't have users traction to sustain our business in the future. On the base of the amount we will raise at the end of the campaign we will have a minimum runway of 8 months (raising the minimum target of £75,000) to more than one year raising the top level target (£200,000). After that runway period, as we need to scale-up and be active globally, we will have, once again, to seek investments. We plan around £450,000/£500,000 to boost our user base and our sales team and of course to create more brand awareness. At that point we trust the company valuation will be increased thanks to the runway and results achieved after this round. 
The main risk is connected with the chance to raise the second round of investment, related to the result we will achieve in the next 8/12 months and, of course, to the success of this campaign.
The industry is growing every day, tourists numbers increase continuously, advertising spending in travel industry growth in every part of the world. 
On our market side the situation is quite good, we don't have relevant competitors and we design PhotoSpotLand to fill the gap of services offered by key players in the travel and digital-photo industry, of course a risk can be that a key player will develop a service like we provide but the trend is to acquire specialized startup to expand the portfolio of services, so this "risk" can become and advantage for us. We will have success we can have a good chance to be acquired in the next 3 to 5 years.
Here same Case studies of startups acquisition in similar sectors:
November 2014, Photo app-maker Cooliris announced that it has been acquired by Yahoo.
April 2015, Canon Europe acquire London-based digital start-up Lifecake
November 2015, Chatbooks, a subscription service for printed photo books, has acquired Guesterly, a company that creates pocket-sized printed event guides.
Other acquisition in 2015:
HomeAway ($3.6bln), Orbitz ($1.8bln), Travelocity ($280mln) are acquired by Expedia.
Audely Travel was acquired by 3i Investment VC at $159mln
Student Univers was acquired by Flight Centre at $28mln
April 2016, Amazon acquire Orbeus a developer of a photo-recognition technology based on a powerful type of AI 
April 2016, Spotify has acquired photo aggregator CrowdAlbum
It's important to underline that acquisitions come from company operating in different sectors.