Cloud Insurance - Join our global journey
Cloud Insurance is a globally scalable software platform for the insurance industry, with extensive policy and claims management capabilities. Already in use in 15 different countries across five continents.
Our story
Our story
Over the past three years we have made heavy investments into creating proven and truly scalable software for the insurance industry. With a few, but valued and global customers headquartered in Scandinavia, the UK and USA, we have made traction even without any marketing.
We have been profitable from day 1, with an accumulated revenue of approx 5.5MNOK (~570k EUR) with 1MNOK (~100k EUR) EBITDA profit over the last three years. Now we are inviting strategic partners to join the next phase, which involves launching the service to the world with a clear ambition to gain a significant market share. First stop is the USA, where the insurance sector employs 2.5 million people and the net premium written totals to USD 1.1 trillion (short scale) every year.
See www.cloudinsurance.io for more information and customer case stories.
Figure below: Our current customers are based in Scandinavia, UK and USA. Through their subsidiaries and partners, Cloud Insurance already has a global footprint. The map shows locations where Cloud Insurance is used to serve the local insurance market and functions as the daily go-to tool for sales, policy and claims management.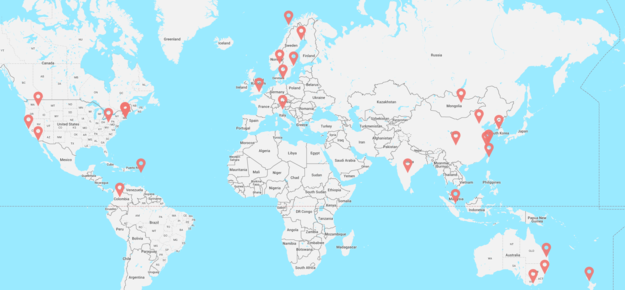 Our business & market situation
Our business & market situation
A Product Made for Innovation
A multitude of sources points to 2016 as the year where the insurance industry will be challenged and disrupted. The industry is in need to innovate and move faster, which is exactly what Cloud Insurance offers – we provide a significant reduction in time-to-market and put the end-user at the center of attention.
Cloud Insurance: Key Benefits
Drastically reduce time-to-market
We can quickly onboard new customers, with a fully operating insurance system delivered in hours or days, rather than months or years. On a running installation, new insurance products can be added in no time.
Standardization meets flexibility
Ability to accommodate to specific products and processes without the hassle of large, bespoke implementation projects.
Move closer to customers
The end-user can be involved directly without lifting a finger – sell policies and receive claim reports fully automated online.
Utilizing the value of data
We capture the relevant data, and churn it to wide array of reports, insights and integrations readily available. This enable our customers to meet compliance demands and get better information to base their decisions on.
Our customers are the chief of their own platform
​Fine-grained access level control and powerful custom pricing and white-labeling features enable our customers to give their partners/agents access to "their own universe".
A Global Customer Base
We cater to all entities that need to manage policies and/or claims. Our focus is to scale globally and efficiently. Currently, we prioritize to offer a full-stack solution for small and mid-sized insurance agents and operating brokers, typically with large volumes and great benefits from process improvement/automation. Affinity (group), specialty and travel insurance are all areas of great interest for us. For larger insurance companies with existing legacy systems, we prefer to start with the role as the "internal lean startup enabler".
Selected Case Studies
Compass Benefits Group, Inc. (MA-CA, USA) use Cloud Insurance to serve their global network of health and travel insurance specialists. They roll out new products every week, and partners and claims agencies in 13 countries across five continents are using the system as their daily go-to solution. We are currently translating the system to Chinese – Cloud Insurance will soon accept AliPay payments and issue policies to Chinese-speaking nationals.
On Call International, Inc. (NH, USA) is an industry leader in medical and travel assistance and risk management. On Call International uses Cloud Insurance to automatically accept end-user payments, issue policies and provide underlying data for their risk management business.
Vardia Insurance Group ASA (NO-SE-DK)  is a fast-growing insurance company that was listed on Oslo Stock Exchange in 2014. The company writes premiums for own accounts in Norway, Sweden and Denmark, and has several sales and distribution centers in the Scandinavian countries employing over 400 people. Vardia utilizes Cloud Insurance to provide excellent customer journeys and lean processes for their line of affinity products. Cloud Insurance is used for sales analysis and claims management for Komplett Group, the largest e-commerce player in the Nordics.
AGS Forsikring AS (NO-SE) tripled the volume without adding man-hours when implementing Cloud Insurance. We provide end-to-end policy management and claims handling for several large sports license insurance programs insuring hundreds of thousands of individuals combined. Notable programs include The Football Association of Norway, and the Norwegian Ski Association.
Trusted Solutions
Cloud Insurance handles policies and claims for several large insurers that have vetted the system and processes, including Inter Hannover, XL Catlin, Sportscover (Lloyds), AmTrust, Global Benefits Group and UnitedHealthcare.
Scalable Business Model
Our customers pay a SaaS fee (running license fee) to use the service. The SaaS fee has a small fixed portion and a variable portion: a commission of the premium amount and a fee-per-claim. Implementation costs and consultancy are paid by the hour, but we strive to minimize the consultancy involved. Our goal is not to sell hours; our goal is to provide a solution that offers flexibility out-of-the box.
A Company Ready for Growth
Cloud Solutions AS develops and delivers Cloud Insurance. The company was founded fall 2012. In the period 2013-2015, the company has operated as a lean startup, developing the product in cooperation with select key customers. In this three-year period, Cloud Solutions had an accumulated revenue of approx (~570k EUR) with 1MNOK (~100k EUR) profits (EBITDA). The company is located in Oslo, Norway and has significant operations in the US. The two founders will be located in Palo Alto in April and May 2016 attending the TINC program at Innovation House.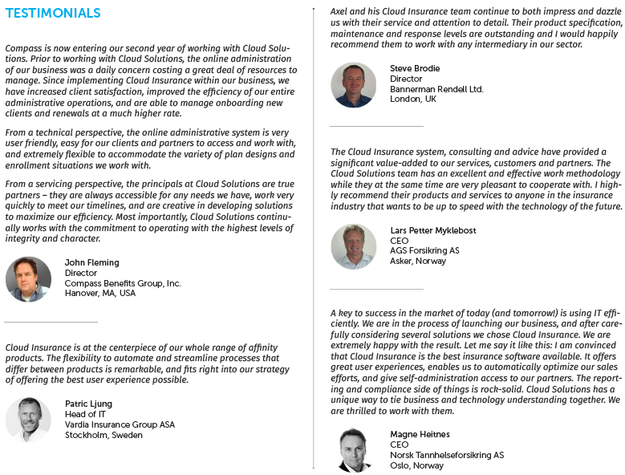 Our team
Our team
The Cloud Insurance team is based in Norway, whose insurance industry has the highest generated gross premium per emplyee and lowest cost percentage, largely due to effectivization and the use of modern technology (source: OECD Insurance Statistics).
The core team consists of the following people:
Risks
Risks
Unlisted growth companies are high-risk investments. Making a high-risk investment involves risks, for example the risk of losing your investment, lack of liquidity, irregular or rare dividends and dilution of your stake. Please study this risk warning before making a high-risk investment.
It is recommended that you familiarize yourself with the investment target of your choice, reduce risks by investing in several investment targets and balance your investment portfolio with more liquid investments. We also advise you to pay attention to the Target Company specific risk descriptions, which you will find included in the pitch materials.
Attached to the pitch there is a creditworthiness report that may be relevant for the investment decision
Macroeconomic risks:
Sudden changes in the macroeconomic environment of our area of operation could impact the business.
Operational risks:
Incumbents and new challengers can create competition risk for the company. The insurance industry of tomorrow is not the insurance industry of today. We continuously focus on providing the technology of the future for this industry, maintaining an attractive and forward-leaning position.
Operations may not succeed as planned. Our expansion requires high-quality execution, successful recruitments and good timing.
System outages or security incidents can shut down operations.
The loss of key personnel could slow down development and growth.
Liquidity risk:
After phase 2 ends, we will will most likely seek future funding to support our growth rate and continue our expansion. Further liquidity will be needed and we are continuously working on sourcing the best possible source of funding. There is no guarantee fundraising will be successful.
Regulatory risk:
At the moment the industry is highly regulated, and even more so with the Solvency II EU framework legislation and regulation. There is no guarantee how the laws and regulations looks like in the future and hence no guarantee how laws and regulations affect our business in the future.