Full Circle Labs: Handheld tools, reimagined.
Our first product was a BIG success on Kickstarter. Now we are seeking funding to exploit our competitive advantage in the 3D printing sector and expand our product line into even BIGGER markets.
Our story
Our story
Problems only become roadblocks when you don't have the right tools in hand.
Full Circle Labs was incorporated in 2015 to bring its modular platform for handheld heated tools to market with an initial focus on the 3D manufacturing industry.
Already embedded in the 3D manufacturing market, we identified a significant problem with the end quality of 3D prints i.e. printing errors and unsightly support structures. We saw there was a gap in the market: a product to allow professionals and consumers to retouch and finish their 3D prints properly.
After experimenting and testing different ideas and solutions, our first product, Retouch3D, was born. Following a hugely successful Kickstarter campaign, feedback from our Kickstarter backers revealed that there was a further unmet demand for a wider pool of products to serve professionals and consumers using heated tool technologies.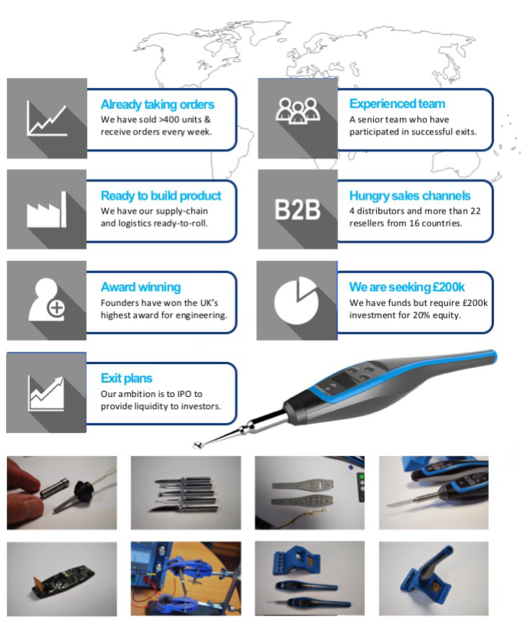 Our business & market situation
Our business & market situation
Where we are now:
Proven product: already pre-sold >400 units & continue to receive orders every week
197% funded in under 48 hours: Validated market via Kickstarter for our first product, the Retouch3D, and exceeded our funding goal
Ready to build product: Fully functioning prototype with supply-chain and logistics ready-to-roll
Award winning: founders have won the UK's highest award for innovation in engineering
Exit plan in place: our ambition is to IPO to offer liquidity to our investors
Experienced team: a senior team who have participated in successful exits
Hungry sales channel: 4 distributors and more than 22 resellers from 16 different countries
£200K: we are seeking this raise amount for 20% equity

£95K: SEIS availability for UK tax payers
Our Modular Hardware Platform:
Our modular hardware platform and software solution improves exponentially on existing handheld heated tools (e.g. soldering irons, dental technician tools) in the market in both design and function. Our patent-pending platform addresses the following characteristics required of a modern, sophisticated handheld heated tool:
Closed loop feedback: our monitoring software ensures that temperature and settings are constantly monitored and self-adjust accordingly
Accurate heat output: our bench tests of leading heated tools (such as high-end soldering irons) demonstrated that stated heat outputs are not realised, we have fixed this
Vibration: we added a vibration motor and controller to our platform; this means that excessive force and heat are no longer required for heavier tasks
Intuitive interface design: we have created a very user friendly interface to control the device's performance, next-up will be a mobile iOS/Android interface and the introduction of haptic control
Ergonomic design: we spent a lot of time developing a product form that works well in the hand and offers different grip positions.
Different tips for different tasks: our system boasts interchangeable tips that can be used for different tasks
Quick swap system for tips: hot tips cannot be removed with your fingers; we have a smart tool solution for this
Generic PCB: our printed circuit board module has input and output features that can be adapted to create different devices for different tasks, using the same hardware platform  
Market situation
Our current early-stage philosophy is SWAT: sell what's available today. To this end we are focused on three initial markets where we can leverage our modular platform as it currently stands today. Consumer feedback indicates that these are our three highest value markets where we can leverage our current product platform.  
Initial Market: 2016
3D manufacturing: Having successfully completed a Kickstarter campaign for the Retouch3D, we will start with this market as we have sales channels as well as global distributors and resellers already in place. Further, Full Circle Labs is first to market with no current direct competitors in an industry with an expected value of over $13bn and more than 2.3 million annual shipments of 3D printers by 2018
Coming in 2017:
Soldering: Feedback from our over 400+ customers along with distributors and resellsers has indicated strong demand for a similar heated tool focused on soldering. The current soldering market is flooded with cheap, poorly designed soldering irons that have not seen significant improvements since 1894. The electronic soldering iron market is a part of the power tool market, which is was valued at US$ 26.2 billion in 2014 and is expected to reach to $67 billion in 2025. Our plan is to utilize our modular platform to create a heated tool that will cater to the broader soldering market.  We will leverage existing online channels as well as other distributors and resellers in our network to market this product.
Dental: Dental technicians around the world are still use poorly designed heated wax tools. While dental tools have seen significant improvements in recent decades, heated wax tools have not kept pace. The dental tool market is set to grow over the next three years to reach a valuation of $7.1 billion by 2019. This market is ripe for the introduction of modern tools for the technician (including 3D manufacturing). Our founders will leverage their past experience in the medical device industry to open up new channels of revenue targeting dental technicians. tool will enter this market without the need to submit for FDA approval.
Competitive advantage – how are we different?
The Full Circle Labs' modular platform enables the company to configure features that are unique to each application. The company has filed a UK patent for its initial invention and has subsequently filed an international PCT to support claims of its IP in wider dental and soldering markets. The updated UK patent filing has provided the opportunity to file further IP claims based on Full Circle Labs' experience in developing the version 1.0 product. Haptic feedback is considered a key advantage within our patent claims.
Revenue model – how are we going to make money?
For the first product (Retouch3D) the company projects 20% direct sales and 80% via resellers like Amazon and large distribution partners that will manage country-by-country sales via online and bricks-and-mortar resellers. The selling price for our first product, Retouch3D of £99 ($149.99) has already been tested and orders have been received from end-users in 42 countries. Similar pricing and distribution models will be applied to our other specialist heated tools. Based on our final COGS from Retouch3D, healthy gross margins for current and future products will result.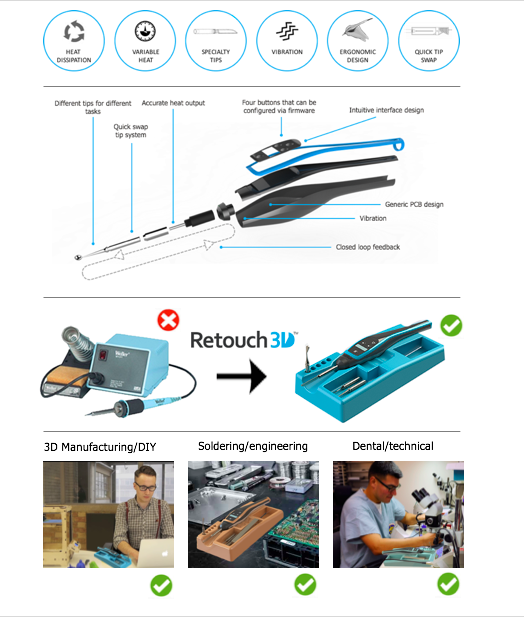 Our team
Our team
Full Circle Lab's leadership team is comprised of seasoned start-up professionals with experience in the technology, 3D printing, and financial sectors. The founders' driving motivation is to create design focused tools and software solutions for today's professional and consumer market surrounding heated tool technologies. 
Risks
Risks
Unlisted growth companies are high-risk investments. Making a high-risk investment involves risks, for example the risk of losing your investment, lack of liquidity, irregular or rare dividends and dilution of your stake. Please study this risk warning before making a high-risk investment.
It is recommended that you familiarize yourself with the investment target of your choice, reduce risks by investing in several investment targets and balance your investment portfolio with more liquid investments. We also advise you to pay attention to the Target Company specific risk descriptions, which you will find included in the pitch materials.
Attached to the pitch there is a creditworthiness report that may be relevant for the investment decision
Full Circle Labs represents an opportunity to participate in a business that has de-risked many of the challenges faced by early stage businesses, the company has:
already developed its product;
already proven market appetite;
leveraged existing relationships to already set-up international sales;
has eCommerce infrastructure set-up; and;
minimised operational overheads by working with key partners for manufacturing and fulfillment logistics
Business risks
The modular platform approach ensures the success of the IP is not dependent on one sector's performance as it can be applied to multiple sectors that benefit from handheld heated tools.
The distributors/resellers might take too big a share of the revenue – hence why distributor and reseller agreements will be in place to ensure margins are kept within our margins of acceptable profitability.
Competitors can roll out new IP's targeting the same customer segments. In the 3D manufacturing sector, being first to market ensures that we will have ample time to build brand recognition prior to competitor entrants allowing us to build majority market share and brand trust early on. Increased competition in the premium segment in other categories (soldering, dental wax tools) will help increase the value of the premium category and exposure for FCL products.
Technology risks
As with any hardware and software solution, additional risks include improvements in technology, which would reduce the overall market need for the product platform in its current format. We have taken this into consideration and will be investing heavily in R&D to develop new products and software solutions in-line with technological advancements across all sectors.
Liquidity risk:
After this initial funding round on the Invesdor platform, we will seek a larger Series A funding within the first year to support our growth rate and continue our expansion and development of new IP and technologies. Further liquidity will be needed and we are continuously working on sourcing the best possible source of funding. There is no guarantee fundraising will be successful.
Note:
This funding round is not made available or offered to the public but it is governed by the British regulations. The investment opportunity is not directed at or offered to persons located in the United States, Canada, Hong Kong, Singapore, Australia, New Zealand, South Africa or Japan. The pitch is communicated by Invesdor to its qualifying and registered users on the basis of the registration process. No public offer in any jurisdiction is being made by the pitch. The pitch is primarily intended for release in the United Kingdom and does not constitute an offer, or the solicitation of an offer, in relation to financial instruments in any jurisdiction in which such offer or solicitation is unlawful.