Pineleaf - A game studio designed for growth
Pineleaf aims to become the leading game studio in Norway with a prominent standing in the global video games market.
The information contained herein is not for publication or distribution, directly or indirectly, in or into the United States. These written materials do not constitute an offer of securities for sale in the United States. The securities have not been and will not be registered under the U.S. Securities Act of 1933, as amended, and are not being offered or sold in or into the United States.
The issue, exercise or sale of securities in the offering are subject to specific legal or regulatory restrictions in certain jurisdictions. The Company assumes no responsibility in the event there is a violation by any person of such restrictions.
This content is also available in
Finnish
Our story
Our story
Pineleaf aims to become the leading game studio in Norway with a prominent standing in the global video games market. We want to become a sustainable studio that feeds the ever-growing game industry with innovation in game design, community building and technology. 
We launched our first game in Early Access/Pre-launch in Q4 2020 and have already sold over 25 000 copies. We plan to launch the game in full Q3 2021. With over 115 000 customers who have registered DwarfHeim on their Steam-wish list, we predict a grand launch!
Pineleaf Studio was started when a group of game developers in Trondheim came up with the idea for a different type of Real Time Strategy ('RTS') Game, called DwarfHeim, the first game in our portfolio. After discussing the concept, the group submitted their idea to the Norwegian Game Awards that year, and they proceeded to win the "Concept of the Year" award in 2015. The group built up Pineleaf Studio to put the idea into action and start developing DwarfHeim. The developers applied for a shared desk at a local co-working space, and from there, grew their concept to a full-fledged game. 
The origins of the story encapsulate the energy of Pineleaf Studio. We put our plans into action, and we have a great appetite for innovation and success. Through the initial development of Dwarfheim, we have built a game studio that attracts talented professionals from all over the world, cultivated a dedicated global community and invented groundbreaking technology. 
Publisher
In January 2020, we signed a publishing agreement with Merge Games to further develop and launch DwarfHeim, an essential steppingstone for Pineleaf Studio. It is great for our team to work with the right partners to accelerate our path towards becoming a successful game studio. We choose to work with partners that share our ambitions, vision and ethics, and we're glad to have found this in Merge. With their experience and passion for the games industry, our first title is in safe hands to become a successful sales adventure. 
Community
We started building our community early on by being transparent in the development process of DwarfHeim. We made prototypes available for our fans to play at an early stage. We hosted BETA-weekends and built a community of over 14 000 registered testers and 100 000 interested buyers by the time we launched DwarfHeim into Early Access on Steam. 
Our community has been an integral part of the development of Pineleaf Studio, and we consider them to be a permanent member of our team. Testing and feedback from our community is a staple in all the development processes for Pineleaf. Our developers are frequently communicating with the players for feedback and suggestions. Community engagement is a pillar in our corporate culture. 
Technology
After two years of developing DwarfHeim, Pineleaf made the bold decision to delete all of our code and start over. It became clear that our ambitions for the game had outgrown the technological possibilities, and the game would need more room to grow. Therefore we developed a new technology called Pinecone that allowed us to re-start development through a more agile and modular process. Pinecone was developed to ease the workload of changing the values of features within the game without requiring programming skills. This technology has made the game design process more manageable, so we can test ideas and changes without it being an all-encompassing process which has saved us a lot of development time. 
A game studio designed for growth
By investing in Pineleaf, you are investing in a game studio with the fundamental pillars in place for growth, success and profitability. We are an ambitious team with a clear vision of whom we want to be, what type of products we want to develop, and how we want to do it.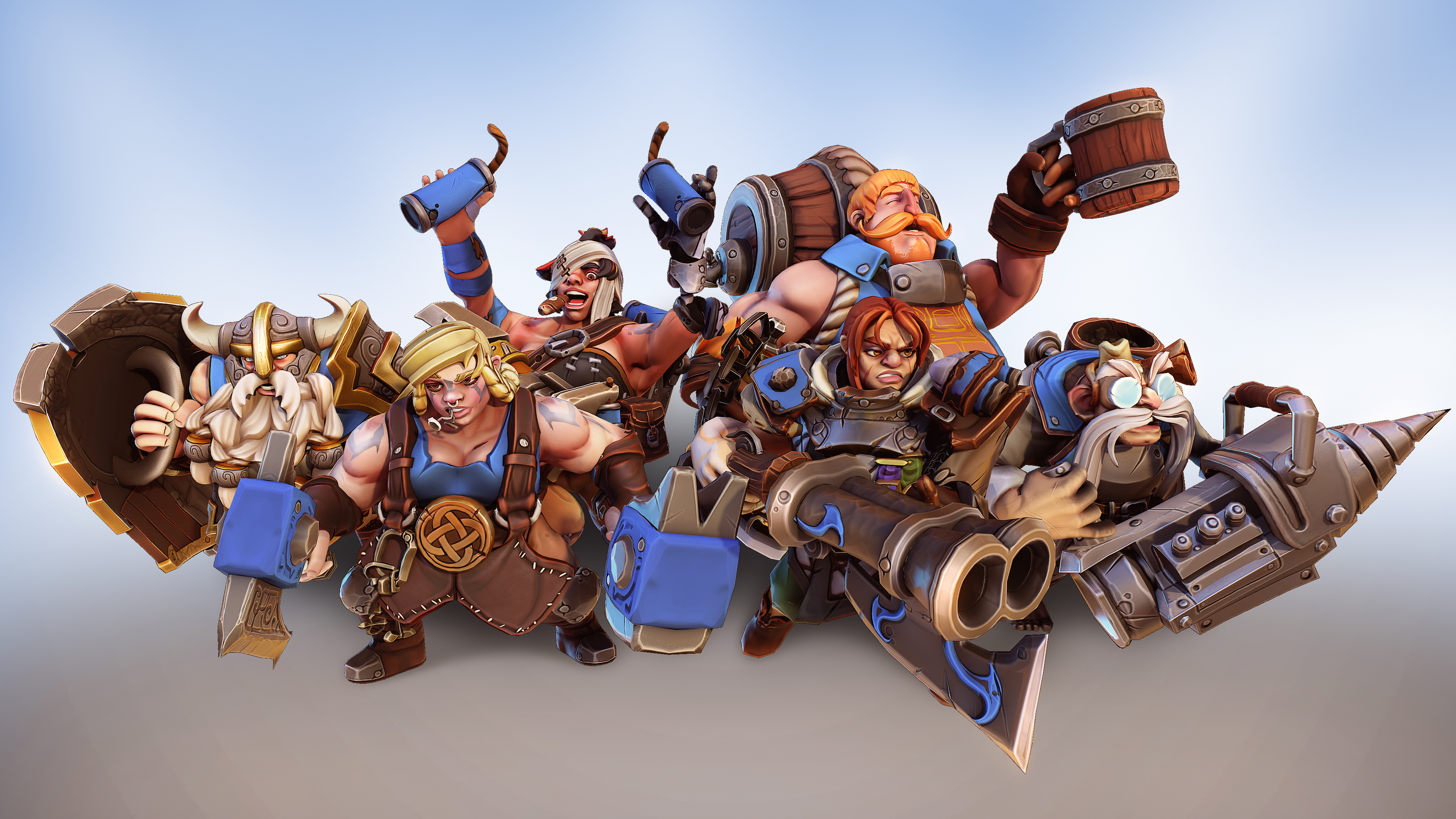 Why invest in Pineleaf?
Very scalable business model. Most of the costs associated with a game are development costs that are taken pre-launch. Once a game starts selling and reaches break-even numbers, all additional sales yield a very high margin. With most of the development costs for DwarfHeim already invested and the game already released in early access version, the sales increase needed to reach profitability is small.
The gaming industry is booming and is expected to surpass $200 billion by 2023. Pineleaf develops online cooperative games in markets that are hungry for more content and increasing in size.
Active within RTS games, one of the most successful game genres of all times, with a very long lifetime of titles and extremly loyal gamers, who are demanding more titles. Some of the worlds most successful titles are RTS games, such as StarCraft, Warhammer, Command & Conquer and  Age of Empires which all has sold several million copies.
The future business potential is enormous. Although Pineleaf today mainly focuses on its first title, DwarfHeim, the plan is to develop additional titles in the future. The next title is already in the concept stage and can be an excellent addition to DwarfHeim within the next 3-5 years.
Additional revenue streams. Post-launch, Pineleaf will continue building the franchise and game as a service, creating recurring revenue through DLC, microtransactions, cosmetics and sales of merchandise.
A proprietary platform for game development - Pinecone. During the development of DwarfHeim, Pineleaf has created a unique technology that allows us, and others, to rapidly test and prototype online multiplayer games, saving development cost. This platform will make additional game development significantly more cost efficient, be licensed to other developers, and grow to a significant potential revenue source.
The company estimates to have several potential EXIT possibilities. The company expects to be a potential acquisition target for industry operators and other investors within the next 1-3 years or execute an IPO shortly.
Pineleaf has a clear vision of becoming a scalable game studio focusing on cooperative game experiences, community and innovative technology.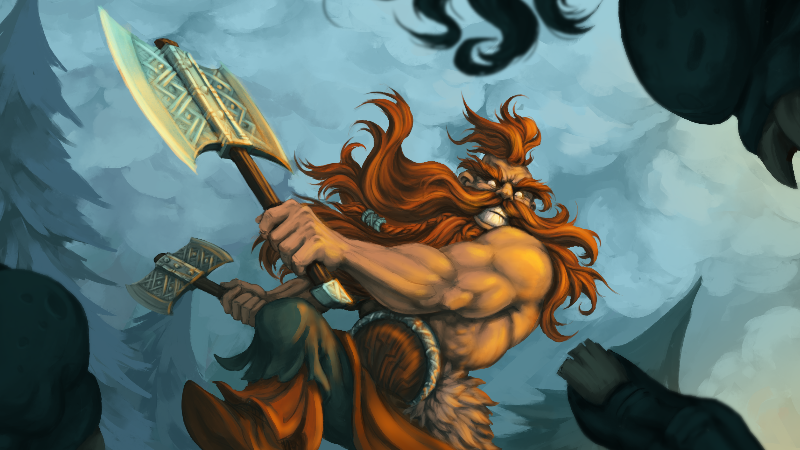 Our business & market situation
Our business & market situation
By aiming to become the leading game studio in Norway with a prominent standing in the global video games market, we aspire to be at the forefront of our market. Pineleaf is passionate about making games that you can play with your friends online. Our games provide top quality and entertaining gameplay that the gamers can enjoy together online. 
The world loves gaming
Today, the gaming industry is the largest entertainment industry in the world, with some 2.7 billion gamers globally. The market continues to grow, reaching almost USD 175 billion in 2020, an increase of 19.6% over the previous year, according to analysis firm Newzoo. Growth will continue in the coming years and Newzoo has estimated that the gaming market will have sales of USD 217.9 billion in 2023, which would mean annual growth of 9.4% during the period 2018-2023. Since previous year, all platforms have seen growth where mobile continues to see the most significant development and in 2020 accounts for 49% of the total market. However, the dominance of mobile games does not lead to a decline in growth in the PC and console markets. Since the previous year, PC has had a gain of 6.2% and the console market by 21%, according to Newzoo. Also, regionally, all markets have seen an increase in the number of active players. The largest market, Asia-Pacific, houses 54% of the global player base and has seen continued growth of 6.5% compared to the previous year, according to the 2020 global games market report. (Source).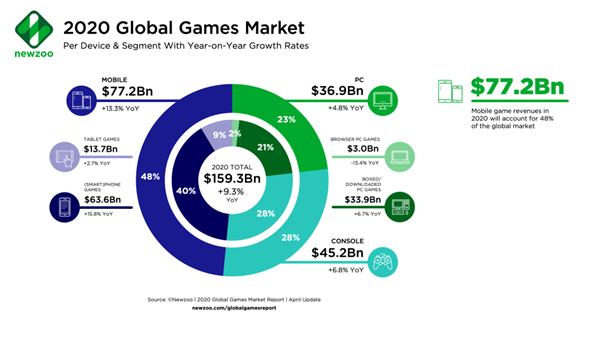 The game industry is thriving, with more consumers coming to games for entertainment to share with friends online. The Covid epidemic has contributed to the increased popularity of social games and brought more gamers into this corner of the market. 
RTS Games
RTS Games are one of the most prominent sub-genres of strategy games on PC. The genre is famous for being one of the first to be recognized as an e-sport and was the first to be a part of the Olympic games. 
Has a sizable e-sport following
Hardcore multiplayer audience
One of the most popular genres from 1990-2010
Seeing a shift towards single-player games
Hardcore players are moving to League of Legends, DOTA and other games catering to team-based multiplayer games. 
Performs better than average in terms of premium copies sold on Steam. 
Some RTS games, like Warcraft, have grown to Billion-dollar franchises, still selling 10+ years after release.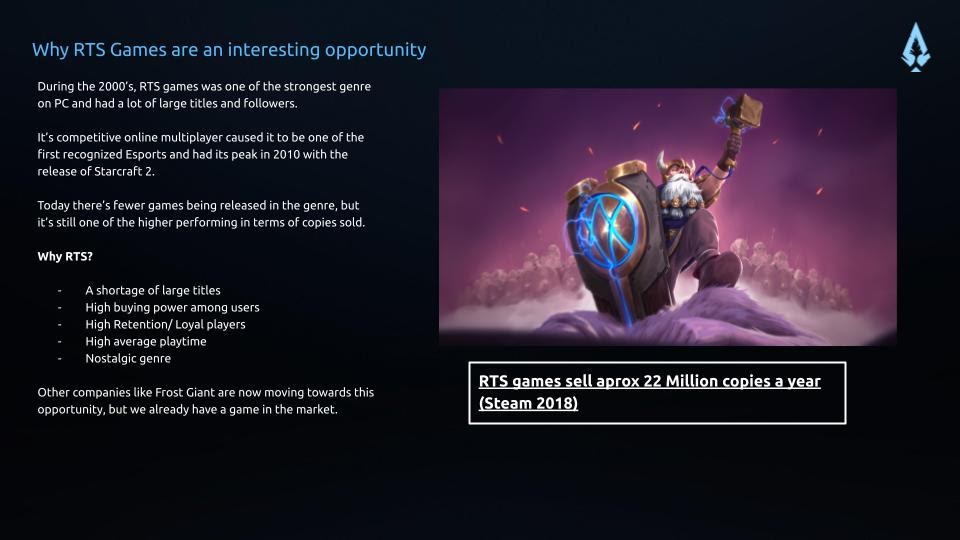 Our business
Our business is built on three core values:
The Team
The Community
The Technology
Pineleaf is devoted to creating quality games that can be enjoyed with friends. This requires a top-quality team, an engaged community and the right tools for development. 
We aim to be the best at all these three pillars.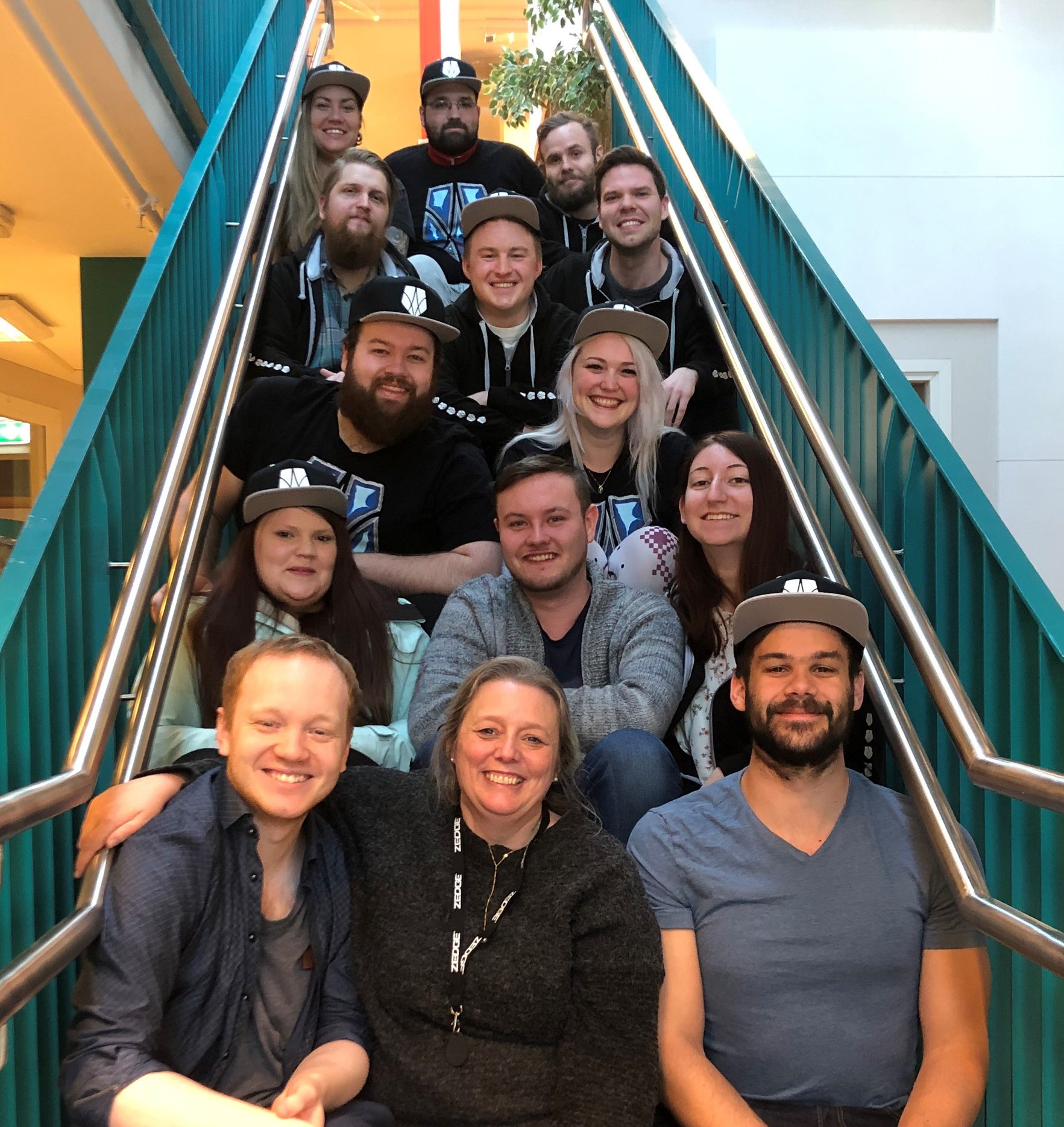 Our team
Our team
Pineleaf has a diverse team of game development professionals from all over the world. We're proud to have an international team based in Trondheim, Norway. We have audio, art, and programming departments consisting of both women and men and a strong administration team to lead the charge. 
We started Pineleaf Studio by renting a single desk at the local game development collective, Work-Work. It didn't take long before we were occupying more space. By 2020 we had outgrown the collective with almost 20 employees, and we moved offices to our new area nearby.  We're happy in Trondheim, and we are active in building the game development community here. 
Trondheim is the home of The Norwegian Game Awards and the largest IT-University in Norway, NTNU. Our collaborations with both of these give us access to many resources, mentors and talent, which is essential for our growth. 
The Pineleaf team has never shied away from a challenge and is led by CEO Hans-Andreas Kleven, COO Marianne Austvik and CTO/CFO Sigurd Murad. Together with Business Developer and CMO, Linn Sovig, these three lead the team through the development of our products, technology and find the right partners for Pineleaf's future. 
In 2020 we established a new international board with external experts within their field. This includes our investor Ludvig Nauckhoff from E14, serial entrepreneur in the games industry Andy Payne and Søren Lundgaard CEO Ghost Ship Games. The chairperson of the Board is Pineleaf's COO, Marianne Austvik.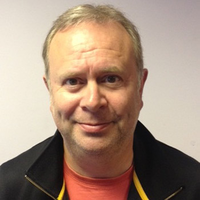 Andy Payne
Board Member
A successful serial entrepreneur within the video game industry. He is also currently The Chair of the Advisory Boards to British Esports Association, Digital Advisory Panel for the Gambling Commission and is an Advisory Board Member of Flick Games. In addition he is a Patron and Trustee for The National Videogame Museum and BAFTA, and has also received a title as an Officer of the Most Excellent of the British Empire for all his work with the industry and more in the United Kingdom.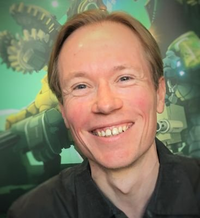 Søren Lundgaard
Board Member
The CEO and one of the Co-Founders of Ghost Ship Games the developers of the highly successful, award-winning, co-op FPS, Deep Rock Galactic. Lundgaard has worked professionally within the video game industry for over 20 years.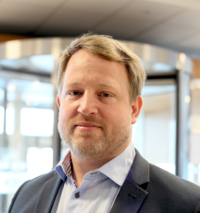 Ludvig Nauckhoff
Board Member
An investor in Pineleaf Studio, and founder of E14 Invest, Nauckhoffs skills comes from a long career within management, which has among others taken him through being GM for Goodyear in the Nordics, and Marketing Manager for Nike in the Nordics.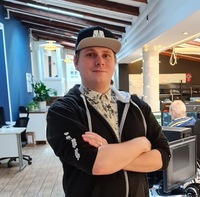 Hans-Andreas Kleven
CEO
Hans has been designing games for a decade and has been leading the Pineleaf team since 2016 where he has successfully raised funds and administered the growth of the studio. Kleven also functions as Game Director for Pineleaf Studio's first launch, DwarfHeim. In addition he has worked as a mentor at Spark-NTNU and is also currently a Project Manager at Trygge Rammer, which is an organisation catered to helping new game developers take the step to becoming professional game studios.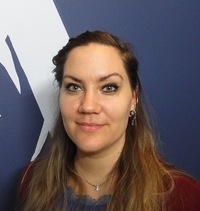 Marianne Austvik
COO and Chair of the Board
Marianne has a masters in Music Technology and worked as a manager for an after-school program before coming to work with Pineleaf in 2017. Originally she was to work with the sound design of DwarfHeim but her skills and experience as a responsible and efficient leader became very clear and she has been working as our COO since 2019. Austvik also works as our Producer and Sound Director for our first game, DwarfHeim. In 2020 Marianne Austvik was also voted in by our General Assembly to becoming Chair of the Board.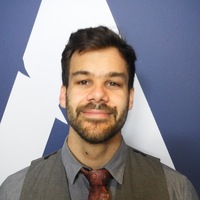 Sigurd Murad
CFO and CTO
With a masters from NTNU in Cybernetics and leadership experience from the Norwegian Army, Sigurd Ovesen Murad is a very talented and knowledgeable CTO that has additionally  stepped up and into the role of CFO. He manages to maintain the company's finances while leading the programming department and the technological vision for the studio.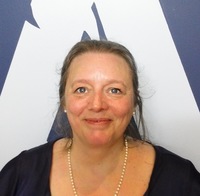 Linn Sovig
BizDev and CMO
Linn Søvig is a veteran in the Norwegian games industry and has worked on multiple titles and roles within the industry, including publishing and business developer for multiple titles, starting with founding the largest game industry conference in Norway, Konsoll in 2012. She has since worked with launching 5 games and has a vast international network.
Risks
Risks
Unlisted growth companies are high-risk investments. Making a high-risk investment involves risks, for example the risk of losing your investment, lack of liquidity, irregular or rare dividends and dilution of your stake. Please study this risk warning before making a high-risk investment.
It is recommended that you familiarize yourself with the investment target of your choice, reduce risks by investing in several investment targets and balance your investment portfolio with more liquid investments. We also advise you to pay attention to the Target Company specific risk descriptions, which you will find included in the pitch materials.
Attached to the pitch there is a creditworthiness report that may be relevant for the investment decision
The Company's product is at a development stage, and the Company may fail to reach profitability
Pineleaf is a game development company and has only released its first game in early access. Pineleaf has financed most of its operations through share issues and loans from Innovation Norway. To become profitable, Pineleaf must succeed in taking DwarfHeim to full launch to commercialize the game for the broad mass and sell enough games to reach profitability. Failure to do so may have a material adverse effect on the Company's business and the value of shares.
The Company may fail to receive the financing needed for further development of DwarfHeim and future titles
Even though the remaining development of DwarfHeim requires a limited amount of funds, there is no guarantee that the game will generate enough revenues to fund Pineleaf in the future. As a result, Pineleaf may have to raise additional capital to fund their ongoing business or fund future titles. Failure to obtain sufficient funding under favourable terms or at all may have a material adverse effect on the Company's business and the value of shares. 
Personnel risks
Key personnel are a significant factor in the success of a game's development company. They are highly motivated and committed to carrying out valuable work in the innovative work environment offered by studios such as Pinleleaf. This commitment is enhanced by key personnel also owning shares in Pineleaf. Even so, there is no guarantee that Pineleaf will keep key persons in the organisation in the future. Losing such key persons may have a material adverse effect on Pineleaf's ability to develop and maintain DwarfHeim or other future titles, negatively affecting Pineleaf's current and future ability to generate revenues.
Risks related to financial forecasts
Estimates, forecasts and other such statements made regarding the company's future growth, development or financial situation always involve uncertainty. For example, there may be a delay in the launch of the company's product or the sales may not reach the estimated level, affecting the company's profitability.
Risks relating to a potential exit
Although the current exit landscape for game development companies is favourable, there is no guarantee that an exit either by trade sale or an IPO will be possible in the future. Also, even in favourable market conditions, a potential exit can be hard or impossible to carry out if Pineleaf's financial performance has been bad or if the game (s) produced by Pineleaf are not commercially competitive. 
Risks related to important partnerships
Pineleaf has an agreement with a publisher to help market their first game DwarfHeim. Even though the relationship with the publisher is contractually binding and deemed good and strong today there is no guarantee that it will remain so in the future.  If the contract with the publisher for some reason were to end it could have a negative effect on Pineleafs ability to distribute their game and thus on Pineleafs financial position and value of their shares.