Asqella - A world leader in dynamic screening for security
Asqella is a world leader in dynamic screening for security and the company's products are already in use on several markets. Now the company aims to capture untapped security demand in the post Covid-19 world as the world starts to open up again.
The information contained herein is not for publication or distribution, directly or indirectly, in or into the United States. These written materials do not constitute an offer of securities for sale in the United States. The securities have not been and will not be registered under the U.S. Securities Act of 1933, as amended, and are not being offered or sold in or into the United States.
The issue, exercise or sale of securities in the offering are subject to specific legal or regulatory restrictions in certain jurisdictions. The Company assumes no responsibility in the event there is a violation by any person of such restrictions.
*** Please note that discussion and additional information can be found in the Investor Forum. If you have any open questions for Asqella, please post them in the Investor Forum. ***
Our story
Our story
Due to urbanization and population growth around the world, urban areas are increasingly crowded and more vulnerable to security threats than ever before. Asqella provides products and technologies that make places and events more secure. The Company's main product ARGON is already being used for security solutions in several markets for multiple industries such as travel, border control, inside arenas and smart buildings – in a way that minimizes waiting lines, is able to screen people for contraband efficiently and is non-intrusive.
Asqella is currently also leveraging its technology to a new promising Covid-19 related area  full body thermography (health conditions based on temperature differences in the body).
Asqella was founded in 2013 based on academic research and development since 2003. The Company is a spinoff from VTT Technical Research Centre of Finland and is headquartered in Helsinki, Finland. Asqella currently employs 7 professionals.
The investment opportunity
Leading provider of novel technology to screen security threats and contraband
One of the very few companies able to provide security screening tech that is i) passive, without irradiation, ii) high throughput, iii) suitable for concealed and non-intrusive detection, and iv) satisfies the need for "socially distanced security" required in post-COVID travelling
Offering bundles of hardware, software (incl. ML algorithms) and deep industry know-how since early 2000s
Large, rapidly growing security market where new segments have started to evolve
Security screening market estimated at 9,5 Bn USD by 2026 (Mordor Intelligence 2020)      
Market contains various established segments (industrial and technology), whereas the passive security screening technologies' market has only recently evolved
Asqella enables a revolution of security screening in venues where systematic, cost efficient, large volume screening has not been feasible (e.g., smart buildings, ferry travel, events)
Driven by Covid-19, development initiatives and collaboration with healthcare professionals
Proven and patented technology that can be leveraged to other business domains
Proven technology with multiple high-profile public implementations
Performance of the technology validated by independent evaluation agencies
Machine Learning algorithms can be continuously trained to identify new threats
Applications using THz wavelengths are currently used in several significant domains (telecommunications, security, medical analysis)
Asqella's patented technology based on multiple years of research is currently being used in the security field, but has potential in multiple other domains
New full body thermography solution for health screening (Covid 19 relevant)
Covid-19 has raised the urgency for assessing health related risks and created demand for high speed, highly accurate, and nonintrusive capability that can indicate individuals with exhibiting symptoms of infection
Terahertz (THz) waves are potentially a superior technology for providing such solutions as it allows you to "see" through clothes and measure temperature profiles of a whole human body, unlike e.g. infrared cameras which cannot see through clothing
Unlike existing solutions that provide a point estimate of the body temperature, Asqella's solution enables a whole-body temperature profile
Asqella is currently piloting thermal measurements with a major Finnish hospital
Thermal feature expected to be in production during Q1 2022
Geared for profitable growth (30+ in units 2019) despite quiet 2020 Covid year
The significant investments in the technology platform and competencies enable rapid scale up
Sales and service network in place in Asia and Europe
~50% gross margin from the main product, ARGON, drives EBITDA growth and profitable scalability of the business
2020 revenues declined due to the significant impact of Covid on the transportation industry, but are expected to pick up in 2021
In January 2021 Asqella was selected to the Deloitte Fast 50 program which lists the 50 fastest growing technology companies in Finland
One of the few available acquisition targets
The Asqella technology solutions enable both a multitude of new relevant use cases and challenges many markets previously dominated by X-Ray technologies
Significant time to market advantages
Our business & market situation
Our business & market situation
Asqella's Technologies
Personnel screening solutions predominantly use various forms of portal technologies; walk through metal detectors, millimeter wave and X-ray portals. Asqella's product was developed for rapid screening environments where portal-based throughput rates are inadequate. For example, mass transit hubs such as airports and train stations, public buildings and spaces, educational institutions, sports and music venues. Another application driving the development was where the screening should cause minimum inconvenience to people. Asqella's proprietary technology will reliably identify larger threats such as firearms and explosives which can create significant public harm.
The concept of a Asqella's product is simple – taking a picture of a person, but without using X-rays (like some other security devices). Further, the technology uses THz waves and is hence not dependent on visible light (e.g., digital cameras require visible light).  THz waves are able to identify possible security threats by "seeing" through clothes. The nature of the threat is identified by feeding the "picture" into a software that uses Machine Learning techniques.
Asqella's products are protected by international patents and the technology has been evaluated and validated by independent evaluation agencies. 
Asqella is also developing this technology further – the emergence of Covid19 has increased the importance of health-related threats: In the post-COVID world, the prevention of rapid spread of subsequent pandemics likely necessitates the deployment of various risk assessment methods at border crossings. Since polymerase chain reaction (PCR) tests on every individual person are far beyond the capacity in the foreseeable future, a reliable pre-screening solution is urgently needed to feed the suspect cases for this secondary (PCR or similar) testing. The Company has started a pilot project with a leading Finnish hospital to validate the use THz technology's ability to observe the phenomenological effects of infection over the whole human body. The Company expects to complete the pilot during the spring and to bring this capability into its products in 2022.
Asqella ARGON
ARGON is one of the few commercially available products using waves for security screening. The main features and capabilities are:
Does not emit radiation.
Detects concealed objects like liquids, gels, ceramics, currency, narcotics, explosives, and metallic items.
Runs at true real-time frame rates: the camera can detect objects on moving subjects.
Industry's largest field of view can screen multiple people at the same time.
High image definition and contrast facilitate reliable detection.
Can be concealed behind a thin wall or curtain.
Not necessarily a replacement but rather a supplement to enhance security.
Whole solution backed up by ML & tailored algorithms for optimal detection per market niche and industry knowhow how CONOPS (concept of operations) to ensure optimal installation in various venues.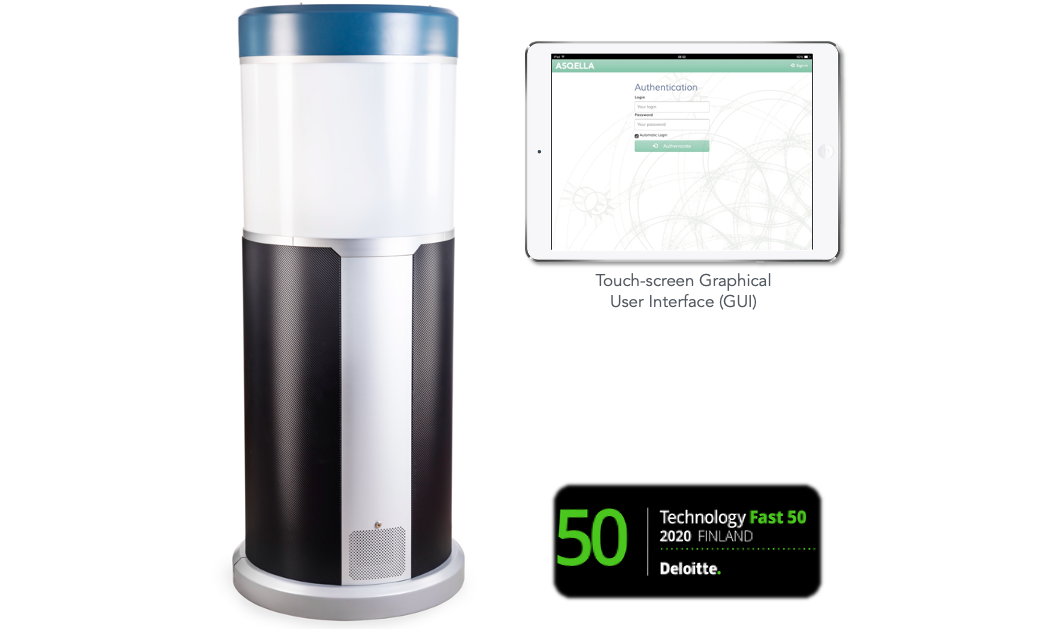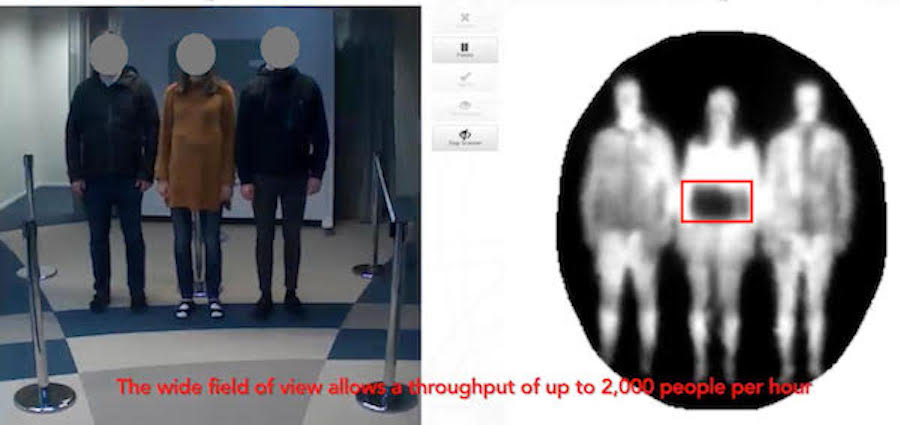 Markets
Security screening markets are big and growing fast – the market is estimated to reach 9.5 Bn USD by 2026 representing CAGR ~5% (Mordor Intelligence 2020). These markets contain various established segments (industrial and technology), whereas the passive security screening technologies' market has only recently evolved. Asqella enables a revolution of security screening in venues where systematic, cost efficient large volume screening has not been feasible (e.g., smart building, ferry travel, events).
Key Drivers
After 9/11, aircraft terrorism has dropped significantly – but attacks occur annually elsewhere (Manchester Arena, London Bridge, Boston marathon, Nice and Barcelona truck attacks, Orlando night club shooting…) claiming tens of deaths annually.  Attacks impact citizens' willingness to attend large public events or visit public buildings – causing demand from citizens to providers carefully address security issues. Simultaneously, while attending events or visiting public buildings, customer expectations towards whole experience are constantly increasing, forcing service providers to constantly streamline security screening processes. This streamlining, and the avoidance of crowds and queues, (which pose soft targets themselves) is of even greater importance in the post-COVID world, where circumstances favorable for mass spreading are to be avoided.
Fast market growth for security screening technologies - CAGR 8%
The global explosive detector market is expected to grow at 8.2% CAGR from 2019 5.9 Bn USD to 11.1 Bn USD by 2027 (Allied Market Research 05/2020). Surge in terrorist activities across the globe and government regulations for effective and enhanced security drive the growth of the global explosive detector market. However, inability in detecting improvised explosives devices (IEDs) is anticipated to restrain the market growth. Furthermore, growing adoption of handheld explosive devices is expected to provide new growth opportunities during the forecast period.
The total market can be estimated being relatively equally split between industrial segments (military and defense, transportation and logistics, public safety and law enforcement, commercial, others).
Legislative efforts are also being prepared across the world, Martyn's Law as an example, indicating that political climate is positive towards increasing security screening and improving visitor safety through regulative actions. The new improved level of security should however be both affordable and proportionate to be justifiable. Due to the very "analogue" nature of contemporary security measures (mostly centered on the deployment of personnel), new technologies are needed to digitalize these security measures to 21st century standards.
Due to better user experience, less distracted and socially distanced people flow and reduced operational costs, market for passive detection devices (like ARGON) is anticipated to exceed the relative market growth.
Implications to Asqella
High security threats, customer requirements towards event providers (in terms of CeX and security requirement) and general market growth validate the chosen strategy of the Company to further develop the passive and automated security screening offering.
Total addressable market sizes by 2025*

Segment
Total adressable market estimation logics
TAM
Venues

Around 150 indoor arenas in Europe with capacity above 10 000
Ten entries per arena means 1500 in total where security screening must be conducted 
Assuming one passive device per entry at 150k€ per device would be realistic (only above 10k capacity assessed)

+200 MEUR
Ferry travel

+450M annual ferry passenger trips in Europe 
Even though +10M passengers go through the busiest ports annually, security processes are far from advanced and highly monitored
Assuming 50 largest European ferry ports with 5 passive devices per port at 150k€ per device would be realistic

+35 MEUR
Airports (landside security)

Around 3 500 airports in Europe from which 159 are classified as large and 867 as medium sized. If taking 20% of European airports into the scope and estimating five entries per airport, means it 3500 entry points to airports 
Industry in need of solutions that provide both high accuracy and throughput 
Assuming two passive devices per entry at 150k€ per device would be realistic

+1Bn MEUR
Smart buildings

There are about 25 billion m2 of floor space in Europe, 25% of which for non-residential use and from that portion 23% for office use - meaning 1.5 Bn m2 
If using The Shard's (London, 56k m2) size as a divider that would mean around 26k potential office venues
Assuming 10% of the buildings being "smart enough" by 2025 for this kind of technology and assuming two passive devices per entry at 150k€ per device would be realistic

+770 MEUR
Loss prevention

Total number of full-time employees in the warehousing and storage industry is more than 400 000 (2016); globally theft costs companies over 15 billion USD annually, if assuming European market covers 10%, that accounts 1.5Bn EUR losses 
With half a billion "margin", companies could invest 1Bn for loss prevention. If assuming 500MEUR used in technical devices, that would create a demand for more than 3000 devices at 150k€ per device

+500 MEUR
Other public transit

There are more than 3700 metro stations in Europe 
Assuming two passive devices per metro station at 150k€ per device be realistic

+1.1 Bn EUR
Public infrastructure

There are 150 cities with half a million inhabitants or more 
If assuming each city has five buildings added and the most novel security solutions would be needed, that creates a potential installation base of 750 buildings 
Assuming two passive devices per building at 150k€ per device would be realistic

+225 MEUR
Outside events

There are thousands of festivals across Europe throughout summer 
Assuming that 100 biggest festivals would benefit the most from the added security technologies and each festival has five entries, that would create a demand for five passive devices per event at 150k€ per device 

+75 MEUR
Customs and border

More than 2000 EU customs offices operate 24/7/365 and employ almost 90k personnel  
Transit volumes include more than 16M transit movements, 370M export and over 400M imported items (2018)
Assuming two passive devices per every second customs office at 150k€ per device would be realistic

+300 MEUR
TOTAL
 
+4.2 Bn EUR
*Company estimates 2019
Strategic focus areas & go to market
The key strategic goals for the Company are:
2021 – Ensure market acceptance and build enablers for scalability:
Ensure market acceptance and build enablers for scalability:
References collected and leveraged for maximum growth impact
Productized offering per industry / subsegment
Ensured production ramp up capability and executable plan
Strategic OEM (key component) collaboration (in China) continued for extended learning and secured cash flow
Development of thermography solutions for health screening
2022 – Aggressive growth and scale operations:
Aggressive growth and scale operations:
Invest in S&M and expand distributor/strategic partner footprint
Scalable OEM manufacturing, driven by OEM business (in China)
Software and data as strategic differentiators
Forerunning integrability and recognized strategic player in smart cities' security domain 
Naturally, achieving above goals are subject to uncertainty and involve a multitude of risks. The Company believes that the largest risks include (but not limited to) (i) lack of sufficient financial resources to execute the strategy, and (ii) retention of key employees and successful recruitment of new professionals.
Development roadmaps
The system typically delivered to a customer comprises of ARGON hardware, Software components according to the customer needs, services provided by a third party or Asqella. The Company's technologies have already been integrated by a major OEM making new sales channels available.  The operative plans for the customer value proposal can be split into following four roadmaps:
ARGON product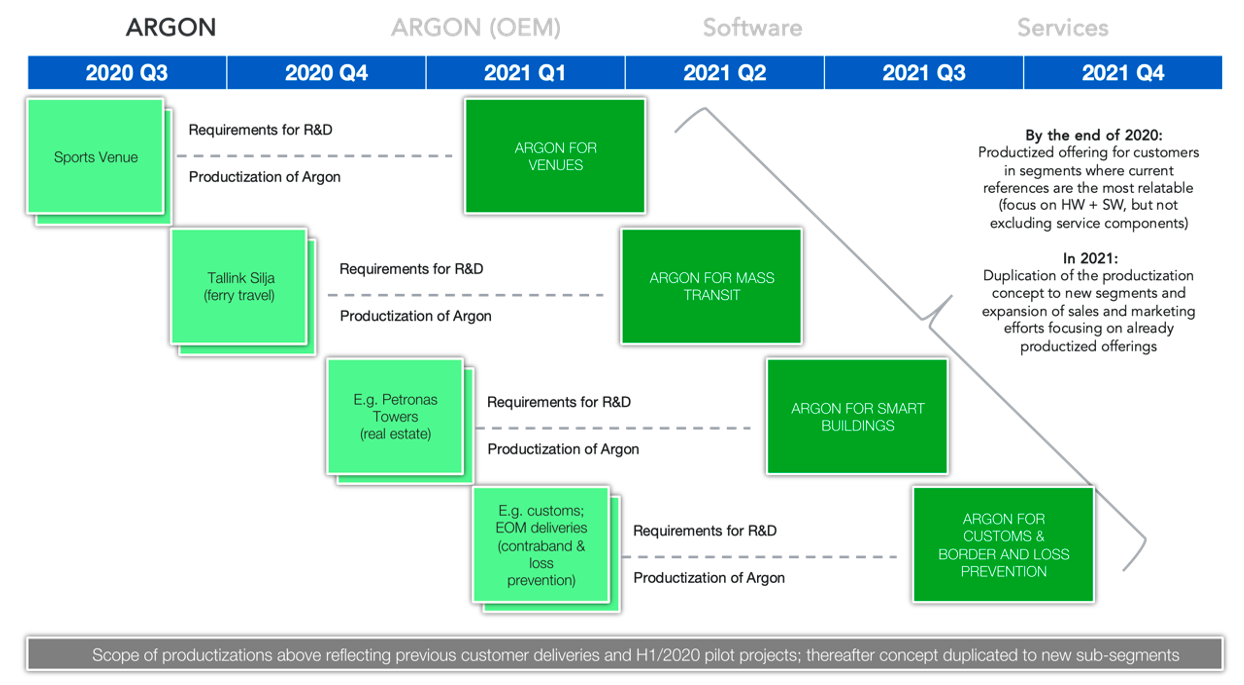 OEM roadmap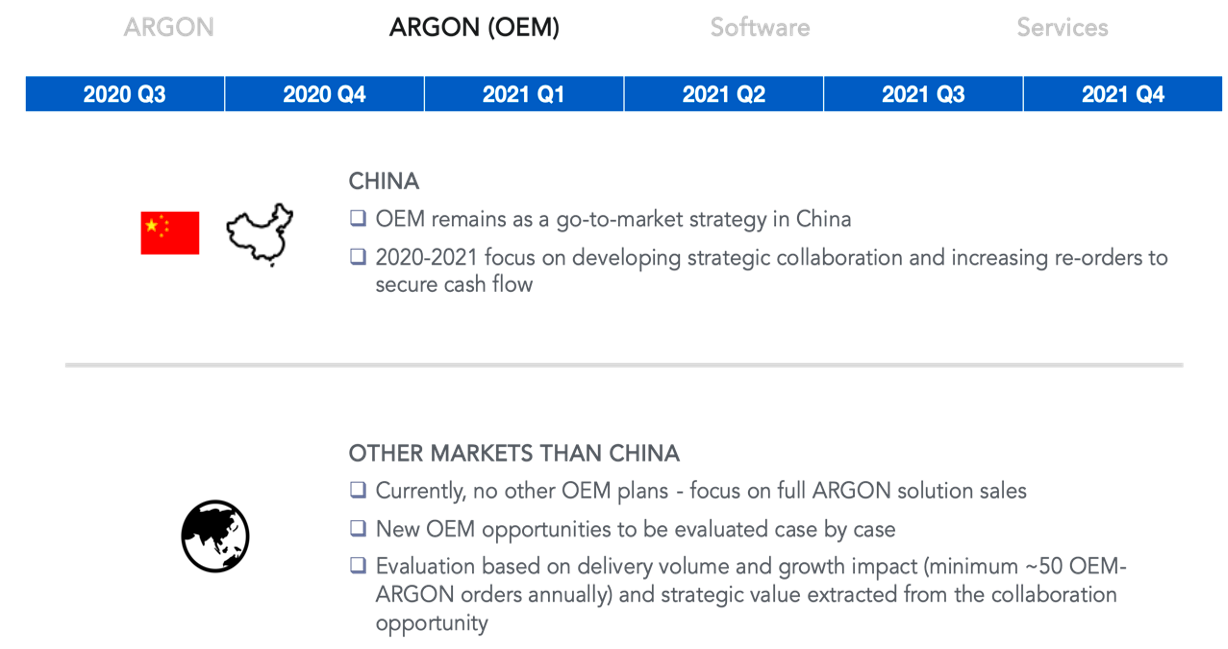 Software Roadmap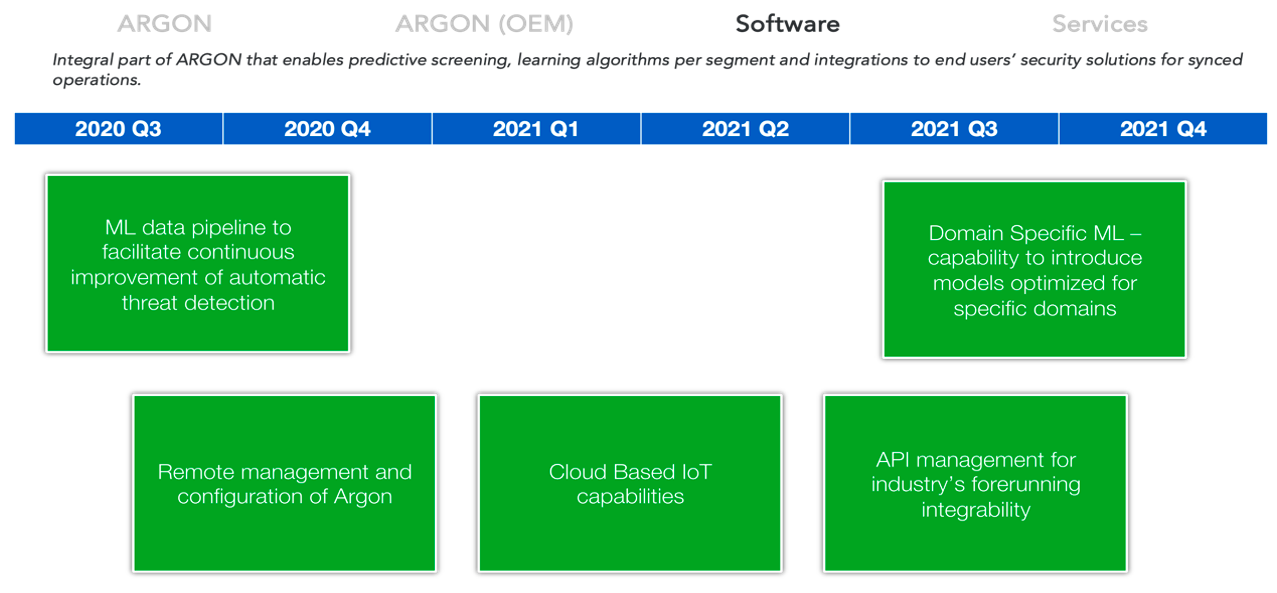 Services Roadmap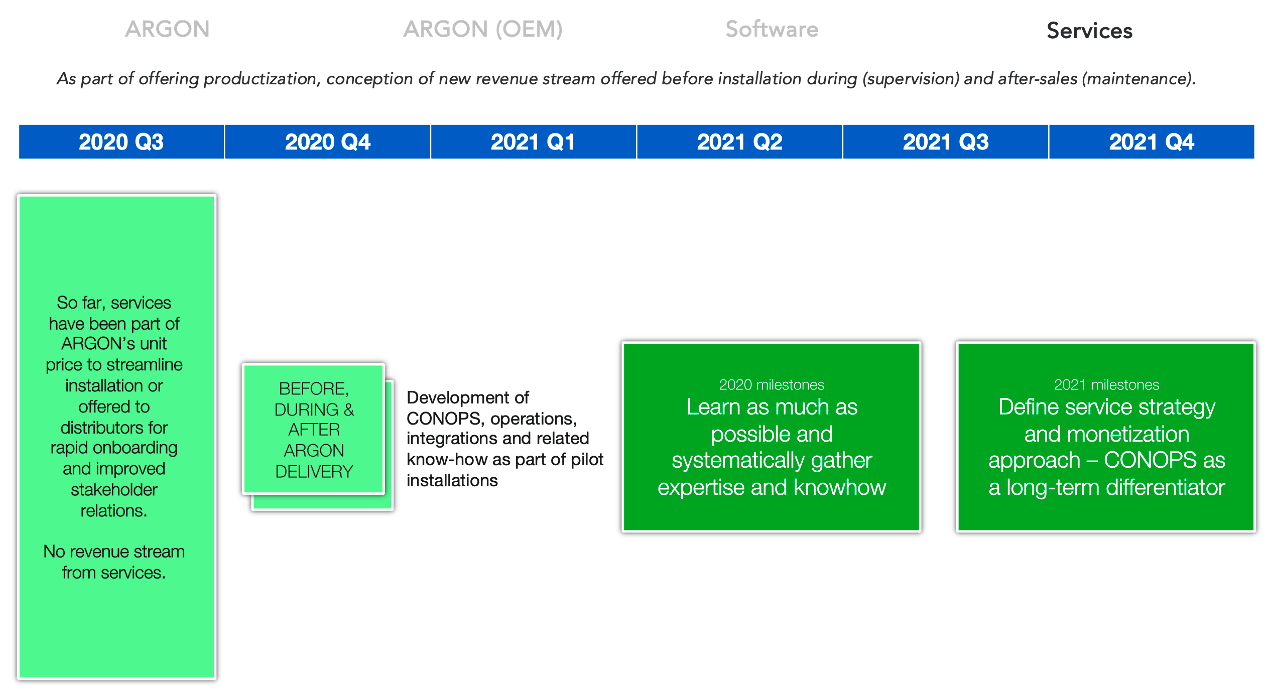 Lead Funnel across segments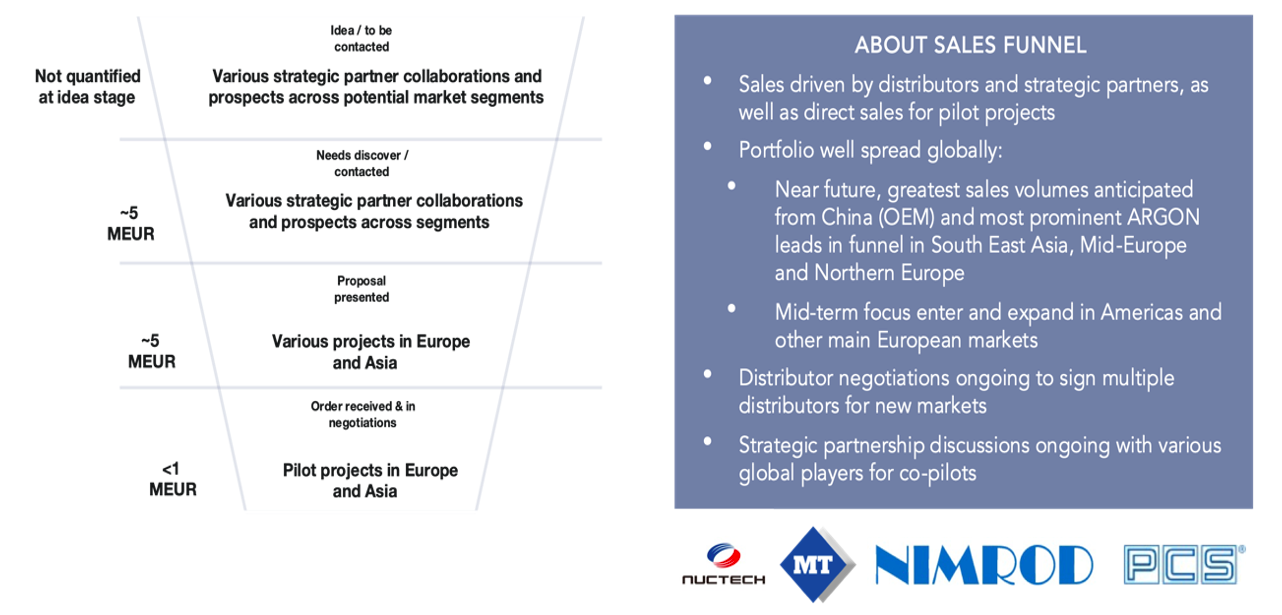 Differentiation & competition
Technology alternatives:
Conventional (portal) versus novel (walk-by) installations, such as Asqella
Walk-by solution has higher throughput
Walk-by's have more flexible installation requirements and smaller impact on people flow
Asqella's ARGON represents the most novel and forward-looking security screening solution that suits various urban crowded places' threat detection, loss prevention and contraband detection.
Leading Performance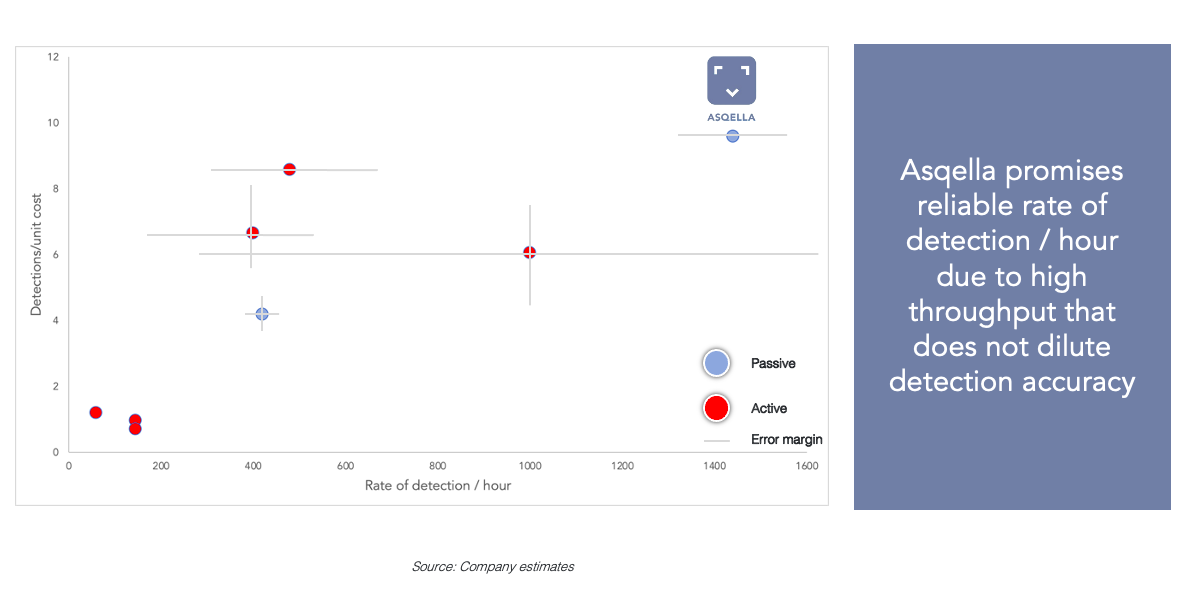 Source: Company estimate 6/2020
Pilots and use cases
Pilot case – Dukla Jihlava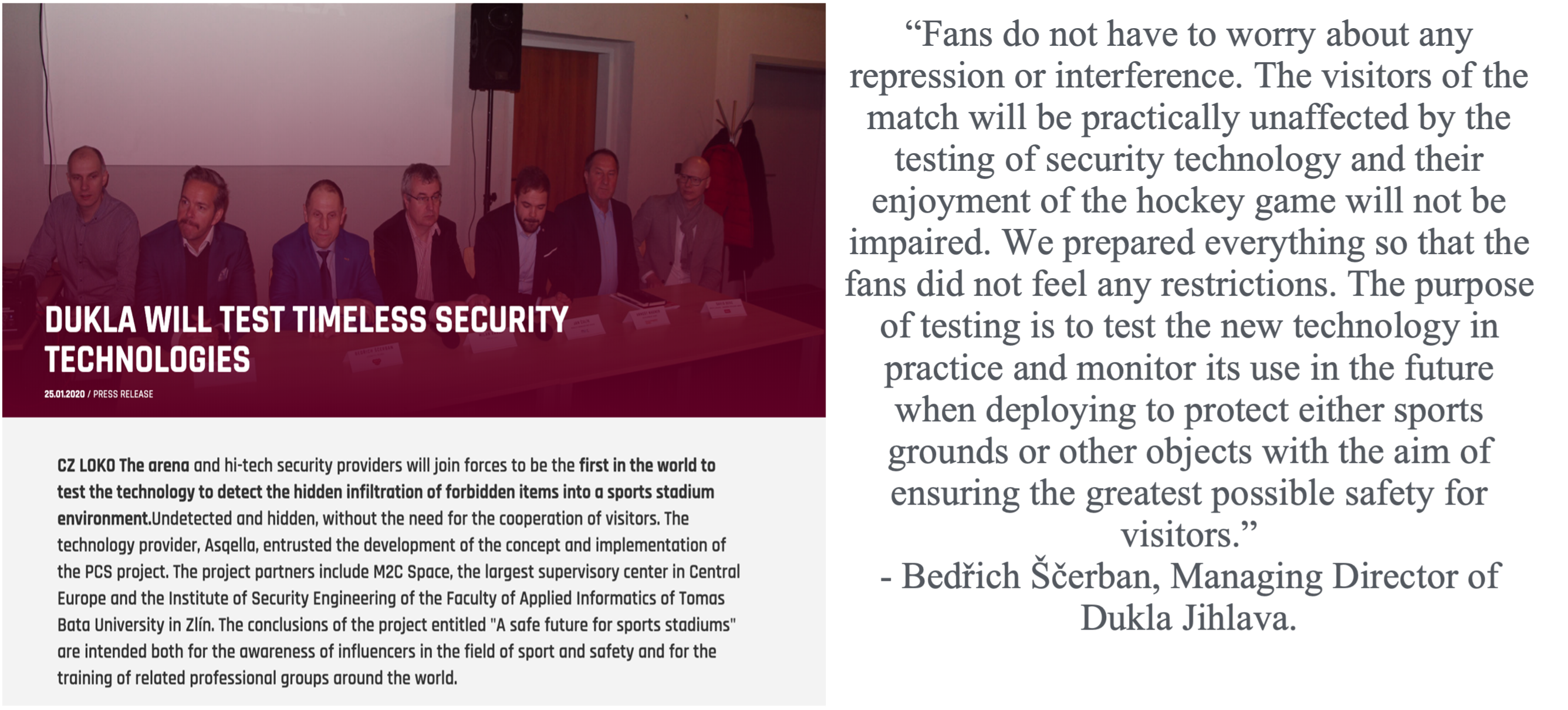 Pilot case – Domestic departures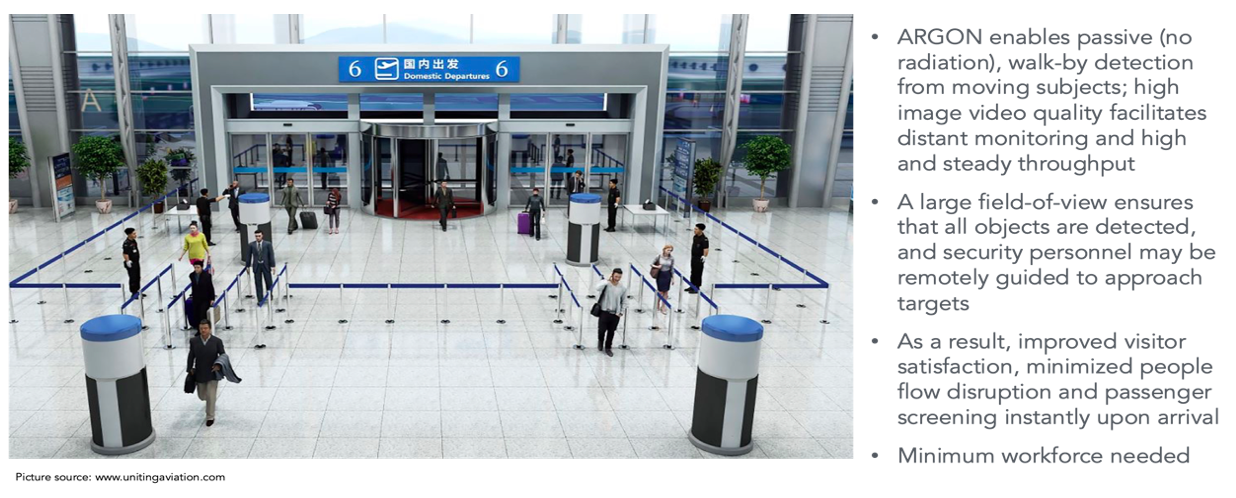 Using Asqella's platform for detecting health related threats
Covid-19 has accelerated the need to form a holistic view of possible threats. Customers are expecting solutions that will integrate information from different sensors and information sources. Detecting automatically health status of people flow by different sensors is gaining momentum. The existing solutions are often based on using infrared sensors but their performance is questionable due to high false alarm rates and therefore Asqella's new terahertz-based concept could potentially offer several benefits over existing solution as described in the picture below.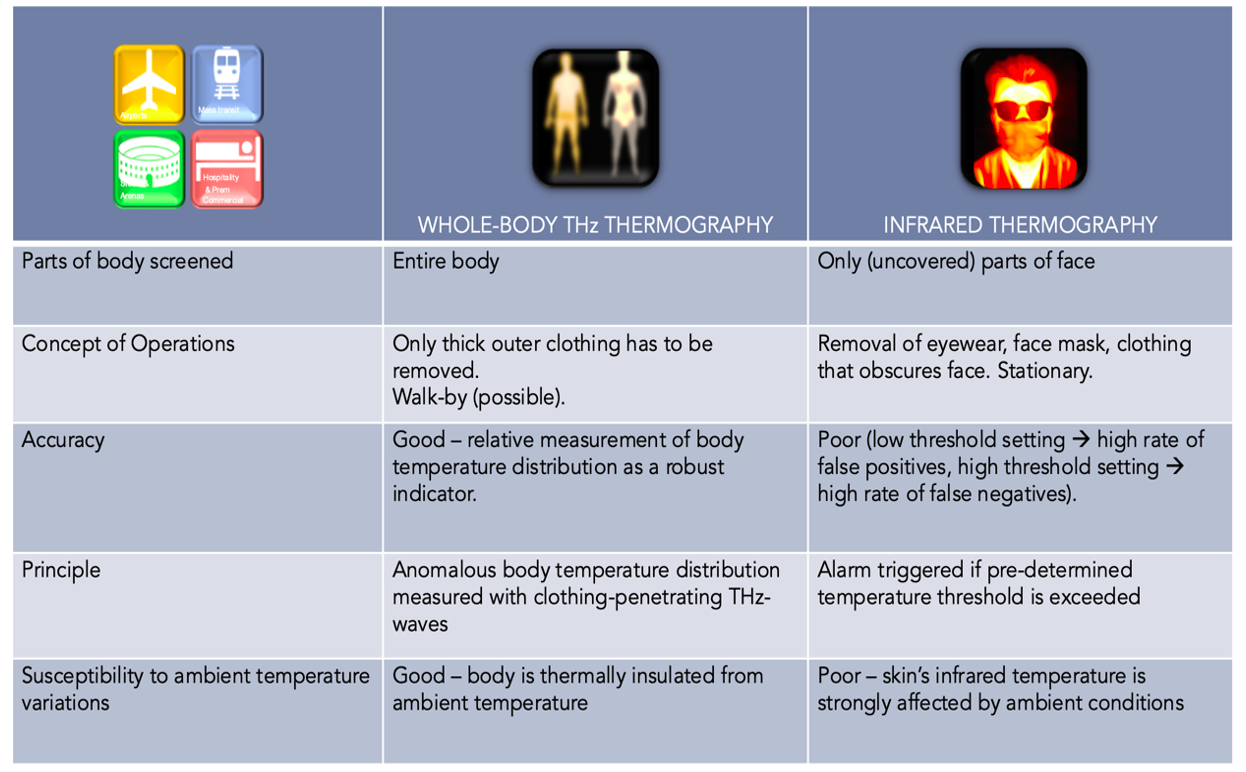 Advanced thermography pilot in Finland
Asqella has been actively discussing with medical professionals the requirements for large scale nonintrusive temperature measurements
Currently ongoing pilot in a major Finnish hospital
Asqella is developing Machine Learning based solutions to automatically detect temperature differences in the human body. The existing Asqella products can be equipped with this software to enable automatic temperature monitoring
The pilot will end in this spring
Thermography next steps
Asqella is in the process of filing further patents covering thermal imaging
A new product concept is also being planned to facilitate the use of smaller dedicated devices for counter-pandemic fever detection.
Authorities globally are on the look-out for solutions that build resiliency against future pandemics. Accurate, fast infectious persons detection is one of the focus areas.
The first implementation is planned to be a feature update for the existing ARGON product
Our team
Our team
Resourcing Plans
Key remarks to resourcing plans
Heaviest internal resourcing to R&D to ensure constant development of algorithms and in a long run, to develop next generation ARGON (both HW and SW) offering and to have data and integrability as strategic differentiators.
Sales rely on distribution network, and to expand network added sales resourcing is needed early 2022
For customer satisfaction, after sales resourcing grown along installation base growth
Production focused on quality assurance; in upcoming years role of outsourcing increased in manufacturing. When delivery volumes reach regularly tens per month, added production personnel need anticipated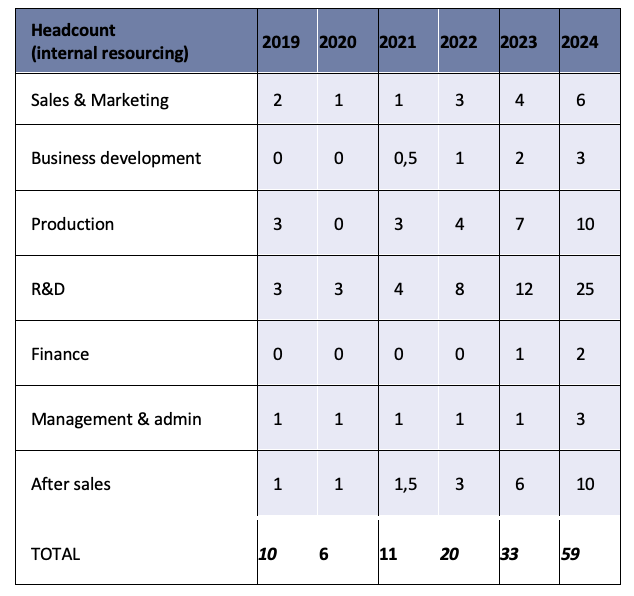 Team
In addition to team presented below Asqella employs + 4 professionals (engineers, developers, after sales experts).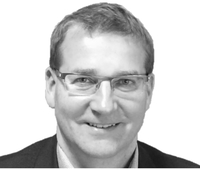 Petri Lempiäinen
Chairman of the Board
Petri is an angel investor and professional board member in many start-up companies. He is the CEO at RP Logistics Oy. Petri has extensive experience in strategy and corporate management. He joined Asqella's board in 2013.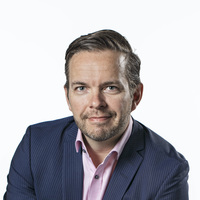 Arttu Luukanen
Co-founder, CEO, Ph.D.
Former Research Professor, 30 years of industry and academic experience in leadership positions. Raised €6,2M in equity for Asqella.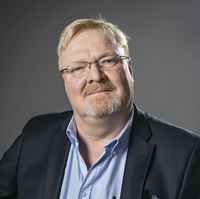 Petri Ikonen
VP Sales
Former CEO of Rapiscan Oy, 30+ years of experience in international security system sales. Extremely well connected with industry relevant distributors.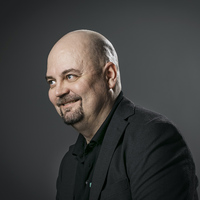 Anssi Rautiainen
Co-founder, Chief Technology Officer
Deep Tech Black Belt – mixed signal design expert, SW developer, 30+ years of experience.
Risks
Risks
Unlisted growth companies are high-risk investments. Making a high-risk investment involves risks, for example the risk of losing your investment, lack of liquidity, irregular or rare dividends and dilution of your stake. Please study this risk warning before making a high-risk investment.
It is recommended that you familiarize yourself with the investment target of your choice, reduce risks by investing in several investment targets and balance your investment portfolio with more liquid investments. We also advise you to pay attention to the Target Company specific risk descriptions, which you will find included in the pitch materials.
Attached to the pitch there is a creditworthiness report that may be relevant for the investment decision
International expansion
The Company's future success will depend largely on its ability to continue sell and expand its operations internationally. Such expansion is expected to place significant demands on management, support functions, accounting, financial control, sales, marketing and other resources and would involve a number of risks, including:
developing good relationships with customers and partners;
maintaining good levels of customer satisfaction;
recruiting and keeping skilled staff;
having appropriate governance and controls.
ensuring that the Company is compliant with appropriate export control legislation; and
increased working capital requirements.
Dependence upon key intellectual property
The Company's success is partly dependent on its intellectual property. The Company cannot entirely mitigate the risk that third parties obtain and use the Company's intellectual property without authorization which might lead to costly and time-consuming litigation.
Competition
The Company experiences competition from a number of companies. These competitors may have larger resources and develop better products than the Company.
Future capital needs
The Company might need to raise additional funds and there can be no assurance that funds are available to the Company.
Risks related to financial forecasts
Estimates, forecasts and other such statements made about the future always involve uncertainty. For example, demand for the Company's products may differ significantly from the forecasted due to multiple factors.
Key employees
The Company is dependent on certain key employees with specific technical and industry knowledge. Further, the recruitment and retention of key technical, sales, marketing and management personnel is very important. Such personnel are scarce, and the Company might not be able to recruit or retain such personnel.
Manufacturing capability
The Company's manufacturing facility is in Helsinki and a loss of this facility would cause interruptions in the ability to deliver the Company's key products.
Business, political, regulatory and economic risks
The successful growth in sales by the Company may take longer than what is planned. The Company is exposed to business, political and economic risks including managing customer and supplier relationships globally, political and economic instability, interest rate and currency instability, exposure to possible litigation in foreign jurisdictions, competition from foreign-based service providers and the existence of protectionist laws and business practices that favor such providers.
One significant client in China
A significant portion of the Company's revenues are generated from one single client in China. Covid-19 and other factors can continue to impact the demand for products and A significant part of Company sales are subject to one client in China. Covid19 and other factors can continue to impact the demand for services offered by this client which again can adversely impact sales to China for the Company.
Component availability and lead times    
The availability of e.g., integrated circuits and some other parts that constitute the ARGON may experience longer than usual delivery times, which may lead to delays in delivery.
Covid-19
The demand for the Company's products was negatively impacted by lower levels of travelling due to Covid-19. There is no assurance that travelling will increase again and that other pandemic related negative factors do not occur.
Claims by third parties
The Company believes that their products and other intellectual property do not infringe upon the proprietary rights of third parties. However, there can be no assurance that the Company will not receive infringement claims from third parties.
System failures and breaches of security
The successful operation of the Company's business depends upon maintaining the integrity of the Company's information technology systems which are vulnerable to events which are beyond the Company's control.