Skand – The future of light electric mobility
Skand has quickly grown to become one of the leading brands of light electric vehicles in the Nordic region. Now the brand aims for expansion in Europe in the quickly growing industry.
The information contained herein is not for publication or distribution, directly or indirectly, in or into the United States. These written materials do not constitute an offer of securities for sale in the United States. The securities have not been and will not be registered under the U.S. Securities Act of 1933, as amended, and are not being offered or sold in or into the United States.
The issue, exercise or sale of securities in the offering are subject to specific legal or regulatory restrictions in certain jurisdictions. The Company assumes no responsibility in the event there is a violation by any person of such restrictions.
Our story
Our story
Electric transportation is going through a global revolution and we at Skand are committed to improving the daily lives of our customers with solutions focusing specifically on light electric transportation. We entered the market in 2015 and since then we have quickly become one of the largest companies in the Nordic countries in the field of light electric mobility, as well as one of the fastest growing tech companies in Europe (​Deloitte Technology Fast 500).
Our company, which began its journey in 2012 under the name Advantage Engineering Oy, initially focused on the electrical wiring design of paper machines. Our focus shifted in 2015 as the founders noticed there was a tremendous, unmet demand on the market for handy, stylish and lightweight electric vehicles. When we began selling consumer products, the company's name was changed to Skand Oy. 
When working with paper machines, safety and reliability were of paramount importance, and these attributes have also been carried over into the products made under the new brand. In addition to reliable technology, Skand's vehicles also highlight stylish lines and functional design.
Our selection of electric vehicles has expanded over the years based on customer feedback. We began with three-wheel electric scooters and quickly added two and four-wheeled electric vehicles to our repertoire. We have also initiated a joint project together with Business Finland where we are developing an electric boat ready for the market. Despite our ever-expanding product line, we also wish to hold on to our original goals: style, high quality and reasonable pricing.
By the end of 2020 we have sold over 5 000 electric vehicles across the Nordic countries, which gives us a clear picture of both the development of the market and the needs of the customers. 
The global revolution of electric transportation is only just beginning.
Why invest in Skand?
Since the very beginning, Skand has focused on listening to its customer base when it comes to products and business expansion. Strong customer management has enabled us to use and realise channels, maintenance networks and spare part services in quite unconventional ways in the young market.  Over the six years of its operations, Skand has accumulated a data bank of product models and customer relationships that will help us maintain our trailblazer status in the fast-growing industry long into the future. The expertise of Skand's founders and product developers is complemented by education in electrical engineering  and extensive work experience ranging from the design of paper machines to working with electric cars (Category 2 electrical works qualification from Tukes, the Finnish Safety and Chemicals Agency). 
Internationalisation has been at the centre of Skand's growth strategy for a long time, and in 2017 our company took its first international step when we began sales in Sweden. This approach is also supported by fresh investments into developing our online sales and appointing persons with extensive backgrounds in start-up companies and international business to our board.
The following are examples of key factors that make Skand an enticing target for investors:
The electrification of vehicles is a megatrend. (KPMG)
As it stands, the European market does not have clear market leaders and, therefore, it is still possible to quickly and profitably increase our market share.
Skand has already demonstrated its ability to expand internationally by successfully penetrating the Swedish market. We have so far sold products worth over 3 million euros in total into Sweden and, at the moment, more than 50 % of all our sales are generated there.
With over 5 000 sold machines and over 3 500 customers, our extensive experience and understanding of the customer give us an advantage in product development and new launches.
Fast-growing market with no established or truly international players.
95 % of our sales take place remotely (online and phone), which is very efficient. This enables easy scaling up and the replication of the business model in new markets. 
Ready, tested and functional business operations.
Our founders and key persons have backgrounds in entrepreneurship and international growth.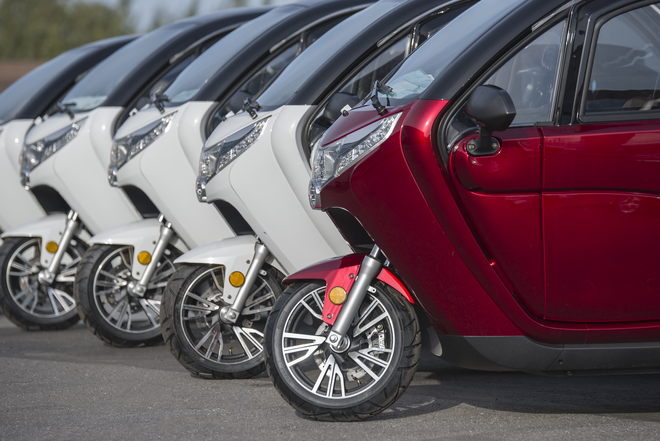 Our business & market situation
Our business & market situation
Products
Skand's operations are based on new, innovative and high-quality products developed with the customer front and centre and comprehensive customer management from the first point of contact onwards. With our service selection we are able to generate value for our customer long after the purchase transaction.
There are three kinds of models on the electric scooter market:
1. Open three or four-wheeled electric scooters intended especially for senior users
2. Two-wheeled electric scooters for all ages
3. Three or four-wheeled closed cabin scooters for all ages
Our selection already contains six different electric vehicle models, a spare part offering of over 2 000 different articles and a maintenance network with over 150 service providers in the Nordic countries. In other words, our offering covers all market groups and the maintenance and spare part services required by our vehicles.
The high resale value of Skand scooters is maintained by our functional service package and brand recognition on the road. Our focus has and will always be on our customers who consider functional service, easier mobility and increasing quality of life to be the most crucial factors when choosing an electric vehicle.
Sales channels and growth plan
In Finland, Skand's light electric vehicles are sold over the internet, via phone and in our store. In Sweden we conduct both online and phone sales. 
In February-March of 2021 we are launching an EU-wide online store and we will be supporting it with extensive digital advertising campaigns. Based on data and country-specific analysis, we will be choosing 3-5 target countries over the spring that we will be focusing on more closely with localised materials and new marketing and sales channels.
On the basis of a preliminary survey, the most likely new target countries for our sales in 2021 are Denmark, Norway, Germany, France, Poland, Belgium and the Netherlands. 
In 2022 we can continue to grow and expand towards the largest new markets.
Production model and partners
Skand manufactures its products in the factories of carefully selected partners in China. We constantly conduct quality control visits to our partners' facilities when conditions allow, and now in the times of corona we have been conducting quality control via remote video connection.
Our machines are shipped to Finland as semi-manufactured products. The final assembly, quality control and road readiness tune-ups are conducted in Nurmijärvi in Southern Finland. 
The machines we sell are safe for road traffic across the EU and they are also sure to withstand the demanding weather conditions of our country. Based on these experiences we are also able to easily produce high-quality light electric vehicles for more moderate driving conditions.
Our products are always delivered to the customer completely road ready and packaged in a consumer-friendly way. This is a key component of our operations model. We have made it as easy as possible for the customer to begin using the machine that they have ordered remotely.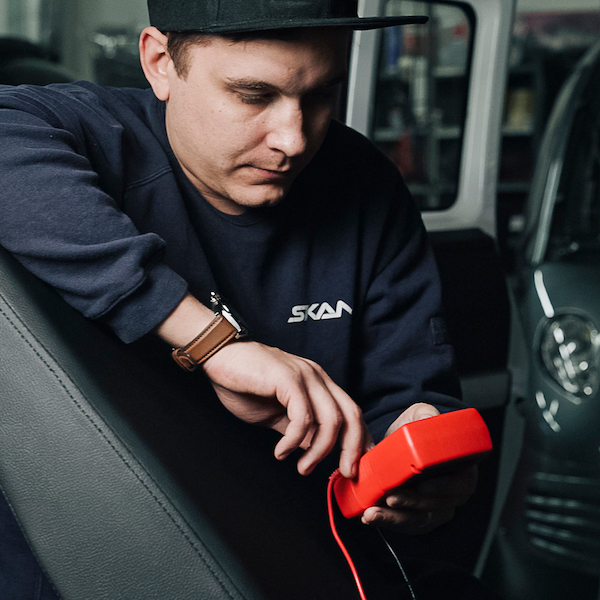 Markets
Electric mobility has grown significantly, and all signs point to this being merely the beginning (KVBresearch). The total electric mobility market has been growing globally at an average rate of 50 % per year (IEA). Finnish and international studies estimate that electric mobility will continue to grow at a rate of at least 20–30 % for the next 10 years (McKinsey), and many studies even project an acceleration of the growth rates (IEA).
Total addressable market
In 2019, the global market for all kinds of electric vehicles was approximately 133 billion euros, and according to a source its growth is expected to exceed the 660 billion euro threshold in 2027 with an annual growth rate of 22.6 % (AMR). Europe's share of the market is approximately 25 %.
Serviceable addressable market
At the moment, the size of the global market for two and three-wheeled electric vehicles is estimated to be at 350 million vehicles (Virta Global). Most of this market currently exists in China. By our estimation, the value of the EU market for two and three-wheeled electric vehicles was approximately 340 million euros in 2019. At a moderate annual growth rate of 20 %, this market would reach the billion euro milestone in 2025. (CAGR 20 %).
Serviceable obtainable market 
We estimate that our current product line could cover approximately one half of this market, which means that with our current operations model and product selection, our potential total market in the EU region would be approximately 200 million euros, which could grow to 500 million euros by 2025 at an annual growth rate of 20 % (CAGR 20 %). We are now seeking to capture as large a share of this market as possible.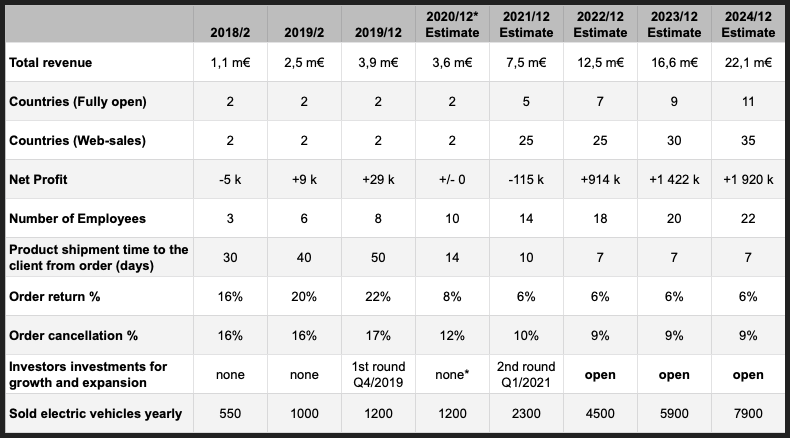 Our products respond to the trends of urbanisation and eco-friendly transportation. The significance of these trends is thoroughly visible in the strategies of companies offering mobility solutions. New electric cars, boats, planes and scooters enter the market at an accelerating pace.            
For the moment, our share of the global and the aforementioned European markets is small, but according to public revenue data, in just a short period of time we have managed to grow into one of the leading brands in the field in the Nordic region. 
These days the markets are full of various competitors operating with different logical frameworks, but mostly they consist of retailers or brands operating in individual countries. So far, we have not identified any large or active competitors that operate in multiple countries. As the market grows, we expect this situation to change in the next few years.
With active monitoring we strive to identify major players entering the European market and maintain our position among the market leaders through our more extensive experience, the customer understanding that it brings, advanced logistics and ready and complete service package.
Our team
Our team
Skand has a great team and management group with diverse experience in electric mobility, innovation, internationalisation and other key areas of business. Our personnel and board members have expertise in branding, sales, internationalisation, growth, customer-centred productization, overseas trade, intellectual property rights and international business.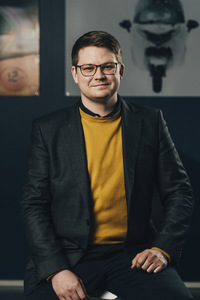 Miika Utoslahti
CEO
Miika is one of the founders of Skand Oy and has served as its CEO throughout the company's history. Miika has an extensive background as a diversified entrepreneur with several successful exits under his belt. Miika's educational background is in electrical engineering.
https://www.linkedin.com/in/miikautoslahti/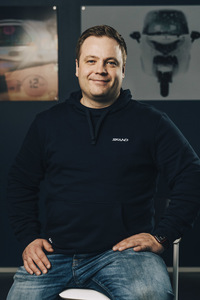 Anssi Helminen
COO of Production
Anssi is our team's chief operating officer regarding matters relating to production. He joined Skand's team in the summer of 2020 as part of our acquisition of the Scogo brand. Anssi has already been importing and developing electric scooters for several years. He also fields extensive experience in designing, launching and branding new products.
https://www.linkedin.com/in/anssi-helminen-538582103/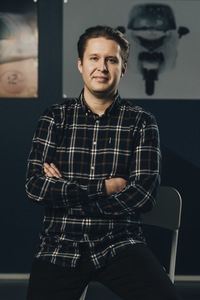 Stefan Wennström
Chief of Customer Service
Stefan is the supervisor of customer service and satisfaction on our team. He is responsible for measures related to the management of customer relationships. Stefan has been working in diverse supervisor roles in customer service and project management for over 15 years.
https://www.linkedin.com/in/stefan-wennström-36a702a5/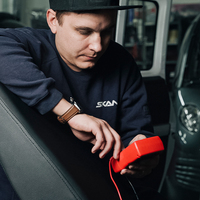 Ville Mäki
Supervisor of Production
Ville is our team's technological expert who is responsible for operative tasks related to products, spare parts and our maintenance network partnerships. Ville also serves as the supervisor of our assembly and maintenance activities and he has personally assembled or done maintenance work on over 1 000 Skand electric scooters.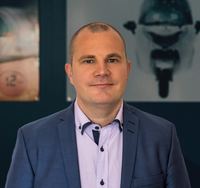 Anssi Keurulainen
Supervisor of Sales
Anssi is the sales expert of our team and he is the supervisor of sales in Finland and Sweden. During Anssi's time at Skand our sales have increased nearly tenfold. Anssi has over 15 years of experience with a wide variety of different sales tasks.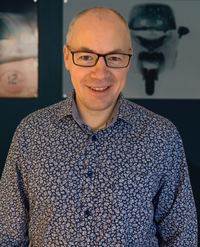 Aki Saros
Head of Financial Administration
Aki is the multitalent on our team and one of Skand's first employees. Aki has previously lived in Asia and speaks fluent Chinese, among other languages. At Skand Aki has served as a kind of jack-of-all-trades and he has been responsible for matters relating to finances and importing activities as well as the multitude of changes necessitated by the growth of a start-up company.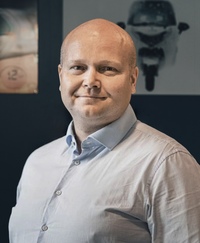 Reima Linnanvirta
Chairman of the Board
Reima is an angel investor and professional board member in many start-up companies. He is also the chair of FiBAN (Finnish Business Angel Network). Reima has extensive experience in internationalisation from the perspectives of legislation and corporate management. He joined Skand's board in 2019.
Erno Pakarinen
Board Member and Advisor
Erno joined Skand's board in the autumn of 2019. Erno has exquisite references and knowhow for realising international growth (e.g., Wolt Enterprises, the second fastest growing tech company in Europe 2015–2018, Financial Times 1000 list of 2020).
Risks
Risks
Unlisted growth companies are high-risk investments. Making a high-risk investment involves risks, for example the risk of losing your investment, lack of liquidity, irregular or rare dividends and dilution of your stake. Please study this risk warning before making a high-risk investment.
It is recommended that you familiarize yourself with the investment target of your choice, reduce risks by investing in several investment targets and balance your investment portfolio with more liquid investments. We also advise you to pay attention to the Target Company specific risk descriptions, which you will find included in the pitch materials.
Attached to the pitch there is a creditworthiness report that may be relevant for the investment decision
Macroeconomic risks
Seasons have a strong influence on the sale of products and our sales are at their strongest in the spring and summer. In addition to seasonal variation, we are selling what many people consider so-called "nice-to-have products", the sales of which usually peak in economic booms and decline in times of recession. Strong fluctuations in the stock market, for example, can indirectly reflect on the development of our sales.
The coronavirus situation that began in 2019 and became a pandemic in 2020 (COVID-19) can also affect Skand's sales over the next few years through the stymying of global economic growth. The coronavirus or other factors impacting exports and imports are also a potential risk in terms of procuring essential goods. Various precautions enacted across the world, such as quarantines, may temporarily and locally affect the production of components, machine parts and other accessories and the operations of subcontractors and thus lead to longer delivery times.  
However, the general effects of the coronavirus on the electric scooter market remain difficult to predict.  
Country-specific or regional sanctions or restrictions may reduce profitability and the availability of products.                
Volume risks
Electrification continues to be a growing trend, which means that in addition to macroeconomic risk factors there exists a more general volume risk regarding the availability of key components required in the production of electric motors and batteries.
If the demand for goods used in the manufacturing, production, assembly or maintenance of Skand's electric vehicles exceeds their supply on the market, it could lead to a situation where our partners would have temporary or occasional difficulties in meeting our demand, or where the prices of crucial components would rise significantly.                                    
Regulatory risks
Generally speaking, Skand belongs to the group of companies that benefit from environmental regulations, as we operate in the field of electric mobility. However, political and legal conditions may change and pose challenges for our business operations. We strive to be a company that operates across the EU, which means that possible new obstacles to international trade, legislative changes or tariffs, may hinder our operations.
Risks related to entering new countries
The governments of countries are constantly renewing local legislation regarding electric vehicles. Some countries require registration only for some vehicles, others for all vehicles. Legislative changes in the new countries we enter may cause problems in the sales and deliveries in that country. This could result in additional costs in that country, or even lead to country-specific modifications of a vehicle type or the full removal from sale of the vehicle type in question in that country.
Delayed availability and extended delivery times may also result in additional costs in the sales and deliveries in new countries, and can also lead to more cancellations and product returns, especially if we exceed our growth estimates and/or our funding diminishes.                                       
Personnel risks
The company is dependent on its central staff and the loss of a key person may result in challenges in sales, production, product development or other areas that are of critical importance to Skand's operations.
Reputational risks
A tremendously significant accident or other negative event that garners major publicity in the media may significantly diminish Skand's brand, affecting its reliability and sales in one or more target countries.
Technological risks
Skand's electric vehicles contain technical modifications and special developments that have not been patented but that nevertheless form a crucial part of Skand's ability to stand out from the competition. Even though the company is in an excellent position in the marketplace, it is possible that new technical modifications and special developments enter the market, diminishing our competitive advantage.
Legal risks
At the moment, Skand is not aware of any legal proceedings directed at the company. However, the possibility of lawsuits must be considered, and these can result in additional costs to the company or other problems as we expand into new markets.                     
Risks related to economic forecasts
Estimates, goals and other such statements made about the future always involve uncertainty. The development of the general price level may affect the number of sales, for example. It is also possible that cost structure developments or the unexpected growth of marketing or personnel expenses, for example, may temporarily diminish the company's profits or turn it unprofitable.
Future funding needs
Extensive growth into new markets may turn the operations loss-making over the next few years and the company might require additional investments to continue its operations.
The forecasts also include additional funding received from banks. We have begun negotiations with banks to secure a loan that meets the sum of the investments raised in this funding round. If we are unable to acquire an equivalent bank loan, we will have to use a part of the funds raised at this round on our sales stock, which would hinder our efforts to reach our goals for growth.