MotoCut - The new era of pile cutting
MotoCut mechanizes pile cutting on construction sites around the world. Just like modern forest machines have replaced chainsaws in forestry, MotoCut pile cutters aim to replace manual labor in physically demanding pile cutting work.
The information contained herein is not for publication or distribution, directly or indirectly, in or into the United States. These written materials do not constitute an offer of securities for sale in the United States. The securities have not been and will not be registered under the U.S. Securities Act of 1933, as amended, and are not being offered or sold in or into the United States.
The issue, exercise or sale of securities in the offering are subject to specific legal or regulatory restrictions in certain jurisdictions. The Company assumes no responsibility in the event there is a violation by any person of such restrictions.
This content is also available in
Finnish
Our story
Our story
Still today, most support piles used on construction sites are cut manually by using handheld tools. Manual pile cutting is physically demanding and hazardous work. The availability of skilled workers is poor.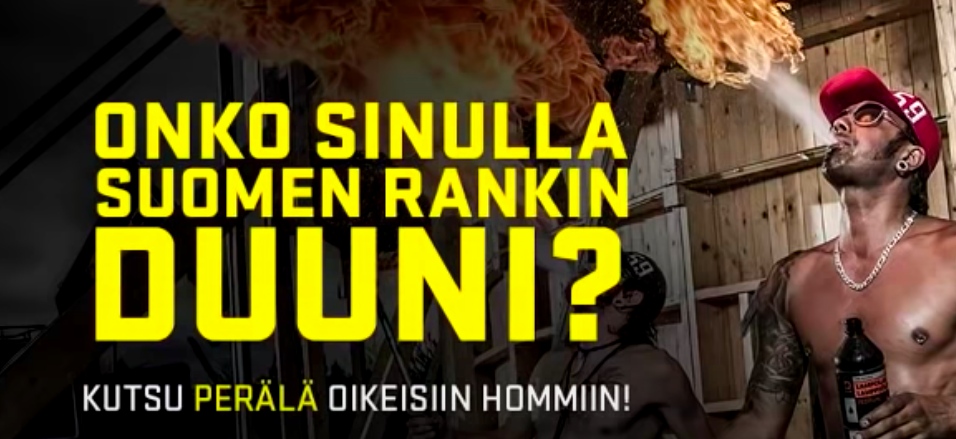 Radio Suomipop's programme is looking for Finland's toughest job
Our story began just like the success stories of many other Finnish companies. MotoCut's founders employed themselves doing demanding physical work, cutting construction piles with handheld tools. Since they could not find any ready-made commercial solutions to ease their work, they decided to develop a solution themselves. They eventually discovered that the lack of solution was global. In 2017, the company stopped providing manual pile cutting services and focused solely on the automated pile cutter business.
Occupational Safety
MotoCut cutters were created in aim to make physically demanding work easier. An equally important reason to use MotoCut, however, is the need to make construction sites safer. With MotoCut work is less straining, and many construction site hazards can be eliminated.
No more risk of getting hit by falling piles (currently, fatal accidents take place annually even in Western countries).
No more HAVS issues (Hand-Arm Vibration Syndrome) caused by constantly shaking manual cutters.
No more heavy exposure to dust at the construction site.
No more problems caused by hot, cold or otherwise challenging weather conditions as the operator now works inside an air-conditioned excavator cabin.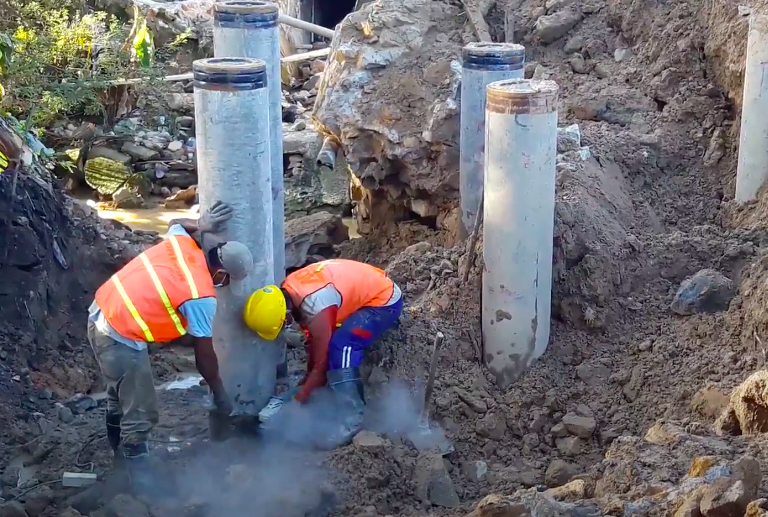 Example of manual pile cutting
Work Productivity
MotoCut speeds up construction work and makes project planning easier:
Mechanized pile cutting is up to five times faster compared to manual work.
Excavator operators can run the cutter. There is no need to find specialized contractors.
Each cut is of equally high quality and the off-cuts can be easily welded together (steel piles).
Cutoffs can be placed where desired.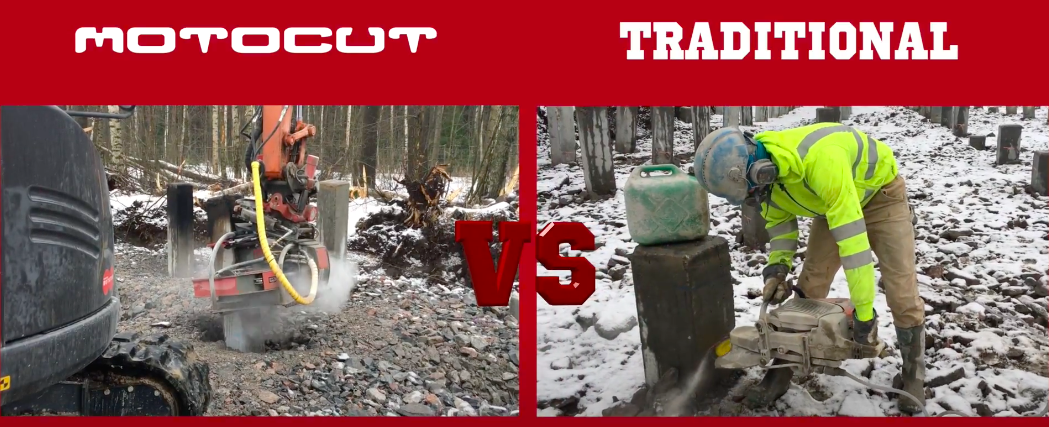 Comparison between manual and MotoCut pile cutting solution
Why Invest in MotoCut?
Market potential. Tens of millions of construction piles are cut around the world each year. MotoCut provides a unique solution to the huge blooming markets. Construction is on a continuous rise and the foundations for new construction sites almost always require more support structures compared to the older sites. This is why the need for construction piles increases even faster than construction work on average.
Proof-of-concept and demand. MotoCut has delivered over 40 devices on four different continents.
Occupational safety. Job safety has become a key competitive factor on a global scale. Large corporations, in particular, demand the best available solutions worldwide.
Unique, patented solution. MotoCut currently has no direct competition.
Key partners. MotoCut has started cooperation in the US with Bauer Equipment of America Inc, an American subsidiary of one of the world's leading foundation engineering equipment manufacturers BAUER Maschinen Group. In the UK, MotoCut collaborates with Mr. Cropper, a subsidiary of the Groundforce Attachments Group.
Exit opportunity. As MotoCut's solution gains more worldwide attention, the company sees being acquired by a large international company as the most potential exit opportunity. Potential companies include MotoCut's global partners and other industrial players that want to add MotoCut's unique technology to their own portfolio.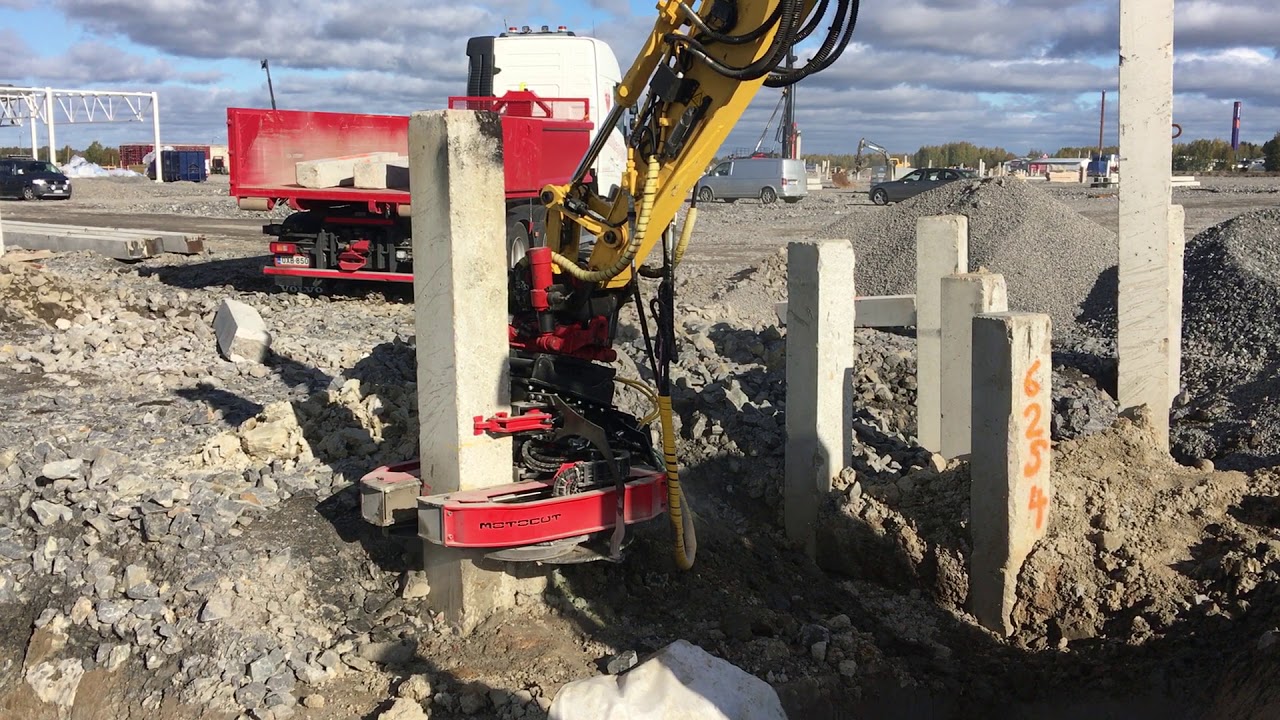 Our business & market situation
Our business & market situation
Our Products
MotoCut's pile cutting devices are attached to excavators and the cutters take their operating power from the excavator. Since excavators are used practically on every construction site, adopting a mechanized cutter is fast and financially feasible for the customer. MotoCut has also developed a special excavator-mounted tilt rotator to ease cutter deployment and usability.
MotoCut's product portfolio consists of:
Plasma cutters for cutting steel piles of up to 630mm in diameter
Saw cutters for cutting concrete piles of up to 500mm in diameter
Tilt rotators for up to 30-ton excavators

Patents and Trademark
MotoCut has patented the operating principle of its saw cutters in the following markets: the EU, Australia, Canada, Switzerland, China, Norway, Russia, Turkey and the US. In addition, the MotoCut trademark has been protected in the company's key markets.
Competitive Advantage
In steel pipe cutting, the only identified competition is manual pile cutting. Compared to manual work, mechanized steel pipe cutting is not only safer and faster, but also produces consistent plasma cuts of equally high quality. This makes it easier to process and weld the cut piles later, ultimately resulting in cost savings for the end customer.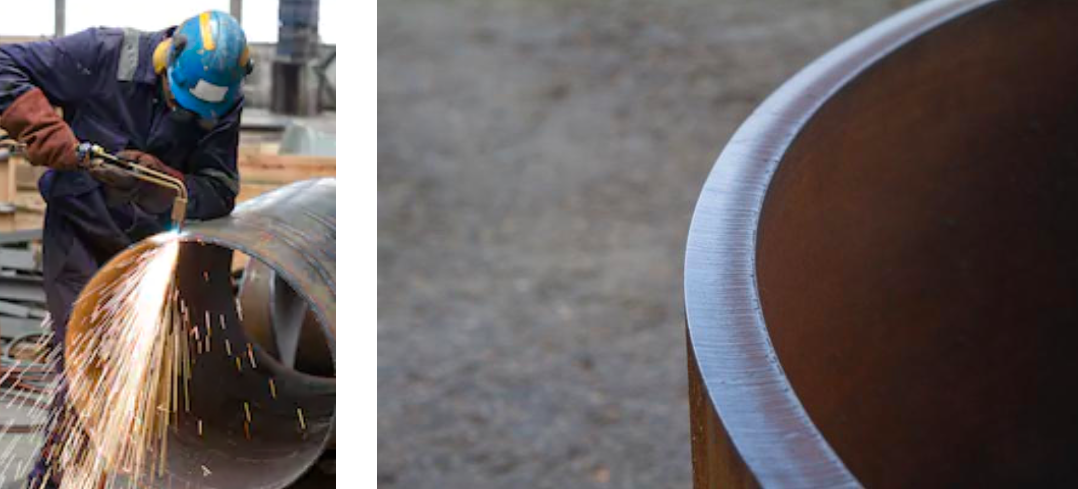 Also in concrete pile cutting, MotoCut's solution mainly competes with manual pile cutting. MotoCut has identified a couple of companies in the US that provide concrete pile cutting as a service, utilizing self-developed construction machinery. However, the companies' business model does not include machinery sales to customers and their equipment cannot be switched from one host machine to another.
Pile crushing is a parallel method that partly competes with pile cutting. In practice, piles must often be both cut and crushed to expose the reinforcing bar elements for attaching structures on top of the foundation pile. MotoCut aims to use the new funds to supplement its current product portfolio and develop a new pile crushing unit as an optional accessory to the current cutters. A modular mechanized pile cutter equipped with a pile crusher will expand the potential user base and further secure MotoCut's position as a technological forerunner.
Market
The global construction equipment market is expected to grow (GAGR 4.52) to approximately €200 billion by 2025. The piling machine market will grow slightly faster, in 2018 the market size totalled €4.8 billion.
So far, our products have been at a development stage and we are only getting started with our internationalization activities. However, MotoCut has already sold over 40 units to four different continents. Our customer base includes both global enterprises, such as Keller, and smaller local contractors.
You can read more about our customer references on our website.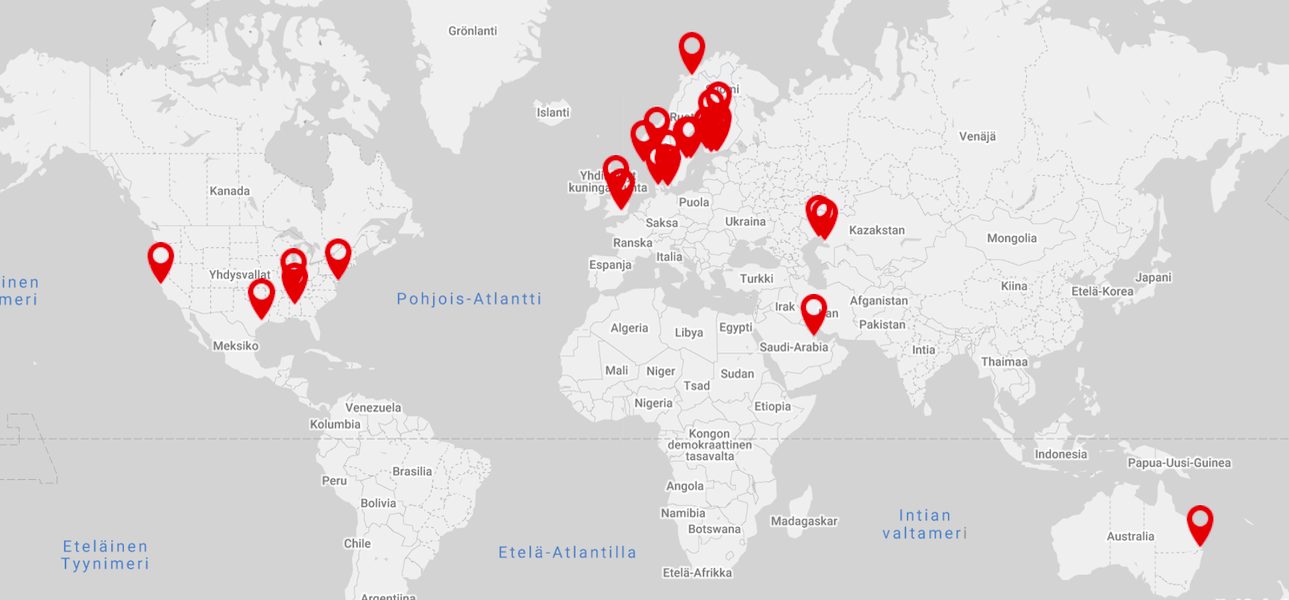 Our current dealer network consists of 15 retailers around the world. We are constantly adding new partners to our network. One recent partner in the North American market is Bauer Equipment of America Inc.
You can read more about our dealers on our website on our website.
Our Growth Plan
During the next few years, our strategic goal is to focus on the Scandinavian home markets and the US, UK, German and Russian markets. Our strategy is to build our international presence through local dealers working with piling and by utilizing global piling equipment manufacturers' existing networks. Once we reach a sufficient foothold in our current focus markets, we will shift our focus to other European countries and the huge, blooming growth markets in Asia.
In addition to construction contractors, another key customer segment for MotoCut comprises companies that rent construction equipment. We have already delivered MotoCut saw cutters to Mr. Cropper, major rental equipment chain in the UK, who rents out our equipment to its customers. 
Our target market is not limited to piling work. In the future, the demolition and recycling market will become another key sector in our business. As we deliver more and more units to our customers, spare part sales and maintenance will also become a larger part of our business.
Our current product portfolio is competitive in its category. We believe that we can double our turnover for several years just by selling our current products. In addition, we have identified new market needs for pile cutting:
We aim to develop the cutters to cover even larger piles, over a meter in diameter.
We will develop a device for cutting piles underwater.
We will add pile crushing capabilities to our cutters to further expand our market potential.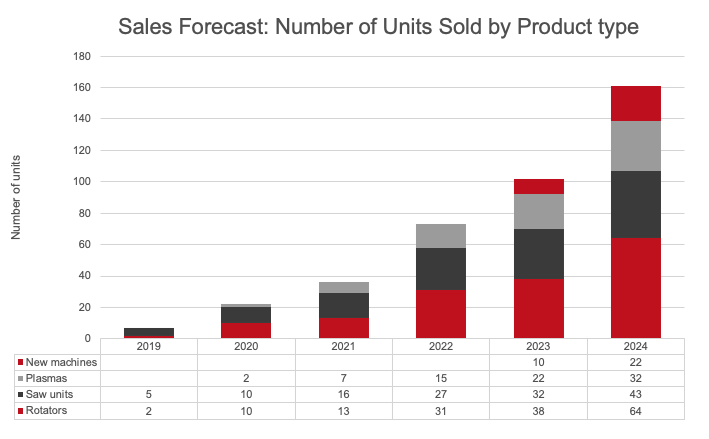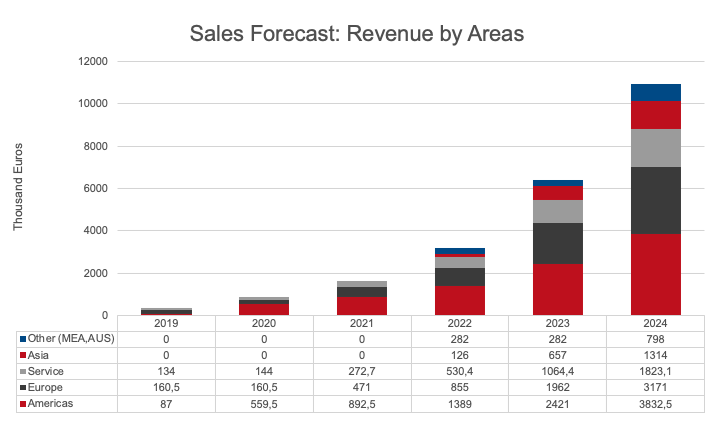 Our team
Our team
Risks
Risks
Unlisted growth companies are high-risk investments. Making a high-risk investment involves risks, for example the risk of losing your investment, lack of liquidity, irregular or rare dividends and dilution of your stake. Please study this risk warning before making a high-risk investment.
It is recommended that you familiarize yourself with the investment target of your choice, reduce risks by investing in several investment targets and balance your investment portfolio with more liquid investments. We also advise you to pay attention to the Target Company specific risk descriptions, which you will find included in the pitch materials.
Attached to the pitch there is a creditworthiness report that may be relevant for the investment decision
Macroeconomic risks
While MotoCut's most important market segment, infrastructure construction, is not particularly prone to economic fluctuation, it is by no means immune to change. Major shifts on a macroeconomic level also affect the demand of MotoCut's solutions. For example, COVID-19 significantly reduced the demand for equipment for some months and the travel restrictions complicated deliveries.
Country-specific risks
Russia has been identified as one of MotoCut's key market areas in the future. Export restrictions on oil and gas industries are also likely to undermine MotoCut's business in Russia.
Legislative risks
MotoCut is introducing an all-new solution that enables mechanized pile cutting with excavators. This may slow down market entry in some countries as we must ensure that the cutters are legally considered as excavator attachments.
Risks related to key people
The company depends on its key people. Losing a key human resource may lead to potential problems. MotoCut intends to launch a stock option plan in 2020 to engage key personnel.
Technological risks
MotoCut has patented the key features of its saw cutter. However, this does not prevent competitive technologies from entering the market. To mitigate this risk, MotoCut will allocate resources to product development also going forward and ensure that the company remains as the technological trailblazer in its field.
Product risks
Technical equipment always comes with functional risks. MotoCut's products are CE-certified and the company continuously evaluates product-related risks through risk evaluations that meet the compliance requirements.
MotoCut's products are still at the development stage. Designing and implementing new features always come with technical, financial and quality-related risks. We aim to minimize risks with careful planning and testing before shipping any units to customers.
Legal risks
At the moment, MotoCut is not aware of any legal cases against the company. However, it is always possible that someone takes legal action that incurs costs to the company or otherwise undermine its operation.
Dependency on key owners
MotoCut purchases a significant share of its technical components and subcontracting work from its largest owner, Tampereen Konepajat Oy. MotoCut operates in rental facilities owned by Tampereen Konepajat Oy. In 2019, approximately 20% of all external costs originated from Tampereen Konepajat Oy. Tampereen Konepajat Oy has also granted MotoCut loans by extending terms of payment. Therefore, changes in the operations of Tampereen Konepajat Oy may affect MotoCut's business. However, also going forward, Tampereen Konepajat Oy is committed to act as MotoCut's supplier and share its expertise to further develop MotoCut.
Risks related to financial forecasts
Future forecasts, goals and other announcements always come with a certain level of uncertainty. Predicting the sales of MotoCut products is particularly challenging as the company provides products that enable completely new ways or working. As the company is not yet profitable, it may require additional funding for its operations.