Xampion – Game-changing insights for football
Xampion is a game-changing performance tracker for footballers who want to develop their skills systematically. Xampion is a world-first in making unique, personal performance data available to players and coaches from grassroot to elite level.
This content is also available in
Finnish
Our story
Our story
Xampion was founded in 2016 and quickly grew into a versatile team of entrepreneurs, technology professionals and pro athletes, past and present. We all share a passion to create something that will change the way people think about training and developing themselves in the sports they love.
More specifically, Xampion is is on a mission to make meaningful, high-quality performance data in football where tools for this purpose are rarely available for players and coaches outside of professional sports. Ultimately, Xampion's goal is to motivate young players, non-professionals and coaches for smarter training and better results.
After a soft-launch phase, Xampion sales started in June 2019. In the following months we started gaining significant traction especially in the Nordics, the Benelux countries and the UK. Even with limited marketing resources we managed to achieve an average monthly growth of 25% in units sold by the end of 2019. Our marketing efforts have been highly successful, producing 3x in revenue in average.
Today Xampion has sold over 2200 units of the Dual Sensor Pack to 30 different countries. Xampion has local representation in Finland, Sweden, the Netherlands, Spain, Greece, Cyprus and South America (Chile), and there are several active negotiations ongoing for new partnerships.
In Autumn 2019 Xampion was voted the Best Hardware Startup in Finland in the annual Nordic Startup Awards competition.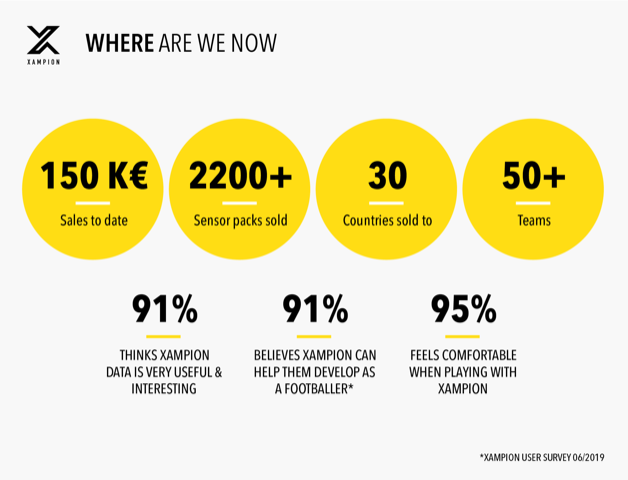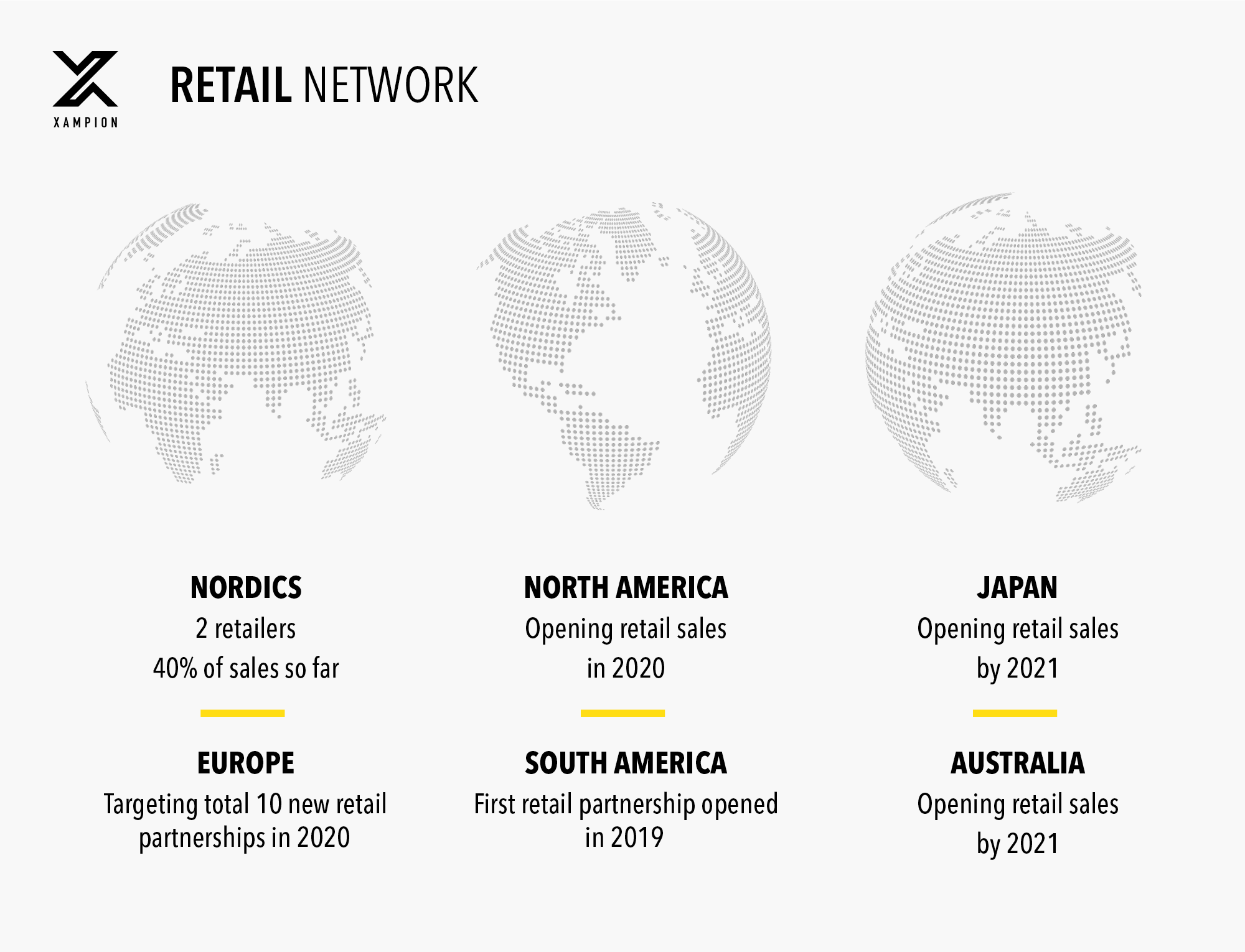 Future plans and growth estimates
Xampion seeks to continue on its path of rapid growth by investing significantly in digital marketing to drive online sales and building a strong community of users and followers. Future plans include promotion of Xampion as an individual and team solution in select new market areas and strengthening our position in areas where we already have an existing client base.
While ensuring the growth of our user base we also want to invest in continuous research and development to make sure Xampion remains a forerunner in sports tech in the years to come. We are determined to make the Xampion user experience as positive as possible for players and coaches alike.
In the following 12 months, Xampion will be investing in software development to build Xampion mobile app version 2 and to make significant updates to the Xampion Coach software. These projects will be supported by Business Finland, who have granted Xampion 248K€ in loan funding provided that the current issue of shares is successful.
Development work regarding Xampion App v2 has already been initiated with a design sprint and a UI prototype has been built.

Our business & market situation
Our business & market situation
"Sports tech for all" is a megatrend
Using various kinds of technology for tracking sports performance is not a new thing. Performance data has had a significant role in the top levels of many sports for years. During the past decade, people have also begun to have access to affordable solutions for measuring recreational sports, such as running, swimming and golf among many others.
These tools include sports watches, various sensors and mobile apps using smart phones' built-in sensor technology. The wearable tech market is a massive global megatrend.
According to a Statista study, the global sports wearables market is already worth almost 13 billion euros involving 350 million users and growing at a 6% annual growth rate in revenue.
Personal football tracking is emerging strongly
A large study by Markets & Markets estimates that the global player tracking market (in team sports) will grow by an average 27,8% yearly during the following 5 years. The study estimates the market size to have been 2,1 billion USD in 2018 and grow to 7,3 billion USD by 2023. Xampion was also featured in this study among 15 major vendors in the market.
The business landscape in football technology consists of solutions based on different kinds of technologies and different target groups. Most common technology solutions in the business are based on either location-based solutions (GPS), motion sensors, video analytics, heart rate monitoring or, in some cases, a combination of these.
Xampion optimizes the use of motion sensor technology, this choice has significant advantages compared to other technologies:
Modern motion sensors are highly accurate in detecting acceleration, impact, direction and position.
Very small size means they can be placed almost anywhere without distraction.
Motion sensors don't rely on outside signals, such as GPS. This means Xampion sensors can be used anywhere (indoors, stadiums with tall stands, etc).
Motion sensors are inexpensive.
In general, the vast majority of the solutions available today are built to serve coaches in professional sports. These solutions are excellent for optimizing training load for maximum output on match day, or for analyzing team performance tactically.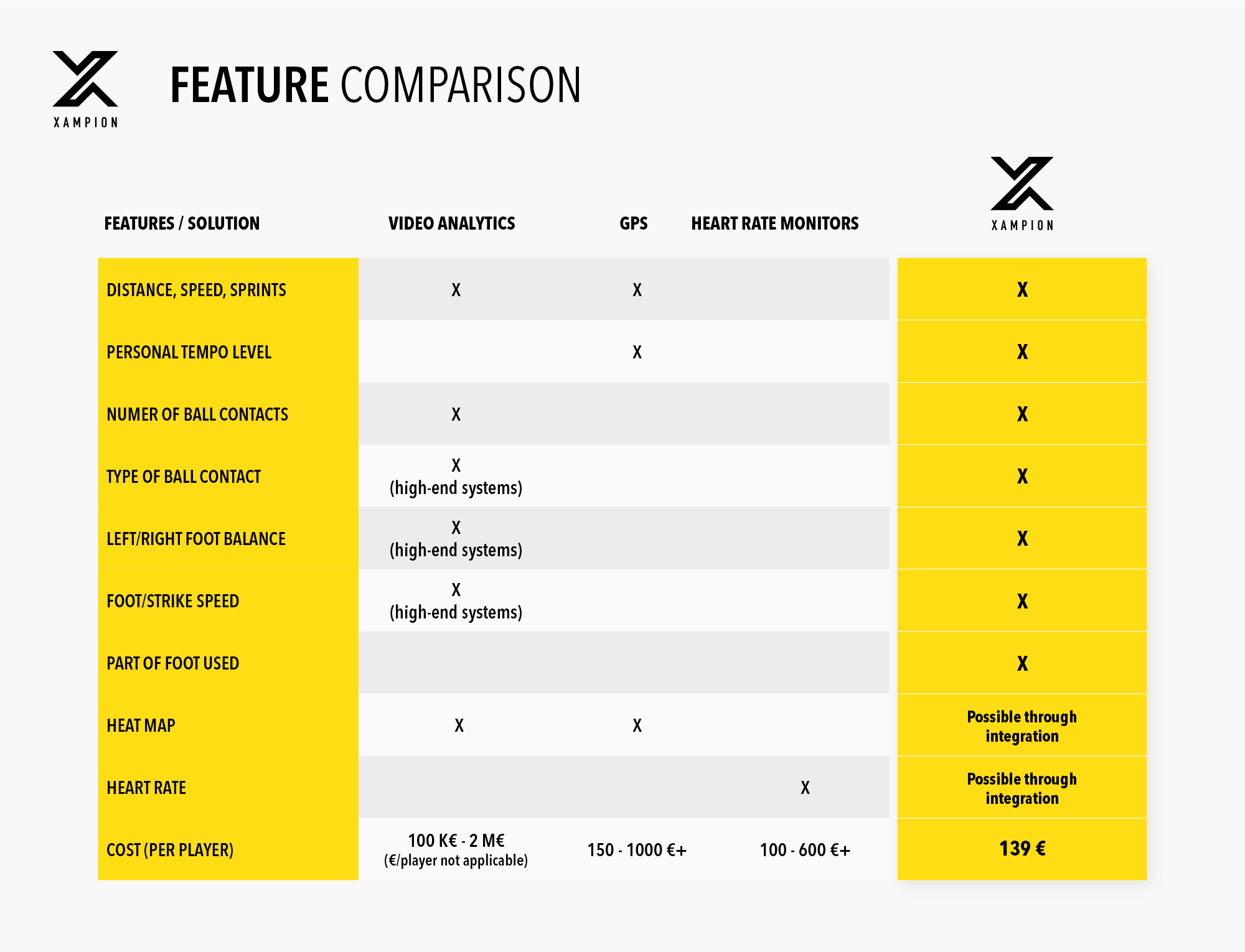 Xampion's approach is fundamentally different. Xampion is built especially for players at a developing stage, who want to know what they are actually doing on the pitch and to follow their progress. Instantly after the game or training, Xampion produces personal data and feedback in a motivational and informative way for the player.
Another unique feature of Xampion is that it is capable of tracking the player's ball touches in extensive detail. This is amazingly useful for players training to perfect their ball handling, passing and shooting. From each ball touch, Xampion can track:
The type of touch (pass, strike, ball control or light touch)
Contact point (inside foot, outside foot or laces)
Strike speed (speed of foot at ball contact)
All this from both feet including the balance of touches with right and left foot
In addition to the wide range of data from ball touches, Xampion provides accurate and personal insights about the player's physical performance:
Sprint speed
Personal tempo (high, mid, low)
Number of high tempo sprints
Distance travelled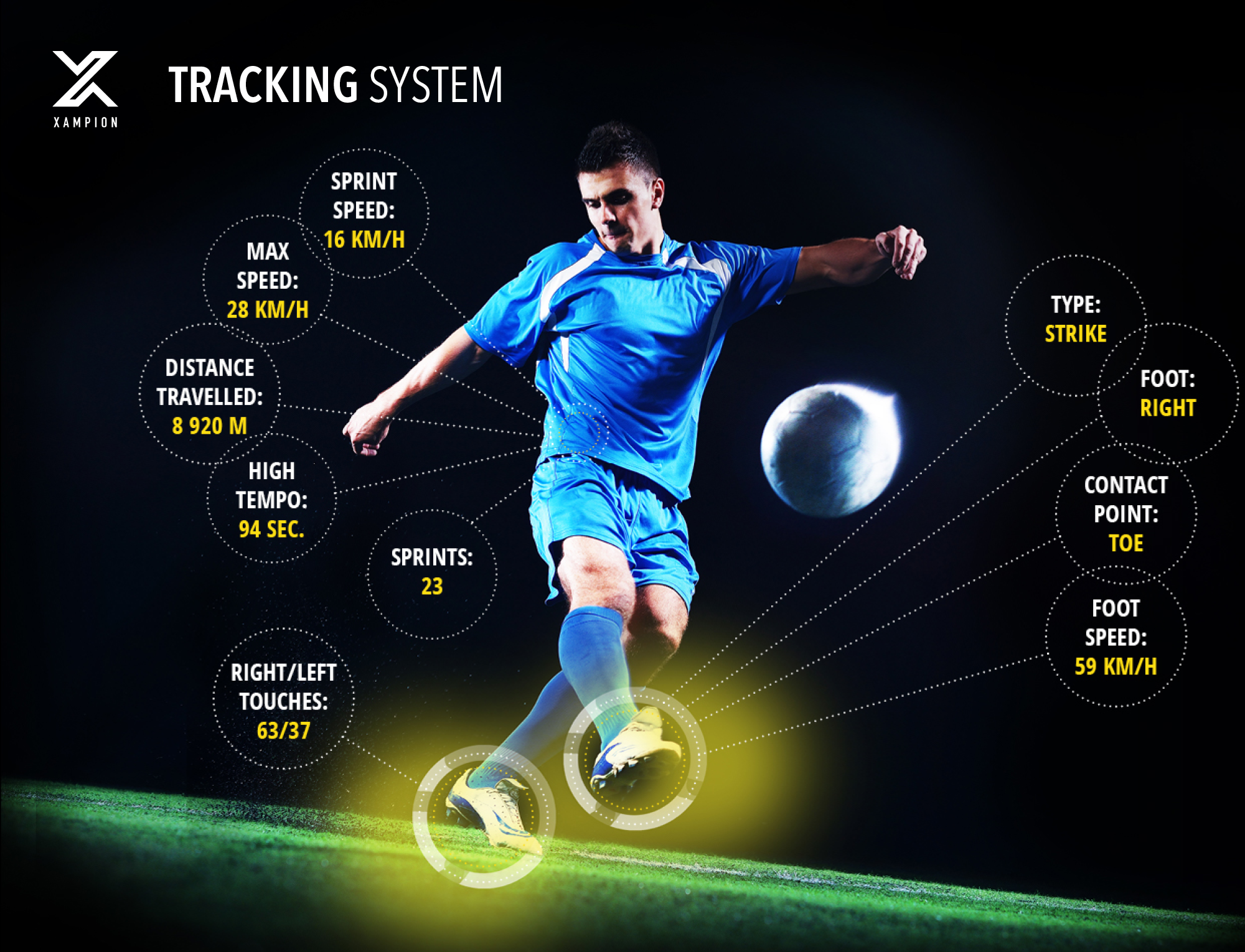 Xampion's greatest competitive advantages in this emerging market are:
Highly detailed, unique ball handling data
Accurate movement data that does not require GPS signal
Designed for aspiring youth players – suitable for players at any level
Highly refined algorithms created by top data scientists
A gamified, social user experience designed to engage and motivate for higher quality training
Affordable pricing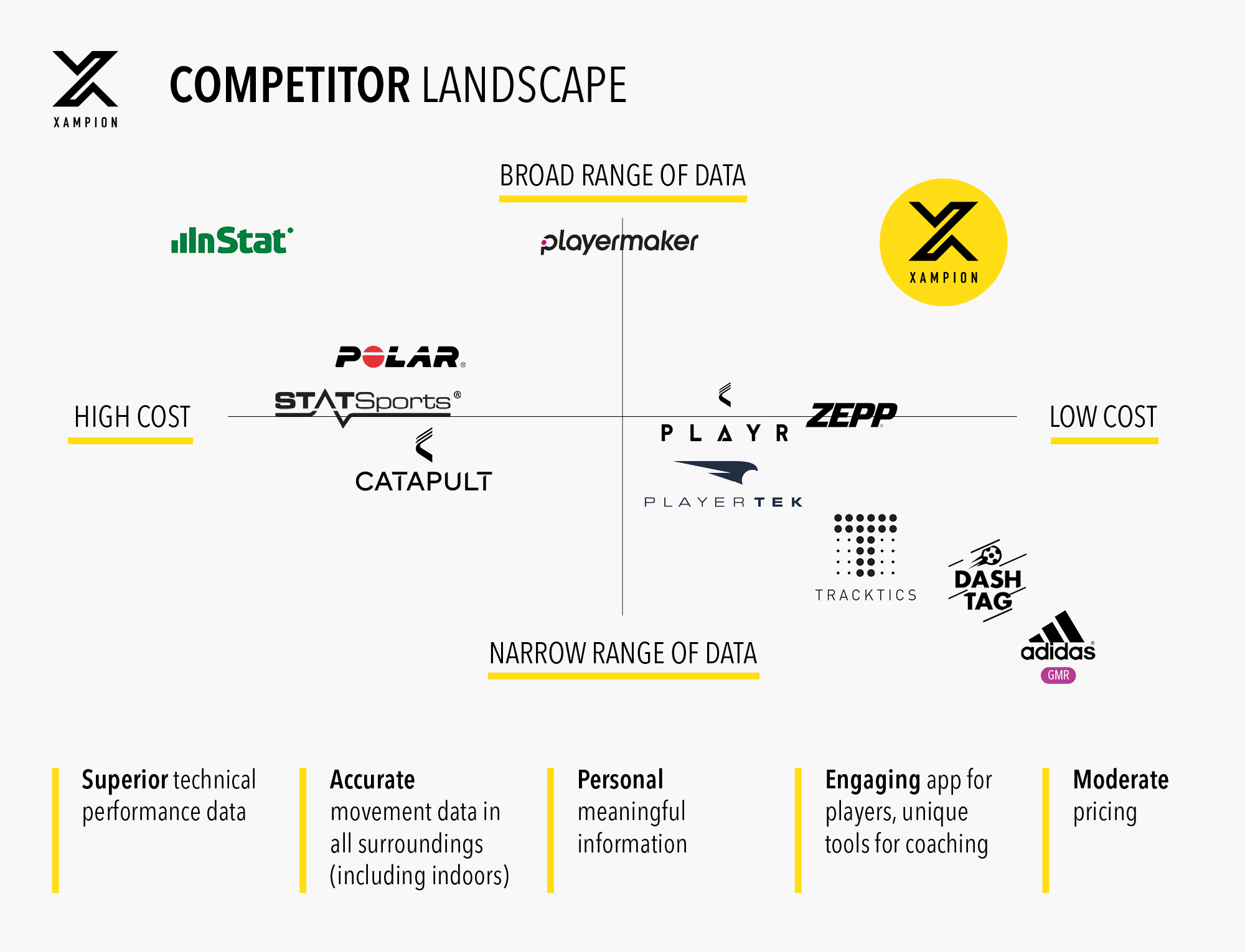 The Xampion System
Xampion provides personal football performance data through small sensors placed under special Xampion insoles. The highly automated system is unnoticeable while playing and lets players and coaches focus on football. The data is available for post-session analysis on the Xampion Mobile App and Xampion Coach software.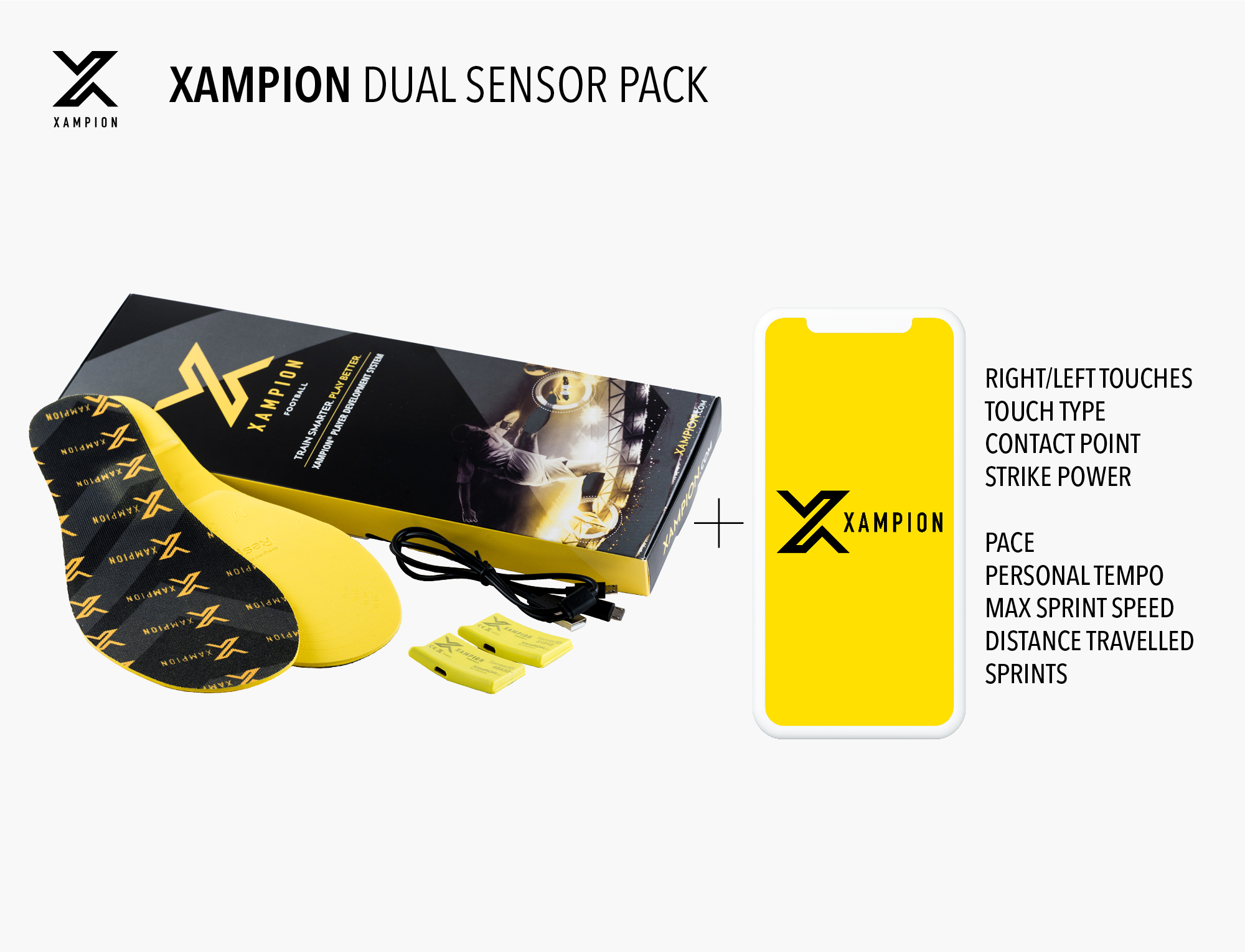 Xampion Sensors
Built-in accelometer, gyroscope and optional magnetometer
Bluetooth (BLE) connectivity
Weight 9 grams, dimensions: 4–6mm x 27mm x 47mm
Durable, water resistant, use temperature -10C – +55C
Motion activated (automatic power on/off)
Rechargable battery offering 15–20 hours of active use (micro USB charging)
Built-in memory can store up 30h of football data at once
Xampion Insoles
Two models available, Xampion Slim and Xampion Original
Xampion Slim Insoles were designed in cooperation with the orthopaedic specialists of Respecta Oy (a part of the Ottobock Group)
Xampion insoles can be replaced without the need for buying new sensors
Personal insoles can be made to be used with Xampion sensors
Xampion Software
Xampion Mobile App for players
Provides motivational and personal performance data from each session to the player
Data is transferred wirelessly via Bluetooth after the session
The mobile app allows the user to connect with friends, compare results and collect Skill Points
Xampion App is all about being informative, motivational, gamified and social
Xampion Coach for deeper desktop analysis
A cloud-based software that allows to analyze data from the whole team
Allows deep data analysis on a team or individual basis
A tool for coaches to help understand the effectiveness of training drills, match performance and to help to move towards data-driven team management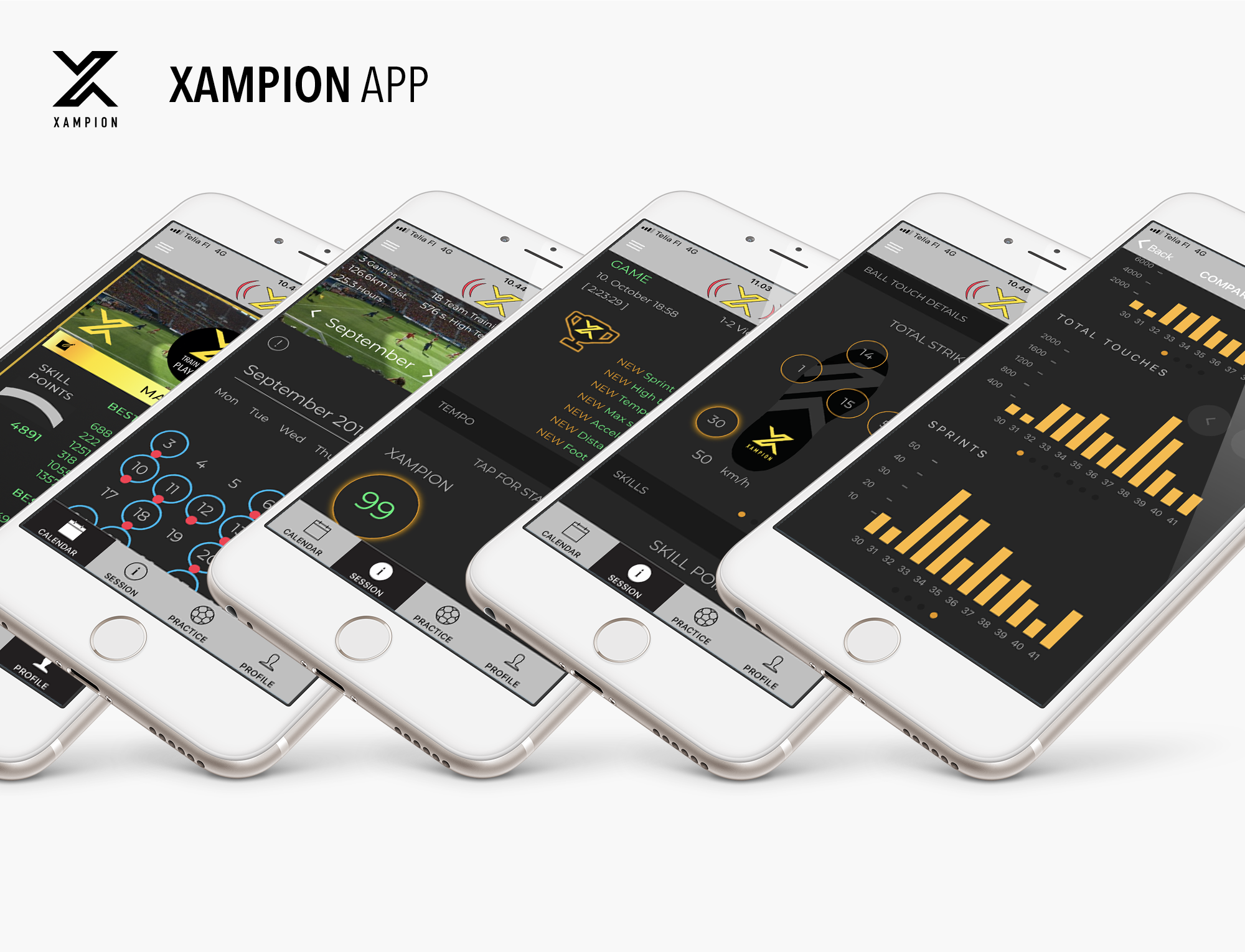 Business model
Xampion's business model is based on a combination of hardware sales revenue and recurring revenue from software sales and subscriptions. We are dedicated to a service-focused business model and profitable long-term customer relationships.
Xampion Insoles with Xampion Sensors are sold through multiple sales channels including the Xampion.com online store, retail partners and direct club sales. Xampion Dual Sensor Pack retails at 139€ (incl. VAT) and produces a 40-60% profit margin depending on the sales channel.
As of now, Xampion provides two separate software services for its users, the Xampion mobile app for players and Xampion Coach for the coaching staff. Xampion mobile app is a free to use app with upcoming freemium features such as smart training recommendations, local and age-group-based scoreboards and high-quality video content. Xampion Coach is a license software with pricing starting from 249€ per team per year.
We estimate that recurring payments will generate 40% of our total revenue at the end of 2022.
The future of Xampion holds various interesting avenues for business and opening new revenue streams:
The data Xampion collects holds tremendous value to various parties besides the players and coaches. We have reason to believe that, for example, talent scouts are one of these groups and building a platform for scouts is on our roadmap. Xampion is also built to support integration opportunities to other services.
Xampion data combined with video offers unforeseen opportunities for coaches for training and match analysis. We are currently piloting a functional beta version of a coaching tool that enables automatic editing of match recordings into a stream of individual performance clips based on Xampion data. This has attracted a lot of interest among our coach customers.
Xampion motion analytics tools can be utilized to understand almost any kind of movement in any sport or other environments. This gives us the opportunity to implement a license-based business model and offer a ready made toolkit to teams willing to build a new product for another purpose. In this business sector we already have a customer – a team building a tracking solution for floorball.
Why invest in Xampion?
Xampion has proven traction in a global and fast growing market.
Xampion has a profitable and scaleable business model with multiple revenue streams and emphasis on recurring revenue.
Xampion data can be utilized in various ways and is the subject of interest to several stakeholders. Xampion technology has a wide range of utilization possibilities in other sports as well as in non-sport environments.
Xampion is on a positive mission to get our youngsters out there enjoying sports by providing an extra motivation boost.
Current and former professional athletes such as Petri Pasanen, Juha Reini, Jere Uronen, Antti Törmänen and Jesper Jansson have proven to trust our mission and are among our owners and advisors.
We estimate a potential exit by acquisition within 5 years.
Our team
Our team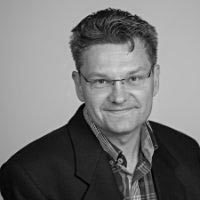 Tero Suominen
CEO, Co-Founder, Chairman of the Board
Tero has broad experience in international business and various companies after spending two decades on the frontline of the mobile industry. He has managed customers, subcontractors and teams of different sizes. He has a solid track record of taking care of technical implementation challenges. Tero has several years of experience in the diverse environment of startup entrepreneurship and the challenges of technical implementations.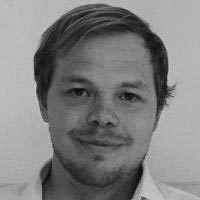 Jussi Mutila
CTO, Co-Founder
Jussi is the technical architect behind Xampion products. He has plenty of work experience from a variety of electronics projects and of challenging design tasks from production to post marketing.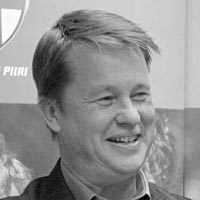 Jukka Talja
Director of Sports, Co-founder, Board member
Jukka is the football mastermind and the source of sports knowledge in Xampion product development. Jukka is a highly experienced and award-winning soccer coach. With his wide international network of football connections, Jukka's responsibilities naturally include team sales.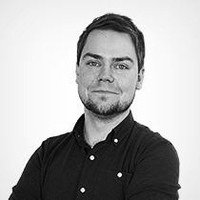 Sami Haltia
CMO, Board Member
Sami's background is in economics & marketing, with extensive experience in digital marketing, ecommerce development and B2B sales. In addition to being responsible for Xampion's marketing activities, Sami also has an important role in finding new beneficial partnerships, funding and business development.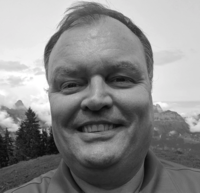 Matt Joutsikoski
Business Development, Board member
Matt is a valuable member of Xampion's Board and assists the company especially in financing, partnerships, strategy and business development. Matt has an extensive network of investor and business contacts, and a great track record in working with successful growth companies.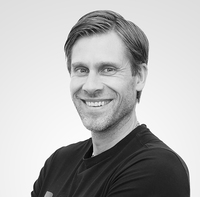 Juha Reini
Advisor, Partner
Former Finnish National Team footballer, UEFA B-licensed coach, scout and agent. Found the passion for sales and marketing after his successful sporting career. Juha has a fantastic network of contacts in European football and strong experience in sports and software sales.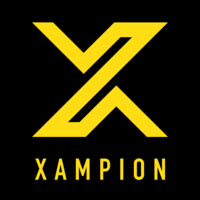 Advisors & Owners
Petri Pasanen, Former Finnish National team player
Jere Uronen, Professional player at KRC Genk, Finnish National Team
Antti Törmänen, Professional Ice Hockey Coach, Former National Team player
Jesper Jansson, Director of Sports at Hammarby IF, Stockholm
Jussi Poikonen, Data Scientist (PhD)
Ari Pöyhönen, SW Full Stack Developer
Sami Heino FW/Android Developer
Juha Mäkelä, Legal Advisor
Monttu Ventures / Institutional Investor
Risks
Risks
Unlisted growth companies are high-risk investments. Making a high-risk investment involves risks, for example the risk of losing your investment, lack of liquidity, irregular or rare dividends and dilution of your stake. Please study this risk warning before making a high-risk investment.
It is recommended that you familiarize yourself with the investment target of your choice, reduce risks by investing in several investment targets and balance your investment portfolio with more liquid investments. We also advise you to pay attention to the Target Company specific risk descriptions, which you will find included in the pitch materials.
Attached to the pitch there is a creditworthiness report that may be relevant for the investment decision
The board has conducted continuous and thorough risk assessment and considers the following risks relevant to Xampion's business operations:
Key personnel risk
The company is dependent on their key personnel and losing an employee in one of the key positions may result in loss of know-how and delays in executing steps on our road map.
Macroeconomic risks
As the coronavirus pandemic has proven, unexpected changes in the environment may affect businesses. As a small and agile company Xampion is reasonably well prepared for changes in the business environment. Xampion also expects to survive the crisis caused by the current pandemic by adjusting the emphasis of our marketing and sales to selected target groups.
Risk of lawsuits 
There are currently no legal proceedings against the company. However, should some entity decide to take legal action against the company for any reason, this could potentially burden the company's limited human and capital resources.
Market risk
Even though Xampion is currently in a position of little direct competition, new products in the sports tracking space are being developed by several companies. The risk of competitive products is best managed by gaining a large and satisfied user base quickly and by establishing strong strategic partnerships.
Financing risk
The company is not yet profitable and will need further financing to execute future plans in the next stage of growth before reaching break-even.