Myssyfarmi - Knitted by Grannies. How uncool is that?
Myssy is a farm-based design company from Pöytyä, known for wool accessories that are made by local grannies of local wool, but sold around the globe. We have proven our concept, and are ready to scale the grannies!
Our story
Our story
"Knitted hats can be found anywhere, but yet Myssyfarmi's knitted hats are one of a kind because all production is done in Finland, the materials including dye colors are natural etc. The hats are knitted by happy grannies, and it feels that their happiness is also knitted together into the hats. The brand policy that cares about products and people is also very attractive. I wanted to share this 'Finland Happiness' with our consumers." - Mr. Izawa, Head Buyer and Senior Manager for special events Takashimaya Department Store, Nagoya.
The Myssy farm
Myssy is a farm-based wool design company from Pöytyä, Finland. Our every product is knitted by a real Myssy Grandma. We get our unique hand-dyed yarn from the local herd of Finnsheep. Everything is organic and original in our farm and nothing is cool in Pöytyä. Except when winter hits these parts. That is probably why the local ladies have inherited the gift to knit the most perfect wool accessories in the world.
Today these accessories are sold in 90 shops in 16 countries main markets being Japan, Korea, Finland and Switzerland. Our average annual growth has been 60 to 70% the last three seasons and last year half of the sales came from webshop, which grew by 200% in a year.  Myssy is a true forerunner of the fast growing eco luxury market.
Our production chain is unique and totally transparent: We employ 40 happy grannies and pay a fair price for the wool of 17 Finnish sheep farms. We are one of the very few on the fashion market making everything in Finland and of Finnish materials. We have proven our concept and are now ready to scale up the grannies, change the game at the Finnish wool market and take our business to the next level. 
We welcome you to Pöytyä, a land of fashion on its own!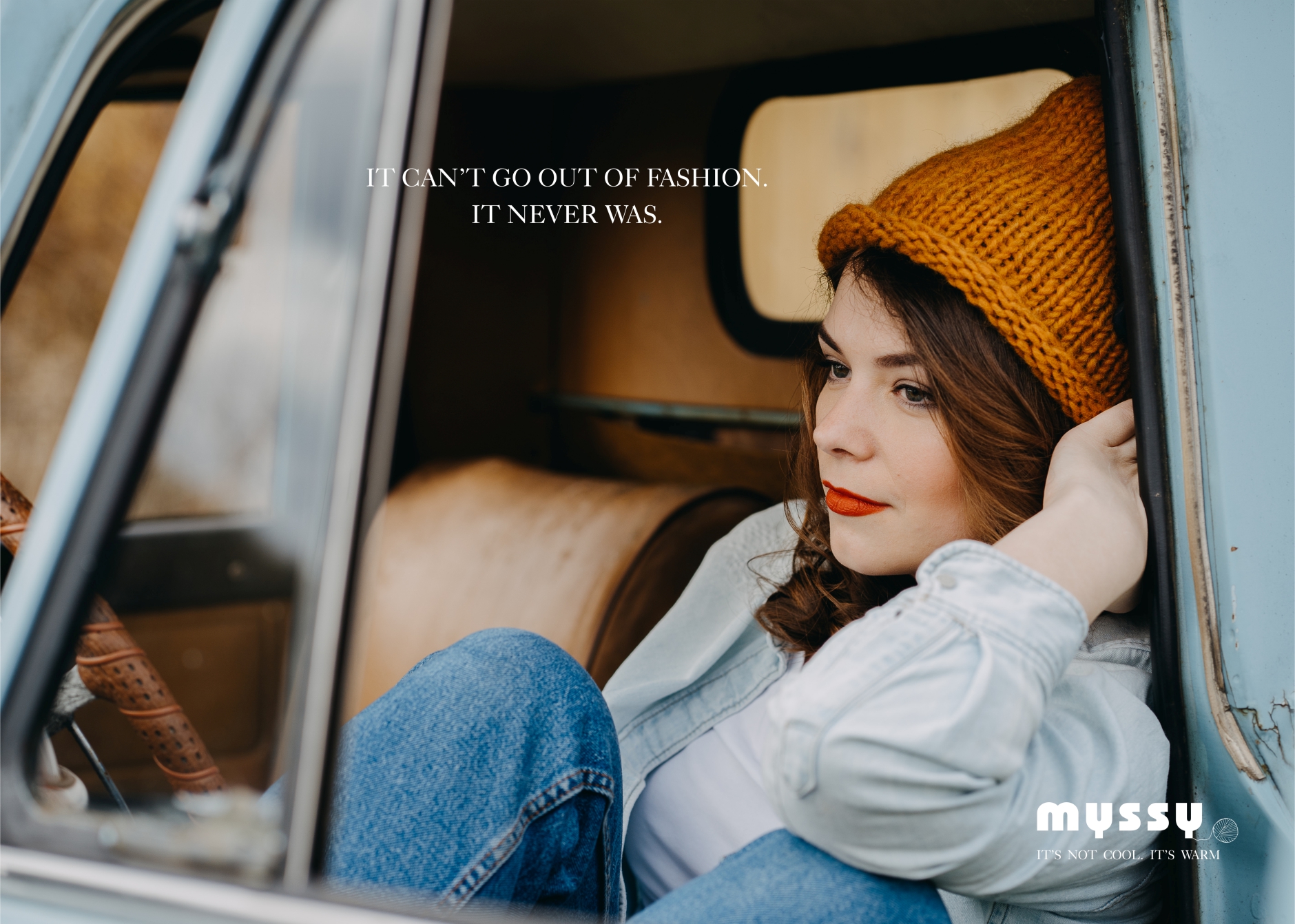 "I like your story so much, handmade craft, nice colors and nice packaging. Also I love "Made in Finland"! - Takehiko Tanaka, Mechandiser & Buyer, Look Inc., Japan.
100% Finnish raw materials - taking waste into use
As a raw material we use organic Finnsheep wool. At the moment more than 60% of the Finnish wool is being burned as waste. It has no market value. We take this high-quality domestic material in use and pay the sheep farms a fair price for their work. Acting as we do, we set a new price standard to the domestic wool market. The yarn is being washed and spun in the few remaining spinning mills of Finland. We are here to change the game.
Finnsheep is an original Finnish landrace known to have wool that is very soft, light in weight and dense. The softness of it can be compared to that of merino sheep: Merino and Finnsheep are the only two sheep races in the world with a similar fibre structure: the overlapping scales are pointing inside the fiber making it particularly soft. Finnsheep also have an exceptionally wide color spectrum: white, brown, black and grey.
Also the yarn is being spun in Finland in the few remaining spinning mills. For us this is a matter of wanting to revive and restructure the domestic textile production. This is also the  only way to guarantee the traceability of the yarn. 
Luke has estimated that the annual wool production in Finland is approximately 220 tons, out of which Pirtin Kehräämö is refining 50 tons.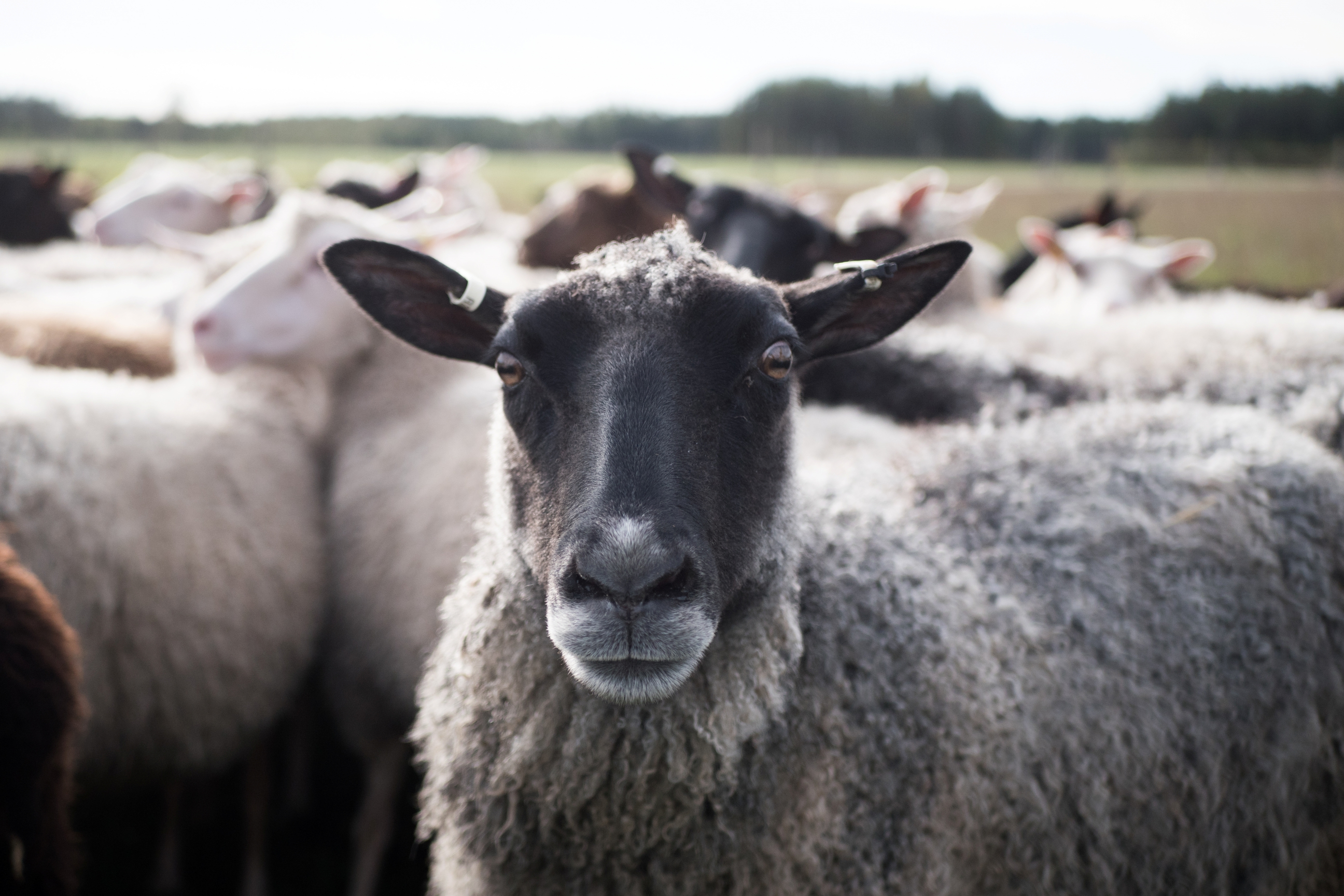 "I have seen so many brands from Finland, Denmark and Sweden. However all those brands make products in Asia. I think this is a very important thing for imported brands' business in Japanese Market." - Takehiko Tanaka, Mechandiser & Buyer, Look Inc., Japan.
100% Finnish production- employing elderly people
Everything is hand-made by local retired ladies known as Myssy Grannies. The Grannies are the heart of our brand in all their cheerfulness. They got some positive energy flowing in them and we believe they knit part of their wisdom into each and every Myssy they make.
Our production method is "cottage industries". Cottage industry is a traditional Finnish production method,  where employees work at home and get paid by every piece they make. This is a cost-efficient way of working in a country of high employee expenses. The method also guarantees our grannies the freedom they have earned by retiring from their daily jobs. It is a win-win production model.
For the Grannies knitting is a way of life. Being part of the Myssy community brings new aspects to their lives and helps them to make new friends. With the extra income to top their pensions, many of them do new things and have for example started traveling for the first time in their lives. We are pleased to support all this, and endeavour to make the community a pleasant place to work.
At the moment we have 40 Grannies knitting for us and a waiting list of approximately 50 grannies, who have applied. So in case you were wondering,  Granny community does scale and we get more applications than we can take. The demographics of our nation support our business model: baby boomers are retiring or retired, and many people also want to have flexible work they can do when they want.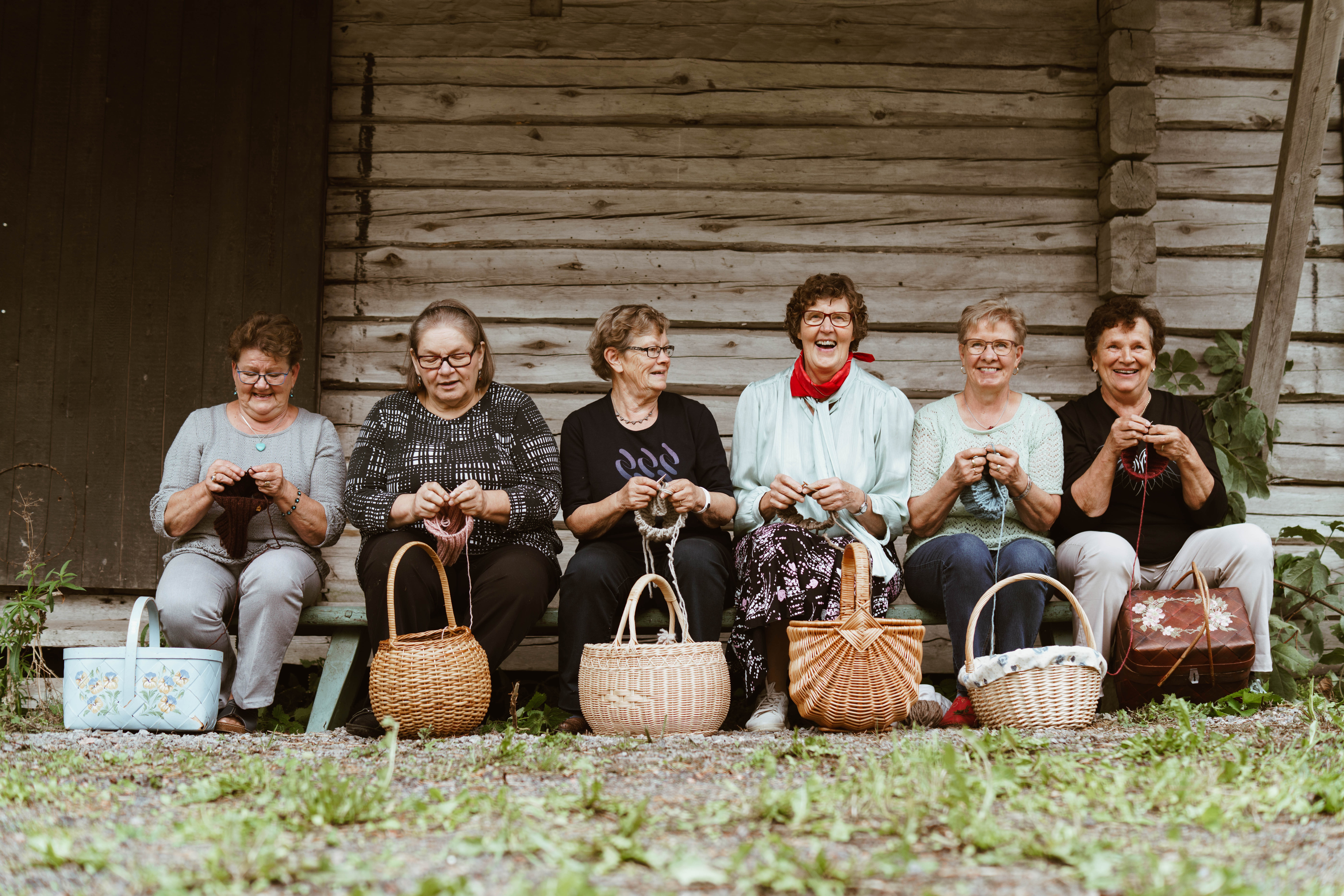 "We have this expression called ' 小 確 幸 ' in trend lately, which stands for the expression 'little but very promising happiness'. Unlike our generation, this younger generation would rather focus on present than tomorrow's immense ambition. I see this trend entailing with Myssyfarmi. I cherish the integrity in the simplicity of the product in Myssyfarmi. And it touched my heart to think about the Finnish grandmothers. This brings me daily "promising happiness". I am sure it would also bring those heart-warming moments to the Korean fashion customers who are seeking after their 'little but promising happiness' in a day." - Eun Sun Min, Editor in Chief, Publisher of Fashionbiz, South Korea.
Myssy products
Myssyfarmi has specialized in wool accessories. 85% of our sales come from wool hats, but the portfolio also includes collars, tubes, loop scarves, scarves, mittens and ties. Wool hats are the main business, but the other accessories support the sales and make portfolio more interesting. Design-wise the hats represent typical Scandinavian design with simple, but strong structure and playful colors.
Wool is great material and we are often asked for woolen socks, handmade cardigans and other woolwear, so the the product portfolio will grow next season.  Also our interior collection of Finnish wool and sheepskin is being design and is ready for the production and big launch in 2021. 
We believe that in fashion the most important thing for the customer is how the product looks and feels design-wise. But just as important is to be able to offer a unique story: something to relate to and be part of. And this is what we are exceptionally good at, our true story stands out.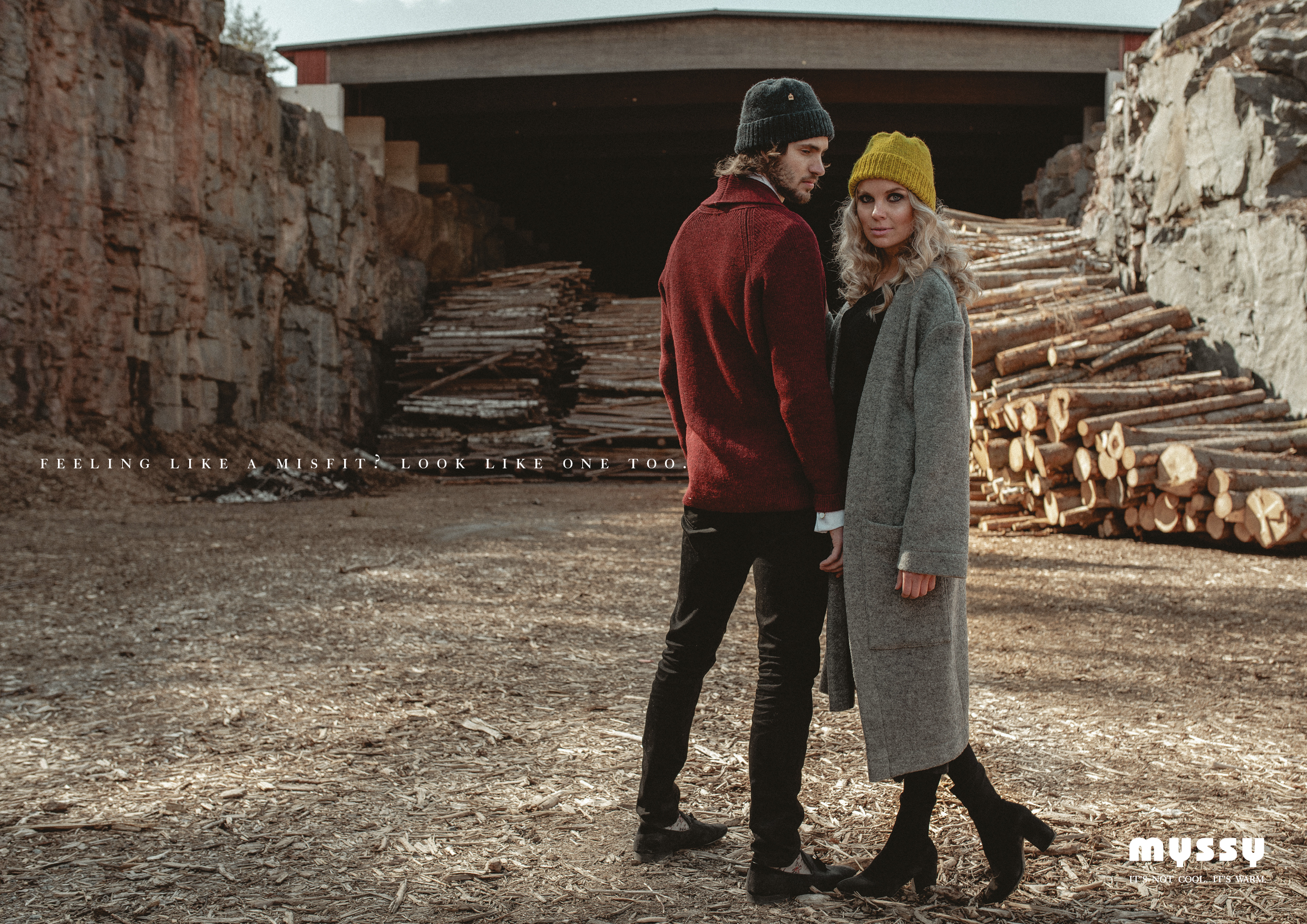 Distribution of Myssys
In 2018/2019 season (ending 02/19) half of the revenue came from retail and half from the webshop. The online business has been growing by 200% the last two seasons, and this year we are expecting online sales to exceed retail sales. We aim to keep the same growth rate this season and in five years e-commerce will represent 90% of our revenues.
Our story and the nature of the accessories suit the online business well: Myssys are easy to ship, one size fits all and the return rate is under 5%. For instance, Zalando declares that their return percentage is about 50% across all their markets. Also the story behind the product is easier to grasp online and the margins are better. 
The location at Pöytyä is perfect for a webshop as the rental costs are low and all main carriers Posti, Matkahuolto, Postnord, DHL and Schenker operate here on a daily basis.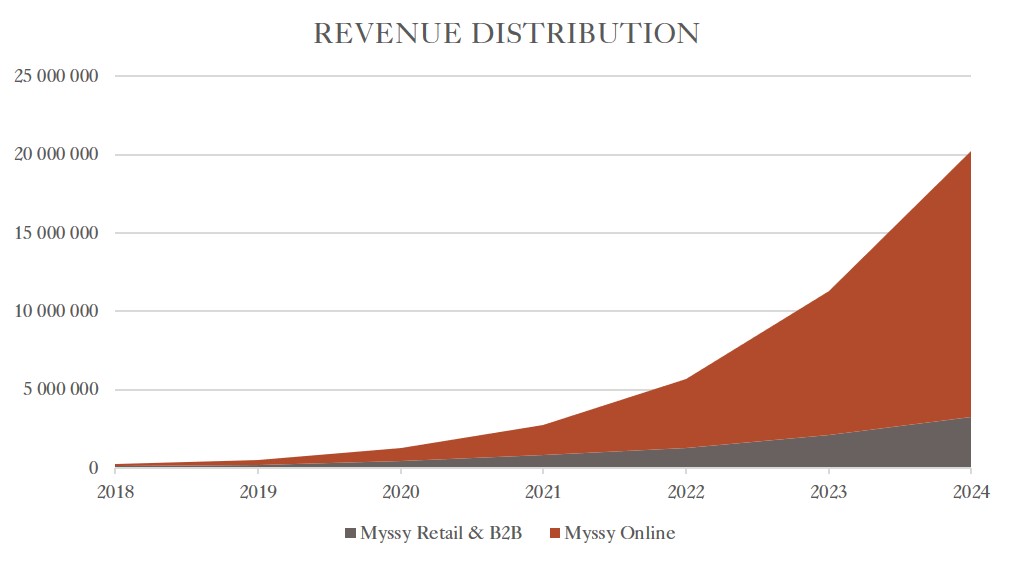 But how did it all begin? 
After touring the world for 15 years Janne quit his career as a professional windsurfer due to an injury. He had settled in Switzerland and was searching for a new direction. His friend had a handmade beanie, but it wasn't for sale. So with the Finnish stubbornness he decided to make one himself. Soon he mastered the art of knitting and Myssy.fi was a cool phenomenon in the after-ski bars of Davos. 
Then Janne met Anna, who originated from the same small county in Southwest Finland, Pöytyä. They shared similar values and history: centuries of farming culture and family companies run by their fathers. It was time to return to Finland. Janne took over the family farm as they moved to the old farm house in 2009 and soon she picked up the needles as well. Myssyfarmi was established. The neighbouring grannies started to help in knitting and the first Finnsheep arrived to the farm. 
They knew they were onto something. Finnish wool, which is as soft as merino wool and yet it was treated as a waste. Grannies, who were happy they no longer needed to knit socks no one really needed but hats that were valued. A lifestyle that they loved. In November 2015 Myssyfarmi applied and got - as the first farm in Finland - an internationalization project from ELY center. The aim of the project was the growth and internationalization of the accessories business. 
They decided to make Myssy big.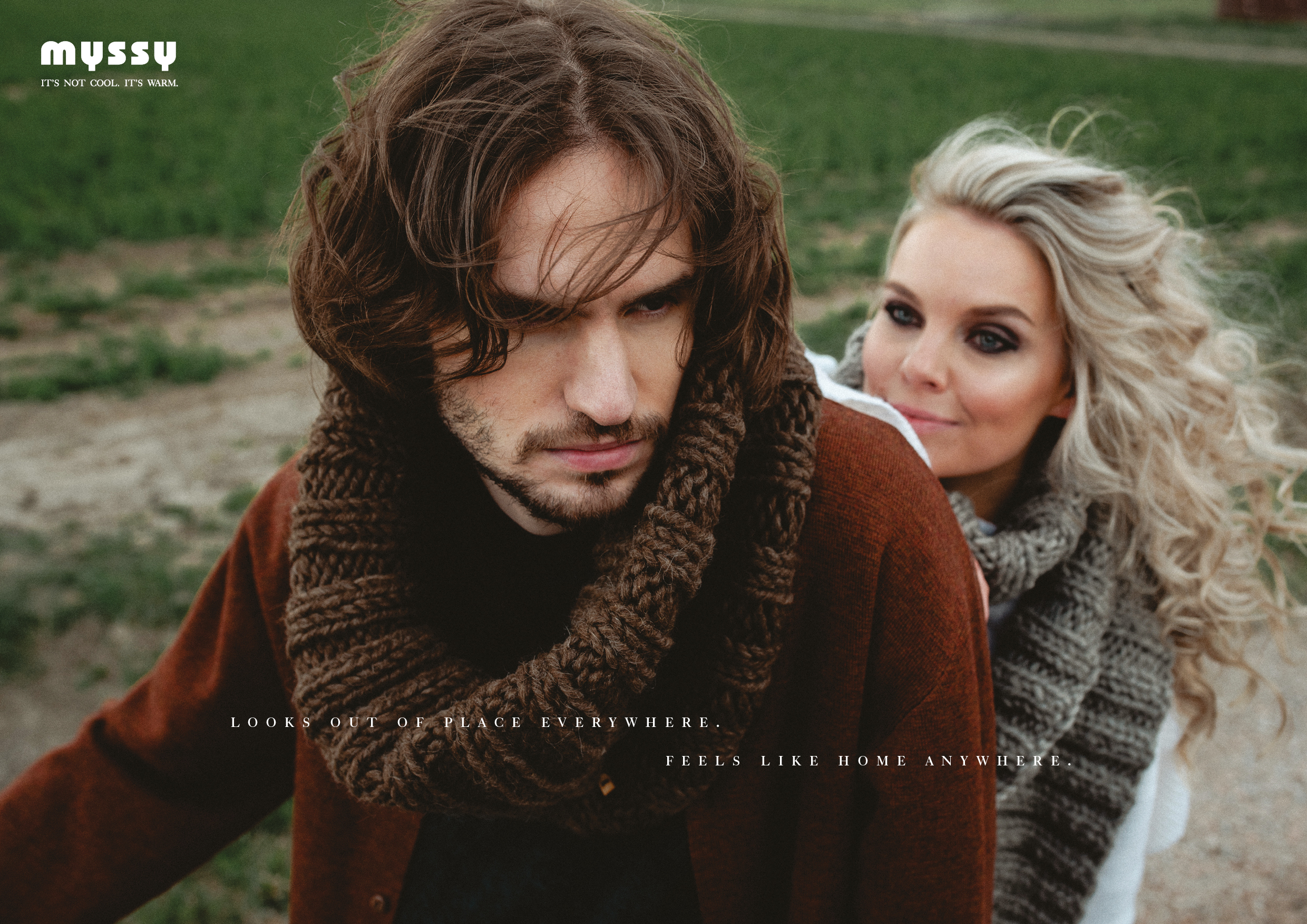 Where are Myssys sold now? 
Our main target markets are Finland, Japan, Korea and Switzerland. Our main distribution channel is our webshop, but retail sector has a huge potential and is very important for the brand in fashion business. 
In 2015, as we decided to start developing the business professionally, it was clear to us that we would first need to succeed elsewhere and then the Finnish fashion audience would accept us (Finns tend to think that way, it's a national trait). In 2017, 90% of the retail sales came from exports and we became known for our ability to make fast market entries and attract well-known fashion buyers. Our most prestigious retailers have been such a world-known concept stores as  at Merci in Paris; Kuho Official flagship in Seoul and Tom Greyhound in Seoul. The strategy worked well. As the world-known concept stores bought us in, the market in Finland opened as well.  
The last two seasons 20% of our sales have come from exports, out of which half from Japan. We have cooperated with big department stores like Lotte in Seoul, South Korea and Takashimaya in Nagoya, Japan, but most retail customers abroad are concept stores and boutiques. In Finland our most important customers are Partioaitta, Sokos, Stockmann and Mastermark. Our concept works well everywhere, where Finland is perceived as a cool (or freezing) and odd nation in the north. The farm life and knitting grannies represent slow living and happiness, something that urban troopers around the globe are desperately missing.
In exports finding the right local contacts is crucial for success: We have an agent and PR agency in Switzerland;  agent, distributor and a PR agency in Japan ready to make a deal and a potential agent in South Korea. We also have an agent in Finland representing us in Lapland and a company representing us on the very potential business gift market: In September 2019 we made a contract with Mastermark, the largest quality business gift company in Finland, giving them sole right for selling Myssy as business gifts. Their 40 salesmen give us a significant sales resource and the cooperation is looking very promising. 
Business Finland started funding us in 2017 and we have completed two BF projects (Tempo, Kiito) successfully. We also participated in the Lifestyle Finland program in 2017-2018 and Business Finland wrote a success case story about Myssyfarmi.
We are true forerunners of the fast growing eco luxury segment.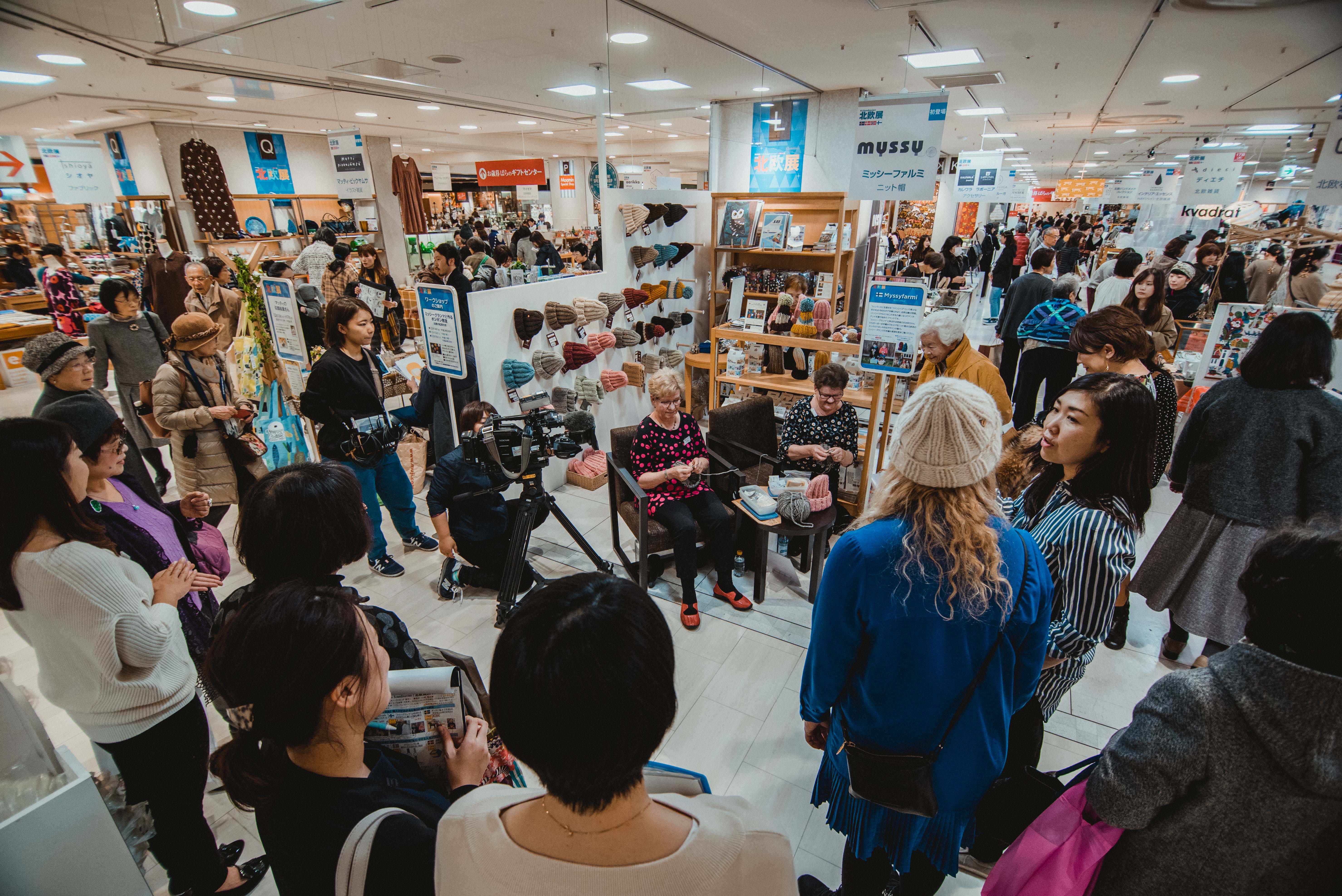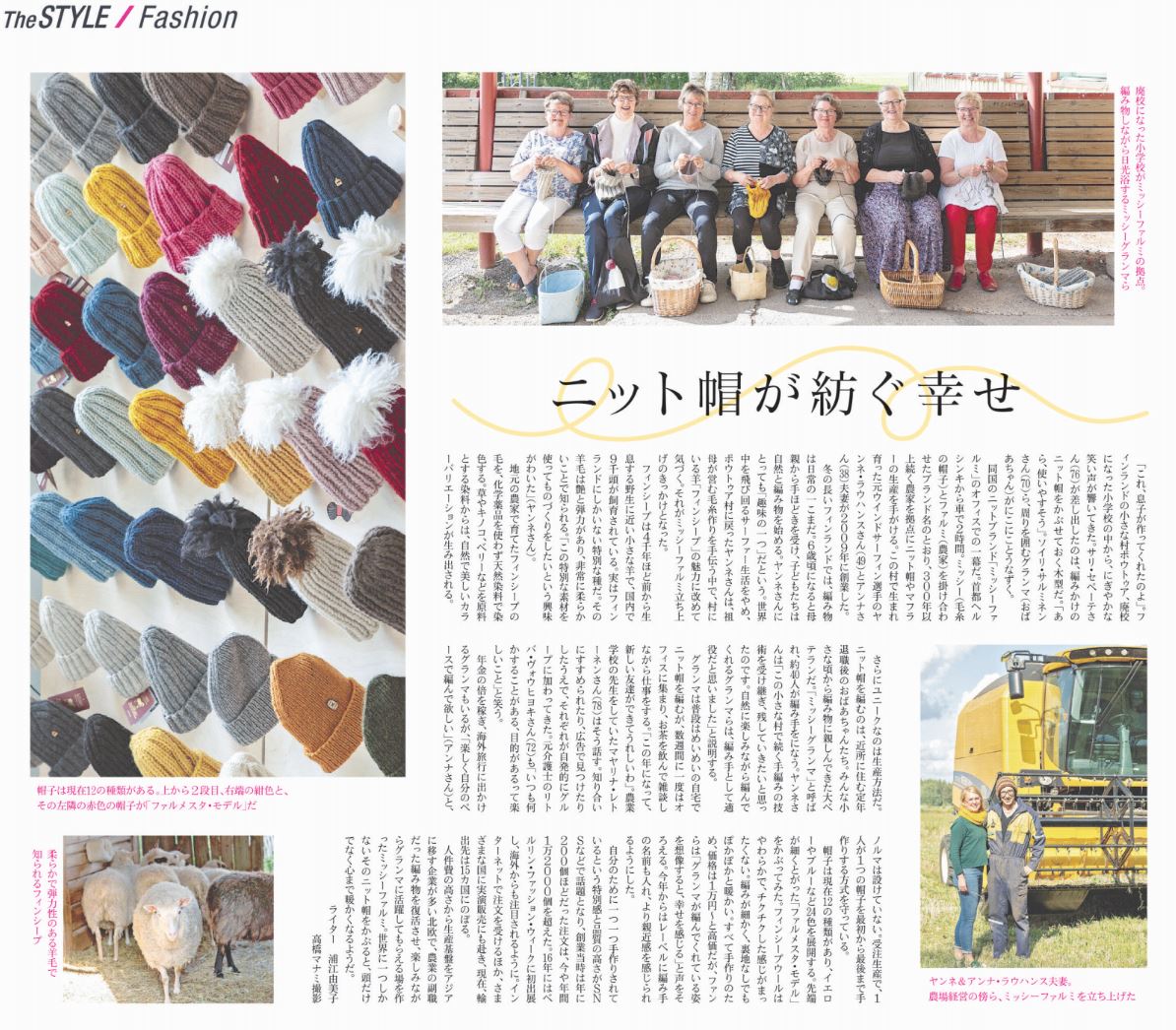 Our business & market situation
Our business & market situation
Market situation
The global apparel market is huge and it's projected to continue growing steadily. Globally, the apparel market is estimated to grow from 1.3 trillion U.S. dollars in 2015 to approximately 1.5 trillion U.S. dollars in 2020. The largest market for sustainable apparel is the US, where the market share for sustainable apparel was 19,9% in 2018. 
The competition in the fast-paced fashion industry is fierce in the category of  accessories it is especially fierce as most fashion brands have their own accessory collection in addition to other collections. In this sense we are fighting of the customers with almost every brand on the market.
However, our concept is truly unique, very difficult to copy and very professionally conceptualized. We are very much able to meet the international competition when it comes to product design, packaging, true story behind the brand and also quality. Our knitwear is granted a lifetime warranty. We also have a major advantage, our concept is 100% sustainable, which is exceptional in this business. 
Fashion industry is not only a huge business but also a huge cause of environmental problems and social issues. Fashion industries are proven to be one of the worst polluters in the world: Greenhouse gas emissions from textile production totaled 1.2 billion tonnes of CO2 equivalent. This is more than those of all international flights and maritime shipping combined. The production facilities in Southeast Asia producing most of our clothes are not humane places to work at. Since the Rana Plaza disaster in Bangladesh in 2013, where a collapsing of a garment factory building killed at least 1,132 people, the ethical issues regarding garment production have been widely discussed.
And this is why we bring some warmness to the world of fashion and business. We create well-being. The more we sell, the more Grannies we can employ. The bigger we grow, the more sheep farms we can offer a fair compensation for the wool they produce. The greater we are, the less wool is wasted and fewer grannies are left sitting home alone.
Sustainability is becoming a mega trend. This applies also on the fashion business. Especially the young consumers are increasingly interested in knowing where, how and by who their clothes are produced. In addition, they are requiring the companies to be as transparent as possible in order to gain trust in them. 
We should be perceived as a brand that comes to the market and sets standards of its own, like Freitag bags. Freitag, that makes bags out of recycled truck tarps, has grown its business to 17 million dollar annual revenues. In five years our goal is to be such an internationally recognized new luxury brand. 
Our momentum is now.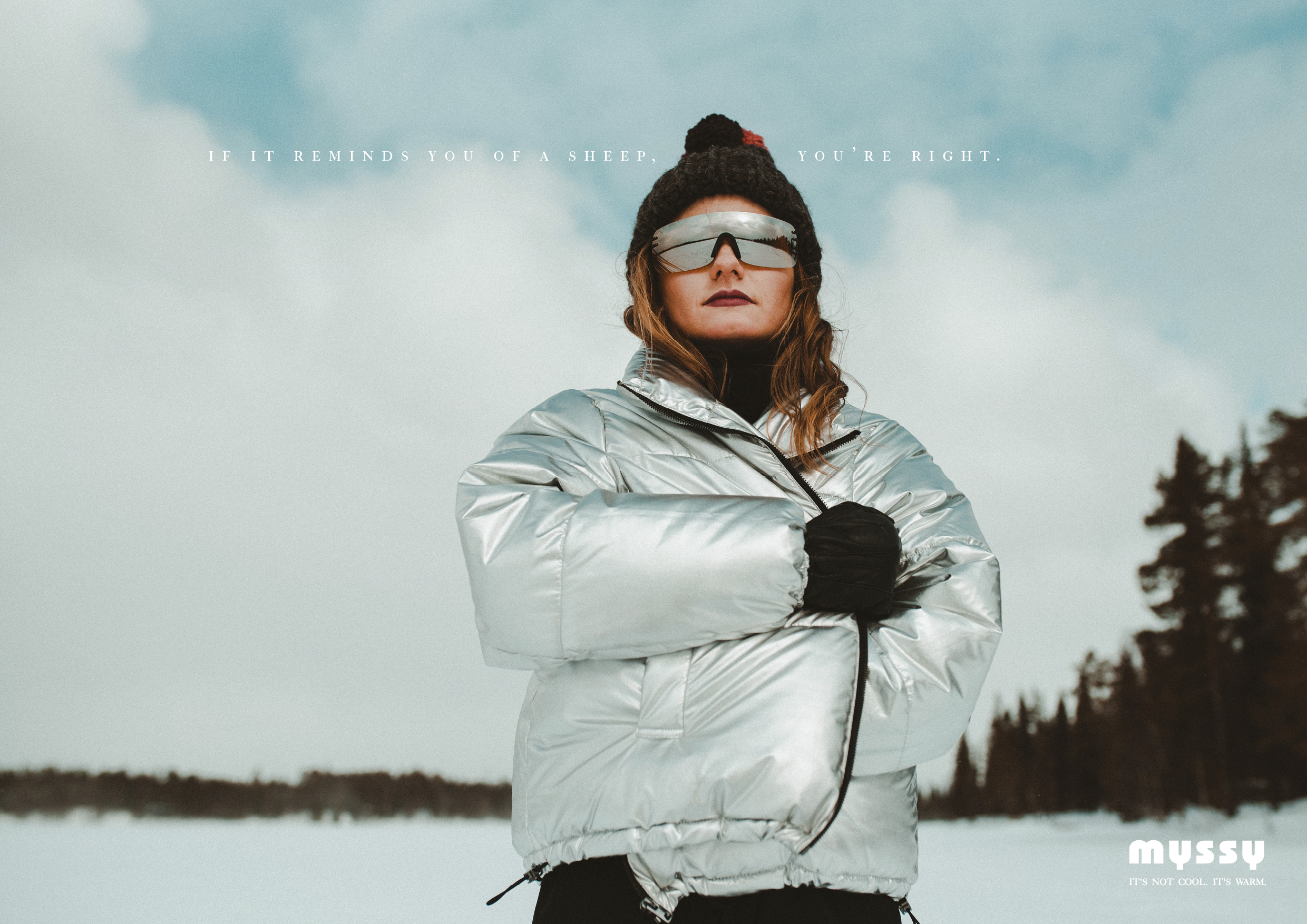 Marketing strategy for Myssy Friends
A typical Myssy Friend - a key customer - is a  25 to 45 year old urban LOHAS consumers. However, buying a Myssy is not a matter of financial status or the right zip code. What counts are the values.  Myssys are being bought also by teenagers and elderly ladies, rural and urban troopers. Other farmers form a loyal group of Myssy Friends. These people don't need certain established logos to represent their identity, they are smart enough to choose for themselves.
The key to our success has been a good presence in social media and excellent PR. Good PR in the conventional press provides a big number of organic visitors to the website that can be later on retargeted with online ads. It also supports the sales of our retailers. In Finland we have successfully done our own PR and are well known for our events and collaborations. 
In addition to the organic traffic, online customers are reached mostly via influencers and social media advertising globally. Cooperating with bloggers and influencers with small and middle-size audience is a cost-efficient way to test the markets, find the right audiences, and get customer feedback.  
We believe that successful market presence requires both retail and online sales. Potential markets are the easiest to test through online business and later on the localized webshop can create the majority of revenues, but the true presence requires a PR agency, agent and retail network. Retail supports the brand in the fashion business and creates a different level of experience. The international buyers are met at showrooms and expos, but the role of local agents is critical and we are focusing on finding the right partners on the key markets.
Brand collaborations are a significant tool for gaining new audiences and credibility both online and retail. Our first ever brand collaboration with Kyrö Distillery was launched in September 2019 and there is much more to come.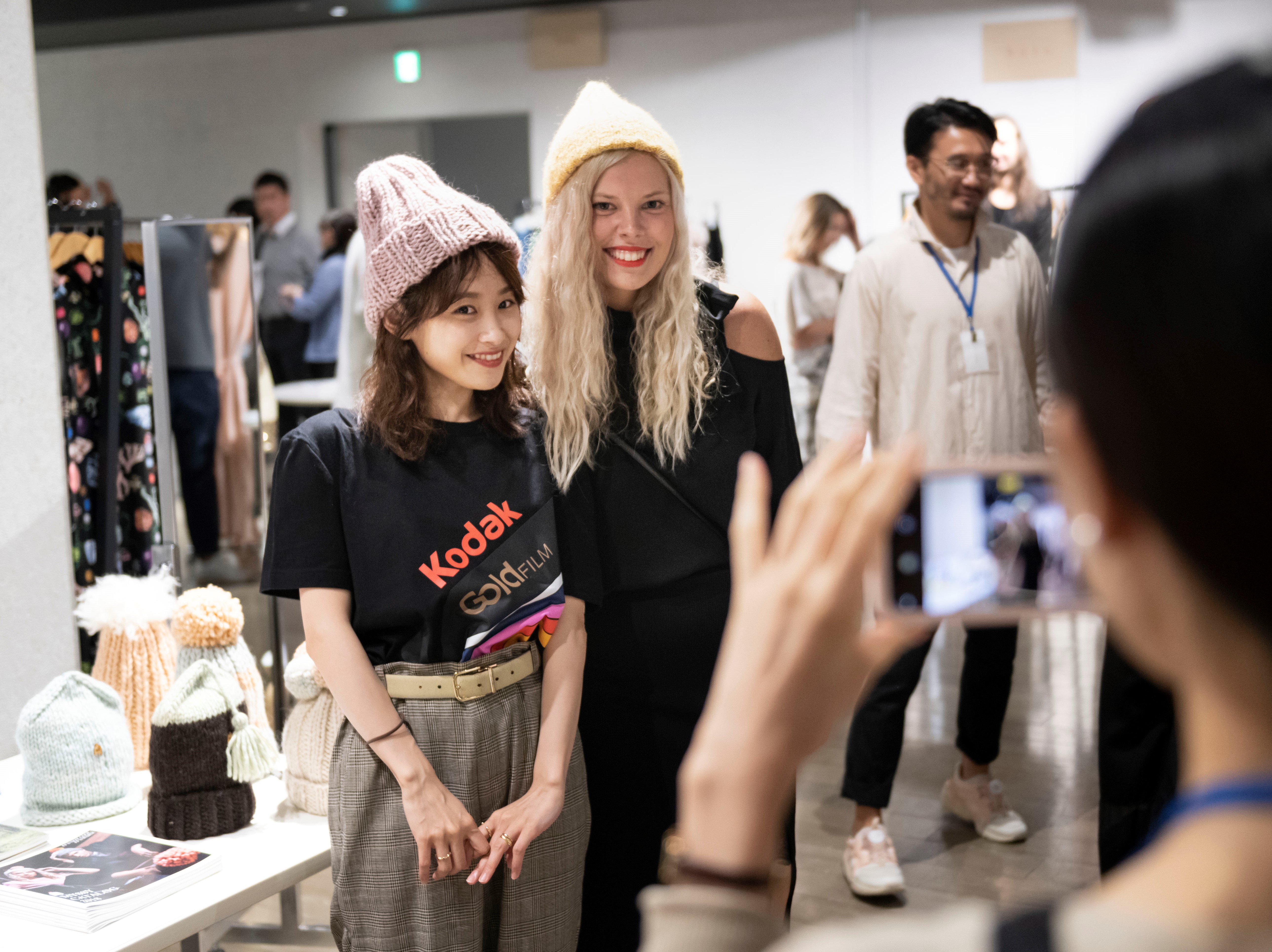 How to scale the Sheep and Grannies after 2024?
You might be wondering, how to scale the business after we run out of the Finnish wool or grannies. We have calculated that with the current business model we can grow to reach app. 40 million euro annual revenues. 
Well, after that franchising our business model to the USA  - or even Sweden - is a magnificent opportunity to expand the business as the problem with domestic wool is similar in all western world. In Sweden, the majority of the domestic wool is being burned or thrown away. The number has been estimated to be as high as 75%. Finnsheep have also been exported to the USA in significant numbers on the 20th century and there are other domestic sheep races with fine wool. 
Regarding the workforce, the demographics look very similar in other western countries, where baby boomers are now retiring. What we will need to ensure the expanning Granny community is training and quality control. For this, we have the basic tools but will be developing these further.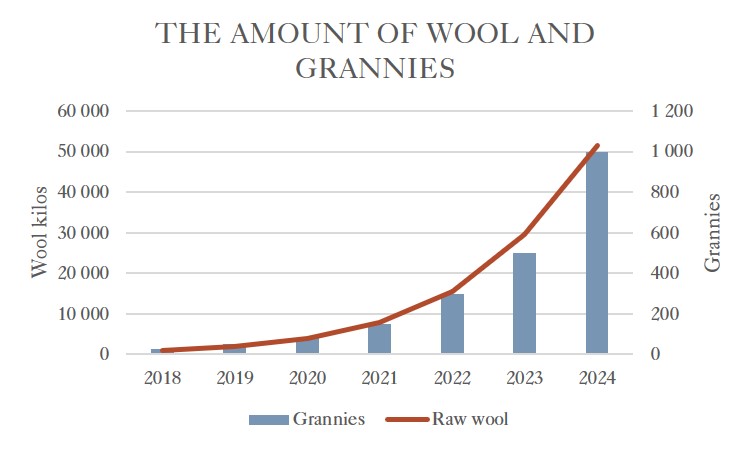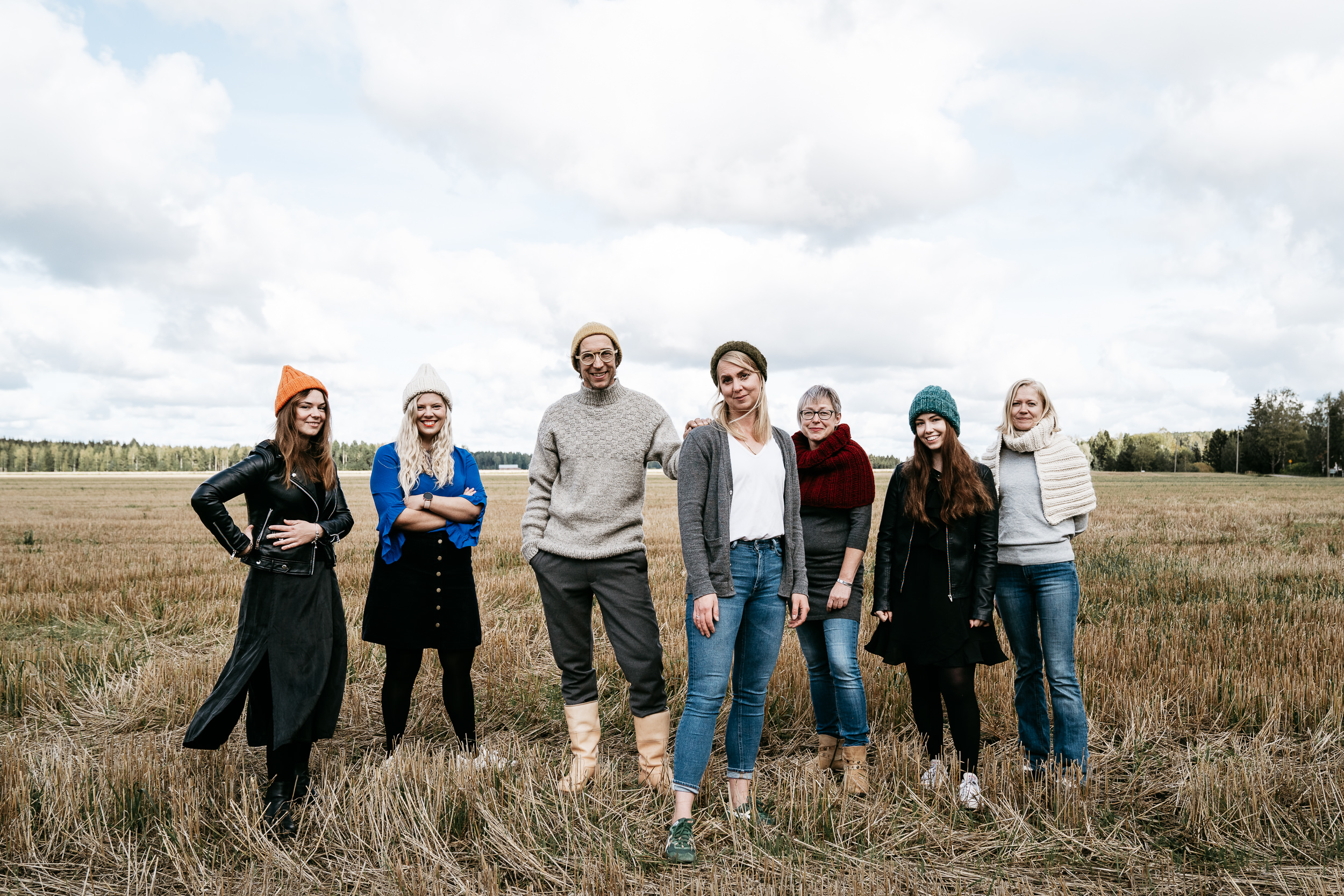 Our team
Our team
The Myssy team
We have a super interesting and motivated team of three individuals with a degree in business and arts and one cosmopolitan farmer that is a former professional windsurfer. We speak eight languages fluently and are used to winning. Also our other Myssy team members and 40 grannies are deeply committed to the business.
Our advisory board was established in 2017 as the international sales took off. The board members have a key role in our success with their competences and networks.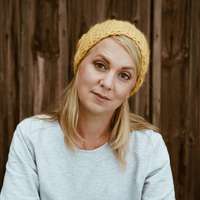 Anna Rauhansuu
CEO & Creative Director, Partner
CEO & Creative Director and partner Anna Rauhansuu (M.Sc.Econ.) is developing the Myssy business with extreme ambition – and love towards Pöytyä. She has a strong marketing background working as Strategist and Account Director in agencies like SEK with some of the largest companies in Finland.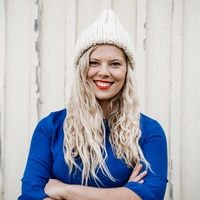 Hanna Jauhiainen
Sales & PR Manager, Partner
Sales & PR Manager and Partner Hanna Jauhiainen (M.Sc.Econ.) has build our global retail network from scratch with her outstanding social skills and fluent proficiency in five languages. With a professional background in B2B sales, she is exactly what a Finnish fashion business needs.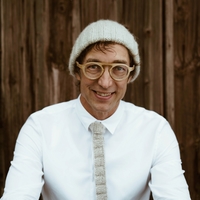 Janne Rauhansuu
Founder, Partner
Founder, partner and farmer Janne Rauhansuu is developing the sales and PR of Myssyfarmi. With a previous career as a professional windsurfer he spent 15 years living on four different continents and building a global network. With several ratings among world Top 10, European championship (2001) and placing 2nd in World Champion he knows how to win. Today he is a happy farmer and the vice president of the Organic Association of Finland.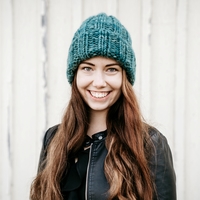 Iina Tuominen
Marketing Manager
Marketing manager Iina Tuominen is one of the first experts in Finland who will have a degree in Fashion Studies (BA), with a specialization in ethical fashion from Lund University. Her academic background and international network in ethically focused fashion companies gives a whole new dimension to our global network. And yes, she grew up on the border of Pöytyä, our universe.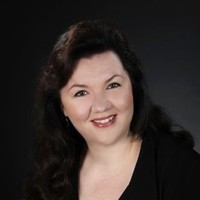 Tina Nyfors
Board of Directors - Chairman of the Board
Chairman of the board, Tina Nyfors M. has extensive experience from private equity, corporate financing, financial markets and investor relations. She has held several top management and board positions in Finnish and international companies, from start-ups to plc's. Tina's career spans from technology companies to investment banking (EBRD, London), venture capital and private equity advisory boutiques (Munich, Zurich) and plc corporate development leadership (Geneva). Currently Tina acts as an independent advisor to growth companies, and as a professional board member either independently or representing private equity players. She's a problem-solver with a heart, enjoying to see things growing and developing.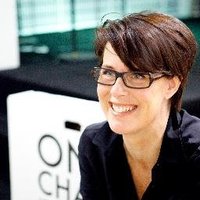 Mirkku Kullberg
Board of Directors
Mirkku Kullberg is an experienced design executive with a strong track record in branding, restructuring management and turnaround processes. As a former CEO of Grünstein Product, CEO of Artek, head of the home department of Vitra, brand manager of Nanso and creative director of Kämp Hotels she has an extensive international network. Currently she works as an executive president of Project Luminaire in US.  She is a visionary leader and cross-disciplinary thinker for a business and cultural phenomenons.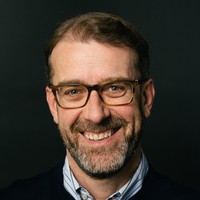 Nicolas Fogelholm
Board of Directors
Nicolas Fogelholm is an experienced entrepreneur, who has worked with international ecommerce for more than a decade. He is one of the founders of Tulos Helsinki, Finland's leading result- based marketing agency. Nowadays Fogelholm works as a professional board member and an advisor for growth minded online retailers.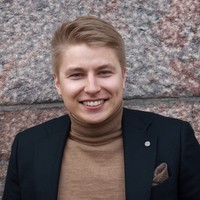 Samuel Latvanen
Board of Directors
Samuel Latvanen  (B.Sc.Econ) is promising content marketing specialist and a head of the family investment company, Tolvilan kartano. He is also a future sheep farmer representing an expertise in Finnish wool. The Latvala family's excellent connections to the Finnish sheep farms and knowledge of the wool value chain are essential for Myssyfarmi future growth.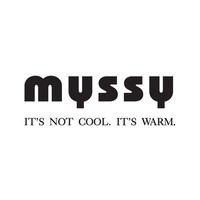 Hanna Sieppi
Advisory
Head of service development at Musti ja Mirri. A brilliant generalist with a deep consumer understanding and ability to get excited of any field of business.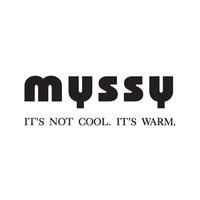 Erkki Mikola
Advisory
Erkki Mikola is an experienced AD and creative director. His creative work has been awarded on four decades. Mikola has been an entrepreneur since the year 2000 and has employed more than 300 people. He is also a partner of organic Jymy Ice cream brand (Suomisen Maito Ltd) and familiar with the challenges of the internationalization and growth of a start up.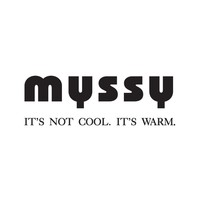 Samuli Niemelä
Advisory
Samuli Niemelä, CEO of Hard Market Oy is our social media and Google expert. A man behind the structures of our successful online campaigns. He is also the founder, CEO and problem solving artist of the largest escape room business in Turku, Escape Artists.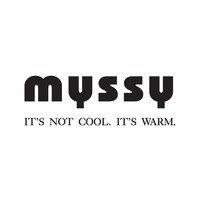 Riitta Palmén
Advisory
Riitta Palmén, a partner of Palmén & Charpentier Consulting is an experienced consultant with a 20-year career in private equity, stock analysts,  financing and mergers & acquisitions. The past 14 years she worked through her own business on the strategies and financing of small and medium sized enterprises on all possible fields of business. She loves to wonder in the central park of Helsinki, participate in cultural events and sing. Committed to scouts' principles, she is determined to do her best.
Risks
Risks
Unlisted growth companies are high-risk investments. Making a high-risk investment involves risks, for example the risk of losing your investment, lack of liquidity, irregular or rare dividends and dilution of your stake. Please study this risk warning before making a high-risk investment.
It is recommended that you familiarize yourself with the investment target of your choice, reduce risks by investing in several investment targets and balance your investment portfolio with more liquid investments. We also advise you to pay attention to the Target Company specific risk descriptions, which you will find included in the pitch materials.
Attached to the pitch there is a creditworthiness report that may be relevant for the investment decision
Production risks - At the moment the highest risk is the availability of Finnish yarn. The Finnish wool is not commonly used in larger scale and there are only few spinning mills left operating in the market. However, there is enough raw materials available for years to come, sheep farms are widely willing to supply Myssyfarmi and the company has been actively building the wool chain for a couple of years. There are several options how to solve the problem, two spinning mills are on sale at the moment, and Myssyfarmi aims to operate with all the existing ones. 
Key personnel risks - The success of Myssy is highly depended on the key personnel. Lost of  the creative director would be critical, but the concept has already being developed by several people, so no one is irreplaceable. The competition on experts is not as tough in the Turku region and well-known brand make recruitment processes easier. 
Regulatory risks - Legislation might change and hiring retired people might be more difficult in the future. However, this is unlikely as employment of the retired people is a hot topic in all western world at the moment. There are no lawsuits against the company and the company owns its IPRs (trademarks).
Competitive risks - In fashion business nothing is certain. Though hats are always needed, knitwear might become unfashionable and the promising eco luxury trend might not boom. The current climate crisis movement, common care for elderly people well-being and trend towards natural materials mitigate this risk significantly. 
Financial risks - The company has recorded losses from previous years, and there can be no certainty that the company becomes profitable or cash flow positive. At the moment the rating shows negative equity due to the seasonal business, but before the season truly starts profits are always negative. The growth might be slower or the company might not reach positive cash flow as soon due to heavy investments and thus might need additional investments to operate.