Rebuilding Cartilage to Prevent Joint Pain
Askel offers a unique way to rebuild joint surfaces for pain-free movement. COPLA® is a medical device already on the 250M€ market for animal health with excellent clinical results. The next step is to enter into the 2.2B$ human market.
This content is also available in
Finnish
Our story
Our story
Vision and Mission
Askel's vision is to provide everyone, humans as well as animals, a good quality of life free of pain. A good quality of life is a life where you are not restricted by your body to do the things you love.
The company mission is to offer the best treatment option for early cartilage damage and to prevent further joint degradation and osteoarthritis, the world's most common joint disease. Askel is already able to help animals and currently the team is working on the goal to treat humans as well.
Why Askel Exists
One of the leading causes for difficulty in mobility is osteoarthritis (OA), which affects an estimated 242 million people worldwide1. OA is a degenerative joint disease that results from breakdown of joint tissues, including cartilage and bone. Unlike bone, damaged cartilage has almost no capacity to heal by itself. Cartilage damage, e.g. due to something as common as a minor sports injury, can be the start of degenerative joint disease in an otherwise healthy person. Therefore, the damaged joint should be treated as early as possible.
Unfortunately, there is no early treatment enabling the regeneration of cartilage and thus preventing further joint degradation. The current treatments mainly manage symptoms such as pain but do little to slow down the progress of the disease. For over 1 million people annually in the US alone, the disease progresses to a phase where joint replacement surgery is required. Tens of millions more live with debilitating joint pain. On average it takes 10 years from an OA diagnosis to the first joint replacement operation. These years are lived with declining mobility and increase of pain. To make matters worse, the artificial joints do not last forever, but need to be replaced every 10 to 20 years. This great gap in the treatment path was the original reason for the scientific work that led to the discovery of COPLA®.
Askel wants to improve the quality of life for patients with joint pain by providing a way of not just delaying, but avoiding, these highly invasive and expensive joint replacement operations. Regenerating cartilage to its original quantity and quality as early as possible after the tissue has been damaged is the only way to restore and maintain healthy joints. At Askel, we believe in the regenerative power of the body – when it comes to cartilage renewal, our joints just need a little help.
1 Global Burden of Disease Study 2013 Collaborators. Lancet. 2015;386(9995):743-800.
Our Solution
COPLA® is designed together with orthopaedic surgeons and it is a result of a decade of scientific work. COPLA® is a 3D biodegradable scaffold for cartilage repair in weight-bearing joints, such as knee. The modest looking square of white felt-like material comes with unique properties that make it a highly innovative and versatile solution for treating cartilage damage (Annex 1). COPLA® offers a solution for repairing damage of varying severity from local small cartilage injuries all the way to more severe damage reaching bone tissue. COPLA® provides the healing tissue with constant nutrient supply and a unique long-term support as it dissolves slowly while cartilage is regenerated.
COPLA® provides unique advantages for the patients. Instead of temporary relief provided by painkillers or steroid injections, COPLA® enables the regeneration of cartilage with permanent results. The biomechanical properties of COPLA® enable immediate load bearing making operated patients immediately mobile. Moreover, the material allows physiotherapy to be started right after the operation for faster recovery.
For doctors and hospitals, COPLA® opens a new opportunity in treating patients years earlier than before. The proposed surgical simplicity and cost efficiency make it possible to treat more patients at a lower cost, with fewer complications and to enable quick rehabilitation.
For the payer, i.e. the society and insurance companies, the main advantage is a radical reduction of cost, both in terms of money and in terms of improved quality of life. The burden of osteoarthritis on health and social care systems is considered a public health crisis with a per-patient medical costs averaging 11,000$ per-year between 2008 to 2014. The total medical costs and earning losses due to arthritis were 304B$ in USA alone in 2013. As permanent and preventive solution, COPLA® treatment also cuts indirect costs significantly, e.g., by diminishing the need for reoperation and by reducing pain related disability.
Why invest in Askel?
There's an unmet medical need of early cartilage repair to prevent further joint degradation and osteoarthritis. Askel will bring a new level of therapeutic results to the growing 2.2B$ cartilage repair and regeneration market and targets to become a category leader through its novel technology.
COPLA® (with the product name COPLA® Scaffold) is already on the market for animal health with excellent clinical results and proven quality.
Production facility is ready, and the product can already be produced in high volumes decreasing technology risk. Application and clinical use are the same in Animal Health and Human Health and success in veterinary use will with high probability correspond success in human use.
Due to its superior product qualities Askel sees a rapid market penetration opportunity with a licensing partner, among the leading global top-tier medical device firms.
There is a unique mix of competencies in the core team supported with strong advisors to be complemented with business development capabilities. The team is highly motivated and capable of bringing COPLA® to the market.
Askel targets major valuation up-ticks when having first proof points from human clinical studies (2022), and especially when entering into human market (2024) creating potential value realization opportunities for investors.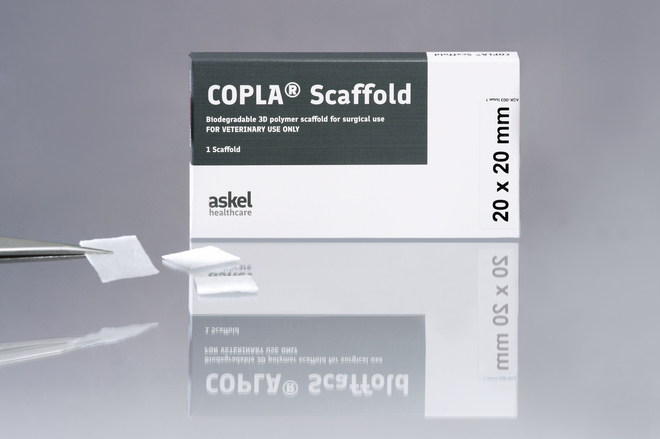 Our business & market situation
Our business & market situation
Askel's One Health Business Model
Not only humans but also companion animals suffer from cartilage-tissue related health problems. Askel is in a strong competitive position since, in addition to human patients, COPLA® is well-suited to treat cartilage lesion in dogs and horses. This human-animal duality is the cornerstone of Askel's strategy.
The company believes in synergistically pursuing both the veterinary market and the human market. Animal studies are always required to gather data before testing on humans (clinical trials). With Askel's business model this requirement becomes an opportunity to treat real-life veterinary patients while collecting the necessary data. Also, with the growing animal healthcare market, an interesting business opportunity is seen.
Cartilage Repair Market Opportunity
The global veterinary orthopaedic implants market was valued at 251M$ in 2018 and is projected to grow at a CAGR of 7.8 % over the forecast period (2018-2026). Frequent launch of novel products, mainly metallic implants such as fracture fixation plates, by key players in the market is expected to support the global veterinary orthopaedic implants' market over the forecast period.
COPLA® Scaffold has a unique market opportunity in veterinary medicine and offers a novel treatment tool for veterinarians who are seeking a better way to tackle increasing amount of cartilage lesions, e.g. OCD, arriving to their clinics. This growth is initiated by various reasons including increasing obesity, breed predispositions of popular breeds (e.g. Labradors), increasing number of pets, and desire of pet owners to treat their pets in the best possible way to name a few.
The demand for human cartilage repair and regeneration is anticipated to grow considerably in the near future. Driving factors include trends such as the increase in obesity and sedentary lifestyle, rise in elderly population, and increase in prevalence of arthritis globally. According to Global Data (2018) the global cartilage repair and regeneration market was valued at 2.2B$ in 2018. Based on another current analysis, the market was valued at 4.80B$ in 2018 and is expected to reach 7.42B$ by 2026, at a CAGR 5.6%. Even clearly higher market value and growth estimates exists, and Askel will bring additional dynamics to the market by targeting un-tapped use cases with its early-care none of the present competitors can target. Askel is aiming at a category leader position also by replacing the present scaffold products and taking market share from conventional therapies, e.g. autographs. In addition, Askel could act as a platform for combination therapy for cell therapy products.
Veterinary go-to-market plan
Currently Askel has a strong focus in treating osteochondritis dissecans (OCD) in dogs (Annex 2). OCD is a cartilage development disorder affecting young animals and can be found in almost any joint. Conventionally the treatment of OCD only includes surgical cleaning of the lesion which leads to fibrous scar formation that ultimately leads to osteoarthritis. Therefore, the need for improved ways to treat OCD is acknowledged and the awareness among veterinary surgeons around this problem is good.
The awareness of COPLA® Scaffold is good within Nordic veterinary surgeons and Askel is onboarding key opinion leaders across Europe and the US. To boost the market awareness of the solution, Centre of Excellence -concept (CoE) will be launched in Finland, Sweden, Denmark and Slovenia with selected veterinarians in January 2020 (Annex 3). The CoE-concept builds a win-win co-operation for both the partner clinics and Askel. Askel provides the clinics with training, marketing collateral and additional visibility while the participating clinics commit to training their veterinary surgeons to use COPLA® Scaffold and to market the solution to their customers. For Askel concept generates more revenue, visibility and positive word of mouth while the partner clinics have the opportunity to differentiate with a best OCD treatment and boost their revenues and profits. The concept including all marketing activities and material is easily localized to other countries. During summer 2020 first equine clinics will be added to the concept. Alongside expanding the CoE-concept Askel will start negotiations to assess the possibility to move to distributor model to reach global presence.
Human go-to-market plan
The company's human go-to-market (GTM) plan is currently under development and is one of the main tasks to be delivered during the first half of 2020. A robust GTM plan will be built together with the team's advisors, which include industry experts (Annex 4). The plan will consider the main GTM issues of how to: reduce the time to market, ensure successful product launch, increase adoption rate, ensure regulatory compliance, and enhance the customer experience while minimizing reputation and brand risk.
Askel recognises that not every orthopaedic surgeon is a cartilage repair specialist, and thus, Askel will carefully select the initial customer segment to consist of those surgeons and hospitals that have the skill and mind-set to offer cartilage repair surgery.  Hence, as an initial target customer segment, Askel will approach orthopaedic specialist in sports medicine. These surgeons are devoted to providing their patients solutions to enable quick return to sports with long-lasting results. The patients are devoted to rehabilitation to enable the same. There is also a general willingness to use new inventive state-of-the-art treatments in this sector. Askel has what it takes to serve this very specific target customer segment. Once initial market entry and clinical proof has been achieved, Askel plans to expand to more general orthopaedic customer segment.
Geographically Askel will start in selected European countries which are custom to high-end orthopaedic surgery and sports medicine. The company will build the target customer network at the same time as it works towards regulatory clearance. Once market authorisation has been secured, Askel will have a network of selected clinics and surgeons across Europe to be the early adopters of COPLA® treatment. These early customers will be contacted through conferences and personal networks of the team and its advisors. Askel believes the best way to get the message through is direct expert sales, since in this initial phase of sales, a lot of customer contact points and data is needed to convince the early adopters to use the product. Naturally, in the later stages, Askel will build a robust distribution network and build partnerships with major players in the joint repair segment of orthopaedics to expand market penetration. Recognizing it takes time to set-up partnerships with tier-1 global medical device firms Askel is already starting to invest time to start engaging with the partner candidates and to build closer relationships with them.
Finally, as the last part of GTM plan, after-sales activities are drawn. The after-sales activities are especially critical for highly regulated products. Developing and implementing an action plan for after-sales support is the way for the customer to gain the most benefits from their purchase and it enables the company to respond quickly to issues that may arise.
Regulation
COPLA® is a class III medical device and must comply with strict regulatory requirements in order to be marketed for human use. In the meanwhile, Askel has been able to launch COPLA® (product name COPLA® Scaffold) as a commercial product for veterinary use due to lighter regulation. There is no uniform worldwide regulation in the veterinary field and each country has their own laws and guidelines for veterinary products. For this reason, market entries are done country by country. COPLA® Scaffold, the veterinary COPLA® product, has market access in most of the European countries and Askel is currently investigating the regulatory path in the USA.
The development process towards the market approval of COPLA® for human use is ongoing (Annex 5). Askel's first focus is to have a market approval for COPLA® in Europe. European medical device regulation requires a clinical trial (i.e. testing in humans) to be conducted for proving safety and efficacy of the device. Askel has estimated to carry out the clinical trial in Q1/2021- Q2/2023. CE-mark and market approval of COPLA® is estimated to get in Europe in Q4/2023. The year 2020 is allocated to complying with the mandatory requirements to start the clinical trial and to the development of quality management system, including implementing of several quality procedures such as risk identification and management.
Beside the European market approval process Askel investigates market approval possibilities in the US. The US regulatory requirements differ from European regulation although the global trend is to partly assimilate these regulations. Askel follows the regulatory changes and adapts to them as early as possible enabling as smooth market approval process in the US in the future.
Products and Business Model
Askel manufactures COPLA® Scaffold (the veterinary COPLA® product) in the company's own premises in Finland. The manufacturing process relies on the machinery made to Askel by the company's own proprietary specifications and the team's deep in-house knowhow of the manufacturing process. Askel's current machine capacity is 20.000 COPLA® Scaffolds per year. The production capacity can be upgraded to 60.000 COPLA® products per year with machine investments and production personnel recruitment (Annex 6).
COPLA® is not just one thing, it's a family of products (Annex 7). In addition to COPLA® Scaffold, the product family currently consists of COPLA® Retractor for open joint surgeries especially with smaller patients such as dogs. Askel, together with leading veterinary surgeons, is currently developing a surgical tool called COPLA® Shuttle for delivering COPLA® to the damaged area in an arthroscopic (a key-hole surgery) operation. The new instrument is initially targeted to horse surgeries, but a similar tool could also be used in arthroscopic surgeries of human patients. Manufacturing of these metallic instruments is done by a subcontractor.
The company is currently selling COPLA® Scaffold and COPLA® Retractor for veterinary care. The main product is COPLA® Scaffold. In addition, Askel offers COPLA® Retractor to veterinary customers, for very niche-like operational needs of specific surgeries, even though the number of products sold is rather small.
COPLA® Scaffold: Gross margin of 83% (with current production volume of 250 pieces annually and with direct sales)
COPLA® Retractor: Gross margin of 35%
The highly profitable gross margin (GM) of COPLA® Scaffold for veterinary care (currently 83%) will decrease at the beginning of the distributor sales (Annex 6), however, the same GM (83%) can be covered by doubling the annual number of products. With 1 000 pieces annually the GM goes up to 86% and even up to 90% with over 12 500 pieces manufactured annually.
For human use, the COPLA® is estimated to have a highly profitable GM, from 75 to 90%, depending on the production volumes (from 1 000 to 60 000 pieces annually) and the selling prices, the estimates of which are based on competitor pricing and potential future price development.
Research and development
While concentrating in dog OCD in the veterinary field, Askel is also keeping its eyes open for any additional usages for COPLA® technology for veterinary purposes. Moving towards the use of COPLA® Scaffold for traumatic lesions, especially with horse patients, is one of these additional usages and for this, Askel has had its first patient treated with very promising early clinical results.
Together with gathering clinical data and fulfilling the regulatory requirements for the 1st generation COPLA® for human use the company is also working towards harnessing the full potential of COPLA® as the second-generation studies are already ongoing. Askel participates in the 5.5M€ EU funded RESTORE-project together with eight other European partners. To answer the clinical and societal challenge of knee cartilage defects, RESTORE will develop smart and functional 3D-matrices by combining COPLA® with nanocarriers and stimuli-responsive nanobiomaterials to modulate inflammatory, cartilage degradation, and infection threats. These functional additives will be remotely stimulated, and their regeneration activity monitored with a non-invasive wearable and wireless device. While the RESTORE-project gives Askel wide possibilities to upgrade COPLA®, it also enables the company to acquire a lot of data about COPLA® itself – and this data is very useful in the market authorisation pathway of COPLA® for human use.
IPR
IP of COPLA® is based in stringent knowhow and trade secrets. All the production steps are based on years of scientific research, optimization, and hands-on expertise of the team, and therefore it is considered practically impossible to produce a device of similar quality with the special functional properties presented in COPLA®. Askel has already identified mechanisms of how the core product's patent protection will be strengthened and will fasten the work from early 2020 onwards. The team is investigating together with a patent attorney the possibility to have patent protection for COPLA®; a patent application covering the unique functionality of COPLA® has been drafted and will be filed in 2020. Freedom-to-operate studies have demonstrated that the company is not infringing any current patents. COPLA is a registered trademark in Europe and the USA.
COPLA® Shuttle is a device designed for ideal arthroscopic delivery of COPLA®. Although, COPLA® can be implanted via general open surgery often the arthroscopic delivery would be preferred, for example with horse patients. The arthroscopic delivery of COPLA® can be done with general arthroscopic tools, however, to optimize the delivery method Askel has designed COPLA® Shuttle. The patenting process of the device is ongoing, and the company has filed a patent for COPLA® Shuttle at Q2/2018 (PCT application filed Q2/2019).
The ongoing EU project RESTORE offers Askel a great possibility to acquire new technology related to the nanomodulation of COPLA®. Patent application(s) will be filed during the project when appropriate, and after the project (Q3/2022), Askel negotiates the transfer of the possible new IP regarding 2nd generation COPLA®.
Competition
COPLA® is not the only product targeted at solving the cartilage repair problem (Annex 8). While each of the competing solutions have their benefits, COPLA® has a unique competitive position combining regeneration, load adaptation, and the ability to adapt to all defect sizes. This combination is beyond the reach of the current in-market solutions and makes COPLA® a forerunner in the market.
There are four key alternative approaches competing with COPLA®. Bone-marrow stimulation, a.k.a. microfracture procedure, is the current standard of care. Another contender is auto- and allografts that are complex to execute, return to sports takes a long time and in the case of allografts, require a donor. Despite the hype and huge potential, cell therapy remains largely unproven and with their high cost does not provide a balanced cost-benefit ratio. When COPLA® is implanted, it entraps body's own cartilage-forming cells and enables mechanical stimulation directly at damage site unleashing the intrinsic healing potential of the body. In addition to COPLA® there are also other scaffold products available. Compared to COPLA® they lack in load adapting capability as they are permanently deformed by loads and do not provide relevant biophysical stimuli for cartilage regeneration.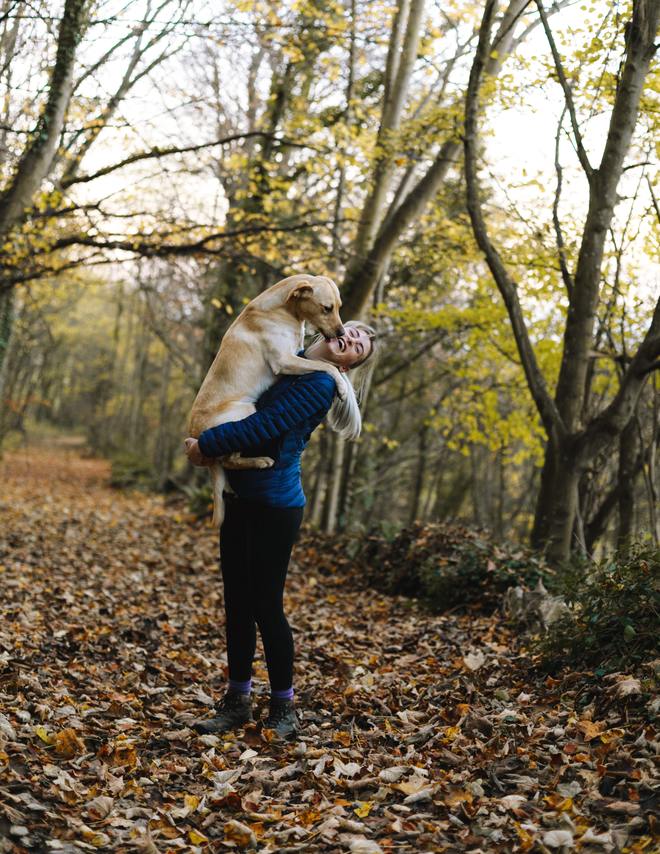 Our team
Our team
Askel Healthcare was founded in March 2017. After a decade of scientific research by the founding members in the areas of cell biology, materials science, orthopaedics, and tissue engineering, the team found the best possible solution for treating damaged cartilage. The team has achieved a lot; from raising six rounds of funding from multiple sources totalling more than 2.2M€ to operating first dog and horse patients to building an in-house production facility. The team is supported by seasoned business professionals and clinicians both from human and veterinary medicine (Annex 4).
Risks
Risks
Unlisted growth companies are high-risk investments. Making a high-risk investment involves risks, for example the risk of losing your investment, lack of liquidity, irregular or rare dividends and dilution of your stake. Please study this risk warning before making a high-risk investment.
It is recommended that you familiarize yourself with the investment target of your choice, reduce risks by investing in several investment targets and balance your investment portfolio with more liquid investments. We also advise you to pay attention to the Target Company specific risk descriptions, which you will find included in the pitch materials.
Attached to the pitch there is a creditworthiness report that may be relevant for the investment decision
Askel is currently setting up company-wide Risk Management processes according to ISO 14971 (an ISO standard for the application of risk management to medical devices).
Technology and Operational Risks
In the production process the highest risks are considered to be the availability of high-quality raw materials and functionality of the production machinery. The team already masters the actual mechanics of making the cartilage regeneration product, COPLA® Scaffold. Askel has built their own production facility and is routinely producing batches of COPLA® Scaffold for veterinary use. Askel is all the time working towards expanding the net of raw material suppliers. To ensure the functionality of the production machinery Askel monitor their function constantly, follow the yearly maintenance plan, and calibrate measuring equipment annually.
For human use, COPLA® is classified in Europe as a class III medical device. This means that company's operations are strongly regulated and must be of high quality. Investments are still needed for confirming the quality and repeatability of the manufacturing process to ensure that the process meets the requirements set to be able to sell products in human market. One checkpoint on Askel's path to market approval of COPLA® is an external audit done by a notified body (NB). During this audit the company must prove that their processes are done according to medical device quality standards.
The company takes the quality of the veterinary product very seriously and wants to offer the best possible treatment for four-legged patients. With future human markets in mind Askel is, in addition to clinical data, gathering data about the very important user experience from both the veterinarians and patient owners and is thus able to constantly improve the quality of the company's operations.
People Risks
The company acknowledges that businesses started by rookie entrepreneurs blow up disproportionately because they don't know how to avoid some of the obvious land mines. However, Askel has no desire to be crippled by its own inexperience. Hence, the team has surrounded themselves with experts in various fields (Annex 4).
Losing key personnel could negatively impact the company's sales and profitability. As the key IP of Askel lies on the knowhow and trade secrets, Askel takes every effort to mitigate this risk. The company has strict non-compete clauses in their work contracts and in the original shareholder's agreement for the founding members. Also, as a team of only five people, Askel is still vulnerable towards any changes on the manpower. Therefore, Askel takes extra effort to distribute its team members personal knowhow across the team, e.g., educating all manufacturing personnel to be able to handle all the process steps. In the future, when the team will be expanded the personal knowhow will be diluted and the risk of one person being indispensable will be reduced. As well, Askel takes all the effort to mitigate personnel risks by compiling a personnel risks mitigation plan in 2020.
Market Risks
There is no easy way to know how the market will receive any new product. Gathering feedback from multiple sources is very useful to gauge market acceptance, however, the only way to be sure whether people will spend money on a solution is to actually try to sell it. With Askel's one health approach, the company already has real customers in the veterinary field talking about and buying COPLA® Scaffold. The excellent real-life veterinary results give credit to Askel's clinical claims and make the investment in Askel less risky than for a product addressing the human market alone.
Competitive Risks
The entry of competing players into the market could negatively impact the company's net sales and profitability. To stay ahead of the competition, the team is continuously asking themselves – and their trusted advisors – what others might do to try to beat us? The Strengths, Weaknesses, Opportunities and Threats (S.W.O.T.) analysis is a great tool to stay alert (Annex 10). Figuring out what Askel does better than all the competitors is a continuous process and reminds the team to keep their eyes on the ball to overtake the leadership position in the category of cartilage repair and regeneration.
Regulatory Risks
Changes in the industry's regulatory requirements or the emergence of new regulations could have an impact on the company's product development, business operations and profitability. With a medical device, the famous release – observe – improve – repeat cycle is impossible to practise with no beta version release possibilities. You must get the product right straight away. And to do that, one must comply with a lot of regulatory requirements. The first step towards mitigating regulatory risk is to learn enough about the subject to fully appreciate what you don't know. Askel, supported by specialists in the field, has worked a lot to build a comprehensive path towards regulatory clearance.
There are big changes ongoing in regulatory field especially in Europe. New Medical Device Regulation (MDR) replaces existing directives and tightens the requirements applied by medical device manufacturers. The new MDR increases traceability of devices through the supply chain but also places rigorous requirements on technical documentation as well as on clinical evaluation. The three-year transition period to comply new regulations ends in May 2020. Even though the transition period is almost in the end there are no guidelines for interpretation of the new regulations. This also creates a bottleneck situation for services of notified bodies, the recognized third parties that conduct a conformity assessment, due to decreased number of applicable notified bodies after May 2020. However, these hurdles are the same for every medical device companies, old and new ones, and Askel's strength is that Askel is able to notice the new requirements already in the planning and implementation stage of all processes.
Financial risks
There are a number of possible events that can adversely affect Askel's financial situation: the cost of raw materials could increase, their availability could get more challenging, the availability of regulatory agencies may decline due to the new medical device regulation, Brexit could stir things up in unpredictable ways and so forth. However, these risks are minor, but nevertheless acknowledged, alongside the main financial risk which is capital. Or the lack of it.
Running a deep tech medical device company is capital-intensive business and does require significant start-up funding.  Askel's funding strategy has relied on having various funding sources, i.e. equity, loans and grants.  Askel will seek equity from value-adding investors, accept company-friendly loans and leverage the team's experience in raising highly competitive R&D grants.