Yeply - Bicycle repair services scaling up in Europe
Yeply's mobile bike shop has expanded to Germany and is now ready to be scaled in the European markets. With this funding round, Yeply is seeking to rocket fuel its growth internationally!
Our story
Our story
Yeply is an innovative mobile bike shop that is now ready to be scaled. We offer a friendly, fast and convenient bicycle service to private customers and businesses. Our aim is bold - to revolutionize the whole bicycle service industry.
The concept has been developed for over three years in the Helsinki metropolitan area in Finland and was expanded to Hamburg, Germany this year. The current global bike maintenance market 10 billion euro and the potential in unmaintained bikes (over 100 billion euro) is waiting for us. 
We make an impact. In 2019 we have serviced nearly 5,000 bikes. According to Science Direct and European Parliament this means that we have increased cycling by 1,200,000 km, saved over 200,000 euros for the society and reduced the annual greenhouse gas emissions of over 100 cars. That's quite an impact! With our passionate team, aggressive growth plan and your help, we can scale this impact to a whole new level.
Let's talk about cycling
We believe that cycling is the most enjoyable way to move around. It keeps you on the ground and is good for your health. It is good for the air you breathe and can save the whole planet. It is scientifically proven that increasing bicycling has a proven positive impact on the environment. That's why we think cycling is for everyone. Cycling is for kids and adults, men and women, joyriders, exercisers, feel-good pedalers and Sunday cruisers.
But there is a slight problem - maintaining a bike can be problematic for many bike owners. Why?
The bike shops might
be too far
be closed when needed
have long queues
The bike owners might not have enough time, skills or a suitable place to maintain their own bike.
We believe bike owners deserve better. That's why we created Yeply's mobile bike shop to solve this problem.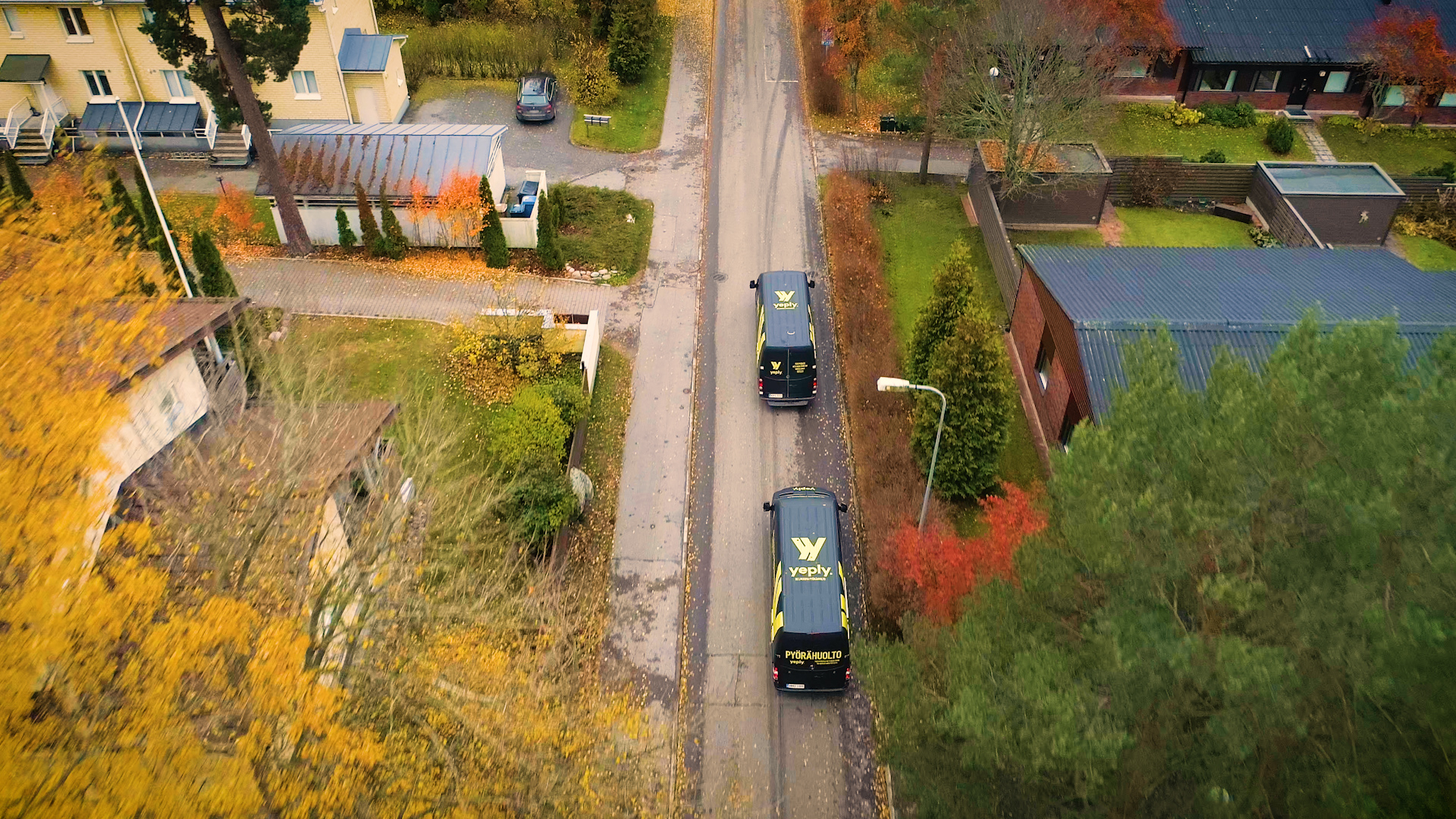 Short and intense history recap
Yeply began when two old friends –a motivated engineer and an enthusiastic designer – crossed paths in 2016. After few business case models and analysis they saw potential in servicing bikes close to the customers using a factory-like process. This led to founding Yeply and the first Yeply van was introduced to the market. Year 2017 saw a 402% growth in business and the first international pilot projects were conducted in Germany and Holland. In 2018, after having serviced nearly 6,000 bikes in the greater Helsinki metropolitan area, the concept was finally ready to be launched across markets in Europe. 
During 2019 Yeply started operations in Hamburg, Germany with the third van hitting the streets in November. We learned many lessons from our first international market to finetune our market opening play book. The first franchise entrepreneur started in Helsinki. We continued to develop the Yeply Digital platform. The Finnish business revenue estimate for 2019 is 428,000 euros, which means over 42% growth from 2018 without adding any new vans. This was partly due to newly developed supporting service tent modules and improved unit revenue. We also started three new interesting co-operations during 2019: Kesko, Verkkokauppa.com and YIT. With Kesko we are bringing our bike shop to K-Markets, with Verkkokauppa.com we piloted our container based module and with YIT we bring Yeply mobile bike shop to YIT homes.
Where are we now?
Concept - Yeply concept has been developed and the customer demand proven with over 11,000 serviced bikes.
Finnish business - We operate our three own vans in the Helsinki metropolitan area.
German business - Yeply daughter company operates in Hamburg with 2 vans, with a third van starting in November. 
Franschise model - Our franchise entrepreneur operates his first van in Helsinki.
Team - We have a superb team in operations in Finland and Germany with both founders working 100% for Yeply now.
This means that our concept is ready, the first international market entry is done and now we are ready to start spreading Yeply vans and multiplying our revenues.
We have a bold vision for Yeply's future and a plan to make it reality!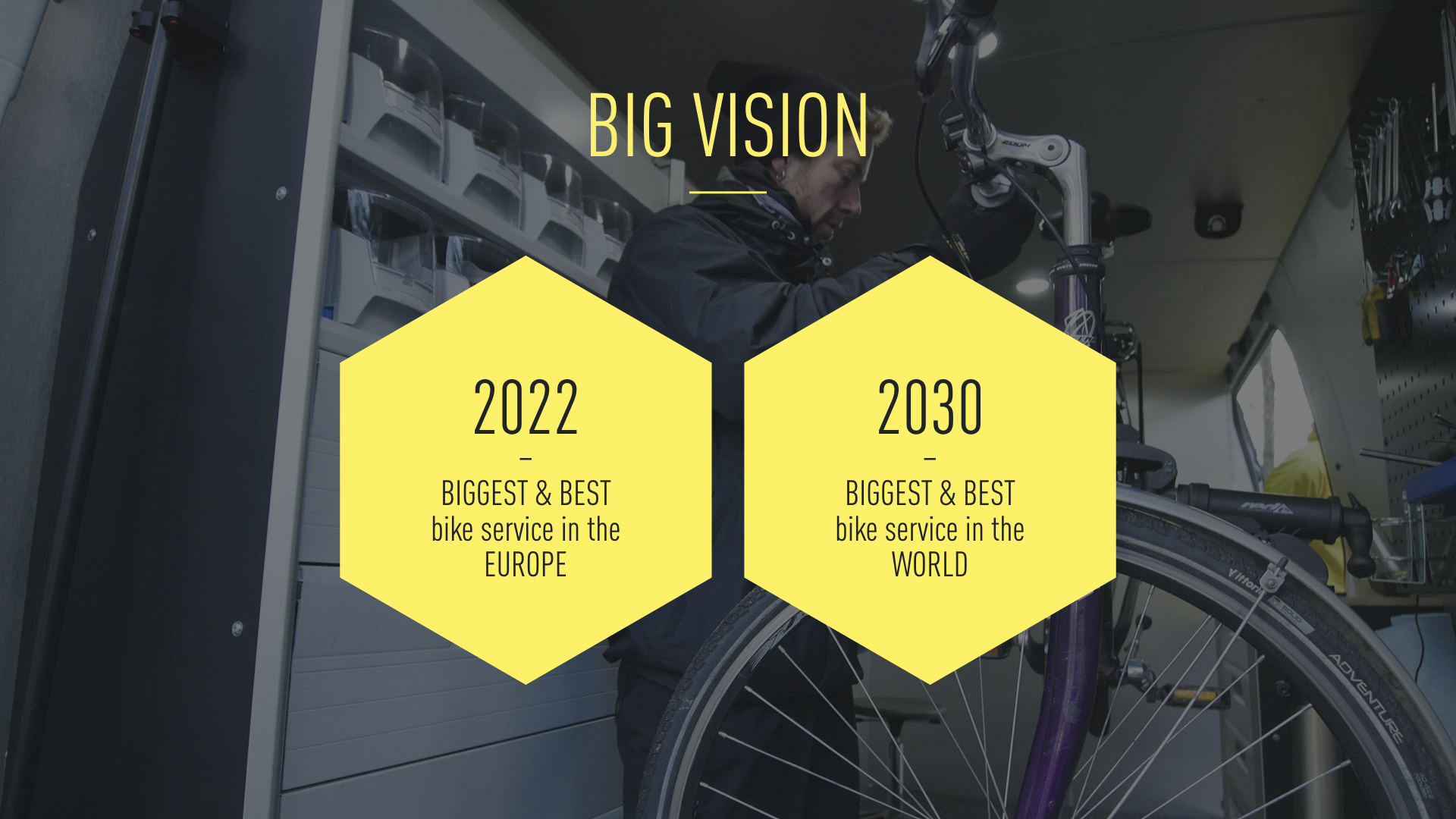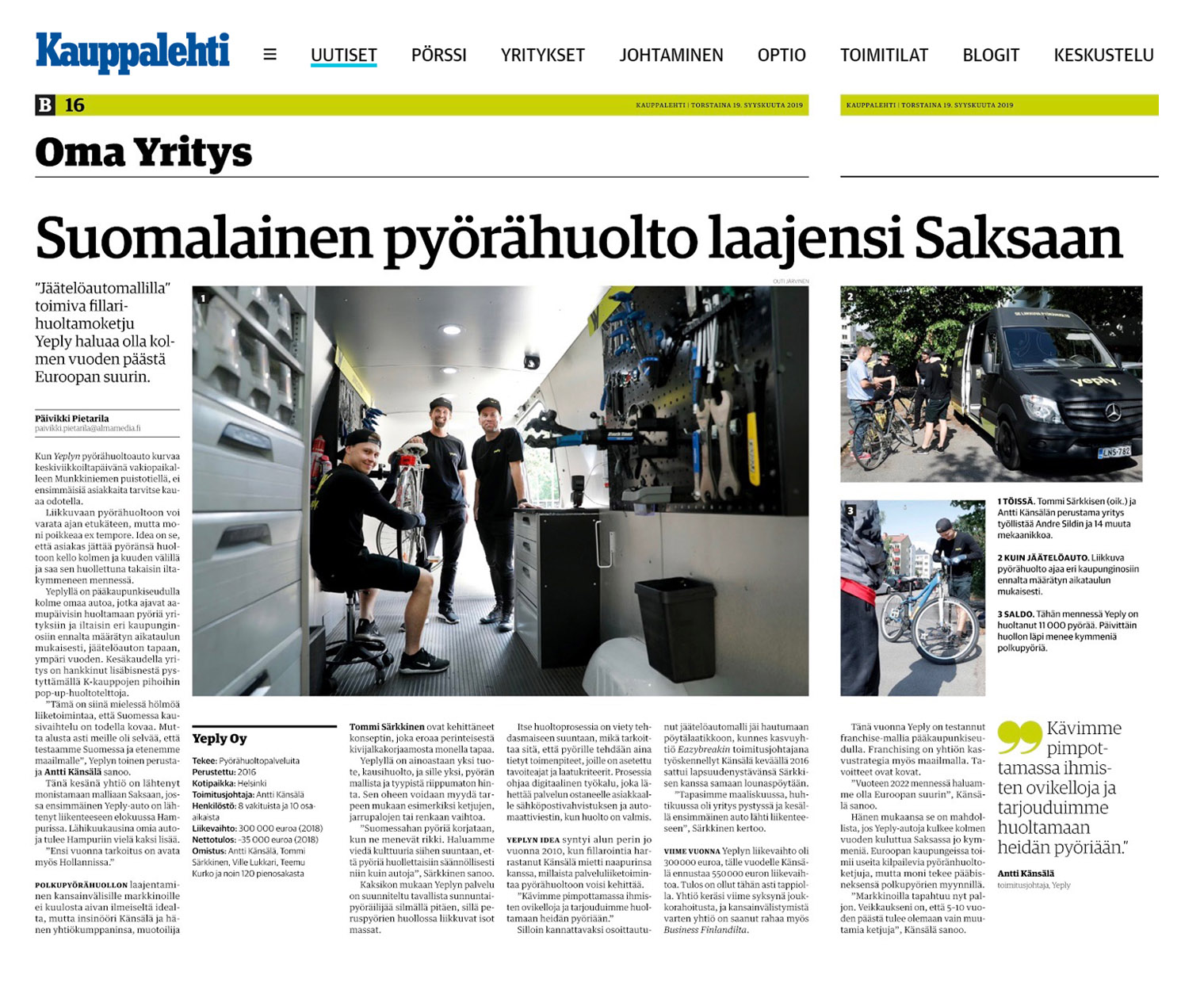 Our plan from 2020 onwards is to grow in the German market by expanding into new cities with our own operation, rapidly increasing the number of units in each city, and simultaneously starting a franchising business model. Later in 2020 we plan to open operations in the Netherlands, employing the same expansion plan as in Germany. From 2021 onwards the target is to open several new European markets and start planning our market entry to Asian or American markets. The section Use of funds describes our plan in more detail.
Why invest in Yeply?
The business is ready to be scaled in central European markets

Fully developed and operationally profitable concept, proven in Finland
First market entry to Germany implemented

An attractive growing global market boosted by megatrends
Sustainable business area that is good for the environment, society and individuals
Our investors include names like: Veli-Matti Mattila (CEO of Elisa Oyj), Pekka Rantala (HMD Global, Rovio), Tore Teir (Founder of Greenstep), Sakari Suhonen (former CEO of Efecte Oyj), Juha Valvanne (Co-founder Nosto) 
A potential acquisition target for trade sale exit within the next 2-5 years
Our business & market situation
Our business & market situation
Yeply's Business
Yeply is a mobile bicycle repair shop. The service we created boldly challenges the traditional bicycle service industry. And it is built to be scaled!
Yeply core concept for the masses - We put the repair shop on wheels and operate like the classic ice cream van, driving from neighbourhood to neighbourhood. Our core customer is a bike owner with a very ordinary everyday bike. We help our customers KEEP IT ROLLING.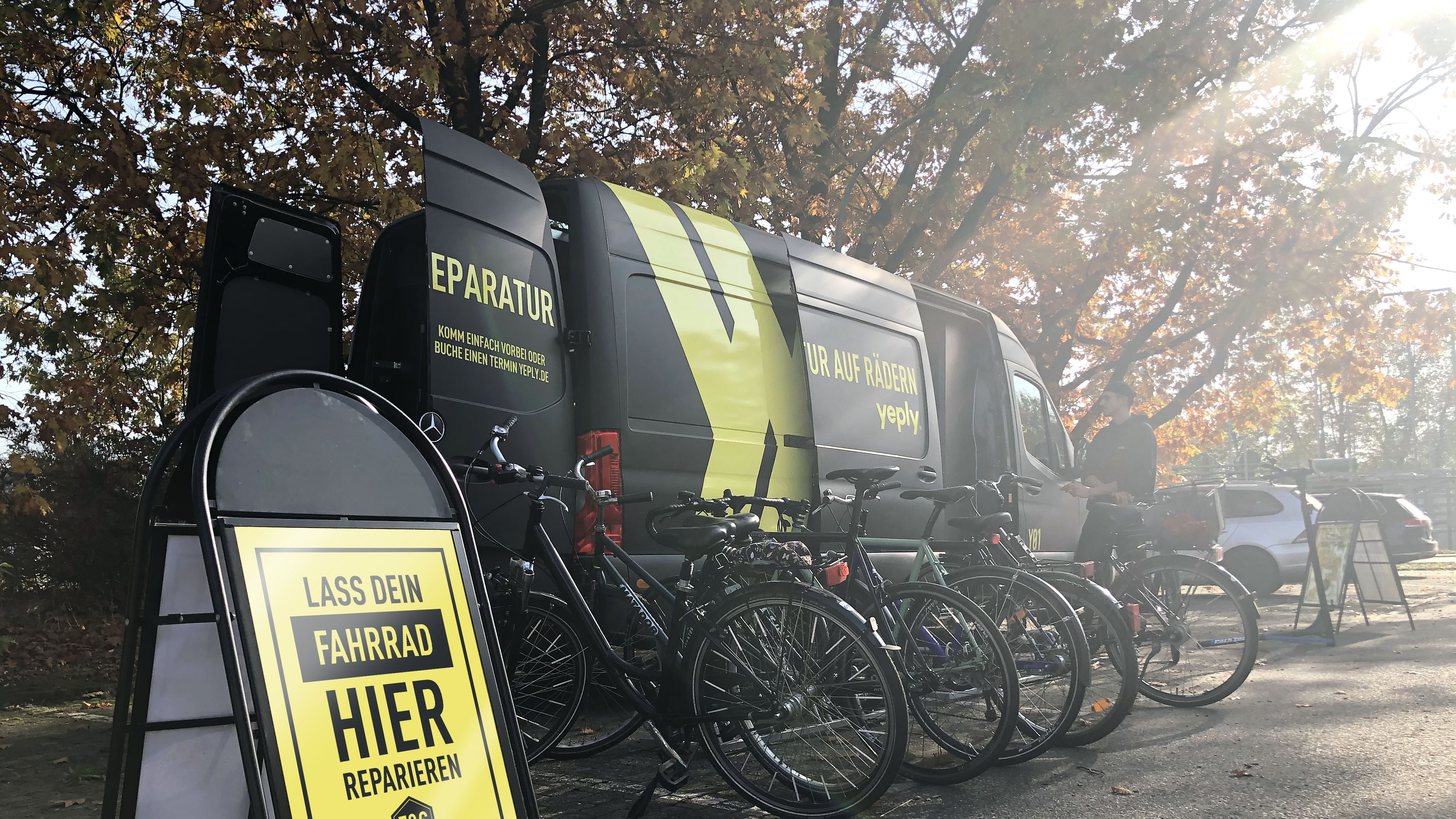 Consumers and Businesses - we serve them both - We bring our service to our customers. During the daytime we serve people at work; in the evening we travel to homes and neighborhoods. At best, this means we keep doing business from morning untill late night!
Making buying easy and business profitable - We offer only a seasonal service package, covering all the basic needs of our core customer –the average, everyday cyclist. From the customer's point of view, this makes buying our service very simple. From our perspective, this creates operational efficiency and makes recruitment easy, enabling fast scaling up of the business. 
Converting a one-time purchase business to a recurring revenue business - With insights from our pilots in 2017 - 2019 we are now ready to launch a recurring revenue membership business model for our customers. For us this means a steady revenue stream and for the customer an easy, carefree way to maintain their bike. The one-time purchase business model will still exist side-by-side with the membership model.
From repairing to maintaining - We want to change the mentality from repairing a bike to maintaining a bike. You shouldn't get your bike fixed when it's broken but rather maintain it regularly to keep it running like a dream. All of our activities, be it from cultural education to product development strive towards this goal. In the long run this makes for more happy bikers, a bigger environmental impact and more business for us.
What differentiates us?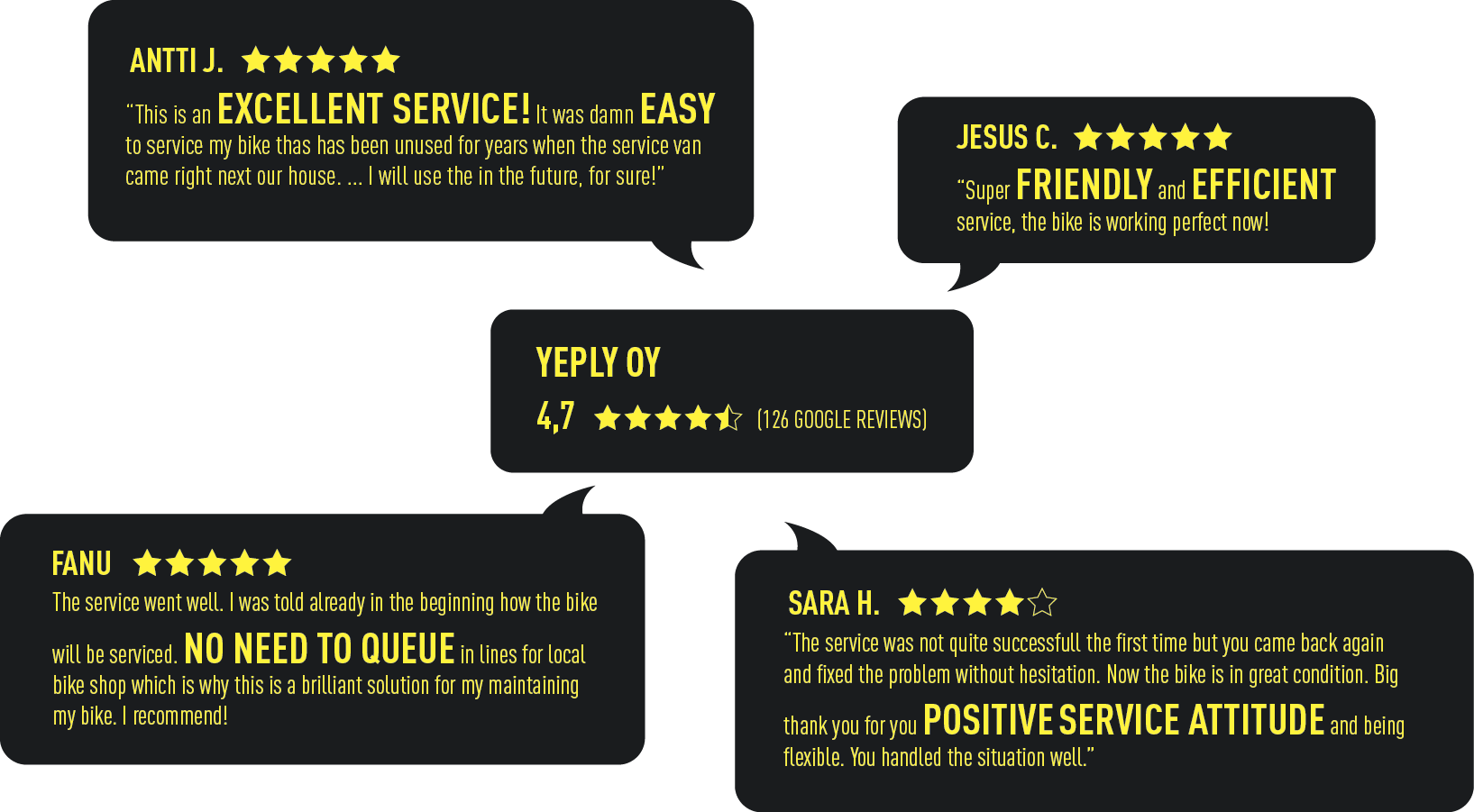 What is the concept made of?
Yeply mobile service units - We have developed state-of-the-art mobile working places for our mechanics. The units support scaling from 1 mechanic to 4 and come in different forms for different use cases.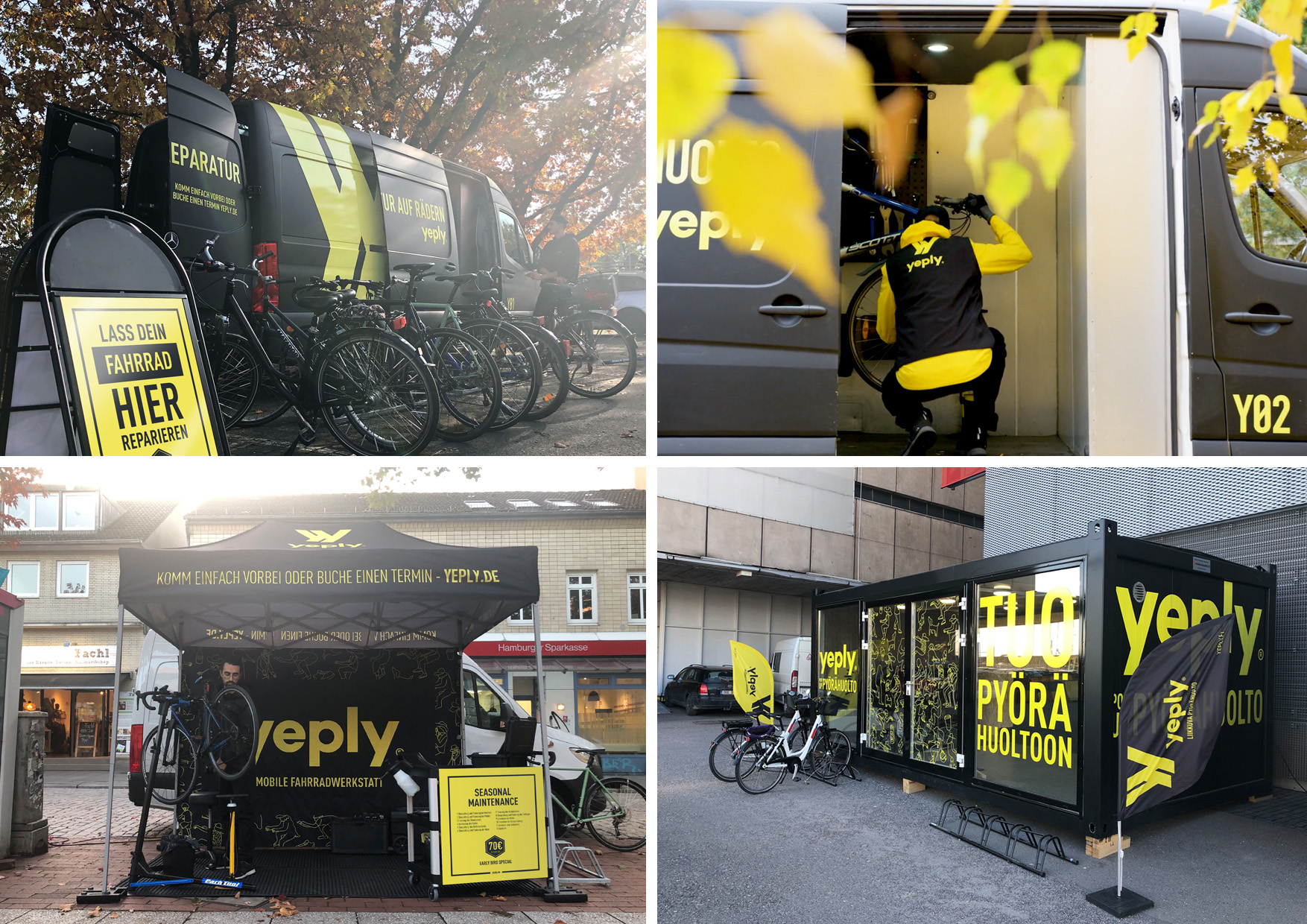 Yeply brand - Our business and offering are based on providing a superior customer experience and its simplicity. On top of that, our systematically structured and strong brand differentiates us from competitors.
Yeply Marketing Concept - To support our unique business model, we have developed our own marketing concept to boost sales. The concept includes using social media, digital marketing-, printed guerilla marketing, leveraging existing customer data and joining forces with different partners. New developments in our pipeline include ways to present Yeply and its services to bike owners already when buying a bike.
Yeply Van Tool Digital Platform - Over the past threeyears we have designed, developed and fine-tuned a factory-like process supported by our state-of-the-art digital platform. The platform is used for measuring and tracking operational processes andcollecting customer data. Latest additions to the platform include customer functionalities such as booking solution and the My Yeply customer portal.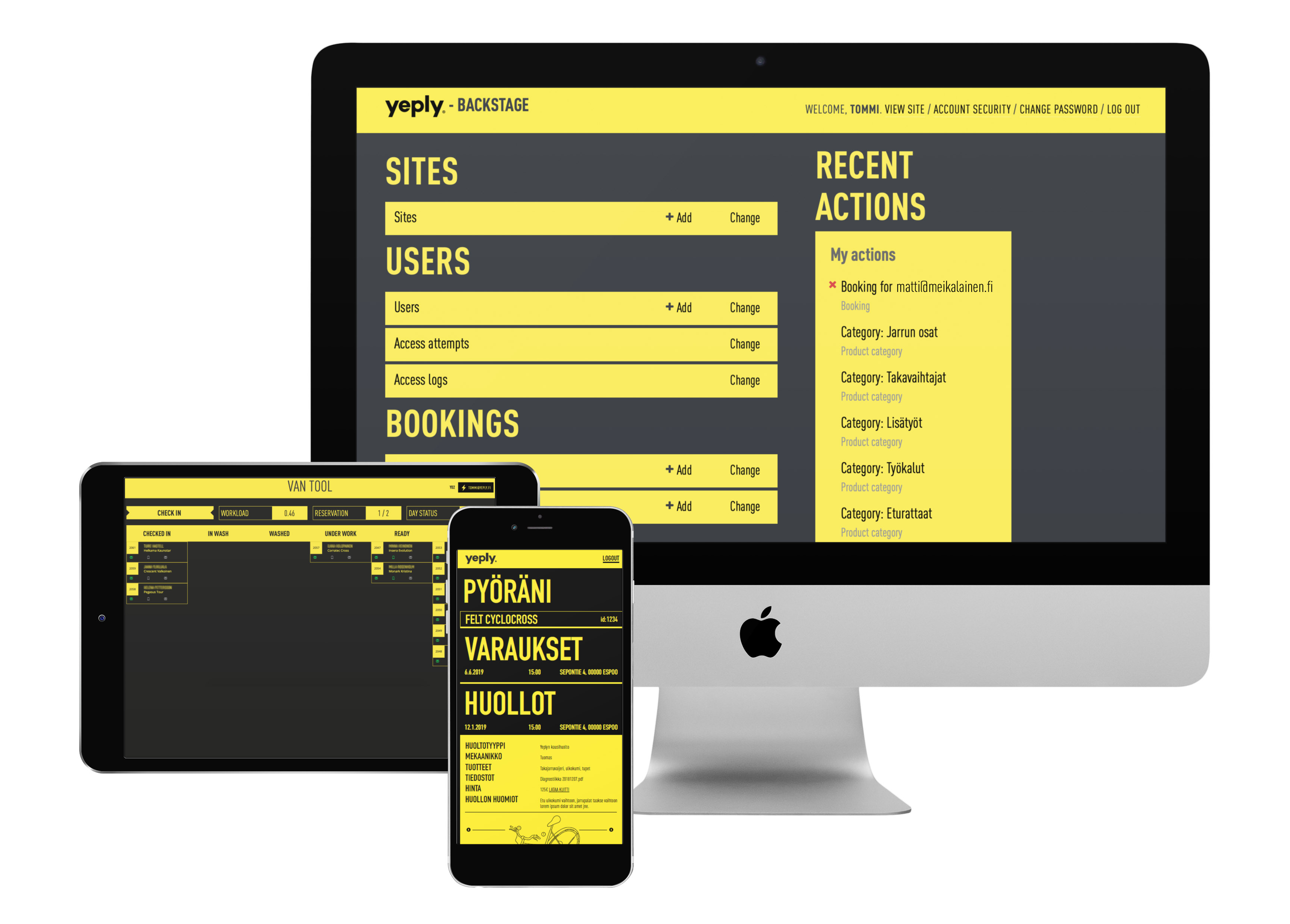 Yeply Academy - Servicing bikes requires mechanics and when you want to grow fast you need a lot of mechanics. Yeply Academy is a concept where we train mechanics in cooperation with schools. We have entered into discussions to pilot Yeply Academy during early spring 2020 in Finland with one school.
Yeply supporting products - Yeply's core concept serves the masses, bike owners. There are product variants in the pipeline to serve the needs of commuters as well as premium customer segments.
Yeply Company structure
Yeply Oy owns all company IPR and operates the Finnish business. Yeply German GmbH is a 100% Yeply Oy owned daughter company.  All future countries will be organized in the same manner, following the same company structure.
The Market & Competition
According to NPD's global bicycle market survey, the current market for bicycle maintenance is estimated to be 10 billion euros, of which 36% comes from Europe. In addition to the tapped 10 billion euromarket, there is an estimated untapped market of two billion unmaintained bicycles, which means an approximately 150 billion euro market. Our concept will open up this untapped market.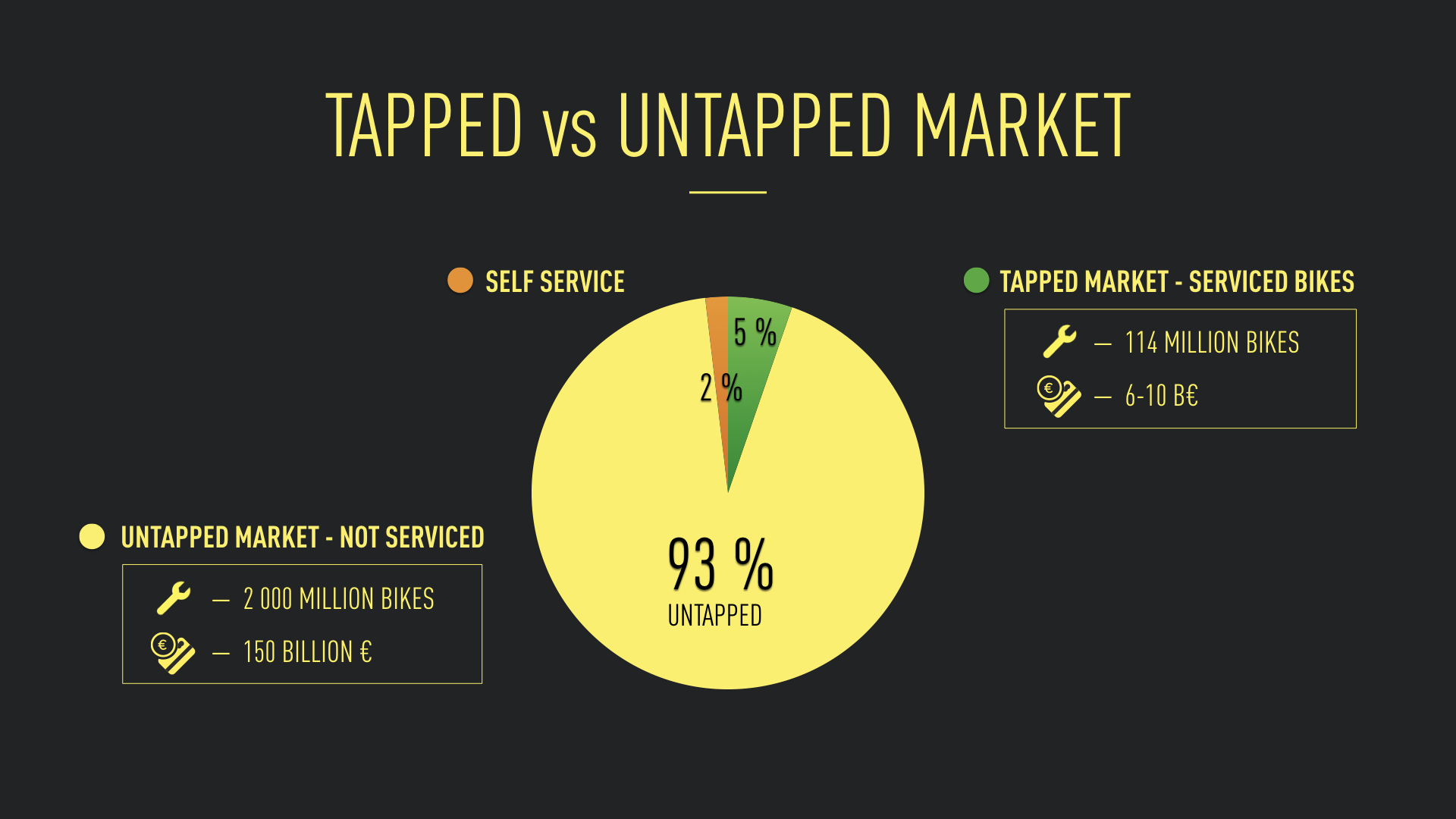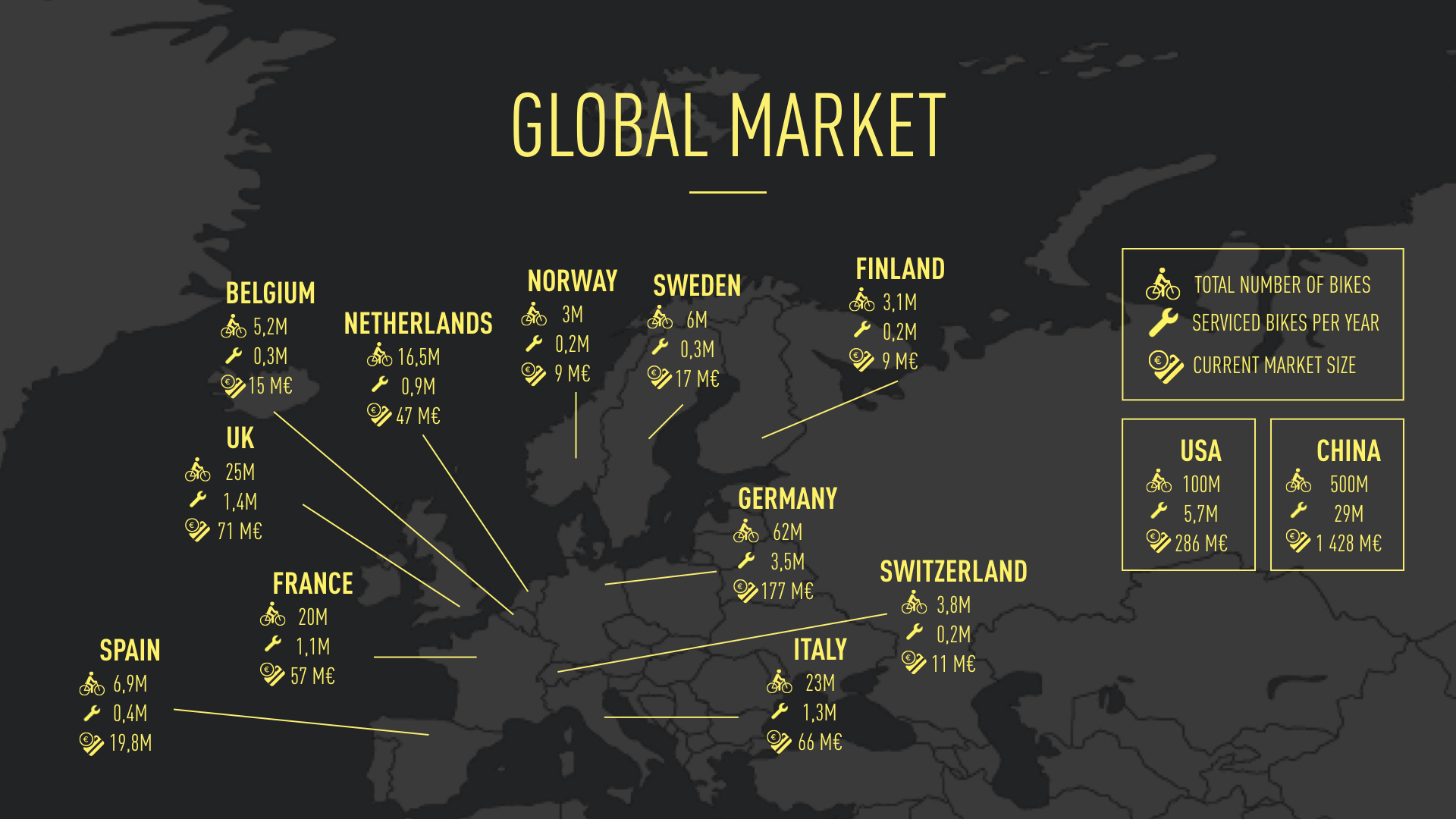 Many large social trends support the growth of this market:
Green and ecological values
Healthy and active lifestyles
Urbanization
City planning (eg. Hamburg is investing 100 million euros in 2 years to support cycling)
The World Bank estimates that by 2050 there could be as many as 5 billion bicycles in the world. 
Competitive landscape
We see that our biggest competition is laziness - people just don't service their bikes.
Our view is that our brick and mortar competitors focus more often on selling bikes than servicing them. This is based on our customer feedback. Our customers describe brick and mortar shops as being far away, having long waiting times, sometimes unclear pricing and poor customer service.
Almost every large city has multiple human-and-a-van mobile bike shops. These are typically not very well organized and have just shifted the brick-and-mortar bicycle shop issues onto wheels. The human-and-a-van businesses also usually lack the resources and skills to turn their operations into a highly profitable business. The typical business model is based on an on-demand service, where customers book a service van whenever they need it. That approach means the profitability of the operator is not as good as in Yeply's concept due to the extra unprofitable movement of the vans.
In many cases, the two above concepts are run by bicycle enthusiasts who enjoy fancy and expensive bikes. This often leads to bad customer experience for the everyday biker with a cheaper bicycle.
There are a few well conceptualized on-demand mobile bicycle shop chains in the US (Velofix, Beeline Bikes). However, the on-demand bike shop chains are more focused on the premium customer segment, with customers who are willing to pay extra to get the service on their doorsteps when they need it. For the normal cyclist this is expensive, which is why it lacks the potential to reach a mass-market.
So far, we have not been able to find a professionally operated mobile bicycle shop chain with a similar business approach that is targeted at Sunday cyclists / casual cyclists, who constitute the vast majority of bicycle owners. This is why we feel the need to take the market by storm!
Our team
Our team
Yeply's team and advisory board consists of hungry professionals with vast experience, ranging from startups to international corporations in both B2C and B2B businesses. We all share a passion for creating exceptional value for our end customers and for creating a business model that makes it profitable.
The core team has knowledge in international expansion and sales, turning around businesses and markets, brand building, industrial design, franchising, IT platforms and, of course, bicycling and extending the lifetime of bicycles through superior service.
Risks
Risks
Unlisted growth companies are high-risk investments. Making a high-risk investment involves risks, for example the risk of losing your investment, lack of liquidity, irregular or rare dividends and dilution of your stake. Please study this risk warning before making a high-risk investment.
It is recommended that you familiarize yourself with the investment target of your choice, reduce risks by investing in several investment targets and balance your investment portfolio with more liquid investments. We also advise you to pay attention to the Target Company specific risk descriptions, which you will find included in the pitch materials.
Attached to the pitch there is a creditworthiness report that may be relevant for the investment decision
Human resource risks
Personnel risks such as losing key personnel belong to all businesses and Yeply is no exception. We plan to use professional outside help to recruit key personnel, such as a country manager for Germany. We will also focus on fostering the Yeply team spirit and expanding our entrepreneurial spirit as we expand into international markets, which is part of our goal to acquire and maintain key personnel by keeping them engaged and committed. Losing key personnel might affect negatively on Yeply's operations and profit.
As there are several development areas on which to focus simultaneously, the board will play an active role in prioritizing effort and maintaining a focus on those tasks.
Financial risks
Financial risks are related to the opening of too many markets at the same time, establishing new markets when existing markets haven't yet to function profitably and slower than anticipated initial sales in new markets, which will have a negative impact on our cash flow.
The leased vans add liabilities to the company. This adds financial risks in a situation where the level of cash is too low. Our planned franchising business model reduces this risk.
Our target is to open new markets in the early phase of internationalization but only after the existing markets have been operating profitably for at least three months or our market presence is strong enough to support a more aggressive growth plan. The board will play an active role in making sure that resources are correctly allocated when building new markets up and making them operationally profitable.
The estimations are conducted to our best knowledge. There is always some uncertainty related to future forecasts. If we don't reach the estimations it can impact our growth speed and return on investment.
Operational risks
Yeply business is based on vans running. There is an operational risk related to the functioning of the vans. The risk has been minimized by using leased new vans with appropriate service plans and insurance. The exception for this is our first pilot van, which is a purchased second hand one.
Market risks
Legal risks, such as parking and selling from the van have also been identified in international markets, which is based on the concept being so fresh that local authorities haven't yet taken an active stand on setting the rules for the business. Our strategy is to open international markets with B2B sales, where we will be able to park on private areas owned by the companies, thus avoiding the aforementioned uncertainty. We will also be active in contacting local communities and making sure we act responsibly.
In addition to starting with B2B sales, we will also focus on attracting local personnel and initiate marketing and cooperation with schools, daycare centers, etc. Such factors will play a key role in reducing the risks customers might feel regarding buying from an unfamiliar brand in a new market, which was found to be the case in Germany. Establishing visibility, business and word of mouth marketing via the previously mentioned means will form the base for B2C business because the pilot project in Germany showed that customers are willing to buy when they get to know the brand, the offering is clear and the company is considered trustworthy.
There's also a risk of a bigger player entering the European market. However, we see our strong brand, superb customer experience, profitable business model and fast expansion as the major lifelines for us. In the early phases of our internationalization, should direct competition emerge in Europe, we aim to avoid direct competitors by carefully assessing and selecting the expansion possibilities.
Timeline risks
Due to slower than anticipated business start speed, van delivery issues or any other item our timeline can be postponed. We will ensure that we have the existing markets working before entering new ones. If we run into issues, we rather let the schedule be postponed than keep the implementation plan schedule and increase risks of having multiple markets under developed. This risk may affect the estimated revenues.
Counterparty risks
Yeply Oy has issued a capital loan (CVL) to Yeply Germany GmbH. There is a risk that GmbH is not capable of paying back the loan.
IPR risks
Yeply is the owner of the following European Union trademarks:
1. EU trademark registration No. 016306052 YEPLY (word)
Word YEPLY is registered in the EU. The registration covers the most important services offered by Yeply.
The application was opposed by a Spanish company Yepali Web Communities. Yepali Web Communities operates in the field of online productivity tools. The opposition was partially successful and partially unsuccessful. In our opinion, Yepali Web Communities does not constitute any significant risk for the use of trademark YEPLY for bike repair and related services. The registration, as granted after the opposition, covers the main services offered by Yeply, namely bike repair. The registration also covers various additional services, such as retail of sporting equipment and accessories.
No other company has challenged Yeply's aforementioned registration, and to our knowledge no company has challenged Yeply's right to use trademark YEPLY for any goods or services.
2. EU trademark application No. 016306193 (figurative)
The YY (figurative) trademark application has been opposed by an American company James Perse Inc. James Perse operates mainly in the field of apparel, footwear, bags, home decor and furniture.
The EU trademark office refused the opposition in its entirety. Appeal process is currently pending. A decision is expected in the winter of 2020.
In our view James Perse's trademark does not constitute a significant risk for the use of YY figurative trademark in relation to bike repair services. The companies operate in sufficiently different industries so as to exclude the likelihood of confusion and trademark infringement. James Perse's trademark does not cover any repair services.
To our knowledge, no other company has challenged Yeply's right to register and use the YY (figurative) trademark.