POWAU- Empowering people
In collaboration with Nordea
POWAU is a leading "healthy foods and lifestyle" company, which aims to triple its revenue in Finland and to become an international enterprise.
This content is also available in
Finnish
Our story
Our story
POWAU is a combination of healthy foods, cafés, yoga and health improving exercise. Our company provides in-house manufactured food and beverage products, café and lunch restaurant services accompanied with health improving exercise services. POWAU is founded on passion for nutritious food and exercise. Even the name POWAU is derived from words "Power" and "wow" - that describes us perfectly!
Powau is a Finnish growth company and we are now looking for capital to expand our company's offices and services to 17 out of 7 outlets and to improve the reach of our products by increasing retail sales through local shops. The company plans to open the first Powau outlets outside Finland in 2021.
The hectic lifestyle of modern times forces many of us to eat in a hurry and good choices are rarely available. We want to offer a better option for fast food and compromising life choices.
POWAU supports healthy life choices by offering organic, delicious, nutritious, healthy foods, cakes and snacks in our outlets and local stores.
Health and environmentally conscious, balanced food are already the mega trends of the world:
Organic and Vegan products
Gluten and Lactose free food
Environmental friendly, ecologic and animal rights supporting.
POWAU's mission is to answer to this mega trend demand and increase people's performance. Furthermore, POWAU will help keeping people's energy levels high by offering the most important meals of the day easy, nutritiously rich and environmentally friendly. When you feel good about yourself, it's easy to share your well-being and good mood around you.
The POWAU product is always the high quality and healthy choice for source of food. We manufacture our products from nutrition rich, high quality organic raw materials which will eventually keep one's hunger away longer, and energy levels higher for longer due to the high nutrient content. POWAU offers more nutritious products for the ones we are used to. Even our cakes and ice creams are made from nutrition rich ingredients, so that enjoying healthy food would be as easy as possible for our customers.
Our main products are

Company's enterprises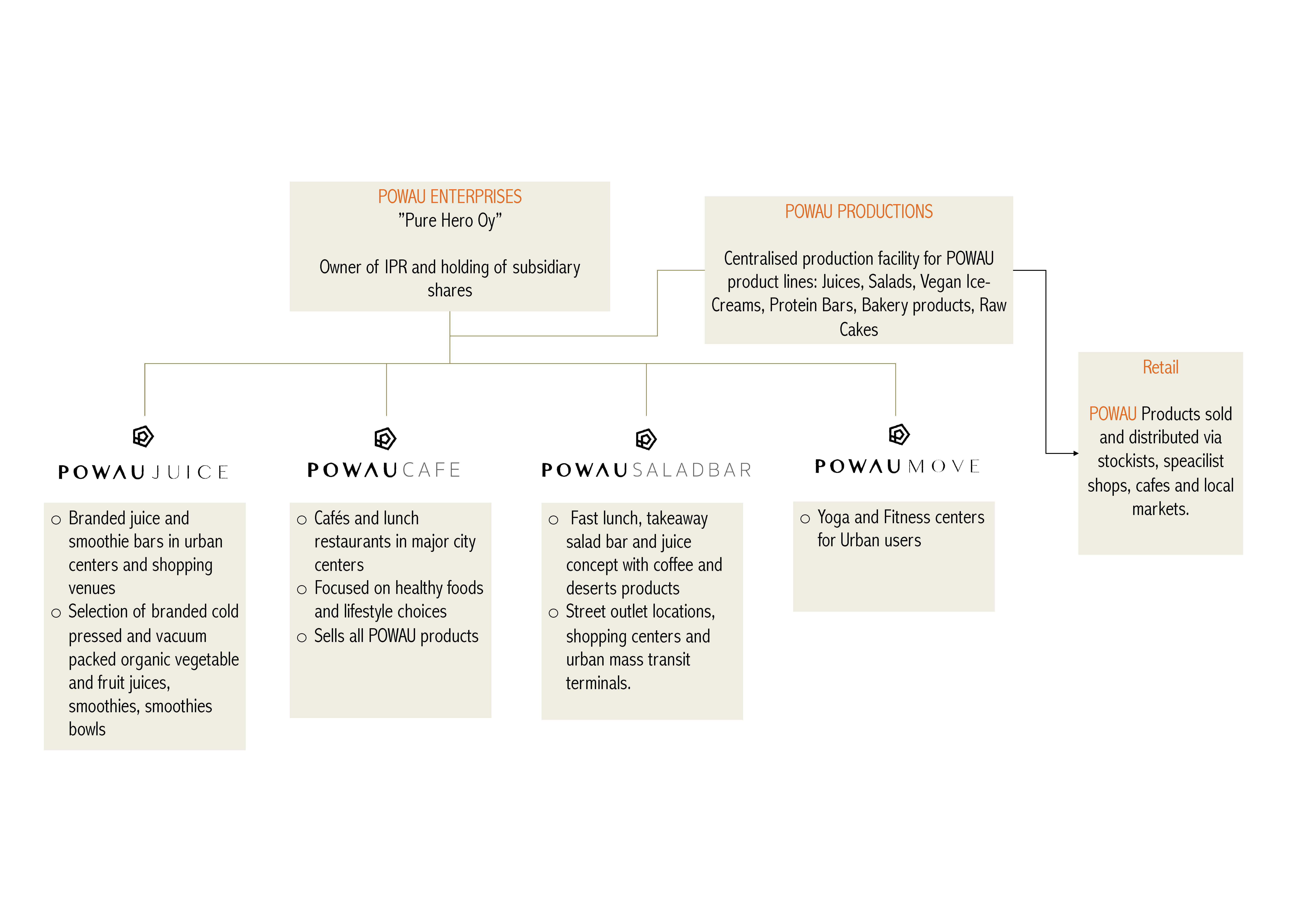 Our History
In 2013 we opened our first café, concentrating on healthy foods, called Pure Hero on Eerikinkatu in Turku, Finland. We wanted to be the first to offer nutritious raw cakes and superfood smoothies in the whole city. We ended up to be a pioneering café in whole of Finland. We chose well made, good quality salads as a loss leader that got our customers in and lowered the threshold to try and taste our more exotic raw foods nicely.
In 2014 we founded Pure Hero Oy and moved into larger quarters nearer the city center. We expanded our vision by opening our Pure Move yoga studio above the new café and the ensemble became a wellness center based on the Holistic Health idea.
In 2016 we began our cooperation with Oy Gustav Paulig Ab aka Paulig and started to operate their very first flagship café business in the heart of Helsinki City center on Aleksanterinkatu.
During the autumn of 2017, we acquired a small but very carefully constructed brand making cold pressed juices for ourselves. The brand called POWAU was about to pull the plug but we saw the potential in the brilliantly designed brand and product. This product was a perfect addition to our collection and the brand fit our ideology equally spot on.
Towards the end of 2017 we got a great opportunity, when Stockmann searched for a new kind of café company and offered POWAU business spaces from Turku and Tampere. We began to design the new cafés which were both opened in 2018. In 2017 we found ourselves a cornerstone investor which made the growth possible. At the same time we became aware of our business expanding significantly.
Because of the universal nature of the words "Pure" and "Hero" we were often confused with other companies using those same expressions. The name of our company and products was decided to change into POWAU. That name and product had been a part of us the whole time as the name of our cold pressed juices. POWAU trademark was registered with the international growth in mind.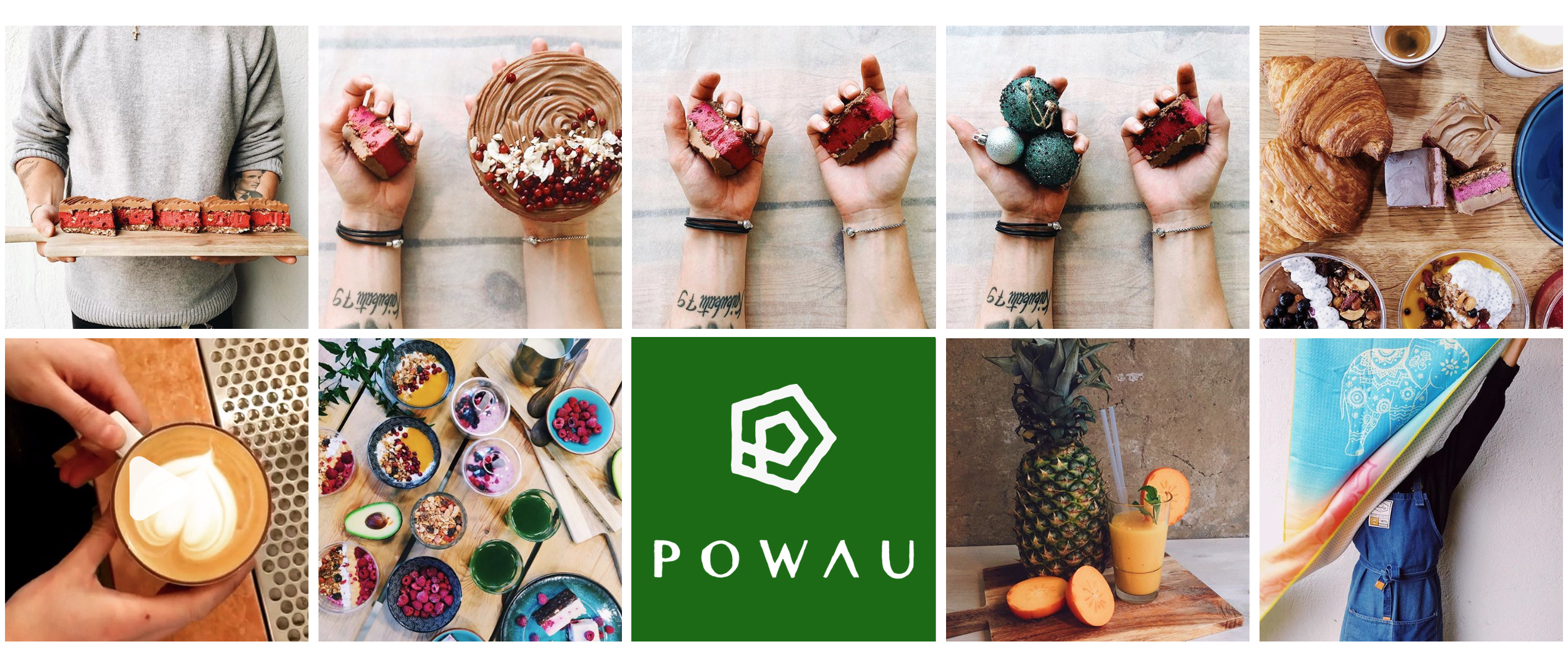 Why Invest In POWAU?
Opportunity to invest into a growth company, which is already in the vanguard of it's trade in Finland and is looking for investors for the second phase of growth.
The compound annual growth rate (CAGR) has been +35% for the last 3 years and the growth (CAGR) is predicted to be approximately +48 % during the next few years.
The business has been predicted to reach its break-even level during the summer of 2019 and the goal is to nearly triple the revenue to approximately 10 million euros by 2021.
The company builds its business on many supporting pillars: outlets and yoga studios, manufacturing our own products for both, our own retail and for local markets and stores. POWAU has a loyal customer base and premium products.
Our own original collection of recipes and production line enables us to continuously develop our products while the trends keep changing in the future.
Our trademark is registered, and our brand's value keeps growing alongside the operational side of our business.
Our cafés and outlets are situated in prime locations with reasonable leases, and the growth of our business will be planned with great consideration and care also in the future.
A scalable and potential concept with a realistic opportunity to succeed internationally.
The growth has been built on many different financiers: The founding members of the company and the cornerstone investor Sunborn / Saga Group have invested over half a million euros into the company. In addition to the established bank relations and founding investors, the company is funded and supported by Business Finland that offers funding for research and development of business's.
Our business & market situation
Our business & market situation
At the moment, it's the origins, cleanliness and the health improving properties of nutrition that interest consumers the most. The significance of clean and healthy food has undeniably grown and consumers are more and more willing to invest an increasing amount of money into everyday meals. Cafes and restaurants offering healthier options have emerged into the scene and people definitely have more options now than ever before. However, being healthy is not enough anymore. The food needs to taste good and be down right delicious.
The consumers demand for provably health improving products can be seen very clearly in today's café culture. Every company has to be a part of the progress and find out the specific needs of their customers. Furthermore, every business owner should make oneself familiar with both, the universal change in people's consuming habits and with the changes within their own field of expertise.
What we offer is plain and simple:
Healthy and nutritious products for every moment of the day
Breakfast, lunch and snacks either in support of, or for the recovery after, a day at work or exercising.
Speciality diets: Gluten-free and vegan products are not an addition for POWAU, but a cornerstone for our business.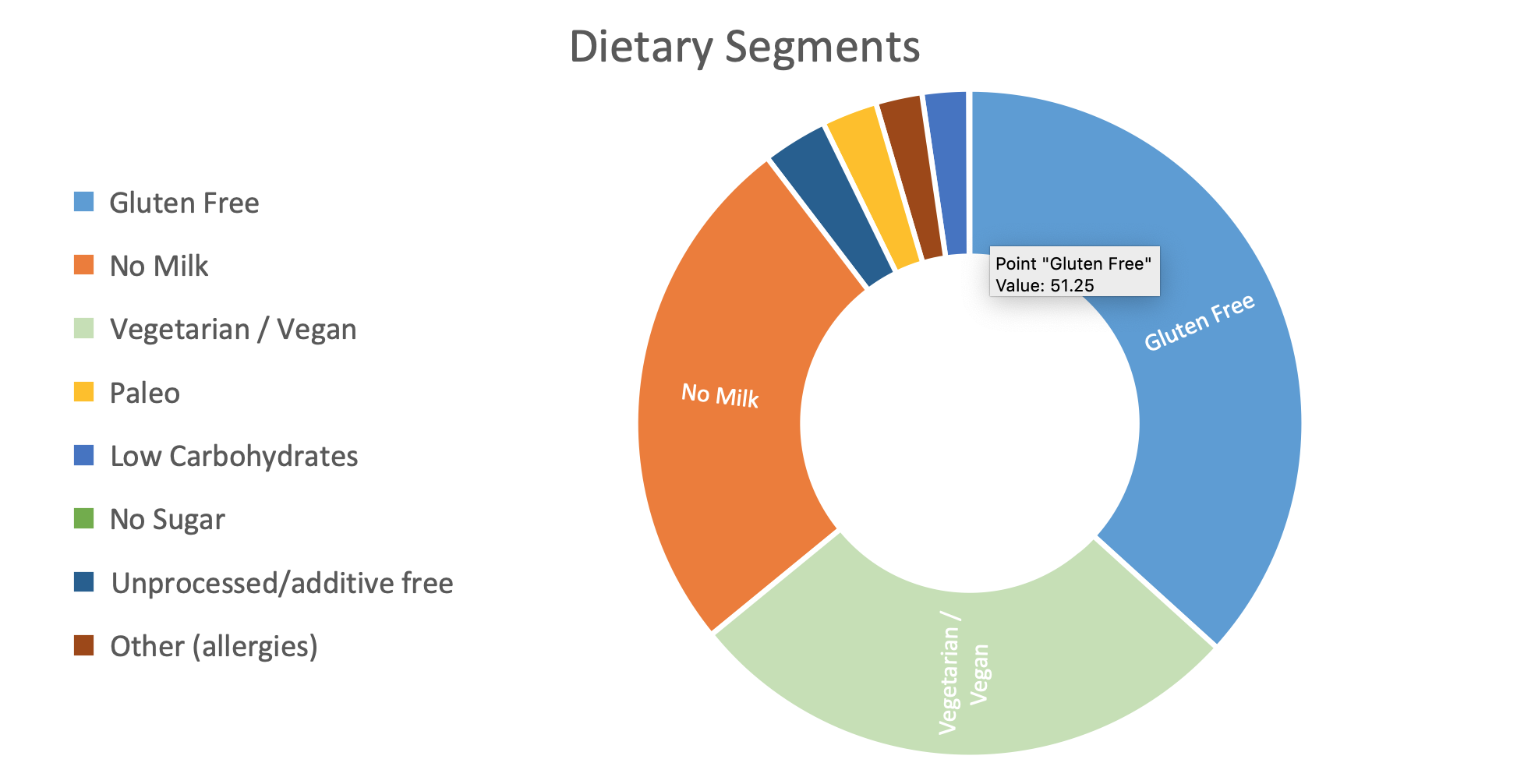 Pure Hero Oy had a customer survey done in 2015 and it revealed that a significant percentage of our clientele follow their specific special diets. Since 2015, that percentage has only grown and it can be seen clearly in our daily demand. Vegetarian, vegan, dairy-free and gluten-free diet with 51,25% of our customer base are clearly the best represented diets.
The simple hunger, an exquisite piece of delicacy, snack, recovering from ones work out or from a full day of work, or even to beat the first symptoms of a flu: we always know which products to recommend to our customers. We will build a new kind of café experience with our unique products that one can't get from anywhere else, created with our own original collection of recipes.
POWAU Today
Our good reputation and well known brand was born in Turku Finland, which is where the most of our outlets are located to, including the yoga studios and our production kitchen. We have expanded our business to Helsinki and Tampere. At the moment, our staff count is 32 people (1.3.2019). All of our outlets listed below:
Powau Brahenkulma (Eerikinkatu 7, Turku)
Powau Kontti (seasonal outlet, Läntinen rantakatu / Jokiranta, Turku)
Paulig Kulma (Aleksanterinkatu 9, Helsinki)
Powau Hansa (Yliopistonkatu 22, Turku)
Powau Tampere (Hämeenkatu 4, Tampere)
Powau production kitchen (Kristiinankatu 9, Turku)
Pure Move yoga studios (Eerikinkatu 7 B a sekä Martinkatu 5, Turku)
The picture below shows the structure of POWAU Group more precisely: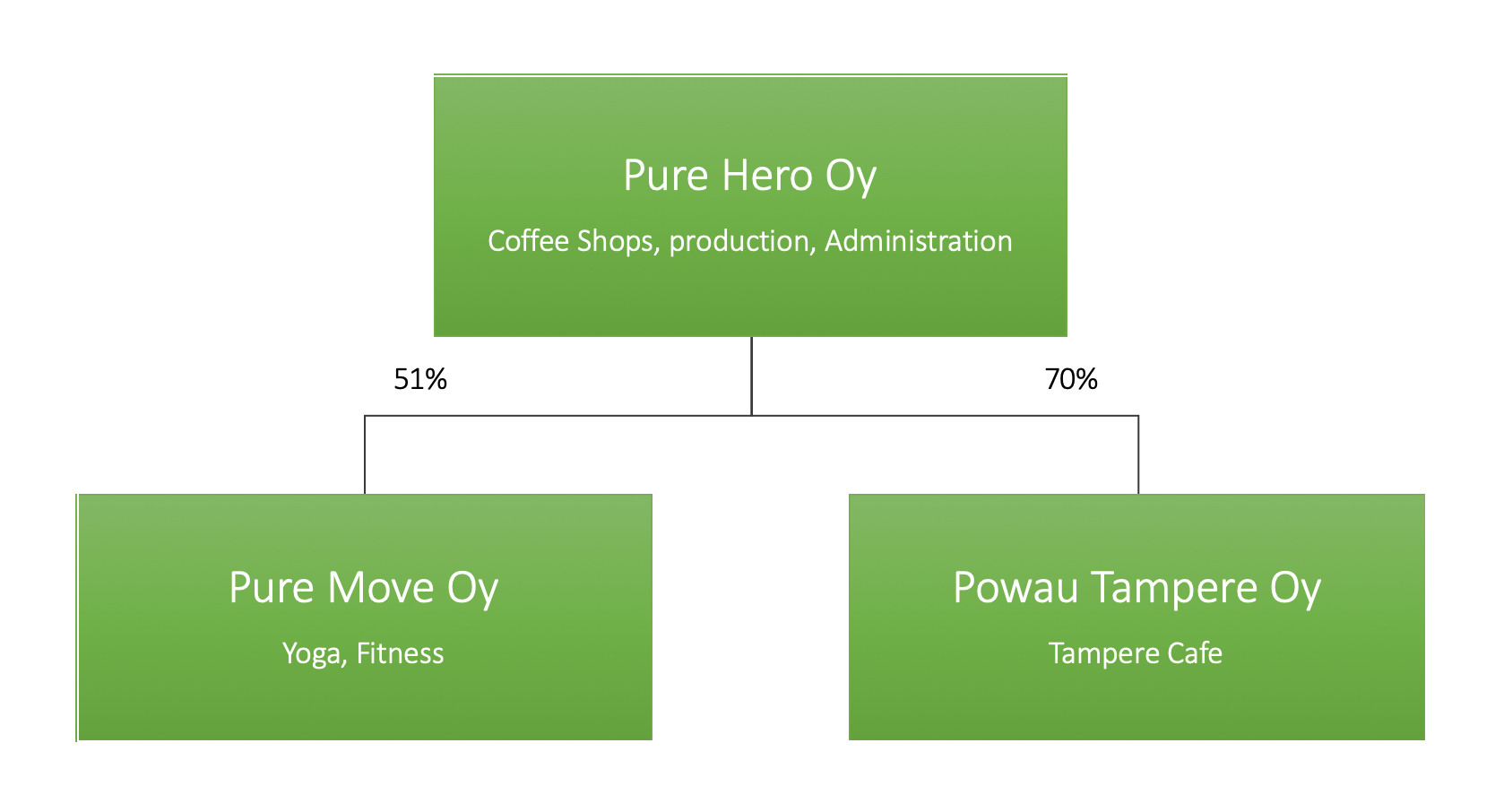 *The shares of POWAU Tampere Oy ja Pure Move Oywere bought 3-2019 and 4-2019. The yoga instructors taking care of Pure Move Oy yoga studios, Johanna Raussi ja Riku Mikkolaare the minority shareholders of the company. 30% of the shares of POWAU Tampere Oy are owned  byour Tampere shareholder and café entrepreneur Elisa Moilanen. 
POWAU Tomorrow
Even though healthy diet and vegan food is a fast growing global mega trend, the average consumer in Finland still has only few healthy options to choose from. POWAU wants to be at the forefront of health conscious businesses not only in Finland, but in the whole of northern Europe and open POWAU-outlets into the bigger cities and growth centres with population over 100,000 people. 
We want our products and services to reach the health conscious consumers where they work and live. Our goal is to triple the amount of outlets in Finland by the year 2020. New outlets have also been planned to be opened in Tallinn, Stockholm and Berlin.
Our new type of outlets can be divided into three distinctive groups:
Powau Cafés
Powau Salad Bar + Poke Bowl
Powau Smoothie bar
These new type of outlets will be built economically efficiently with modular kitchen structures to match the original POWAU concept. The biggest benefits of the modular kitchen structures are the easy scalability and affordability. In addition to the new outlets, a new central kitchen is in the plans, which would make it possible to distribute the POWAU product selection through local stores of our choice.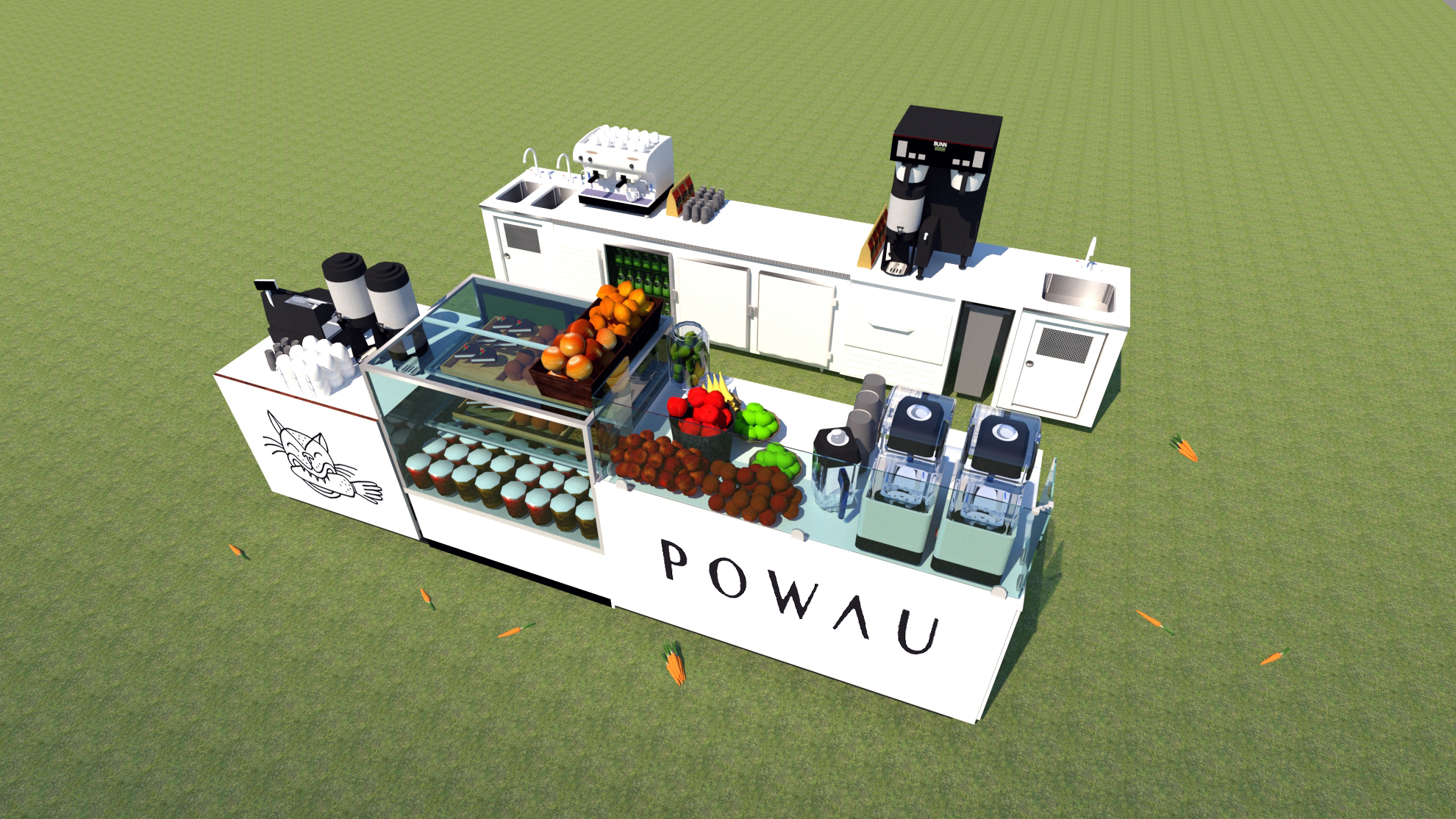 Plan of Growth 2019-2021
During the first quarter of 2019, our business has established itself. The growth of profit and revenue will be created by adding volume into the production. By opening several new outlets and by building the new central production kitchen, we will be able to centralise our production and supply the demands of multiple different outlets. Furthermore, the increased volume creates an opportunity to improve our gross profit and lower the costs in both production and logistics, while at the same time our solid management costs can be spread out for more extensive operation.
The growth of point of sales and the personnel for years 2019-2021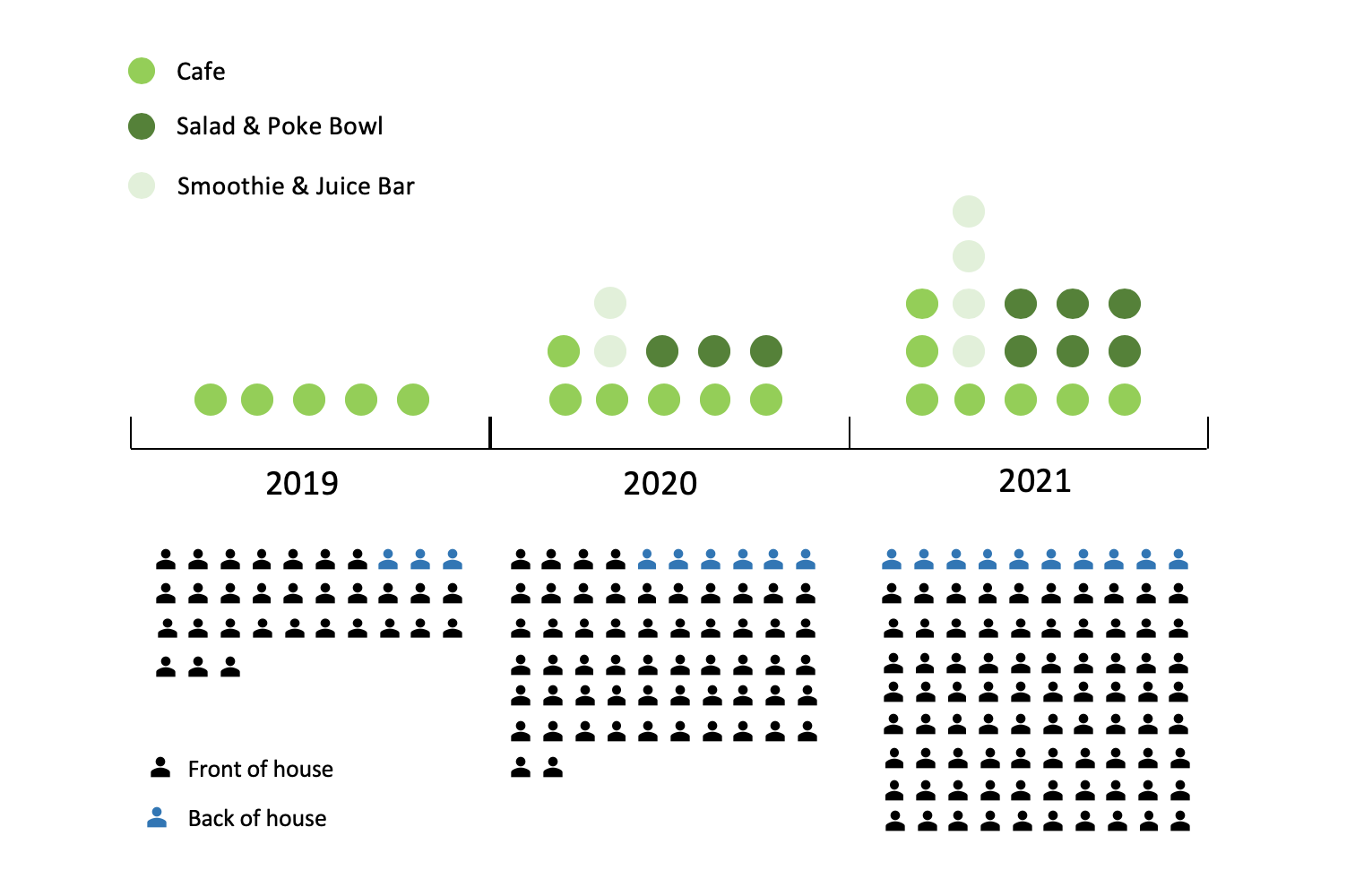 MARKETING
If the reach of social media would be used as a measurement*, POWAU is one of the leading café companies in Finland.
Our Instagram account @POWAU is the most followed café page in Finland* with 13,6 thousand active followers. According to the insight information, our page reached 108,909 other account within six days in April of 2019. The insight information also clearly points out that the followers we reach the most in social media, are exactly the most potential customers for our brand, in which the targeted marketing seems to impact perfectly.
All of our monthly brunches, seasonal products and events are marketed and eventually sold solely through our social media marketing.
*POWAU instagram, insight information 10.4-16.4-2019, Source: Instagram business, @POWAU. The statistics: when reach of local Finnish café businesses social media pages are being compared to each other.
Our Facebook-page has 11,2 thousand likes. On average our customer is 25-34 year-old female, who is interested in, health, exercise, trends and visuality.
Supporting Communities and Responsibility
Since the beginning we have showed our support to both, chosen individuals and communities.
A prime example of this is our youth track and field team, which gives us a chance encourage and support the youth to get acquainted and to succeed in the world of sports and exercise. Naturally, the team is named after our company: Team Hero.
Individually we support Pekka Hyysalo (the man behind Fight Back brand sharing hope, positive thinking, will power and perseverance in all kinds of situations in life), Olli Posti (Supermarket Survival, an expert of nutrition and wellness) and Tomi Kokko (an entrepreneur in the field of wellness and a leading expert of permanent life changes )
Our responsibility in our company is best manifested as dependability, the well being of our staff members and in all of our choices: all of our take-away packaging are either biodegradable or recyclable. Recycling, using recycled materials in our product packaging and minimising food spoilage are among the most important of our values. We are constantly trying to find better solutions for the environment.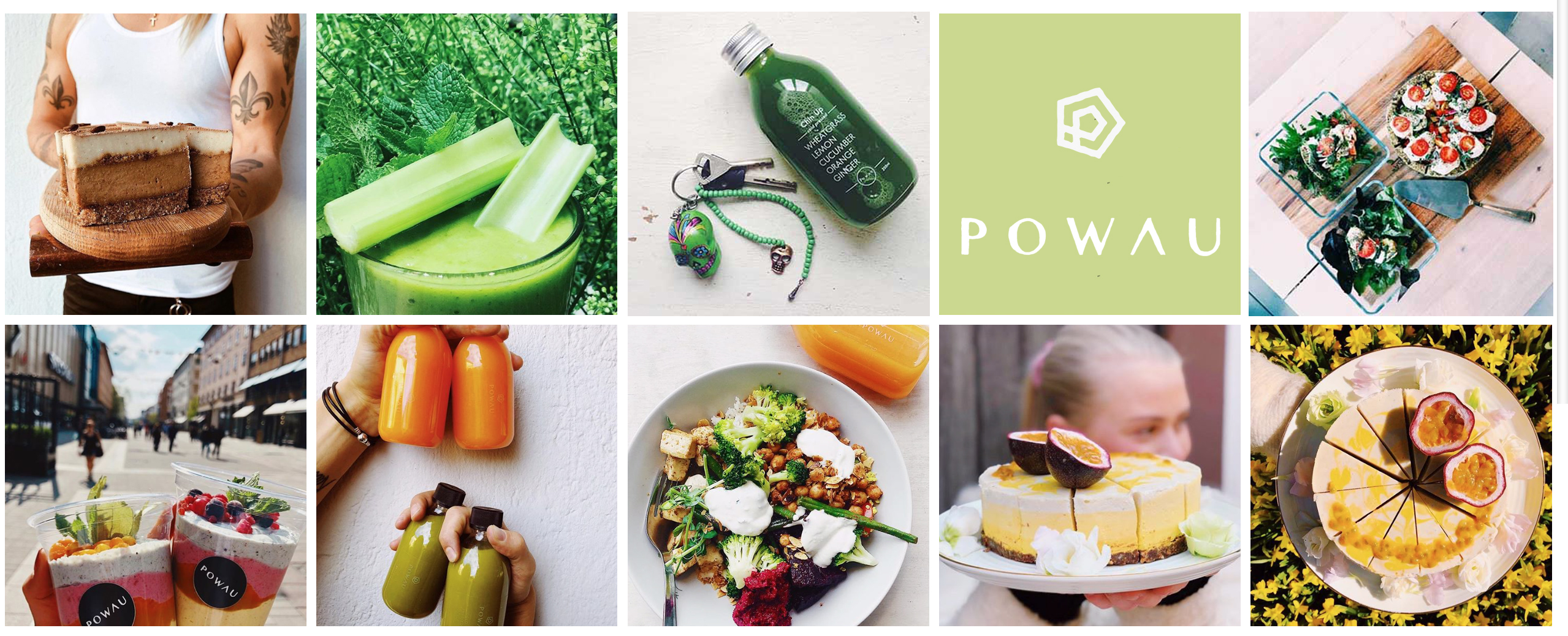 Our Competition and Market Trends
Up until the present day, there are only few companies producing the same type of food concepts as POWAU. 
The existing similar type of cafés are small single outlet business's that only stay in the market for few years at a time with a very limited clientele. To be more precise, the main competition for POWAU are the already prominent EspressoHouse and Jungle JuiceBar chains with their large customer bases. POWAU's advantage in comparison to the other companies lies within the product that appeals to increasing numbers of consumers that follow the food trends of today. Vegetarian food is gaining more and more of its importance in the market. In addition to vegetarian and vegan customers, the number of people reducing their meat consuming is rising significantly everyday. Speciality diets are also growing more popular than ever before.
The world is changing and consumers begin to be more aware and more interested in nutrition. They also want to make better choices regarding it. Good options are still rarely available and a few years ago the healthy choice did not mean anything good in what comes to the taste of it, not to mention flavour rich delicacies that would appeal to the mainstream of consumers. There are a lot of preconceptions about healthy food and that is exactly POWAU wants to blow away. We want our products into the local grocery stores and supermarkets, so that they will become easily available for everybody to buy and to get to know of.
Power has worked on its recipes for cakes and delicious snacks for over five years now. In addition, new recipes are being invented and developed constantly. POWAU has a strong vision and knowledge about products and to where are the trends evolving to from the present moment.
Power cafés will be located to where the customers are, into the busy centres of the largest cities. In the future, POWAU products can be divided into segments that will work as a base for light structured outlets that can be opened into shopping centres. POWAU products will also be become available for retail in speciality shops and stores (such as Ruohonjuuri, Life-outlets), cafés and local markets. 
Powau Lab and our Co-Owners
Be part of our team! Powau's investors who subscribe a minimum of 100 shares in this issue, will also be able to participate in the development of the company through Powau Lab. We organize events, seminars, product development evenings with our co-operation partners. In the lab, investors can participate in product development, ideas, and otherwise, to discuss with others who are inaugurated.  
Those investors who subscribe a minimum of 200 shares, will get our Co-owner status and can participate more closely in our workgroups for development and marketing and also have limited rights to host and represent the company, such Co-owner rights to be decided by board of directors annually.
Our team
Our team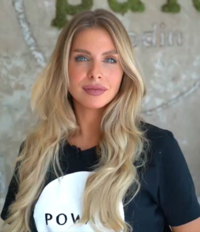 Tytti Lairolahti
Chairman of the board and founding shareholder
Tytti Lairolahti is first of the two founders. A vast majority of POWAU's Collection of Recipes for raw baking has been created by Tytti. She is the woman behind POWAU's visuals and marketing. Single handedly she is also responsible for making POWAU the biggest Finnish café brand in social media.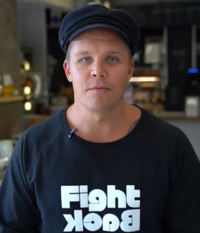 Svante Spiik
CEO and founding shareholder
Svante Spiik is a true visionary of wellness business,  who will not be satisfied with running business as it is, but is constantly looking for new innovations and possibilities for growth and progress. Svante is extremely well connected within the wellness business scene.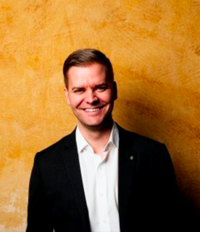 Tapio Syrén
Member of the board and shareholder
Tapio Syrén is in charge of the contracts and legal matters of our company. Tapio is also actively taking part in to the development of financial management and common governing of our company. Tapio is well experienced in the world of retail, which is a great asset for POWAU.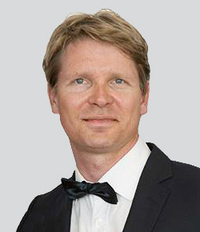 Hans Niemi
Senior adviser, shareholder
Hans Niemi works as advisor for POWAU, bringing his vast experience and insightful vision for managing a growing business to the table. Hans is partner in POWAU through Saga Palvelut Oy. He is the Executive Director in Sunborn Corporation.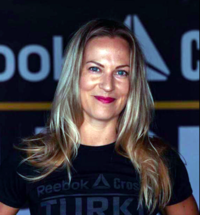 Annastiina Aamurusko
Business Controller and shareholder
Annastiina is the latest addition to our POWAU Team and she has done excellent work as both, as the Business Controller of the company, as well as an assistant for the management.
Risks
Risks
Unlisted growth companies are high-risk investments. Making a high-risk investment involves risks, for example the risk of losing your investment, lack of liquidity, irregular or rare dividends and dilution of your stake. Please study this risk warning before making a high-risk investment.
It is recommended that you familiarize yourself with the investment target of your choice, reduce risks by investing in several investment targets and balance your investment portfolio with more liquid investments. We also advise you to pay attention to the Target Company specific risk descriptions, which you will find included in the pitch materials.
Attached to the pitch there is a creditworthiness report that may be relevant for the investment decision
The competition is fierce within the café and restaurant business. However, on a more general level, the number of meals eaten in a restaurant, compared to meals prepared and eaten at home keeps increasing constantly.
Our price level is higher
The risk is that in the future only the well-to-do people will be able to afford to choose what they eat, while the lesser earning majority has to remain content with poorer quality food. This would inevitably increase the already distinctive division between the affluent and the less wealthy. Gluten-free, vegan and organic food is currently seen as expensive and as something not everybody is able to afford. Nevertheless, slightly higher price levels bear a risk, the demand for healthy restaurant food is still predicted to increase during the next few years. With good quality marketing POWAU will avoid the risk of being misunderstood in what comes to great quality-price ratio.
Reputational Risk
Within the café and restaurant business, there is always a risk of losing one's good reputation and it is most likely to be affected by issues with the quality of ingredients or service. Powau reacts swiftly to customer feedback and aims to resolve all reclamations already during the service situation. Self monitoring and hygienic handling of our high quality materials that come with it, is paid especially close attention to. 
Personnel Risk
The plausible risks concerning our key personnel, is minimised with a high functioning management team, which members include the founding shareholders and the restaurant managers. The management team holds meetings monthly in order to achieve a fluent communication and collaboration, which decreases dependability from any single individual.
Risk of investing in the early stages and during the growth
Within the company, the risks that involve funding are first and foremost the availability of the investments and liquidity. It is crucial for the company to get the funding that is needed for the growth. The risk of investing is controlled and monitored by carefully planning ahead for the sources of gathering the necessary funds.
The risk related to financial projections
All predictions and plans for the future are uncertain to an extent. If the goals can not be reached, this can have a negative impact on the companys result, the distribution of dividend and the value of investments.
Counterparty Risk
It can be possible, that suitable contractors for retail can not be found. Furthermore, it can be possible, that reasonable leases for the business spaces needed can not be negotiated. Also, the seceding of current contractors(Stockmann ja Paulig) can be possible. In the event of actualization, thesescenarioscould have a negative impact on the company's business and the value of investments..
Competition Risk
There is a lot of competition in the restaurant business. In order to reach the planned growth, it is vital to stand out from the competition. Even though, there is always the risk of POWAU-concept being copied, which would make standing out more difficult. Increased competiton can have a negative impact on the company's business opportunities.
Market Risk
Trends and phenomenons have a great influence to the restaurant business. One has to be able to respond to the ever changing demands and preferences of consumers. Also the prices of raw materials, regulations and other market factors can have an effect on the business opportunities. The company can respond to the changes in the market by altering the business plan provided above. A hampering market can have a negative impact on the company's business opportunities.
Financial And Legal Risk Of Business Trade
Pure Hero Oy (2620865-1), who offers shares in this issue , bought the Powau juice businessand the brand from (Seller) Powau Oy (2649561-1) on 8.1.2018 and the seller party of the business trade, Powau Oy was placed in receivership on 17.12.2018. This has been registered in the trade register on svante kuva4.1.2019. Since then, the seller has had multiple payment default entries and other public entries (68 until14.5.2019). It can be possible, that during the receivership it becomes clear that the seller needs to be held bankrupt and the business trade made in January of 2018, could be reversed, if the amount of the transaction was held too low.