AlvinOne - A Game Changer In Mental Health
When it comes to depression, anxiety and sleep deprivation, help is often late. AlvinOne analyses its users' health and creates a safe channel that connects them with preventive services before illness occurs. Prevention is the best treatment.
This content is also available in
Finnish
Our story
Our story
A global demand for change
In Europe one in four suffers from depression or anxiety every year.  In addition, we're seeing a burnout epidemic amongst millennials, rising depression rates amongst baby boomers and sleeping disorders becoming a norm in the working population. Sleep deprivation alone costs employers $411 billion in lost productivity in the U.S. annually.
Employers have a direct financial incentive in keeping their employees healthy and productive. Increased competition for skilled workforce has encouraged employers to offer health benefits more than ever before. Yet the solutions currently available are often not scalable and only focus on treating existing illness, or they're poorly targeted.
AlvinOne's founder, Jukka Suovanen, has always felt a need to help others. He started his first business as a physiotherapist and orthopedic manual therapist in the 1980's. After treating thousands of people Jukka wanted to learn if the treatment he provided worked better than other methods of treatment. "In order to measure this, we built software that could measure effectivity and also be used to assess our clients' health problems", Jukka explains. Later he sold his physiotherapy business and focused on developing software that would take into account several health factors, beyond physical symptoms. Jukka had learned that you cannot just examine one area of health if you want to come to an accurate conclusion - you must view well-being holistically and consider how each area affects the other.
Around the same time Henri Rautamo joined the team and brought new insight on service design and customer experience. In the 2010's Jukka and Henri joined forces with professor Mark van Gils at VTT Technical Research Centre of Finland and started exploring the possibility of predicting illness before it happens. In 2016, Johanna Varje met with the team and shared their vision of helping people stay healthy with the help of data and analytics. Johanna brought with her skills in design, commercialization and marketing. Together they founded AlvinOne and set out on their mission to keep people healthy.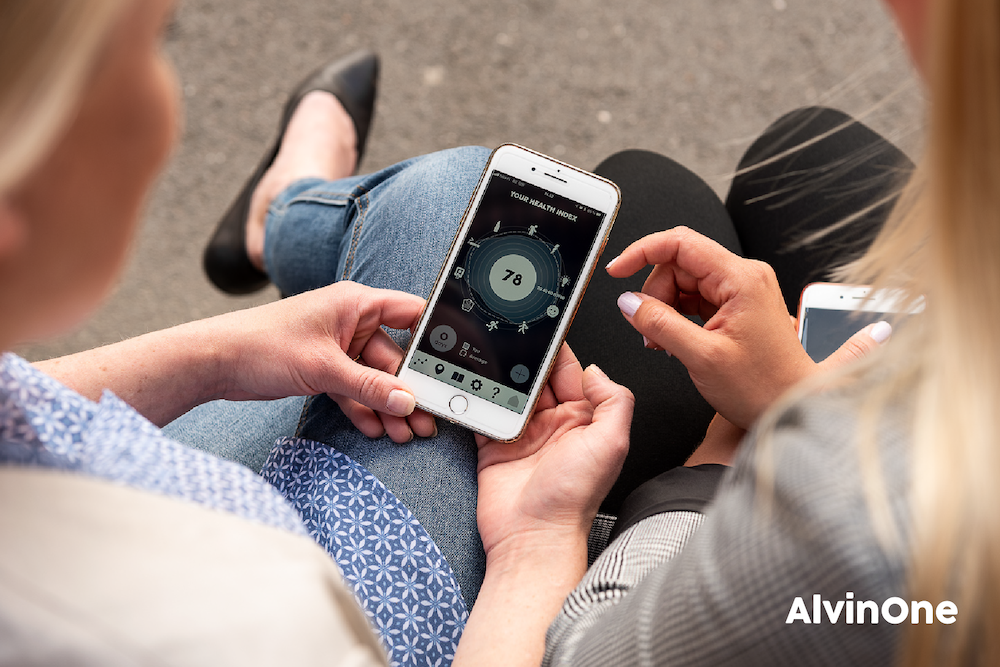 The solution
AlvinOne is a disruptive solution that shifts the focus toward preventing illness before it occurs. For employees, AlvinOne is a personal tool in which they enter health and work related information, and receive feedback that helps them to improve their health. For HR and management, AlvinOne provides current group-level analytics on employee health and guides employees to the appropriate services automatically. Targeting modern, preventive services that improve employee health and performance save costs in medical care, reduced absences and increased performance.
AlvinOne analyses 10 different areas of health; pain, physical activity, weight, alcohol consumption, type 2 diabetes, ability to work, mood, sleep and vitality, use of tobacco products, and musculoskeletal disorders. AlvinOne analyses these health areas because they are all connected to productivity at work and to each other. Analysing only some of these areas would provide an incomplete and inaccurate picture of a person's health. It's important to assess the whole situation and understand the relationship between these areas of health.
AlvinOne's feedback and analytics are based on 30 years of experience in preventive care.
It analyses 10 different areas of health and provides personalized results and feedback on how to improve health and wellness.
Different target groups can be identified through analytics and guided to appropriate services through invitations based on their results.
AlvinOne analyses its users' risk of becoming ill during the next 12 months with an up to 64, 2% sensitivity.
AlvinOne was launched in 2017 and has had a promising start as its already acquired large international corporations as its clients in Finland and Sweden including VTT Technical Research Centre of Finland and Rexel.
Optimising prevention with AlvinOne is estimated to have a ROI of 1:3 in large companies.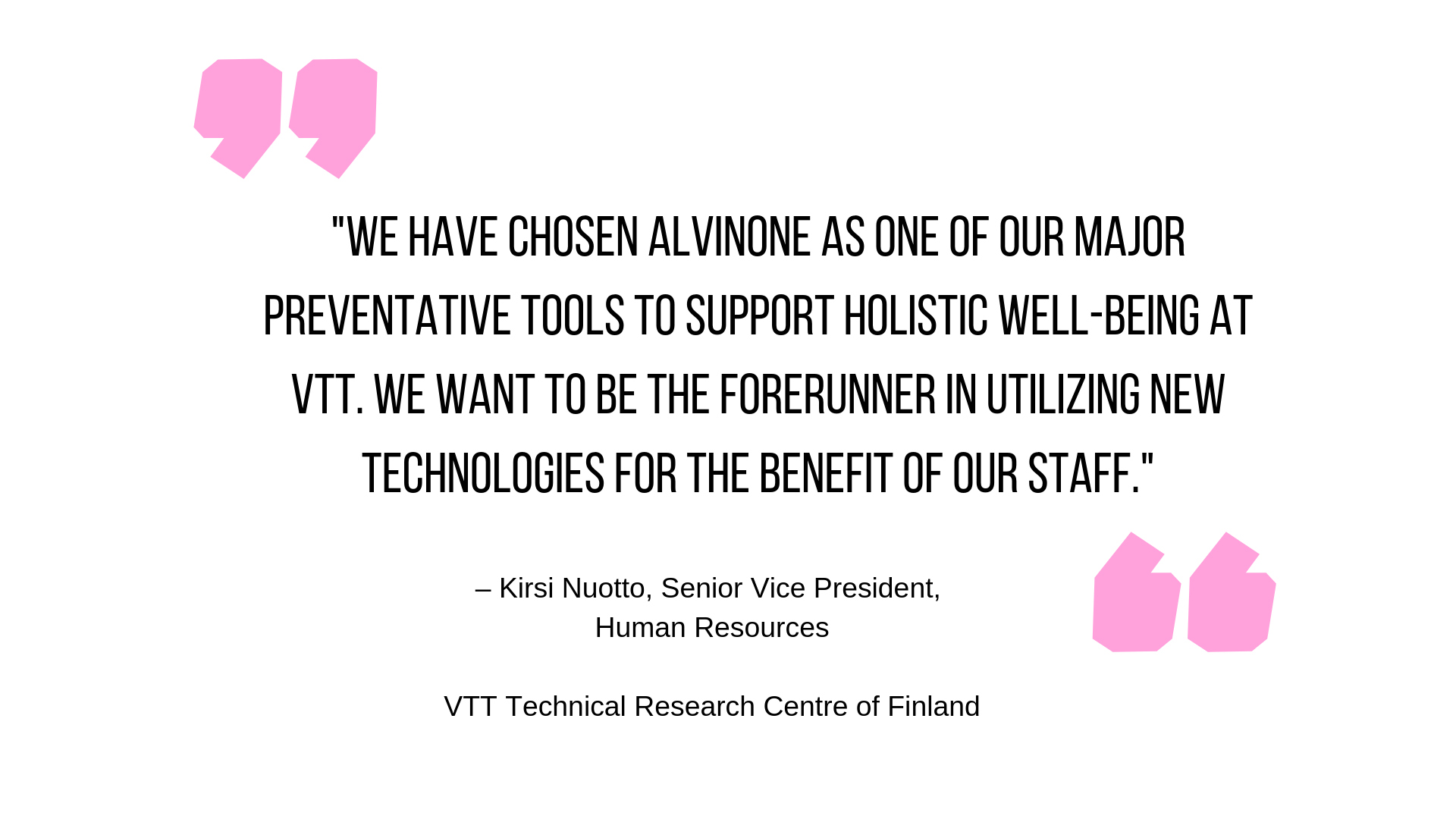 Early intervention benefits everyone
When it comes to difficult subjects such as mental health, coping with stress and addictions most of us don't want to ask for help from our managers or HR. Yet when it comes to these challenges, the earlier you receive help the better it is for both individuals and employers. Most companies lack ways of offering help that don't require employees to ask for help face-to-face from HR or a supervisor. This leads to a scenario where employees facing situations that are difficult to talk about avoid seeking help in time and their situation worsens.
AlvinOne creates an anonymous and safe channel where employees can receive help and support in sensitive situations where it might be difficult to talk to a supervisor or HR. When they feed in their information, AlvinOne analyses their health and sends them invitations to the services they would benefit from the most. 
AlvinOne's partner network includes already includes the service providers below. Partner services are charged separately according to use. AlvinOne and client companies agree on what services will be offered to employees and budget it according to the company's needs. The service providers all have their own pricing and prices vary from 30€/year subscription models to 800€ one-time payments per employee. AlvinOne is a distributor and saves time and resources for clients as we can help the client select the optimal services for their needs and include them in our contract and billing.
Why employers need AlvinOne:
It makes management of employee well-being a strategic, data-driven process.
It optimizes investments into health and well-being services through effective targeting.
It improves employer image and decreases undesirable retention rates.
It shifts the focus from treating illness to preventing it before it occurs.
It's a scalable solution that creates a uniform metric for measuring well-being globally in large international companies.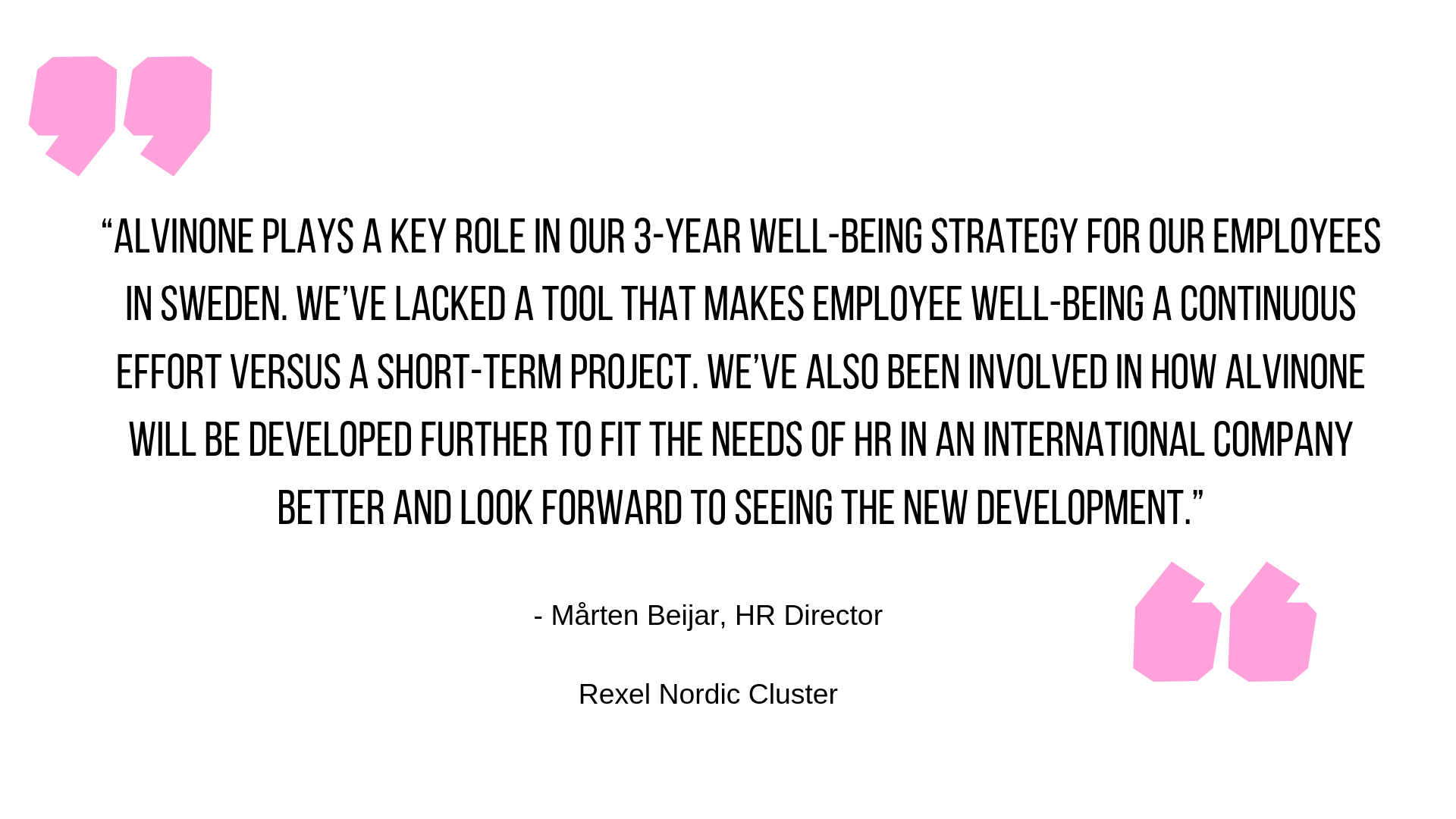 Why invest in AlvinOne?
AlvinOne already has revenue and the most significant product development invests have already been completed.
Healthcare costs are estimated to rise from 6% to 9% of the GDP by 2030 which is forcing governments, organisations and companies to invest into prevention.
Markets have reacted to the demand and investments into digital health companies have grown from $1,28 billion in 2010 to $11,5 billion in 2017 in North America.
AlvinOne is scalable solution with a strong scientific background.
The goal is to triple the company's value in three years.
The goal is to enable an exit for early investors during the next funding round and/or during an acquisition described in the exit strategy.
AlvinOne has had a promising start as it's acquired global companies and forerunners in employee well-being as clients during its first 18 months of operation.
It has received international media attention and been selected as one of the top 100 most promising startups in Slush 2017 and 2018 out of thousands of startups.
Scientific background and the database
AlvinOne has been developed in co-operation with VTT Technical Research Centre of Finland. VTT was ranked as the fourth best research institution out of 99 research institutions in Europe and number one research institution in the Nordics in 2017. In virtue of this co-operation AlvinOne's algorithms have been developed by some of Europe's best data scientists.
AlvinOne has a database with data from over 190 000 18-64 year-old employees working in Finland. It has 10 million data points collected through a comprehensive and structured health survey that respondents have completed one or more times over the past 10 years.
The database is owned by AlvinOne and it's a valuable asset as it enables further development of AlvinOne's analytics and advanced machine learning methods. Mark van Gils, research team leader at VTT Technical Research Centre of Finland describes the database as follows:
"The observations gathered from the Finnish working population create an exceptionally unique sample material in size, width and depth. It allows us to find profiles, trends and correlations that over time will enable personal and personalized interventions in high-risk groups. The algorithm we have developed can be modified according to different working profiles and absenteeism patterns in different countries."
Our business & market situation
Our business & market situation
Business model
AlvinOne's uses a subscription model where the standard subscription is 12 months. The price per user depends on the company's size. In our experience 35-40% of employees start using AlvinOne within 4-5 months of deployment. In addition to the user fees AlvinOne offers additional services provided in-house or by partners. As the amount of users increases AlvinOne's value as a platform increases. Service providers can then be charged a commission for the services offered on the platform. At the moment AlvinOne does not charge service providers commission because we are still developing our partnership model and related pricing structures.
AlvinOne uses a land-and-expand strategy. Therefore we offer the option for companies to try AlvinOne in the form of a pilot project and then expand within the organisation in controlled steps. All the pilot projects Alvinone has completed have been paid pilot projects with contracts that allow for expansion. So far AlvinOne has completed 4 pilot projects of which 2 have led to immediate expansion and two are under consideration or in planning and development phase.
Market
The global employee well-being market is expected to reach $84,9 billion in 2025. The market consists of both legislated players such as insurance companies and occupational health care providers and non-legislated wellness services. In order to support employee health in different situations, improve employer image and to compete for competent employees, employers choose to offer employees a selection of health and well-being benefits instead of only relying on legislated standards.
This has led to a situation where companies are offered a variety of corporate wellness tools and services but all they remain separate entities and disconnected from company strategies and KPI's. The market has lacked a solution that would target these services appropriately to employees and form a uniform metric that would help to assess the effectivity of these investments into employee well-being.
Globally competitors consist of established players in corporate healthcare and wellness and new players focused on exercise or reducing sitting at work such as Keas or Endomondo. In the more conventional service sector competing services are usually in the form of medical services or support of exercise such as gym vouchers or exercise classes at the office.
AlvinOne stands out amongst its competitors with its unique technology, database, analytics and scalability. Whilst most corporate health apps focus on one or two areas of health such as exercise while AlvinOne is a holistic solution that responds to the challenges connected to stress and mental health at the workplace. We have also been able to turn our competition into partnerships creating more value for both the individual user as well as the client company by using AlvinOne's analytics target partner services to employees.

In Finland Occupational health care plays a significant part in the health services offered to employees in Finland. This works well in situations where an employee is already experiencing symptoms that require medical attention. However, this tends to be expensive and often a lighter, more cost-effective service would work better for persons only experiencing the very first negative signs of stress, sleeping issues or extensive sitting down at work. In addition, early intervention before healthcare steps in prevents future absences. Individuals also often feel like there is a higher threshold to use occupational healthcare services because it would create  a patient record and it feels medical and the issue doesn't. AlvinOne works as a complementary service alongside health care services, that offers a low-threshold channel for employees to receive feedback on their health and find services to promote it. It's always accessible and can be linked to all the best services.
Positioning
AlvinOne positions itself as a global partner for large international companies in developing employee well-being and productivity. AlvinOne's typical client is a large international company that wants to include employee well-being in strategic decision-making. They want localised solutions when it comes to services and available languages, as well as a scalable solution that provides current information about employee well-being and trends globally.
Our team
Our team
AlvinOne's core team consists of its three founders Johanna, Jukka and Henri. Their combined years of experience in preventive healthcare, analytics, digitalisation of processes in preventive care, sales, marketing and well-being add up to over 60.
In addition to the core operative team AlvinOne has a board of advisors, board of directors and partner network which enables controlled growth and utilizing multidiscliplinary talent throughout it.
Johanna Varje
Founder & CEO
Johanna has a strong background in marketing, sales, visual design ja e-commerce. She founded her first company at the age of 26 and has since then been active in the startup community, gathered diverse experience in sales, marketing and design in several projects and companies. Johanna has played a major role in creating AlvinOne's user interface, UX, as well as marketing and sales and Finland and Sweden.
http://www.linkedin.com/in/johannavarje
Jukka Suovanen
Founder & Chairman of the Board
Jukka has worked in preventive health care for three decades. Most of this time he has spent developing digital tools for occupational health care and digitalizing preventive health care. His passions include information analytics and machine-learning methods. Jukka has founded five different corporate wellness companies and led two of them as the CEO. He has been involved in developing sales processes, funding as well as planning and implementing international projects.
https://www.linkedin.com/in/jukkasuovanen/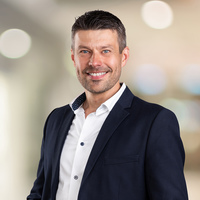 Henri Rautamo
Founder & Board member, system administration
Henri has worked with occupational healthcare and nurses with patient responsibilities for the past two decades. He masters our back-end system and analytics, making sure the medical and HR professionals we partner with have everything they need. Henri knows our back-end better than his back pockets and ensures our analytics are as useful as they can be for our HR and management users. Henri is also our DPO and ensures our processes are always compliant with current requirements.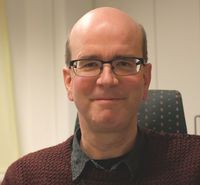 Mark van Gils
Scientific advisor, professor at VTT
Mark van Gils works as a research professor in AI for wellness and healthcare at VTT Technical Research Centre of Finland. With more than 20 years of experience in health data analysis, van Gils guides research on development of artificial intelligence systems that support the diagnosis of complex diseases. During his career, van Gils has worked with renowned university hospitals and health tech companies, and has extensive experience in coordinating research efforts. Alongside working at VTT he is an adjunct professor at Aalto University and an independent EU research grant evaluation expert. Through his work, van Gils is contributing to a future where the emphasis of healthcare is on disease prevention instead of treatment. Ultimately, he finds sharing the joy of discovery with highly skilled experts to be the best part of it all.
https://www.linkedin.com/in/mjvangils/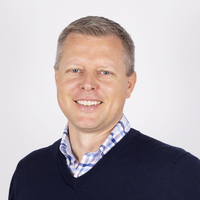 Michael Klyszeiko
Growth advisor, Angel investor and founder of Launchpad USA
Michael is an investor in 35+ technology startups that are driving fundamental change within their markets. At Launchpad USA he helps founders discover and cultivate new business opportunities between the USA and Nordics. Michael is a well connected and experienced growth advisor.
https://www.linkedin.com/in/michael-klyszeiko/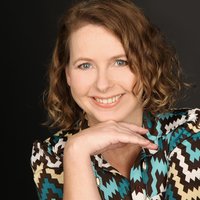 Bettina Zielke
Advisor, Business development & market research in Germany
Bettina has 15+ Years of experience in healthcare IT, innovative technologies, new media and start-up mentoring. As a strategic consultant, Bettina supports companies in the health industry as well as start-ups to evaluate, test, implement and market disruptive technologies. Based on her resilient network she can mediate new business relations in the health industry.
https://www.linkedin.com/in/bettina-zielke-10243/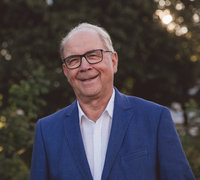 Martti Palo
Co-founder & member of the board
Martti has been in the occupational health care business for 45 years. He brings us a clinical knowledge and practice both in preventive and therapeutic areas. In addition, Martti's experience in leadership and board work adds an important skill set to the team.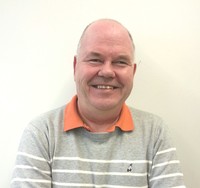 Tapani Tohka
Co-founder & member of the board
Tapani's  background is in medical health and physiotherapy.He's a co-founder in OMT-Center, BPM-Group, ODUM and TopClinicsRehab. Tapani's expertise is in project management and right now he's leading three projects: Occupational health and working security in the mining Industry, co-operation with travel companies in Lapland and productivity and leadership in Northern companies and organizations.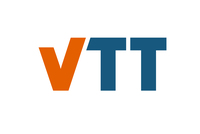 Partner
VTT Technical Research Centre of Finland. Strategic partner in research and development.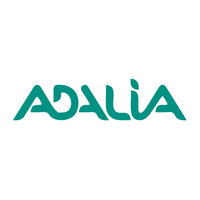 Partner
Adalia Ltd. Long-term software partner specialised in high security health care solutions.
Risks
Risks
Unlisted growth companies are high-risk investments. Making a high-risk investment involves risks, for example the risk of losing your investment, lack of liquidity, irregular or rare dividends and dilution of your stake. Please study this risk warning before making a high-risk investment.
It is recommended that you familiarize yourself with the investment target of your choice, reduce risks by investing in several investment targets and balance your investment portfolio with more liquid investments. We also advise you to pay attention to the Target Company specific risk descriptions, which you will find included in the pitch materials.
Attached to the pitch there is a creditworthiness report that may be relevant for the investment decision
Legal risks
AlvinOne helps its users to improve their well-being utilizing services offered by their employers and AlvinOne. AlvinOne operates in the corporate health and wellness field which is not heavily regulated at the moment. AlvinOne is not a medical device and its terms of use explicitly state it should not replace medical exams or other procedures made by a physician or other medical professional. It is a pre-screening tool that guides its users to seek the right kind of professional services when needed. There is a risk the regulations regarding wellness services like AlvinOne or its partners may change in the future and require AlvinOne to be certified under these regulations.
Key personnel risk
is currently dependent on its key personnel to operate and there is a risk we cannot recruit more talent with substance knowledge fast enough as we grow. Unexpected circumstances that would prohibit key persons to carry out their role in the team would have a significant impact on operations at this time. The key personnel at AlvinOne is committed to this cause and prepared to train future key personnel to ensure unexpected circumstances don't have an effect on operations. As we operate with data security we have a plan on how to operate in case such an unexpected situation should arise and a plan how to continue operations even if 1-2 of our key persons would be prohibited from working.
The team has extensive experience in implementing challenging, international projects in several countries. This makes it possible to continue doing so without causing an excessive workload for key persons in the team.
Data processing
AlvinOne has years of experience in health data processing. Its data security solutions have been developed to meet the high demands of healthcare. The demands fulfill the require ments of the EU General Data Protection Regulation (GDPR). AlvinOne's data security is conitnuously monitored and developed with the support of Granite, an agency and platform that supports public and private organisations with high security demands.
Growth estimates are not reached
Current growth estimates are based on the best knowledge we have of AlvinOne's market potential in target markets in 2019. In revenue estimates we have used calculations based on the target companies in target markets, the amount of their employees, license fees and services based on average prices and revenue from additional services. The revenue estimates don't include potential income from services offered via the AölvinOne service portal or marketing fees. It's still possible AlvinOne's revenues will not reach estimates and in such case growth investments will be decreased in order to secure profitability.