Pupu - Invest in the Green Revolution of Food
In collaboration with Nordea
Pupu is Finland's first healthy fast casual restaurant chain with seven locations in Helsinki. The business is based on the current food and consumer trends, such as personal health and well-being.
This content is also available in
Finnish
Our story
Our story
Pupu was founded around late 2016 when we realised that sustainable food future requires actions.
The demand for healthy and responsible food is growing. Busy urban consumers seek food with better quality and more vegetables. In this new dynamic, demanding consumers want their food with minimal effort and are willing to pay a premium for it.
To match this demand we have already opened seven locations in downtown Helsinki. Our vision is to build a leading Nordic healthy fast-casual chain, where our business is based on delicious food and several global food and consumer trends:
Well-being and health
Reducing meat consumption and adding more vegetables to diets 
Conscious consuming and mitigating climate change
Last year we completed our first equity offering on the Invesdor platform. The offering was fully subscribed. With the new funding we tripled our turnover and became a household name in Helsinki.
Now it's time for a new growth leap. The green food revolution has to expand further on. We will strengthen our position as the Finnish trailblazer of healthy and responsible fast casual. In the light of the current food and consumer trends, our story is now more actual than ever.
Never compromise on pleasure
Food rich on vegetables no longer needs to compromise on deliciousness. Built the right way, healthy and tasty salads attract customers with discerning palates. Made from pure ingredients, our handmade salads are an unprocessed, healthy and nourishing option that guarantees a smile on your face. Unlike many other fast casual options, one can enjoy our salads on a daily basis, guilt-free!
We opened our first physical location in downtown Helsinki in February 2017. The concept was an instant success and the popularity has grown in pace with further expansion. Last year we opened two new restaurants at central Helsinki locations: at Stockmann's flagship store and in the Finnkino Tennispalatsi, Kamppi.
After two years of operation, we now run seven Pupu restaurants in the heart of Helsinki and employ more than 40 people:
Kallio (Hämeentie 36)
Kamppi (Annankatu 21)
Stockmann (Pohjoisesplanadi 41)
Tennispalatsi (Fredrikinkatu 65)
Töölö (Runeberginkatu 59)
The shopping centre CityCenter (Kaivokatu 8)
The shopping centre REDI (Hermannin rantatie 5)
In February, we opened our seventh, 22-seat restaurant on Runeberginkatu. Besides the physical location, it also further expands our food delivery area to cover several new neighbourhoods in Helsinki. In 2019, we will open the first restaurants in Turku and/or Tampere, outside the metropolitan area. We are preliminarily planning on starting our internationalisation from Stockholm in 2020. 
Healthy salads and further development of product range
Our artisan salads are created from pure ingredients. Currently emerging food and consumer trends are reflected in our products to a degree that our customers keep coming back. Our menu covers both the popular classics and our latest new flavours.
"If you crave a salad that makes you smile for the rest of the day, you should go and eat at Pupu. Whatever you choose from the menu, you won't be disappointed." (customer feedback, 2018)
 
Our edge is to offer high-quality, tasty and clean food quickly. Our mission is to improve people's well-being and to facilitate the choice for a sustainable option. We breath conscious consumption, from picking the right ingredients - up to the biodegradable packing materials.
We favour organic and local ingredients whenever possible. Our salads are always built from fresh and pure ingredients. With the same mindset, our delicious dressings are made without any preservatives or added sugar. Whether it's a classic or a novelty salad - our customers always know what they are eating. We also listen to our customers. A recent product developed on the grounds of customer feedback, is our picnic bag which was sold around May Day.
We are committed to constantly improve our selection, while keeping in mind what we do well. There is a clear demand for our healthy product in the fast-casual segment. In addition we have plans to launch Pupu brand to retail grocery; for instance the dressings already familiar from our salads could be a product.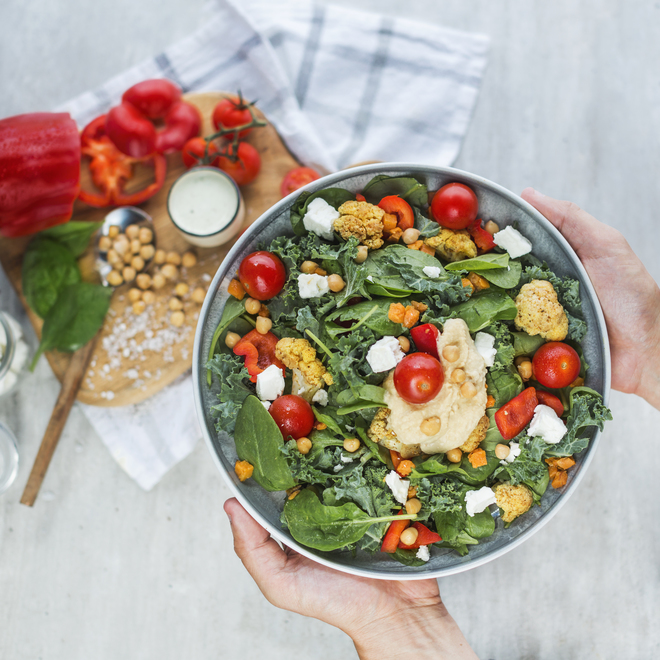 Our business & market situation
Our business & market situation
Growing demand for clean and healthy fast casual
A diet rich on vegetables, health, wellness and sustainability - these are the current food trends in Finland. Finnish food giant Kesko's latest food trend report (https://www.k-ruoka.fi/artikkelit/ruokatrendit-2019) revealed that everyday well-being and conscious consumption are today's focal food phenomena. The everyday well-being consists of adding vegetables, stomach-friendly food, and favouring local and organic produce. In addition to the plant-based diet, healthy lifestyle is associated with various precision diets; avoidance of gluten, white sugar, salt, saturated fat or additives.
Conscious consumption has an increasing influence on the Finnish food choices. Ethical eating is a growing trend. In practice this means favouring organic products, vegetables and local production. In addition, conscious consumption is essentially linked to reducing the use of disposable and plastic packing materials.
A greener diet is a clear trend in Europe and North America. This trend stands out in urban areas, along within the choices of young and educated consumers. Things are however not black and white -, vegetables have a growing role in the diets regardless of the consumer segment.
The latest consumer survey reveals that the consumers choosing organic products, appreciate particularly responsibility, healthiness, well-being, individuality, quality, exceptionalism and innovative brands (ProLuomu 2017).
Pioneer of healthy fast-casual
We have been the trailblazer for healthy fast-casual in Helsinki. We would say it is the deliciousness that makes us so memorable. Our ingredients reflect sustainable food culture and we keep the cooking to a minimum. Our menu is always completely gluten and lactose free, without any white sugar. We don't have red meat on our menu.
Since day one, we have been transparent about the origins of our ingredients and the related certifications. Our goal is to make Pupu available for everyone! Over the next three years, we strive for a strong growth and plan to launch a number of new restaurants. This means that in early 2022, the goal is to have about 30 Pupu locations.
We position ourselves in the fast-casual segment which is growing faster than any other food service sector. Fast-casual means a high-quality cuisine of a casual restaurant - at the speed and ease of fast-food.
In the U.S. the annual growth rate of the fast-casual sector has in recent years been about 10 %, while the fast-food sector has grown roughly 5 % and the traditional restaurant sector just over 1 % per year. The domestic development has been similar, as fast-food segment (includes fast-casual) sales have spiraled in the recent years: in 2015 5.7%, 2016 6.8%, 2017 8.4%, and 2018 9.1% (MaRa 2019).
Main channels: Restaurants and home delivery services
Our growth strategy relies on the increasing demand arising from the current megatrends. Our growth strategy includes new agile restaurants within the same concept - to be opened in shopping centres and urban hubs. Our brick-and-mortar restaurants function both as sales and as marketing channels.
Digital sales channels have been a powerful way to reach customers. Our products are more suited for delivery than regular (warm) restaurant meals.
The revenue from home delivery services during autumn 2018 increased by 84% year-over-year. Approximately half of this growth comes from the expanded delivery area while the rest is due to a larger customer base. Sales through physical restaurants alongside delivery services are currently our main sales channels (Figure 1).
Business-to-business sales provide a big opportunity as responsible and high-quality food is a way of standing out in the minds of staff and clients.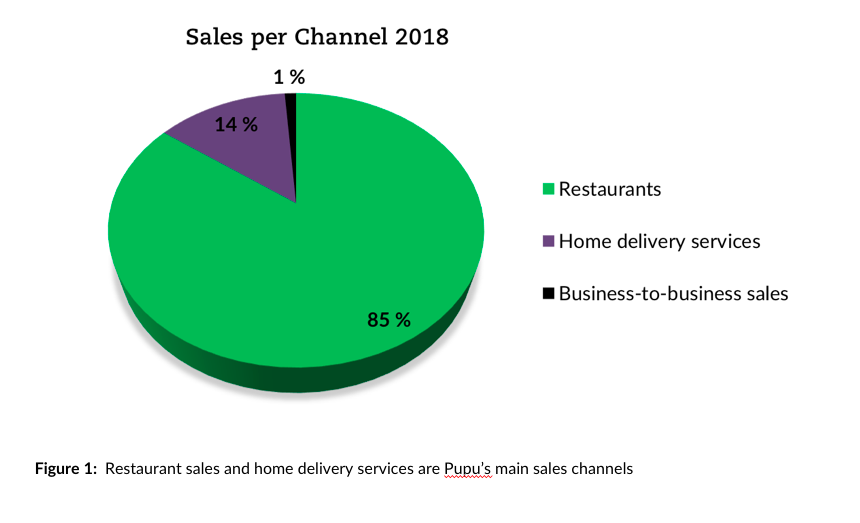 Agile approach to enhance growth
This is our second crowdfunding campaign through Invesdor. The first financing round was fully subscribed at the beginning of 2018 and the company raised €342,775 of new capital. Subscription price was €25 per share. Figure 2 shows the evolution of the company's revenue after the first funding round in 2018 and the projected growth up to February 2020.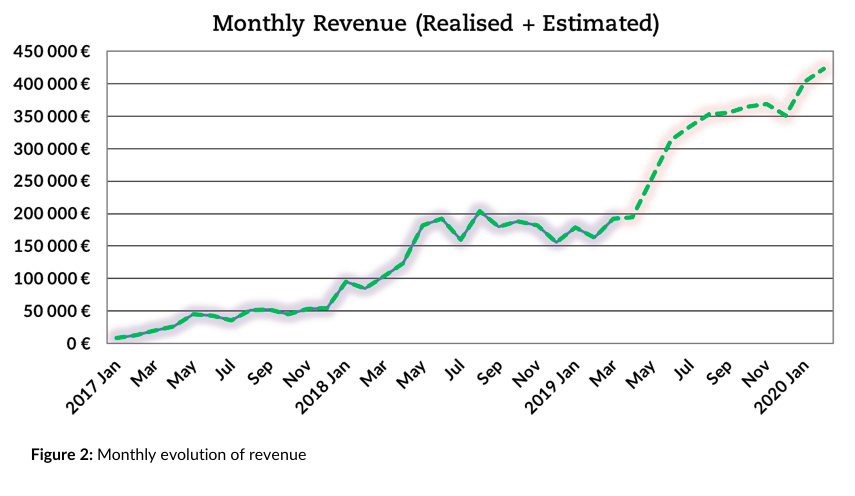 At the end of Q2/2018 we noticed that our business model building on a central kitchen didn't scale to our growth with expected cost-efficiency. In practice, this meant that the number of employees and kitchen equipment needs grew more than planned. As a result, production costs per unit weren't decreasing and we were forced to rethink our operational model.
Luckily our purchasing volume had grown big enough that we were able to create a new operational model utilising strategic partners to produce our signature components. In Q1/2019 we were ultimately able to kill the last cost tails of the old operating structure. Hence the cost-efficiency of the improved structure is now visible in March results.
In addition to the production, significant changes were also made to our organisation. Each restaurant was appointed their own shift manager. A shift manager ensures that our quality standards are met and our customers are the main focus. A shift manager also monitors the sales figures in her unit and organises the daily work shifts, e.g. works on the key performance indicators. The daily monitoring has enabled efficient unit optimisation.
Our costs fall into three main categories:
Ingredient costs
Human resources costs
Other expenses
Further cost reduction can be achieved in the Ingredients category – mainly due to increasing purchasing volumes and better opportunities to look at supplier alternatives. The up-to-date operating model creates savings in both human resources costs and other expenses (cutting out the central kitchen rent expenses and internal logistics expenses). Improved organisation will also reduce human resources costs in relation to revenue. The main components of other expenses are: rents, marketing, costs related to the premises (such as equipment leasing, cleaning, security, financial services) and expenses related to opening new restaurants. We have rationalised the structure of other costs in many respects; for example, competitive tendering of financial services and changing other suppliers. Thanks to these factors, our actual expenses in March and April were already close to the predicted cost structure for the remainder of 2019 (Figures 3 and 4).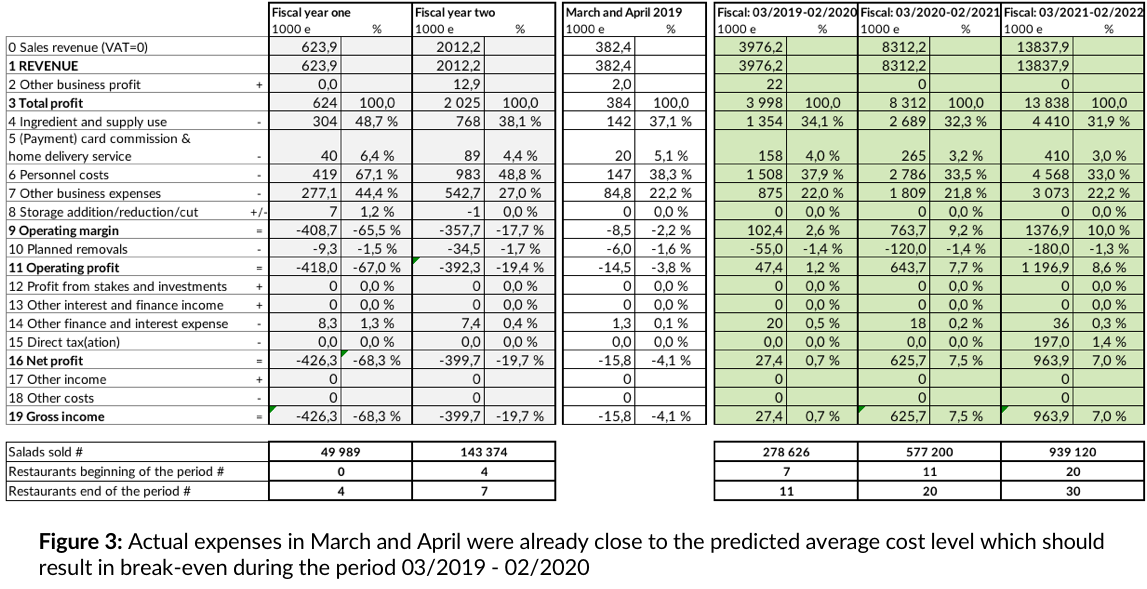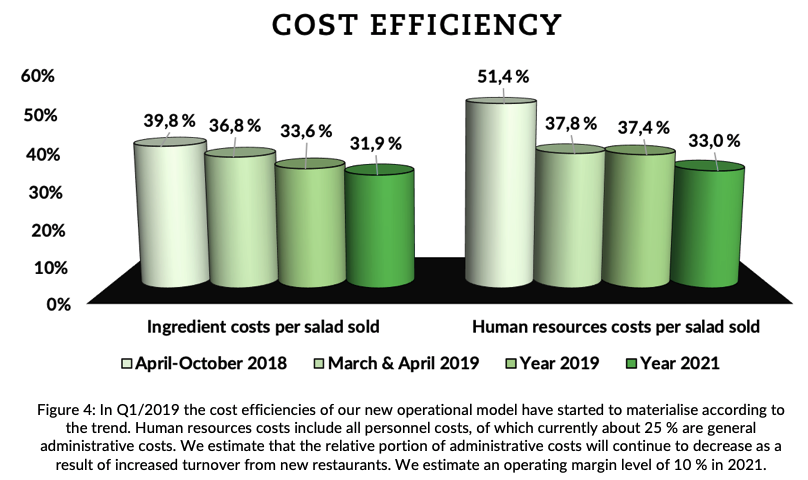 Our team
Our team
Knowledge, experience and vision
Our team consists of experts who share the same values and ambition to create something significant. The founding members are professionals in the fields of service sales, marketing, finance and restaurant business. This has proven to be an effective combination for implementing plans and strategy.
Thanks to our diverse backgrounds, we are able to create customer service and experiences at a level that satisfies the demanding urban customer. For us, food is much more than mere sustenance. Food plays a role in urban culture and craftsmanship, while it is also a way to influence the future. We are also showing that the healthy lifestyle improves general quality of life. From the very beginning, we have based everything on five basic values:
Respect: We respect our customers, the environment and each other. We want to promote the well-being of the whole society. Out of respect for nature, we choose sustainable ways to make our salads. Our company culture is built on mutual appreciation and respect.
Quality: For us quality means pure food. Our salads are built from nothing but the best ingredients available. Good quality also means that each salad is built-to-order. We never use processed or frozen ingredients.
Openness: Transparency is the cornerstone of our whole operation – from working culture to food. We show our customers the origins and the nutritional facts of our ingredients. As we only use the best available, we stand proudly behind our menu.
Passion: Great food starts out of passion. Everything we do has a broader meaning for both us and the world. We are dedicated to food and to the fact that we create the best tasting experience in the city. Much more than just salad.
Future: A plant-based diet carries us towards a more sustainable future. We carefully plan the nutritional content of our food and we support the lifestyle that focuses on both environmental and individual well-being. One salad at a time.
Risks
Risks
Unlisted growth companies are high-risk investments. Making a high-risk investment involves risks, for example the risk of losing your investment, lack of liquidity, irregular or rare dividends and dilution of your stake. Please study this risk warning before making a high-risk investment.
It is recommended that you familiarize yourself with the investment target of your choice, reduce risks by investing in several investment targets and balance your investment portfolio with more liquid investments. We also advise you to pay attention to the Target Company specific risk descriptions, which you will find included in the pitch materials.
Attached to the pitch there is a creditworthiness report that may be relevant for the investment decision
The restaurant industry is highly competitive. Therefore, new businesses may involve risks. Number of meals eaten at a restaurant is increasing in relation to the number of home-cooked meals. The restaurant industry is more sensitive to economic fluctuations than the food industry as a whole, but the fast-casual sector is expected to outgrow other restaurant sectors, irrespective of the economic cycle. We mitigate the risks by refining our flexible organisational model concept to being state-of-the-art healthy and more appealing than the competition.
Price point above fast food
A slightly higher price level carries a risk, if the concept is not adequately profiled. Many customers, especially young adults and people with higher education, are willing to pay more for healthy and high-quality food. The demand for healthy restaurant food can thus be expected to grow in the coming years, but it is always possible that the concept does not succeed as well as estimated. With smart marketing we mitigate the risk of being misunderstood in regards to the price-quality ratio.
Reputational risk is critical to the company and brand
We pay special attention to customer feedback and complaints, and strives to exceed customer expectations in service situations. In addition, special attention is drawn to preservation and hygienic handling of ingredients.
Labour risk in the case of key person's disability to work
We are prepared for labour risk by hiring and training capable restaurant managers who are familiar with the concept. The founding members can cover for each other in administrative matters.
Financing risk in early or growth stage
The company considers obtaining the necessary financing to grow their business to be important. Financing risk is managed by careful planning of the required funding sources and types, while prioritizing the interests of the shareholders. It is possible though that the company cannot fund their operations, and additional funding needs to be acquired. It is possible that it cannot be received for favourable terms or at all, which might have a negative impact on the business.
Shareholder benefit
There is uncertainty related to taxation of the shareholder benefit (the benefit is described in detail under information on issue terms). To mitigate the tax risk, you may choose to refuse from accepting the benefit.