Die Runde ist geschlossen
Fafa's - a Significant Finnish Street Food Chain
Fafa's is a leading fast casual food chain in Finland, that is expanding at an exceptionally fast rate. The most significant franchise partner, S-Group, will enable rapid expansion throughout Finland.
In this funding round shares for Fafa's Plats Ltd (business id: 2872899-2) are offered for subscription. Fafa's Plats Oy operates the restaurant business in Finland.
Within this calendar year the Fafa's company has gone through company restructuring. The old Fafa's Plats Ltd (business id: 2442719-9) was divided in two: Fafa's Plats Ltd (the fundraising entity) and Fafa's Trademark International Ltd (2872904-7). Because of the division the old Fafa's Plats Ltd has discontinued its operations. The new Fafa's Plats is responsible for operating the Finnish restaurants and franchising operations. Fafa's Trademark International Ltd owns the Fafa's trademark/concept and the international operations. A picture to help understand the company relations and structure is attached at the bottom of this material.
Fafa's Plats Ltd and Fafa's Trademark International Ltd are separate companies that have a master franchise agreement between each other. For more information about the companies and their relationship between them you can find in the Risk and Information on the issue terms - sections.
The funding bar also shows the investments received in the employee offering.
Dieser Inhalt ist auch verfügbar in
Finnisch
Über uns
Über uns
News
Fafa's' number of restaurants increased to 27 on 11.10.2018 as a new Fafa's opened at Sello in Espoo.

New Fafa's Kerava has been opened on 1.11. at shopping mall Karuselli.

5.11. You can now find Fafa's' products nationwide in the S-Group stores.

Fafa's opens their new restaurant on 22.11. at the Saari shopping center in Laajasalo, Helsinki. At the same time the number of restaurants rises to 29.

The maximum of €1 M set at the Invesdor platform for the share issue has been filled before the end of the subscription period. The company has decided to accept subscriptions made after reaching the maximum until approximately €2 M as long as they are made within the subscription period. The company has issued in total 101,600 new shares for the ongoing funding round.
In 2011 we opened the first Fafa's restaurant at Iso Roobertinkatu in Helsinki. We wanted to serve exceptionally delicious fast and casual food in a place that would be very unique – not only in Helsinki – but as unique as the places you'll find when strolling through the streets of New York or London. Now after a few years, we can proudly state that we have developed something noteable. Our success story has lead us from one of the most popular restaurants in Helsinki, to being the leading fast casual restaurant chain in Finland.
Our business in Finland is rapidly growing and profitable. We do not yet have the same experience in international operations. Because of the realised and projected growth and profitability for Fafa's Plats, which operates the Finnish side of the business, it's a company whose shares we can proudly offer to a wider shareholder base. All of the information presented in this document applies to only Fafa's Plats Ltd, Fafa's' operations in Finland. The company structure has been visualised as an attachment in this investment material, which can be found at the bottom of this pitch.
 
Where Did It All Begin?
Fafa's comes from the love for good food, and a humble and innovative approach to restaurant development. We started operating from a small restaurant on Iso Roobertinkatu in the heart of Helsinki. The next restaurant opened in Kallio, next to which we had a garage from where we managed the company operations right up until the 20th restaurant.
Whilst planning our first restaurant in Iso Roobertinkatu, we decided to do something that would not only be unique in Helsinki, but would be stylish and of high quality on any metropol in the world. Our goal from day one was for the restaurant to be an essential part of the city street scene and the go-to place for anyone looking for the best fast food in the city.
Our original menu was created through experimenting - what do people really like and what makes them return time and time again. Piece by piece, we created good recipes and operating models. As a result, Fafa's quickly became a modern classic and the first major Finnish fast casual restaurant chain in Finland.
 
Our Values ​​That Guide Our Actions
Love for the game:
At the core of our business is the love for good and fresh food and everything related to it. A strong restaurant culture can't be created without every employee believing in what we do. We appreciate both long-term work and the passion for developing the business.
An international and relaxed atmosphere:
From the beginning, it has been important to us to create an atmosphere in all restaurants where guests enjoy themselves and employees genuinely enjoy working. Our employees represent more than 40 nationalities. A better food culture is a shared vision and the positive atmosphere in our restaurants has become one of Fafa's most prominent characteristics.
Supporting the community and responsibility:
Supporting communities is an essential part of Fafa's and its reputation. Examples include the sponsorship of young sports enthusiasts and less well-known niche sports, and the donation of radio advertising time to smaller companies. The responsible way of thinking is visible in our activities, and also in our continuous investing in more environmentally friendly operating models.
 
What is Fafa's Today?
We are Finland's leading fast casual restaurant chain. Currently, we have 26 restaurants and, as a chain, we employ around 250 people. Fafa's' food is based on southern Mediterranean cuisine and about 60% of our sales are from vegetarian dishes.
Our excellent reputation and well-known brand is based on both the unique food and the relaxed and honest atmosphere of the restaurants. The core of the business is to make good food available for everyone and serve fast food in a new way.
The rapid expansion of Fafa's and it's huge popularity have proved that our concept really works. Our restaurants undoubtedly have a unique product and reputation. We even dare to claim that Fafa's food has redeemed its place as a standard of quality for fast food.
 
Where is Fafa's Going?
Our current expansion rate is exceptional on the Finnish scale. Today, the chain consists of 26 restaurants and according to our expansion plan we'll have 40 next spring. By the spring of 2022, we are aiming to open the 100th Fafa's restaurant in Finland.
Despite the tremendous growth rate, we have managed to keep our business running profitably and keep a strong financial position. A growing and profitable business provides plenty of opportunities to further develop operations.
Fafa's' growth strategy focuses on two areas:
New restaurants
New restaurant openings
Restaurant openings by franchise partners, i.e. S Group, and private entrepreneurs
Concept and other development of Fafa's
Agreed of the launch of the Fafa's product line in October in selected food stores
Design development projects such as the stand-alone (drive-in) restaurant and new digital services
Bursa, a young gourmet burger chain
 
The graph below shows projected restaurant openings in Finland until 2022.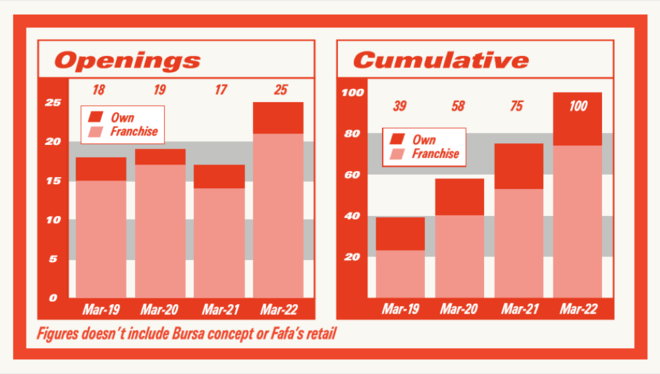 Unsere Geschäfts- und Marktsituation
Unsere Geschäfts- und Marktsituation
Our business
Fafa's is currently divided into its own restaurants and franchise units. In addition, the company owns 72% of the gourmet burger restaurant Bursa.
The Fafa's concept has proven to be commercially successful. The chain has 26 restaurants in Finland, the chain turnover of the current financial year is projected to be approximately 19m€ and the budgeted profit forecast before taxes 1.2m€. From the previous financial year, the increase in turnover is more than 60% and the same level of growth will be expected in the near future. Our expenses do not grow at the same rate as our income, so we expect the busines's profit percentage to remain at the current level at the minimum. At the same time, the growth of franchise operations will reduce the risks related to the company's earnings.
We will continue to open our own restaurants, but the growth of the chain will be done though our partnerships with franchisees. The most important partner is S Group, with whom we signed a cooperation agreement a year ago. This partnership will enable rapid expansion in all Finnish cities.
New opportunities include the Fafa's product line, that will be available in grocery stores, and Bursa, a gourmet burger restaurant. The products will launch in selected stores in October and after a year our products will be available in grocery stores across Finland. Bursa is still in the trial and development phase; we believe it has a demand and space to grow into a chain in the Finnish market.
Below is a table displaying the growth and profitability of Fafa's restaurants in Finland. The table and its graph do not include the product line at grocery stores or Bursa. We believe that both, in particularly the product line, will be significant revenue streams. However, with limited experience, it is impossible to evaluate them numerically.
The figures in the tables in this pitch are forecasts from the accounting period 1st April – 31st March, and the number of restaurants at the end of the accounting period 31 March.
 
Remarks on Growth and Results
In the company's view, the chain's turnover and result can be estimated with reasonable certainty from the actual restaurant openings. The openings during this financial year are set and we will most likely reach our target in the next financial year. The further we anticipate future openings, the more uncertainties may appear. These estimates include the costs concerning the use of the Fafa's brand.
 
Competitors and Market Trends
Fafa's has grown as a fast casual restaurant chain to a level that individual restaurants are not substantial competitors for the company. Fafa's competes for the same customers as individual restaurants and small fast food (fast casual) chains that offer quality fast food and are operating in Finland. The company's strengths, compared to others, are the products that attract growing customer segments and benefiting from food trends. Fafa's doesn't have any direct chain restaurant competition in the fast casual segment, a segment that is growing faster than others in the fast food market.
Fafa's' competitive position is supported by significant food trends, such as the growing popularity of vegetarian food and fresh quality fast casual food. The significance of vegetarian food increases continuously. The number of vegetarians, vegans and flexitarians (a person who mainly has a vegetarian diet, but occasionally eats meat) is rising rapidly. (Source 1; Source 2; Source 3)
The restaurant industry and the fast-food industry are both growing markets. Within these markets, fast casual restaurants similar to Fafa's are the fastest growing segment. (Source 1; Source 2)
 
Strengths
Fafa's' strengths are:
A restaurant concept that is proven to work
A unique brand
A product that appeals to growing customer segments
Strong and experienced team and owners
One of the most popular vegetarian and fast-casual restaurants in Finland
 
In the graph below you can find projected chain turnover, profit before taxes and the number of restaurants in Finland.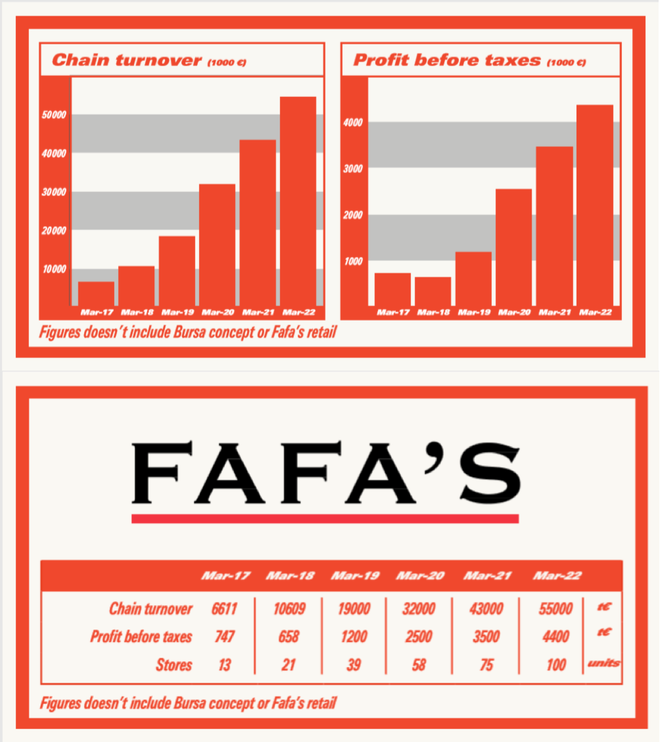 Unser Team
Unser Team
Our diverse team consist of top experts from various fields. We all share the common belief that we can change the predominant food culture to a better direction. We are doing this because we are going to make Fafa's the most successful chain in Finland that specializes in quality fast casual food.
At this stage of our growth, it has become extremely important to have a team that has the ability to manage the accelerating growth, and the skills to manage a large chain of restaurants. We are convinced that we have a team whose motivation and know-how are right for this task.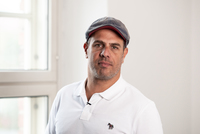 Doron Karavani
Founder & CEO
Doron is a long-time entrepreneur in the food and restaurant industry who has previously founded Gastronaut, a company that specializes in food delivery services and brought Ben & Jerry's ice cream to Finland. His strong experience and vision in the restaurant industry have been the driving force for Fafa's to become what it is today. Doron's ability to develop and renew Fafa's operations so that it is always in line with the customers' wishes in the best possible way is an integral part of the company's success. Doron ensures that Fafa's is moving in the right direction, whether it is about new recipes, business concepts, or strengthening corporate culture.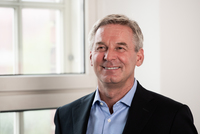 Jukka Järvinen
Chairman of the Board and Founding Shareholder
Jukka has 30 years of experience in leadership and business in a number of successful companies. He has strong experience in financing growth companies. In Fafa's' operations, Jukka's role focuses on active strategy work, setting goals and developing the work of the board, as well as the organization of funding.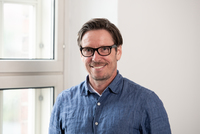 Osmo Walden
Member of the Board and Founding Shareholder
Osmo has 25 years of experience in producing award-winning advertising films, and has also established Design Hotel Onni in Porvoo. Osmo's work is strongly highlighted in Fafa's highly praised brand, extending from visual appearance, restaurant design, and marketing. Osmo brings robust experience in branding, marketing and design to Fafa's' core team.
Jarno Tuliara
Member of the Board and Founding Shareholder
Jarno is one of Fafa's founders and has nearly 30 years of experience in the food and restaurant industry. During 1991-2010, Jarno was involved in the founding of Arnold's Cafe and Bakery and grew it into a successful 35 unit chain, providing quality cafeteria and bakery products. He brings in his expertise in leading and developing of franchise and chain businesses.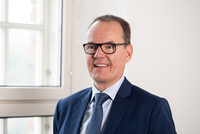 Martti Laakso
Member of the Board and Shareholder
Martti has extensive experience in the financial sector and has been in executive positions at FIM and Nordea. In addition, Martti has extensive experience in working in management and in the board of directors. Currently, Martti is a partner in a growth consulting company specializing in financial counseling and law services. Martti brings in very strong legal and financial expertise to the Fafa's Board.
https://www.linkedin.com/in/martti-laakso-33414b27/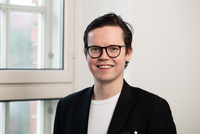 Lauri Kaakinen
Member of the Board and Shareholder
Lauri has 14 years of experience in the technology and design industry, as well as business growth. Currently, Lauri serves as a Virtual Reality Director at Reaktor Oy. Previously he has gained experience as a design and technology consultant in the gaming industry and as an angel investor. In addition, he is also a member of the board of Venuu, a company specializing in renting event facilities. Lauri brings strong expertise in business growth and digital business.
https://www.linkedin.com/in/lauri-kaakinen-49225844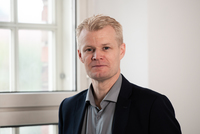 Tuomo Rantanen
CFO and Shareholder
Tuomo has extensive experience in both management positions at Talenom and consulting at Ernst & Young. Tuomo's strong financial expertise is an essential factor in Fafa's' profitable growth. With his expertise, Tuomo is in charge of overseeing that the company's financial affairs, estimations and processes run smoothly. Tuomo's expertise in financial management and business development enables Fafa's to grow into a 100 restaurant chain without unnecessary growth pains.
http://www.linkedin.com/in/tuomo-rantanen-842824a8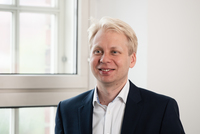 Ville Myllyniemi
Chain Director and Shareholder
Ville has strong experience in fast food, franchising and chain operations. Ville has previously worked as McDonalds Finland's' Operational Leader and as a member of the executive team. Based on his expertise he brings vital knowledge in the field of digitalisation, restaurant planning and customer experience development to Fafa's. Ville is responsible for and manages franchise operations.
http://www.linkedin.com/in/ville-myllyniemi-320561b9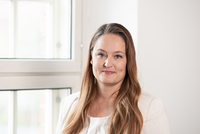 Tanja Syväste
HR Manager / Franchise and Operational Manager
Tanja has extensive experience in long-term development in the chain business. Tanja has strong expertise in both training, HR and developing operations. Tanja takes care of Fafa's' entrepreneurial co-operation, and makes sure the processes and matters concerning staff in our own restaurants run smoothly.
https://www.linkedin.com/in/tanja-syv%C3%A4ste-8b38aa35/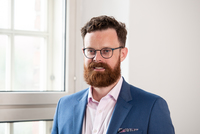 Jack Waddington
Operational Manager
Jack is a multi-talent, who develops the restaurants business with a fast but secure approach. Jack has extensive experience in operations of a growing business and outstanding problem solving skills. Jack has previously worked in the restaurant and retail businesses. Jack's main responsibility is to manage the operations of Fafa's' own restaurants.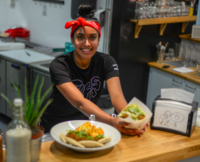 Restaurant Managers and Staff
Fafa's multicultural staff is an important part of creating the atmosphere of the restaurants and maintaining quality. Our staff, even though young, have shown commitment to our company. Several of our restaurant managers have been working with us since the early years. We hope to have as many employees as possible as shareholders.
Risiken
Risiken
Nicht börsennotierte Wachstumsunternehmen sind risikoreiche Investitionen. Eine risikoreiche Investition birgt z.B. das Risiko des Verlusts Ihrer Investition, mangelnde Liquidität, unregelmäßige oder seltene Dividenden und Verwässerung Ihrer Beteiligung. Bitte lesen Sie diese Risikowarnung sorgfältig, bevor Sie eine risikoreiche Investition tätigen.
Es wird empfohlen, sich mit dem Anlageziel Ihrer Wahl vertraut zu machen, Risiken durch Investitionen in mehrere Anlageziele zu reduzieren und Ihr Anlageportfolio mit liquiden Anlagen auszugleichen. Wir empfehlen Ihnen auch, die spezifischen Risikobeschreibungen der Zielgesellschaft zu beachten, die Sie in den Pitchmaterialien finden.
Dem Pitch liegt ein Bonitätsbericht bei, der für die Investitionsentscheidung relevant sein kann
Counterparty risk
Fafa's Trademark International Ltd owns the Fafa's trademark and concept, and licenses it forward to Fafa's Plats Ltd. Fafa's Plats Ltd pays for the use of the Fafa's brand to Fafa's Trademark International Ltd. According to their agreement Fafa's Plats Ltd has agreed to use and protect the brand as stated in the agreement. Fafa's Plats has committed pay the possible costs related to managing, protecting and guarding the trademark. Fafa's Plats is responsible for the Finnish restaurants as described in the agreement. Breach of contract can have substantial financial consequences for Fafa's Plats Ltd: contract penalty fees can amount to a maximum of half a million euros, and there can be also other contractual consequences such as the counterparty's right to terminate the agreement.
The signed agreement is in force for 10 years. During the term of the contract being in force there is a negotiation period, during which the contract can be renewed, but neither party has the obligation to commit to the renewal of the contract. Due to this it is possible that after April 2028 Fafa's Plats can no longer be a part of the Fafa's concept. It is noteworthy however, that Fafa's Trademark International receives financial gain from the operations of Fafa's Plats and the licensing fees of the brand have been taken into consideration when making the projections for this funding round.
The sale of the business or the shares of Fafa's Plats Ltd requires the approval of Fafa's Trademark International Ltd. If there is an offer to buy the Fafa's Plats business or sharepool (or part thereof) from a third party, Fafa's Trademark International has the right to buy the business or the shares with market-based terms. Fafa's Trademark International has this right even though the terms of the third party would be better than the market-based terms. Thus it is possible that the contract between Fafa's Plats and Fafa's Trademark International can have an adverse effect for the return on investment for investors.
Fafa's Trademark International can affect the management team in Fafa's Plats. Fafa's Plats and Fafa's Trademark International has currently the same management and ownership.
 
Success of The Concept
In the restaurant business, there is always a degree of risk associated with the concept of future sustainability and success. With restaurant concepts, such as Fafa's, there is also a risk that another operator will establish a similar restaurant chain. The tight competitive situation may have a negative impact on the company's result. Fafa's has, however, managed to grow into a profitable business and holds a strong position as a restaurant chain in its own segment. This creates a strong lead for Fafa's in a potential competitive environment.
 
Reputational Risk
The reputation of a company can be negatively affected by the risks concerning the quality of raw materials and personnel. When starting our chain business, we carefully directed our customer service, kitchen operations and raw material handling. Negative experiences and poor publicity can have a negative impact on the company's result. Fafa's controls the risks concerning the quality of customer service e.g. by collecting comprehensive and regular customer feedback that enables a quick response. Managers have also evaluated that the risks associated with product quality are under control. Fafa's always uses high quality ingredients and the quality is also supported by the fast product cycle in our restaurants. In addition, quality control of raw materials in Finland is generally good.
 
Personnel Risk
The company estimates that key personnel risks are similar to those of other similar companies in the restaurant sector. Risks concerning personnel may affect restaurant operations. Fafa's has a committed and skilled core team, reducing dependence on individuals. The risks associated with the availability of staff are reduced by the nature of the franchise business.
 
Financial risk
In this field of industry, company's financial risk is primarily related to the availability of funds and liquidity. The company's financial situation is good and the company closely monitors the adequacy of funding. Our business has been profitable since our first year. The company also has a credit limit guaranteed by Finnvera, which contributes to reducing the financial risk.
 
Franchisee Risk
The company estimates that franchisees have similar risks to those of companies in other industries. To minimize the risk, the company undergoes a careful due diligence process when selecting entrepreneurs.
 
Risk related to financial projections
The given projections and future plans are to some degree uncertain, and if goals are not reached this can have a negative impact to the company's earnings, ability to pay a dividend and the value of investment.