Die Runde ist geschlossen
Invesdor - Leader in European Digital Fundraising
Invesdor is the leader in European Digital Fundraising with a proven track-record ready to start the next phase of growth by commercializing its proprietary technology platform.
Über uns
Über uns
Invesdor is a digital fundraising platform that connects European companies to investors worldwide. It was also the first platform to receive a Europe-wide investment firm license (MiFID) for reception and transmission of orders, placing of financial instruments, and investment advice. The license allows Invesdor to offer its services to both unlisted and listed companies, including IPOs. Invesdor has developed a proprietary technology platform that enables unparalleled user experience throughout the investment process.
Invesdor Oy, the mother company of the Invesdor Group, was established in Finland in 2012. Over the course of its history, Invesdor has acquired over 36,800 registered users from 151 countries and completed successfully 115+ funding rounds totalling EUR 52.6m (incl. 6 IPOs). As a testimony of Invesdor's rigorous quality management, 95% of the funded companies are still active despite a generally high rate of failure among start-up companies.
Invesdor has continued international expansion and has currently offices in Helsinki, Stockholm and London. As a preparatory measure for Brexit, Invesdor's management plans to close the London branch at the end of June 2018 and focus fully on the Nordic operations. Invesdor may still accept target companies from the UK for the time being.
Strategic Ambition and Key Choices
Invesdor is on a mission to bring about digital disruption in the financial services industry and showing that investing and fundraising can be simple, user-friendly and quick. The company's strategic ambition is to be recognized as a leader in European digital fundraising. In addition to continuing to strengthen its position in digital fundraising business ("Invesdor.com"), the company has recognized a significant growth opportunity in Europe and beyond for its proprietary technology platform business ("Invesdor Technologies"). The technology platform business would enable Invesdor to enter new large markets which would otherwise require significant branding and marketing efforts that are beyond Invesdor's resources.
Invesdor Technologies is to be the next growth leap for Invesdor. However, this funding round is based on Invesdor's existing fundraising business. The purpose of this funding round is to start growing Invesdor Technologies. Invesdor will look to raise a bigger equity funding round at a higher valuation in the near future for continued growth of Invesdor Technologies.
In this material, the name "Invesdor" is used to refer to the Invesdor Group, which comprises the mother company Invesdor Oy and its wholly owned subsidiary Invesdor Services Oy.
Exhibit 1: Invesdor's strategic ambition and summary of business areas (larger images available in the attached investment presentation)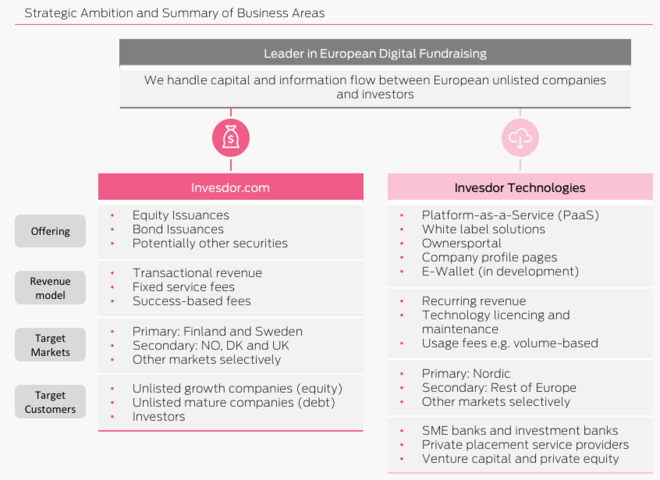 Unsere Geschäfts- und Marktsituation
Unsere Geschäfts- und Marktsituation
Invesdor had a record-breaking year in 2017 continuing its solid performance track-record and making Invesdor one of the hottest FinTechs in the Nordics. Furthermore, the Q1'18 Revenue Potential Signed, a key sales metric at Invesdor, already exceeded the total realized sales of 2017.
Growth in Invesdor's fundraising business is expected to continue strong, while the future possibility of Invesdor Technologies will expand the horizon for growth even further.
Going forward, Invesdor will be offering four categories of services: (1) Fundraising via Invesdor.com, (2) Platform-as-a-Service for fundraising industry partners, (3) White label solutions for licensed customers, and (4) Reporting services with the Ownersportal ownership register and Company Profile Page investor relations tools. The last three together make Invesdor Technologies.
Fundraising via Invesdor.com
Invesdor.com's offering consists of equity and bond issuances as well as other issuance-related services (e.g. business advisory and digital marketing). For companies, Invesdor.com offers a one-stop-shop solution for their digital funding needs; a fast and well prepared and managed process with an easy access to established customer base of more than 36,000 users. Furthermore, Invesdor.com serves investors with a user-friendly and simple process, with rapid access to many investment opportunities.
Invesdor has received over 4,000 pitches of which only 220 (5%) have been accepted at the time of writing, which is evidence of rigorous quality management. Similarly, the number of successfully completed fundraising rounds stood at 108 implying a gross success rate of 49% 2012-2017 (incl. processes discontinued during the confidential marketing phase). It is noteworthy that the gross success rate is on an upward trend reaching 63% in 2017. However, it is also noteworthy that the net success rate is 73% (excl. processes discontinued during fundraising rounds' hidden phase) emphasizing the quality of assets marketed publicly.
As of May 2018, Invesdor has helped its clients raise altogether EUR 52.6m in the form of 24,300 investments from 36,800 registered customers. The volume of funds raised reached a new record of EUR 19.1m in 2017 indicating a CAGR of 185% between 2012-2017. Similarly the average size of the funding rounds has rapidly reached over EUR 500,000 (incl. IPOs). All of this indicates that digital fundraising has rapidly established itself as a credible alternative for traditional approaches among both companies and investors.
One of Invesdor's key competitive advantages in the fundraising business is the 'pull' mechanism by which all placements are done. This refers to Invesdor operating as a marketplace on which investors independently browse and make investments. Invesdor does no direct selling to investors. Compared to a 'push' strategy, the 'pull' model is more honest, more easily scalable, and less risky from a brand image perspective.
Invesdor Technologies
Behind the security issuance processes, Invesdor Technologies forms a best practise blueprint; the technology has been systematically developed for 6 years, and it is proven to be the best-in-breed solution for digital fundraising in the Nordics. Invesdor sees significant growth opportunity in offering its proprietary technology platform to other service providers. Focus on the technology platform enables Invesdor to potentially scale its business rapidly as there is limited need to build local brand awareness of service delivery network (e.g. business advisory and digital marketing partners). Moreover, volume-based and recurring licensing fees provide significant upside potential for revenue and profitability.
Under Invesdor Technologies, there will be two types of service models: Platform-as-a-Service for fundraising industry partners and Whitelabeling for customers who have a licence of their own and want more customisation on the platform.
Mapping the Crowdfunding Scene
The majority of Invesdor's current operations are regulated investment business falling under the regulatory umbrella of the Markets in Financial Instruments Directive (MiFID II) and is therefore generally not called crowdfunding (which has varying levels of regulation depending on the country). However, crowdfunding is where Invesdor started and whose best practices it is bringing to the regulated financial markets. The growth of crowdfunding is one of the main drivers of digitalization in the equity fundraising business and is therefore relevant for understanding the market Invesdor operates in.
Crowdfunding is a broad term that refers to the practice of soliciting financial contributions from a large number of people especially from the online community. Typically, the average financial contribution is relatively low ranging from few hundred to thousands of euros. There are four generally recognized crowdfunding types: (1) Rewards, (2) donations, (3) securities and (4) loans. Invesdor's focus in crowdfunding is primarily on security-based crowdfunding.
The size of the European equity crowdfunding market reached nearly EUR 600m in 2016 with the largest markets being UK (EUR 351m), Germany (EUR 47m), Sweden (EUR 46m) and France (EUR 43m). The equity-based crowdfunding market is growing rapidly with UK and the rest of Europe reaching CAGRs of 125% and 69% (2013-2016), respectively. The growth rates for Sweden and Finland are even higher with 561% and 383% (2015-2016), respectively. This growth is expected to continue strong. For, example the UK market is forecast to reach EUR 1.8bn in 2020 and thus more than quintuple from 2016.*
In order to understand the full potential for equity-based crowdfunding, we need to form a big picture of the overall equity financing market (see attached investment presentation for more information) which includes e.g. business angels, venture capital, equity crowdfunding, IPOs and traditional "manual" fundraising e.g. private placements. Invesdor estimates that the equity financing market in Europe ranges between EUR 50-80 billion implying only 1% share for digital crowdfunding. This is supported by the finding that the share of equity digital crowdfunding from the early stage investments in Europe (EUR 9.9bn) was 7% in 2016. Similarly, the share of equity crowdfunding from all seed end venture capital equity investments (£ 1.57bn) in the UK was 15.6% in 2015 up from 0.3% in 2011.**
* Source: University of Cambridge.
** Source: University of Cambridge and Business Insider.
 
Understanding Platform Effects
Invesdor is well-positioned to capture growth opportunities in digital fundraising by providing the platform that brings together companies, investors and owners. The platform business model is based upon the idea that the value for all stakeholders increases as the number of active participants increases. In addition to fundraising, Invesdor seeks to attract participants to the platform through other services e.g. Ownersportal (electronic shareholder registry) and Company Profile Page (standardized reporting to shareholders). Creating these platform effects forms Invesdor's core strategy; to develop a critical mass of users (Ownersportal) with Invesdor being the data processor.


 
Exhibit 2: Digitalization in equity fundraising (larger images available in the attached investment presentation)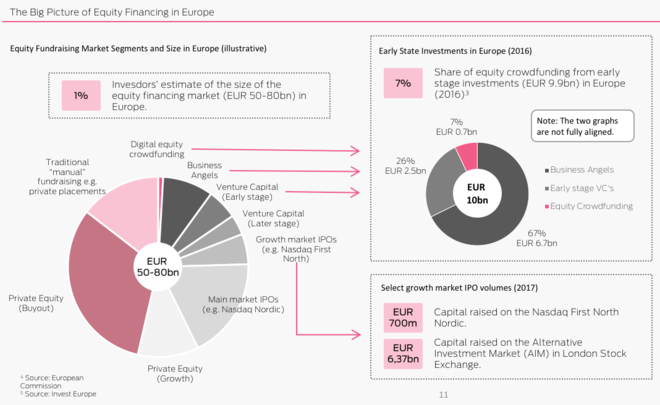 Unser Team
Unser Team
Management Team
Invesdor's management team consists of the following six persons: Lasse Mäkelä (CEO), Erik Rehn (VP, Deal Flow and Finland), Mikko Kangasaho (VP, Engineering), Joel Kettunen (Account Management and Controlling), Mikko Savolainen (Marketing and Communications), and Sonja Lassila (Legal and Compliance). The management team brings together a perfect mix of financial services and technology expertise along with entrepreneurial spirit.
 
Board of Directors
Invesdor's general meeting on 27.3.2018 elected Tero Weckroth, Lasse Mäkelä, Timo Lappi, Susanna Paloheimo and Anni Ronkainen as members of the board. Tero Weckroth acts as the chairman of the board. Invesdor's board encompasses broad experience from growth companies and digital technologies.
 
Ownership Structure
There are altogether 34,953 Invesdor shares outstanding, and the company's share capital, as required by the investment services regulation, is EUR 125,000. Invesdor has altogether 482 shareholders with the two largest being Larzon Capital Oy (Lasse Mäkelä, 31.4%) and Taaleri Varainhoito Oy (10.0%). Other six founders (excl. Mäkelä) own together 20.3% of the shares. The acting management holds 1,553 options. In addition, 515 options are owned by other current and former employees.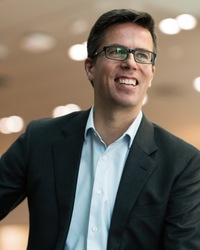 Lasse Mäkelä
CEO, Co-founder, Member of the Management Team
Invesdor's co-founder and CEO, Lasse is responsible for the general management and leading of the company. His prior work experience includes CFO and M&A positions at Corbel, Consti, and KONE, and investment banking at Icecapital and Merrill Lynch London. EMBA in general management.
https://www.linkedin.com/in/lassemakela/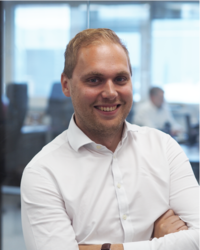 Erik Rehn
VP Deal Flow, Member of the Management Team
As the VP of global deal flow, Erik is responsible for B2B deal flow, partnerships, investor relations, and corporate strategy. His prior work experience includes heading the Nordic Watson business at IBM and consulting at PwC in London. M.Sc. (Econ.) in accounting and finance.
https://www.linkedin.com/in/erik-rehn-6748961a/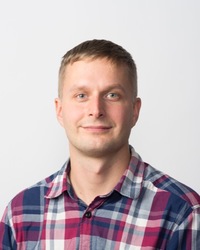 Mikko Kangasaho
VP Engineering, Member of the Management Team
Mikko heads all software development and information management at Invesdor. His prior work experiences are from IT consulting at Eficode. M.Sc. in computer science.
https://www.linkedin.com/in/mikkokangasaho/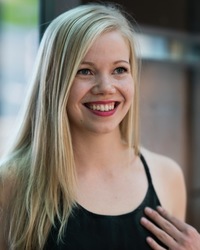 Sonja Lassila
Legal & Compliance, Member of the Management Team
Sonja leads Invesdor's in-house legal team handling compliance, due diligence and KYC matters. With prior experience from Fondia, she's been at Invesdor since 2014.
https://www.linkedin.com/in/sonja-lassila-840489a7/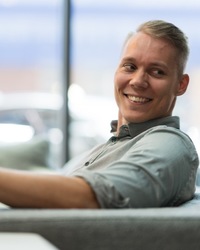 Mikko Savolainen
Head of Marketing, Member of the Management Team
Mikko leads Invesdor's marketing and communications team and advises clients on marketing of funding rounds. Mikko has been with Invesdor since 2013. M.Sc. (Econ.) in marketing and M.A. in organizational communication.
https://www.linkedin.com/in/miskosavolainen/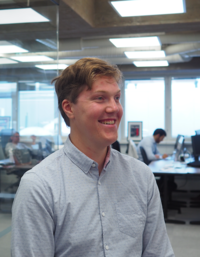 Joel Kettunen
Client Management and Controlling, Member of the Management Team
Joel is in charge of the client project management team and controlling. B.B.A. in finance and B.A. in export-oriented management.
https://www.linkedin.com/in/joel-kettunen-a1b68965/
Antti Kaihlanen
Interim CMO, Member of the Management Team
Antti advises Invesdor on marketing and media strategy. Prior to consulting, he was Strategy Director at Carat Finland and Chief Strategy Officer at Dentsu Aegis Network. B.A. in marketing.
https://www.linkedin.com/in/anttikaihlanen/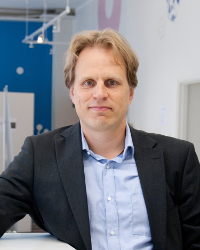 Tero Weckroth
Chairman of the Board
Close to 20 years of experience in financial and pharmaceutical industries and as a start-up entrepreneur. Board member of European Crowdfunding Network. Prior experience includes Serono (now part of Merck KGaA) and 11 years in investment banking in Helsinki, London and Zurich, at Alfred Berg / ABM AMRO, Dresdner Kleinwort and Kepler. M.Sc. in pharmacy and MBA. Founding member of the Finnish Chessboxing Club.
https://www.linkedin.com/in/tero-weckroth-5b927/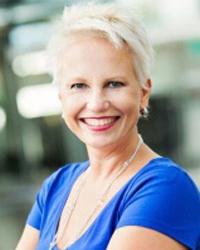 Susanna Paloheimo
Member of the Board
Public speaker and consultant bringing customer experience, communications and marketing guidance to Invesdor's board. Prior experience from e.g. Fredman Group and Zeeland.
https://www.linkedin.com/in/spaloheimo/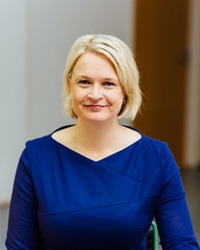 Anni Ronkainen
Member of the Board
Finland's leading digitalization expert, Anni brings her knowledge of digitalizing whole industries to the financial sector on Invesdor's board. She is currently the Chief Digital Officer at Kesko and was previously the Finnish country manager at Google. M.Sc. (Econ.) in economics.
https://www.linkedin.com/in/annironkainen/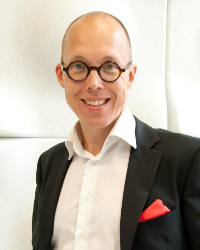 Timo Lappi
Member of the Board
An energetic lawyerpreneur currently running healthcare startup Heltti. Previously managing director at Fondia. LL.M. and B.Sc. (Econ.).
https://www.linkedin.com/in/tlappi/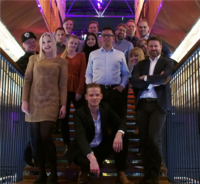 The Team
Invesdor's 20-strong team includes entrepreneurial and driven people versed in project management, sales, marketing, development, and law.
Risiken
Risiken
Nicht börsennotierte Wachstumsunternehmen sind risikoreiche Investitionen. Eine risikoreiche Investition birgt z.B. das Risiko des Verlusts Ihrer Investition, mangelnde Liquidität, unregelmäßige oder seltene Dividenden und Verwässerung Ihrer Beteiligung. Bitte lesen Sie diese Risikowarnung sorgfältig, bevor Sie eine risikoreiche Investition tätigen.
Es wird empfohlen, sich mit dem Anlageziel Ihrer Wahl vertraut zu machen, Risiken durch Investitionen in mehrere Anlageziele zu reduzieren und Ihr Anlageportfolio mit liquiden Anlagen auszugleichen. Wir empfehlen Ihnen auch, die spezifischen Risikobeschreibungen der Zielgesellschaft zu beachten, die Sie in den Pitchmaterialien finden.
Dem Pitch liegt ein Bonitätsbericht bei, der für die Investitionsentscheidung relevant sein kann
Macroeconomic risks
Growth financing is likely to correlate with the macroeconomic environment of the field of industry. Sudden changes in the economic conditions in Europe could impact Invesdor's business. The current state of the financial market and increasing volume of the regulation could complicate companies' possibilities to get funding and increase the costs of capital. For Invesdor, growth companies are a vital target group and radical changes in their economic states or future plans could have an impact on the demand of Invesdor's services. Brexit, although not an Invesdor-specific risk, might affect Invesdor as cross-broader investments from UK might decrease.
While interest rates around the world have been historically low for years, investing in alternative financial products have become increasingly popular. If the interest rates turn, or the economic atmosphere otherwise changes so that investing through service providers like Invesdor becomes less appealing, it will have a negative impact on Invesdor's operations.
Operational risks
Incumbent financial institutions and new challengers can create competition risk for Invesdor. Through continuously focusing on improving its positioning and delivering top quality service to its clients Invesdor aims to increasing their loyalty and ensuring its overall good reputation in the market. Invesdor also increasingly aims to co-operating with other players in the industry, and by offering the Technology and other services to other investment service providers, a potential competitor may turn to a partner.
Operations may not succeed as planned. Invesdor's expansion requires high-quality execution, successful recruitments and good timing. Invesdor must continuously try to enhance its service and products while maintaining transparency and high-quality for its customers. It is not guaranteed that Invesdor will succeed in its pricing, market positioning or product offering which may affect Invesdor's business.
Invesdor has been testing the Technology in practice for the past 6 years, and now the plan is to start selling it for other investment companies to use. With a new product there might be regulatory aspects and such that sink costs more than estimated. It might also be that the Technology doesn't arise as much interest as planned. Launching a new product carries several risk factors, and a unsuccessful launch may negatively impact the value of the company.
Invesdor is currently not aware of any litigation processes against them, but there's a risk that Invesdor faces these issues in the future, which brings costs and risk for reputation that might have negative affects to the value of the investment.
Invesdor has a relatively small team of skilled employees. Despite Invesdor having well planned deputy arrangements in place loosing key personnel would have a negative impact on the operations of Invesdor.
Liquidity risk
Invesdor Group is loss-making. Even though the Group aims to start making a profit in the near-future, the goal might not be reached and/or the profits may not be enough to cover for all costs. There's a risk that future investment is needed, which might have a negative impact on the value of the investment. The next funding round is planned to be executed already in the Fall of 2018. There is no guarantee that future fundraising will be successful.  
If fundraising is not successful, Invesdor will need to find alternative methods or options to support its growth rate or shut down operations.
Regulatory risk
Invesdor is operating in a highly regulated field of industry, and the regulations having to do with financial services and instruments are continuously subject to changes. Alternative finance is an industry evolving quickly. Change in the regulatory environment might increase Invesdor's compliance costs and have an effect on the company's business. 
Invesdor is licenced under quite heavy European MiFID regulation. It is possible that new and less thorough regulation emerges, enabling new competitors to operate with a lighter administrative burden and a lower burn rate. 
Invesdor's fundraising operations require the MiFID-licence. It's possible that the licence is lost, which would significantly affect the operations of Invesdor.
It is highly important for Invesdor to comply with applicable laws. A failure with the compliance might have a negative effect on Invesdor's operations.