Die Runde ist geschlossen
TREAMER - FUTURE OF STAFFING SERVICES
Treamer is a global born startup, developing an on-demand staffing platform. Our technology provides faster, easier and a transparent way to hire temp staff, disrupting the traditional staffing services. Model is highly scalable and proven, join now!
Dieser Inhalt ist auch verfügbar in
Finnisch
Über uns
Über uns
Campaign news: 
19.06.2018 Treamer's sales grew +27.79% in June in comparison to two first weeks of May. 
19.06.2018 Invesdor interviewed Treamer. 

15.06.2018: Salkunrakentaja wrote about Treamer as an investment 

13.06.2018 Treamer had its record in monthly sales in May 2018 with 54.880,18€
06.06.2018 Sijoittaja.fi wrote about Treamer (in Finnish). They also made an analysis about Treamer, which  you can found from the attachments of this pitch. 
31.05.2018 Treamer was selected in the TOP 8 Startups at the startup event Arctic15. 
31.05.2018 Suomen Yrittäjät wrote about Treamer (in Finnish). 
24.05.2018 Treamer was selected in the TOP 15 Startups and will be on the stage at the startup event Arctic15 on Thu 31 May


24.05.2018: Finnish business magazines Kauppalehti ja Arvopaperi wrote about Treamer's public equity offering (in Finnish)
8.5.2018: Arctic15 and Finnish Business Angels Network (FiBAN) have nominated Treamer as one of the 2018 TOP 30 Startups in the Nordic and Baltic. 
Treamer was founded in 2015 by startup veterans Peter Sazonov, Maija Itkonen, Matias Mäkitalo and Miikka Mäkitalo with the vision of creating a new fast-paced but fair marketplace for jobs.
All started in Jyväskylä, at the home of Matias Mäkitalo. Matias had wondered how to help young people to find work more easily and participated in entrepreneur event hosted by Bruce Oreck back in November 2014 at the US Embassy.
There, Matias pitched a concept of a digital service for young people to find local small jobs and thus take their first steps into working life. One of the listeners was Maija Itkonen, a serial entrepreneur who understood the huge potential of the idea. Maija immediately contacted her colleague Peter Sazonov with whom she had successfully built a company called Powerkiss. Maija was now proposing something new, a startup with a great business opportunity but also solving major social challenges. 
Peter remembered still very vividly the challenges young people are facing when looking for their first work experience, especially with a foreign background. Peter saw in Treamer an opportunity to create a new service that could change lives. Miikka Mäkitalo, brother of Matias joined the team and Treamer was born.
The service was released in the spring of 2016, and soon became a hit among small and medium-sized companies looking for new ways to replace the old-fashioned but very needed staffing services. 
Today, there are hundreds of people working through Treamer each month, Treamer's monthly sales are nearly €40 000 and 2018 sales forecasts are exceeding €1 million.
Our vision is to be the Europe's leading digital staffing platform.
EASIEST WAY TO HIRE TEMP WORKERS
Today, most of the work ordered through Treamer is casual day labour - staff for events, promotions, maintenance, warehousing and assistive office tasks. Treamer has become very popular among students, immigrants and other people used to working through staffing agencies.
Treamer has digitized the structure of the staffing services by creating smart matchmaking technology and getting rid of unnecessary operational structures. This results in much lower costs for the end customer without compromising the salary level of the people hired.
Given the brilliant staffing technology developed, Treamer allows the companies to find temp staff even for a few hours of work as well as for a few weeks - in just a matter of minutes.
HERE'S HOW DEMAND AND SUPPLY MEET
The service is very easy to take into use. In practice, a person who wants to work through Treamer downloads the application to either iPhone or Android, fills the required information for himself and verifies his/her identity. After that, he is ready to take open jobs in his own area that fit his profile.
When businesses are looking for staff, they publish their available jobs on the service. Workers apply for the jobs and the business selects the most suitable candidates based on their profiles. They can interview candidates, chat, review and pay the salary, all inside the Treamer application.
The reviews are in the core of the personal career path - each and every shift is reviewed. The reviews work as a direct feedback but more importantly, as a digital CV. With the help of the reviews, workers can ensure that the businesses hiring them can see how well the have been working in the past. With good reviews, one can be hired for work that might otherwise be out of their reach. With the help of technology, we can provide incredible opportunities for both businesses and the workers, being fair for everyone.
For companies, it is quick and easy to hire shift workers, because Treamer handles all the costs and bureaucracy for them.
RESPONSIBLE EMPLOYMENT, BRILLIANT CAREER STORIES
All work done through Treamer is under official employment contracts following the local labour laws. Treamer automatically ensures that the pensions, taxes and social contributions are paid accordingly. After each completed work shift, both parties automatically receive proof of work and payment certificates to their email.
The employee's salary is currently paid within 2-3 business days. Our development team is working hard in order to speed up this part of the process.
Over 10,000 employees have signed up to the service from all over Finland. Treamer is something different: mobile, easy to use and thus lowers the threshold of participating even in short-term jobs. Because of the nature of the service, Treamer is encouraging people to work.
The beauty of the digital work placement is in its democratic essence. 0 and 1 do not take a stand on where you come from, but to who you want to be. Treamer gives everyone the opportunity to prove their skills in the labor market. During Treamers short history, we have created incredible career success stories and one of our missions is to simply bring good to the world.
Technology can make job placement and shift working more transparent and fair for everyone. Everyone wins when they are in Treamer.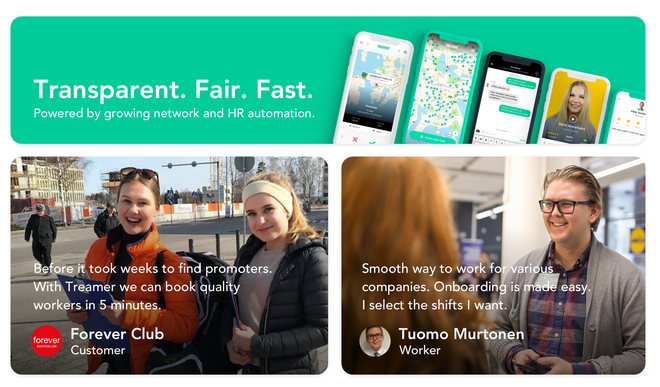 Unsere Geschäfts- und Marktsituation
Unsere Geschäfts- und Marktsituation
The staffing industry is huge. The industry is growing fast and changing. Globally, the market size is €417 billion with the annual growth rate of +5%.  The European market is currently €146 billion and even the Finnish market is approximately €2 billion. Notably, the market penetration of Finnish staffing markets (1.2%) is dramatically below the European average (1.9%) and it is expected to triple. However, the Finnish staffing companies are currently not investing in technology. A survey made by The Private Employment Agencies Association (HPL) in late 2017 revealed that a significant part of the Finnish staffing agencies do not see technology having a major impact on their business nor see digitalization to be an important part of their strategy. 
Treamer is digitizing very traditional industry. The biggest competition comes from small staffing agencies but there are not many using digital platforms currently. The ones that are more driven by technology, are approaching market niches, such as construction (Bolt Works) and restaurant work (Sumpli) or employment services for young people (Work Pilots) in Finland. On the European scale, the largest digital staffing companies include Atomico backed JobandTalent, CornerJob and Job Today. In US, the staffing platforms have taken a steady growth for several years. The ones to keep an eye on include Wonolo – a famous Coca Cola spin off and Shiftgig.
Currently most of the work ordered through Treamer is around casual day labour, such as event staff, sales and promotion help, warehousing and maintenance and light office work. Work that can be done without specific education and requires only little briefing. The key to success in this kind of work is the right attitude. This is the reason why the popularity of Treamer has been exploding among the student communities and youth. For them, Treamer works as a stepping stone and important tool for developing self.
Good example of the agile use of the platform comes from the close collaboration with the City of Helsinki. The city has has established a model for engaging their citizens to build stronger communities through Treamer - hiring immigrant youth for taking part in building local events and helping elderly people and single parents. The modularity and flexibility of the service allows it to be used for high variety of projects. Collaboration with the cities is going to play a central part in the internationalization actions.
FINANCIAL FIGURES
Treamer's business model is based on a service fee paid by the employer companies.
Most of the current generated revenue comes from single transactions, ie. paid shifts. The payment is related to the length of the shift, gross salary and the service fee. In 2017, the average payment was €86 (VAT 0%) where Treamer's net profit with the 17.5% margin is €15. The service is 100% free to use for the workers and no other than the legislative labour costs are deducted from their salaries. In March 2018, there were a total of 395 paid shifts with month-on-month growth of 25%. Projected revenue for the year 2018 is approx. €1.1 million.
Recent sales statistics include:
Estimated long-term customer value 7,727€ gross margin for 5 years
Customer acquisition cost 1,099€
91% retention among invoiced customers
Treamer's fast and transparent technology, growing network of business customers and large and growing network of reviewed and rated workers provide long-term competitive advantages. This has also been noted by established staffing businesses. VMP Group, co-operating with Treamer, has started buying Treamer's services and has made an investment in Treamer.
The timing for digitizing the staffing services is perfect. Treamer has been able to develop a brilliant technology stack by listening its customers and users closely. Now we are scaling the business and investing in sales and marketing.

Unser Team
Unser Team
Treamer's team was not created by a chance. Treamer's 8-member team is a combination of people with a passion for making a change and needed capabilities for doing it. Now the team is a solid mix of international startup experience and exceptional technology and design talent. The team has previous startup exits and very impressive advisors.
By adding an infinite pool of positive energy, it is only a matter of time when the concept is scaled to be a global phenomenon. 
Risiken
Risiken
Nicht börsennotierte Wachstumsunternehmen sind risikoreiche Investitionen. Eine risikoreiche Investition birgt z.B. das Risiko des Verlusts Ihrer Investition, mangelnde Liquidität, unregelmäßige oder seltene Dividenden und Verwässerung Ihrer Beteiligung. Bitte lesen Sie diese Risikowarnung sorgfältig, bevor Sie eine risikoreiche Investition tätigen.
Es wird empfohlen, sich mit dem Anlageziel Ihrer Wahl vertraut zu machen, Risiken durch Investitionen in mehrere Anlageziele zu reduzieren und Ihr Anlageportfolio mit liquiden Anlagen auszugleichen. Wir empfehlen Ihnen auch, die spezifischen Risikobeschreibungen der Zielgesellschaft zu beachten, die Sie in den Pitchmaterialien finden.
Dem Pitch liegt ein Bonitätsbericht bei, der für die Investitionsentscheidung relevant sein kann
Financial Risks
Treamer is not yet profitable nor self-sustaining from operating cash flow. Therefore, Treamer requires additional investment such as this one to grow, improve its market situation and maintain solvency.
This funding round may be insufficient to grow Treamer's Finland business to be self-sustaining, and either more funding will be needed or the company would have to shrink its operations or even close.
Future international growth will require significant additional investment which may not be available.

Treamer has loans from outside sources and their related parties. There's a risk that the company cannot pay their debts according to the agreed schedule, which may cause difficulties to the company's operations.
Even though the company has made their financial forecasts presented in this pitch according to careful estimates, there is a risk that they are not met, which may have negative impact on the company's and its shares value.
Treamer's unique concept and passionate team have managed to form a strong and impressive community around the company. Through the valuable network, the company seeks to ensure the necessary resources for growth and the opportunity to influence development in the best possible way.
Regulatory and Legal Risks
Treamer and the companies it is co-operating with officially employ people that are working through the service and is responsible for maintaining employment relationships in accordance with local regulations. A change in the regulatory environment may affect Treamer's operations.
With internationalization, Treamer will need set up separate local subsidiaries that are responsible for managing new employment relationships in new areas.
There are currently no known legal proceedings against the company. However, there is a risk that accidents and any losses created by the workers used through Treamer's platform could result in legal actions against the company.
Treamer strives to be in close interaction with employees, customer companies, and other stakeholders to ensure that the service meets the general work life requirements. Treamer is also involved in developing work services in cooperation with the Ministry of Employment and the Economy and Employment and Economic Development Office. (Http://tyomarkkinatori.fi/fi/uuden-tyon-pilotti/palveluntarjoajat/)
Operations Risks
The company's own team is small, and highly productive. Losing key personnel can negatively affect sales and/or significantly increase costs.
Treamer's success is dependent on the availability and quality of the workers the company recruits. Currently, the company has an excess of quality workers. However, in the future, the company may not be able to retain or attract sufficient numbers of quality workers to sustain its growth.
There is the risk that business customers attribute poor worker quality the Treamer platform instead of the individual worker, and this might significantly hurt sales. 
Treamer continuously develops its operations to better ensure the successful encounter between employees and customer companies. New tools and features are added to the service, which make it easy to fill the shifts, even in situations where unexpected cancellations occur. Employee reliability and activity metrics will be developed together with the users and the users are instructed on the tasks and the use of the service more efficiently. The company keeps close relationships with the employees and customer companies and strives to act proactively in any controversial or dispute situations.