Die Runde ist geschlossen
Medicortex – Rapid biochemical diagnostics for brain injury
Have you ever hit your head and become a bit confused? Have your children encountered such a situation, or have you seen ice-hockey players colliding and lying on ice? You may have witnessed a brain injury.
Dieser Inhalt ist auch verfügbar in
Finnisch
Über uns
Über uns
Accidents happen, but many brain injuries go undiagnosed. Medicortex Finland has developed a solution that gives a quick answer to whether or not a brain injury has occurred. Many who suffered a head injury in everyday situations or in sports were just advised to rest and avoid active play until the symptoms are resolved. In a more serious-looking case, imaging of the head by computed tomography (CT) or magnetic resonance imaging (MRI) may have been made later in the hospital. Still, the majority of the cases of mild traumatic brain injury and concussion remain undiagnosed due to the lack of appropriate diagnostic tools.
We are developing a rapid diagnostic test for detection of traumatic brain injury (TBI) and concussion. TBI is caused by a hit to the head or a sudden motion of the head. The incidence rate of head injury is increasing. For example, in the US the annual average of documented injuries was approximately 1.7 million between years 2001 - 2007, but it grew to 2.5 million cases by 2010. It is estimated that about 2 % of people are continuously living with and suffering from chronic sequelae of TBI. It is called a silent epidemic because of relatively high prevalence and the general unawareness associated with the condition. In sports, an undiagnosed case of TBI can result in premature return-to-play with severe consequences, or in an early onset of chronic neurodegenerative conditions.
Medicortex is a start-up company that was established in 2014 in Turku, Finland. The founder and the CEO, Dr. Adrian Harel realized the excellent reputation of Finland and Turku especially for the state-of-the-art science in brain injuries and for the active business environment in medical diagnostics. TBI and concussion are severely underdiagnosed conditions. Our vision and motivator is the chance to offer a solution for the common human problem and help the individuals who have suffered TBI to be better aware of the condition and manage the situation. Once the development of the diagnostic kit is complete, the next goal is to expand the program to the development of innovative drug to halt the progression of brain injury.
Image: Schematic graph of cellular lesions and biochemical cascades occurring in a brain injury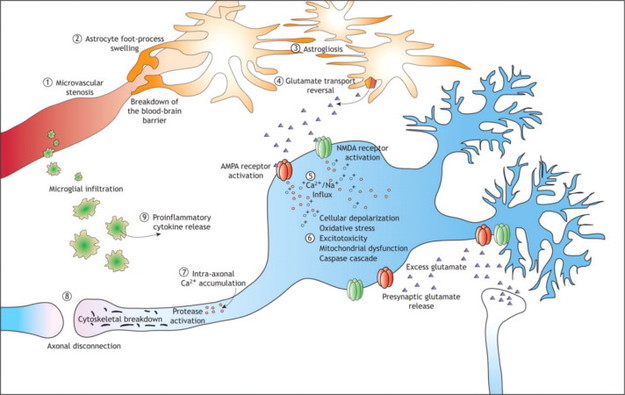 Unsere Geschäfts- und Marktsituation
Unsere Geschäfts- und Marktsituation
We are developing a user-friendly diagnostic test that can be used to confirm or rule out the presence of brain injury soon after the accident. The test is going to be very easy to use. Urine or saliva is applied on a test strip and a clear colored line will appear in a few minutes if brain injury has occurred. In case of no brain injury, a control dot only will appear to show that the test worked correctly.  The test is based on novel biomarkers that we have discovered and we are patenting (WO2016/166419). A biomarker is a biological molecule that originates from the injured tissue and spreads throughout the body in the circulation and body fluids. It can be measured in a sample of a body fluid and its concentration is altered in an injured individual compared to non-injured, thus serving as a diagnostic indicator of an injury or disease.
The market potential is enormous since there are plenty of recognized clients, for example:
Hospitals and emergency rooms, testing incoming patients without the need to perform a CT or MRI
Paramedics in ambulances, to define the degree of urgency of injured patients at accident site
First responders in a mass casualty event
Sport teams keeping the kit in their first aid bags
Army paramedics, keeping it in first aid bag to test soldiers exposed to blast and explosion
Private people buying the kit from a Pharmacy
Insurance companies, relying on the test result when processing accident claims
Pharma companies can use the test as a key component and end-point measurement for new drug development trials
There are no commercial products on the market for near-patient, decentralized diagnostics of TBI. The potential market size is big, however. There are globally at least 10 million new TBI cases per year (very conservative estimations). When each patient will be tested at least twice (first for diagnosis, later for monitoring/discharge) there will be 20 million uses of the test every year plus inventory. At a retail sales price of 50€ per test the potential market size would be 1.000 M€. In addition, Arrowhead Publishers estimates that the US and EU market alone for Point-of-Care Diagnostic Devices detecting TBI will be 850M$ in 2020.
Certainly, several biomarkers have been studied for TBI but their applicability and correlation with the severity of brain trauma is yet to be demonstrated. There are companies that are developing decentralized near-patient diagnostics for TBI; their approaches are based on either a biomarker detection in a body fluid or in portable EEG-recording devices. All these need electricity supply for operation or medical professionals for sampling and for translation of the results. Our user-friendly, everyman diagnostic tool enables TBI detection without the electricity supply from non-invasive samples of body fluids, and it does not require medical professionals to interpret the result.
Thus, we can be the pioneer in the business and create the market. Our competitive advantages are the unique molecular nature of the biomarker (not a cytokine or protein) and the fact that the biomarker can be detected from non-invasive samples of body fluids, preferably in urine or saliva. The type of the biomolecule we are detecting and the sample materials are such that they have been less investigated for TBI diagnostics, so we have a good intellectual property advantage to protect the use of the concept for the TBI detection.

Unser Team
Unser Team
The team combines vast experience in neurobiology, clinical practice, medical diagnostics, bioanalytics and business administration.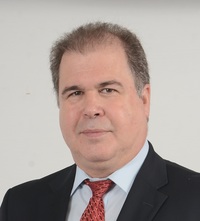 Adrian Harel
PhD, MBA, CEO, Chairman of the Board
Adrian Harel has a PhD in neurobiology from the world-renowned Weizmann Institute of Science in Israel, and an MBA from the University of Haifa. Dr. Harel combines a broad scientific education with extensive regulatory, clinical, and managerial experience. Prior to founding Medicortex in 2014, he served as CEO of several companies that specialize in early-stage drug discovery and development.
https://fi.linkedin.com/in/adrian-harel-ph-d-8415891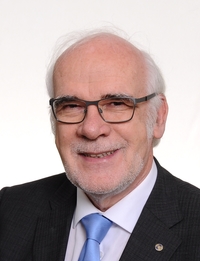 Mårten Kvist
MD, PhD, Associate Professor (Docent), Medical Director, Board Member
Dr. Kvist is an experienced general practitioner, clinical instructor and scientist. In addition to the domestic affairs, Dr. Kvist has served as a consultant and advisor for WHO in several countries.
https://fi.linkedin.com/in/m%C3%A5rten-kvist-98a18541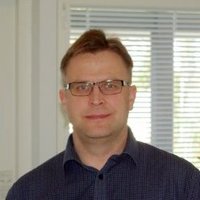 Risiken
Risiken
Nicht börsennotierte Wachstumsunternehmen sind risikoreiche Investitionen. Eine risikoreiche Investition birgt z.B. das Risiko des Verlusts Ihrer Investition, mangelnde Liquidität, unregelmäßige oder seltene Dividenden und Verwässerung Ihrer Beteiligung. Bitte lesen Sie diese Risikowarnung sorgfältig, bevor Sie eine risikoreiche Investition tätigen.
Es wird empfohlen, sich mit dem Anlageziel Ihrer Wahl vertraut zu machen, Risiken durch Investitionen in mehrere Anlageziele zu reduzieren und Ihr Anlageportfolio mit liquiden Anlagen auszugleichen. Wir empfehlen Ihnen auch, die spezifischen Risikobeschreibungen der Zielgesellschaft zu beachten, die Sie in den Pitchmaterialien finden.
Dem Pitch liegt ein Bonitätsbericht bei, der für die Investitionsentscheidung relevant sein kann
We offer investors a clear path towards value creation. While the risk is initially relatively high, it will be reduced as each milestone is achieved, simultaneously increasing the company's value. Given the immense market potential, the company believes that the risk-benefit ratio is favorable. Medicortex believes that its investors should have the opportunity to exit and secure their profit at every successful milestone, at the investor's sole discretion.
Scientific risks. As usual in life sciences business, unrecognized and undisclosed biochemical pathways can introduce challenges that were not identified beforehand. We have sought to minimize the scientific risk by reviewing literature carefully, by hiring experts and by performing sufficient preclinical and preliminary clinical studies to base our plans. The expertise we have allows us to solve scientific problems and choose alternative approaches if necessary.
Financial risks. In the case that we fail to raise sufficient funds we cannot carry out entire R&D plan. In this situation, the management need to reconsider and prioritize the experiments to be done and which ones to leave out. We have created good networks and we are all the time active with venture capitals, angel investors and funding institutions to raise the funds needed. Due to the high costs of the development projects and the fact that the company does not have a product on sale (but is operating with private investments and support or loan from funding institution) the own equity went negative after the financial year 2015.
Regulatory obstacles. Medical devices are under regulatory control. The regulatory requirements are constantly changing and modified both in the European territory and in the United States. Diagnostic devices are, however, burdened with lesser regulation than new drugs and we are aware of the list of requirements we need to satisfy.
Competition. We are facing competition from various academic institutions and diagnostic companies attempting to develop similar diagnostic kits. If a competitor will get to the market before us, it will require additional work on our behalf, for example, to compare our kit to theirs. The comprehensive patent protection that we are supposed to have largely protects our technology but someone can try to circumvent or violate one's patent. Since the potential market size is huge even having a smaller part of the market will be beneficial to us.
Patent. The patent application was made with one of the most professional and experienced law firms in Finland (Kolster). Still, there is a risk that the patent may not be approved as an entity, or some of the claims will be challenged. The company will use its expertise and results to address these issues, but not having a patent is a possible risk.