Die Runde ist geschlossen
WeTaskit - Local talent on tap
The rise of unemployment due to the inflexibility of the labor market in Finland demanded a better solution. WeTaskit is a modern platform for quickly and easily finding local talent for short projects.
Dieser Inhalt ist auch verfügbar in
Finnisch
Über uns
Über uns
WeTaskit started its journey in July of 2015 as "project Skillfied", with the target of making the labor market more flexible. In Finland, staffing companies represent only 1.4% of the total employment, a number that has remained stagnant for the past 8 years, while the unemployment rate has steadily crept up from 6.4% in 2008 to 10% in spring 2016.
Meanwhile in the United States, the percentage of staffing companies of the total labor market has gone from 12% to 18%, and the unemployment rate from 10% to 4.9% between 2008 and 2016.
The American trend proves that increased flexibility in the labor market is a fundamental requirement for lower unemployment. The ever accelerating change in the global marketplace demands for more flexible approaches for employment. Today, the need for human labor is fluctuating rapidly within companies, because of the increasing need for experimentation, test-runs, trials, pop-up stores, guerrilla campaigns and other agile approaches to bring new products and services to the market faster.
Unfortunately, the labor unions and government regulators in Finland have chosen to keep the labor market rigid, following the soviet-style long term planning cycles. This has lead to simultaneous shortage of talent for short term needs and ever increasing unemployment.
This is about to change with the introduction of the Basic Income trial, which is due to launch in 2017. Basic Income makes unemployed people available for short-term projects without destroying their livelihoods. To gain the full benefit of this major change, we need better technical solutions to match the talent to the needs in real time. WeTaskit has built that solution - with us, talent to your short term project is only a tap away. We are the pioneers in this field in Finland.
We will pilot and pioneer our revolutionary approach to short term employment in Finland, and plan to expand to bigger markets as the basic income model gains traction, making a new segment of short-term labor available worldwide. Given continued progress in the regulatory environment toward a more flexible labor markets, we estimate the market opportunity for short-term employment in Finland to be proportionally the same as in the US, at least 18% of the total workforce, and plan to be the clear market leader in this segment.
For an example of what our platform is able to do, please see the following articles that showcased one of our pilot-events organized together with the city of Helsinki:
Unsere Geschäfts- und Marktsituation
Unsere Geschäfts- und Marktsituation
Our solution
WeTaskit is a web service, where businesses are able to request a freelancer for their short term needs. We have put a considerate effort into minimizing the work for our customers. The process is extremely simple, the user only needs to communicate their exact need by answering a few simple questions, and our algrorithms will suggest the most suitable freelancer candidates.
With this kind of approach, our customers don't need to go through the hassle of browsing numerous applicants and choose some for interviews. The short-term nature of the projects require systematic trust, and well built self-learning algorithms to match the best candidates for the needs. The payments will be directed to WeTaskit, and we take care of paying the respective freelancer. With our transparent rating system, the quality of work is guaranteed. 
Our service is created for businesses that have fluctuating needs for short-term help. Simple projects such as events, pop-up stores, project work such as creating a contact database, scanning a pile of documents, or clearing a storage. We offer full flexibility, completely removing the barriers of employment. 
Market size and competition
We are in the staffing market, which currently represents 1.4% of the workforce in the Finland. By removing all barriers from using temporary help, we plan to expand the market to 18% of the workforce, and become a clear market leader in the process.
Competition
In Finland, the staffing companies such as Barona, Adecco, Manpower, Opteam and others are the closest competitors for WeTaskit.
Because of the regulation and their own historical structures, these staffing companies focus on long term contracts, and don't like to do short term gigs. We, on the other hand, focus on gigs that last hours or days, making us the most agile player in the market.
We believe it will be very hard for the staffing companies to compete with us by offering short term gigs for the following reasons:
By making contracts short term, they will aggravate and alienate their own employees, who have been selected via laborous interview processes, and expect long term employment.
By making contracts short term, they will significantly hurt their profits, that depend on long-term agreements.
By making contracts short term, they will aggravate the labor unions, who have fought hard to keep the staffing agencies from making the labor market more flexible.
Talent on our platform fully expect the gigs to be short term, making us an attractive source for those companies looking for talent for short term projects. The opportunity we offer is very different from what the traditional staffing agencies offer.
In addition to recruitment agencies, there are different mobile applications, which focus on delievering temporary help for households. These applications face an uphill battle with customer acquisition costs being often higher than cash flow from operations due to not having large enough scale. Many German and American companies have spent hundreds of millions into marketing these consumer services, and have yet to see a profit from their operations. We believe our B2B approach is much more agile and healthy.
On global scale, the closest competitor to us can be found in United States. Their focus is the same with weTaskit, but instead of taking a commission from freelancers, they take payment for each sent message to the possible customer. This is the same business logic as in e.g LinkedIn InMail. WeTaskit focuses on creating more value by saving the customer the hassle of comparing and checking out different candidates for the work. 
Business model
From each job done by our freelancers WeTaskit takes a 20% commission that is deducted from the total invoiced fee from the customer. We are competitive, because we make it so simple for companies to find and hire freelancers. The staffing agencies often add a 40-60% markup on their employees, and have built heavy organizations for the interviews and management. This gives us an opportunity to take a significant portion of the added market by staying more agile than anyone else.
Product development
The development of our service started in 2015, when we raised 90.000 euros of funding from business angels. Our first prototype was a service for households, including tasks such as cleaning, moving or taking care of pets. The household would post a task in the service, and someone nearby could apply for the task. During our testing, we realised that this concept requires a massive amount of marketing resources and time, before this could become a real, profitable business. We decided to pivot and focus on direct sales to businesses, where we identified a much faster path to growth and profitability. 
Business traction
We have a preliminary agreement for a pilot with a major Finnish retailer and a big Finnish media house. They will use our service to source 20-40 freelancers for 2 stores to clear their storages once or twice a month during the piloting phase and for writing marketing material plus translating it. There are multiple more companies in negotiations.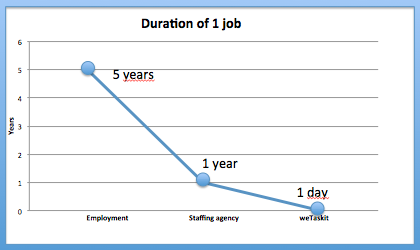 Unser Team
Unser Team
Our operative team consists of six members: Three founders and three developers. We started out with three people (Matias, Tuomas and Antti) who have known each other for the past 11 years. We then added three software developers, who are very talented and goal oriented people. Together, we have formed a unified family with results to be proud of. We make decisions together with our investors and board advisors who have a combined experience of 100+ years from start-ups. For us it is vital to seek council from experienced businessmen who give great advise and minimize our mistakes.
The team has a various field of expertice. Our CEO has a Bachelor degree in Business Administration, our CFO has been in the banking industry for 6 years, and our CMO has been the top performing sales person in his respective company for some time now. Our CEO, Tuomas, formed this company by telling about his vision to Antti and Matias, who then decided to join this venture. We all have the same shared vision of what WeTaskit means and what it is meant to do.
Our team works well together and we tend to set our goals very high. Our vision of fixing the employment for the modern era motivates us, and we see it as a laudable and noble goal. But we also see it as an audacious, bold vision. We know that our work, if successful, can have a material impact on the success of our society. This keeps us motivated and working hard, through the struggles and challenges that we will inevitably still face.
Risiken
Risiken
Nicht börsennotierte Wachstumsunternehmen sind risikoreiche Investitionen. Eine risikoreiche Investition birgt z.B. das Risiko des Verlusts Ihrer Investition, mangelnde Liquidität, unregelmäßige oder seltene Dividenden und Verwässerung Ihrer Beteiligung. Bitte lesen Sie diese Risikowarnung sorgfältig, bevor Sie eine risikoreiche Investition tätigen.
Es wird empfohlen, sich mit dem Anlageziel Ihrer Wahl vertraut zu machen, Risiken durch Investitionen in mehrere Anlageziele zu reduzieren und Ihr Anlageportfolio mit liquiden Anlagen auszugleichen. Wir empfehlen Ihnen auch, die spezifischen Risikobeschreibungen der Zielgesellschaft zu beachten, die Sie in den Pitchmaterialien finden.
Dem Pitch liegt ein Bonitätsbericht bei, der für die Investitionsentscheidung relevant sein kann
The main risks we face include performance risks, environmental risks, and competitive risks, some of which are listed below.
We may fail to execute on this business opportunity. For example, we may fail to sell our service to enough customers to reach a profitable business. To mitigate this, we will work very hard on the customer acquisition, and believe we have enough relationships and sales experience to close the needed customer deals.
We may fail to automatically qualify freelancers, delivering an inferior customer experience leading to bad reputation. This can be mitigated by investing our work for manual qualifications early on, accepting lower profits as a result.
We may fail to deliver enough talented freelancers to our customers. This can be also mitigated with hard work, and by finding customers whose needs we can match with better likelihood.
We may lose key employees. We lower this risk by creating a stellar company culture, and by making this into a good business in a short time frame, creating opportunities for everyone.
We may run out of cash before achieving profitability. We have a lean structure that is highly resilient to adversity, and we are willing and ready to raise more funding as needed.
The government regulation and worker unions may stop us from making our service a viable business. We believe this risk to lower over time as the global competition forces Finland to take more flexible approaches to labor market to increase employment.
Deep-pocketed staffing companies or international companies may enter the market and outcompete us. This is a possibility, but we plan to challenge that by creating a short-term focused culture, message and securing a matching labor force. People working for staffing companies often have an expectation of more long term engagement. We also think our business model of 20% cut is competitive, and it will be hard to match by the traditional staffing companies.
As we are expanding abroad, we will face numerous challenges due to cultural and regulatory differences. We will need to make ourselves an authority that people can trust. And that trust plays a key factor in our service.