Die Runde ist geschlossen
Nukute - easier diagnostics for sleep apnea
Nukute is an Oulu-based health technology company that develops, markets and sells solutions to support the diagnosis and monitoring of respiratory and pulmonary diseases.
This funding round uses a holding company structure for investors which means that the investors won't hold shares directly in Nukute Oy. Please read its description from the "Information on the issue terms" section.
Dieser Inhalt ist auch verfügbar in
Finnisch
Über uns
Über uns
Intro
Nukute is an Oulu-based health technology company that develops, markets and sells solutions to support the diagnosis and monitoring of respiratory and pulmonary diseases. The first product, Nukute Collare, crucially facilitates the diagnosis of sleep apnea. Another product, Nukute Monitor, provides doctors with a much-needed opportunity to monitor the well-being of patients with respiratory and pulmonary diseases as well as Acute Respiratory Distress Syndrome (due to COVID-19 infection, among others) in both hospital and home care.
Our story
The story of Nukute began in early 2015, when the company's founder Tuukka Visuri discussed the treatment and diagnosis of sleep apnea with a friend. The friend had been diagnosed with severe sleep apnea, and he complained about how difficult it is to sleep at night with an overpressure mask on his face. Getting a sleep apnea diagnosis was also tricky because one had to wait a long time to take the test, and when it was finally achieved, the test equipment was tricky to use and uncomfortable to sleep with. Tuukka set out to investigate and found that there were few alternatives on the market for easy-to-use and patient-oriented diagnostics and therapy. The idea of ​​founding Nukute became clearer, and he asked Toni Leinonen to be the second founder.
The company received the first external investors from Pekka Virtanen and Johannes Gullichsen, who have been supporting the development of Nukute since then. In addition to angel investments, the company received research and development funding from Tekes. At the beginning of 2017, the product had taken on the shape of the current collar that can be worn around the neck.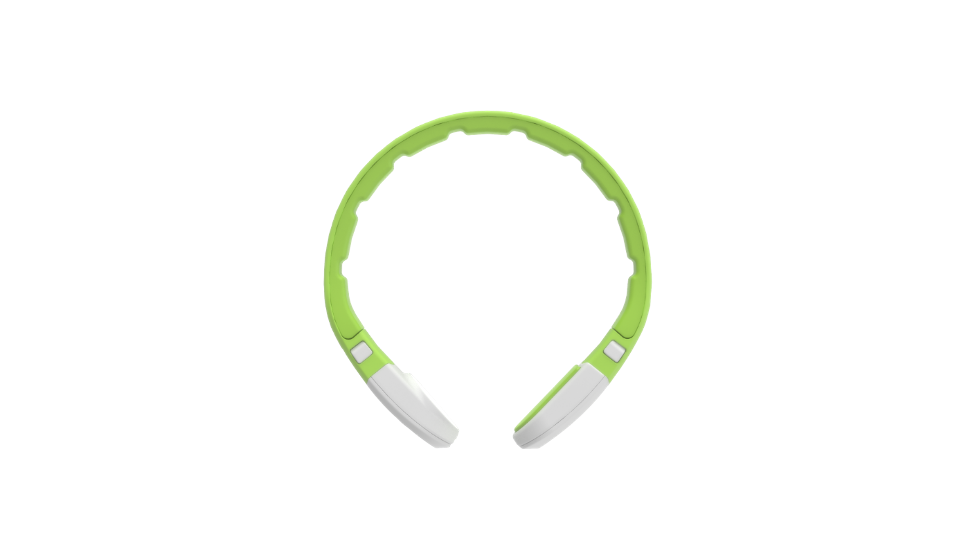 Named Nukute Collare, the product was a completely new way to measure and monitor a patient's breathing. The first pre-clinical tests were performed at Oulu University Hospital, and good results were obtained. Based on these results, at the end of 2017, the EU provided € 1.75 million in support from the Horizon2020 SME2 program to Nukute for the commercialization of the solution; only about 5% of companies applying for this funding will be accepted into the program. In addition, Nukute was selected as one of the top 10 out of about 500 companies applying for the program. Nukute was thus seen as a potential solution to the very underdiagnosed sleep apnea problem that affects nearly a billion people - and most unknowingly.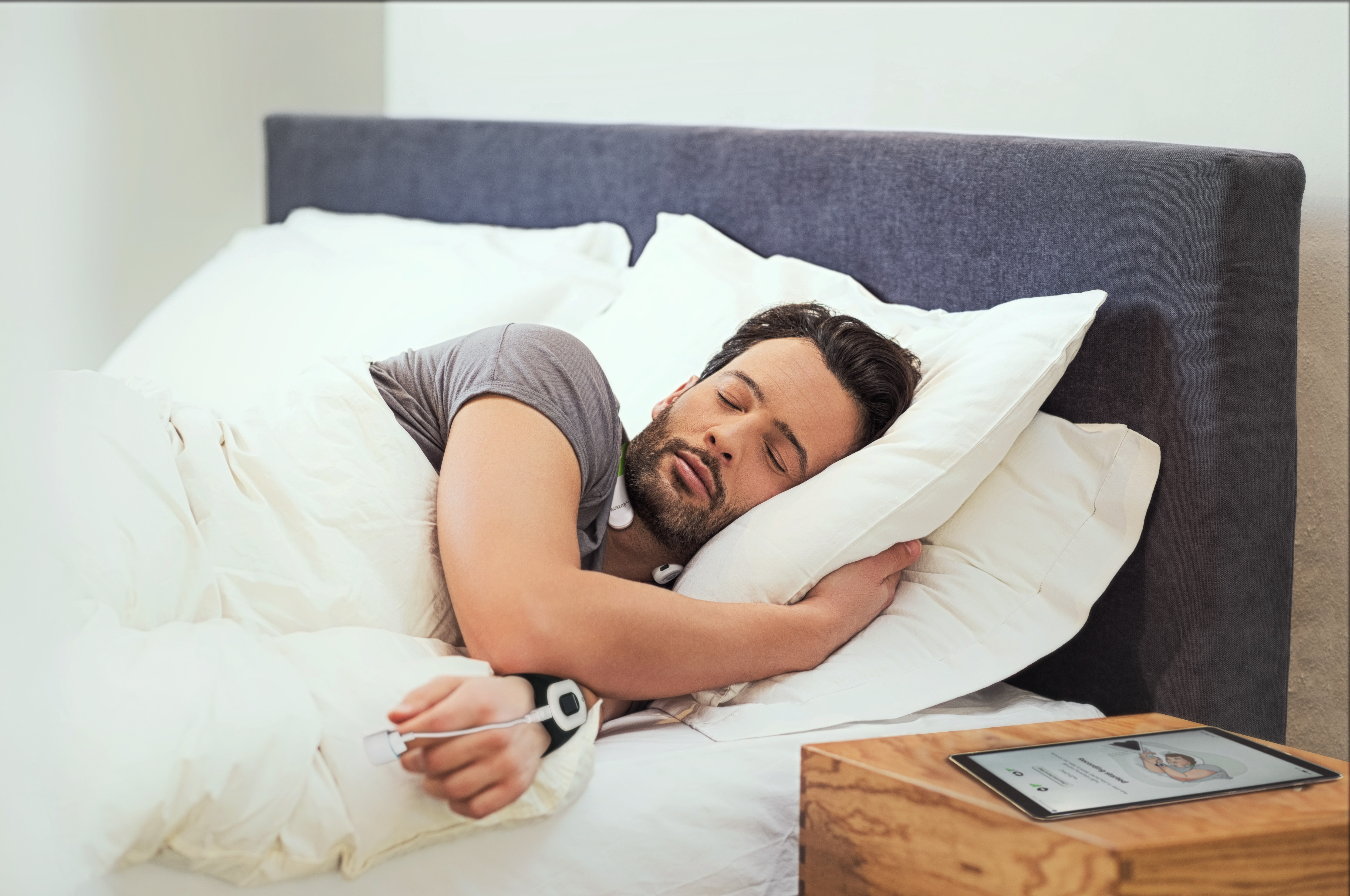 During the productization project 2017-2020, the number of personnel in Oulu increased to the current 15 employees. A quality system for the development and manufacture of medical devices was established for the company and certified to meet the requirements of the ISO 13485 standard. The Nukute Collare was completed and its type approval tests began in the fourth quarter of 2019. Now all the tests have been passed, ISO 13485 certification has been obtained and the Collare product is expected to bear the CE mark and a marketing authorization in the EU during June 2020. 
In March 2020, we at Nukute realized that our technology and know-how could also be used to monitor patients infected with coronavirus, both at home and in the hospital ward, with minor software changes. This finding launched a rapid product development project that will result in a revolutionary Nukute technology to help those infected with COVID19. Clinical trials of the Nukute Monitor service will begin during June 2020.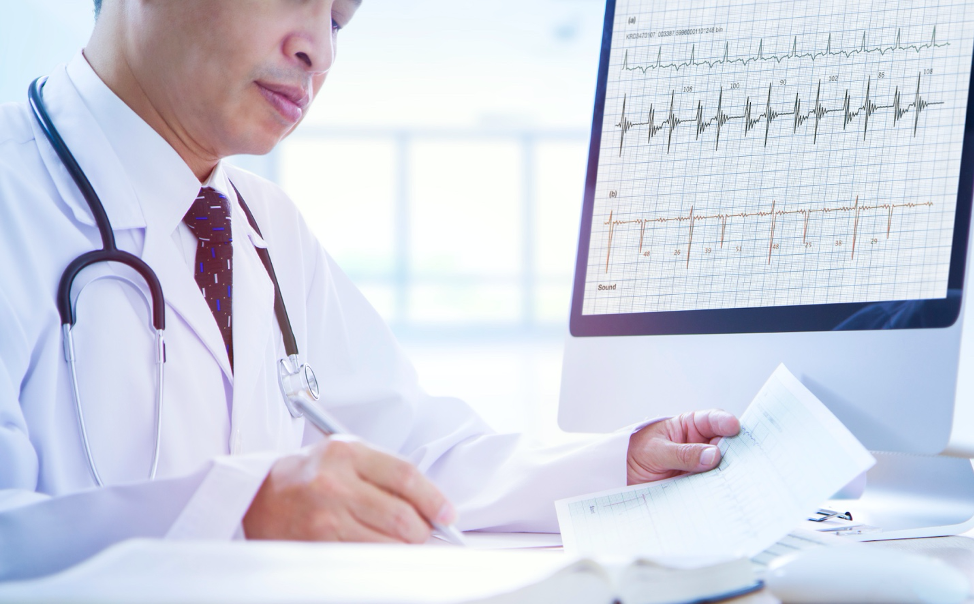 Why invest in Nukute ?
Nukute is now at a major turning point in its short history in obtaining the CE mark and marketing authorization for its medical device, which has huge potential globally. The investor should take into account following factors when considering investing in Nukute:
Sleep apnea is a severe health problem and the current equipment used to diagnose it are difficult and uncomfortable to use.
The Nukute Collare hardware and the test itself are designed specifically for home use.
Due to the tracheal measurement method, the Nukute technology is especially suitable for listening and monitoring respiratory and pulmonary diseases.
The coronavirus pandemic has opened up a huge opportunity for Nukute to provide a quality and safe solution for monitoring infected patients at home and in the hospital.
A sales channel collaboration with a globally operating sleep apnea market leader has already been agreed.
There is high unit profitability in the sale of sleep apnea diagnosis.
Anyone who invests at least 4000 € in Nukute in this round will receive a one-night loan for sleep apnea measurement for themselves or their loved ones, if they wish. The measurement gives a traffic light-type result and the opportunity to buy a doctor's opinion for 150 euros (vs. night polygraphy in the sleep clinic for 450 euros). Anyone who invests at least 10 000 € will receive both; a one-night loan for sleep apnea measurement and the doctor's opinion.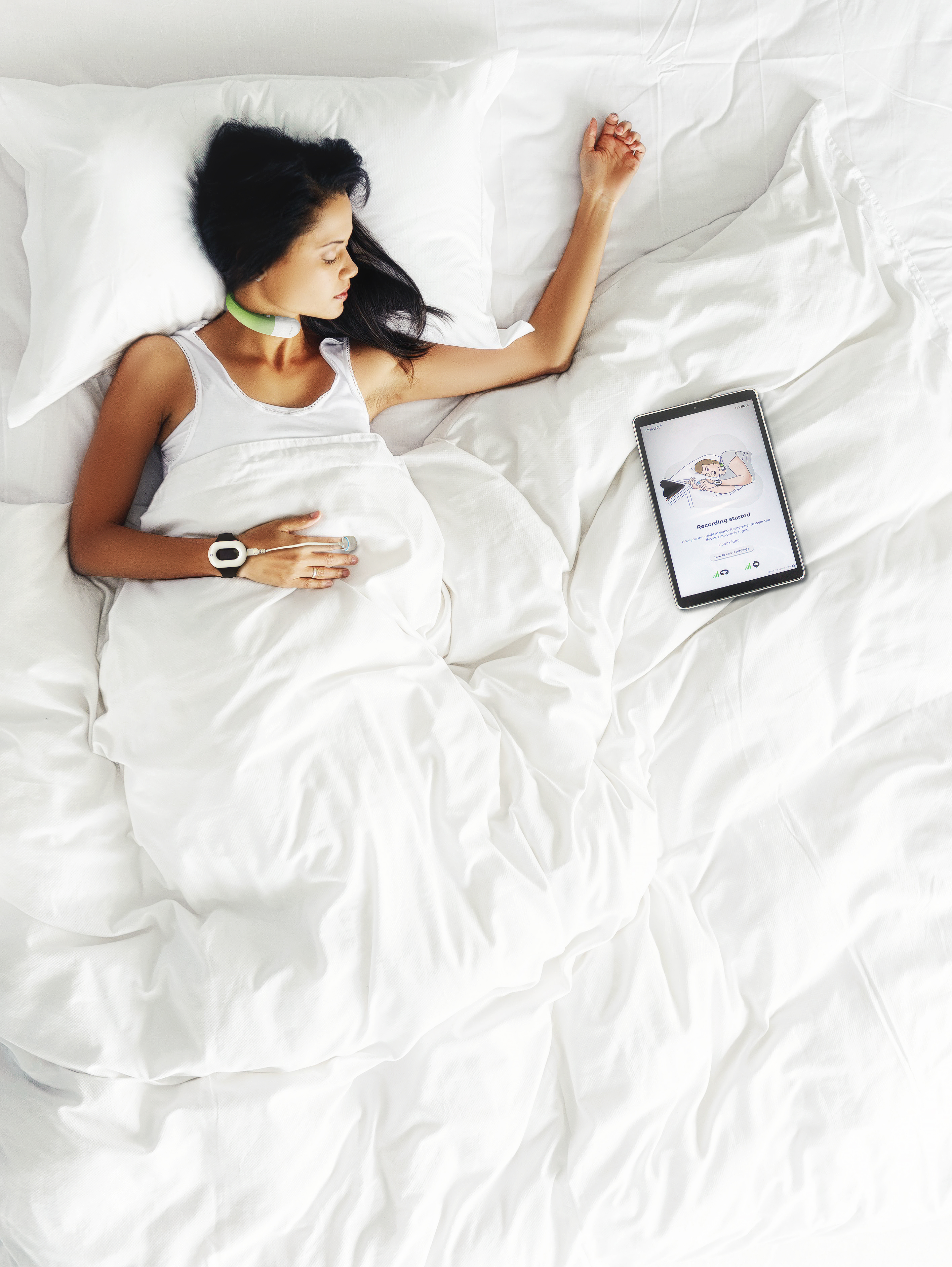 Unsere Geschäfts- und Marktsituation
Unsere Geschäfts- und Marktsituation
The Diagnosis and Monitoring of Respiratory and Pulmonary Diseases
Nukute designs, manufactures and markets solutions for sleep apnea screening and support for listening, analyzing and monitoring respiratory diseases.
The goal of the Nukute is to achieve a strong position in the market for devices and methods that support the diagnosis and treatment of respiratory and pulmonary diseases. Listening to the tracheal sounds of the neck area with sensitive sensors and analyzing it with the help of machine intelligence gives an accurate overall picture of the state of the respiratory system of the patient being monitored.  
Sleep apnea is the most common sleep disorder and causes severe quality-of-life symptoms in those who suffer from it if left untreated. Untreated sleep apnea leads to a decline in cognitive abilities: a person with sleep apnea is unable to concentrate, suffers from headaches and drowsiness, and generally low energy levels. Statistics show that hypertension, cardiovascular disease, stroke, and diabetes may be relevant in the association between sleep apnea and mortality, but understanding the specific mechanisms by which sleep apnea increases mortality still requires further research (American Academy of Sleep Medicine, AASM).
The first step to accessing treatment is to diagnose the patient, and Nukute has developed a way to conduct patient screening in a patient-oriented manner. The patient is lent the Nukute Collare device from the hospital. The Collare device measures sleep breathing, blood oxygen saturation, pulse and the patient's position at home and sends this information to the Nukute cloud service for analysis. The analysis software operating in the cloud service generates the measurement results (apnea-hypopnea index) necessary for making a sleep apnea statement and presents them to the doctor treating the patient in the user interface created for this purpose. Based on the results, the doctor makes a diagnosis and, if necessary, a referral to the patient for further treatment based on how severe the sleep apnea is. 
Nukute technology is based on the detection of respiratory flow abnormalities. It is therefore well suited for monitoring respiratory and pulmonary diseases. More commonly, these include asthma, COPD, and sleep apnea, sometimes with less common respiratory illnesses. Understandably, however, COVID-19 receives the most attention for respiratory infections and infections. The Nukute Monitor is particularly suitable for monitoring these patients with Acute Respiratory Distress Syndrome (ARDS). Test monitoring of COVID-19 patients will begin in stages at the University Hospitals of Helsinki and Oulu during the summer. 
Nukute technology will also be applied to monitor Chronic Obstructive Pulmonary Disease (COPD). COPD is a common preventable disease characterized by persistent respiratory symptoms, progressive airway obstruction, and chronic inflammation, which in turn occurs when a person is exposed to harmful particles and gases while inhaling. The diagnosis of COPD is based on the history of exposure, symptoms, and bronchoconstriction (obstruction) seen in post-bronchodilator spirometry. The spirometer, which is commonly used as an aid to diagnosis, is challenging for both caregivers and patients in that a one-time test requires a stress test. With the Nukute technology, the study is performed at home without stress tests by monitoring the breathing profile and oxygen consumption of the test person at different times of the day. 
Industry and Market Outlook
Sleep apnea is a highly underdiagnosed disease globally. According to The Lancet, there are 936 million people with sleep apnea in  the world, 80-90 percent of whom are undiagnosed and thus out of follow-up care. According to the Respiratory Association  there are 300,000 people who suffer from sleep apnea in Finland alone, and only a small proportion of them have been diagnosed and treated. According to news reports , for example in Finland, the annual growth of sleep apnea diagnosis has been over 50% in some places in 2019, in some estimates the growth has been estimated at as much as 150%. The sleep apnea device market was $ 5.9 billion in 2019 and in 2027 it is assumed market research to be $ 10.3 billion based on, and the sleep apnea diagnostics market is forecast to grow at an annual rate of 7.4% in 2020-2027.
Outlook for the near future for Nukute is excellent also because since the beginning of 2019 there has been a written about sleep apnea in the media. This has increased the number of referrals as well as lengthened the queues of patients waiting to be diagnosed with sleep apnea. Growing global awareness of the symptoms and consequences of sleep apnea may increase the need for screening and diagnosis.
According to a report by Grand View Research, the global market for devices to support the diagnosis and monitoring of respiratory diseases is growing at an annual rate of 12.1%. The market is expected to grow to $ 28.95 billion by 2024 (Market data forecast). The market is driven by the increased incidence of respiratory diseases and, above all, the current coronary situation. According to the International Respiratory Forum, more than 200 million people worldwide suffered from chronic obstructive pulmonary disease (COPD) and 235 million suffered from asthma in 2014. The impact of COVID-19 has not been considered in these estimates because reliable studies are not yet available. However, a pandemic can be expected to exceptionally change the market for respiratory disease diagnosis and monitoring equipment.
Business and earning model
Nukute's customers include hospitals, sleep clinics and e.g. occupational health stations in both public and private medical care. The income of Nukute consists of the sale of equipment and services; sleep apnea tests (Nukute Collare) and monitoring days (Nukute Monitor) are billed as services. The Nukute equipment is manufactured by a contract manufacturer (Sanmina), one of the largest companies in the industry and operating globally. Therefore, the scaling of the manufacturing is also straightforward.
Nukute products are delivered to customer organizations in practice by a sales channel partner who also enters into agreements with them in different countries. A company is chosen as a sales channel partner whose product portfolio is well-suited to Nukute's offering and which is able to effectively scale sales first in the EU and then in Asia and North America. A Clinical Evaluation Agreement has been signed with ResMed Inc. in the United States on February 27, 2020, in which ResMed undertakes to export the Nukute product to its hospital customers for evaluation on a roadshow tour by the end of August 2020 in Finland, Sweden, Denmark, Norway and Germany. If customer organizations want to outsource the preparation of sleep apnea diagnosis in its entirety to include a doctor's report and referral, Nukute also offers this service using its own and its partner network's sleep doctor resources.
The Nukute Collare package includes an actual collar, a fingertip oxygen saturation meter and a tablet computer held on the bedside table. They wirelessly collect information about a patient's night-time breathing and several other biosignals in the body. The tablet submits the data to the Nukute Cloud Service, which actually analyzes the patient's nighttime sleep events and looks for possible sleep apnea attacks. The central part of Nukute's sales revenue arises from the invoicing of sleep apnea measurements performed in this way. The hospital or sleep clinic buys a report of the diagnosed patient's night's sleep from the Nukute Service, which graphically presents the sleeping physician with sleep apnea signals and the so-called apnea-hypopnea index (AHI) calculated on the basis of them. Based on the information received, the patient's doctor will make a diagnosis, or Nukute may also offer the actual diagnosis at an additional cost. This, in turn, allows client organizations to outsource the screening of their sleep apnea patient queue to Nukute entirely.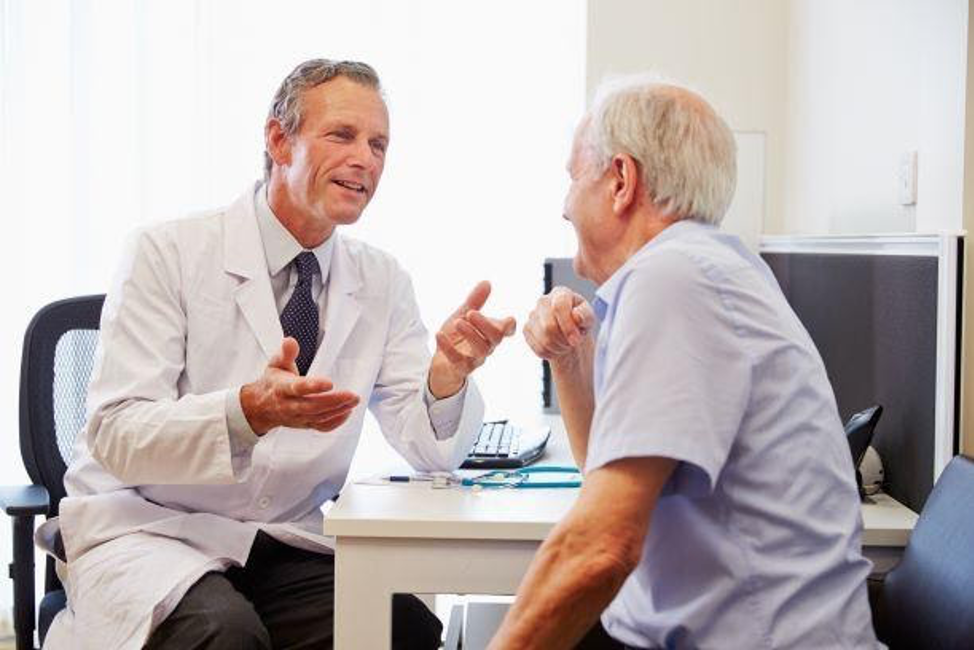 Different countries have different procurement models for medical technology. Thus, the ratios of Nukute returns may vary from market to market, with emphasis on equipment sales in one market and service billing in another. Flexibility in pricing models gives Nukute a competitive edge.
The aim of Nukute is to provide the best solution on the market for the diagnosis of sleep apnea, both in terms of patient experience and in terms of cost-effectiveness in the healthcare sector. Nukute has successfully conducted extensive usability studies at Oulu University Hospital with a value of 4/5. Once these usability goals are met, Nukute can aim for a leading position in the sleep apnea screening and diagnostics market. By increasing the intelligence of the analysis software, the activities of sleep physicians can be supported, made more efficient and faster. The goal of the further development project, which has already started, is to develop a new type of therapy product, alongside a diagnostic product, which would provide a significant improvement in the user experience compared to current overpressure masks.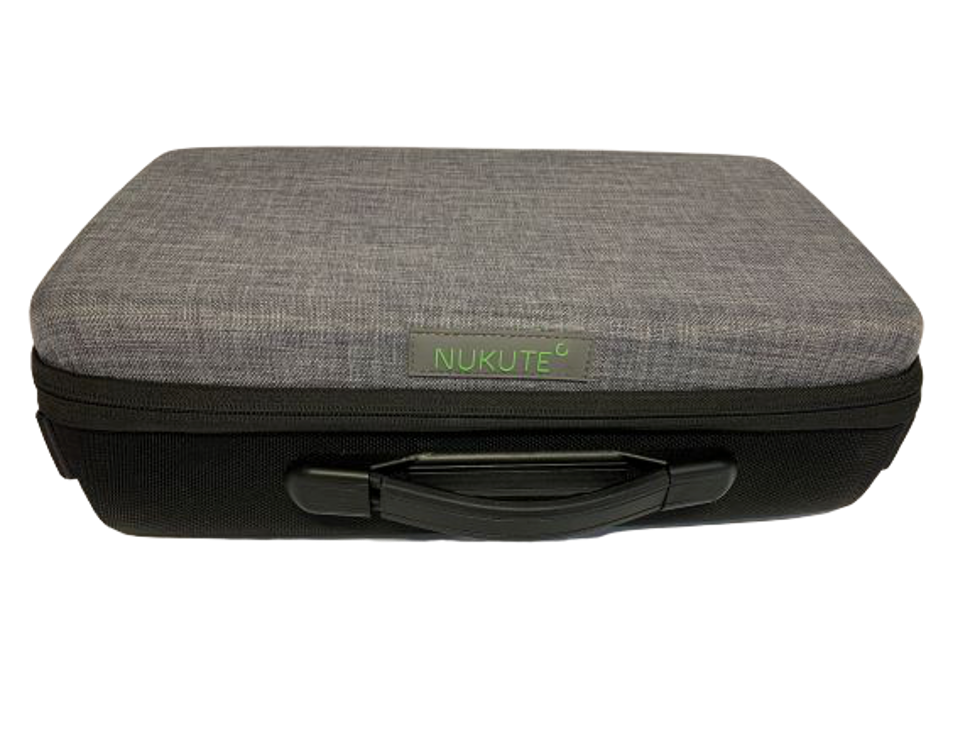 Nukute aims to deliver approximately 30,000 Collare units (including 25,000 future treatment devices) by the end of 2023. Each device is scheduled to perform 1-2 tests per week.
The Nukute Monitor, which was initially implemented to monitor coronavirus patients, is also suitable for monitoring respiratory symptoms caused by other diseases. The evolution of a coronavirus pandemic is difficult to predict, and it is understandably difficult to present precise business targets. As Nukute's solution is very competitive for this purpose as well, its demand can be very high. The company's ability to meet this demand depends on e.g. the speed of regulatory approval, ie. whether it is time to obtain the required medical device approval for the product or, alternatively, the exemption required to sell the solution during a pandemic. The impact of the following waves of the pandemic on demand in different countries is unpredictable.
Competitive Landscape
In sleep apnea screening and diagnostics, there are several actors with their own solutions to treat the problem. For a summary of competitor analysis, please refer to link in the document. The most significant of these from Nukute's point of view is the Icelandic Nox Medical, whose solutions (T3 and A1) are widely used in the Nordic countries. Only in Nukute technology is the patient's breathing measured from the neck using a contact microphone.
Growth Objectives and Measures
The first Collare product of Nukute is intended to support the diagnosis of sleep apnea, for which there is a huge global market. Nukute aims to have a significant share of the sleep apnea diagnosis equipment market. This goal is achieved through distributors in the industry and, above all, through active sales work. An important part of supporting growth is the production of scientific publications in collaboration with researchers in the field.   
The goals of Nukute are guided by the needs of respiratory and pulmonary disease monitoring. The most common respiratory and pulmonary diseases are COPD, asthma, sleep apnea, and infections and syndromes due to infections such as Acute Respiratory Distress Syndrome (ARDS). With its technology, Nukute aims to achieve a strong position in the market for devices that support the diagnosis and monitoring of these diseases. The goal will be achieved gradually, starting with the monitoring of Acute Respiratory Distress Syndrome (ARDS) and expanding more generally to respiratory and pulmonary diseases such as COPD. 
Treatment for a CODIV-19 patient costs an average of $ 73,000 in the United States, according to Businessinsider . The average reimbursable cost of insurance is $ 30,000. About 15% of those infected are hospitalized. The Nukute solution can significantly reduce patient hospital visits and shorten the time spent in hospital, which substantially reduces the risk of virus infection. Patient prognosis is also improved because real-time data can be used to make better and more accurate decisions about the timely transfer of patients from home care to hospital and from hospital wards to intensive care, as well as more precise measures such as ventilator care.

Taking into account all business opportunities, we forecast that the turnover of Nukute Oy's sleep business (Nukute Collare) will be EUR 2.0 million in 2021 and EURin 2022 7.1 million. In 2021, our estimate is based on sales of sleep apnea devices (800 units) and AHI reports made with them. In 2022, 1,600 devices are expected to be sold, and revenue generated by AHI reports will increase relative to device sales year on year. We have estimated that in 2024, AHI reports and Monitor monitoring fees will account for approximately 60% of total revenue, or so-called recurring revenue. The development of net sales of Collare equipment and services by market area is presented in the following graph.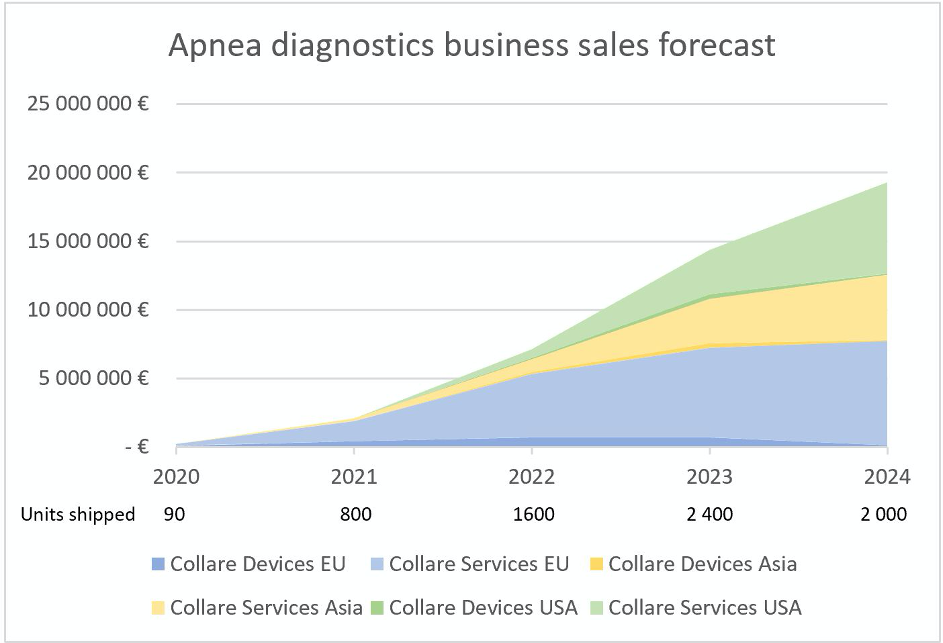 Nukute Oy has a plan for an apnea treatment device that will significantly help patients suffering from mild to moderate apnea, especially those with a posture-dependent apnea. The start of business sales in this segment is in the second half of 2022 and is growing rapidly. Taking into account the business opportunities, we forecast the turnover of Nukute Oy's apnea therapy business (Nukute Collare) to be EUR 0.9 million in 2022 and EUR 3.0 million in 2023. In 2022, 5,000 units are expected to be sold and in 2023 20,000 units will already be sold.
Nukute Oy sees the easy-to-use treatment device being developed as having a very large market globally and huge sales growth potential.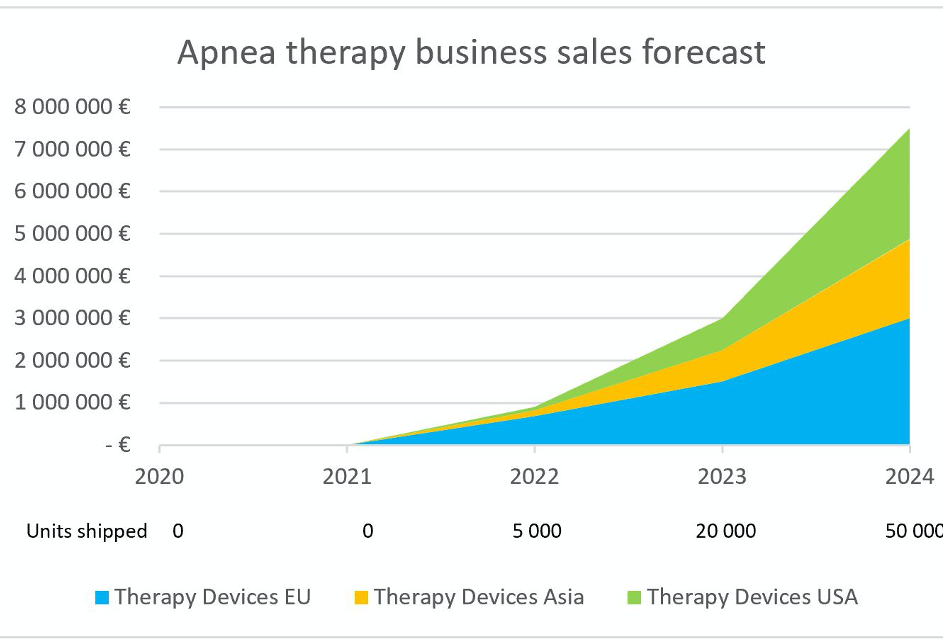 In 2020, the turnover of monitoring related to respiratory infections and infections and Acute Respiratory Distress Syndrome (Nukute Monitor) is expected to be approximately € 0.54 million. The calculation is based on monitoring systems for sale (200) and projected monitoring days, which in 2022 will be approximately 500,000. Higher-than-normal revenue growth is due to the current corona situation. However, we expect it to calm down by wave in a few years. Turnover in this area will still be high in the coming years, as respiratory infections and infections and Acute Respiratory Distress Syndrome are a common problem worldwide. 
Acute Respiratory Distress Syndrome remains common, with an incidence of 78.9 cases per 100,000 person-years, and mortality remains high (38.5%) despite corona. The Acute Respiratory Distress Syndrome (ARDS) market was globally valued at $ 583.8 million in 2018 and is expected to grow to $ 934.8 million by 2026 at an annual growth rate of 6.0% (Reports and data). There are 125,000 new ARDS patients annually in Europe and 170,000 in the United States. This market forecast does not take into account the current corona situation. In addition, the forecast does not take into account the monitoring of respiratory and pulmonary diseases more generally, as Nukute is still in the early stages of building a market in this area. The revenue forecast for Nukute Monitor equipment and services is presented by market area in the graph below: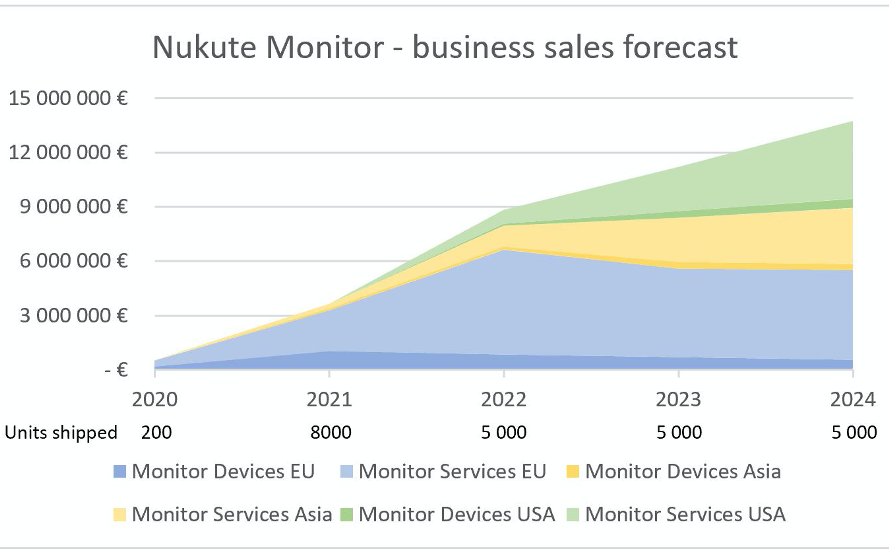 Unser Team
Unser Team
The organization of Nukute Monitor consists of a highly experienced operational team, an active board and world-class scientific advisors.
Risiken
Risiken
Nicht börsennotierte Wachstumsunternehmen sind risikoreiche Investitionen. Eine risikoreiche Investition birgt z.B. das Risiko des Verlusts Ihrer Investition, mangelnde Liquidität, unregelmäßige oder seltene Dividenden und Verwässerung Ihrer Beteiligung. Bitte lesen Siediese Risikowarnung sorgfältig, bevor Sie eine risikoreiche Investition tätigen.
Es wird empfohlen, sich mit dem Anlageziel Ihrer Wahl vertraut zu machen, Risiken durch Investitionen in mehrere Anlageziele zu reduzieren und Ihr Anlageportfolio mit liquiden Anlagen auszugleichen. Wir empfehlen Ihnen auch, die spezifischen Risikobeschreibungen der Zielgesellschaft zu beachten, die Sie in den Pitchmaterialien finden.
Dem Pitch liegt ein Bonitätsbericht bei, der für die Investitionsentscheidung relevant sein kann
Risks related to customers
The Nukute product does not yet have the CE mark and therefore no customers, excluding conditional pre-sales. Oulu University Hospital has entered into a written purchase agreement for five devices and raised the need for twenty devices. After receiving the CE mark, individual customer organizations procure an estimated 1-50 devices per unit, so the termination of an individual customer does not pose a significant risk. If a multi-market distribution agreement expires, its replacement by new distribution agreements may require the conclusion of several agreements with national distributors, which in turn may lead to a temporary slowdown in sales in that market. This risk can be reduced by maintaining a register of end customers with Nukute and by contacting them directly in the event of termination of the distributor agreement.
Risks associated with project success
There are several types of risks associated with project success.
A) The technology chosen is not suitable, sufficiently efficient or mature enough to meet the objectives
B) The need for project funding is underestimated and not sufficient to complete the project
A) The technology chosen, has been in use for about 25 years and is thus a well-known and functional method of measurement. Measurement of oxygen saturation from the fingertip on the principle of the difference in the translucency of two different colors is commonly used in medicine. What's new in the Nukute method, includes bringing the accuracy and resolution of a contact microphone to the top and the simultaneous analysis of data produced by two measuring devices (collar and oxygen saturation meter) using intelligent algorithms. Such algorithms can compute to determine when a patient has had an apnea or hypopnea during sleep. The method we have chosen has proven successful in clinical trials, and the current results are well in line with the NOX T3 meter we used as a reference product. This NOX T3 is most commonly e.g. Sleep apnea screening equipment used in Finland. As intelligent algorithms are improved with new measurement results, the results we get will become more accurate with the use of the equipment. A relatively small number of comparative measurements have been made during the development phase of the product under the guidance of Oulu University Hospital. This may limit the reliability of the algorithm, and therefore the measurements are being extended internationally. On the other hand, Nukute Collare is primarily intended as a screening tool to help physicians disassemble treatment queues and determine if a patient should be sent for a more accurate measurement. The product is not intended as a tool for self-diagnosis or extensive sleep research. Nukute Monitor is based on technology developed in the Collare project. Central to monitoring the condition of COVID19 patients is identifying their respiratory rate and its changes, as well as blood oxygen levels; these are the basic parameters recognized by Nukute Technology, e.g. in addition to heart rate. Further development of the product is based on physician feedback from its clinical trials. In addition to the two basic parameters, other key indicators may emerge.
B) The ongoing funding for the Collare project mainly covers only the product development phase and additional funding is needed to start production. A significant additional financial contribution is also needed to secure marketing and sales, as well as to obtain regulatory approvals from outside the EU. No significant revenue stream is expected from the current project before the second half of 2020. The current round of financing aims to secure the start of production and sales on schedule.
Personnel risks
In Nukute, there are several people who do not have a substitute in their own area. If such a key person is no longer able to work due to a serious illness or some other reason, there is a risk of project delay. Efforts have been made to reduce the risk through structured standard documentation and by sharing the situation assessment and planning status of each employee in a weekly meeting. However, such personal risk cannot be completely eliminated in a small business.
Risks related to the competitive situation
A) There are widely used methods to measure apnea and hypopnea or to monitor patients with coronavirus or other respiratory diseases.
B) Financial risks
C) Approval of the product concept in the conservative sector.
D) Potential new innovations and new competitors
A) Nukute Collare
There are several devices and methods that can be used to determine the AHI (apnea-hypopnea index). The main advantage of Nukute Collare is the simple and pleasant measurement method and the immediate analysis of the collected measurement data. Wireless devices are designed to be as simple to use as possible; thus, the patient does not need prior training to use them and can perform the measurement at home while sleeping. Collare does not interfere with sleep, like most devices that require wires and a respirator, etc. In addition, the use of most competing devices requires electrodes installed by the caregiver on the patient's skin, and the information on the device must be decomposed separately for medical analysis. A Nukute Collare is able to achieve a more reliable result than other methods without the need for re-measurement. The nocturnal measurement data has been analyzed and transferred to the doctor's interface immediately ready for morning auscultation.
Nukute Monitor 
According to our data, no reliable methods are currently available for remote monitoring of coronavirus. Thus, with the exception of patients treated in intensive care units, nursing staff do not know exactly how their patients can. Patients who are already admitted to a regular ward can suddenly deteriorate and even die.
If, for example, a doctor today wants to monitor his patient's breathing, he must do so using a traditional stethoscope. Because he then has to get two meters closer to his patient, he must also wear protective clothing and a mask - and this equipment must be replaced whenever the patient being examined changes. In addition, the physician has no technical ability to monitor the breathing of a patient prescribed for home quarantine and treatment.
Nukute Monitor provides a solution to this problem. It can be used to remotely monitor all the patient's respiratory parameters, identify the patient's position, his heartbeat and e.g. body heat. In addition, the doctor can listen to the patient's breathing from his own workstation in near real time. Because the service recognizes changes in key parameters of the patient's condition, the physician can anticipate the patient's need for care, which facilitates, for example, the decision to transfer the patient to a ward or intensive care unit.
B) Although our goal is a slightly lower level of equipment and measurement costs than our competitors, there is a risk that some large competitor will want to win customers with aggressive pricing. 
C) The Nukute product must have clear advantages in order to be accepted in a competitive and conservative industry. For this reason, we have paid special attention to ease of use, to the fact that the patient can move freely while sleeping, and to how clinics and doctors can save time with our system. Demonstrations of the Nukute system are being held with the assistance of a distributor in several leading hospitals in Europe, and Nukute is assisting university hospitals in producing medical publications.
D) Although Nukute is actively following new apnea-related innovations and releases, there is a risk that one of our competitors will develop a new type of technological solution.
Legal risks
Nukute has commissioned a patent office "freedom to operate" study from the, according to which no patents restricting the product have been granted. Thus, it is safe to continue marketing our product and start selling it. In addition, Nukute has filed several patent applications for aspects of its products, which have not yet progressed to the patent level. However, because such applications are public, they prevent other potential competitors from patenting the same type of hardware system developed by Nukute.
Nukute does not currently have any sales or cooperation commitments that could pose legal risks.
Risks related to starting a business
When using the distributor model, it is critical to choose the right partners when starting a business so that both parties have the same goals. Nukute has been working with the global market leader in sleep apnea therapy for a long time with the goal of signing a distribution agreement at the stage when the product gets a marketing authorization. The Clinical Evaluation Agreement was signed on February 27, 2020. Studies conducted with Nukute Collare will increase the number of potential clients in need of sleep apnea therapy, which aligns the goals of Nukute and the distributor partner. However, the actual distribution agreement has not yet been signed, and the outcome and timing of its negotiation process poses a risk to Nukute.
Doctors and nurses are used to working with existing solutions. Although they are inferior in user experience to Nukute's services, they are seen as the golden standard, and even better solutions can cause resistance to change at the executive stage. The best way to avoid this risk is to train the sales partner's staff well so that they know how to present the benefits of the solution to the end customer.
Nukute Monitor settles into a segment of monitoring products that is not very populated and does not have a ready-made golden standard. 
Regulatory risks
The design, production and sale of medical devices are highly regulated. Different regions have different regulations for the sale and approval of medical devices. In Europe, the MDD Medical Devices Directive and the ISO 13845 standard apply to medical devices. In the spring of 2021, the MDD will be replaced by the MDR Directive. Similarly, the US has FDA regulation. Approval of the device requires extensive documentation and measurements e.g. the safety and biocompatibility of the materials of its mechanical components, as well as radio equipment measurements such as EMC and ESD measurements, tightness measurements and temperature measurements, as well as a detailed explanation of the patient safety risks related to the device and their control. Accurate analytical documentation of software structures and their design processes is also required. The approval body, the "Notified Body", in the case of Nukute SGS, carried out an inspection, after which we will receive the CE marking of the medical device for sale in the EU during May this year. We reduced the schedule risk involved in this process through pre-audits and active discussion with the approval body. We have also pre-measured our equipment in an external laboratory so that we have been able to correct the deficiencies found already during the development phase. As a result of these measures, all measurements of the type approval process performed in Q4 2019 to Q1 2020 passed the SGS tests. In addition, SGS's quality system audit was passed and the company was awarded ISO 13485 certification.
Technological risks
A) Risks related to mechanics and electronics
B) Risks related to software
C) Risks related to technology obsolescence
D) Availability of selected components
A) Mechanical structure involves a risk of unsuitability for people of different sizes and necks of different sizes and shapes. Although there are four different sizes of interchangeable neck straps that can be replaced with a Nukute collar, some patients may not have a suitable collar. Some particularly small or large patients may feel that the collar is too loose or correspondingly small, and thus the measurement is not successful. Likewise, some may find the slight pressure on the side of the neck needed to guarantee the result of the collar measurement too disturbing to sleep normally. However, based on the patient experience gained, most patients are able to sleep well with a collar around their neck, and the User Feedback we received has been primarily commendable.
Although the chosen method of measuring sound or vibration from the neck caused by the airflow of breath is an old perceived method, it requires physical contact between the piezoelectric element and the neck, which may be impaired as the patient moves. This has posed mild challenges to previous versions of our analysis program. The FDA and ISO 13485 approved OEM pulse oximeter we have chosen is a ready-made device in itself, but we have no possibility to change its functions and it can only be controlled during the measurement via a Bluetooth connection. This combination, combined with the fact that the collar simultaneously sends measurement data with the tablet to the network, poses a technological risk: if there are enough WLANs in the measurement frequency in the same frequency range, the transmission of the measurement signal may be disrupted. In addition, multiple simultaneous Bluetooth LE connections require a good quality antenna signal, especially when the patient can partially cover the pulse oximeter on their wrist with their body. 
B) The most significant technological software risk is related to cloud computing and the separation and marking of apnea and hypopnea attacks using an intelligent algorithm. Such an algorithm requires a large number of samples and their analysis, as well as validation with a significant number of overnight control measurements. For control measurements, we have used NOX T3 equipment, and the results have been analyzed mainly by doctors specializing in sleep research at Oulu University Hospital and Nukute's medical advisors. Such a learning algorithm becomes more accurate when more correct samples are obtained for it, but there is a technological risk that it will be taught to find apnea even in patients who do not have apnea.
Another significant software risk is associated with the software of the selected Samsung tablet. We can't control the tablet's internal software, and while the tablet primarily acts as a data transmitter over a mobile connection to the cloud and also provides animated instructions for the patient, we can't be sure the tablet will work in every possible situation. Efforts have been made to reduce the risk by preventing access to the tablet-based Nukute Measurement Program; thus, the tablet is always launched directly into the Nukute application. 
C) The chosen technology consists of a combination of known methods for measuring respiration and blood oxygen content. The method of measuring sound with a piezoelectric microphone has been known for decades and has been used above all in noisy environments. The method has an inherent tendency to attenuate external noise. The pulse oximeter has also been in use for a couple of decades and is an everyday device in hospitals today.
Combining these measurement methods using a wireless radio frequency connection, on the other hand, is new and has not been used much, especially in medical measuring devices. The most significant new element of our solution is our intelligent analysis program, which utilizes the high instantaneous computing power of the cloud service, which has not been available for a very long time. 
It is possible that some new innovation will supersede the current way of measuring apnea, but at least before the solution implemented by Nukute, there were no simple devices or systems available that could reliably measure and analyze apnea or hypopnea in particular.
D) Nukute has sought to ensure component availability by analyzing the list of critical components and performing risk analysis. Nukute owns molds for mechanical parts, which ensures the availability of plastic parts. Nukute has also purchased certain critical components for storage, the most important of which is the medically approved Li-ion battery used in the device.  
In terms of availability, the greatest risks are associated with the OEM pulse oximeter and some non-replaceable electronic components with only one manufacturer, such as the selected controller circuit. The aim has not been to choose the most affordable solutions as components, but rather reliable suppliers whose components remain in production longer.